11/02/2022 • Blog
Solid Wood Kitchen Cabinets vs. Wood Veneer
Not sure if you should go with solid wood kitchen cabinets or a wood veneer alternative?
We're here to help!
At Deslaurier Custom Cabinets, we carry a variety of solid wood species and wood veneer materials, because we understand how important it is for our clients to find the perfect cabinets to fit their unique needs.
Let's take an unbiased look at solid wood cabinets and wood veneer cabinets to help you determine which style best suits your kitchen!

What Are Solid Wood Kitchen Cabinets?
Solid natural wood is the most popular kitchen cabinet building material around the world. With such a wide variety of species and design styles to choose from, there is an option for every taste and preference.
The most popular wood species for solid wood kitchen cabinets are Maple, Birch, Cherry, Oak, and Walnut.
Specifically in North America, maple, oak, and birch are the most common solid woods. That's due to the fact that they are so readily available and easy to source.
Walnut and cherry, on the other hand, are known as elegant, high-end cabinet materials. With rich hues, distinctive wood grains, and less accessible than other species, it's no wonder walnut and cherry are considered premium wood species.
What Are Wood Veneer Kitchen Cabinets?
Wood veneer cabinets provide the look and texture of natural wood at a reduced cost. That's because wood veneer cabinets are actually made of real wood!
To create wood veneer, a thin sheet of real wood is adhered onto an underlying substrate. While some manufacturers may use plywood for a substrate, wood veneer is most commonly applied to particleboard; the same material that cabinet boxes are made out of.
Wood veneer is offered in the same wood species as solid door options, so there is a wide variety of wood grains and species to choose from.
Wood veneer is also a great way to utilize exotic woods that are harder to source for solid wood cabinetry, such as bamboo and mahogany. Not only can wood veneer incorporate these wood species, but also at a fraction of the cost of solid wood doors.
Solid Wood vs. Wood Veneer: Appearance
Solid hardwood options offer their own distinctive aesthetic. Each species has a unique wood grain and hue.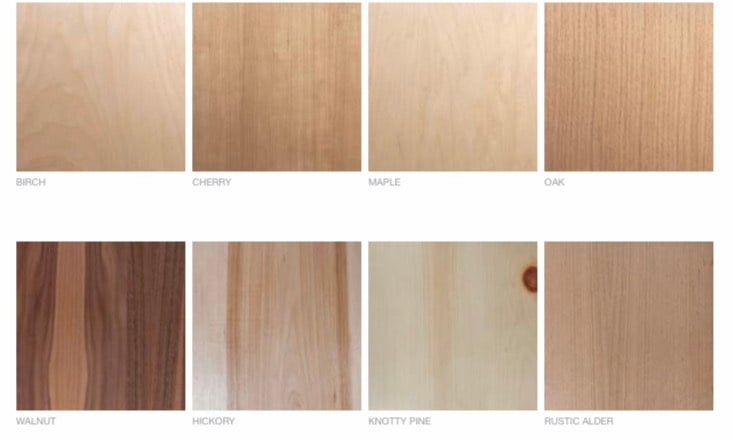 As natural products, no two cabinetry pieces from the same wood will be exactly alike. Just like the trees themselves, there will be slight differences from one slab to the next; ensuring a beautiful, idiosyncratic look to your solid wood cabinets.
Wood veneer offers the same unique, natural wood grain patterning that comes with solid wood doors. However, wood veneer can come with one slight drawback, depending on the wood species you choose for your cabinets.
Depending on your manufacturer, some wood veneers may only be produced in thin strips that are six inches in width. So you will see one wood grain strip next to another, which could result in a fluctuated pattern.
That being said, more popular wood species like maple or oak will consistently be produced in much wider sheets of veneer so that the grain will look just as consistent as solid wood.
Solid Wood vs. Wood Veneer: Cabinet Finishes
Painted Cabinets
If you intend on applying a painted finish to your solid wood cabinets, you can disregard their distinctive grain patterns as they won't show through the primer and paint.
For the optimal painted cabinets, consider going with paint-grade woods such as birch or maple.
Not only does paint offer a more vibrant colour to cabinets than staining, but there are also many more varieties and customization options when choosing a paint choice. From a variety of standard paints, high-end selections, and even custom colour matching!
Since natural wood expands and contracts due to temperature and humidity changes, a painted finish can be susceptible to joint cracking.
Here's a picture of a 5-piece solid wood door that has experienced joint separation: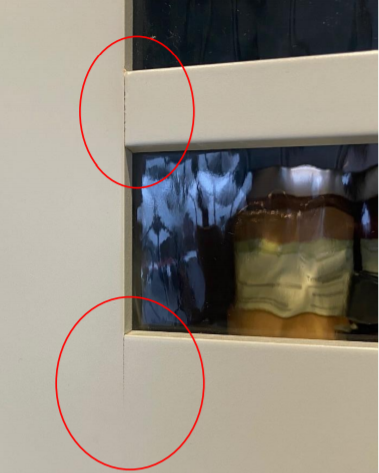 Since wood veneer can only be flat surfaces, like slab doors or the centre panel of 5-piece doors, you don't have to worry about any joint separation. In fact, if you're going with a 5-piece painted wood door, a wood veneer sheet will be perfect for the centre panel!
Wood veneer can be painted with the same quality of solid wood or MDF cabinets. Just like their solid wood counterparts, maple and birch, wood veneers offer beautiful, paint-grade materials.
Oak is another species that can be used for painted wood veneer cabinets. With that being said, oak's grain has an uneven and coarse texture, unlike the smoother surfaces of maple and birch. This makes oak a fantastic choice if you want your painted wood veneer cabinets to have a more distinct quality to them.
Stained Cabinets
The most significant aesthetic indicator of stained wood cabinetry is that the wood's natural grain pattern and texture remains visible. Stains seep into the cabinet door surface and provide a rich, translucent finish.
As a result, the knots and grains of the wood species stay prominently on display. This is a stunning look if you want to proudly present your beautiful, solid wood cabinetry. Stains also offer a more durable finish that can hide damages or blemishes easier within those knots and grains.
The downside of staining natural wood is that you're dealing with a real tree with imperfections and incongruencies. A stain won't always adhere consistently throughout the slab of wood and it can result in an uneven, or even sometimes blotchy, finish.
This is where a wood veneer will excel. Wood veneer won't have as blotchy or uneven a stained finish as solid wood, simply because the particleboard substrate is so thick relative to the veneer sheet. The thin surface sheet of wood veneer means the stain won't seep through the depth of the door, causing a blotchy or uneven finish.
Worn & Distressed Kitchen Cabinets
A great element of working with solid wood is that you can manipulate the material in a number of ways to accentuate the wood's natural characteristics. The best way to do that is through worn and distressed techniques.
Worn cabinets involve sanding down the edges and corners of a cabinet door to expose the core material underneath. They subtly display the natural wood underneath a stain or paint, providing a beautifully aged cabinet door.
Distressing a cabinet will produce dents, marks, scratches, wormholes, and chiseled edges. Combining worn and distressed characteristics to solid wood doors will form a beautifully rustic, antiquated appearance to your kitchen cabinets. This rustic finish perfectly complements the qualities of a farmhouse kitchen design.
Worn and distressed finishes are not possible for wood veneer cabinets simply because the wood sheet is not thick enough due to the particleboard underneath.
The process of wearing and distressing cabinets is better suited for solid wood because it accentuates the rustic, natural qualities of deep knots, rich grooves, and worn exposed corners.
Those qualities are simply not possible to achieve with a thin wood veneer, since there is no solid wood depth underneath, just particleboard.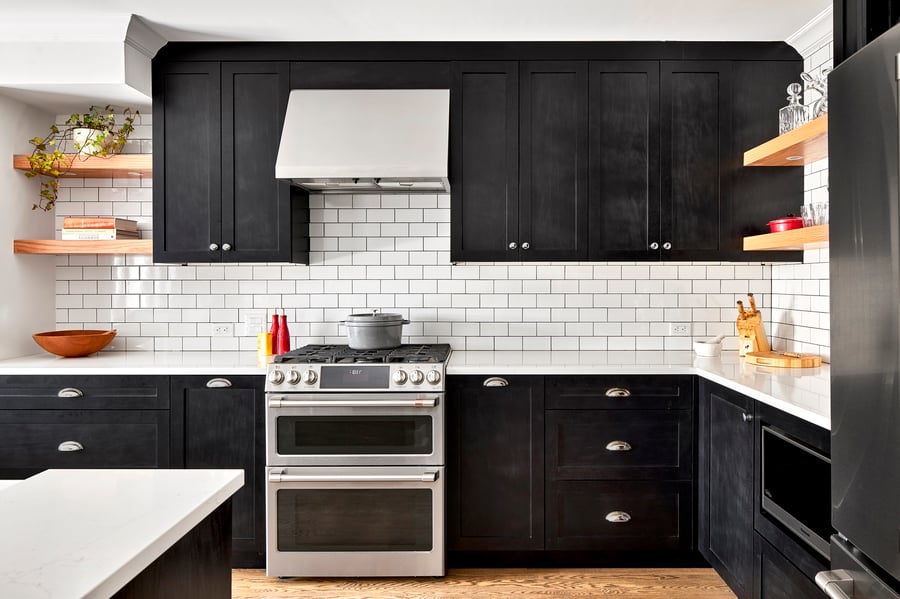 Solid Wood vs Wood Veneer: Cabinet Durability
Solid hardwood options will expand and contract with changes in temperatures or humidity, and as a result, are susceptible to warping over time. Warping can also be caused by liquid or excessive moisture.
While it would take significant moisture or years of temperature and humidity changes, warping is still something to be cognizant of when it comes to solid hardwood cabinet doors.
When discussing solid wood, strength and durability will vary slightly depending on the chosen species. Maple, for example, is a very strong hardwood compared to a birch. Having said that, all solid hardwoods are strong and durable when referring to any daily kitchen use.
Wood veneer cabinets are reasonably durable but fall short of solid wood in several ways.
Wood veneer's main concern is its susceptibility to water damage. That goes back to the particleboard substrate – if water gets past the veneer it can spread within the particleboard, causing the door to expand. Excessive moisture or water damage can also cause the veneer sheet to loosen or "bubble" from its base.
Speaking of damage, corners and lower edges of wood veneer cabinets are prone to chipping. If a door does become chipped along a corner or edge, the veneer sheet may begin to peel and show the underneath substrate. Although it would take a significant amount of chipping for this to occur, it does underline the importance of spotting any damage before it can worsen.
A popular way to enhance the strength and reduce chipping on veneer doors is to apply solid wood for the edges, given that corners and edges are the most susceptible for chipping or peeling. Using solid wood for edges will protect the doors by increasing durability and reducing any damage.
A provided benefit of the particleboard substrate is that wood veneer is actually more stable than solid wood. Wood stability refers to the strength and resiliency a species has against losing its "form."
As mentioned above, solid wood doors are vulnerable to warping over time due to changes in temperature, moisture, and humidity, referred to as "breathing." This breathing will result in a wood door slightly losing its original form.
Wood veneer sheets, while not impervious to breathing since the surface is still real wood, will be more resilient to these natural changes thanks to the thickness of the particleboard underneath.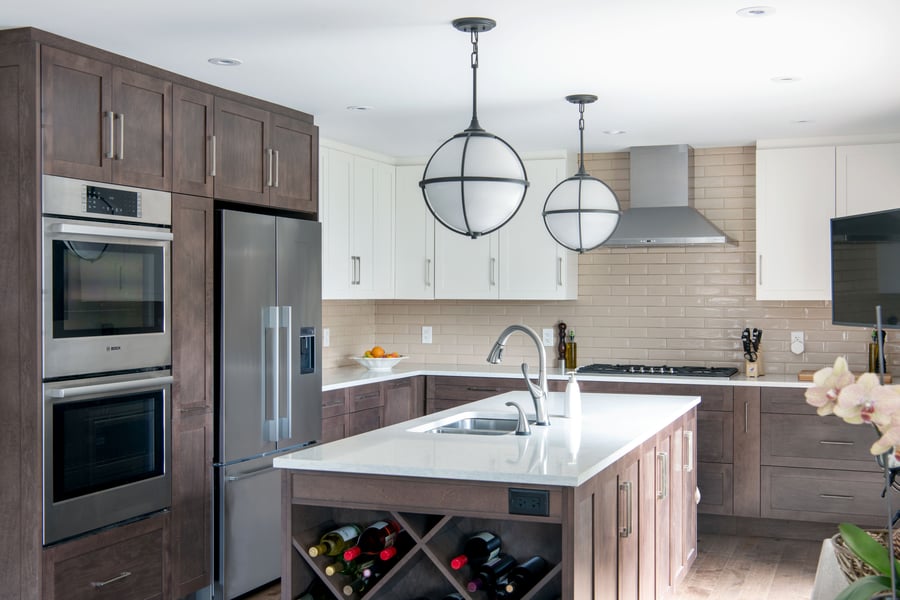 Solid Wood vs. Wood Veneer: Cost
In general, the cost of cabinet materials is always dependent on the grade of the wood, market conditions, and the manufacturer.
The overall cost of solid wood cabinets will vary depending on the species of wood you select and also the finish you apply to your chosen material.
Readily available woods like Oak, Birch, and Maple are easily sourced throughout North America, making them cost-effective. In comparison, Walnut and Cherry are rarer and considered high-end, ultimately increasing the cost.
As an example: Deslaurier sources very high-grade wood, and so the cost of products such as Birch or Maple are virtually the same. But traditionally, Birch is a less-expensive product than Maple.
For wood, both solid and veneer, the finish applied to the cabinet can influence the cost more than the individual wood species. Painted cabinets will typically cost 10-15% more than stained cabinets, due to the excess labour (priming, multiple coats of paint, etc.) involved in the extensive painting process.
When it comes to a direct comparison, the cost of solid wood cabinets will always vastly outweigh the cost of wood veneer.
Whether it be through purely wood veneer slab doors, or by using a wood veneer centre panel on a 5-piece door, the cost of wood veneer will always be a cheaper alternative than solid wood cabinets.
We'll show you what we mean. Let's use Deslaurier's pricing for two oak cabinets with 5-piece doors: one upper and one base, with a standard stain. The cost of those two cabinets in solid oak would be roughly $1150. Exchanging just the solid oak centre panel with an oak veneer panel would lower the total cost to $920.
Simply swapping the centre panel with a wood veneer, with the stiles and rails remaining, solid wood can save roughly $50 per cabinet door! Depending on the size of your kitchen, that basic change can wind up saving you thousands of dollars on your kitchen cabinetry expenses.
Custom Cabinet Design With Deslaurier
Natural wood grains and hues make for the perfect kitchen cabinet aesthetic. Choosing between a solid wood cabinet door or a wood veneer can come down to a number of personal factors, including: budget, preferred wood species, and desired cabinet finish.
Luckily, you came to the right place!
If you have your eye on custom cabinetry, Deslaurier Custom Cabinets has everything you need. With over 40 years of industry experience, we provide our clients with a fully customized design process with our talented team of designers.
Book a free consultation today and meet with one of our Deslaurier design experts in our Jupiter, Florida showroom!