30/03/2021 • Blog
Best-Selling Kitchen Cabinetry Accessories
Your kitchen houses a treasure trove of cooking gadgets, baking gizmos, and other kitchen-related whats-its. Finding storage for all those odds and ends can feel like a never-ending challenge—but it doesn't have to be.

The custom cabinetry marketplace is continually evolving to meet your ongoing lifestyle needs. At Deslaurier Custom Cabinets, we're always scouring the market to source high-quality accessories that offer storage, facilitate ease of use, and boast accessibility.

In this article, design expert Barb Purdy chats with us about the top 5 best-sellers in cabinetry accessories: roll-out trays, corner accessories, tray dividers, pull-out recycling and garbage receptacles, and pull-out spice and oil drawers.

Read on for a professional overview of these 5 best-selling cabinetry upgrades!
#1: Roll-Out Trays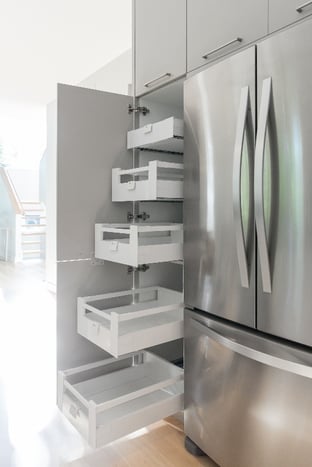 It seems like no matter how hard you try, the kitchen pantry inevitably becomes a cluttered mismatch of non-perishables, cereals, and other food items that don't have an assigned place. Sound familiar?

Pantries with roll-out trays are a staple in the kitchen design world for their unmatched convenience. Fully extendable drawers cleverly divide your pantry space into more manageable sections. Plus, the drawers outstretch so you don't have to reach inside with your whole arm to fumble for something near the back. Not to mention, with roll-outs at your disposal, you won't accidentally double-purchase items you already have!
Concerned about fashion over function? Don't be. These roll-outs are available in a handful of different materials and styles, so you can play with the interior aesthetic to your heart's content.
A few examples of the roll-out styles offered at Deslaurier include:
Metabox roll-out (melamine construction)
Tandembox roll-out (melamine and stainless steel construction)
Veneer roll-out (natural maple veneer construction)
Dovetail roll-out (solid maple construction)
Among others


You can also customize the positioning of each roll-out drawer to create more or less height clearance in between each drawer. Of note, most pantries, including Deslaurier's, don't include adjustable holes for roll-out re-positioning. You'll want to carefully assess the space you need before you decide on roll-out positions.
The image below shows a few examples of different positionings: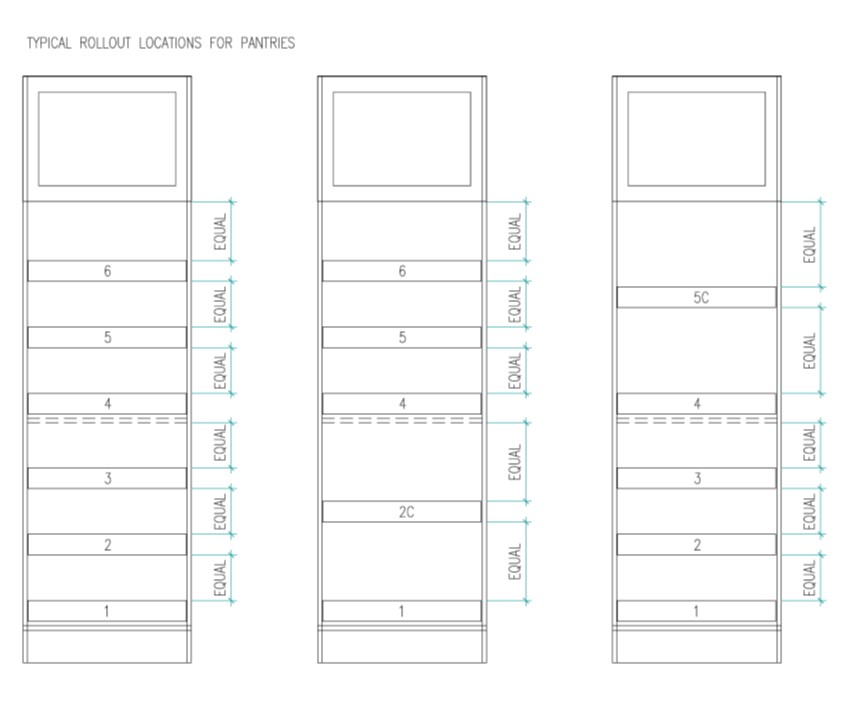 Designer Barb Purdy's top tip for roll-out pantries:
Keep smaller items in the middle section—you don't want to have to bend down for small items. Also, take care to adhere to the load capacities provided. Overweighting the drawers puts the inner mechanisms at risk. If you know you'll be storing heavy items, I recommend upgrading from the standard metabox roll-out.
#2: Corner Accessories
If your kitchen layout includes a corner cabinet, you're probably familiar with the awkward bend and reach that happens any time you need to access those pots and pans that live far within its blind corner. Deep corner cabinets can be a downright pain to get in and out of regularly, which is why corner accessories fall second on our list of must-haves.
"Corner accessories" is a broad category that includes many products. While corner embellishments are undoubtedly best-sellers, it's a tight race between the types of corner devices.
Let's take a brief glance at the big three:
Le Mans cabinet
Comfort Corner cabinet
Lazy Susan cabinet



Le Mans Cabinet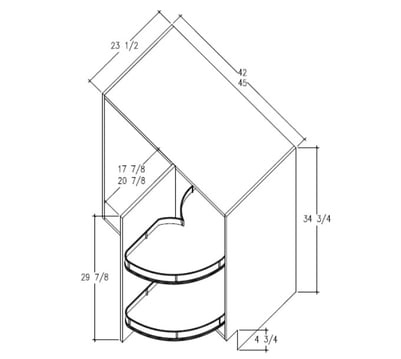 The Le Mans cabinet is a luxurious corner enhancement (and the most costly of the three). These moveable platforms easily swing outside the cabinet interior so that you can lift your kitchen appliances without any obstruction in your way.
Deslaurier offers the Le Mans tray in grey or maple melamine. Both platforms include a bordering chrome rail to ensure your items stay firmly in place.
Lazy Susan Cabinet
The Lazy Susan is a turntable shelf that spins in either direction so that you can easily find what you're looking for in a pie-cut corner cabinet. Generally, Lazy Susans are the most affordable corner accessory.
At Deslaurier, there's a broad array of Lazy Susan styles to choose from, including:
Maple with chrome rails
Non-slip melamine with chrome rails
Maple veneer
Plastic (white and grey)
Comfort Corner Cabinet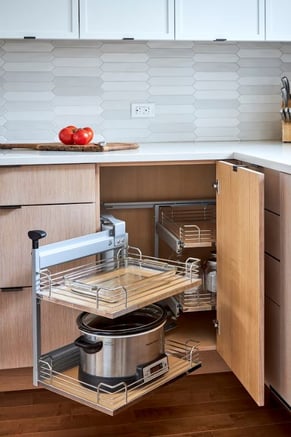 The Comfort Corner is another prevalent and popular corner accessory. Price-wise, you can expect the Comfort Corner to fall somewhere in between the Lazy Susan and the Le Mans.
The Comfort Corner unit includes four arena baskets (either grey with a chrome rail or maple with a chrome rail). The two front baskets slide and swivel, and the rear baskets fully extend. The Comfort Corner system utilizes over 80% of the cabinet's full storage space.
So you can feel good about utilizing your cabinets to the max.
#3: Tray Dividers
Muffin tins, pizza rounds, and casserole dishes all slide conveniently into place with a tray divider. No more stacking, no more clattering—with separating planks cleanly creating letterbox-type cubby holes, storing your large kitchen dishware is a breeze.
Tray dividers are a straightforward add-on. There's no fancy technology involved—the genius is in its simplicity. Tray dividers are a simple, intelligent storage solution.
These handy slots can be left open for extra easy access, or you can place a cabinet door in front of them to hide the items from sight. The aesthetic is up to you.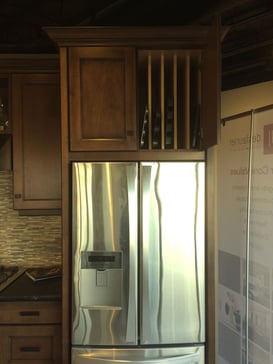 Their height is fully customizable, too. Clients typically opt for tray dividers from 11" - 24" high. A standard set includes 4 dividers (creating 5 slots). Of course, you can build a cabinet with multiple sets of dividers.
As for the slots themselves, Designer Barb Purdy recommends no less than 6" of space in between dividers. That way, their use is flexible: you can use them for thin serving trays and deep baking pans alike.
Where does it go? Most homeowners tend to put their tray dividers above their fridge in the upper cabinet. Others prefer their tray dividers in base cabinets beside the stove. As always, placement depends on your personal use.
#4: Pull-Out Recycling and Garbage Receptacles
Are you tired of trying to hide your garbage bin in a corner? Are you sick of the smells that fill your kitchen space every time you open the lid?
A trash bin drawer might just be the perfect solution to your waste woes.
Deslaurier offers pull-out garbage bins in base cabinets of 12", 15", 18", 21", and 24".
This 21" door has space for 2 40L waste bins, giving you plenty of room to sort garbage from recycling items. Plus, the drawer includes a "soft motion" close feature.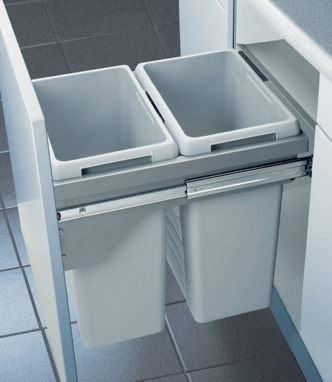 If you like to keep your compost close by your garbage, you'll love this 24" full-height pull-out that includes 2 35L waste bins alongside 2 8.5L compost bins with lids. The "soft motion" close is included with this product, too.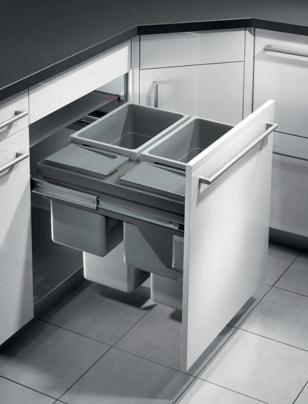 Ta-ta, trash!
#5: Pull-Out Spice and Oil Drawers
Channel your inner foodie and spice up your gourmet creations with a built-in spice cabinet smack dab in your kitchen workstation. Pull-out spice and oil drawers are consistently a top pick at our showroom, and it's not hard to see why.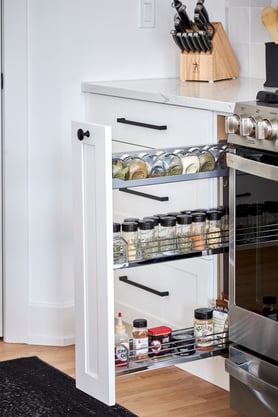 These narrow drawers are small enough to tuck in virtually anywhere along your base cabinets. Plus, they simply organize your herbs, spices, and condiments for easy access.
The shelves are open on both sides so that you can reach in and grab what you need from the left or the right. There are several types and widths available—some with adjustable shelves, and some with fixed shelves. The insides of these cabinets look just as finished as the outside.
A Customized Cabinetry Design Process
Before you call up your designer to order all of these in-demand cabinetry accessories, let's take a moment to remember the custom aspect of kitchen design.
When it comes to cabinetry accessories, there are no hard-and-fast winners. Yes, these five are best-sellers, but it's the customized component of each one that makes them work for the user.
The bottom line is that everybody's needs are different, and everybody's accessory selections should reflect that.
Before you add the top 5 best-sellers to your wish list, understand that what works for your neighbour, co-worker, or friend may not work for you in your new kitchen.
If you're working with a designer, expect them to probe your lifestyle and get to know the ABCs of your kitchen layout, typical kitchen usage, and long-term goals before drafting a concept.
Are you short? Are you tall? Your height may determine whether tray dividers go in the upper or base cabinets. Are all your pans cast-iron? You might need roll-out drawers with extra weight capacity. The point of cabinetry accessories is to fill a specific need. You need to nail down the layout and function of your dream kitchen before you tackle your accessory selections.
There's a fair amount of homework that goes into developing a truly customized cabinetry system. I zero in on the fine-tuned details of daily living. For instance, some clients don't mind leaving their toaster on the counter—others can't stand it. I'll measure the client's Vitamix and Soda Streams. It's my job to know these kinds of things. —Design Consultant Barb Purdy
If you don't have a designer to consider these details on your behalf, think about what you like and don't like about your existing kitchen. Having an idea of what's worked (and what's gone horribly wrong) in the past is a great benchmark.
Knowing Your Cabinetry Budget
How Much Do Cabinetry Accessories Cost?
When every square inch of your kitchen is customizable, knowing your budget is crucial.
A single cabinet can run upwards of $1000, so it helps to go in with a financial plan.
Typically, clients should allot a separate budget for cabinetry accessories, beyond what the bare-bones cabinetry unit will cost. Determine what sum you're willing to spend on your kitchen, and then determine what amount you want to put towards cabinetry. For even more clarity, then divide that cabinetry-specific total into smaller budgets for cabinetry, hardware, and accessories. The more specific you can get, the easier your selection process will be.
Let's take the example of a $500,000 home in Ottawa. Typically, a kitchen renovation should account for 15% of a home's value (read more about how much a kitchen renovation should cost). In the case of a $500,000 home, the kitchen renovation would cost approximately $75,000.
As for cabinetry, you can expect custom cabinetry costs to run between 30-50% of your kitchen renovation budget.
So, for a $75,000 kitchen makeover, your cabinetry might cost $22,500 - $37,500.
Your selections for wood species, finish style, hardware type, and accessories all play a role in how much your cabinetry will cost. For instance, if you choose a rarer, solid wood like cherry as your species, the bulk of your cabinetry budget will go towards this premium wood selection, and you'll have less to contribute towards hardware and accessories. Alternatively, if you opt for a wood veneer, you'll have more capital to put towards outfitting the cabinetry with functional add-ons.
Build Your Kitchen With Deslaurier Custom Cabinets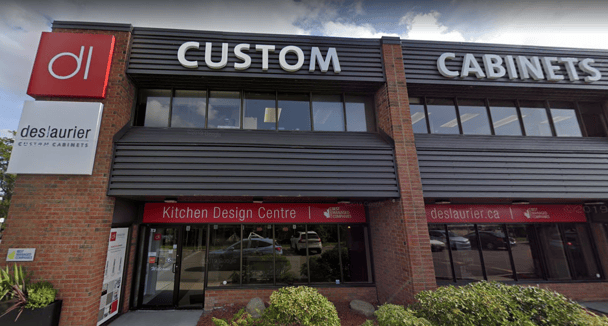 At Deslaurier, our award-winning design team knows roll-out trays, corner accessories, tray dividers, pull-out garbage receptacles, and pull-out spice drawers to be 5 reliable and well-loved products. But in an ever-growing, ever-evolving industry, there's always a new cabinetry accessory to be had—and you can bet we already have our eye on it.
Deslaurier Custom Cabinets thrives on innovation. After all, our mission statement is:
To be the leader in custom cabinet design and eco-friendly manufacturing by developing skilled people, strong relationships, and innovative technology in order to deliver high-quality products and exceptional service that exceeds the unique expectations of our customers.
Find out what best-selling and up-and-coming cabinetry accessories are available now! Book a complimentary design consultation with us in the Jupiter, FL area today.
Interested in becoming a Florida dealer? Fill out our Become a Dealer form to connect with us.