Estimated Read Time: 6 Minutes
Functional cabinet storage and organization can take your kitchen to the next level. Utilizing the perfect accessories and inner dividing systems for your kitchen cabinets is one of the best ways to do that.
If you've been researching cabinet drawer systems and accessories, you've no doubt stumbled across Blum.
The Blum company is a worldwide leader in manufacturing lift, hinge, pull-out, and pocket systems for cabinetry and furniture. They offer anything from unique drawer systems to pull-out steps.
At Deslaurier, we specialize in manufacturing custom cabinets that are equal parts beauty and function. In doing so, we partner with Blum for cabinet drawer systems, door hinges, and a number of their accessories.
This article will focus on Blum's two primary lines of inner dividing systems: the Orga-Line and the Ambia-Line.
Let's get to it!

Blum TandemBox Antaro Drawer System
Blum has two distinct accessory and inner divider product lines: the Orga-Line and the Ambia-Line. These unique inner dividing lines are each directly paired with one of Blum's cabinet drawer systems.
The Orga-Line supplies products specifically for TandemBox antaro drawers, while the Ambia-Line provides the same for the LegraBox system.
The TandemBox drawer system has a clear-cut, rectangular design and is constructed out of light-weight aluminum.
It is available in grey or white, with the bottom of the drawer box having the ability to match the colour of your cabinet's exterior.
The TandemBox drawer system comes standard with full-extension and soft-close capabilities. The full extension provides the drawer with several inches of additional pull-out length.
Blum LegraBox Drawer System
The LegraBox has a modern, sleek style and is considered the more elegant, high-end drawer system offered by Blum.
If you're looking for variety when it comes to the appearance of your drawers, the LegraBox system is far and away the best option.
LegraBox drawers are available in white matte, grey matte, and black. Moreover, the LegraBox is the only drawer system that includes different styles of glass insert sides, providing a sleeker, more modern aesthetic.
The LegraBox and Ambia line combination is the more expensive drawer system than the TandemBox and Orga line duo.
Orga Line vs. Ambia Line
Each product line offers interior divider frames as well as unique accessories from cutlery dividers to spice holders, and much more. All are designed to fit specifically for their respective drawer and high-fronted pull out systems and aren't compatible for other drawer systems.
The Orga line's interior divider frames are made from stainless steel and nylon. The stainless steel material ensures Orga frames and trays are dishwasher friendly, which allows for a simple and easy cleaning method.
The Ambia line's interior divider frames and accessories are made from a sleek, epoxy covered steel and have the ability to match their drawer exterior. They're available in Silk white matte, Orion grey matte, Black, or Wood.

Unlike the Orga line, the Ambia divider frames have a magnetic adapter attachment that helps position them to the back of drawers or to the sides of other frames. The frames also have anti-slip bottoms to provide a secure hold and nullify movement within the drawer.
However, Ambia line products are not dish-washer safe and are suggested to be cleaned using a damp cloth.
Blum's Inner Divider Systems
Although the two product lines differ in appearance and materials, they offer similar products for their distinctive drawer systems.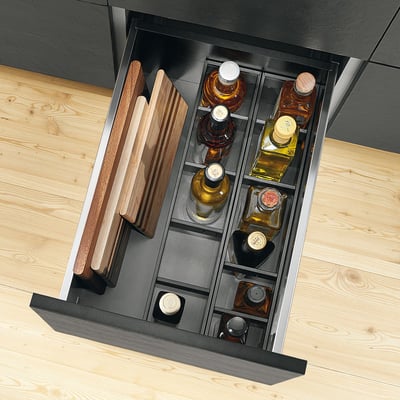 The most functional attachment for both lines is adjustable cross dividers. These are placed within a frame to create divisions and can be adjusted throughout the box, so one side is larger or smaller to fit the required items you are storing. You can also use multiple cross dividers to create designated sections within an inner frame.
A built-incross gallery also offers unique storage for cooking items. With pots and pans stored practically in the base drawer, a cross gallery at the back allows for lids to be tucked away at an easily accessible angle.
Further, their unique U-shaped drawers maximize the cabinet space underneath sinks that can oftentimes go to waste. Anything from detergents, sponges, or dishwasher tablets can be stored efficiently with smaller cross-dividers utilized to organize these tighter areas.
Blum's Drawer System Accessories
While the multitude of ways you can mix and match the inner divider systems might seem like enough, Blum also offers traditional cabinet accessories to be included as well.
While the Ambia and Orga lines are exclusive and designed specifically for their respective drawer systems, they both offer many of the same accessories.
Cutlery and Utensil Inserts
A must-have for any kitchen, organized storage for cutlery and utensils makes life in the kitchen a breeze.
The Ambia line insert trays have a "soft touch" interior that reduces the sound and movement of kitchen cutlery compared to the Orga line's stainless steel.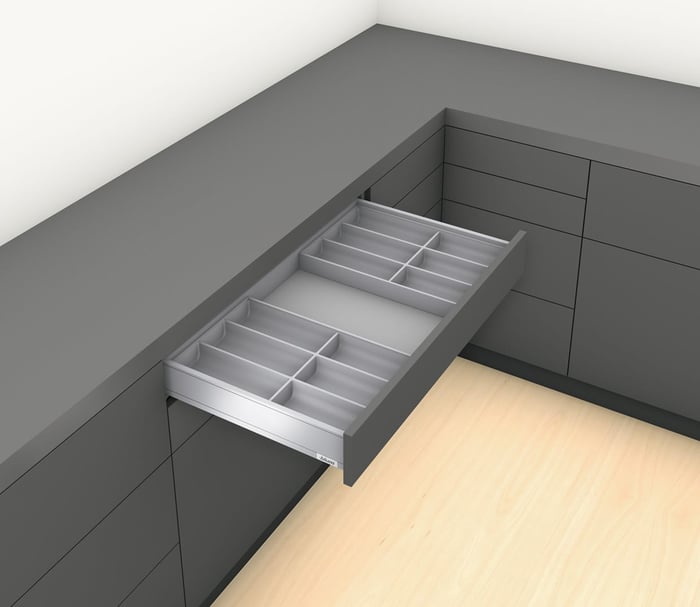 Cutlery inserts can be combined with frames as required, meaning larger drawers can be a one-stop-shop combination of anything from spoons and forks, to spatulas and whisks.
Foil and Film Dispenser
Foil and film dispensers are essentially an open-faced tray with a rod for dispensing and a sharp edge on the side for convenient cuts.
These fit in cabinet sizes of as little as 12" to as large as 39". The dispensers are great for anything from smaller aluminium foil boxes to longer parchment paper rolls.
Plate Holders
Adjustable plate holders can expand and contract to encompass plates of different sizes and shapes. They fit various cabinet widths ranging from 16" to 39" and are great for larger drawers with a lot of cabinet depth and high-fronts.
Each holder allows up to 12 plates to be stacked securely in high-fronted cabinet drawers. They can also be transferred safely with built-in handles at the top of the holders.
Spice Holders and Bottle Solutions
The spice holders have 4 rows of storage with angled positions for easy access and to ensure the labels of spices and herbs are easy to read.
The bottle holder frames come with three crossway dividers and two frame height extensions to ensure that cooking oils and bottles are securely in place with flexible organization.
You might not want to opt for both spice and bottle holders if your kitchen has limited room, but if you have a large enough drawer, combining the two can make for a great use of the space.
Knife Holders
The Ambia line knife holder is a flat tray with open slots. It can accommodate up to 9 knives, with room for four large and five small.
While it's fairly basic and keeps your knives hidden in a cabinet drawer rather than on the countertop with easy access, the Ambia knife holder tray is cheaper than an alternative such as a knife block.
Below is an image of the Ambia line spice holder (top left), plate holder (top right), film dispenser (bottom left), and knife holder (bottom right):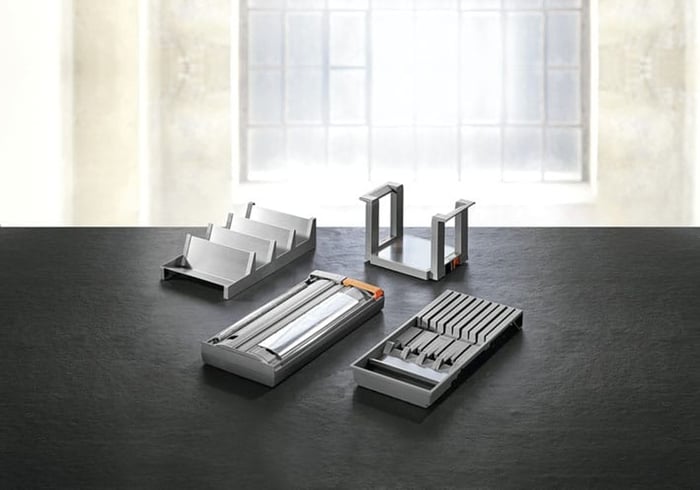 Blum's Orga Line Kitchen Tool Set
Blum's "kitchen tool set" is something entirely exclusive to the Orga-line and TandemBox drawers.
It is essentially a 5-in-1 combination box that includes a package of accessories at a cheaper cost than purchasing them individually.
The kitchen tool set includes: 1 knife holder, 1 film dispenser, 1 foil dispenser, 2 spice holders, and 2 plate holders.
While it is missing several key accessories like the crucial cutlery utensil inserts, it is a good value pack if you're creating a brand new kitchen and need your basic accessories.
Conversely, if you already have a number of cabinet accessories for your kitchen, you might prefer to select the individual products you're missing rather than purchase this tool set.
Blum Space Tower Pantry Unit
Finally, something that offers universal appeal no matter the Blum line you have.
Labelled as the "ultimate solution for pantry units," the Space Tower is Blum's prized cabinetry storage solution that is compatible with all of their cabinet box systems and can also be utilized in any wooden drawer boxes that use Blum cabinet runners.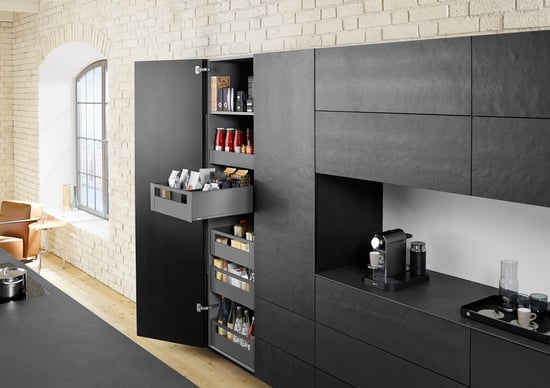 It's perfect for centralizing your kitchen storage, with room for food, baking products, and anything else. You can even implement inner dividers for increased organization and flexibility.
The best part is, there's a space tower for kitchens of any size. The "Narrow" version offers optimal pantry storage for spacially-challenged kitchens, while the "Wide" version provides more than enough space for larger families.
Each Space Tower cabinet unit comes with 4 full-extension pull-outs, an inner drawer, and a top-shelf. The pull-out frames have clear sides so you can see the contents inside regardless of their height. They can also be positioned at various heights, including directly at the bottom to make full use of the unit's overall space.
Design with Deslaurier Custom Cabinets
At Deslaurier, we implement our cabinets using Blum's drawer systems and inner divider product lines. We also utilize Blum's cabinet runners in order to create our own unique drawers: our melamine cabinet drawers and our wood dovetail drawers.
Whichever cabinet drawer system you choose, you've come to the right place! Book a free consultation with a Deslaurier kitchen expert at our Jupiter, Florida showroom today!
If you have your eye on custom cabinetry, Deslaurier Custom Cabinets has everything you need. With over 40 years of experience to our name, we provide our clients with a fully customized design process with our talented team of designers.
Interested in becoming an authorized Deslaurier dealer? Visit our Become a Dealer page to learn more! Live outside the area? Find a Dealer to connect with a Deslaurier dealer near you!