8/06/2022 • Blog
Comparing Blum's Kitchen Cabinet Drawers Systems
Estimated Read Time: 5 Minutes
Functional cabinet storage and organization can take your kitchen to the next level. Utilizing the perfect drawer systems for your kitchen cabinets is one of the best ways to do that.
If you've been researching cabinet drawer systems, you've no doubt stumbled across Blum.
The Blum company is a worldwide leader in manufacturing lift, hinge, pull-out, and pocket systems for cabinetry and furniture. They offer anything from unique drawer systems to pull-out steps.
At Deslaurier, we specialize in manufacturing custom cabinets that are equal parts beauty and function. In doing so, we partner with Blum for all of our cabinet drawer systems, door hinges, and numerous accessories.
This article will focus on Blum's three distinct drawer systems, and the two ways in which Deslaurier utilizes Blum drawer mechanisms to create our own unique drawer boxes!
Let's go!
The Blum Company
Founded by the company's namesake, Julius Blum – an Austrian farrier and carriage smith by trade – the Blum company was created in 1952. What might surprise you, is Blum's first product was actually a horseshoe stud which prevented horses from slipping!
In 1956, Blum's first plant – a 7,100 sq. ft.building that is still used to this day – was built. Blum developed their first furniture hinge in 1958, and in 1964, debuted their first cabinet hinge.
Now, they're the industry leaders in designing and manufacturing cabinet hinges, drawer systems, and accessories. Even with all their expansion, Blum is still a family-owned company.
Blum made their first global expansion in 1977, creating Blum Sweden and Blum USA. Since then, they now have subsidiaries in 32 countries across the world.
Blum offers three respective cabinet drawer systems: the MetaBox, TandemBox Antaro, and the LegraBox. Each unique drawer system provides individual characteristics, mechanisms, available accessories, and inner divider lines that can be incorporated.
Blum MetaBox Drawer
The Metabox drawer system is essentially Blum's entry-level product. At Deslaurier, it would be our Builder Kitchen's basic drawer system.
The Metabox application comes in various cabinet widths, heights, and lengths, and has a weight capacity of 25kg (roughly 55lbs).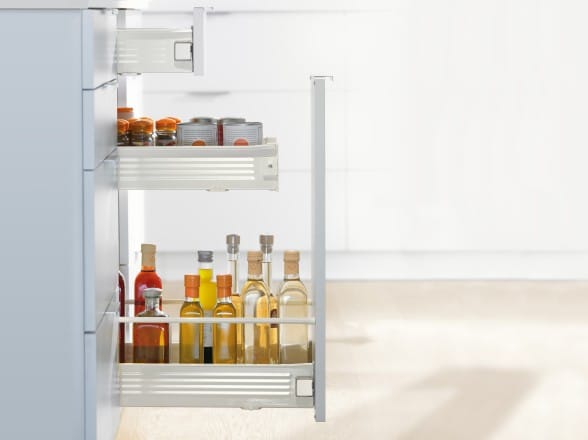 Blum's Metabox does not have a full extension and, unfortunately, you can't upgrade it to achieve a full extension.
The standard Metabox does not have a soft-close mechanism, either. However, unlike the full extension, you can upgrade a Metabox to implement a soft-close function – what Blum refers to as their soft-close BluMotion.
Blum TandemBox Antaro Drawer
The next step up in the Blum drawer hierarchy, the TandemBox Antaro has a clear-cut, rectangular design and is constructed out of light-weight aluminum.
It is available in grey or white, with the bottom of the drawer box having the ability to match the colour of your cabinet's exterior.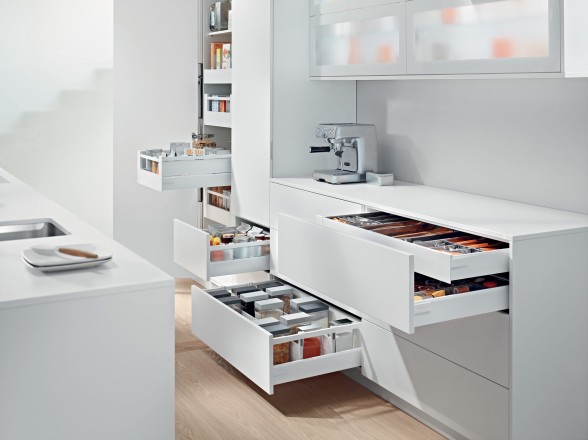 Unlike the MetaBox, the TandemBox drawer system comes standard with full-extension and soft-close capabilities. The full extension provides the drawer with several inches of additional pull-out length. The TandemBox drawers are also noticeably quieter than the MetaBox when being opened and closed.
Further, the TandemBox Antaro system offers increased support. They have a baseline weight capacity of 30kg (roughly 66lbs) that can support up to 65kg (roughly 143lbs) depending on the size of the drawer.
Blum has two distinct accessory and inner divider product lines: the Orga-Line and the Ambia-Line. The Orga-Line supplies products specifically for TandemBox antaro drawers, while the Ambia-Line provides the same for the LegraBox system (more on that below).
Each product line offers unique accessories from cutlery dividers to spice pull-outs, and much more. All are designed to fit selectively for their respective drawer systems.
Servo-Drive – for drawers and high-fronted pull-outs - open automatically with an electrical support system.
Blum LegraBox Drawer
The third and final product, the LegraBox has a modern, sleek style and is considered the more elegant, high-end drawer system offered by Blum.
If you're looking for variety when it comes to the appearance of your drawers, the LegraBox system is far and away the best option.
LegraBox drawers are available in multiple colours. Moreover, the LegraBox is the only drawer system that includes different styles of glass insert sides, providing a sleeker, more modern aesthetic.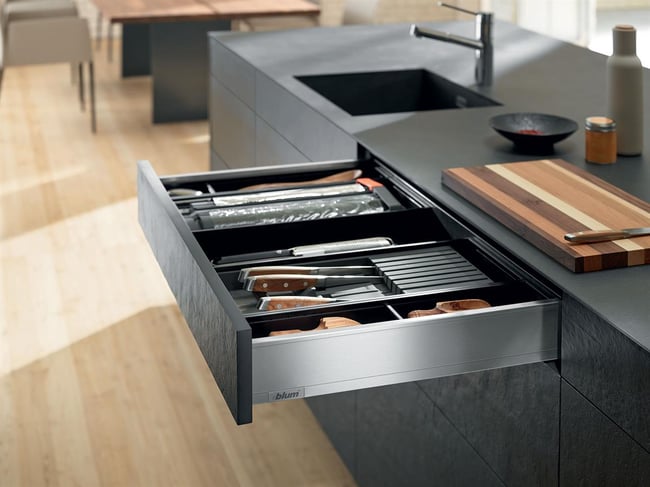 Aside from the streamlined look, what sets the LegraBox drawers apart is their unique collection of accessories and inner dividers.
Blum's Ambia product line is made specifically for the LegraBox drawer system. The Ambia line offers a large variety of interchangeable components that can mix and match to create different storage applications.
Deslaurier Melamine Drawer Boxes
While Blum offers 3 distinct lines of drawer systems, their customizable capabilities don't end there. At Deslaurier, we utilize Blum's cabinet runners – the tracks for drawers to slide on – in order to create two more unique drawer systems.
One of which is our melamine drawer boxes.
Deslaurier's melamine drawer boxes come in either white or natural maple and provide full extension and soft-close mechanisms. They're a great bang-for-your-buck option, especially if you want the aesthetic of wood drawers.
The best part is, our melamine drawer boxes can still be incorporated with Blum accessories and inner divider systems to provide optimal organization for your kitchen cabinets!
With melamine, it's important to note that weight limitations also include the weight of the drawer. If a particular drawer system supports up to 30kg of weight, for instance, the drawer itself is included in that.
In the case of melamine, it is a heavier material than Blum's aluminum product, which will result in slightly less storage weight being available. This shouldn't be an issue unless you are packing your drawers to the brim, but it is worth noting in the event you consider storing heavier items in your melamine boxes.
Want to see how a Blum drawer system would look in your dream kitchen design? Kickstart your journey today and book a free consultation with a Deslaurier kitchen expert!
Deslaurier Wood Dovetail Drawers
Our second Deslaurier drawer system comes in a wood dovetail design.
The wood dovetails are chosen based purely on an aesthetic level. They are a natural maple wood veneer, with the sides designed as a dovetail joint. The wood dovetails are more of a "classic" look for clients that want the appearance and feel of authentic wood drawers.
Aside from that, our wood dovetail drawers function similarly to the other drawer systems. They come standard with the vaunted full extension and soft-close mechanisms.
Design with Deslaurier Custom Cabinets
Whichever cabinet drawer system you choose, you've come to the right place! Book a free consultation with a Deslaurier kitchen expert at our Jupiter, Florida showroom today!
If you have your eye on custom cabinetry, Deslaurier Custom Cabinets has everything you need. With over 40 years of experience to our name, we provide our clients with a fully customized design process with our talented team of designers.
Interested in becoming an authorized Deslaurier dealer? Visit our Become a Dealer page to learn more! Live outside the area? Find a Dealer to connect with a Deslaurier dealer near you!