16/11/2021 • Blog
How Much Does a Kitchen Sink Cost? A Breakdown
Buying the perfect sink for your kitchen is an important factor in any design or renovation project.
You'll need to consider how much daily use it will succumb to, the amount of countertop space you have for it, the style of installation you desire, the functionality of the sink, as well as the aesthetic design you prefer.
All of these details will impact the cost of the sink you choose.
At Deslaurier, we are experts in designing custom kitchen cabinetry. Although we do not install kitchen sinks, we understand how the cost of a sink can factor into your kitchen design process. In turn, many of our client's often ask us about the cost of a kitchen sink.
To better understand how much your ideal kitchen sink will cost, we'll go through the different styles, materials, and sizes that align with your kitchen needs and your budget.
Let's begin!
Kitchen Sink Styles
Choosing the right style of sink for your kitchen can influence cost in a number of ways.
Different sink styles will require additional plumbing, while others might necessitate cabinet and countertop modifications.

Let's take a look at Top Mount, Undermount, and the ever-popular Farmhouse sink styles!
Top Mount Sink
The top-mount sink, also known as "drop-in" or "self-rimming," is the most popular kitchen sink configuration as it is easy to install and works well with almost any countertop material.
The sink slides into a hole in the countertop, with the edge of the rim holding it in position. If you're worried about a lack of support, or just want the extra solidity, top-mount sinks can be fitted with clips or screws to increase stability.
Because the rim of the sink sits on-top of the surface, it can reduce valuable countertop space if your kitchen area is limited.
In terms of price, drop-in sinks are typically less expensive than those with undermount plumbing due to their easier installation.
Undermount Sink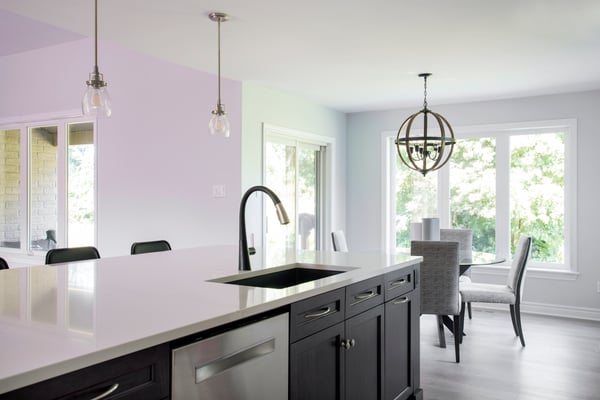 Undermount is a term that describes a sink installed from underneath the counter.
This sink configuration eliminates the rim or lip of a top-mount sink and can provide a sleek, integrated look when combined with solid-surface countertops such as granite or quartz.
Because countertop debris can easily be brushed into the sink, undermount sinks look sleeker and are easier to clean.
The weight of your sink is an important factor when considering undermount installation.
Depending on the size and density of your sink material, properly undermounting a larger, heavier sink could prove challenging and is something worth discussing with your plumber or contractor beforehand.
Farmhouse Sink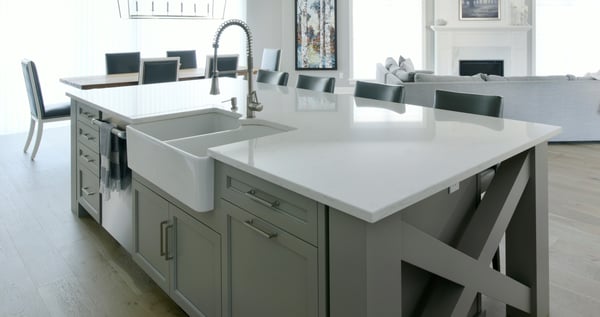 Farmhouse (or apron) sinks are unique in that they are both their own style and require their own distinct installation method.
A farmhouse style sink, also known as an apron sink, extends over the edge of your cabinetry.
This type of sink is most commonly used in a traditional or rustic farmhouse style kitchen and can be designed with a single bowl or double bowl.
They typically come as fireclay or cast iron and are incredibly durable and easy to clean because of these nonporous materials.
The farmhouse sink is larger and oftentimes more expensive than other styles due to the need for special cabinetry. A deep basin will require a special base or modified cabinet or countertop in order to support the sink, which will increase the overall cost accompanied with this style.
Farmhouse sinks are typically equipped with a large, deep single or double bowl, and an exposed front.
This design is perfect for cleaning large pans, pots, and platters.
Kitchen Sink Sizes
Another important factor in kitchen sink prices is, of course, the size.
With single, double, and even triple basins available, the size of your sink will influence the total cost involved.
Let's look at what single, double, and triple basin sinks provide.
Single Basin Sinks
A single basin is a broad category of kitchen sink that includes farmhouse and in-counter sinks. As made clear by the name, the defining feature of these sinks is that they offer one large, single bowl with no divider.
With various widths ideal for both spacious and limited kitchens, single-basin sinks offer the best value and most common configuration, requiring less plumbing and lending convenience to the installation process.
Larger single basin sinks are ideal for handwashing dishes or cooking supplies, as they can accommodate large pots, pans, or platters that must be soaked before scrubbing.
But, be prepared to have a drying station to the side of the sink, as single basins do not allow adequate room for drying.
Double Basin Sinks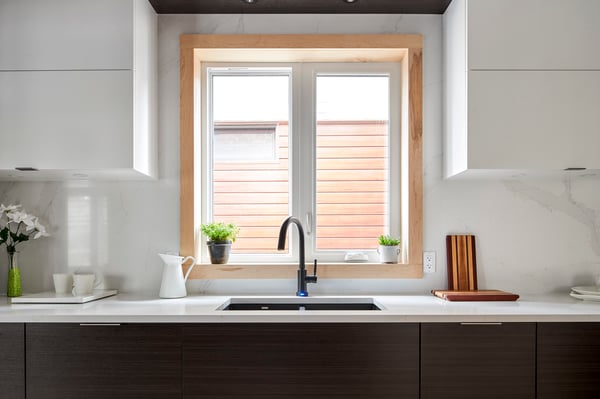 The double basin has become a wildly popular kitchen sink option in recent decades.
Sinks with two bowls are preferred for their multifunctionality.
Multi-basin sinks have the option to use one section for hot water washing and the other for cold water rinsing; one to soak tough pots and pans while simultaneously allowing the other basin to be available for routine function.
The double-basin, low-divide sink is one of the most practical double-basin sink designs. As opposed to traditional double basins, where a high partition fully separates each bowl, a low-divider can accommodate pots with long handles (like large single basin sinks) while still offering the added benefits of two basins.
Because of the extra material involved in the partition, as well as two drains requiring additional plumbing, double basin sinks can cost significantly more than single basins.
But, in terms of functionality, an excellent double basin sink is hard to beat and worth the additional costs.
Triple basin Sinks
Do you have ample kitchen space? Maybe you have a large island you want to implement with one multi-versatile sink and alleviate clutter on your wall countertops. A triple basin might be what you're looking for.
Triple basin sinks are typically much larger than both single and double bowl sinks, and require a vast amount of countertop room to comfortably integrate into a kitchen.
Since they are so rarely used in home kitchens, triple basin sink options are somewhat limited, especially in terms of materials.
It will be hard to find many options outside of Stainless Steel or Copper.
Kitchen Sink Materials
The type of material you choose for your sink will have a large impact on the price. Sinks made of high-end materials like copper or enameled cast-iron will come at a much higher price point than stainless-steel, especially when looking for basic, low-range options.
Let's look at popular materials like Stainless-Steel, Granite Composite, Fireclay, Copper, and Cast-Iron, and what each one will provide for kitchen sink options.
Stainless Steel Sinks
Stainless-steel sinks are an extremely popular kitchen sink choice for homeowners because of their compact design, durability, ease of cleaning and affordable price point.
High-grade stainless-steel sinks have a long lifespan and blend well with almost any kitchen design, which amplifies their consistent popularity.
Stainless-steel sinks are lightweight, affordable, durable, and low-maintenance.
The thickness of stainless-steel sinks is referred to by gauge number. They are commonly made from 14 (thicker), 16, or 18 (thinner) gauge, 304-grade stainless-steel. Naturally, the thicker the gauge is the more expensive the sink will be.
If you think your daily sink use requires the extra support, consider going with a 14 gauge thickness. If you use a dishwasher for the majority of your cleaning, then sticking with a thinner sink is a more affordable option.
In addition to being a hygienic and non-porous material, stainless-steel is resistant to corrosion and does not crack, chip, or wear out.
Since they are so affordable and versatile, stainless-steel sinks can be installed in a multitude of styles, including top mount, undermount, and farmhouse, and are one of a select few materials available as a triple basin.
Granite Composite Sinks
Granite composite is a mixture of granite stone combined with acrylic resins. This high-quality material is extremely durable and low-maintenance.
Granite composite sinks are scratch, stain, and heat resistant to 537 degrees Fahrenheit, with a protective barrier that protects against bacteria.
Granite composite sinks often have integrated drainboards or faucet drillings, and come in a variety of neutral colours that can be matched with your cabinets or countertop.
The most popular granite sink configurations are top-mount and undermount.
For the quality of the material, granite composite sinks are reasonably priced. Their base cost is significantly higher than stainless steel, but at the higher-end sink level, the two materials are similarly priced.
Fireclay Sinks
Fireclay kitchen sinks are made from dense clay heated to a high temperature, which melts the clay and fuses it with its porcelain enamel coating. This enamel coating provides the surface with a glossy finish that is stain, scratch and chip resistant!
Fireclay is a highly durable material that is resistant to rust and discolouration, as well as fading. Fireclay sinks are also easy to clean and maintain due to their glossy, smooth surface.
Do you want a kitchen sink that can withstand extremely high temperatures? If so, fireclay sinks are a practical option: it has the ability to withstand 1800-to-2200-degree Fahrenheit temperatures.
Fireclay is a popular, high demand choice for farmhouse sinks and is similarly priced to granite composite products, if not slightly more expensive.
Copper Sinks
Copper sinks can be made in various thicknesses, from 20 gauge to 14 gauge, just like stainless steel, the lesser the number, the thicker the copper will be.
One benefit that has led to copper being one of the most practical kitchen sink materials available is that 99.9% pure copper is naturally antimicrobial, can kill harmful bacteria, and is completely recyclable.
After all, most cook areas are full of germs and bacteria, and having something that naturally kills them is invaluable.
You can find copper sink options in several styles, such as drop-in, standard undermount, and farmhouse. Along with Stainless Steel, Copper is also a popular option for triple basin sinks sizes.
An aesthetic attribute that Copper has is the ability to get creative with the look and finish of your sink with available options such as a Hammered finish, Smooth finish or choose from a variety of different Patina selections.
Overall, Copper is one of the most expensive sink options in the world. Use caution if you find a lower-priced copper sink, as they may be made with a thinner gauge metal, which will show signs of damage much faster.
Cast Iron Sinks
Coated with porcelain enamel, solid Cast-iron sinks offer long-lasting durability with sound-deadening qualities and can withstand heat up to 1,000°F.
While the material is incredibly durable, the enamel can get scratched or chipped over time by dropping sharp objects, resulting in the cast-iron surface to become exposed.
If you have a cast iron pan, you know how heavy the material is. Now imagine how substantial the weight of a cast iron kitchen sink could be. Because of this, it may be necessary to reinforce your cabinets and countertops to ensure they can support the weight of such a dense material.
Cast-iron sinks are incredibly versatile. They are available in a variety of colours and can be installed in drop-in, undermount and farmhouse configurations.
Quality cast-iron sinks tend to be on the expensive side, typically coming in slightly higher priced than granite or fireclay options of the same style.
Cost of Single/Double/Triple Basin and Farmhouse Sinks
Cost of Single Basin Sinks
| | | | |
| --- | --- | --- | --- |
| Material | Low Range | Average Range | High-End Range |
| Stainless Steel | $75.00-$250.00 | $400.00-$1000.00 | $1500.00 and higher |
| Granite Composite | $400.00-$800.00 | $800.00-$1500.00 | $1500.00 and higher |
| Porcelain/Fireclay | $400.00-$800.00 | $900.00-$1500.00 | $2000.00 and higher |
| Copper | $800.00-$1200.00 | $1500.00-$2500.00 | $3000.00 and higher |
| Cast-Iron | $500.00-$1000.00 | $1300.00-$2500.00 | $2500.00 and higher |
Cost of Double Basin sinks
| | | | |
| --- | --- | --- | --- |
| Materials | Low Range | Average Range | High-End Range |
| Stainless Steel | $200.00-$600.00 | $800.00-$1500.00 | $2000.00-$3000.00+ |
| Granite Composite | $600.00-$800.00 | $800.00-$1500.00 | $2000.00 and higher |
| Porcelain/Fireclay | $600.00-$800.00 | $1000.00-$2000.00 | $2000.00 and higher |
| Copper | $1000.00-$2000.00 | $2500.00-$3500.00 | $3500.00 and higher |
| Cast-Iron | $800.00-$1200.00 | $1500.00-$2500.00 | $2500.00 and higher |
Cost of Triple Basin Sinks
Since triple basin kitchen sinks are quite uncommon, it is hard to find a wide variety of materials that they are made from. Stainless Steel and Copper are the two most readily available on the market.
| | | | |
| --- | --- | --- | --- |
| Material | Low Range | Average Range | High-End Range |
| Stainless Steel | $800.00 | $1500.00-$2000.00 | $3000.00 and higher |
| Copper | $3000.00 | $4000.00-$5000.00 | $6000.00 and higher |
Cost of Farmhouse Sinks
| | | | |
| --- | --- | --- | --- |
| Material | Low Range | Average Range | High-End Range |
| Stainless Steel | $400.00-$600.00 | $800.00-$1500.00 | $2000.00 and higher |
| Granite Composite | $800.00-$1000.00 | $1000.00-$1500.00 | $2000.00 and higher |
| Porcelain/Fireclay | $400.00-$600.00 | $800.00-$1500.00 | $2500.00 and higher |
| Copper | $1000.00-$2000.00 | $2000.00-$3000.00 | $3500.00 and higher |
| Cast-Iron | $500.00-$700.00 | $900.00-$1400.00 | $2000.00 and higher |
Kitchen Sink Installation Costs
According to Home Advisor, the average cost of a kitchen sink installation ranges from $200.00 to $600.00 and can even climb into the thousands of dollars, depending on fixtures, style, and any extra plumbing that is required.
Farmhouse and undermount sinks will generally cost more to install than top-mount and drop-ins, as they necessitate more in-depth installation methods.
Double basin sinks with multiple drains, or sinks with additional fixtures like built in soap dispensers will require additional plumbing and labour, which will increase the price of installation.
If you're just installing a new sink to your current kitchen, additional costs may be incorporated if plumbing and cabinetry need to be moved or altered.
All things considered, expect to pay roughly $400.00 for a standard kitchen sink installation.
Design With Deslaurier
Got your eye on the perfect sink for your kitchen and budgetary needs? Book a consultation with a Deslaurier design expert in our Jupiter, Florida showroom, and see how it'll look in your dream kitchen!