5/09/2023 • Blog
How to Choose the Right Light Fixture for Your Bathroom
Estimated Read Time: 6 Minutes
Choosing the right lighting fixture for your bathroom may seem like a small task for the average person who is not in the bathroom renovation planning or remodelling stages.
For those that are, you understand that this is an important choice indeed. There are many things to consider when it comes to choosing a lighting fixture that can affect not only the overall look of the space but also how well the room functions.
With 40+ years of experience in designing and installing custom cabinets, including bathroom projects, we at Deslaurier understand the significance of lighting and its transformative impact on your desired space.
That's why we are here to help. In this article we will discuss how to assess your needs, the different types of fixtures available, and how to factor in the considerations that will allow you to find and install the perfect lighting for your bathroom.
Let's get started!
Assessing Your Bathrooms Lighting Needs
Lighting plays several roles in a bathroom, each important to consider before deciding on the best fixtures for your room. The most basic function of a bathroom light fixture is to illuminate the area.
For example, an incorrect fixture for the space will make shaving quite challenging or lead to stepping out for the day with makeup that looks different from what it did in the mirror!
The lighting in your bathroom is influenced by factors such as the room's size, the presence or absence of natural light, and other considerations.
Secondly, your bathroom lighting adds to the aesthetic and ambiance of the room. Perhaps you enjoy indulging in a weekly bath, setting the lights low to evoke a soothing spa ambiance.
On the other hand, you might be seeking a modern bathroom light fixture that offers customizable lighting colours and the option to accentuate specific areas within your bathroom.
Bathroom lighting fixtures come in a wide array of styles. No matter the style of your home or your lighting needs, there is something to fit your home perfectly. So let's talk next about the four main types of bathroom lighting fixtures: ambient, accent, decorative, and task.
Types of Bathroom Light Fixtures
Ambient
Think of ambient lighting as your general lighting. It illuminates the majority, if not all, of your bathroom and is meant to create uniform light. The most common ambient lighting in your bathroom will be in the way of overhead lighting. This could be recessed lighting, track lighting, flush-mounted ceiling lights, or chandeliers appropriate for a bathroom.
Task
As the name implies, this is lighting used with a specific purpose and function. In kitchens, this may be where food is going to be prepared. Living rooms may have task lighting for a reading area or in an office at a desk.
For your bathroom lighting, this will be lighting above your vanities where skin and haircare, makeup application, and shaving may occur. It is also used above showers to create ambiance and ensure safety.
Accent
Accent lighting is sometimes referred to in design as highlighting. Its purpose is to draw attention to objects or specific areas in a room. The most common uses of accent lighting are to highlight artwork, plants, bookcases, and shelves.
In bathrooms, this is a wonderful way to light art pieces or plants in the space. It lets you turn off your general or ambient lighting while illuminating certain pieces for a beautiful glow.
An easy way to think about building lighting in your bathroom is to work in layers. Choose ambient for general lighting, task for targeted lighting for functional use, and accent for featuring art and plants.
Factors to Consider
There are many factors to consider when choosing light fixtures for your bathroom. These can make a big difference in the look of your finished bathroom and its ease of use and functionality.
While a bathroom light can exude beauty, its value lies in its functionality that caters to your preferences, your family's needs, and those of visiting guests. In the following sections, we will delve into considerations like bathroom size and layout, fixture dimensions and aesthetics, bulb choices, as well as lighting controls.
Bathroom size & layout
Layouts and sizes vary drastically from those with very little space and just enough room for the essentials to large master bathrooms with room for sitting areas, double vanities, soaking tubs, and large showers.
The size and layout of the bathroom in your home will have a lot to do with which lighting fixtures and how many you need in your bathroom. Small spaces may need one central lighting fixture to illuminate the entire room. Larger bathrooms may require multiple fixtures to ensure ample light throughout.
The general rule of thumb is that for each square foot of space, you will need 50 lumens in order to mimic natural daylight. An easy way to think of this is that you want plenty of light to be able to easily get ready each morning but not so much that it feels exorbitantly bright.
Fixture size & style
When choosing a fixture style, you will want to ensure it is cohesive with the design of the rest of your home. For example, if your home leans towards modern lighting and minimalist decor, something ornate and traditional in your bathroom can result in the room looking disjointed from the rest of your home. A sleek wall fixture may be more aesthetically pleasing.
Working with a designer can be a great way to make sure you keep the correct flow throughout all the lighting in your space.
Size is another essential element a designer can be extremely helpful with when choosing the correct size fixture. Ensuring your bathroom lighting fixtures' scale matches the room will help make the room look put together. A fixture too large can overpower the room, and too small can make it look poorly designed and unfinished.
Light bulb options
While incandescent bulbs are becoming less common, some fixtures still use them. An important note is that these have a shorter lifespan and must be changed more often.
This can be an important consideration if the fixture or fixtures you are thinking about installing will require a step stool or ladder to change. LED bulbs are more energy efficient and must be changed less often, making them a smart option for homes with high ceilings. The technology has been improving with these bulbs, making them much more affordable than initially introduced.
Although they may be more expensive for initial purchase than an incandescent, they make up for that price in your energy bills as they cost much less to operate.
Lighting controls
Have you never thought about lighting controls being important in your bathroom? Well, think again!
How your lights operate in your bathroom can be a game-changer for ambiance and functionality in your space. With ever-changing technology and smart home advances, lighting controls have come a long way for the bathroom.
You can choose from traditional dimmers, colour-changing lights, controls, and timers that can be programmed from your smartphone or compatible with devices like Google Nest and Amazon Alexa.
Being able to control lighting temperatures and brightness can help you change the mood in the room from bright and cheery to get ready in the morning to soft and luxurious for an evening bath.
Motion control lights can be set to activate when someone enters the room. This can be great for children, the aging, or anyone who gets up in the evening to use the restroom.
If you consider the above before deciding on your bathroom light fixtures, you are much more likely to be happy in the long run with your decision and not looking to change out fixtures soon. Doing so can be an expensive hassle that could have been avoided.
What Type of Light Fixture is Best for Bathrooms?
When it comes to selecting light fixtures for bathroom renovations, four distinct types have emerged as versatile favourites, consistently chosen by individuals seeking to revamp their bathroom spaces.
These options encompass wall sconces, flush mounts, hanging lights, and recessed fixtures.
Wall sconces, known for their adaptability, excel at the task of gracefully flanking mirrors. This placement not only enhances the visual appeal but also offers functional illumination for grooming tasks.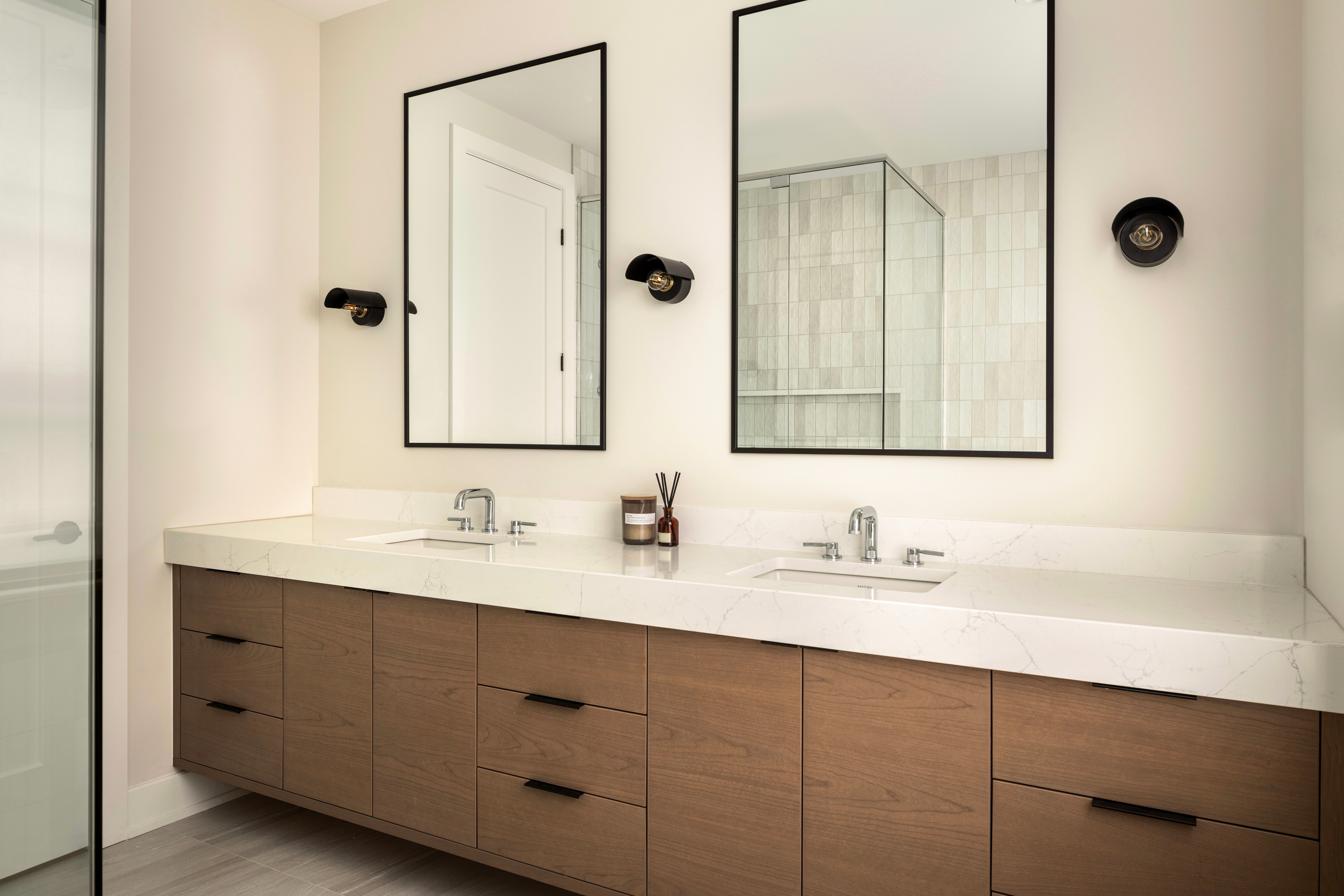 Flush mount fixtures step up when dealing with bathrooms that feature low ceilings. Their design ensures a seamless integration with the limited vertical space, providing effective lighting without imposing on headroom.
For those aiming to infuse a sense of drama and make a bold statement, hanging lights come to the forefront. These fixtures offer the perfect opportunity to introduce an eye-catching centrepiece, elevating the overall aesthetic of the bathroom.
Incorporating recessed lighting into bathroom designs brings a sense of ambient illumination. These fixtures are commonly employed to evenly light up larger spaces, adding a soft and even glow that contributes to the overall atmosphere.
The beauty of these options lies in their adaptability and versatility. You have the flexibility to utilize a single fixture type or combine multiple variations, allowing you to curate the perfect lighting scheme tailored to your bathroom's unique characteristics and your personal preferences.
Design with Deslaurier Custom Cabinets
Hopefully, this article has helped you feel like you have the tools to choose the proper lighting for your bathroom based on style and functionality. Lighting can bring a space together and illuminate it (pun intended) with the vibe and energy you want the space to reflect.
Whether you are looking for modern, traditional, or something in between, Deslaurier has a team of experts ready and happy to help you turn your bathroom into the oasis you have always dreamt of.
With over 40 years of experience to our name and an outreach of over 30 dealers across Ontario, we provide our clients with a fully customized bathroom design process with our talented team of designers.
Book a free consultation with a Deslaurier kitchen expert at our Jupiter showroom!
Live outside the area? Find a Dealer to connect with near you! Interested in becoming an authorized Deslaurier dealer? Visit our Become a Dealer page to learn more!