1/02/2022 • Blog
Kitchen Cabinets vs. Floating Shelves: How to Use Both
Are you looking at unique storage and design solutions for your kitchen? Maybe you have a smaller kitchen that feels cramped whenever you open cabinet doors.
Incorporating floating shelves may be your solution!
At Deslaurier Custom Cabinets, we're experts in all things kitchen cabinetry. With that, we know how important it is to perfectly utilize various kitchen storage solutions.
This article will compare kitchen cabinets with floating shelves, giving you the knowledge to best implement them within your kitchen design.
What Are Floating Shelves?
Floating shelves are an increasingly popular design technique to get creative with traditional kitchen storage.
A floating shelf is a shelf attached to a wall with no visible method of support. That means there are no screws or brackets shown affixed to the shelf, merely the shelf "floating" against the wall.
Take a look: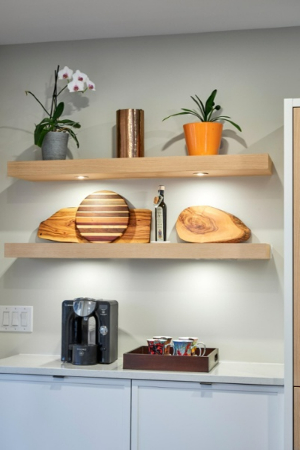 Floating shelves are implemented for easy-access storage, presenting eye-catching kitchen objects, or merely as a design aspect. While floating shelves are popularly used to replace a cabinet or two, you would not use strictly floating shelves instead of cabinets for kitchen storage.
We'll discuss the optimal ways and areas to utilize floating shelves in unison with cabinets within your kitchen design.
Floating Shelves and Small Kitchen Designs
While floating shelves can be implemented in any kitchen, they are especially great for small kitchen designs. They provide convenient storage with immediate access and maximize the available space of a smaller kitchen.
Alternatively, bulkier kitchen cabinets will have doors banging into one another (or you), restricting the mobility of an already limited area. With floating shelves, there is no risk of doors making the room feel cramped.
In fact, when it comes to visual design, floating shelving can help make a smaller room feel larger and more open. That's what makes floating shelves more preferable in smaller kitchens: they make the most of your available space!
Where to Implement Floating Shelves In Your Kitchen

In the Corner
Generally speaking, you want to maintain symmetry and consistency with the width of your cabinet doors. This can be especially difficult when fitting cabinets into corners with limited space, since having the same size cabinets to fill one wall can be difficult. Floating shelves are a good substitute.
For instance, say you have three cabinets, all 30" wide, on a wall that still has a 12" gap between the corner and the nearest cabinet.
Instead of using a narrower cabinet than the rest of the wall, using floating shelves in corner spaces is a great way to break up symmetry and get creative. Rather than issuing a 12" cabinet that would look out of place on a wall of only 30" cabinets, utilize corner shelving..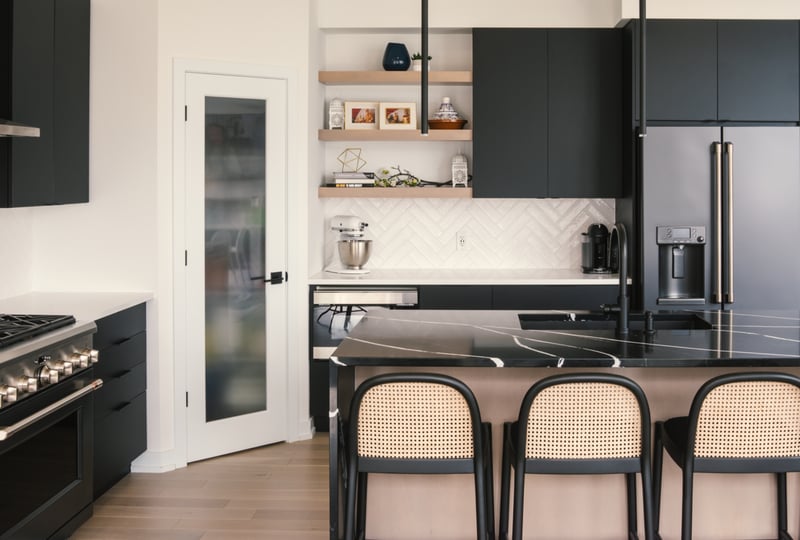 Corner cabinets can also be awkward and inefficient, with the bulky cabinet box taking up valuable room. Incorporating multiple floating shelves in a corner will allow you to make the most of your available space, which is why they're so popular to implement in corners.
Beside A Window
Installing floating shelves beside a window is a popular way to implement them into a kitchen design. Additionally, putting shelves next to a window allows more light into the room, as opposed to a deep cabinet box.
This light brightens up the kitchen while also providing sunlight to any plants or herbs you may have ornamenting your shelves.
Next to A Range Hood
Putting floating shelves on either side of a range hood is a nice way to get creative around your cooking area and save some wall space. It can also be a great place to display functional and aesthetic kitchen items.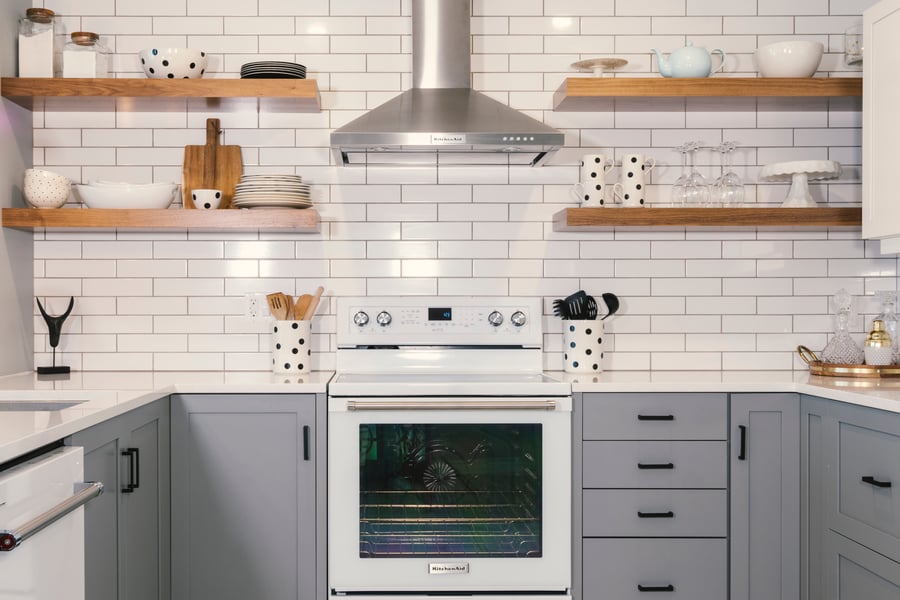 For example, storing cooking oils, bottles, or spices on shelves above a stovetop allows them to be elegantly displayed while also being easy to access during meal preparation.
Kitchen Cabinets vs. Floating Shelves: Strength
Cabinets provide the most weight-bearing support of any kitchen storage solution. Depending on the quality of screws used for installation (each screw should provide roughly 75 pounds of support), cabinets have the strength to support up to a few hundred pounds once properly situated.
Not to mention, upper cabinet boxes are screwed into the wall and screwed together to the cabinet next to it. This increases the structural support of the cabinets and the amount of weight it can sustain.
Floating shelves, on the other hand, aren't as supportive.
The strength of floating shelves is dependent on their installation method and where they are situated regarding their surroundings. If they are built and installed the right way, they can be incredibly strong.
Floating shelves on their own, that are being supported by one side of a wall, will not provide nearly as much weight-bearing support as kitchen cabinets. Alternatively, floating shelves installed between two cabinets, or a wall and a cabinet, will have additional support that rivals that of cabinets.
Kitchen Cabinets vs. Floating Shelves: Storage and Decoration
Closed door cabinets are by far the most functional storage solution you can have in a kitchen. Cabinets have the ability to store far more items than open shelving because you don't have to worry about presentation, allowing you to clutter and cram the cabinets as much as you please.
One of the most endearing qualities of shelving storage is the visual appeal of presenting beautiful kitchen objects and ornamentation. If you are a very tidy, organized person, your kitchen will thrive with floating shelves.
Floating shelving is the perfect way to put your glassware and dishware on display. If you have larger shelves with ample room, you can even get creative with decoration, letting your individuality shine. They're a great place to add warmth to your space with some of your favourite cookbooks, a plant, or artwork.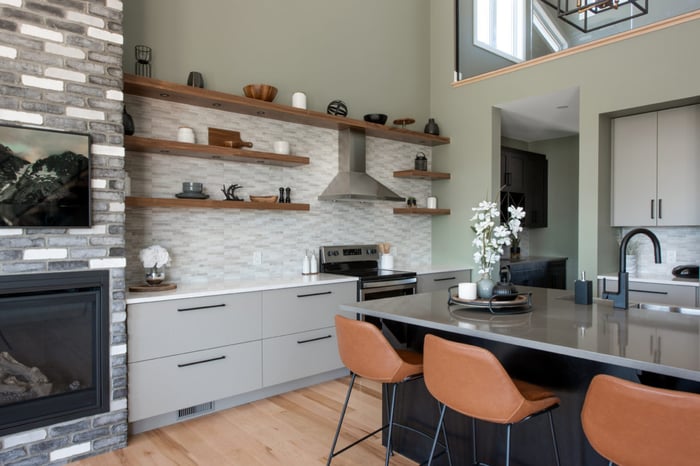 Kitchen Cabinets vs. Floating Shelves: Design Flexibility
Kitchen cabinets present more design versatility than floating shelves.
Both cabinets and shelves offer numerous stains and paints in a variety of wood species and alternative materials, such as thermofoil. Where cabinets provide the most versatility, however, is through the creative aesthetic obtained only through decorative door styles.
At Deslaurier, we offer over 70 different door styles in slab (flat), 5-piece, and various decorative detailing in 1-piece door styles. Within those styles, you may consider a two-tone kitchen, glass door inserts, or any other creative cabinetry arrangements. This versatility allows you to play around with your kitchen design in a manner unavailable to shelving.
Having said that, there is plenty of design versatility available with floating shelves as well. An entire kitchen, or even just one wall of only closed cabinets, can run the risk of looking less custom and a little boring or bland. If you want a more visually interesting kitchen design, then going with shelving is a good way to incorporate some distinct inventiveness within the kitchen.
A specific way of achieving this look is by administering floating wood shelves in a kitchen with painted cabinets. Not only will the wood grain shelving juxtapose the painted cabinets, but it will also offer unique storage and presentation options.
Placing multiple shelves between two cabinets is another good way to break up a large wall of cabinets.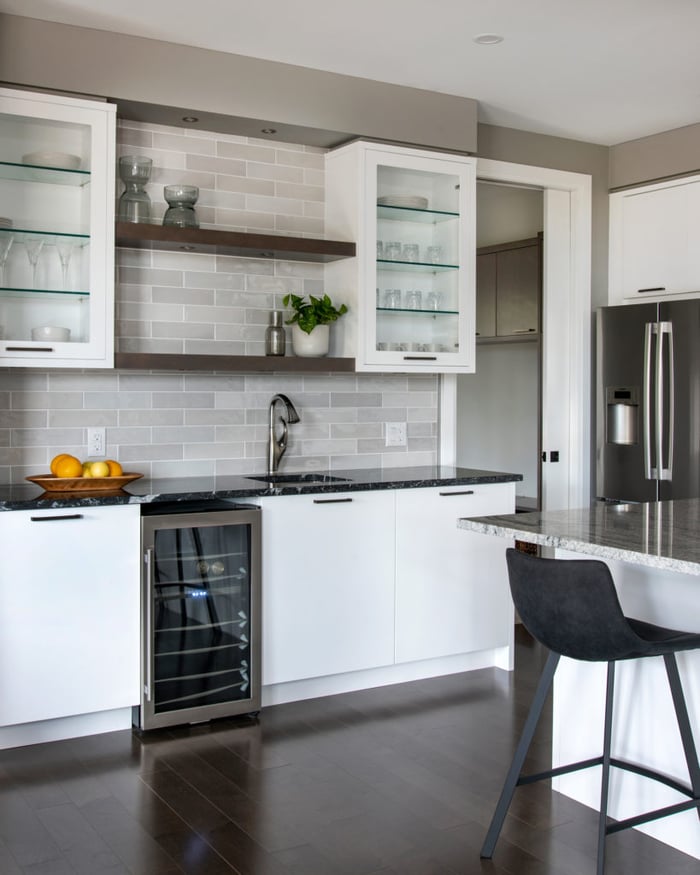 Kitchen Cabinets vs. Floating Shelves: Cost
The cost of kitchen cabinets is a major factor in a kitchen's overall expenses. Driving factors in cabinet costs are the material used, finish applied, and the door style that is chosen.
Roughly speaking, a simple base cabinet can cost $500. Not to mention higher-end choices such as MDF with premium paint or cherry wood with an elegant stain.
High quality floating shelves may not be as inexpensive as you might think. While in comparison to kitchen cabinets they do offer a cost-effective alternative, high-end options can still cost hundreds of dollars. What it comes down to is the material of the shelves, and how thick they are.
Along with the same pricing factors of kitchen cabinets mentioned above (material used and finish applied), the thickness of the shelf will constitute how much material needs to be used. A thinner shelf in a budget friendly thermofoil will be significantly less expensive than a thicker shelf made out of walnut.
If you're looking for cost-effective floating shelves, retailers like Home Depot, Wal-Mart, or Amazon, offer inexpensive (anywhere from $30 to $80) floating shelves that you can install yourself. They won't offer the quality or strength as the same shelves made by cabinet or woodworking manufacturers, but they are a great way to save money while incorporating some light shelving into your kitchen.
Kitchen Cabinets vs. Floating Shelves: Keeping A Clean Space
In comparison with floating shelves, closed-door cabinet maintenance is considered a breeze.
With closed-door cabinets, you won't have to worry about cluttered presentation, or dust accumulating within your cabinets because the doors will hide the inside contents. All you need is quick and proper cabinet door cleaning and you're all set!
Alternatively, a major maintenance flaw of floating shelves is the need to keep everything clean and presentable. Stacking too many plates or bowls can run the risk of looking chaotic and cluttered.
If you're very organized and diligent with your presentation, using shelves for storage is great! If not, try going with a "less is more" approach when ornamenting your floating shelves.

Another common issue with shelves is the accumulation of dust and grime. Dust can collect rapidly onto your shelves and the contents stored on them, resulting in a need for routine wipe-downs.
Grease can also be an issue if you have shelves above your cooktop. Floating shelves situated here can fall victim to grease splatter while cooking.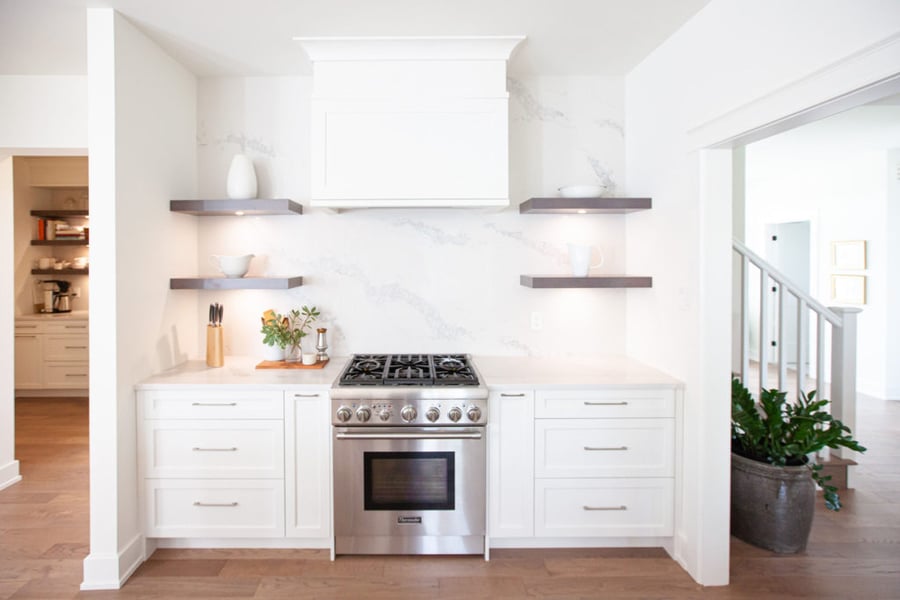 Can't Decide Between Cabinets or Floating Shelves? Go With A Combination!
If you're interested in incorporating floating shelves with kitchen cabinets in your kitchen design but still appreciate the practicality of regular cabinetry, consider going with a combination.
In fact, a balanced combination of floating shelves and cabinets is the perfect way to make kitchen storage unique while adding individuality to your design.
As previously mentioned, you may consider utilizing floating shelves in one of the popular areas such as a corner, beside a window, or above a cooktop. If you have a large space, you can also comfortably implement shelves between two upper cabinets.
The best way to fulfill your dream kitchen aesthetic is to get imaginative with your storage space.
Design With Deslaurier Custom Cabinets
Designing a kitchen with a combination of cabinets and floating shelves can be a delicate balancing act. A task that can be aided by the help of a professional kitchen designer.
Lucky for you, you've come to the right place!


Deslaurier Custom Cabinets has everything you need for a wholly customized kitchen experience. With over 40 years of industry experience, we provide our clients with a fully customized design process with our talented team of designers.
Book a free consultation today and meet with one of our Deslaurier kitchen design experts in our Jupiter, Florida showroom!