24/12/2021 •
A Review of Laminate Countertops
Your countertop is your kitchen workspace, and as such, it is important to research the best fit for both your kitchen's design and your lifestyle.
You've probably heard of laminate countertops, and undoubtedly, some of the negative connotations they carry. Some concerns are still valid today, but many others are outdated stereotypes derived from laminates manufactured decades ago.
Modern-day laminate countertops may surprise you with their design options, durability, and cost-effective price point.
If you're looking into new countertops, including laminate in the discussion might be just what your kitchen needs.
Here at Desluarier, we specialize in custom kitchen cabinetry. With that being said, we aim to offer expert advice on all things kitchen design. Our clients often ask our advice on kitchen countertops, and specifically our opinion on laminate kitchen countertops.
Let's take an unbiased look at everything laminate countertops so you can decide if this is the right choice for your kitchen!
What Are Laminate Kitchen Countertops?
If you're familiar with laminate then you have probably heard of Formica. Laminate was developed by Formica in 1930 and pioneered as an alternative building surface.
Noted for their versatility and affordable price, laminate countertops gained tremendous popularity during the post-WWII era. With a recent resurgence in demand, and advancements in technology, modern day laminate is better than ever!
Standard laminate countertops are made of several sheets of kraft paper pressed with heat and bonded to a substrate. These sheets will include one with the visual aesthetic of the countertop, as well as protective sheets that will result in a plastic-feeling finish.
There are multiple different substrates that can be used for laminate countertops. The most common being particleboard, the same material used for cabinet boxes. Other popular options for laminate substrate cores are plywood, MDF, moisture resistant board (MR Board), and environmentally friendly options like NU Green.
Standard size laminate countertops come in 30" depths and in 8', 10', and 12' lengths. Manufacturers can adjust these sizes to fit the dimensions of your custom kitchen surfaces.
Traditionally, the standard thickness of a laminate countertop is 5/8 but some newer companies provide a standard 11/16. Regardless, custom fabricators can adjust the thickness to match your preference.
Grades of Laminate Countertops
Each type of laminate has its uses depending on whether you need impact resistance, visually pleasing style, or a particular style of countertop. When you're ready to choose your grade, here is some information that you should keep in mind.
Horizontal Grade Laminate
Otherwise known as standard grade laminate, horizontal grade laminate is the most commonly used grade. Its name is derived from the fact that it is mainly featured in horizontal applications such as counters, islands, desks, tables, and vanities.
When a surface needs to be impact resistant, horizontal grade is the best option. For this reason, vertical applications that need extra strength may be created from standard grade laminate.
Post Form Grade Laminate
Post forming is the process of applying laminate to a particleboard substrate using heat and pressure.
Post-form grade laminate, also known as High-Pressure Laminate (HPL), is thin and often made with a different process than vertical or horizontal grade.
While traditional laminate tends to be stiff, inflexible horizontal sheets, the post-form process allows for more pliability. This allows the material to bend and adhere to a particleboard. The laminate layer doesn't need to be as thick because the substrate reinforces it.
Post form grade is used almost exclusively in making countertops and tabletops.
Laminate Countertop Design Styles and Colours
The technology used to create laminate countertops has progressed quite far in recent years. Today, modern options can mimic the look of wood and granite so well that it is virtually impossible to visually tell the difference.
Laminate is easily the most versatile of any countertop material in terms of the design styles available.
Premoule's catalogue, for example, offers a staggering 500+ colours and patterns.
Within this wide range of finishes, laminate can imitate the appearance of other materials such as natural stones or wood.
Modern day laminates can convincingly replicate granite, quartz, slate and even marble patterning. Ultimately, such laminates can save you thousands of dollars on your desired aesthetic.
Textured Laminate
Modern textured laminates add a level of depth and authenticity that was previously unattainable. With added grooves and dimension, textured laminates increase the realism of wood or stone patterns.
Pattern Repetition Laminate
Pattern repetition is unique to man-made products like laminate countertops. Lower grade laminate countertop patterns repeat roughly every 18 inches.
Newer technology, however, has allowed manufacturers to produce up to 5 feet of real granite images onto laminate countertops, further expanding the aesthetic possibilities of laminate countertops. Higher quality, better design that looks remarkably like the real stone they are replicating.
Laminate Countertop Edges
Edge profiles are a simple way to incorporate some added flair and personality to the physical design of laminate counters. Think of it as decorative trim for countertops.
Laminate countertops offer a variety of edges; from perfect 90 degree angled squared ends, to routered edges with various profiles.
Here are a few examples of popular standard edge profiles offered by Premoule.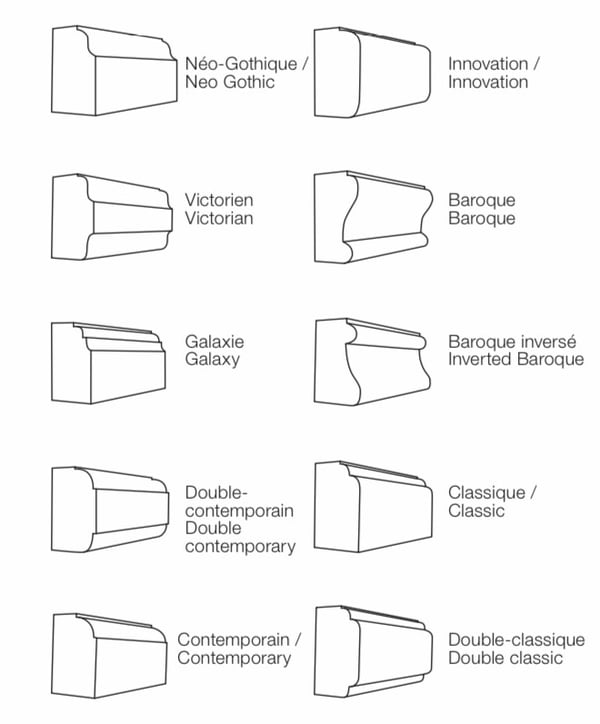 Most laminate manufacturers will also offer custom profiles with clipped ends or edges with a radius.
Durability of Laminate Kitchen Countertops
Laminates of the past could easily scratch, scuff, wear down, fade, and generally lose their allure and presentability in various ways. While laminate countertops have come a long way in recent years, there are still durability concerns regarding the surface.
Unfortunately, accidents and mishaps will happen from time to time, and you cannot replace the countertop every time it is stained or scratched.
Heat Resistance
Hot pans and grease splatters are common heat issues that can be detrimental to the surface. Luckily, laminate is one of the least heat-resistant countertop materials.
Laminate manufacturers always recommend that you use a trivet or take other heat-protective measures when setting down hot pots or baking pans, as it may scorch the surface.
Pigment Concerns
The colour and design chosen for a laminate countertop can have an effect on its overall durability. The more pigment in the countertop the more susceptible it will be to cracking.
Take for example, white and black. White encompasses all colour and light, whereas black is the absence of colour and light. For laminate, this means that a white countertop is more likely to crack than a black countertop of the same size and thickness.
Scratches
While laminate countertops are fairly durable against dents or gouges, they can scratch easily.
Smooth finished surfaces can be extremely susceptible to scratching, which is why you should always protect your laminate counters with cutting boards when preparing meals.
If you're worried about damaging or scratching your surface, consider going with a textured laminate. Textured laminate will hide various dings and scratches better than a smooth surface will.
Liquid Resistance
Although the laminate top itself is not vulnerable to liquid, the substrate underneath is. Liquid can enter through the mitre joints and spread within the substrate, causing damage to the countertop.
Laminate countertops can be subject to delamination over time, especially if water seeps through seams, and repairs are very difficult to make. Serious damage usually requires replacing the entire countertop.
Longevity
Delamination is one of the key issues that result in laminate countertops having a shorter lifespan than stone or wood surfaces. Depending on how well maintained they are, laminate countertops will typically be replaced after 10 to 20 years.
Consider installing a textured laminate in areas you use most frequently, in order to disguise damage and stains.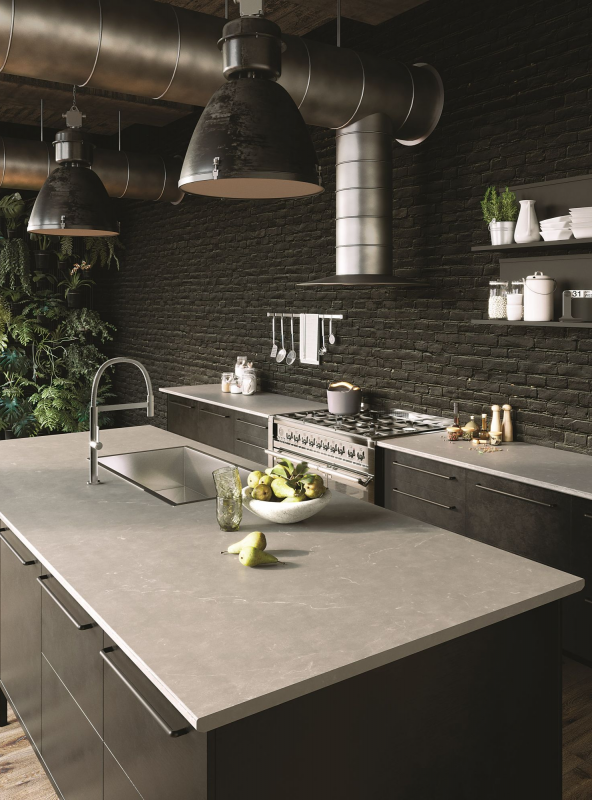 How To Clean Laminate Kitchen Countertops
Regardless of the style you have, laminate is easy to care for.
For daily cleaning, make sure to wipe down the surface of the counter. Never use harsh or abrasive products or steel wool; a soft cloth with warm water and sodium bicarbonate or a non abrasive liquid cleaner should be used.
Textured laminates can be more difficult to clean than smoother surface types. If you have textured laminate, you can use a soft scrub brush to help you get into the nooks and crannies in order to give the surface a deeper, more thorough cleaning.
If something spills, make sure to wipe it up immediately, which will help prevent staining or the risk of liquid seeping into a mitre joint.
If your countertop does stain, make a mixture of 3 parts baking soda and 1 part water. Carefully spread the 3:1 mix over the stain, and let it sit for five minutes as the paste absorbs some or all of the stain. Gently wipe away the baking soda paste. Take care not to use it as a scrub, since it might damage the laminate surface.
It's important to know how to properly clean and maintain your countertop, regardless of the material. Everything you need to know about countertop maintenance is in our article How to Care For Kitchen Countertops.
Are There Any Limitations With Laminate Kitchen Counters?
With so many colours and patterns available, laminate countertop are more functional than they are design-based.
Sink Limitations
Laminate countertops will always be restricted when it comes to sink styles. Due to their construction compared to stone countertops, not all sink installation types are possible with laminate.
Undermounting sinks for a laminate countertop is extremely difficult, especially compared to a quartz or stone countertop.
Undermount sinks install on laminate countertops differently than on quartz or stone. The counter is cut to accommodate the sink and the sink is set inside with the rim flush to the laminate. Adhesive is injected between the sides of the sink and counter.
Traditional drop-in top-mount sinks are far and away the most popular style for laminate countertops, due to their convenient installation process. All they require are holes to receive the sink and faucets, which can be done using a drill and jigsaw.
"Stock" Home Improvement Store Laminate
Buying stock laminate off-the-shelf from large home improvement stores like Home Depot or Rona is a great way for quick and easy DIY installation of your laminate countertop.
These stores sell prefabricated counters in 4 foot and 8 foot sections, but they will limit your options. Going this route will restrict your countertop design to whatever is in store and in stock, meaning those 500+ colours and patterns listed above will dwindle down significantly.
If you're not picky about your countertop's appearance and just want a quick surface installation, this is the way to go. Likewise, if you want to sift through your options until you find the perfect look for your kitchen, going with a custom laminate manufacturer is your best bet.
Cost of Laminate Kitchen Countertops
Laminate is by far the most affordable countertop material on the market.
The price of the laminate countertop depends on the pattern and colour that you choose and whether you are using a standard design or a custom-made countertop.
Premium colours cost more to make. This is also true for intricate patterns like a realistic quartz or authentic marble imitation.
Laminate grades and thickness vary, resulting in different price points. The higher quality or thicker the laminate is, the more expensive it will be.
Generally speaking, the average cost for custom laminate countertops is from $24 to $36 per sq. ft.
Home improvement stores sell prefabricated 4 foot and 8 foot long sections for $50-$200 per section.
What makes laminate such a popular surface is that even the most expensive laminate will be a cost-effective alternative to various stone options like quartz, granite, or marble.
A fully installed kitchen with laminate countertops can cost roughly $1200 to $2500, depending on size, quality, and manufacturer.
Are Laminate Kitchen Countertops Right For You?
Laminate is a long-standing choice for countertops because of its budget-friendly price and wide range of colour, texture and design options. These countertops are resistant to stains and impact damage.
Laminate is the ideal selection for a budget-conscious kitchen reno.
Or, if you've got your eye set on a luxurious quartz or marble countertop, but can't quite seem to fit it in your current budget, laminate is a fantastic option for a temporary top. Installing an inexpensive laminate for 3 to 5 years can allow you to save for that beautiful, permanent stone countertop in the future.
At Deslaurier Custom Cabinets, we partner with world-renowned countertop suppliers to provide homeowners like you with first-rate kitchens of distinction. With over 40 years of experience to our name, we provide our clients with a wholly customized experience with our talented team of designers.
Book a free consultation today and meet with one of our Deslaurier design experts in our Jupiter, Florida showroom!