Estimated Read Time: 6 Minutes
If you're in the process of a kitchen renovation or new build, you're going to want to find a designated space for your kitchen storage.
Prominent kitchen storage is one of the most valuable assets in your home. With so much focus on finding a place for pots and pans, your kitchen's actual food storage capacity can often be an afterthought.
It's important to plan for this in the design process. The best way to do that is by including a kitchen pantry!
At Deslaurier, we have over 40 years of experience manufacturing custom cabinets and offering kitchen design services. Whether it's a walk-in or cabinetry unit, we know how beneficial a kitchen pantry can be to any home.
With that, let's take a look at walk-in and cabinet pantries, to help you determine which kitchen storage solution is right for your home!
Let's get started!
What is a Walk-In Pantry?
A walk-in pantry is a separate room within a home – typically attached or next to the kitchen – that is dedicated to storing food, kitchen supplies, and other household items.
Essentially, it's a food storage area that you can walk into! The space is often larger than a traditional pantry and can accommodate more items.
An average size walk-in pantry is usually around 4 or 5 feet wide and 4 or 5 feet deep. This offers plenty of room for shelving while still providing space to move around in.
Of course, some pantries are much larger or smaller than that, depending on the size of the home.
Walk-in pantries will normally be equipped with shelves, cabinets, or other storage solutions that are designed to make it easy to organize and access items.
What are Pantry Cabinets?
Pantry cabinets, on the other hand, are freestanding or built-in cabinets that are installed in a kitchen or adjoining area.
They're perfect for homes that don't have the space or ability to include a walk-in pantry.
Pantry cabinets are designed to provide storage space for food and kitchen supplies and are available in a variety of styles and sizes.
The best pantry cabinets are fully customized to fit the specific needs of the homeowner, with adjustable shelving and other features.
Pantry cabinets are popularly installed right next to (or surrounding) the fridge. This alleviates the back-and-forth travel of a walk-in pantry, creating a one-stop-shop pantry and fridge combo for preparing meals.
Storage Capacity
Let's talk about the most important factor of any kitchen pantry: its storage capacity.
Relatively speaking, walk-in pantries have the most possible storage space. It's all dependent on the size of the space available, but typically a walk-in pantry will provide more than enough room.
Walk-in pantry shelving can be entirely open – with no cabinet boxes or frame to get in the way – allowing for maximum storage and easy organization. You can even keep larger items on the floor below the first shelf!
Deeper walk-in pantries can provide enough room for something like a freestanding freezer. This is a great spot for a household with a separate fridge and freezer, or for an additional freezer to keep any overflow of frozen food.
Pantry cabinet units are no slouch when it comes to storage space, either. Custom pantry cabinets can go from floor to ceiling with deep cabinet boxes and are commonly paired with all sorts of highly efficient accessories.
Pantries with roll-outs are a staple in the kitchen design world for their unmatched convenience. These fully extendable shelves cleverly divide your pantry space into more manageable sections.
Roll-outs are perfect because you can pull the items directly to you. No more reaching inside a dark, deep pantry hoping to find what you're looking for!
Better yet, standard-issue roll-outs usually hold a decent amount of weight sufficient enough for most small appliances. They can house countertop appliances like coffee machines or stand mixers.
Style Design
While storage is priority number one for a kitchen pantry, it's also important to create a design you love!
Walk-in pantries can be customized with flooring, lighting, and other features to create a space that is both functional and visually appealing. Whether they match your kitchen is up to you. After all, a walk-in pantry is its own room, so don't hesitate to get creative.
Some more extravagant walk-in pantries might include countertops and backsplash, or even a sliding ladder unit!
The beauty of pantry cabinets is they can match the rest of the cabinetry and millwork design in your kitchen, blending seamlessly with your overall kitchen.
Conversely, they can also function as their own unique design piece! Straying from the overall kitchen aesthetic with a different cabinet colour, material, and door style.
See for yourself, in our Black, Bold, & Gold showcase: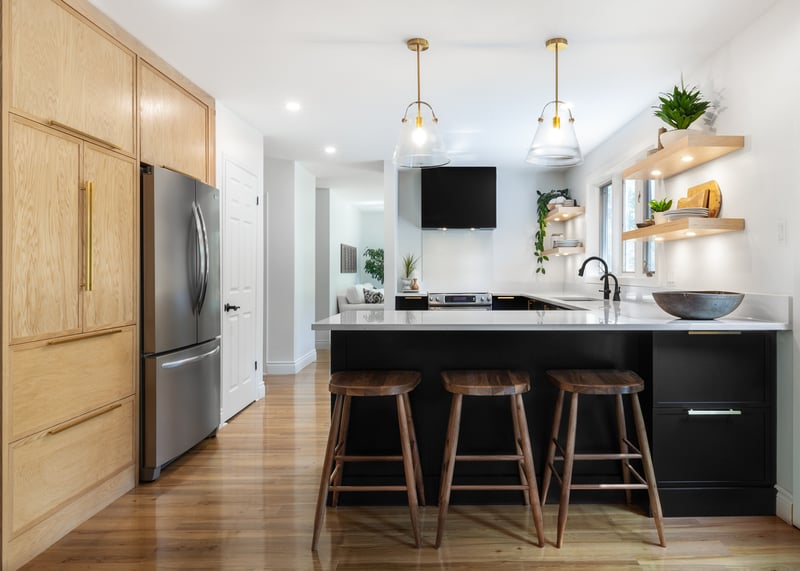 The kitchen's dominant colour scheme is painted black MDF cabinets. The custom cabinet pantry is in red oak with a clear stain, allowing the natural wood grain pattern to be prominently on display.
Take a look at that custom hardware, as well. Beautiful, appliance-style cabinet hardware further differentiates the custom pantry unit from the rest of the kitchen.
Cost
Determining the cost of a kitchen pantry can be very tricky. Particularly when discussing two styles such as walk-in and cabinet units, both of which are often customized in a variety of ways.
Obviously, walk-in pantries require extra room to be available in your home's floor plan in order to fit them in. Add to that the additional wall paint, lighting, and flooring materials and expenses can pile up fast.
However, when it comes to installing the actual pantry, walk-ins can have a wide range of pricing, depending on the storage solution you choose to include.
The average walk-in pantry shelves are typically made with cost-effective materials like melamine or raw MDF. They don't even need to have an aesthetically pleasing finish to them.
Now, if you opt for cabinetry or finished shelving in your walk-in pantry, that's going to cost a fair bit more than standard melamine shelves.
Not to mention if you're planning on customizing your walk-in pantry to the nines with countertops and backsplash, it's going to be even more expensive.
Pantry cabinets certainly aren't cheap, either.
A pantry unit with custom cabinets will easily cost thousands of dollars, even more so when using deeper cabinet boxes.
That's just the cabinetry alone. Including any cabinet accessories (which you'll most likely want to do) will further increase the overall cost of the cabinetry.
As an example, each roll-out pantry shelf will cost roughly $200 to $500, depending on the quality and materials used. With 5 shelves, that's over a thousand dollars just on rollouts!
What's Right For Your Kitchen?
Both pantries are excellent choices, with appealing features that more than satisfy any kitchen storage needs you might have.
Ultimately, the choice between a walk-in pantry and pantry cabinets will depend on a variety of factors, including the size of your home, the amount of storage space you need, and other personal preferences.
Homeowners who have the space and resources may prefer a walk-in pantry for its added storage and organizational benefits, while those with limited space may find that pantry cabinets are a more practical solution.
Design with Deslaurier Custom Cabinets
As you can see, both walk-in pantries and cabinet pantries have their benefits. We hope this article helped you understand which pantry solution is right for your new kitchen design.
If you're in the market for custom cabinets and kitchen design, Deslaurier Custom Cabinets has everything you need! With over 40 years of experience in our name, we provide our clients with a fully customized design process with our talented team of designers.
Book a consultation today with a Deslaurier design expert at our Jupiter, Florida Showroom or schedule a virtual meeting!
Live outside the area? Find a Dealer to connect with near you! Interested in becoming an authorized Deslaurier dealer? Visit our Become a Dealer page to learn more!