22/04/2022 • Blog
Where to Get Cabinet Refacing Done in Ottawa
Estimated Read Time: 4 Minutes
With so much daily use, all kitchens are bound to need an upgrade eventually. While complete kitchen renovations can be very expensive, there are other methods to enhance your kitchen's appearance without breaking the bank.
Refacing your kitchen cabinets is one of those ways!
At Deslaurier Custom Cabinets, we're experts when it comes to kitchen cabinetry. We pride ourselves on providing our clients with high-quality, long-lasting cabinets. With that, we understand that kitchen cabinets can be subjected to a lot of wear and tear over the years and may require being touched up or completely refaced.


Not to worry! If your cabinets are in need of a facelift, the Ottawa area has got plenty of options.
This article will provide you with a list of 6 of the best cabinet refacers in the Ottawa area.
Let's get started!

What is Cabinet Refacing?
Cabinet refacing is a form of upgrading your existing kitchen cabinets without altering the design or layout of your kitchen.
Cabinet refacing is essentially renovations for your cabinets. The doors and drawer fronts are replaced with new materials and a matching veneer is added to the cabinet boxes.
Rather than replace the entire cabinetry unit with expensive new cabinet boxes, refacing them provides an effective upgrade of the cabinet's aesthetic without breaking the bank.
Cabinet Refacing vs. Cabinet Refinishing
Cabinet refacing is commonly mistaken with cabinet refinishing. The two are quite different and worth differentiating from one another.
Cabinet refinishing involves the cabinetry being disassembled, cleaned, sanded, and then applied with a new finish. Cabinet refinishing can focus solely on the cabinet doors, or include the cabinet boxes as well, depending on your needs.
So while cabinet refinishing simply takes the existing cabinet doors and repaints or restores them, cabinet refacing involves replacing them with entirely new doors.
1. Ottawa Expert Refacing & Kitchens
Ottawa Expert Refacing & Kitchens has been a family-owned business since 1985. Since then, they've expanded to encompass production and a showroom spanning 2,000 square feet.
Ottawa Expert Refacing & Kitchens is a member of the Better Business Bureau (BBB) and holds consecutive years with an A+ status.
Ottawa Expert Refacing & Kitchens cabinet selections include 102 colours, 123 designs, and 16 different edge profiles.
They even offer free in-home consultations and senior discounts for customers aged 60 and over!
At the time of publication, Ottawa Expert Refacing & Kitchens holds a 4.8-star Google rating from 10 reviews.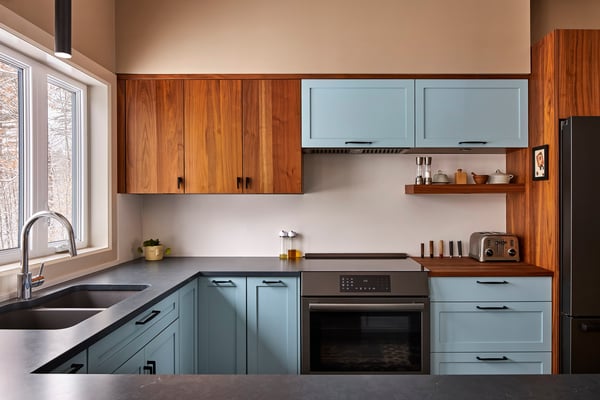 2. Ottawa Refacing
Ottawa Refacing is a company that specializes in cabinet refacing. Their co-owners have an extensive history in the cabinet refacing industry, and both hold diplomas in Cabinet Making from Ottawa's Algonquin College.
They reface kitchens, bathrooms, closets, and offer design services.
Ottawa Refacing's website even has a time-lapsed refacing video, so you can see their refacing process for yourself.
Ottawa Refacing sports a perfect 5.0-star Google rating from 55 reviews.
3. Futuric Kitchens
Since 1976, Futuric Kitchens has provided cabinet refacing and custom kitchen designs in the Ottawa area.
Their website displays a variety of their products including cabinet door styles, materials, colours, and more!
The Futuric Kitchens website also details the 5-step process that is involved in their cabinet refacing.
Futuric Kitchens holds a 4.4-star Google rating from 18 reviews.
4. Northco Services
Northco Services is a multifaceted company that offers cabinet painting and refacing, as well as exterior services such as siding and wraps.
Northco Services offer free no-obligation quotes for renovations. They also offer at-home inspections to evaluate whether your current cabinet boxes would be ideal for refacing.
Northco Services holds a 4.8-star Google rating from 77 reviews, at the time of publication.
5. Ottawa's Best Cabinet Refinishing
Ottawa's Best Cabinet Refinishing is a cabinet painting and restoration company that services Ottawa and surrounding areas such as Kanata, Orleans, Stittsville, and Nepean.
They specialize in refinishing, they also provide cabinet refacing services as well. Ottawa's Best Cabinet Refinishing offers over 20 different door styles and can also change or update hardware.
As of publication, Ottawa's Best Cabinet Refinishing sports a Google rating of 4.7 from 63 total reviews.
They do not have an address listed on their website at the time this article was written.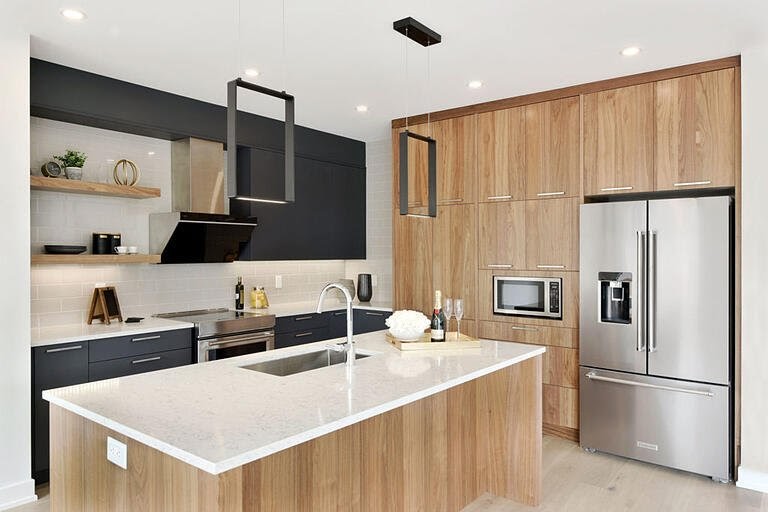 Large Home Improvement Stores
Big box stores offer a wide variety of products and services that you may not know about. Many of them, for example, provide cabinet refacing.
Large home improvement stores like Home Depot, Lowe's, and Rona, offer extensive cabinet refacing services.
Their websites have everything you need to know regarding their cabinet refacing processes, including the overall services they provide, installation, FAQs, as well as quotes the cost of other refacing projects they've done for comparison.
How to Refinish Kitchen Cabinets Yourself
Kitchen cabinet refacing can be incredibly expensive. Depending on the number of cabinets you have, the material and finish of your new cabinet doors, cabinet refacing can cost you anywhere from a few thousand dollars to upwards of fifteen-thousand!
While it might be best to enlist the services of a professional for things such as electrical work, HVAC, or plumbing, there are plenty of home improvement tasks that an avid DIYer can undertake themselves.
Refinishing cabinets is one of those tasks!
If your current cabinets are in good shape, you may opt to refinish them rather than fully replace the doors and drawer fronts. At-home kitchen cabinet refinishing, while a time-consuming task, can save you thousands of dollars on your overall kitchen expenses.
Check out our step-by-step guide to learn how to refinish your kitchen cabinets yourself!
Discover Deslaurier Custom Cabinets
After reading this article, you should know whether cabinet refacing is right for you and your kitchen.
If your kitchen needs a complete overhaul, then you've come to the right place!
If you have your eye on custom cabinetry, Deslaurier Custom Cabinets has everything you need. With over 40 years of experience to our name, we provide our clients with a fully customized design process with our talented team of designers.
Book a free consultation with a Deslaurier kitchen expert at our Jupiter, Florida showroom!
Interested in becoming an authorized Deslaurier dealer? Visit our Become a Dealer page to learn more! Live outside the area? Find a Dealer to connect with a Deslaurier dealer near you!