20/03/2023 • Blog
6 Problems with Thermofoil Kitchen Cabinets
Estimated Read Time: 6 Minutes
When most people think of kitchen cabinets their mind immediately pictures two things: wood or paint.
There's a good reason why, as decades of painted and stained cabinets have become a timeless staple in kitchen design.
But that's no longer the case. There are plenty of modern, man-made cabinet materials that can add their own unique charm to your kitchen renovation: such as thermofoil.
Painted and stained cabinets have been a go-to in kitchen design for years, but modern cabinet materials are shaking things up. Among these materials is thermofoil, known for its affordability and ability to replicate painted cabinets.
At Deslaurier Custom Cabinets, we have over 40 years of experience manufacturing custom kitchen cabinets. In that time, we've designed countless kitchens using thermofoil cabinets.
We know the good – and the bad – that come with including thermofoil cabinets in your home.
With that, this article will take a look at thermofoil kitchen cabinets and some common problems that are associated with them.
What are Thermofoil Cabinets?
Thermofoil cabinets (thermo) are a PVC vinyl material that is applied to MDF doors through heat and vacuum pressure, fusing the two together. The thermofoil process produces a seamless surface and creates a visual aesthetic that rivals painted cabinets.
The MDF substrate is detailed using various router bits on a CNC machine to create the respective door styles, then wrapped on the front and sides with the plastic thermofoil finish.
It should be noted that all edges of thermofoil doors will be rounded to an extent.
This is because in order to apply the thermofoil finish to a cabinet door, there needs to be a radius. Since this radius is required, the edges and corners of the detail in thermofoil doors won't be as sharp as most other cabinet materials.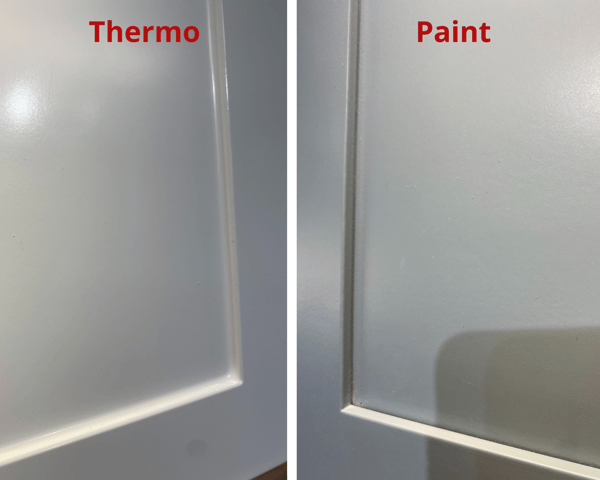 Note how the painted MDF cabinet has cleaner, sharper edges than the thermofoil. Depending on your aesthetic preferences, this could be an advantage or disadvantage for your kitchen design.
1. They Have a Limited Design
The streamlined, minimalist aesthetic of thermofoil cabinets is perfect for homeowners with a preference for modern kitchen design. Conversely, if you desire more decorative kitchen cabinets you'll find working with thermofoil is quite limited.
Thermofoil only comes in 1-piece doors, as opposed to 5-piece options available in natural wood or painted MDF. While slab doors are the most popular choice, there are various detailed profiles available in thermofoil as well.
Thermofoil may also limit you in terms of adding other custom design elements to your kitchen.
The availability of components like crown moulding and custom millwork is dependent on the supplying manufacturer. However, thermofoil mouldings are rarely – if ever – attainable in anything other than a flat (slab) style.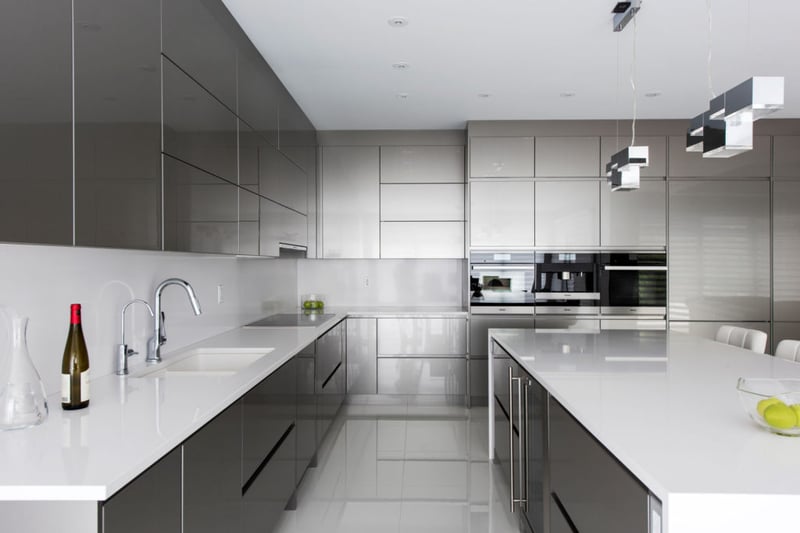 For example, if you opt for a more traditional door style with routered detailing, thermofoil won't be able to pair those doors with matching mouldings. Solid wood or MDF are the far more customizable choices if you're looking for decorative trim with intricate design capabilities.
Lastly, there are also fewer colour options in thermofoil than you'll find in paint. While the product offering is still quite impressive, it could result in a less flexible design process if you're in search of a specific custom colour.
Even with imitation wood grain, thermofoil cabinets have a plastic-like look that can feel out of place in a traditional kitchen. They're not ideal for creating a warm, homey feeling.
2. Vulnerability to Heat
Thermofoil's primary concern, unfortunately, happens to be something all too common in a kitchen: heat and steam.
Thermo exposed to a pronounced amount of steam can melt, peel, or blister. That is the biggest maintenance-related complaint from consumers and an issue you need to be prepared for before purchasing thermofoil cabinets.
High temperatures can cause the thermofoil to delaminate from the door and essentially "unstick" from its underlying substrate.
Thankfully, thermofoil cabinets placed next to high-heat appliances like ovens can be equipped with thermofoil heat shields for additional protection.
While these shields can minimize heat damage, they are not guaranteed to prevent it entirely.
3. Peeling
In terms of impact damage, the plastic coating of thermofoil performs quite admirably. It won't show dents and chips the same way a painted finish might.
However, as we mentioned above, thermofoil doors sometimes tend to peel – or "unstick" – from the substrate.
While heat can cause this, so too can scratches or general wear and tear on the corners of the door. Since thermofoil undergoes a heat-wrapped manufacturing process, there is no way for peeling thermofoil doors to be pressed back to their original state.
If you notice a corner's finish slightly lifting, or a cut that exposes the surface underneath, it is nearly impossible to repair thermofoil doors without replacing them.
4. Water Damage
When it comes to durability concerns, water damage isn't as high of a priority as heat. Thermofoil cabinets are water-resistant, but not waterproof. An important distinction.
While they're unlikely to warp like natural wood, thermofoil doors can gradually deteriorate when exposed to repeated spills or high humidity.
A scratched surface is the primary cause of water damage in thermofoil doors. The underlying MDF substrate is extremely vulnerable if exposed to water and moisture.
Moisture can penetrate any surface at a molecular level, and once it seeps in, it can spread and cause damage to the MDF substrate.
5. Faded Appearance with Age
Aging is a natural part of kitchen materials, from your flooring to your appliances. Nothing in your kitchen will remain crisp and clean like the day it was first installed.
That being said, thermofoil finishes tend to visibly age more than most materials.
Thermofoil cabinets in white or off-white colours may fade and develop a yellowish tint over time, causing them to lose their once bright and vivid appearance.
Darker colours aren't free from aging either. Bold, colourful thermofoil cabinets can lose their vibrancy with age and begin to fade, particularly if they're exposed to consistent sunlight.
6. They Lack Longevity
If you're looking for a long-lasting solution for your kitchen cabinets, thermofoil can leave much to be desired compared to other materials.
If well taken care of, thermofoil cabinets should last at least a decade. While that's certainly nothing to scoff at, it is somewhat underwhelming when it comes to kitchen cabinets.
At Deslaurier, we provide a 10-year warranty for our thermofoil products. When compared to the 20-year warranty provided for painted MDF and natural wood, thermofoil is not the most ideal long-term cabinet material.
While they do have respectable longevity if properly maintained, the fact that heat and steam – two things that are commonplace in a kitchen – cause such an issue for thermofoil is a pause for concern.
For all the reasons we've covered in this article, it is no surprise most thermofoil cabinets won't last much longer than 10 to 15 years without being replaced.
The Positives of Thermofoil Cabinets
While this article is intended to highlight the concerns regarding thermofoil cabinets, there are still plenty of reasons to incorporate them in your home. After all, they wouldn't be so popular without having a few great qualities as well.
First, thermofoil is arguably the best way to include a painted cabinet aesthetic at a budget-friendly price point.
Thermofoil is an inexpensive, highly accessible cabinet option. You can go into many large home improvement stores and find stock or semi-custom thermo cabinets available off the shelf for immediate installation.
Thermofoil cabinets also fit perfectly in a modern-style kitchen. In fact, many homeowners that want a modern kitchen design prefer the streamlined, glossy aesthetic of thermofoil over painted cabinets.
Plus, when it's wrapped over a one-piece slab-style door with a flush surface, there are no creases or crevasses where dust and grime can build up. Maintenance-wise, thermo is a cakewalk (a quick wipe is usually all it takes to clean).
For this reason, it's a popular recommendation for homeowners looking to build an easy-to-clean kitchen design.
Design with Deslaurier Custom Cabinets
We hope this article gave you a better understanding of what to expect if you include thermofoil cabinets in your kitchen design.
Long-term, there are certainly more preferable alternatives than thermofoil. But if you want a short-term, quality product at a reasonable price, thermofoil can be that solution.
If you have your eye on custom cabinetry for your home, Deslaurier Custom Cabinets has everything you need. With over 40 years of experience to our name, we provide our clients with a fully customized design process with our talented team of designers.
Book a free consultation today with a Deslaurier kitchen designer at our Ottawa showroom!

Live outside the area? Find a Dealer to connect with near you! Interested in becoming an authorized Deslaurier dealer? Visit our Become a Dealer page to learn more!