21/05/2021 • Blog
5 Best-Selling Countertops
Are you on the hunt for the picture-perfect countertop to complement your kitchen cabinets or bathroom vanity?
Look no further.
In this article, Deslaurier gives the grand tour of our 5 best-selling countertops. Out of the almost endless solid surface countertops in our catalogue, these select few are the ones that consistently come out on top.
Ready to get an exclusive sneak peek at these best-sellers? Keep reading!
Deslaurier's Countertop Dealers


To provide the best, we partner with the best. Our supplier network includes elite brands and best-in-class names—companies with products of proven quality.


If you're in the market for a granite or quartz countertop, you'll find no lack of selection here. Deslaurier offers brands such as Silestone, Cambria, Zodiac, and Caesarstone to supply homeowners with a full sampling of stone countertops from all over the world.
That's not all. You can customize your countertop even further with square, beveled, or rounded edge profiles (among others). Our seasoned suppliers can create many unique edge profiles to suit your style to a T.
Want to learn more about the different stone countertop varieties on the market? Read through the best countertops for your kitchen for more practical insight.


#1: Cambria 10 Torquay
Get all the luster of marble without marble's price tag! Cambria's Torquay style is a premium quartz product and our #1 best-seller by a wide margin, representing 14.8% of our solid surface countertop sales.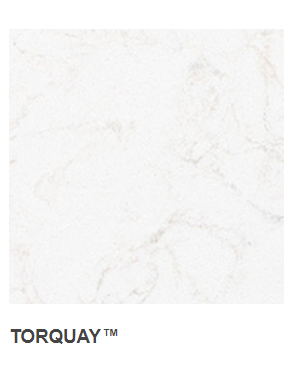 This countertop is a creamy white completed by a minimalistic grey veining pattern. It's subtle. It's elegant. It's everything you want in a durable, no-nonsense, workhorse countertop.

#2: Cambria 10 Weybourne
Another premium selection, Cambria's Weybourne style claims the silver medal on our best-selling countertops list. One look and it's no wonder why this stone-cold beauty makes up 9.5% of solid surface sales for kitchens, bathrooms, and closets.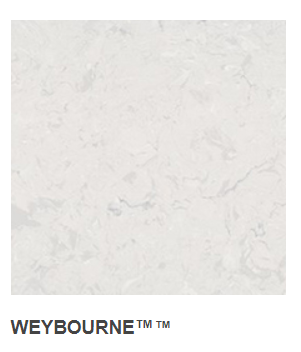 The Weybourne colour and pattern is akin to the Torquay, but features cooler white and grey tones.

#3: Cambria 10 Newport


The Newport is a staple, premium quartz countertop for white kitchen lovers! This white stone is crisp and pure, the perfect addition to an all-white kitchen design or a squeaky-clean bathroom aesthetic. Last year, this regal engineered quartz earned a 3.9% chunk of solid surface sales.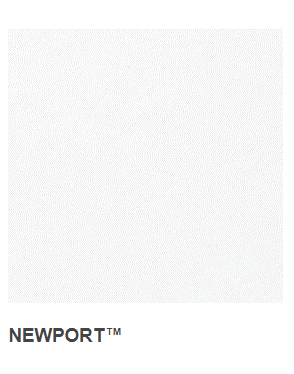 If you're eager to hop on board the white kitchen design trend, the Newport style countertop might be a match made in heaven.

#4: Cambria LS Brittanicca


The Brittanicca quartz countertop is the boldest design featured in the top 5. It's part of the Luxury Selection here at Deslaurier.
Dark veins of grey and black flow freely through its creamy surface. The Brittanicca style creates waves in every room of the house you install it.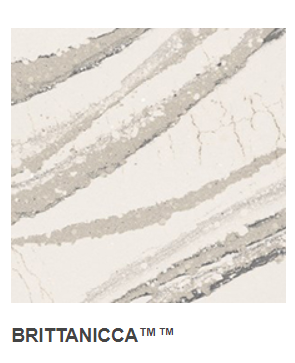 Cambria's Brittanicca style is a clear bestseller, taking a respectable 3.6% of all solid surface transactions.

#5: Granite UQ4 Black Pearl


The Black Pearl from Urban Quarry is dark, dreamy, and the only granite countertop appearance on our best-sellers list this year. Black Pearl is one of our entry-level granite selections and represents 3.3% of solid surface sales.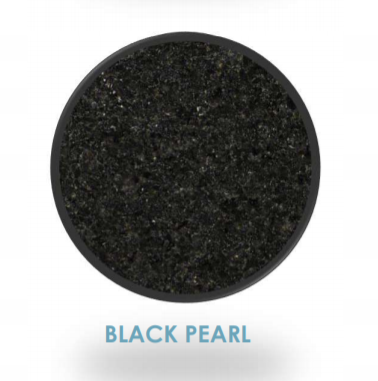 Its midnight-black surface is subtly speckled and will undoubtedly make a dramatic impact in your kitchen.
How to Clean Countertops


Once you have your premium countertop installed, you don't want that new surface to lose its freshly installed appeal.
Deslaurier has put together a useful brochure on caring for your countertops where you can find best practices for maintaining your new stone countertop.
A brief overview of our advice on how to clean quartz and granite countertops is:
We recommend using a damp cloth with liquid soap to remove water marks.
We recommend using a mild abrasive such as automotive polishing compound or baking soda to remove minor scratches and stains.
We recommend using protective pads to minimize the potential for burns.
We recommend using a cutting board to prevent scratches.



For more great intel on how to clean your countertops, don't hesitate to reach out to the Deslaurier team!
Explore the Best Kitchen Countertops With Deslaurier
And that's a wrap on our 5 best-selling countertops. See them all side-by-side below (left to right, Newport, Black Pearl, Brittanicca, Weybourne, and Torquay):

Are you ready to browse the large-scale countertop collection at Deslaurier? We've got tons of granite and quartz samples for you to explore at our design showroom in Jupiter, FL.
For even more guidance, book a free initial design consultation with a professional design consultant.
If you're interested in joining the Deslaurier team by becoming a dealer in Florida, visit our Become a Dealer page.


Related Links: