Estimated Read Time: 6 Minutes
A modern kitchen is a must for a clean, minimalist aesthetic. For anyone looking to sell their home in the near future, it is also a great way to attract more potential buyers and sell it for top dollar.
For many of us, our kitchens lack a modern edge due to outdated cabinets, flooring, and countertops. Plus, kitchen renovations can be costly and time-consuming.
Not to worry, there is a way to get the modern kitchen design look on a budget and without demolition to your whole space.
Deslaurier Custom Cabinets has over four decades of experience designing simple custom kitchen designs. We have worked on thousands of luxury kitchen renovations, so we know a thing or two about budget-friendly modern kitchen design upgrades. We take pride in our industry knowledge and helping our customers navigate their remodels with the least stress possible while staying within budget.
We will talk below about how to plan and execute a budget-friendly modern kitchen renovation using upgrades like custom cabinets to give your space a high-end modern kitchen design aesthetic.
Assessing Your Kitchen Needs
When making budget-friendly upgrades to your kitchen, it is all about getting the most bang for your buck. Though it may be tempting to upgrade everything in your kitchen using discounted products or low-quality cabinets, this may not work out as well as you planned in the long run.
Sometimes, the best way to use your budget wisely is to know where and how to prioritize the money in your budget. Two steps to this are to evaluate your kitchen's needs properly and prioritize the areas that need improvement most.
First, you need to take some time to evaluate what needs to be truly upgraded in your kitchen and what can be done with a light refresh. Are your cabinets from the 1970s? Well, then, it's time for some modern and sleek custom cabinets.
New flooring will also be a worthwhile upgrade if you have old linoleum. If you have non-load-bearing walls that are keeping your space from being open and inviting, then a little light demo is a great idea.
It's also important to remember that not everything needs to be replaced and overhauled. Some things just need a budget-friendly refresh, for example. If you have hardwood floors in your kitchen that require some TLC, or the stain colour doesn't match your aesthetic, you can rent a floor sander and then restrain or clear coat them for a brand-new look that brings them back to life.
Prioritizing the areas that need the most improvement will help you create a budget for the project. Making a list or even a layout of your space that you can fill with notes will benefit you and a kitchen designer if you use one.
Benefits of Custom Cabinets
Stock option cabinets have their place, but not in your home when transitioning to a clean, modern kitchen design.
With little choice of colour, hardware, or storage options, they tend to look cheap and not last as long as custom. Stock cabinets may also leave you spending additional money on storage solutions you need to add.
Custom cabinets are a fantastic way to add value to your home for multiple reasons.
They increase the resale value of your home, improve its aesthetics, offer increased storage capabilities, and offer long-term durability due to the quality of craftsmanship.
If you are looking to sell your home in the future, then custom cabinets can be seen as a huge selling point to potential buyers.
Setting a Realistic Budget
If this is your first home renovation, you may not have had to put together a project budget, but if you have renovated other rooms in your home, you know how important it is to set your budget before starting.
This ensures every dollar is accounted for. An accurate budget will relieve a lot of the stress of remodelling, whether a large or small project.
Setting a budget for your kitchen upgrade project will keep you on task and ensure your spending doesn't exceed what you feel comfortable with.
Without a budget, it can be easy to keep adding to your expenses through trips to the hardware store and finding new minor improvements that can lead to a final total you were not expecting.
Here are a few tips for setting a budget:
Create a 10-15% contingency fund for unexpected costs
Section your kitchen into individual projects and create sub-budgets
Take time to do online searches for the average costs of supplies
Work with a kitchen designer who has experience with kitchen upgrades
Working with a kitchen designer is a great way to help bring your kitchen together while following your budgetary guidelines. They are experts at this, so they will help steer you toward the best places to splurge and the places to save so that your modern kitchen design results look flawless and high-end.
Selecting Affordable Materials
One of the best ways to get a modern kitchen design look without spending a fortune is to use affordable materials that look more expensive than they really are.
We will highlight some budget-friendly materials for cabinets and kitchen countertops as well as affordable sink options.
Melamine (TFL) Cabinets
Melamine boards, or Thermally Fused Laminate (TFL), are made of a raw particle board substrate that has a resin-infused decorative paper permanently fused to both sides. Heat and pressure activate the resin and this seals the substrates and produces melamine cabinet doors.
They can replicate the look and feel of wood grain, concrete, metals, and paint.
Thermofoil Cabinets
If you are trying to achieve the painted cabinet look then Thermofoil is the way to go as they are a less-expensive way to get a painted look.
Thermofoil (thermo) is a PVC vinyl material. It is applied to MDF doors with heat and vacuum pressure, which fuses the two together. Thermofoil offers a variety of faux wood grain and colours in matte, high-gloss, textured and metallic styles.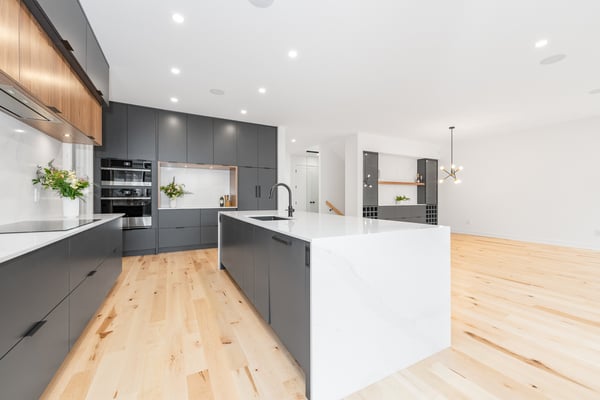 Wood Veneer Cabinets
Wood veneer is an affordable way to produce the look and feel of natural wood. That is due largely in part because they are made of actual wood.
Wood veneer cabinets are created by using a thin sheet of real wood and adhering it to an underlying substrate. The most common substrate used is particleboard, but plywood may also be used. Particleboard is the same material that cardboard boxes are made from.
When you work with a professional kitchen designer, they can help you choose finish options including cabinet hardware that mimics pricier materials.
If you are interested in learning more about this, this article is a great resource. Let's move on to countertops and sinks.
Butcher Block Countertops
Butcher block countertops have gained a lot of popularity as the modern farmhouse aesthetic took hold. They come in a variety of shades and types of wood and can last for the lifetime of a kitchen when cared for and oiled properly. These can be great for a kitchen island.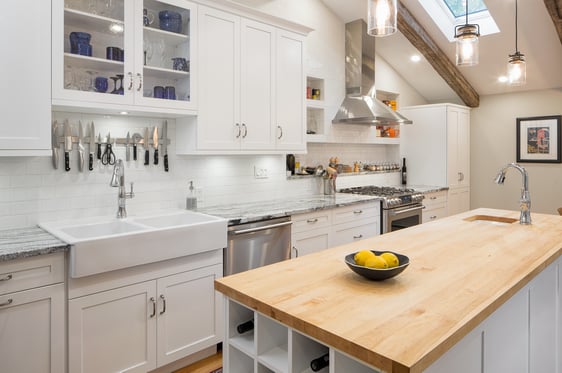 Laminate Countertops
Laminate technology has come a long way and can now replicate granite, quartz, slate, and even marble beautifully. This can save you thousands of dollars on your remodel. Standard laminate countertops are several sheets of kraft paper pressed with heat and then bonded to a substrate.
Affordable Sinks
The cost of kitchen sinks can range from $100 to $3500. When you are looking for functionality and aesthetics, you can't go wrong with stainless steel. Easy to clean and maintain, they are available in every design aesthetic and can seamlessly fit into your remodel.
For more information on how to get a high-end look for less, check out our article here.
Maximizing Storage Efficiency
Custom cabinets can be a game changer for maximizing the storage efficiency in your kitchen. Big box store cabinets are designed to be one-size-fits-all but rarely work for everyone.
Custom cabinets can be created with specific storage that considers how you use your kitchen, the food and cooking utensils you store, and what you reach for most often.
Incorporating custom cabinets that extend to the ceiling is also a great option for maximum storage. To learn more about this read our article, here.
This is another area where working with a kitchen designer is essential so they can transform your vision into an efficient and easy-to-use space.
You can include pull-out shelving, eliminating hard-to-reach places in your cabinetry, custom organizers for spices and canned goods, and other space-saving solutions.
Embracing Minimalism and Functionality
If you want a modern kitchen, you need to embrace minimalism. Less clutter and having a storage place for everything means less on your countertops, which makes your kitchen look messy.
Organizing your kitchen in your cabinets and drawers will make your kitchen appear modern and more efficient.
When adding budget-friendly kitchen renovations that allow a minimalistic aesthetic, remember the phrase "less is more."
This means open shelving displaying monochromatic dishware and glasses, simple cabinet hardware, and sink faucets with clean lines and no overly dramatic flair.
A kitchen designer can help you choose the right pieces for your home, and you can easily build Pinterest boards and online photo galleries of simple kitchens that reflect your aesthetic to share with them.
Design with Deslaurier Custom Cabinets
We hope you see that a modern kitchen design is possible with budget-friendly upgrades such as custom cabinets.
It is all about knowing where to spend your money and how to get the high-end look for less. With the right plan and budget, you will have a kitchen you love and one that wows friends and family when they visit.
If you need custom kitchen cabinets to achieve the simple modern kitchen design of your dreams, rest assured Deslaurier is the perfect choice!
With over 40 years of experience in our name, we provide our clients with a fully customized design process with our talented team of designers.
Book a consultation today with a Deslaurier design expert at our Jupiter Showroom or schedule a virtual meeting!
Live outside the area? Visit our Find a Dealer page to connect with a Deslaurier dealer near you! Interested in becoming an authorized Deslaurier dealer? Visit our Become a Dealer page to learn more!