Deslaurier Custom Cabinets has been customizing kitchens for over four decades. We've seen virtually every design theme, from ultra-traditional to uber-eclectic, under the sun. We love the creativity that's involved in executing a wholly custom kitchen renovation project. So, when our clients ask us, "Can I get a custom colour for my kitchen cabinets?", our answer is always the same.
A resounding "yes"!
In this article, we're giving a transparent (and colourful!) explanation of our in-house colour-matching program. We'll explain how it works, how much it costs, and how long it takes.
Let's dive in!
What is Deslaurier's Colour Lab?
The Colour Lab is a department within Deslaurier's manufacturing facility in Renfrew, ON. The Colour Lab's primary responsibility is to mix and supply paints and stains for daily production.
Demand is high. In a typical day, the finishing department can paint and stain thousands of square feet of cabinetry. That means our Colour Lab is always hard at work crafting picture-perfect hues.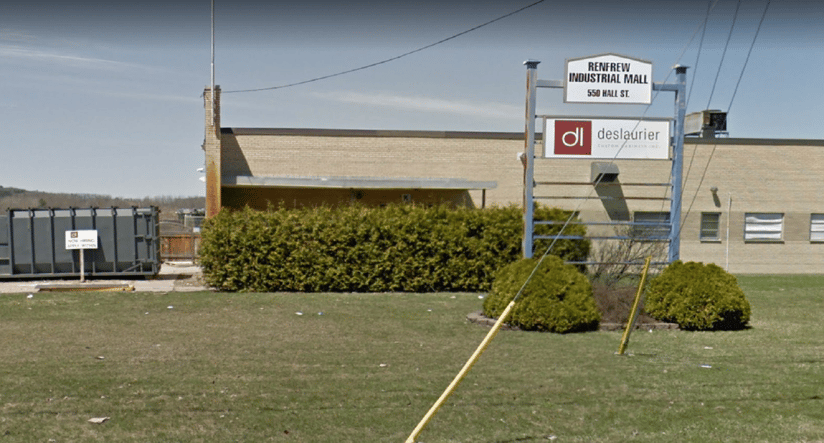 How Does the Colour-Matching Process Work?
Colour matching is a highly involved process that takes extraordinary skill, patience, and attention to detail.
Deslaurier has high standards for what's considered a successful custom colour match. To be considered an acceptable match, a colour must obtain a spectrophotometer Delta-E reading equal to or less than 0.5.
Sound like gibberish? It's really very simple:
A spectrophotometer is an instrument used to measure colour based on spectral values, what can be thought of as the "DNA" of colour.
The Colour Lab team uses this sophisticated device to measure the control colour sample against the colour match sample.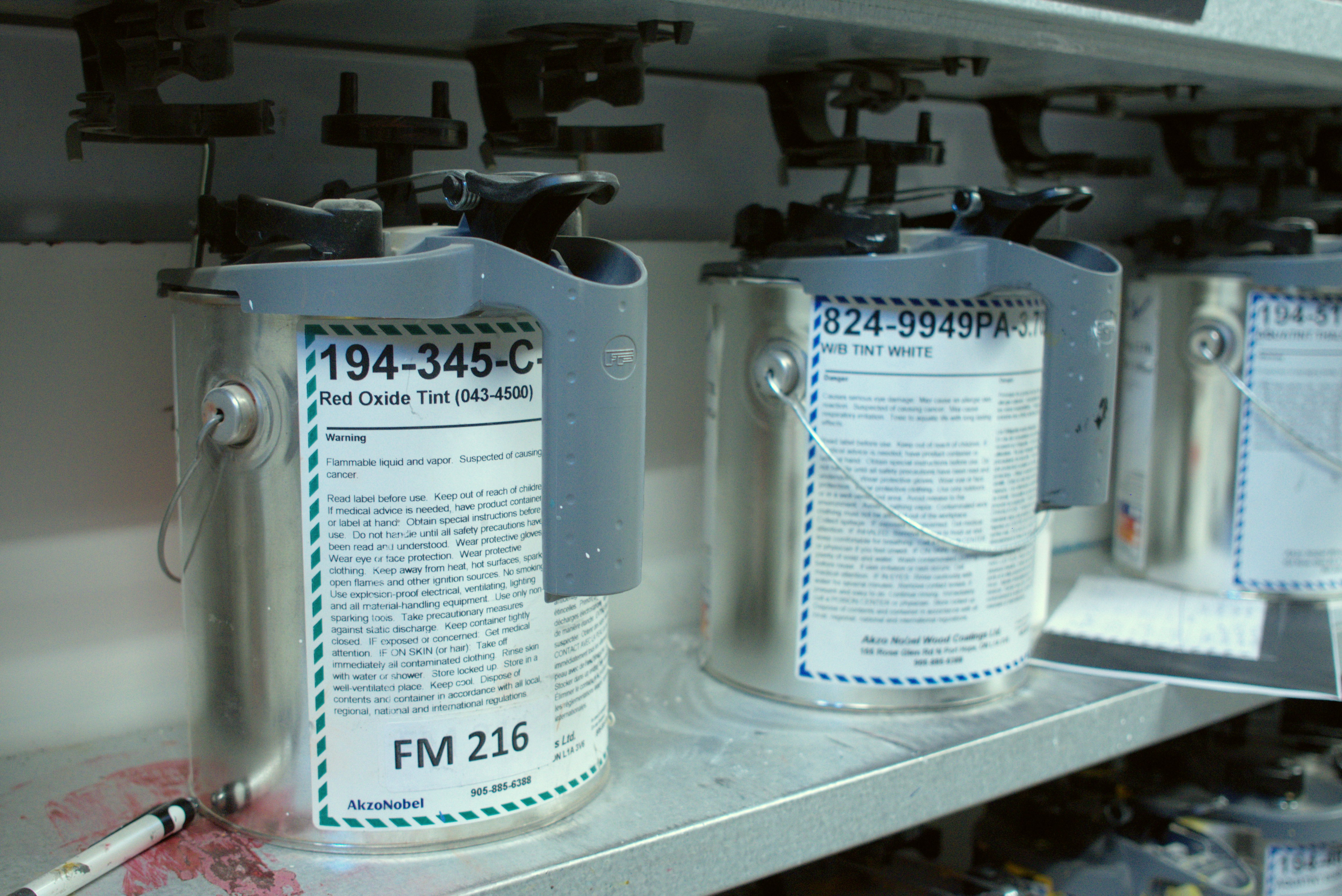 Basically, the Delta-E reading measures the distance in which a colour is off. The untrained human eye can detect a Delta-E reading difference of 1.0, which also happens to be the industry standard for a colour match.
Deslaurier takes colour accuracy one step further, though. All our colour matches must achieve at least a 0.5 Delta-E reading. Essentially, that means the margin for error is smaller than the human eye can perceive!
Product Champion Michael Crabtree says,
Colour matching is an art. We perform our colour matches by hand and by eye—our process is not automated where a machine does the calculations for you. We take the time necessary to get our colour matches just right.
The actual work of creating a twin paint or stain colour is rigorous.
Put simply, concocting a custom colour means hands-on experimentation with a base colour (usually grey or white) and 5-11 unique tints (other colours like yellows, blacks, and blues in teeny tiny percentages). Once a formula is created, the colour then gets tested in a light box to see how it would look in a real kitchen.
How Much Does Custom Colour Cost?
Getting a custom colour on your cabinets costs more than choosing a standard paint or stain option.
You can expect to pay between 20-30% more than standard selections for custom colours. Plus, custom stains are usually pricier than custom paints.
If you want the custom match to be completed ahead of a sale, a retainer fee is required before the colour-matching program can start.
The reason behind the extra cost is mainly due to the labour involved. For example, to achieve a single colour match, it can take 15 separate matching attempts (or more).
Custom Cabinet Paint Colours
Have you fallen in love with a paint sample from a major paint manufacturer like Behr, Benjamin Moore, or Sherwin-Williams? You're in luck. Deslaurier's Colour Lab technicians can replicate that precise shade of colour to a T.
All you have to do is bring in a physical sample.
Sample cards, like the ones you can pick up for free in paint stores, work best. But if you don't have an existing paint swatch that represents the colour you're after, you can also use any item small enough to transport inside the lab, such as a favourite coffee mug or piece of furniture.
It's important to note that using these types of belongings as a colour reference may result in a slightly different overall finish, as our cabinets don't compare apples to apples with everyday household items.
That being said, Deslaurier's Colour Lab has a fantastic track record of success—the majority of clients are satisfied with their first sample.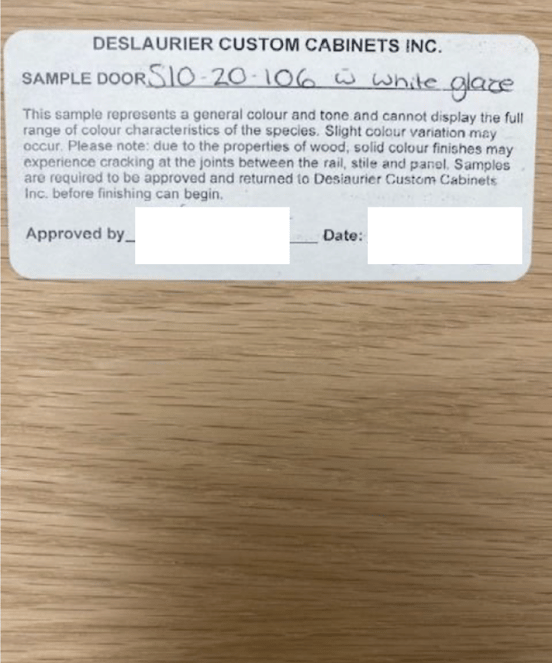 Custom Cabinet Stain Colours
The Colour Lab can also match stain colours. Often, clients want to match their cabinets with another wooden element in their home. Most of the time, that happens to be wood flooring.
For example, in this kitchen design, the oak floating shelves were stained with a custom colour to match the wood flooring and ceiling beams in the room: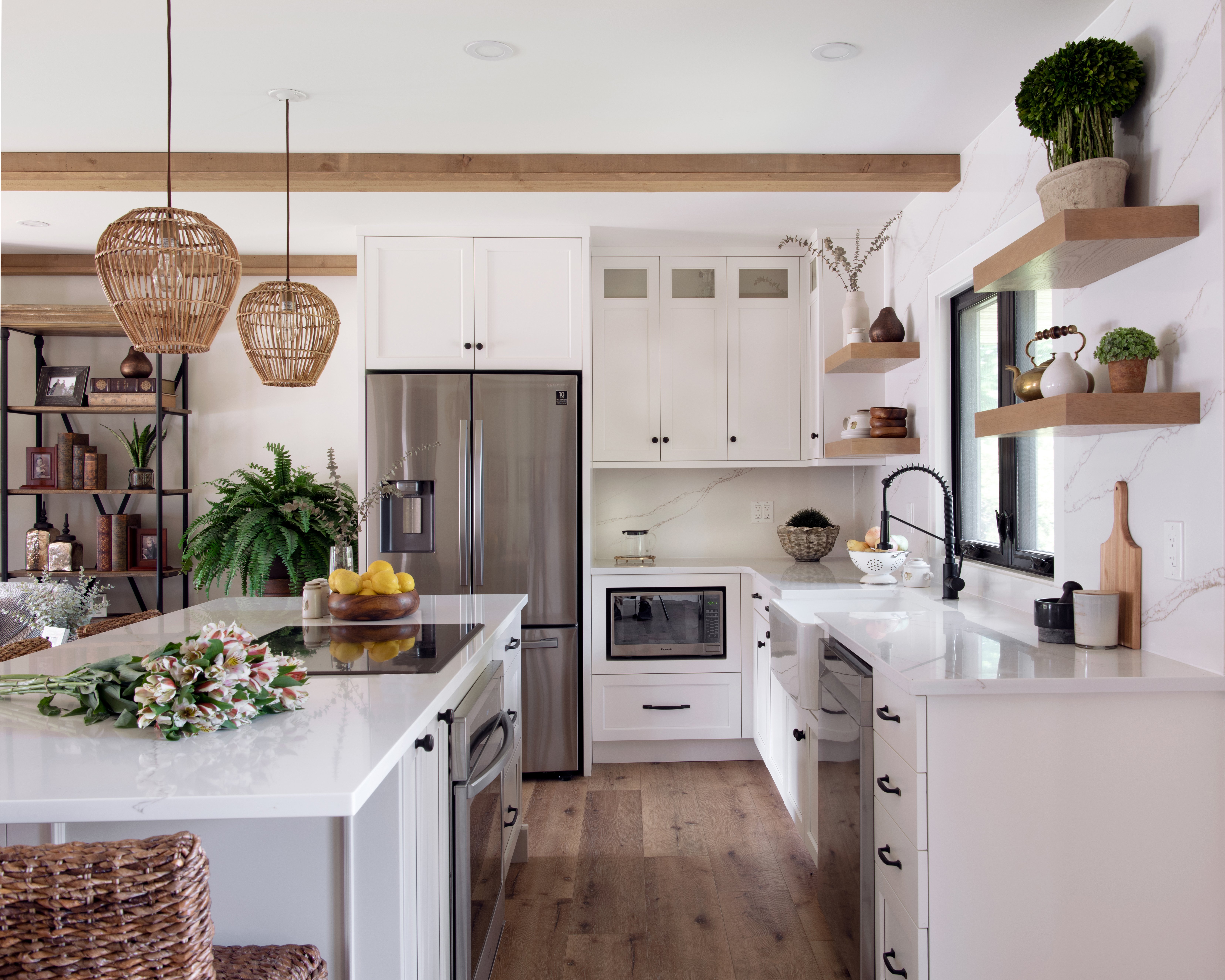 If you bring in a flooring plank or sample, the Deslaurier Colour Lab team will use their skills and experience to identify the "DNA" of that stain colour and recreate it as accurately as possible.
Water-Based, Eco-Friendly Paints and Stains
Deslaurier is proud to use 100% water-based and VOC-free finishes.
Deslaurier was an early adopter of water-based finishing technology. The industry norm was to use solvent- or oil-based paints and stains, which many companies still use to this day. The problem is that these products can release toxic fumes in your home and have a detrimental impact on the environment.
At Deslaurier, you can rest assured that your cabinets are good for your everyday lifestyle and the planet.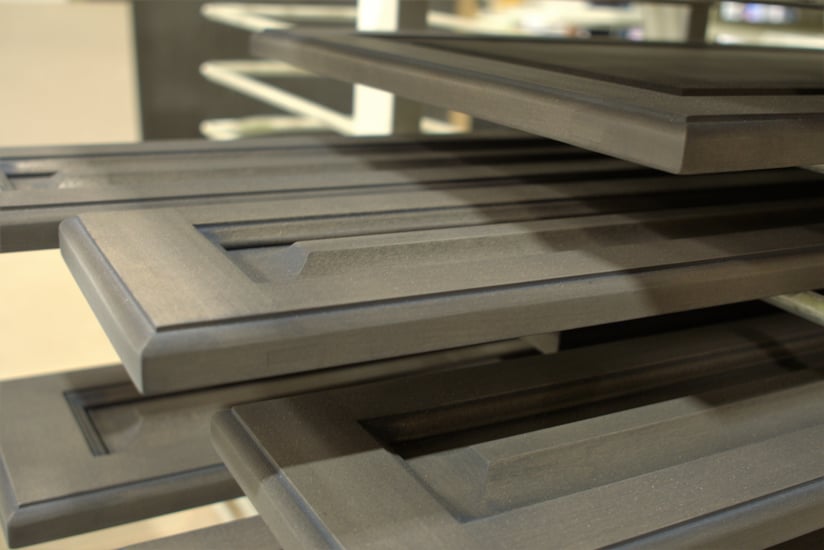 Warranty on Custom Cabinet Paints and Stains
All Deslaurier's paints and stains—including custom colours—come with a 20-year warranty.
That means that down the road, if any material defect comes up, you can rest easy knowing the Deslaurier team will repair or replace the damaged item(s), and match the custom colour again in the process.
In fact, in a warranty service scenario, Deslaurier always colour matches cabinets that have been used for a significant amount of time. That's because colours slowly change over time with exposure to oxygen and light.
A deep mahogany stain fresh out of the can will not look identical to the same deep mahogany stain that's been on your kitchen cabinets for 10 years. That's why the colour-matching program is crucial to post-installation repairs and replacements.
Click to read more about what's included in the Deslaurier warranty.
What's the Lead Time for Getting a Custom Colour?
Generally speaking, getting a custom colour on your cabinets adds 2 weeks to a regular production lead time. This is because the colour-matching process takes some additional back and forth between the customer, designer, and Colour Lab.
Step by step, the process looks something like this:
You bring in the initial physical colour sample.

The Colour Lab prepares a sample piece (typically within 5 business days) and sends it to the designer.

Your designer shows you the sample, and you either sign off on your approval or request additional changes.

If you're not satisfied with the sample, the Colour Lab will tweak the paint formula as requested to produce another sample.

If you sign off on the sample, the factory will move forward with the production of your cabinets.
All this additional communication usually ends up taking a couple of weeks, but the process could be faster or longer depending on:
Challenging colours (dark reds and blues are the hardest colours to match)

High volume of custom colour match requests

Special finishes (ie. glazes)

Samples on cabinet doors (instead of slabs)
For example, let's say that in order to be comfortable with signing off on your custom colour, you want to see it on a sample cabinet door instead of the standard wood piece. That's understandable! And absolutely possible, too. However, it will take more production time to order and manufacture the door. The time frame and costs may increase with added details like these.
Colour Your Cabinets
Deslaurier Custom Cabinets is a leading cabinet maker serving the Jupiter, FL area, and our overarching goal is to educate clients about all things cabinetry—whether or not your cabinets come from us.
If you'd like to learn more about what our colour-matching process entails, don't hesitate to drop us a line! You can book a free consultation with a kitchen designer in Jupiter.
Related Links: