Estimated Read Time: 6 Minutes
Designing a new bathroom is all about catering to your unique preferences and needs.
In the case of accessibility concerns, this becomes even more true. Cultivating a functional, accessible bathroom space is a unique process centred around the individual requirements of the end user.
At Deslaurier, we specialize in custom cabinetry and design services. In our over 40 years of experience, we've helped complete functional bathroom designs for clients in all walks of life.
This article will provide you with 7 ways to create a more accessible bathroom design, with help from Deslaurier's Myra Flipsen providing her vast industry knowledge and experience designing accessible spaces.
Let's get started!
Accessibility Issues
Accessibility issues come in many shapes and sizes. When crafting an accessible bathroom, the design should always cater to the individual user.
There are various disabilities, conditions, injuries or concerns that require a bathroom to be outfitted with additional accessibility measures.
Some people need extra space for wheelchair access, while others may have physical issues that require extra stability. Older homeowners or people with chronic illnesses might even choose to include accessible features before they need them when designing a bathroom.
There are a variety of challenges to consider and the space should reflect each individual homeowner's unique needs.
Suppose you are looking for information regarding specific requirements for yourself, a loved one, or a client. In that case, there are a number of accessibility guidelines available from NKBA, the Ontario Building Code, or other organizations with rules and requirements that fit your region.
With that, let's take a look at seven ways you can enhance the function, safety, and accessibility of your bathroom design!
Wheelchair Accessible Layout
Understandably, a wheelchair-accessible bathroom will result in the largest transformations from a spatial and layout perspective.
If you or a member of the household require the use of a wheelchair, the bathroom should ensure there is enough space for a wheelchair to move around comfortably.
The doorways should be wide enough to accommodate a wheelchair – at least 36 inches wide, if not wider for more convenience.
Further, a clear floor space of at least 60 inches in diameter should be provided to allow a wheelchair to make a 180-degree turn.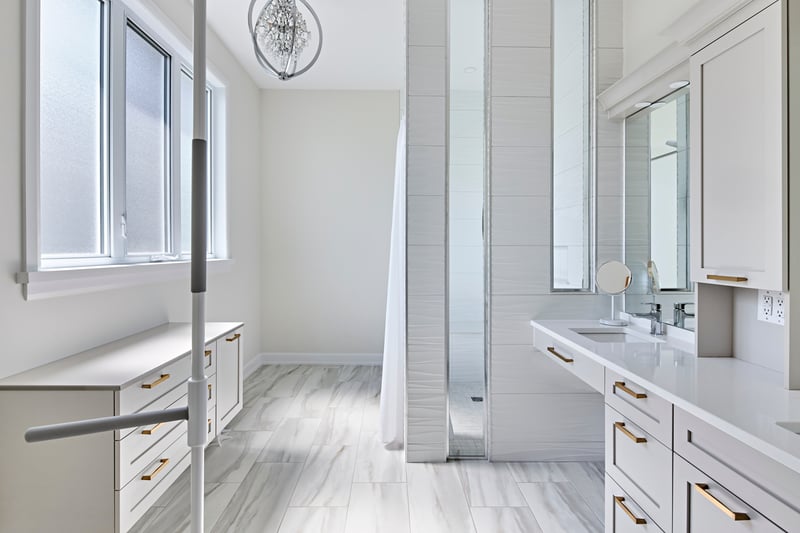 Space Below the Vanity
There are a number of ways to further enhance a bathroom space for the use of a wheelchair.
One of these is providing space for a wheelchair underneath the vanity countertop in order to access the sink and surrounding vanity cabinets.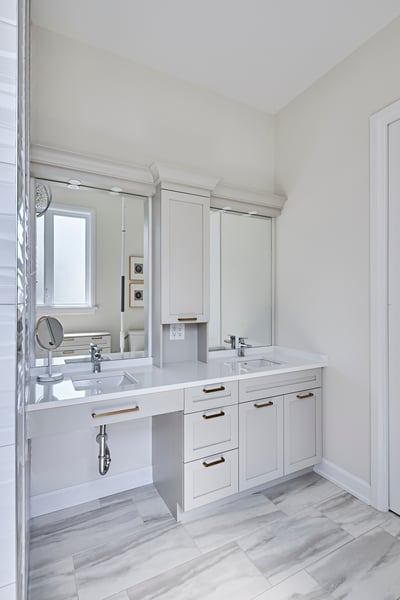 Ability to wash your face, brush your teeth, or apply and remove makeup. Typical daily activities that can be trouble-free with the ability to sit below the countertop.
Curbless Shower Base
Treat the shower as you would the general entries into the home elsewhere, like the front and back doors or the garage.
An accessible shower base needs to be curbless or flush with the floor.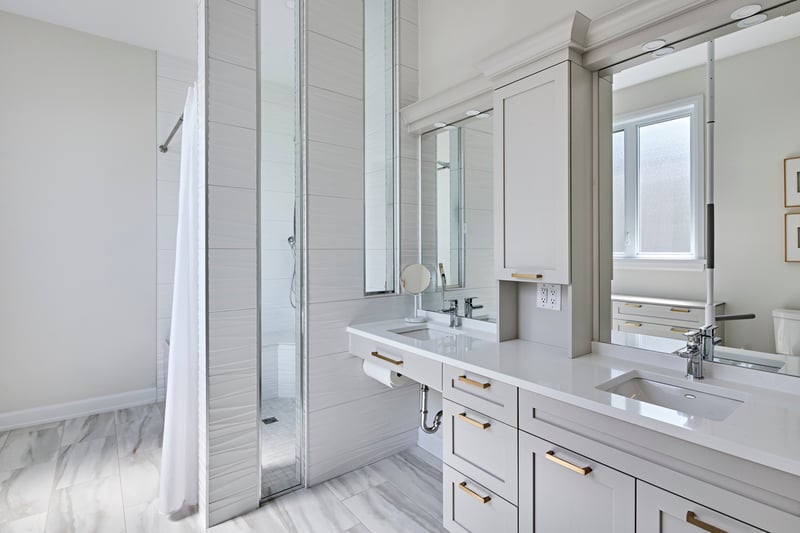 This allows things like wheelchairs or walkers to seamlessly enter the shower without any hindrances or barriers.
Built-In Shower Seating
Its convenience is beneficial for a variety of reasons, particularly for homeowners with physical or sight impairments. It provides a safe, secure spot to sit for periods of time in the shower without the risk of slips and falls.
However, there are concerns about having permanent, built-in seating designed in your shower.
Something like built-in seating can limit the space in a shower, particularly in a smaller bathroom design.
Moreso, accessibility needs aren't always permanent.
"Built-in shower seating isn't always the most preferable – just because of the fact disabilities might change in the future." - Myra Flipsen
It can also become something that eventually needs to be removed entirely depending on whether the user requires more space for shower assistance in the future.
It's essential to keep that in mind before installing built-in seating for your shower.
Non-Slip Shower Flooring
In any bathroom design, implementing non-slip flooring allows for safe and stable footing.
It's doubly important to choose something with enhanced grip and texture for a bathroom that prioritizes the safe and accessible mobility of its users.
"For traditional flooring, tile is the best bet. It's the most durable and has the widest selection with regards to non-slip textures." - Flipsen
You can also purchase flooring that is rubberized for enhanced grip and overall footing safety on wet surfaces. It depends on how much money you want to spend and if you wish to forego aesthetic preferences for the precise option for your needs.
It's important to have them outside the shower as well.
Whether you implement textured tile throughout the entire bathroom, it can be beneficial to utilize non-slip flooring in areas near the shower or bathtub that will no doubt be susceptible to water and slickness.
Reinforced Walls for Grab Bars
Grab bars are a crucial feature in accessible bathrooms. They provide support and assistance for balance and are often implemented in primary areas such as the shower, bathtub, and toilet.
However, it's important to note that standard walls don't supply the strength and support that grab bars need.
You have to ensure there is the necessary structure within the framing of the walls that can accommodate grab bars. It's easy to do in a new build but not a small task to renovate.
"It's an important feature that is easily addressed in a new build but could be quite a renovation if you're having to alter an existing home by opening up walls." - Flipsen
In a finished home, this will require removing any drywall and tiling in order to access the framing of the walls.
As we've mentioned, it's important homeowners often look toward their future needs as well. Particularly if they suffer from a chronic issue that might get worse over time or if they are older in age.
Ensuring the walls are reinforced during a new build or bathroom renovation can pay immense dividends later on in the case of installing grab bars.
Angled Mirrors
Finally, a cosmetic feature to consider is angled mirrors for someone in a wheelchair.
"You'll see that a lot when you go into accessible public bathrooms." - Flipsen
It's a great feature to include and something that could be sorely forgotten with so much focus on the other structural features incorporated in an accessible bathroom.
Design with Deslaurier Custom Cabinets
Ultimately, choosing a bathroom design will always come down to your lifestyle, style preferences, and budget. Consider these accordingly and you'll be able to craft the perfect accessible bathroom design to fit your home!
If you're looking for custom cabinets and design services for your accessible bathroom, Deslaurier Custom Cabinets has everything you need! With over 40 years of experience in our name, we provide our clients with a fully customized design process with our talented team of designers.
Book a consultation today with a Deslaurier design expert at our Jupiter, Florida Showroom or schedule a virtual meeting!
Live outside the area? Visit our Find a Dealer page to connect with a Deslaurier dealer near you! Interested in becoming an authorized Deslaurier dealer? Visit our Become a Dealer page to learn more!