28/05/2021 • Blog
Deslaurier vs. Home Depot: A Comparison of Cabinets
If you're looking for kitchen cabinets in Jupiter, FL, there's a host of options waiting for you.
But how do you know which one is best for your kitchen reno project?
We've written this article to guide you on that quest. At Deslaurier, we recognize that there are many cabinet solutions out there, and we want to help you find the right fit for your home—whether or not that solution is us!
In this article, you'll find an objective, side-by-side comparison of Deslaurier cabinets and Home Depot cabinets. We'll discuss everything you need to know from the cabinet types to the design process at both companies.
Ready to begin? Scroll down to start reading!


Home Depot

Most people are familiar with the home improvement store Home Depot. Home Depot is a worldwide retailer with more than 2,200 stores across North America alone. Home Depot offers almost every major home-related appliance or accessory you might need, and cabinetry is no exception.
Home Depot offers two main categories of cabinets: stock and semi-custom cabinetry. They also offer refacing services.
Home Depot owns and operates manufacturing plants all over the globe, and as such, your cabinets are likely made and shipped from a location outside of North America.
Deslaurier Custom Cabinets
Deslaurier is a family-owned and operated cabinet maker in Ottawa with a network of 30+ dealers across Ontario and Jupiter, Florida. As the company name implies, Deslaurier deals exclusively in semi-custom and custom cabinets. There are no stock products or refacing services available.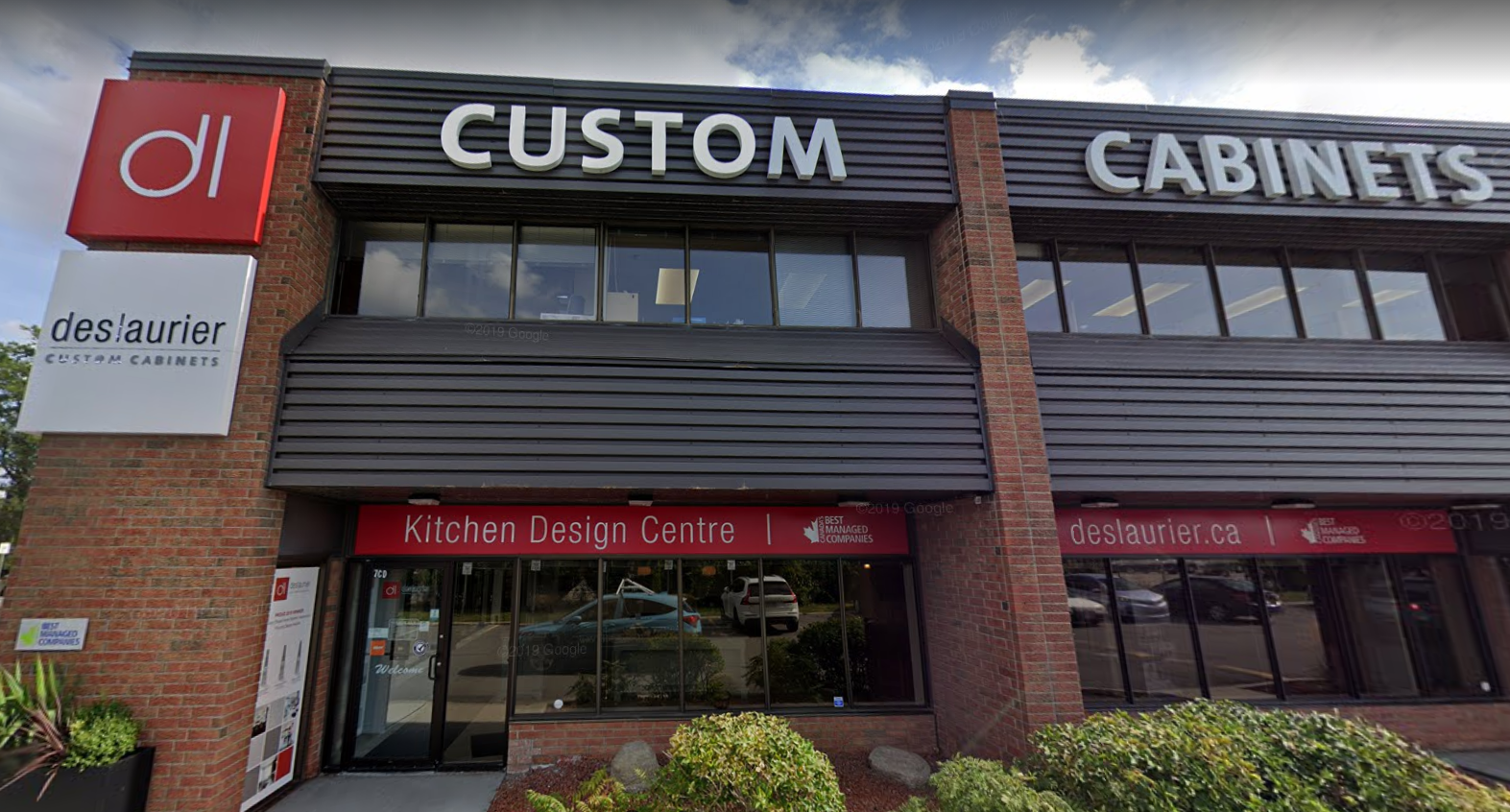 Deslaurier cabinets are manufactured in Renfrew, ON with locally sourced wood products.
Home Depot Stock Cabinets
Pre-Assembled and Ready-to-Assemble
Home Depot offers two main types of stock cabinets: pre-assembled and ready-to-assemble.

Pre-Assembled Stock Cabinets
The pre-assembled cabinet selection is called the Hampton Bay collection and it's the most affordable cabinet type that Home Depot offers. Each cabinet is sold as its own unit, and you can build your kitchen's cabinetry design piece by piece. Because each cabinet is priced individually, you can estimate costs easily by adding items to an online shopping cart.


The fact that these cabinets are already assembled reduces the customer's labour significantly. They come ready to install. Plus, Hampton Bay products are in-stock products and ready to be shipped within 24 hours (or loaded into your truck and driven home immediately). If you're looking for a DIY project on a small budget and a short timeline, the Hampton Bay collection at Home Depot might be your one-stop-cabinet-shop.
Home Depot has created Hampton Bay pre-assembled cabinets for several rooms in the home, including:
Kitchen
Entryway
Wet bar
Laundry room
Garage
While convenient and affordable, the drawback to the Hampton Bay collection is its limited design possibilities. All the cabinets have a shaker door style, and you'll have a choice between only three classic colours: Edson Shaker Grey, Edson Shaker White, and Edson Shaker Dusk. If you have other colour scheme plans, you'll need to look elsewhere.

Ready-to-Assemble Cabinets
Home Depot's ready-to-assemble product line is the Eurostyle collection. The Eurostyle cabinets come 80% pre-assembled—this is because most of the mounting hardware (cams and dowels) is already installed.
Eurostyle cabinets offer customers more design freedom than Hampton Bay cabinets. There are 18 door styles to choose from in 4 different materials: laminated MDF, melamine, acrylic, and thermofoil. They also have a couple of accent door options in aluminum. You can choose between roughly 40 colours with the Eurostyle collection.
Some Eurostyle cabinets may be available in stock, and others will require a delivery wait time. In general, the ready-to-assemble cabinets are the next step up from the pre-assembled cabinets—in cost and design selection.
Like with the Hampton Bay collection, you can verify availability online and estimate prices by using the website.
Home Depot Semi-Custom Cabinets
Last but not least, the Thomasville cabinetry line is Home Depot's in-house semi-custom collection. These cabinets are for homeowners who want to work with a designer for a tailor-made space. All cabinet door styles and colours included, there are over 4,200 possible combinations available in the catalogue.
Customers have free reign to build kitchen cabinets with a wide spectrum of door styles, finishes, built-in accessories, and decorative hardware options.
As with any customized product, costs become difficult to estimate without a concrete design in place. For an accurate quote, you'll need to work with a Home Depot designer. However, if you know exactly what your selections will be, the Thomasville cabinetry website offers a budget estimator tool. You can enter your kitchen layout, design level, and cabinet selections to generate an estimated project cost.
According to the estimator, a small, L-shaped (10 x 10) kitchen with Thomasville cabinets using standard design selections (the Nouveau series Anson door style in oak with a Tumbleweed finish) is estimated at $5,280.
With Deslaurier cabinets, a 10 x 10 L-shaped kitchen with standard selections (shaker door in oak, standard water-based stain, white melamine interior, metabox drawers, and standard hardware allowance), as seen below, is estimated at $6,300.05.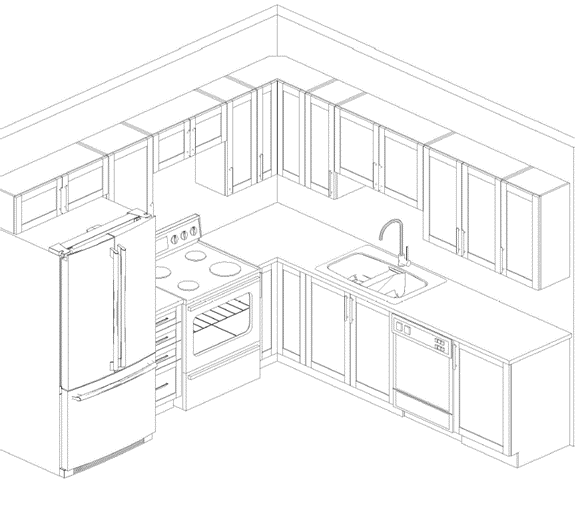 Now, if, still using the estimator tool, you outfit the same kitchen with Thomasville cabinets using premium design selections (the Classic series Camden door style in cherry with a Clove finish), the estimate jumps to $23,200.
At Deslaurier, when you upgrade the 10 x 10 kitchen with our premium selections (shaker door in cherry, standard water-based stain, white melamine interior, antaro grey drawer with rail, garbage pull-out, false door at exposed ends, cutlery tray in drawer bank, lazy susan in corner cabinet, glass in the wall angle corner cabinet, medium cove crown, and 2" light valance), the estimate comes in at $13,629.74.
As you can see, price fluctuates drastically based on the tier of your design selections.
Using a 10 x 10 kitchen example, Thomasville cabinets range from $5,280 - $23,200.
Using a 10 x 10 kitchen example, Deslaurier cabinets range from $6,300.05 - $13,629.74.
Sometimes, the cost to make significant modifications to semi-custom cabinet pieces costs more than making the same number of modifications to custom cabinets. That's why it's always a good idea to get multiple quotes.
You can learn more about how much a kitchen renovation costs in our Learning Centre.
The budget estimator is a useful tool for homeowners to gauge costs and design possibilities before their first design appointment.
Home Depot Cabinet Refacing Services

A service that is unique to Home Depot is cabinet refacing. If the bones of your kitchen cabinets are in good shape, you may consider paying only to swap out the cabinet doors, drawer fronts, and hardware. Refacing is a great way to revitalize the whole look of your space at only a fraction of the cost of a full renovation project.
Deslaurier's Custom Cabinets
Deslaurier offers a far-reaching collection of semi-custom and custom cabinets. At Deslaurier, there are no stock (pre-assembled or ready-to-assemble) options, so prospective customers should know that they're in the market for a personalized project in a higher price range than Home Depot's Hampton Bay or Eurostyle collection.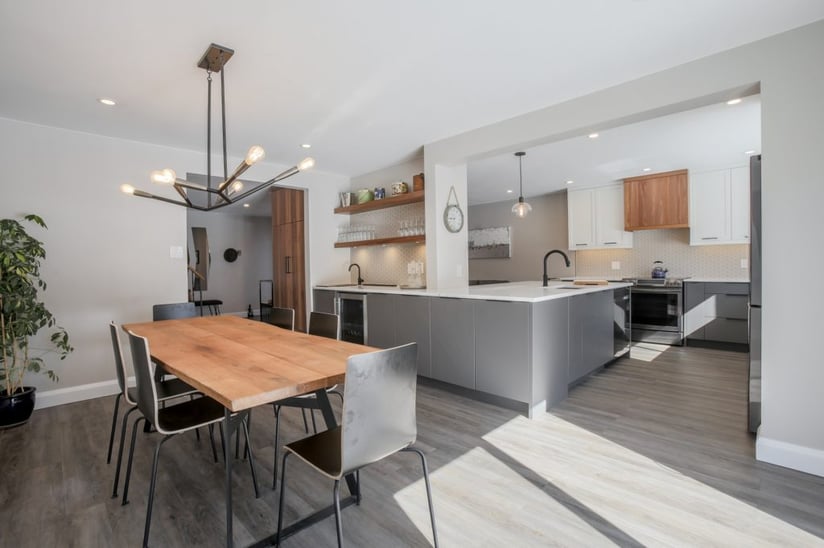 Without question, Home Depot's Thomasville line is the most comparable offering to Deslaurier cabinets. However, Deslaurier's catalogue is considerably larger. Accounting for only standard door styles and stains, there are over 20,000 potential cabinet combinations you can make.
Deslaurier's catalogue is also more customizable, as virtually every component of your cabinets can be modified to suit your preferences.
For example, if necessary, Deslaurier cabinets can be modified in increments of 1 ½ inches and less. At Home Depot, cabinets are typically only modified in 3-inch increments. Deslaurier can also create wholly customized products, such as range hoods and paint colours, which opens up an endless realm of design possibility.
At Deslaurier, the professional designer assigned to you will quote your design selections for you, but there isn't an online design tool or estimator that you can explore on your own at home.

The Kitchen Design Process
Deslaurier vs. Home Depot
Home Depot employs kitchen designers with whom you can schedule appointments to collaborate on your kitchen design.
Deslaurier also employs a team of professional kitchen designers. A designer is assigned to each customer for the entirety of every project.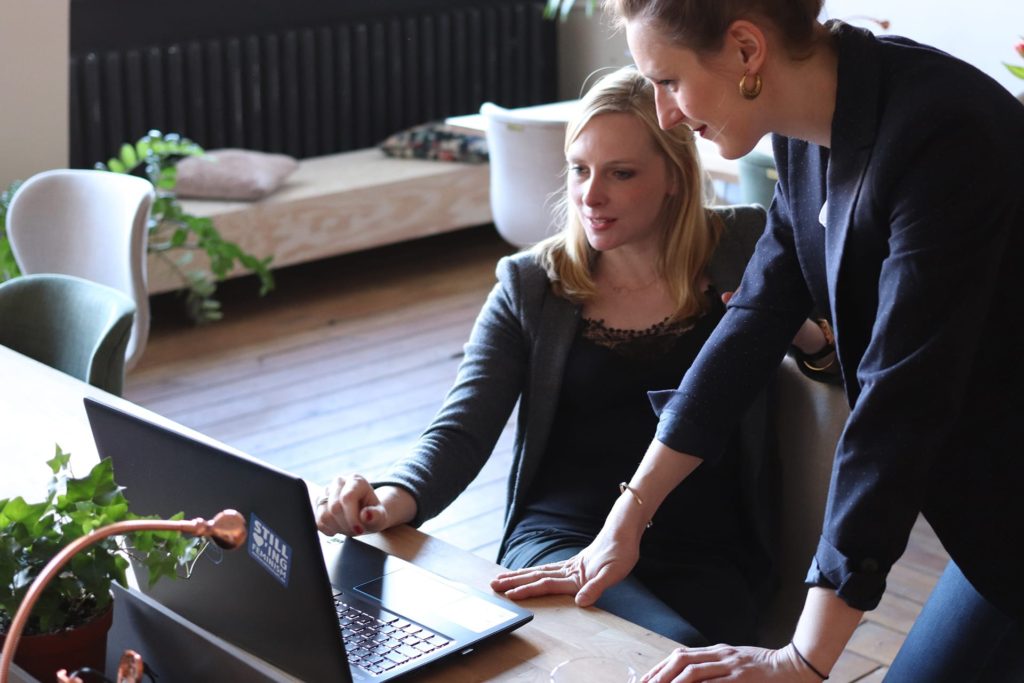 On paper, the timeline of the design process looks quite similar at both companies. The initial consultation is free at both places, so you can get an idea of what each cabinetry provider has to offer with no strings attached.
It's worth noting, though, that Home Depot kitchen designers have other store-wide responsibilities. They may not have as much uninterrupted time to focus on your design as a designer at a company exclusive to cabinetry design will, like Deslaurier.
One example of this is the in-home measuring appointment. At Home Depot, a separate department is responsible for conducting these visits. That means that a Home Depot employee other than your designer will schedule and perform the appointment with you. On the other hand, at Deslaurier, it's most often the designers themselves that verify measurements with the client.
Installation
Deslaurier vs. Home Depot
Home Depot has a network of independent contractors that they use for installation work. If you choose to pay for cabinet installation, they'll use one of these contractor connections, based on location and availability, to install your cabinets.
Deslaurier has its own in-house installation crew that performs all Deslaurier installations across the Greater Ottawa Area. Outside of Ottawa, Deslaurier's authorized dealers perform the installation.

Cabinet Material and Construction
Deslaurier vs. Home Depot
The wood species and other manmade products available for Home Depot's Thomasville cabinets and Deslaurier cabinets are both extensive. Popular wood species like maple, oak, cherry, alder, as well as sought-after engineered materials, like thermofoil and acrylic, are available at both companies.
As for the underlying cabinet construction, one clear distinction is the thickness of the cabinet's back panel. Thomasville cabinets use a 3/8" integrated back panel while Deslaurier uses a 5/8" back panel.
Both backs are load bearing (which means you can install them directly to the wall without additional braces). However, the extra thickness of Deslaurier cabinets offers extra load capacity. Similarly, Thomasville uses ½" sides where Deslaurier uses thicker 5/8" sides.
Overall, you can expect the box construction at Deslaurier to be sturdier than that at Home Depot.
Apart from the standard box construction, almost all other aspects of your cabinet's construction are customizable. You can customize slides, drawer box type, joinery method, and more. These upgrades have varying price structures at both companies.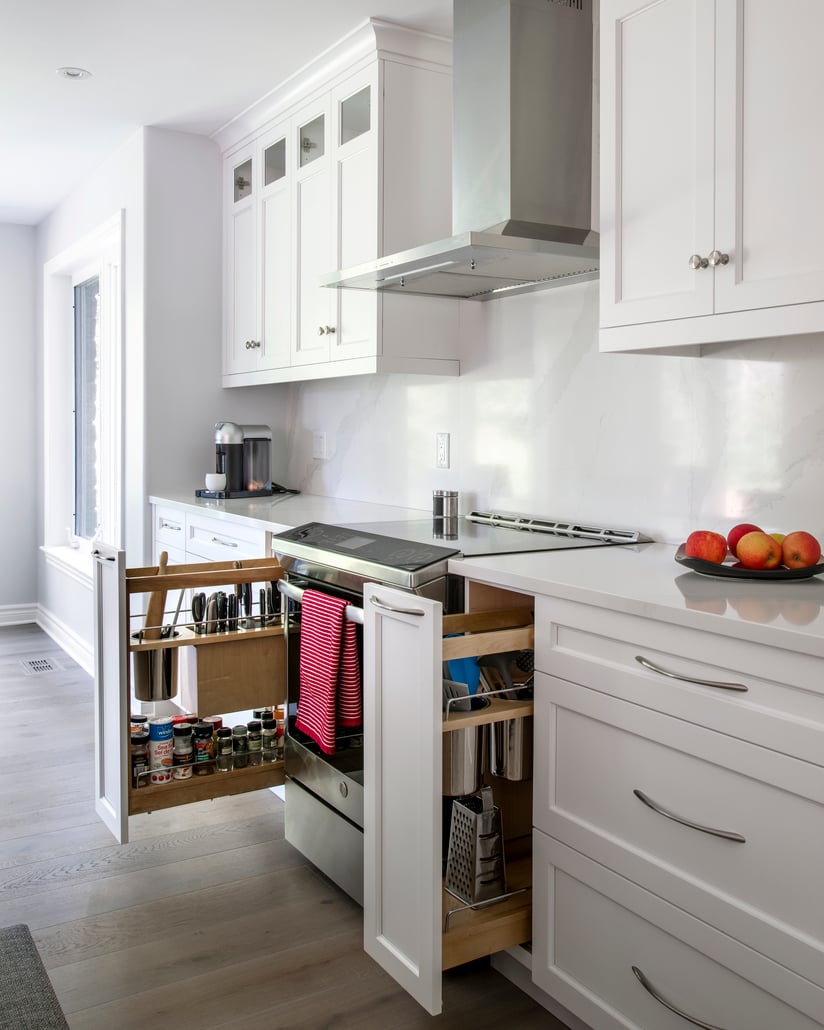 Home Depot vs. Deslaurier
The Similarities and Differences
At the end of the day, the cabinet maker for you boils down to the type of renovation (and the timeline for it) that's at hand.
If you need basic cabinets installed over the weekend, you'll appreciate the convenience of Home Depot's in-stock products.
If you have a very unique kitchen configuration with odd nooks and crannies that requires non-standard cabinet dimensions, you'll find more design possibilities at Deslaurier.
If you only want to reface your cabinets, Home Depot is the place to go (as Deslaurier doesn't offer refacing services).
If you desire lots of uninterrupted time to work one-on-one with your designer, Deslaurier will likely be a better fit.
Home Depot
Deslaurier Custom Cabinets



In-stock and semi-custom cabinets are available.
Refacing services are available.
Design combinations for Thomasville cabinets are considerable (+4,200).
Cabinet materials are sourced and manufactured all over the world.
Your designer may not have as much uninterrupted time for your design project due to other store-related responsibilities.
Hampton Bay and Eurostyle cabinet prices are available online. There is an online budget estimator tool for Thomasville cabinets. Clients can schedule a free consultation with a designer for a quote.

Only semi-custom and custom cabinets are available.
Refacing services are not available.
Design combinations for Deslaurier cabinets are virtually limitless (+20,000).
Cabinet materials are sourced and manufactured locally.
Your designer will be devoted to your design project from start to finish.
There are no online estimator tools. Clients must schedule a free consultation with a designer for a quote.



What's Next?
As you search for a cabinet maker in Jupiter, don't be afraid to get multiple quotes from different places. Both Home Depot and Deslaurier—along with many other cabinet makers—offer free initial appointments, so there's no harm in getting a clear picture of what the project will look like from various sources.
Why not start by booking your free consultation at Deslaurier? All you have to do is fill out the form below to connect with us!
Interested in joining the growing Deslaurier brand in Florida? Visit our Become a Dealer page to connect with us!


Related Links: