Estimated Read Time: 6 Mintues
The kitchen island as we know it today surged in popularity in the 1950s. It is a freestanding area of counter space, appliances, and storage seen in homes worldwide.
There is hardly a home design show on television that doesn't feature a large kitchen island. This is for a good reason.
An island combines form and function, creating a natural focal piece in the room. That said, it doesn't mean all kitchens should feature one. There are cons to go with the pros to installing one.
Deslaurier has over four decades of experience helping design customized kitchens in Ottawa and Renfrew. We have designed many kitchen islands over the years, allowing us to learn all their benefits and downfalls.

Below, we will go through all the pros and cons of installing an island in your kitchen. These will allow you to decide if an island is the proper use of space for you and your family in your kitchen.

Pros of Having a Kitchen Island

There are many pros to installing an island in your kitchen, from increased work surface area and storage opportunities to increased functionality. Let's go over several of those and more below.

Enhanced Storage Opportunities

If you lack storage space in your kitchen, love collecting cookbooks and the latest kitchen gadgets, or are a connoisseur of spices, a kitchen island can offer additional drawers, shelves, and cabinets that may be just what you need in your dream kitchen.
This is where custom designing an island with a kitchen designer is key. They can help you design storage options that perfectly match how you envision using your island in the future.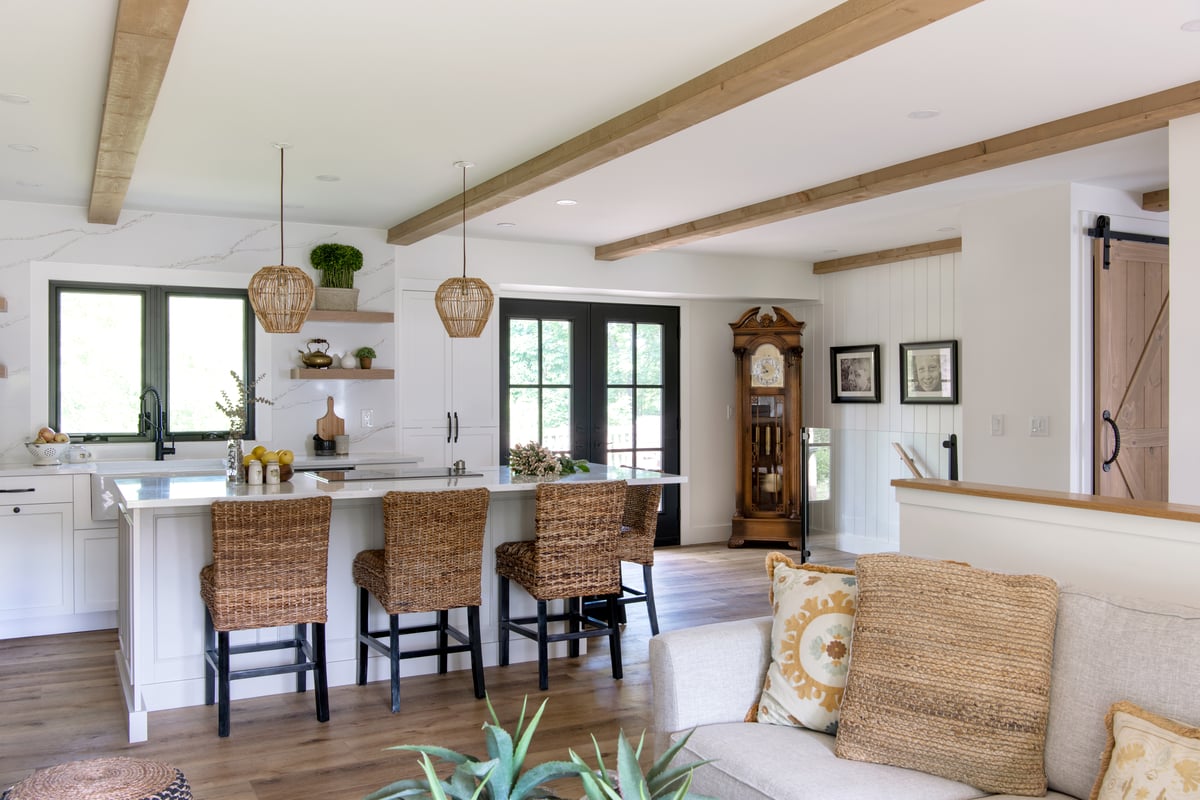 Another pro of kitchen islands is keeping your utensils organized and within reach without taking up counter space. They can also feature a convenient pantry under the prep surface.
This can be an ideal way to keep ingredients that you use often close at hand and not buried in cabinets.

Additional Work Surface

Anyone who loves to cook knows there is no such thing as too much countertop prep space. Working in an open, accessible area means easier meal prep and a much happier cook in the kitchen.
A kitchen island gives you ample countertop space and allows multiple chefs to work in the same area. So whether you and a partner like to cook together, you have kids who love to lend a helping hand, or are the hosts of holidays at your home and can use all the help you can get, a kitchen island can be very beneficial.

Increased Seating and Social Interaction

One of the biggest pros to a kitchen island is that it creates the perfect casual dining spot for quick meals.
This could be a fast bowl of cereal in the morning or a speedy sandwich for lunch. An island makes it easy to grab a quick bite and run.

A kitchen island can be firmly cemented in your pro column if you enjoy entertaining while cooking.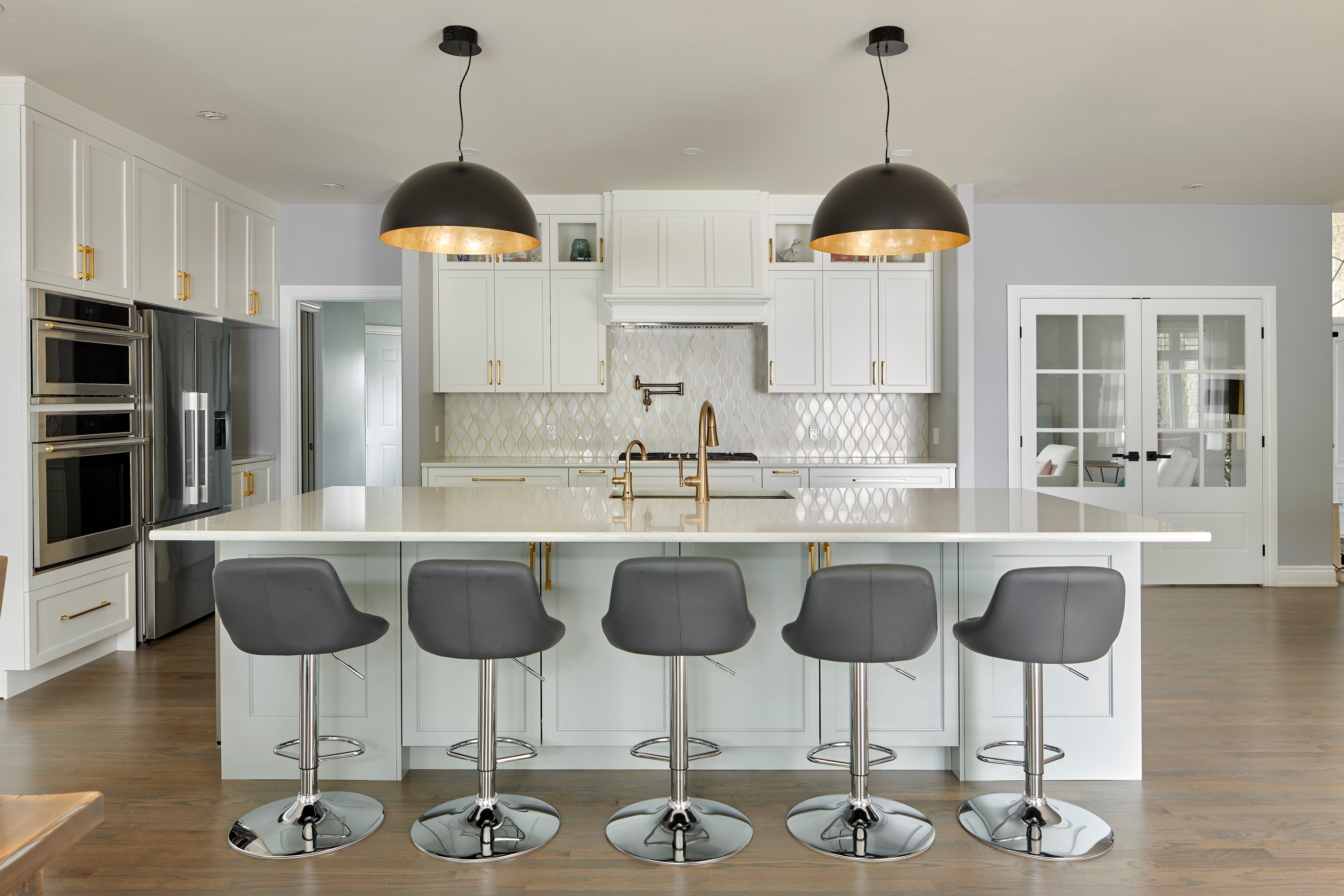 Kitchen islands allow you to do what you do best, cook a delicious meal while being able to carry on a conversation with your guests. It is a perfect way to share a glass of wine or cocktail with your guests without feeling separated from them in another room.

Check out our article here for more information and ideas on planning kitchen island seating. It has excellent tips on the best way to design island seating, picking the best chairs, and some common mistakes to avoid.

Versatility in Functionality

If there is anything we all know how to do today, it is multitasking. Like many of us, you may love a kitchen island if you are a multitasker.
That is because a kitchen island can serve many different things, from a cooking station, breakfast bar, or even a home office for those working from home.

Everyone knows the kitchen is the heart of your home, and an island can make it even more so. It can be a perfect homework spot with an afternoon snack or the hub of snacking on a movie night.

Focal Point

When you see a beautiful kitchen in an interior design magazine or your favourite HGTV show, they always have one thing in common, a gorgeous focal point.
That is another pro of kitchen islands, they are a built-in focal point. When working with a kitchen designer, they can ensure you get the aesthetic look with materials and finishes that highlight your style and draw everyone's eyes.

Islands can also be an ideal way to add a pop of design to the kitchen, bringing in elements from other rooms in your home.
For example, you may want to use a colour for the base you've used on walls in another room. This will help to carry the aesthetic throughout your home.

Good for Resale Value

Kitchen islands are a trend that is unlikely to ever go out of style regarding design and functionality.
This is because it allows for additional appliances like sinks, ovens, and even wine fridges to be placed on an island and opens up space in the kitchen for additional cabinets and a more seamless counter space look.

A kitchen island is a highly sought-after feature when potential buyers view homes. This is because it allows additional storage space, seating, and an extra workstation for those who love cooking and hosting get-togethers at home.

Cons of Having a Kitchen Island
Reading all the pros above, you may wonder if there are many cons to a kitchen island. They may not be true cons per se, but there are considerations to make before installing an island in your kitchen. Let's go over just a few.

Cost Considerations

Those beautiful islands you see in magazines and on television shows don't come cheap.
Considering whether a kitchen island is the right choice for your space, cost should be near the top of your list. The materials you choose, features you add, and installation can all get expensive quickly. We talk all about the cost breakdown of a custom kitchen island here.

On average, you can spend anywhere from $3,000-$12,000 on a custom kitchen island. Here is just a breakdown of some of the average costs:
Countertops - $75-250 sq/ft depending on the material (average $2,000-$5,000 total)
Cabinets - $600 to $3,000
Sinks - $75- $3,000
Accessories (wine fridges, cutlery drawers, waste bins, etc.) - $50 - $1,200

Installing a kitchen island can add considerable costs if you want a working sink, stovetop, or oven in your island.
Many kitchens are not configured with plumbing and electrical easily accessible in the middle of the room, so if you are looking for more than just a freestanding island with storage, you must remember there may be a hefty price tag.
Maintenance and Cleaning Challenges
The bigger the space, the more there is to clean. This statement rings true for kitchen islands as well.
The larger surface area will require more frequent cleaning to keep it looking its best. The same goes for storage areas integrated into the island. They can become cluttered and disorganized if you don't regularly manage them.

It is important to remember that an island will be a focal piece in the room, so keeping it consistently tidy is necessary to avoid it becoming an eyesore.

Space Constraints & Incompatibility with Kitchen Layout
Not all kitchen layouts can accommodate an island easily, and sometimes, forcing one into the space can negatively affect the design.
It is also possible that an island can disrupt the natural flow of the kitchen. When that happens, the extra counter or storage space is a bad trade-off for a cramped kitchen that is hard to move in.
Having a minimum of 42 inches between your perimeter countertop and the island is recommended to move comfortably and work safely. This is an important consideration.

If you have an irregularly shaped layout or are limited in space, an island may not be the best use of it.

Connecting Electricity, Plumbing and Venting Is Difficult
Besides being costly, adding plumbing, electricity, and venting to a kitchen island space is not easy.
Extending plumbing and electrical lines from your main walls can mean tearing up and then replacing flooring to run wiring and pipes under the floor.
This can involve electricians, plumbers, and flooring installers. Venting is equally challenging with HVAC technicians installing downdrafts or traditional hoods over the island.
Be prepared for your budget and timeline to take a hit if adding these features to an island.

Design with Deslaurier Custom Cabinets

Kitchen islands have been prominent features in homes since the 1950s for a very good reason. They provide a beautiful focal point, extra counter space, and storage.
But before you decide on installing a custom kitchen island in your home, it is essential to consider all the pros and cons above before investing.
If you're looking for custom cabinets for your next kitchen project, Deslaurier Custom Cabinets has everything you need!
With over 40 years of experience to our name and an outreach of over 30 dealers across Ontario, we provide our clients with a fully customized design process with our talented team of designers. When you want to add customization to your new kitchen, we are here to help you through the whole process.

Book a free consultation with a Deslaurier kitchen expert at our Juniper showroom!

Live outside the area? Find a Dealer to connect with near you! Interested in becoming an authorized Deslaurier dealer? Visit our Become a Dealer page to learn more!