21/12/2021 • Blog
How Much Does A Custom Kitchen Island Cost: A Breakdown
If you're building a new home or renovating your current home, you may be considering a custom island for your new kitchen design.
The island is a very functional piece of the kitchen and often becomes the focal point of the room.
While there is much to consider when choosing an island, including size, material, and style, a significant consideration is typically cost.
This article will help you select a custom island that falls within your budget by breaking down custom island costs. You will understand where the cost of a custom island comes from and learn rough estimates for price ranges.
Keep in mind that custom islands are extremely design oriented, which means the prices will fluctuate based on the specific taste and needs of one client to the next.
With that, let's take a look at what design elements influence the cost of a custom island!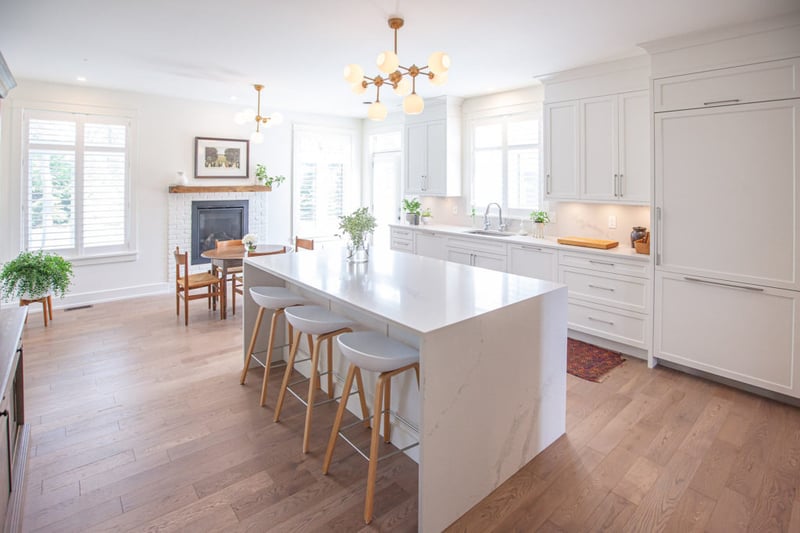 Size & Shape of the Custom Island
Let's start with an obvious consideration: size and shape.
The size and shape of the design will have the largest influence on your kitchen island's cost. This, of course, is because the size of the island directly correlates to the size of the countertop, the number of cabinets, and ultimately, the amount of material used.
Given that size is the biggest indicator of price, you can understand that a 10 sq. ft. island will cost significantly less than a 20 sq. ft. island.
Multi-level islands, ones with a main surface height and a smaller, raised surface, aren't as expensive an alteration as you might think. The main costs come from additional panelling to create the raised height, as well as the supplemental countertop expense. These costs typically range from $600 to $1200 in total.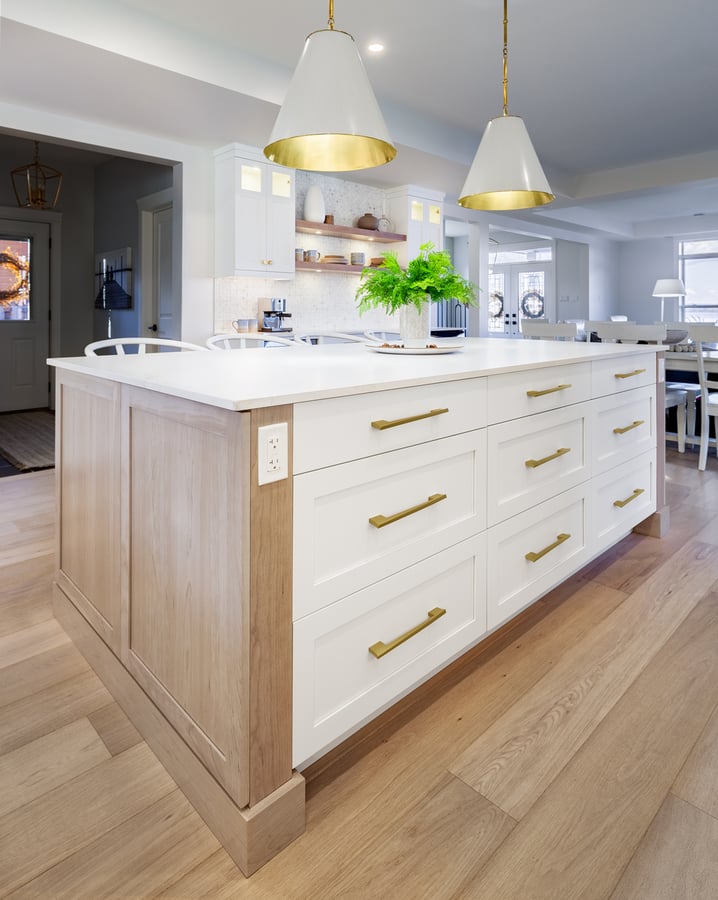 Custom Island Cabinets
Further, the number of cabinets within the island will also have a crucial impact on the overall price.
Generally speaking, the added cost of island cabinetry will be determined by the number of cabinets and the quality of the materials used to make them. Moreover, the finish of the cabinetry also impacts the cost.
For example, a small island's cabinetry could cost as little as $600.00, whereas a larger island can call for over $3000.00 worth of just cabinets. Moreover, an island fully equipped with high quality Cherry or Walnut cabinets will cost much more than the same size island with lower quality Birch or Maple.
For more information on the cost of materials and finishes, check out our articles on MDF vs. Natural Wood Cabinets, as well as Stained vs. Painted cabinets.
Custom Island Countertop

One of the most crucial aesthetic elements of your kitchen design process is choosing the perfect countertop for your island. Depending on the surface you select, it can also heavily influence the overall cost of your design.
Size of Custom Island Countertop
The size of the countertop goes back to the general size of the island.
Islands with overhang for seating will increase cost due to the additional material needed. Typically, standard overhang is 12 inches, but custom islands have the ability to increase that even further.
Overhang islands with designated seating will have additional ancillary costs with chairs or stools. These expenses won't be directly incorporated into your island pricing, but they are important to keep in mind if you plan to integrate island seating into your design.
If you're thinking about having an island with a generous overhang, check out our article on how to choose island seating.
Material of Custom Island Countertop
Moreover, the material you choose will have a significant effect on your countertop's price and the overall cost of the custom island.
Although Quartz is a natural material, quartz countertops are a man-made product. The countertop itself is classified as an engineered stone, made up of quartz, resin, pigments, and other materials.
Quartz countertops have popular options in essentially every price range, with the average cost falling between $80-$180 per sq. ft.
Natural stones such as granite, quartzite, marble are very popular for countertop materials. Since they are natural products, their prices can fluctuate depending on the material's quality and the manufacturer.
Generally speaking, granite is the most affordable of the three. While granite can come in a wide variety of qualities and prices, in terms of average cost, it is commonly right below that of quartz, ranging between $75-$200 per sq. ft.
Marble and Quartzite, on the other hand, are higher-end options. On average, these countertops can cost between $80-$250 per sq. ft.
Laminate countertops are the cheapest on the market, and although they are extremely cost-effective, they are still a solid material with a wide variety of styles and finishes. The cost of laminate countertops can be a fraction of high-end natural stone or quartz.
Butcher block countertops are perhaps a lesser-known option in kitchen design, but you shouldn't let that deter you. Wood countertops bring a neutral, earthy vibe to home kitchens. They're particularly great for cottagey, rustic aesthetics. Roughly, you can expect the price range to come in around $35-$100 per sq. ft.
When considering the overall cost of your custom island, the countertop will take up a substantial amount of the cost. On a decently sized island, expect to pay roughly $2000-$5000, depending on the countertop source.
Waterfall Countertop
Waterfall is a luxurious countertop styles that adds great flair to a kitchen island.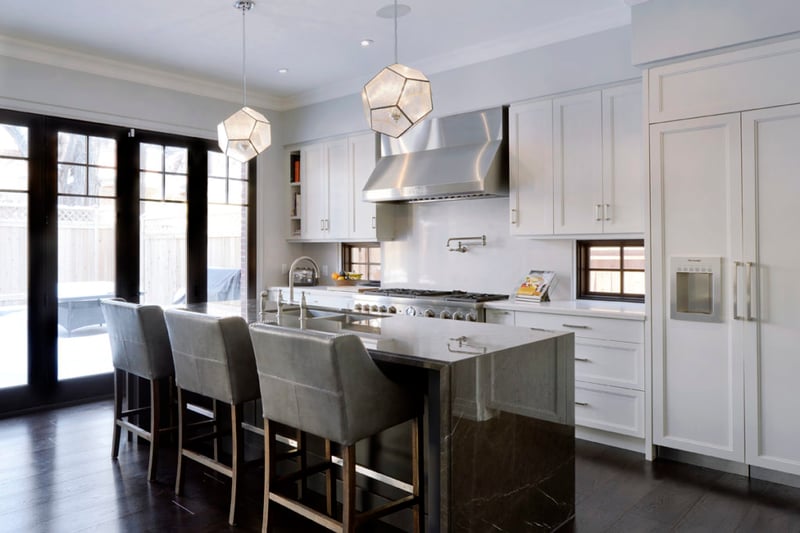 Instead of traditional islands that have a countertop placed on top of it, with cabinets or wood panels on the ends, waterfall sides are a seamless continuation of the countertop material that adorn the exterior walls of the island.
Waterfall ends can be a fairly expensive add-on to your island, depending on your countertop selection. Expect to pay an extra $800-$1500 for each side that you apply.
Custom Island Built-In Appliances
Built-in appliances lend additional function to your kitchen island, but this functionality comes at a cost.
Integrating a microwave into your island cabinets can provide additional room for your kitchen's overall counter space. Placing your dishwasher snugly within your island can ensure your exterior walls have plenty of room for bulkier appliances like refrigerators and ovens.
They will also directly increase the overall cost of the design. They will also require supplemental electrical and plumbing to the island construction, raising expenses further.
Larger islands with generous counter space can be equipped with a cooktop. Cooktops will need additional gas or electrical work done, depending on the heating mechanism.
What drives the price even further is their need for proper ventilation. You'll have to install a hood fan above your cook space, which requires additional construction costs, as well as anywhere from a couple hundred dollars into the thousands, depending on the ventilation unit you purchase.
Custom Island Sinks
If you want to implement your kitchen with two sinks, be it a small prep sink or your kitchen's primary sink, the island is a perfect place to add another.
With this being said, adding an extra sink will require additional plumbing within the island raising ancillary costs. Sinks will take up cabinet and surface space, and larger sinks will require larger base cabinets.
Size, style, and material are the driving forces behind sink costs. A single basin stainless steel prep sink can cost as little as $75, while a double basin copper farmhouse sink can cost over $3000.
Check out our article on how to choose a kitchen sink to help you get the process started.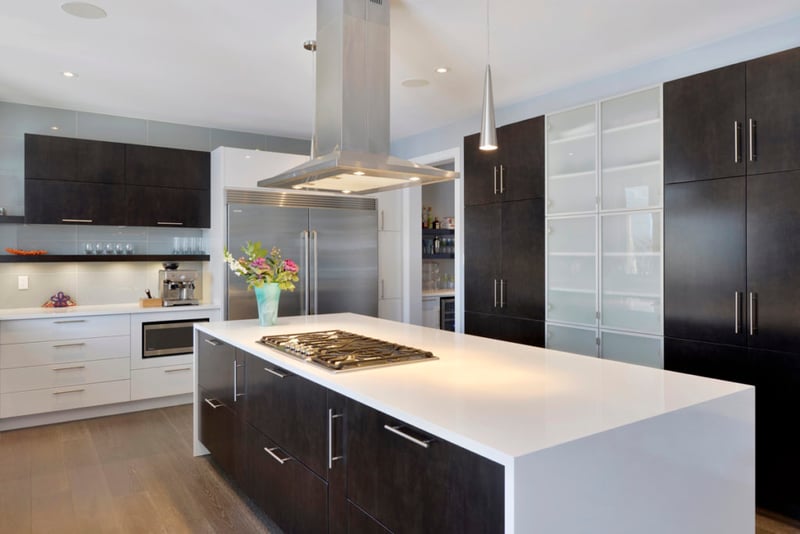 Custom Island Accessories and Additions
The island is a great place to utilize various cabinet accessories or add-ons within your kitchen. The cost of these accessories and add-ons vary.
Custom Cutlery Dividers
For example, custom cutlery dividers are a smart use of island drawer space, and typically cost in the neighbourhood of $50-$200 depending on size and the material used.
Spice & Oil Pullout
If you desire an island stove top, equipping a nearby cabinet with a spice and oil pullout is another great way to maximize your cooking space in one location.
Although these cabinets are narrow, typically anywhere from 6" to 18", the additional metal hardware accounts for much of the heavy cost. Expect to spend anywhere from $300 to $800 for a custom pullout spice cabinet.
Pullout Recycle/Waste Bins
Having designated recycle bins in the kitchen will save you an infinite amount of trips to and from the garage. These pullout units are often placed in the kitchen island to utilize additional cabinet space.
Deslaurier offers pull-out garbage bins in base cabinets of 12", 15", 18", 21", and 24".
The 21" door has space for 2 40L waste bins, giving you plenty of room to sort garbage from recycling items. Plus, the drawer includes a "soft motion" close feature.
Depending on the size of the containers, expect to pay anywhere from $100 to $500.
Custom Wine Racks
Built-in wine racks are a beautiful accent to the side of a kitchen island.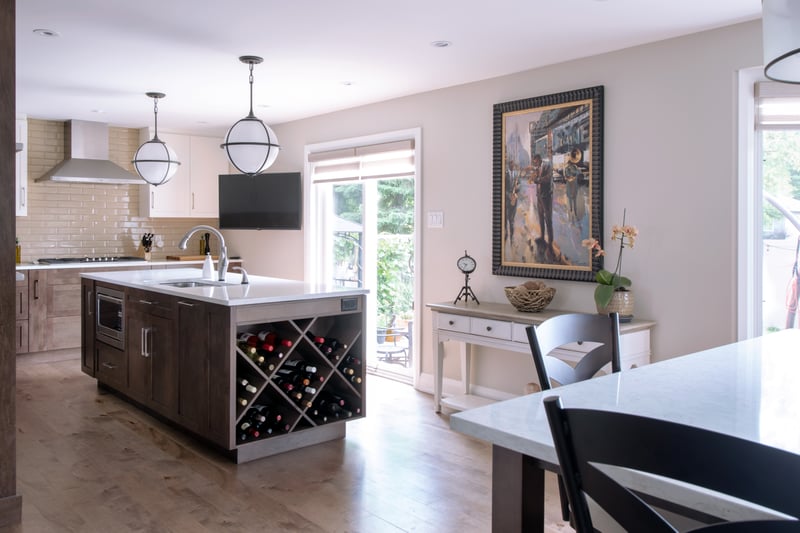 They provide easy to access storage of your wine bottles, while also functioning an aesthetic display.
Depending on the design, size and material of your custom wine rack, their price will likely fall between $500-$1200.
Knowing What You Need In A Custom Kitchen Island
As you've come to learn by now, pricing a custom island is anything but simple.
The pricing range for a custom island can vary anywhere from $3000 all the way to $12,000.
Before you can accurately estimate costs, you need to know the basic inclusions of your custom island. With a framework of your wants and needs, you will be able to determine a realistic budget.
If you start off by knowing that a large farmhouse sink, stained walnut cabinets and an elegant quartz countertop are must-haves for you, your designer will have a firm jumping off point from which they can set price expectations.
Look online for inspiration (Deslaurier's kitchen showcase page is a good place to start) to get an idea of what you want from a kitchen island.
Discover Deslaurier Custom Cabinetry
Remember, with so many moving parts and factors to consider, the design process has the strongest influence on total expenses. Lucky for you, that's where we come in!
If you have your eye on custom cabinetry, Deslaurier Custom Cabinets has everything you need. With over 40 years of experience to our name, we provide our clients with a wholly customized experience with our talented team of designers.
Book a free consultation today and meet with one of our Deslaurier design experts in our Jupiter, Florida showroom!