Estimated Read Time: 7 Minutes
Finding the right flooring for your new build or kitchen renovation is an undervalued aspect of the design process.
The flooring you select needs to not only aesthetically match the rest of the space, but perform to the necessary requirements of your kitchen.
After all, the kitchen is the most eventful room in the house – and the flooring you furnish it with needs to withstand the heavy foot traffic and messy spills that come with that.
At Deslaurier, we have over 40 years of experience manufacturing custom cabinets. Although we don't supply or install kitchen flooring, we understand how valuable selecting the right flooring can be in the kitchen design process.
With that, this article will compare the ins and outs of solid hardwood and its engineered hardwood counterpart, providing you with the information you need to select the right flooring material for your kitchen.

Let's get started!
Hardwood Kitchen Flooring
Although it can be expensive, it is beneficial to have hardwood flooring when it comes to the kitchen.
As previously mentioned, the kitchen has the most foot traffic in the home, making it prone to water spills and general cooking messes on a daily basis. Therefore, it's best to invest in a durable hardwood floor with a long lifespan as opposed to cost-effective flooring alternatives like vinyl or laminate.
There are two surefire ways to achieve this: solid hardwood flooring or engineered hardwood flooring. They're very similar products, especially in terms of appearance, but can vary greatly in a number of ways.
Let's dive into the details to see which class of hardwood flooring better suits your kitchen!
What is Solid Hardwood Flooring?
A classic flooring material for centuries – dating back all the way to the 1600s! – hardwood is far and away one of the most popular flooring options available for kitchens.
Solid hardwood flooring, as its name suggests, is made entirely of solid wood from top to bottom.
When it comes to hardwood flooring, there is a wide variety of different wood species to choose from. These include popular North American grown options such as maple, hickory, and oak, to more exotic woods like Brazilian walnut, bamboo, and mahogany.
Each wood offers unique characteristics, from different grain patterns and colouring, to impressive strength and resiliency, with dozens of natural hardwoods to choose from.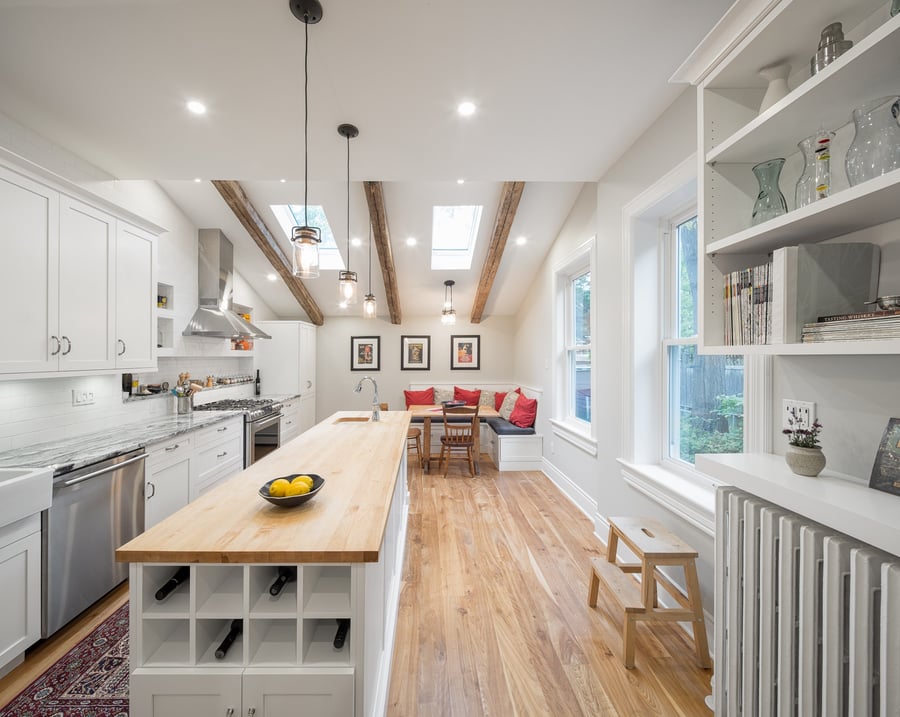 What is Engineered Hardwood Flooring?
Engineered hardwood flooring is a combination of a natural hardwood top sheet bonded to sheets of plywood. It's essentially the wood veneer cabinet version of flooring.
Engineered wood flooring provides the aesthetic of solid hardwood as a more cost-effective alternative, while still providing strength and stability thanks to the plywood base.
One thing to note is that the thickness of the natural wood top sheet will vary depending on the manufacturer. This will influence the quality, price, and longevity of the product.
Essentially, the thicker the layer of real hardwood, the stronger and more expensive the flooring will be.
Solid Hardwood vs. Engineered Hardwood: Appearance
The appearance of solid wood and engineered hardwood flooring is quite similar, albeit not exact one-for-one duplicates.
Since engineered flooring is made using top layers of actual natural wood, their appearance is that of authentic hardwood. However, due to their unique constructions, there are some slight differences between the two.
Solid hardwood flooring typically comes in narrower boards than engineered wood. Hardwood has a wide variety of wood species, colours, and finishes. Hardwood typically has tighter seams between each board after installation. Their flooring is available in prefinished or unfinished boards, which offers customers more personalization.
Engineered hardwood, on the other hand, has a larger variety of widths available and tends to come in wider boards. While they offer a large selection of products, engineered hardwood doesn't have as many options as natural hardwood, and is almost always prefinished. With regards to the seams mentioned above, engineered hardwood can sometimes result in slight grooves between boards after installation.
Ultimately, both hardwoods are almost exactly identical. However, the authenticity of solid hardwood comes out ahead with slightly tighter seams and more species available, especially with the customizable capabilities of unfinished boards.
Solid Hardwood vs. Engineered Hardwood: Durability & Longevity
If you've been researching hardwood flooring, you've probably seen the Janka Hardness Scale mentioned a time or two. This scale can be used as a good measurement of a wood species' strength and durability against impact damage.
The results of the Janka test determine the pounds of force (lbf) required to submerge a small steel ball to half its diameter within a specific wood sample. Popular flooring woods like white oak (1360 lbf), maple (1450), and hickory (1820) perform quite well on the scale.
While strength and hardness of a flooring material is a big consideration, especially in a high-traffic area like the kitchen, it's certainly not the only durability characteristic to research before selecting a wood species.
Longevity
By far the greatest attribute of solid hardwood flooring is its longevity. Without exaggeration, genuine hardwood flooring can last centuries with proper maintenance and care. A one-time investment in hardwood will handily outlast a lifetime of kitchen use in your home if properly cared for.
Of course, engineered hardwood doesn't have the same lifespan as solid hardwood flooring – few materials do. Nevertheless, good-quality engineered hardwood can last anywhere from 20 to 30 years if they are well taken care of. They can even come with a scratch-resistant topcoat for added protection!
What truly elevates solid hardwood's longevity is its ability to be refinished multiple times; something engineered hardwood can't withstand due to its thin top layer of wood veneer.
Moisture and Temperature Concerns
Since solid woods are living products, they will succumb to the natural action known as "breathing." Breathing is the expanding and contracting of natural wood due to changes in humidity or temperature.
Too much moisture can cause wood floors to discolour and buckle. Vigilance is advised to control humidity levels in the room and clean up liquid spills promptly. Over time, excessive movement can alter the flooring, and homeowners may start to notice creaking noises in certain sections of the floor.
While still at risk of breathing and moisture damage due to the top layer of natural wood, engineered hardwood's plywood substrate makes it a more stable product than solid wood.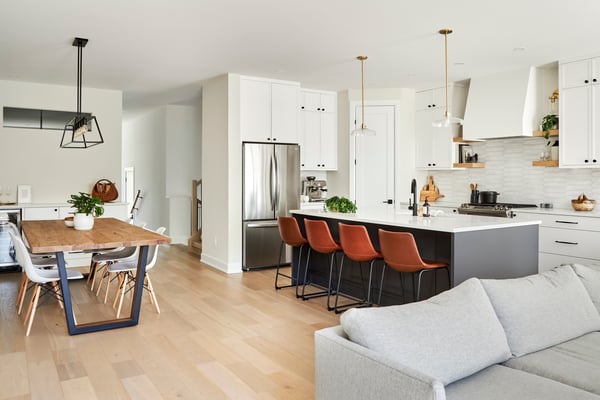 Solid Hardwood vs. Engineered Hardwood: Cost
While solid hardwood flooring may only require a one-time investment, it most likely won't be a cheap one.
Hardwood flooring typically starts at around $7 per sq. ft. with high-end options reaching as high as $15! Of course, it's not uncommon to find high-quality hardwood for under $10 per sq. ft., and the lifespan of the product certainly makes the investment worthwhile.
In some instances, the solid hardwood species you want can just be too expensive on most budgets. Thankfully, there's a more cost-effective alternative in engineered hardwood.
Engineered hardwood can be a great way to purchase more expensive wood species that might be out of your price range in a solid wood product. For instance: high-quality exotic hardwoods like Brazilian walnut, mahogany, or jatoba (Brazilian cherry) can have exceedingly high price tags.
Engineered hardwood has much cheaper selections than solid hardwood flooring, with a minimum of about $3 per sq. ft. That's not to say every engineered hardwood product is that inexpensive – some can be well over $10 per sq. ft. – but overall, it is a more affordable option than solid hardwood
If you're dead-set on a wood species with an inflated price tag outside of your budget, opting for an engineered product of the same wood can reduce the cost by several dollars a square foot, saving hundreds – if not thousands – on your flooring.
Solid Hardwood vs. Engineered Hardwood: Installation Method
Installation can play an important role in what flooring you choose for a number of reasons.
For proficient DIYers planning on installing their kitchen floor themselves, knowing how a product is installed – and whether they are capable of performing that task – can be a big consideration.
The process of installing solid hardwood requires a nail gun to affix the planks in place to the subflooring underneath. Many installers also glue down their planks in addition to nails, further ensuring a secure installation.
While you can install your own solid hardwood, it takes the necessary skill, experience, and time in order to be properly completed – three requirements that not everyone has.
Conversely, if you're having your solid hardwood professionally installed (which we recommend), it's important to note the supplemental labour that will result in additional expenses and a longer installation time.
Engineered hardwood, on the other hand, can come in a number of different installation methods. These methods include glue-down, staple installation, and the popular DIY-friendly "floating floor" style that interlock together and don't require a direct attachment to the underlying subfloor.
Solid Hardwood vs. Engineered Hardwood: What's Right For You?
The selections you make in your kitchen should reflect the future you see in your home.


If you're designing a dream kitchen in your forever home, you'll want to make design choices with timeless qualities and a durable lifespan to last you decades. Whether you splurge for solid hardwood or go the less expensive route of engineered hardwood, both will guarantee quality flooring in your kitchen for multiple decades.
If you're renovating a home you don't envision living in for decades to come, you might be tempted to install cost-effective flooring like laminate or vinyl. That's understandable, and those are products that have made substantial improvements over the years, but there is another reason you might want to consider a hardwood surface for such a scenario: resale value.
As we mention in our article on Designing a Kitchen For Resale Value, even if you don't intend on living in this house forever, investing in hardwood floors for your kitchen can have a big impact when selling your home in the future. Hardwood floors are a key feature many potential homebuyers look for in a kitchen, and their timeless aesthetic has proven universal appeal.
Ultimately, you'll want to consider your budget, your preferred style, and your daily lifestyle in order to make the best kitchen flooring selection for your home.
Design with Deslaurier Custom Cabinets
Whichever type of flooring you desire for your future kitchen, know that for every floor, there's a cabinetry solution to match!
If you have your eye on custom cabinetry and kitchen design, Deslaurier Custom Cabinets has everything you need! With over 40 years of experience to our name, we provide our clients with a fully customized design process with our talented team of designers.
Book a consultation with a Deslaurier kitchen expert at our Jupiter, Florida showroom today!
Interested in becoming an authorized Deslaurier dealer? Visit our Become a Dealer page to learn more! Live outside the area? Find a Dealer to connect with a Deslaurier dealer near you!