It's no wonder the kitchen is often considered the heart of the home. From cooking, to eating meals and socializing, the kitchen is the most used room in the house.
But how or where do you even begin to start a kitchen design that fit your unique tastes and preferences?
If you're starting a new build or planning a renovation, knowing where to start with the kitchen design process will be invaluable. Take it from us. At Deslaurier Custom Cabinets, our team of kitchen experts specialize in a wholly customized kitchen design process.
With that expertise in mind, we came up with a few tips to help you get your kitchen design up and running.
Whether you're brainstorming ideas for a future renovation or preparing to meet with a kitchen designer to get your project started, this article will help you kickstart your kitchen design process!
Let's get started!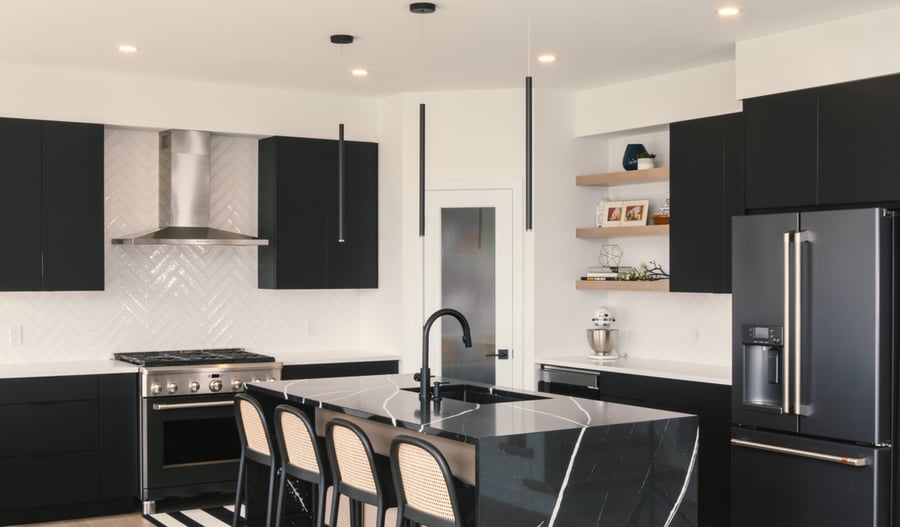 A Kitchen Floor Plan With Accurate Dimensions
The most foundational aspect of starting a kitchen design is providing a floor plan with accurate dimensions.
Without this, there is no possible way to know the size and quantity of cabinets to order, where appliances will fit, the length of countertop needed, among many other design elements that are crucial to a successful kitchen design.
If your kitchen is smaller, you can measure your kitchen yourself with this guide from our Learning Centre. Alternatively, measuring a larger and more complex kitchen may prove to be difficult to an amateur. If that's the case, it is always best to enlist the help of a professional.
If you're working with a general contractor for your kitchen design project, they will be able to measure accurate dimensions of your kitchen which you can then send to your designer. From here, your designer can begin to map out the rough outline of your future kitchen.
Above all else, a kitchen design cannot begin without the room's measurements and a floor plan!
Get An Idea of Your Kitchen Design Budget
Determining a sound budget for your kitchen will help you know what can and can't be included in your design. It's important to settle on a rough budget before contacting a kitchen designer so they understand right away the scope of the project they'll be working on.
If you're already working with a contractor for a new build or your kitchen renovation, you will have settled on an overall budget with specific details and allotments.
The key factor here is knowing what you can spend on your kitchen cabinets. Cabinets will be the largest expense in your kitchen, so deciding their budget will determine how much you can spend on other features.
Know Your Kitchen Design "Must Haves"
Nailing down some must-have aspects for your kitchen is a crucial part of the early design stage. Doing this right away allows you the luxury of working these features into your kitchen design, rather than trying to find a way to make them fit after the fact.
Start by knowing what essential features you need in your kitchen. Have you already decided that your kitchen's design will be based around a custom island? Maybe you know a farmhouse sink is a driving force in your kitchen's overall aesthetic. These factors will influence the size and space available in your kitchen design.
Other features you should consider in your design are the assortment of popular cabinet accessories you might want to incorporate into your space. Are you an avid cook that could make good use out of a custom spice rack? Maybe roll-out trays are the perfect storage system for your custom pantry unit.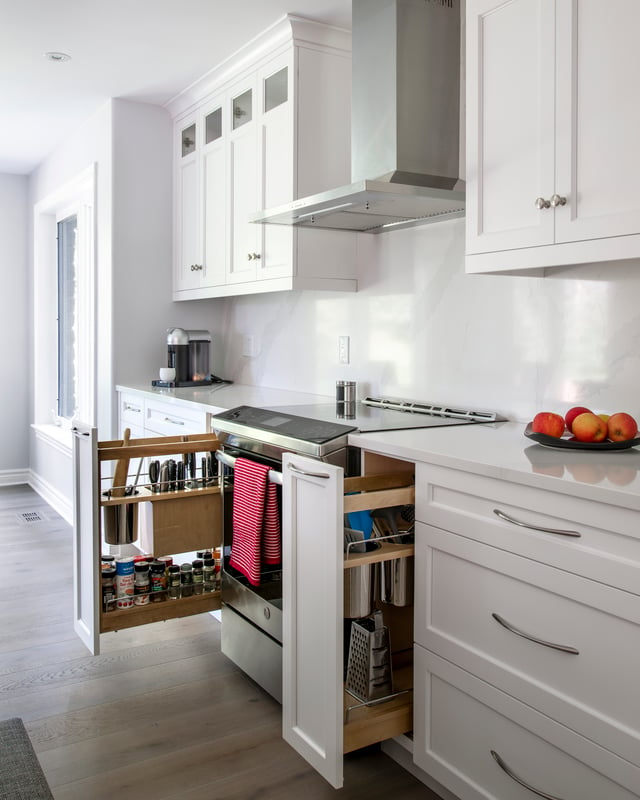 These are the kind of things you should consider when beginning your kitchen design process. They won't be every feature you end up including in your kitchen, but it's important to map out what are some non-negotiable elements for your kitchen.
Map Out Your Kitchen Design's Appliances
Appliances are a big part of mapping out the kitchen design process. It's no wonder why: they take up a lot of space!
The type of appliances you have will dictate your kitchen's design as well. Different types of appliances will require various electrical, plumbing, and ventilation work to be installed in the right place.
Fridges, dishwashers, and sinks will require separate plumbing fixtures. Ovens and cooktops will need to be outfitted with the proper electrical or gas installation. Your cooktop will also need adequate ventilation from a hood fan.
If your kitchen renovation won't be moving any appliances from their current spot, all you'll need to do is provide accurate dimensions for the size of your current or future appliances. If appliances will be moving, map out where you'd like your appliances to be placed.
If you're doing a new build or designing a completely new kitchen layout, knowing where you want your appliances to be situated is a key foundational element that will have a domino effect on the rest of your kitchen.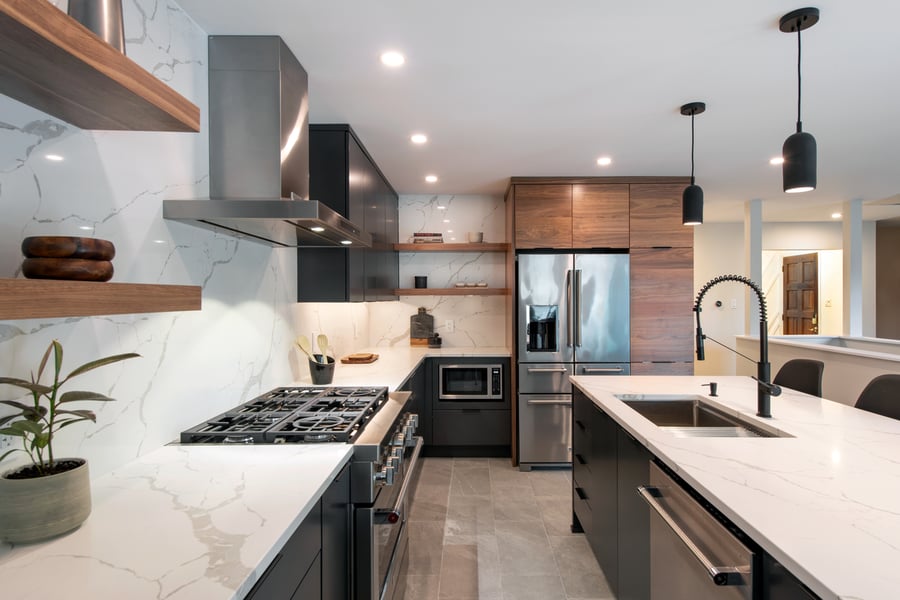 Do you have a free-standing hood range? Maybe you have a two-in-one microwave and wall-oven combo you want to be built into your cabinets. Interested in your double-door fridge to be seamlessly integrated with overlay paneling?
Every appliance will uniquely influence your kitchen's design, and the more time you put into thinking about how they will fit in your new space, the further ahead you are in your kitchen's overall design.
Consider Your Cabinet's Door Style, Species, and Finish
With so many different door styles, cabinet materials, and possible finishes available, making a final decision on your kitchen cabinets can be a demanding exercise.
The next step you will want to take is to determine whether you want a painted or stained finish for your cabinetry. You don't need to know the exact wood species, or a specific stain or paint sample you plan on using yet, but deciding on stained or painted cabinets (and possibly providing photos) will help your designer narrow down a price range for your cabinets.
If you know you're going with paint, that will in turn narrow down your prospective materials to MDF and paint-grade woods like maple or birch. If prominent wood grains are what you're interested in, then narrowing down wood species to a few potential options would be a good start.
From here, knowing a handful of door styles you're interested in, potential materials, and what type of finish you'll want for your cabinets, will help your designer immensely. Cabinets have the largest impact on your kitchen's overall estimate and having an idea of what style you are interested in will give your designer a better template to provide you with an accurate quote.
Gather Inspiration and Current Photos
Supplying your kitchen designer with photos of your current kitchen will help them better prepare and understand your renovation project.
Photos are also a great way to show your designer exactly what you want, rather than worry about describing it to them. Provide them with inspiration photos you've found online, in magazines, or even from a friend's home. Research current design trends that might align with your personal style.
Pictures will not only give your designer a better idea of how it will fit in your new kitchen, but it will also allow them to determine whether it is achievable within your dimensions and design aesthetic.
If you're doing a renovation, providing your designer with existing photos of your current kitchen will help them better visualize your future kitchen's finished design. While floor plans and dimensions are crucial, including existing photos for your designer can be a valuable asset for them to fully understand the space they are working with.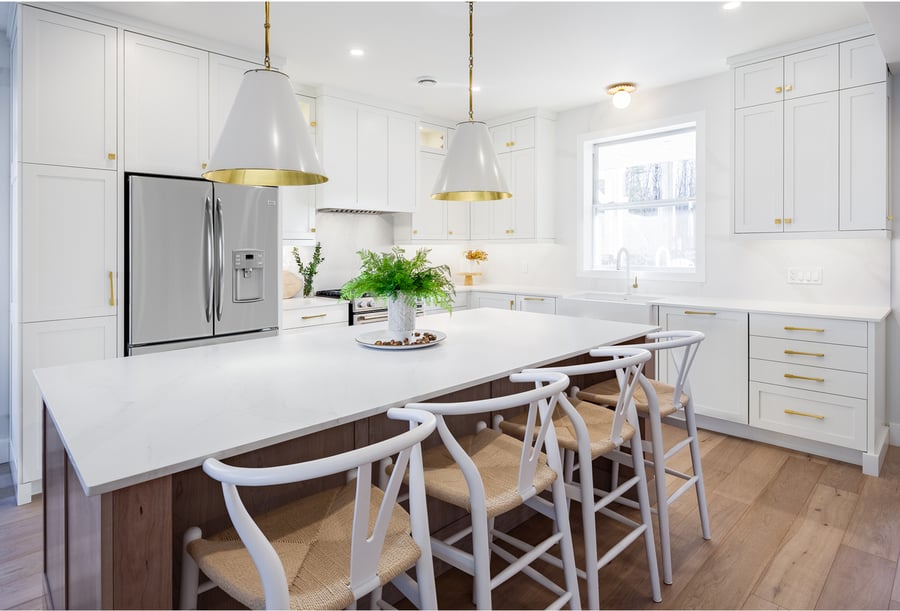 Think About Countertops
Picking the right countertop for your kitchen design is far from easy. Your final cabinet selection will have a large effect on which countertops you decide to go with. That being said, it's never too early to begin thinking about which style of countertop surfaces interests you.
If you're working with a designer, try to provide the desired material and general pattern you wish to be quoted on. This may sound difficult to do without already having your cabinet finishes selected, but it still leaves plenty of room for you to pick your counter in the future.
For example, if you know you want a quartz countertop with a light pattern design, that helps your designer immensely with a potential quote. You'll also find that your selection isn't as narrowed down as you think. Countertop suppliers will have dozens of different light coloured quartz patterns and designs for you to choose from.
Discover Kitchen Design with Deslaurier Custom Cabinets
These tips should help you form a solid foundation of what you want, and need, in your new kitchen design.
If you're ready to kickstart your kitchen design process, you've come to the right place!
Deslaurier Custom Cabinets has everything you need for a fully customized kitchen design experience. With over 40 years of industry experience, we provide our clients with a fully customized design process with our talented team of designers.
Book a free consultation today and meet with one of our Deslaurier kitchen design experts in our Ottawa showroom!