Cost of Custom Cabinetry at Deslaurier
Custom cabinetry is one of the largest expenses of a kitchen renovation.


At Deslaurier, our cabinetry is premium quality and 100% customizable. You can expect to spend anywhere from $10k to $100k on custom cabinetry at Deslaurier depending on the size of your kitchen and your customization choices.
Every kitchen design is unique. The best way to know how much your custom cabinetry will cost is by talking to a Deslaurier Designer.
In the meantime, this breakdown will give you a better idea of sample customization choices at different price points ...
$$$



Door Style
5-Piece Solid Panel (Eg. Raised Panel)
Wood Mullion


Cabinet Accessories
Le Mans & Comfort Corner
Servo Drive / Electric Opening Systems
$$


Cabinet Materials
Cherry
Rustic Alder
Painted MDF
European Textured Melamine
High-Gloss/Matte Thermo

Door Style
5-Piece Mitred Flat Panel (Eg. Profiled Shaker)
Aluminum Framed


Cabinet Accessories
Waste & Recycling Centers
Pull-Out Accessories
Lazy Susan
$


Cabinet Materials
Birch
Maple
Oak
Thermofoil
Textured Melamine

Door Style
Slab
5-Piece Flat Panel (Eg. Shaker)


Cabinet Accessories
Drawer Organizers
Cutlery Dividers
The Value of Working with Deslaurier
A Dedicated In-House Kitchen Designer
Receive the expertise and creativity of a dedicated in-house Deslaurier Designer from start to finish.
They'll assist in building budgets and create a fully dimensioned floor plan with 3D renderings to help you visualize and understand the scope of your project.
Along the way, you will develop a strong connection and sense of trust with your Designer, allowing you to sit back and simply enjoy the process!
Choose From an Extensive Product Catalogue
At Deslaurier, there is no shortage of options when it comes to designing your dream kitchen.
Choose from over 70 unique cabinet door styles and over 80 cabinet paints & stains.
Delivery, Installation, & Service
Deslaurier will deliver your order directly to you, and provide our industry-leading cabinet installation professionals to ensure your project is completed to the highest standard.
Even more, the Deslaurier post-installation process includes our extensive warranty and a quality team of service work technicians.
Talk to A Designer Today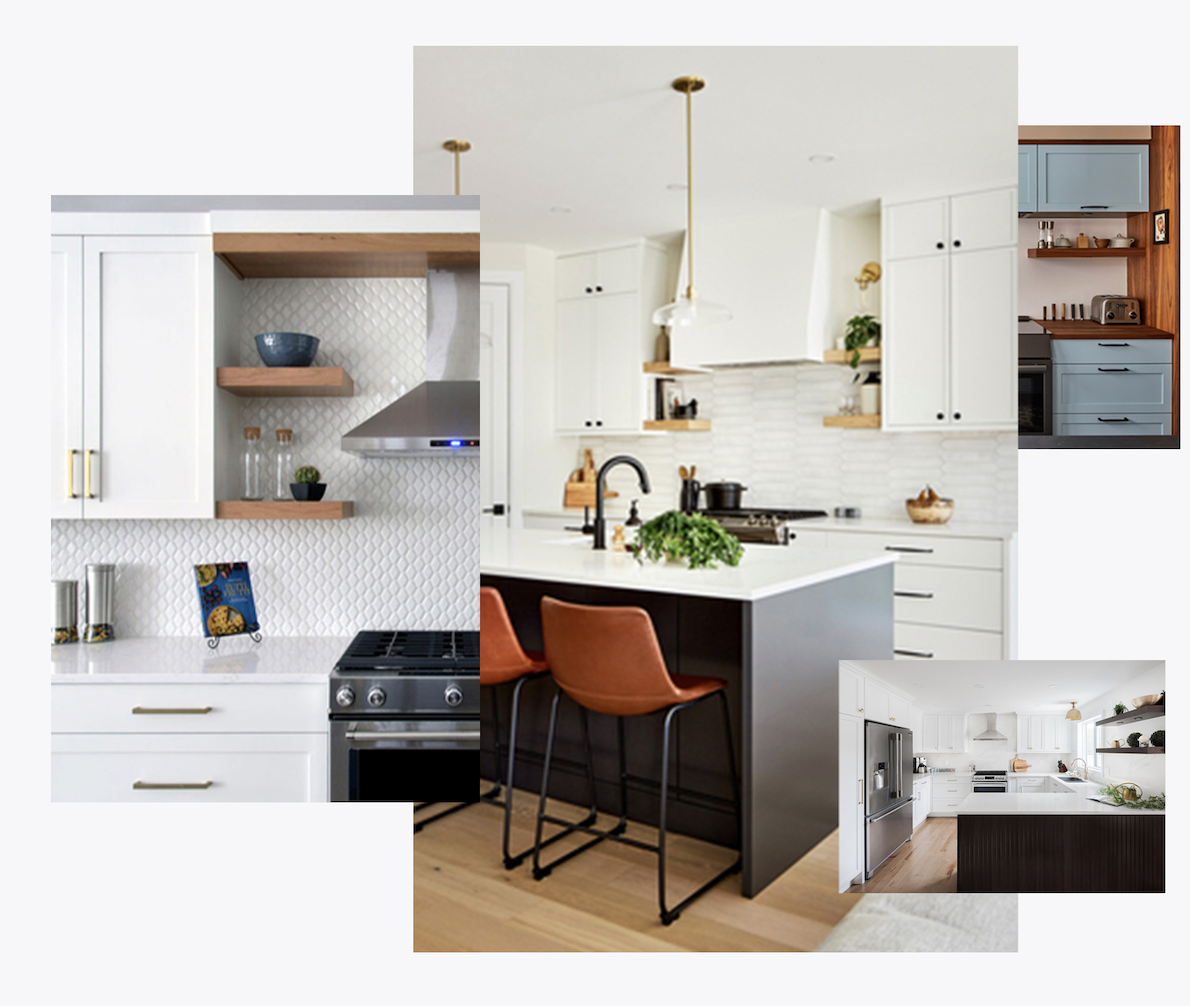 Cost of Cabinet Materials
The cabinet material you select will play a significant role in the overall cost of your project. The price of a kitchen can fluctuate thousands of dollars based on whether the cabinets are manufactured using an affordable, easily accessible material like birch, or a higher-end, a more scarce product such as white oak.
We also carry a number of man-made alternatives to natural wood cabinets. Products like painted MDF, thermofoil, and textured melamine cabinets all offer unique characteristics to wood cabinets in a variety of price ranges.
Cost of Cabinet Door Styles
The cost of cabinet door styles can fluctuate more than you'd expect. With this, look at the difference between the amount of material used. 1-piece slab doors will be much more cost-effective than a 5-piece door with a solid centre panel.

Take a look at our Door Style Comparison article to see the difference between seven popular cabinet door styles.
Cost of Cabinet Finish (Paints & Stains)
The type of finish you apply is another influential factor in the overall expense of your cabinets. Painted cabinets typically cost more than stained cabinets. This is due to the multistep painting process needed to ensure a quality finish. Depending on the colour, you can expect painted cabinets to cost roughly 10-15% more than stained cabinets.
Cost of Cabinet Accessories
Every functional kitchen needs its fair share of cabinet accessories. From simple cutlery dividers to Le Mans corner units, there are plenty of efficient kitchen cabinet accessories that cover a wide range of prices. We recommend budgeting 5-10% of your cabinet cost to accessories to maximize the utility of your kitchen cabinets.
Here are some of our Best-Selling Cabinet Accessories.


Check out our detailed article about the Cost of Custom Cabinets for more information.
Keep in mind that Deslaurier specializes in Custom Cabinetry projects. With that being said, there are several other elements of a kitchen renovation with additional costs to keep in mind.
When working with Deslaurier, we can provide countertops through our partnerships with other reputable brands: Hanstone, Caesarstone, Silestone, Cambria, Consentino.
Kitchen sinks are available in a wide range of price points depending on the style, size, function, and material.
Although significant, custom cabinetry is only one design element of a complete kitchen renovation. Be sure to factor in the cost of countertops, a kitchen sink, lighting, flooring, and appliances.
Also, keep in mind that Deslaurier does not offer kitchen renovation services beyond custom cabinetry installation and kitchen design. Depending on the scope of your project, you will likely need to purchase a permit and hire a general contractor. While we don't have contractors on staff at Deslaurier, we can help you connect with the right contractor for your project.
Further, you should also account for the cost of any necessary electrical or plumbing work.
Check out our article outlining the Cost of a Kitchen Renovation in detail.