15/06/2021 • Blog
How to Plan Lighting for Your Kitchen
Types of Lighting, Considerations, & Cost
The kitchen is often considered the ultimate workhorse of the home. But what's the one thing that makes that ultimate workhorse work?
Light!
How do you properly light a kitchen space so that it makes all your kitchen-centred activities bright and easy? Expert Design Consultant Adele Jacobs is here to share her trade secrets with us.
This article will walk you through the basics of lighting a kitchen by providing an overview of the different kinds of lighting, tips and tricks for choosing lighting, and an estimate of how much you can expect to pay for lighting.
The Importance of Kitchen Lighting
Homeowners often put a significant amount of money and effort into their kitchen design. After all, kitchen renovations are one of the best ways to secure a high return on investment. Moreover, kitchen lighting made our top 5 list of worthwhile builder kitchen upgrades as a place to splurge in a newly built home.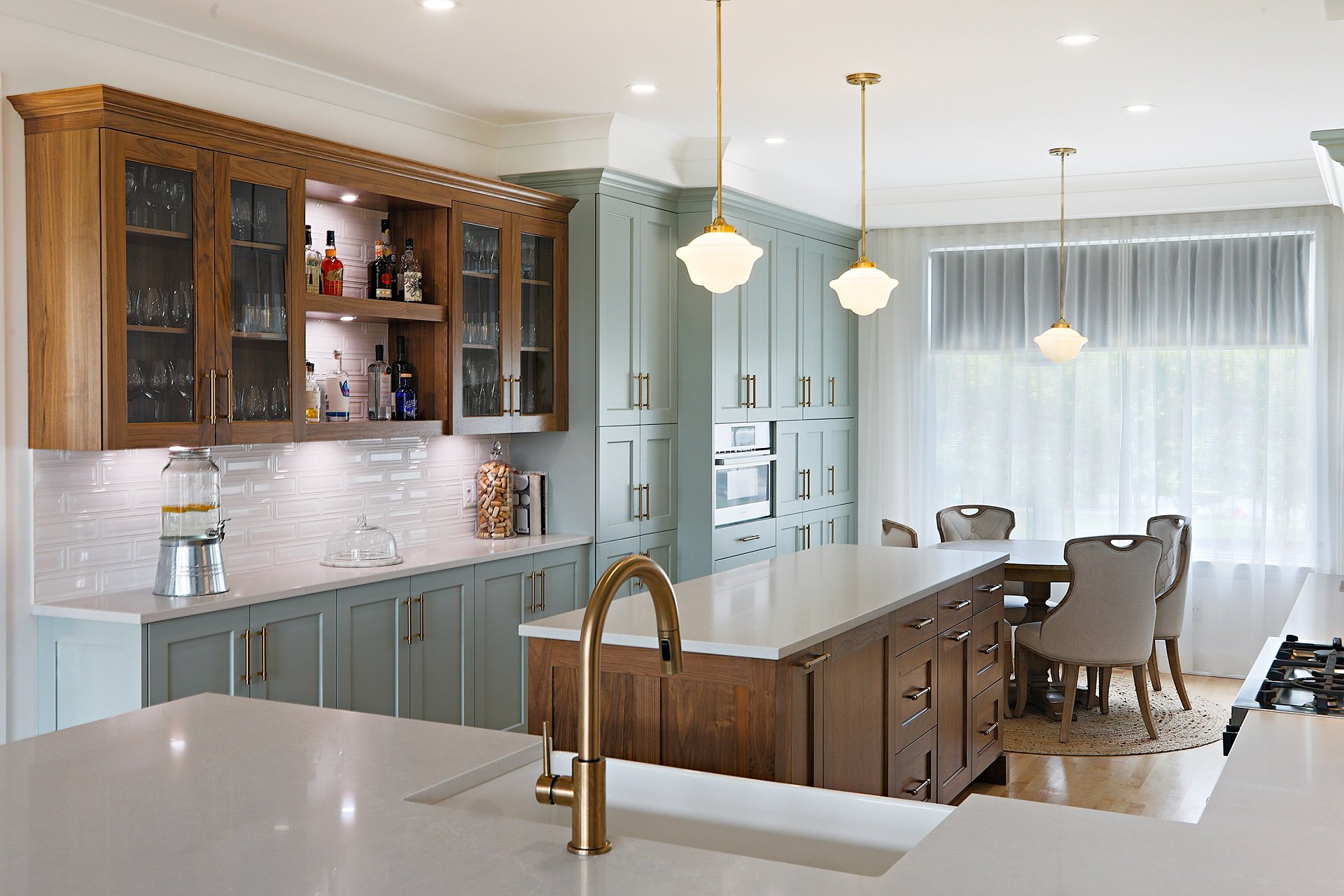 Adding lighting is typically one of the last phases of a kitchen renovation project, but an important one that can be thought about as you work through your plan.
Lighting can really add to the overall design style of the kitchen. It's a decorative element as well as a functional element. —Adele Jacobs, Design Consultant
From a practical standpoint, proper illumination is necessary to build a multifunctional space that accommodates such a variety of tasks. Adequate lighting allows you to cook, clean, and visit with ease.
When it comes to aesthetics, lighting is one of the most effective ways to energize a kitchen. Lighting can impact the colour, look, and ambiance of the room. It can work to showcase a particular element of the kitchen or act as a statement in its own right.
Types of Kitchen Lighting: Task, Accent, Ambient
Just like a healthy and well-balanced meal, your kitchen design should consist of balanced lighting to energize you and assist you in accomplishing tasks.
Think of lighting a kitchen like adding ingredients to a meal.
A properly lit kitchen consists of three main types of lighting, or shall we say three main ingredients. All three "ingredients" are essential, but you want to add them one at a time in the following order:
Ambient Lighting (or General Lighting)
Task Lighting
Accent Lighting
Each type of lighting should be layered throughout the space to achieve effective distribution of illumination. Plus, each type of lighting should have its own light switch for ease of control.
As you build the recipe that is your kitchen lighting, start with ambient (or general) lighting. You want to make sure you have enough light in the ceiling to cover the entire space evenly.
The next ingredient is task lighting. Which spaces need focused beams of light to help accomplish specific tasks? Add targeted lights for those high-priority areas.
Finally, incorporate a dash of accent lighting. This will highlight decorative areas while finalizing the overall aesthetic of the room.
As the cherry on top, determine where you want to add dimmers. In many renovations, the location of switches is pre-determined, but the dimmers and controllers can easily be added to existing electrical locations.

With this framework in mind, let's dive into the details of each type of lighting so you can create a culinary lighting masterpiece.
Ambient Lighting
Ambient lighting or general lighting is considered the main source of light in a room. In other words, your general lighting is your "all the time lighting" and is connected to the most-used light switch in the room.
Essentially, ambient lighting is a base-level kind of light. Then, task lighting and accent lighting come alongside ambient lighting to add emphasis and style.
Ambient lighting is usually placed in the ceiling of the kitchen and works in addition to (or as a substitute for) natural light. Pot lights are a very common form of ambient lighting.
Design Consultant Adele Jacobs tells us that a good rule of thumb is to place pot lights about 5-6 ft. apart, depending on the amount of natural light that you have in the space. The idea is to evenly distribute them over the kitchen's circulation space. For example, if you have a kitchen island, you want the four stretches of walking space around the island to be well-lit.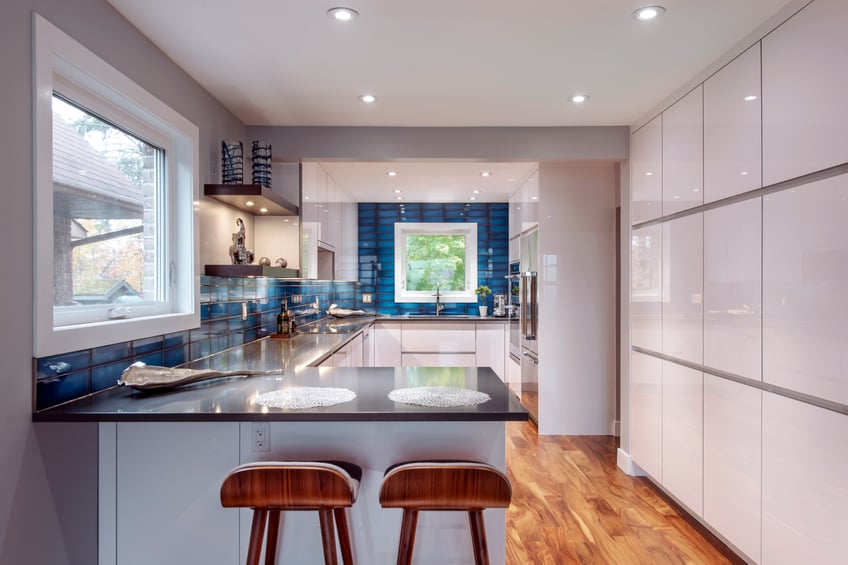 Dimmers are becoming more and more popular in kitchen design, and especially so with general lighting. If you only add a dimmer to one set of lights, your ambient lights are a good choice.
Common types of ambient lighting include:
| | |
| --- | --- |
| Recessed Pot Lights | Recessed lighting is installed directly into the ceiling or wall. It simply consists of housing, trim, and a bulb. |
| Flush Mounts | As an alternative to recessed lighting, ceiling flush mounts offer a more decorative version of ambient lighting as they typically project up 18 inches from the ceiling. |
| Chandelier | Chandeliers are suspended from the ceiling of a kitchen offering ambient light while also adding a hint of sophistication to the kitchen design. |
Task Lighting
Task lighting focuses on a specific area to provide targeted illumination for accomplishing tasks.
Unlike ambient lighting, which lights the room as a whole, the point of task lighting is to concentrate the beam in one specific area.
Break the kitchen into individual tasks areas where you'll prepare ingredients, cook meals, sort silverware, or do the dishes. Some primary task areas in the kitchen are countertops, drawers, and the sink.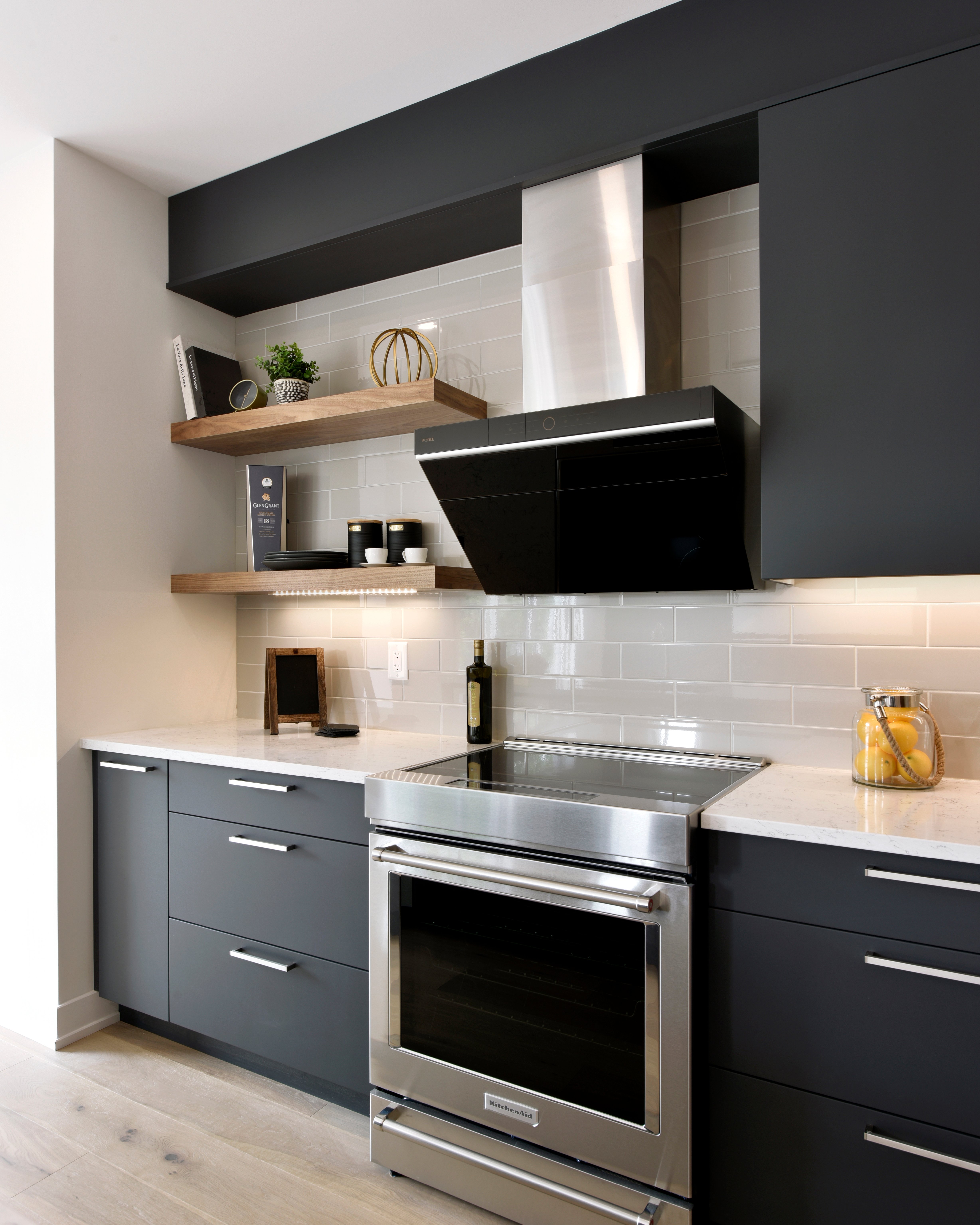 Dimmers are also in demand for task lights as you can use them to adjust the amount of light you need for whatever you happen to be doing.
Some common types of task lighting are:
| | |
| --- | --- |
| Pendant Lights | Hanging pendants are often placed in twos or threes to illuminate an island. |
| Directional Recessed Lighting | A beam of lighting from a recessed fixture can be directed to a specific area with an adjustable trim. |
| Spotlight | Spotlights can be added to increase specific illumination over one specific task area (ie. the prep or clean up areas). |
| Under Cabinet Lights | Under cabinet lights installed in the bottom of cabinet uppers can illuminate countertops that would otherwise be shaded. |
| Hood Fan Lights | Many hood fans come with interior lights included. These lights can serve as a type of task lighting. If your hood fan lighting is not sufficient you may want to consider adding additional lighting here. |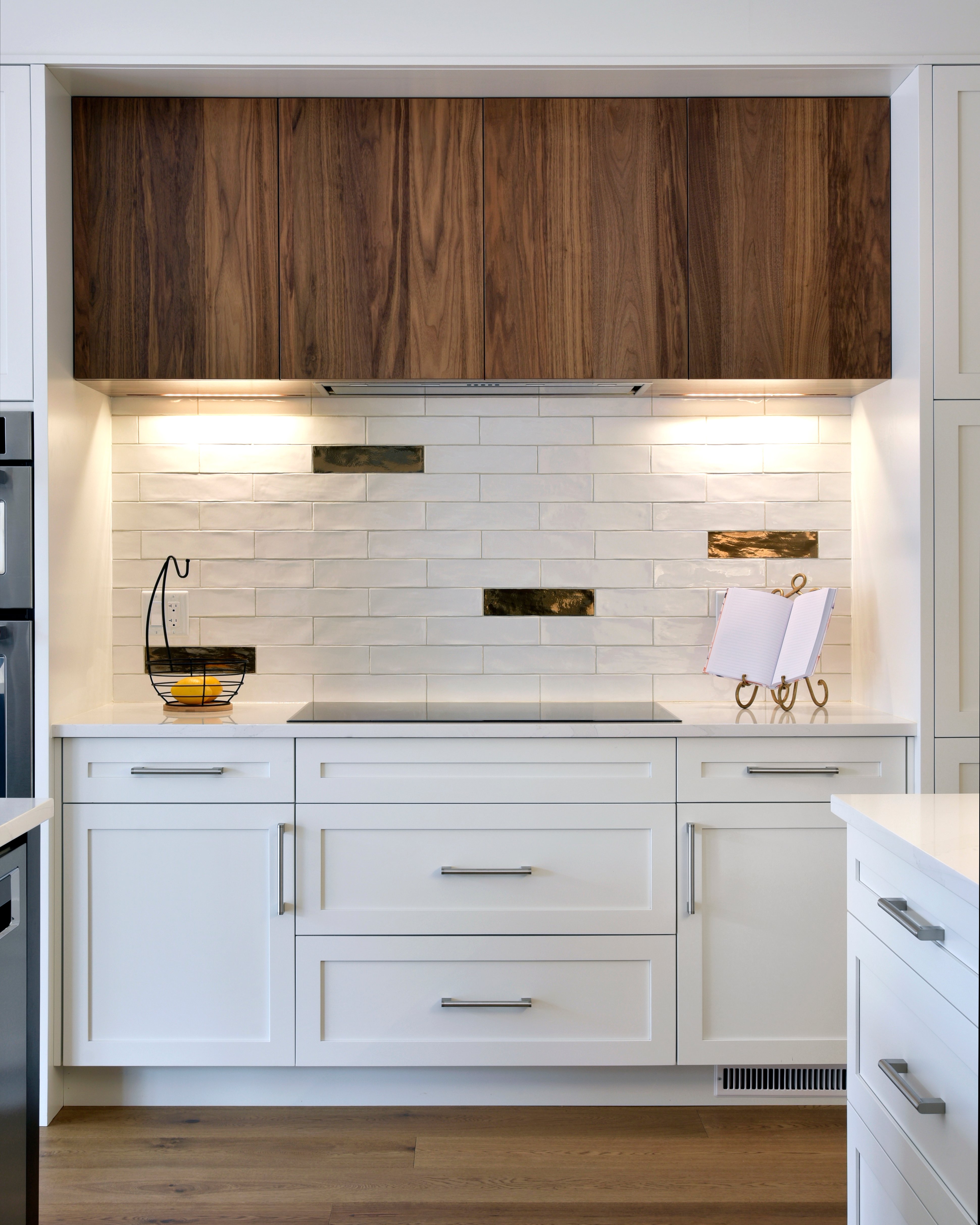 Accent Lighting
Last but not least, accent lighting involves strategic use of light to draw attention to architectural details and other points of interest in the kitchen, such as artwork, architectural or millwork details, or other displays.
Accent lights are perfect for creating a relaxed atmosphere. In the evening after dinner, you can switch off your ambient lights and switch to accent lights. Generally, it's less of a priority to have accent lights on a dimmer because they're usually spread out throughout the room and don't give off a ton of light anyway.
Imagine how cozy this kitchen would look after sunset with only the interior glass and under cabinet lighting turned on: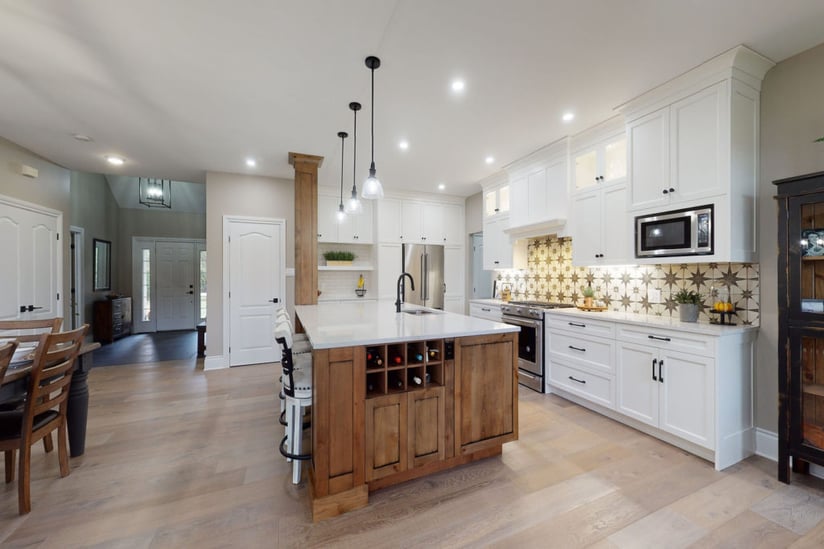 As a rule of thumb, accent lighting should be at least three times brighter than the surrounding light in the room in order to stand out. If you really want to draw the eye to a particular area, consider a 5:1 ratio of brightness.
Some common types of accent lighting are:
| | |
| --- | --- |
| Toekick Lights | Toekick lights, produced via tape lights or strip lights, are placed under cabinetry towards the floor to distinguish an illuminated pathway. |
| Interior Glass Cabinet Lighting | The use of puck lights or LED strips is a great way to illuminate and display contents within a cabinet. Ideally, with interior cabinet lights, you want the cabinet shelves to be glass. That way, the light travels from top to bottom, instead of stopping at the top shelf. |
| Above Cabinet Lighting | Strip lights or tape lights can also create an up-lighting effect when placed (hidden from view) on top of cabinets. Up-lighting can add visual interest to your kitchen and accentuate the design of your cabinets. |
| Floating Shelf Lighting | Recessed lights on the underside of floating shelves also work as an attractive display feature. |
| Decorative Pendant Lights | While the light that comes from a pendant light may be considered task lighting, the style, colour, shape of the pendant is often a focal point in the room that also acts as an accent. |
It's worth noting that the specific types of accent lights above will have to be incorporated into your overall millwork design and may require valances, moulding, or cabinet customizations to accommodate. For this reason, although it's one of the last details to be installed, lighting is certainly something that you will want to consider throughout the design process.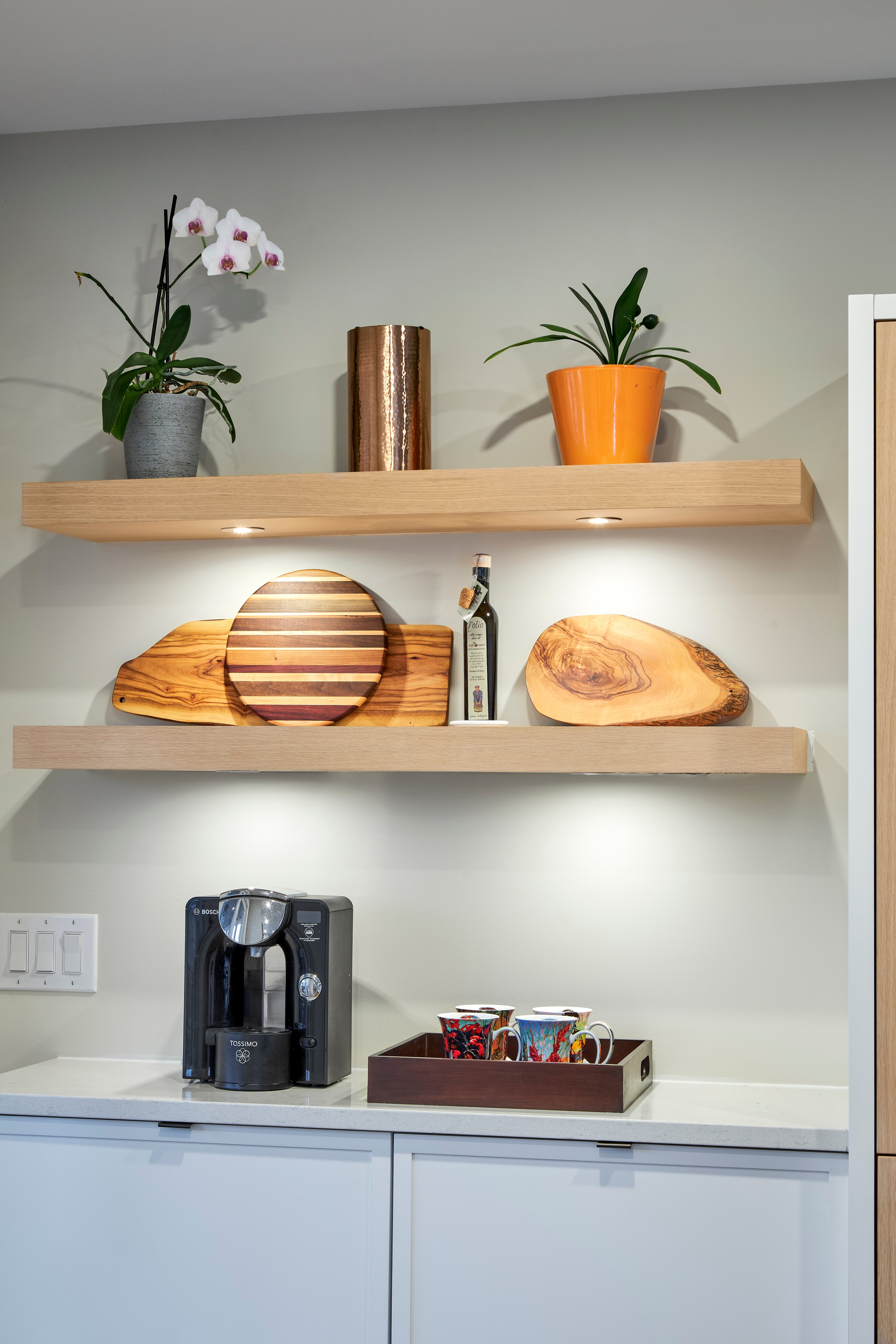 Considerations When Choosing Lighting
Believe it or not, the process of lighting a kitchen can be incredibly complex, especially if you're doing it for the first time.
From the placement of the fixture to the variety of bulb, there are a few key factors to consider for optimal illumination.
1. Function
First of all, it's crucial to consider all the functions of your kitchen (ie. entertaining, food prep, homework, etc.). Understanding the functionality of your kitchen will directly impact the placement of your light fixtures.
Ask yourself: What specific use will this kitchen have? What areas of the kitchen will require the most light?
For example, hanging a pendant light in front of a window with lots of natural light is probably not going to be the most effective choice of placement. Putting that pendant over the kitchen island, on the other hand, will brighten your cooking space as you chop, cut, and slice. Learn more about how to design a kitchen island in our Learning Centre.
Make function your first criteria and then the other details will follow.
2. Style & Mood
Function aside, your light should contribute to the room's aesthetic.
Consider the style and ambiance that you want to create in your kitchen. After all, lighting plays a compelling role in "setting the mood".
Light bulbs emit either a warm light or a blue light. This is called the "colour temperature" of the bulb. Colour temperature is determined by something called the Kelvin rating. A low Kelvin rating gives off a warm, yellow colour and a high Kelvin rating gives off a bright, blue-ish colour.
Design Consultant Adele Jacobs says,
If you want an intimate, cozy feeling in your kitchen, warm lighting is your best bet. In my experience, most homeowners gravitate toward warm lights. However, if you're after an ultra-modern, industrial vibe, blue lighting will create that cool, contemporary atmosphere better than warm lights.
Whichever colour temperature you pick, make sure all your bulbs have the same colour temperature rating for consistency and cohesiveness.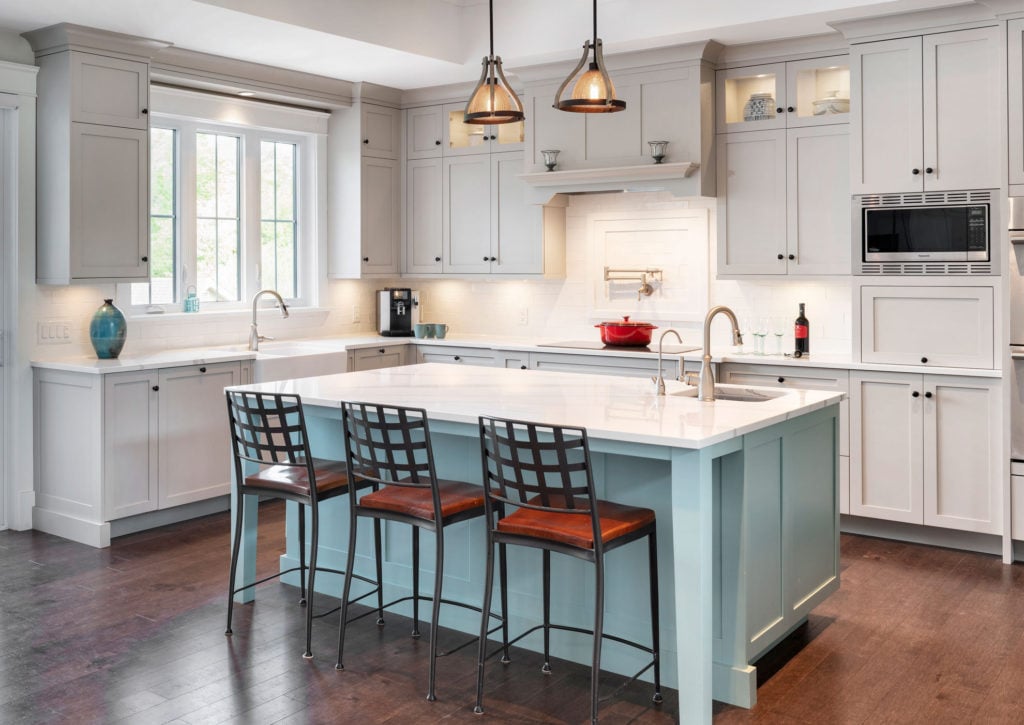 3. Efficiency
Finally, it's important to consider the overall efficiency of your kitchen lighting design.
With multiple appliances and energy sources always running, kitchens use a significant amount of energy as it is. Add lighting to the mix, and monthly bills can add up quickly.
Fortunately for the pocketbook, newer lighting fixtures are made to be more compatible with energy-efficient light bulbs.
As you shop for light fixtures and light bulbs, consider energy-saving details such as how long they typically last with regular use.
This small consideration may provide you substantial savings in the long run.
What You Can Expect to Pay for Kitchen Lighting
The overall cost of lighting a kitchen varies widely depending on the:
number of light fixtures
type of lighting
quality of light fixtures and bulbs
cost of installation
lighting supplier
In a kitchen remodel, prices are always contingent on the type or extent of the kitchen renovation and its overall cost. For these reasons, it's difficult to generalize the cost of kitchen lighting. That being said, you can expect to pay roughly 3% of your kitchen reno budget for it.
Basic general lighting, like standard pot lights with no frills, is by and large the most economical type of lighting out there. The more decorative the features, the more the prices tend to go up.
For instance, pendant lights at MultiLighting in Ottawa have a wide price range, with some products priced at $39 and others at $2,330. Similarly, flush mount lights at MultiLighting start at $11.89 and go up to $3,717. Under cabinet lights at MultiLighting range from $20 to $144.
Browse through your local light suppliers' websites to explore pricing in your area.
What's Next?
Although lighting is an essential element of any space, it's only one part of a well-designed kitchen.
At Deslaurier Custom Cabinets, we specialize in crafting quality and function for a beautiful life. Our custom cabinetry is bound to be a component of a new kitchen worth illuminating.
Visit us at our local Ottawa location or request a consultation to get started working with our design team today.
Related Links: