16/03/2021 • Blog
5 Worthwhile Builder Kitchen Upgrades
The kitchen is one of the most used and most critiqued spaces in the home. When building a new home from scratch, the kitchen is always a central point of focus. Likewise, when listing a home, the kitchen is the first cause for concern with potential buyers.
If you're building a home, you'll want to zero in on the kitchen as a high-priority area during the design phase.
Most home builders offer a cookie-cutter base model kitchen. The base model is a standardized kitchen design that works for the majority. Generally, they're middle-of-the-pack, no-frill, plain vanilla rooms. Of course, there's nothing wrong with vanilla—but customizing your kitchen is like a 'make-your-own-sundae' night—the fun is in the personalization!
If you're like most homeowners, you'll want to customize your kitchen. The Deslaurier design team is here to help. With a history spanning 40+ years, we've assisted thousands of clients in crafting individualized kitchens of distinction.
To that end, we've compiled our top 5 most worthwhile builder kitchen upgrades for your consideration. Read on to discover them all!
What Does Your Builder-Grade Kitchen Include?
Before we dive into our list, let's start at square one. What does your base kitchen model include?
Not every builder offers the same deal. Ask your builder for your kitchen's spec sheet. The spec sheet is the design plan that will outline the standard offerings in-depth.
Next, find out what upgrades your builder offers. The scope of potential changes varies with each builder, just like the base model does.
For example, larger builders like Minto or Mattamy, are more likely to provide a small selection of basic upgrades to accommodate their construction schedule of over 100+ homes every year. Other builders, like HN Homes, concentrate on higher-end home construction, and thus provide a larger scope of upgrade options.
Familiarize yourself with the base model and its potential modifications by talking to your builder.
Know Your Kitchen Upgrade Budget
Gauging What You're Willing to Spend
Decide what you're willing to invest. Setting a budget at the outset will keep you in check when the trappings of your dream kitchen tempt you (and they will tempt you).
Remember that what one person spends is not necessarily what you should spend. Our clients' upgrade allowance ranges: we see customers put down $5000, and we see customers put down $30 000. Both investments can deliver a turn-key kitchen.
Choosing What's for Now and What Can Wait
Some upgrades aren't urgent. Certain aesthetic changes, such as swapping out cabinetry hardware, are easy to make after closing your home. There's no rush to raid your savings for these bells and whistles immediately.
Other upgrades are baked into the structural components of your home and are a pain to revisit post-construction. Tasks like altering cabinet height require a full tear-out and re-order to complete. If you want these types of upgrades, it's in your best interest to make them happen now.
Think about the labour involved in each of your wish list upgrades. If you can do it with minimal mess and minimal stress, drop it lower on your priority list.
Deslaurier's Top 5 Kitchen Upgrade Considerations
Without further ado, let's get into the best-value kitchen upgrades available.
1. Cabinet Height and Size
Most builders offer a standard ceiling height of 9 ft. Most cabinetry manufacturers offer a standard cabinet height of 30-36 inches.
If you went ahead with the standardized height in both categories, you'd end up with a cabinetry system that's 7 ½ ft. tall—leaving an eyesore gap of 1 ½ ft. between your cabinets and ceiling.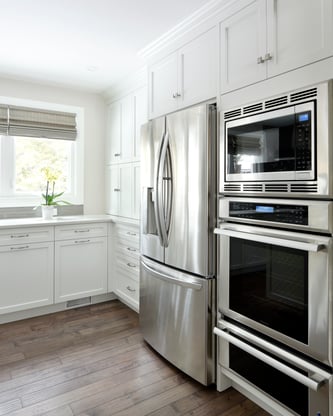 Beyond the issue of visual appeal, 1 ½ ft. is a lot of wasted space that could be put to better use. Extending your cabinets to fit your ceiling height more appropriately will provide you with extra storage. Who doesn't need some bonus space in their kitchen?
The same logic applies to cabinet width. Modifying the measurements of your cabinets, drawers, and pull-outs is a convenient way to maximize your wall space.
At Deslaurier Custom Cabinets, we offer standard cabinets in 1 ½-inch increments so that our clients can secure a snug fit in any space.
Keep in mind, cabinet height is one of those upgrades not easily undone. Replacing your cabinetry is a massive undertaking, and the primary reason it's first on our list of kitchen considerations.
2. Cabinet Colour
Taking Advantage of Paints, Stains, and Glazes
A little colour goes a long way. Customizing your colour scheme is a budget-friendly upgrade that delivers transformative results.
A colour scheme is an all-encompassing aspect of your future kitchen's aesthetic. It doesn't just touch one appliance or a single feature. Rather, it spans the room from corner to corner and conveys the overall feel of the space.
Neutral colours are a timeless set-and-forget choice, but don't be shy to speak with your designer about branching out. With the right designer, bold colour can work in your favour.
Two-tone kitchens, also called tuxedo kitchens, have contrasting upper and lower cabinet colours, and are becoming increasingly popular (check out the navy and walnut combo in Deslaurier's Old World Charm kitchen).
If you already have your eye on a colour palette, bring a swatch, picture, or other sample to your design consultation. Deslaurier offers a sophisticated colour-match program to hone in on your picture-perfect hue.
Be sure to check out our article on the Top Kitchen Cabinet Colour Trends of 2022!
3. Lighting
Bad lighting can make a superior kitchen look subpar and good lighting can make a subpar kitchen look superior. The effect of lighting shouldn't be understated, and certainly shouldn't be overlooked on your potential upgrade list.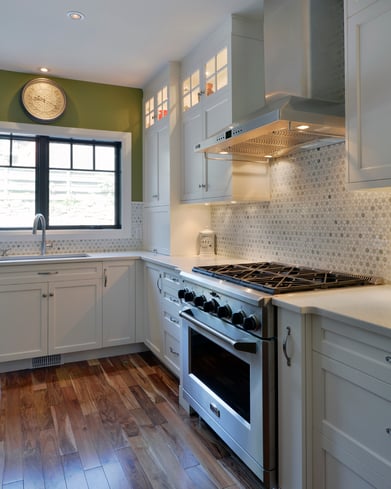 Built-in undercabinet lighting will bring added visibility to your cooking tasks and contribute to a brighter, cheerier room.
If you don't have the cash to drop on lighting luxuries now, you can always speak to your builder about installing the electrical infrastructure to support future upgrades.
Installing electrical wiring is much easier before drywall is up. Having rough-in connections and joint boxes prepped in advance will save you a lot of headaches and expenses later on.
4. Drawers and Accessories
Drawers and accessories are perhaps the most underestimated of all upgrades. Relatively inexpensive and (let's face it) far less thrilling than other kitchen items, this option is too quickly dismissed by soon-to-be homeowners.
A seasoned designer will be the first to tell you that the practicality of drawer space should take precedence over other, more frivolous purchases.
Scrutinize your layout and think about where you'll put your belongings. Are your most-used pots and pans easily accessible? Is anything in or out of a kid-friendly height that shouldn't be? Having this information handy will help you pick practical drawers and add-ons.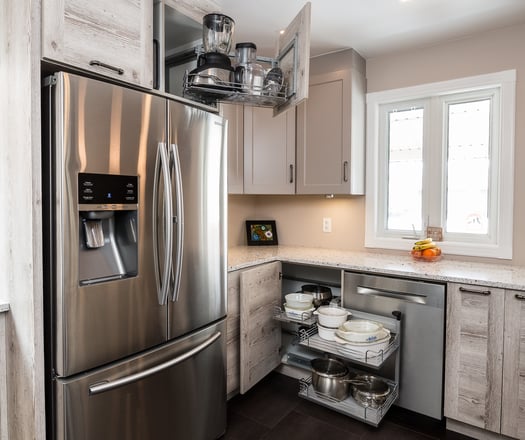 Additional cabinet-related accessories we recommend include:
Roll-out shelves

Tray dividers

Magic Corner units

Plate holders

Wire spice pull-outs
Read about our best-selling kitchen cabinetry accessories in more detail.
As with most upgrades, the price range varies significantly depending on your unique selections. Generally speaking, you can expect the total ticket price to land anywhere between $400-$2500 for drawer and drawer-related accessories. Overall, it's a small price to pay for day-to-day convenience.
Not to mention, if you press hold on these upgrades, you'll have to navigate the issue of sourcing and retrofitting drawers and accessories from another supplier.
5. Countertops
Countertops often become the priciest upgrade in new-build kitchens: but the impact a premium countertop makes? Priceless. Countertops set the tone of a kitchen as much as paint does. They grab the eye's attention and present the interior's mood. Click to visit our article on the best countertops for your kitchen.
A dark, sleek marble countertop and a bright, snow-white quartz slab will have dramatically different effects. In lieu of a backsplash, try extending your countertop up the wall for added "wow" factor.
The cost of quartz ranges from $80-$180 per sq. ft., while marble typically runs a slightly higher range at $80-$250 per sq. ft.
Of note, replacing a countertop isn't an overly invasive project. If you want to delay any upgrade, this would be one of the easier picks.
Honourable Mentions: Cost-Effective Kitchen Upgrades
A few final touches and extra features can make a big change in your kitchen environment without costing a pretty penny. Keep your bank account intact with these go-to kitchen design hacks:
Upgrade Hardware
All those knobs, pulls, and handles contribute to your kitchen's ambiance.
Go old-school with vintage brass fixtures. Ramp up the intrigue with matte black hardware. Play with cabinet-hardware combinations to your heart's content. Hardware is easy to swap out and store as you see fit.
Add Crown Moulding
Adding crown moulding is a well-loved trick of the trade for closing that cabinet-to-ceiling gap and bringing subtle depth to a room.
It's a fantastic solution if you don't want to pay for taller cabinetry but still want a more finished look. Crown moulding softens the edges of the walls and delivers a touch of character, without the cost.
Choose Open Shelving
Consider replacing some of your cabinets with open shelving on an empty wall.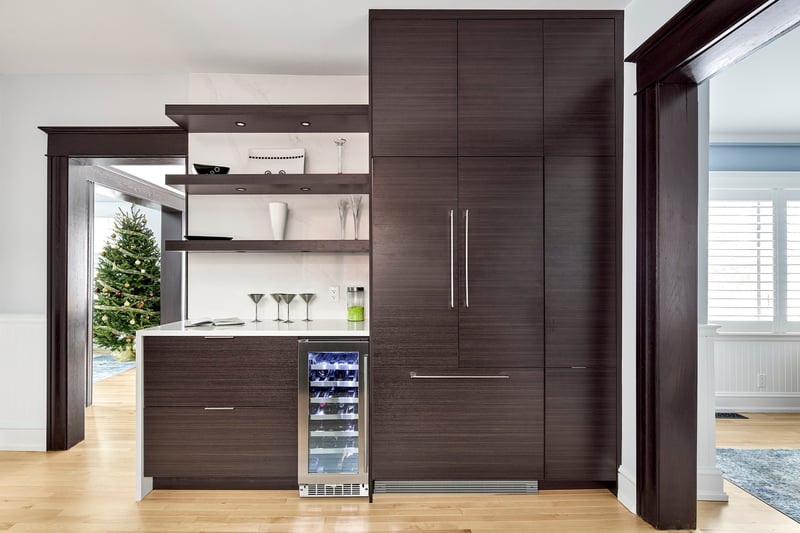 This easy change will open up the room in a pinch and allow you to throw some tasteful pieces of décor on display. Plus, the wall paint will show through to bring another pop of colour where it wouldn't be otherwise.
Save on Appliances
By and large, kitchen appliances come in standardized sizes, making it easy for homeowners to replace appliances within custom cabinetry units. Shop around for other suppliers and installers who will set up your kitchen gadgets for less.
The Deslaurier Advantage
Need some more guidance on how to plan and execute your dream kitchen design?
Deslaurier Custom Cabinets boasts a team of award-winning designers with 60+ years of combined experience to its name. With access to one of the most extensive product catalogues on the market, we're uniquely positioned to make your dollar stretch and your kitchen look its best.
Book a consultation with us or give us a call to connect with one of our staff in Ottawa. If you live outside the Ottawa and Renfrew area, use our Find a Dealer page to locate a Deslaurier dealer near you!