12/11/2021 • Blog
How Much Do Kitchen Appliances Cost?
An oft-forgotten step in the kitchen design process is adequately incorporating appliances within your space.
With so much significance on considering which cabinetry is best for you, or deciding what countertop to choose, selecting kitchen appliances can almost feel like an afterthought.
We'll focus on larger appliances like refrigerators, ovens and ranges, stovetops, and dishwashers, rather than small kitchen appliances.
Let's get started!
Refrigerators
The most significant appliance in the home, the refrigerator, is the centerpiece of any kitchen.
As it receives the most daily use of any household appliance, picking a functional, spacious, and beautiful fridge is a process that will benefit you and your kitchen for years to come.
If you want to customize the perfect kitchen design, fridges can even be seamlessly integrated into your kitchen cabinetry with overlay paneling!
Here is a side-by-side fridge with overlay paneling creating a beautiful, harmonized look within the kitchen cabinetry.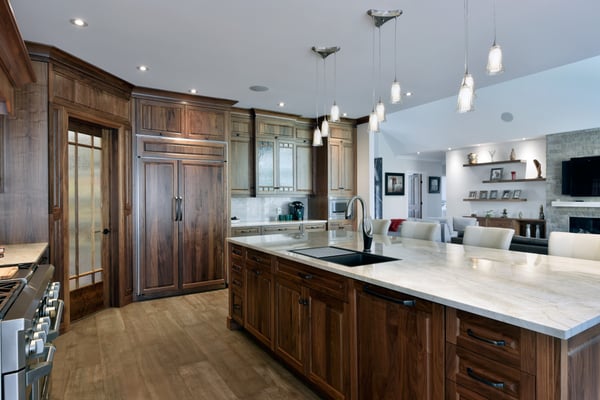 With so many available options on the market, it's important to take the time to determine which fridge style, size, features, and cost are right for you and your home.
We'll inform you of the various characteristics and features of different fridge models, while keeping our pricing ranges focused on popular options.
Side-by-Side Refrigerator
The full length, side-by-side refrigerator and freezer has become one of the most popular fridges in recent decades.
Split doors offer easy access to both the fridge and freezer, while the narrower width of the doors provide more room in a smaller kitchen as opposed to a wider, single door fridge.
Side-by-side doors are typically split equally or provide slightly more room for the refrigerator side.
An added benefit of a full-length side-by-side unit is that both the fridge and freezer offer a multitude of door storage to get the most out of your available space. With multiple door shelves
Side-by-side fridges offer a range of traditional features such as freezer-door ice and water dispenser, multi-drawer storage, smudge-proof and fingerprint resistant stainless-steel doors, with higher-tier models offering various smart technology including wi-fi, voice-command, mobile compatibility, and built-in touch screens.
There are a number of appearance options with conventional stainless steel, black stainless steel, and traditional white or black.
Sizing
The most common sizes range from 30" to 36". Some manufacturers provide models all the way up to 48" and even larger, but we will focus our pricing ranges on popular options from widths of 33" and 36".
These widths also vary in capacity, measured in cubic feet (Cu. Ft). Ranging from 18 (Cu. Ft.) to 32 and even larger, we'll focus our pricing on the most common sizes: 20-22 cubic feet, and 24-26 cubic feet capacity.
Side-By-Side Refrigerator Cost
| | |
| --- | --- |
| Price Range | Cost |
| Low | $1400.00-$1600.00 |
| Average | $1900.00-$2500.00 |
| High | $3300.00 and higher |
French Door Refrigerator
The French Door is the crème de la crème of refrigerator styles, and the heavier price point supports that.
Side-by-side fridge doors complement the convenience of a pull-out bottom freezer bin. Many French Door fridges may also feature an additional pull-out drawer to store produce, maximizing the spacious upper fridge capacity.
The French Door also offers wider storage for both fridge and freezer in comparison to the side-by-side style. Allowing larger dishes and casseroles to be stored comfortably, as opposed to narrower side-by-side fridge space.
A unique characteristic of this fridge construction is that, if designed in conjunction together, it possesses the ability to match kitchen cabinetry.
All that being said, it is no wonder the French Door fridge is routinely one of the most expensive models.
French Door Fridge Cost
French Door fridges are slightly larger on average than side-to-side door units, so we'll focus our pricing range on 36" and 24-26 cubic feet models.
| | |
| --- | --- |
| Price Range | Cost |
| Low | $1900.00-$2200.00 |
| Average | $2700.00-$3700.00 |
| High | $5500.00-$7000.00 and higher |
Top Freezer
A classic for decades, the top freezer refrigerator style needs no introduction, you probably have one in your kitchen, garage, or basement right now!
As such a cost-effective option, there's no wonder the top freezer has cemented itself as the traditional fridge style.
While it is a popular fridge, the design is restricted. The freezer portion generally has the smallest capacity of any refrigerator style. Prepare to constantly bend over when using the fridge portion, while kids and shorter users may have trouble accessing the full depth of the freezer.
Top freezer refrigerator features and accessories are extremely limited compared to other models, which is why they come so affordable. Touch screen, wi-fi, and even water dispensers are not available in this fridge design.
They won't be fancy, but if you are looking for a cheap, reliable refrigerator option and don't care about accessories or extra features, the top freezer deserves consideration.
Top Freezer Cost
| | |
| --- | --- |
| Price Range | Cost |
| Low | $600.00-$800.00 |
| Average | $1000.00-$1200.00 |
| High | $1500.00 and higher |
Bottom Freezer
Bottom freezer refrigerators are almost the exact same as top freezer fridges, only reversed.
The pull-out drawer style freezer compartment allows for easy access to any items, as opposed to a top freezer which you would have to sift through in order to reach products in the back.
Another added benefit of a bottom freezer refrigerators is that they are slightly bigger than their counterpart. This is ideal if you require more available freezer space than the constrained top freezer model.
Other than that, the bottom freezer design has the same technological limitations as its top bunk brethren.
Bottom Freezer Cost
| | |
| --- | --- |
| Price Range | Cost |
| Low | $1000.00-$1200.00 |
| Average | $1500.00-$2000.00 |
| High | $2500.00 and higher |
Stovetops
Another thing to consider for your kitchen is choosing between a complete oven range (more on that below) or a stand-alone stovetop.
Lone cooktops, with no oven attached, can sit directly on top of your cabinetry.
Cooktops may have the largest variety of sizes of any kitchen appliance. Cooktop models can come anywhere from a single burner to 6 burners, and sometimes even more!
Two-burner cooktops can come as narrow as 12", while a standard six-burner can be as wide as 36". There are a multitude of proportions and widths available for any counter space.
With all things considered, the more burners on a unit, the more expensive it will be.
For pricing purposes, we will be considering 30" 4-burner stovetops.
Let's take a look at gas, electric, and induction cooktops!
Smooth-Top Electric
Looking for a sleek, modern style? The smooth-top range may be what you need.
With an even, flat surface made from ceramic-glass or stainless steel, the smooth-top range has become a very popular choice.
Pros
Pots, pans and skillets can sit flush on the flat surface allowing for an even heat distribution for the optimal cooking experience.
A key characteristic of the smooth-top range is its general convenience. No longer will you have to maneuver around any nooks and crannies, as the even surface makes cleaning effortless.
Cons
One slight disadvantage of a glass cooking top is the potential for the surface to suffer damage. The glass can scratch, crack, or even (rarely) shatter in the scenario something heavy is dropped directly on it.
While it would take a good amount of force to shatter, scratches or slight cracks are realistic concerns when considering a smooth-top stove, as the ceramic-glass surface is expensive to replace.
Since it is an electric appliance, there are additional installation costs to be aware of.
Not only will you need to hire an electrician to install the cooktop, but you will also need to outfit your power source with a 240/250-volt, 40-amp circuit. (This will also be required for electric oven ranges down below).
Cost of Smooth-Top Electric Cooktops
| | |
| --- | --- |
| Price Range | Cost |
| Low | $700.00 |
| Average | $1200.00-$1600.00 |
| High | $2300.00 and higher |
Gas Cooktop
One of the most convenient and ideal cooking styles available for your kitchen is a gas stovetop.
Natural gas or propane produces an open flame that comes in direct contact with the cookware, which sits on a grate above the burners. This allows for compatibility with almost any type of pot, pan, or skillet.
Pros
A convenient aspect of a gas cooktop is the instantaneous cooking process. The gas flame supplies instant heat, allowing you to start cooking immediately.
Adjustable knobs allow you to increase or decrease the flame's intensity, giving you precise temperature control. Being able to see the actual flame while cooking is also a nice perk!
Unlike an electric smooth-top, gas stoves cater to several different cooking styles for experienced chefs. The open flame allows you to flame-grill, flambé, or char your food directly on your kitchen cooktop.
Fuel costs less to operate than electricity, saving you money down the line. If you cook a lot of your meals at home, a gas option might be preferable.
Cons
One of the more inconvenient parts of a gas stovetop is the cleaning process. Unlike an easy-cleaning smooth-top surface, properly cleaning around the grates and burners after a messy meal-prep can be quite challenging.
The initial installation cost is much more expensive than an electric stove. Unlike electric, this style will need to be fitted to a natural gas or propane tank, which can cost a couple thousand dollars, depending on the size.
Cost of Gas Stovetops
| | |
| --- | --- |
| Price Range | Cost |
| Low-end | $800.00 |
| Average Range | $1000-$1400.00 |
| High-end | $1800.00 and higher |
Induction
Cooktop
Another heating method to consider for your kitchen is an induction stovetop.
An induction style cooktop is similar to a smooth-top electric in many physical ways, but the key difference comes within the heating mechanisms of the two devices.
Before we get started, let us first take a trip back to high school science class.
Induction stoves use electricity and a copper-coil beneath the cooking surface to generate electromagnetic energy.
The induction process does not actually heat the cooktop, like gas or electricity does. Instead, it directly transfers the magnetic field to induction-compatible cookware, resulting in a fast, even heat distribution.
What makes Induction stovetops so ideal is that they allow the cookware to warm up at a faster rate than electric. And since the cookware is retaining the heat, once it is removed from the surface the stovetop will cool down much quicker than traditional burners.
One thing to be aware of is that this style requires induction-compatible cookware.
Although, it is possible to purchase adaptors to place between your cooktop and a non-inductive pan.
Both options will add supplemental costs that are not required with other non-inductive cooktops.
Cost of Induction Cooktops
| | |
| --- | --- |
| Price Range | Cost |
| Low | $1200.00 |
| Average | $1800.00-$2500.00 |
| High | $3000.00 and higher |
Wondering how to make the right selection for your kitchen when so many different brands offer similar appliances? Read our guide on The Top 5 Kitchen Appliance Brands For 2022.
Ovens
If you are an avid cook or baker, finding the right oven can be a saving grace in the kitchen.
When outfitting your home with appliances, the oven can often be the most practical purchase you make due to the various multifunctional models that are available.
Ovens truly offer an immense number of options: single, double, ranges, oven-microwave combos; conventional, convection; gas, electric, dual-fuel; wall mount, slide in, drop in, freestanding.
And that's without mentioning the many additional features that can be incorporated within these units, from self-cleaning mechanisms and warming drawers, to touch screen, wi-fi and smart phone compatibility.

After considering all these variables, picking the right oven for your cooking style and budget is anything but straightforward.
Let's simplify the process as we look at single and double wall ovens and what each device will cost.
Single Oven
Single ovens are traditional units that are strictly ovens, as opposed to modern ranges (more below) that have an accompanying stovetop.
These ovens were the norm for decades but have slowly fallen out of favour for multipurpose devices like ranges, double ovens, or oven and microwave combinations.
Single ovens can come with conventional or convection heating (or both), and still offer numerous modern features like self-cleaning, warming drawers, and various high-tech functions.
A convection oven has fans that circulate air, allowing more heat to transfer and accelerate the cooking process.
Conventional heating is when heat is released from the wall of the oven in a conventional or traditional oven. Heat radiates to the food and allows it cook.
Double Oven
If you have a larger family, love to host dinner parties, or are always cooking up something new in the kitchen, a double oven may be just what you need.
Double Ovens, although not particularly common in traditional households, can be extremely practical if your kitchen needs require the ability to cook two things at once with varying temperatures.


A double oven has two units stacked on top of one another for an elegant and space-friendly design.
Double units can come with two equal sized ovens, or one slightly smaller than the other. They also allow for different features cooking mechanisms for each unit.
You can find options that have one compartment with convection and the other compartment strictly conventional. Both ovens can have features like self-cleaning functions, or only one compartment can be equipped with those additional characteristics.
Cost of Single and Double Wall Ovens
For pricing purposes, we will be looking at 30" width units.
| | | | |
| --- | --- | --- | --- |
| Style | Low-End | Average Range | High-End |
| Single Oven | $1500.00-$2000.00 | $2500.00-$4000.00 | $5000.00 and higher |
| Double Oven | $2500.00-$3500.00 | $4000.00-$6000.00 | $7000.00 and higher |
Ranges
Along with traditional single oven units, you can find two-in-one models that cut down on appliance space, such as wall oven and microwave combos, or kitchen ranges, which are ovens with an attached stovetop.
Combining two appliances into one will optimize the cooking process while saving a vast amount of kitchen space conventionally taken up by separate appliances.
An oven range provides the two primary cooking utilities to be configured into one multipurpose unit. For cooking aficionados, a proper kitchen range is a must-have appliance.
The two most common range styles are freestanding and slide-in.
Freestanding Range
The quintessential range, a Freestanding Range has a cooktop surface above one (or sometimes two) ovens. They come in gas, electric and dual-fuel, with separate control panels for the stove and oven.


A back-guard protects the wall from any unwanted cooking messes, and is also equipped with the stovetop control panels.
Freestanding ranges will have finished sides that allow them to "stand" on their own in style, or they can be implemented between cabinetry.
Slide-In Range
A slide-In Range is the most popular option for custom kitchens. Slide-ins offer seamless, convenient installation as they quite literally "slide in" between cabinetry or other appliances, with the stovetop sitting slightly above the counter.
Without the finished sides of a freestanding range, slide-ins are designed specifically for this purpose, and are not ideal for standalone placement.
As opposed to a freestanding range, slide-ins have no back-guard and their controls are implemented on top or on the front of the unit.
They also come in gas, electric and dual-fuel models.
Kitchen Range Costs
| | | | |
| --- | --- | --- | --- |
| Style | Low-End Range | Average Price Range | High-end Range |
| Electric | $600.00 | $1000-$1400.00 | $3800.00 and higher |
| Gas | $700.00 | $1400.00-$2000.00 | $5500.00 and higher |
| Dual-Fuel | $2400.00 | $3000.00-$4000.00 | $8000.00 and higher |
Wall Oven and Microwave Combo
A popular choice for new homes or kitchen renovations is the wall oven/microwave combination. They allow for the convenience of your microwave and oven to be in the same unit, saving on precious countertop space where a traditional, bulky microwave may reside
The multipurpose appliance gives a custom, luxurious look, especially when properly integrated into your kitchen design.
These machines offer many of the same features in the ovens and ranges. With various cooking programs and levels, self-cleaning mechanisms, touch screen, and smart phone compatible controls like wi-fi temperature tracking, the options available will ensure you find the style you desire.
Since the unit is installed into the kitchen plan, wall oven/microwaves can be quite expensive. But if this type of appliance is within your price range, the features and convenience provided make the investment worth considering.
Cost
of Oven + Microwave Combination
| | |
| --- | --- |
| Low-End | $3000.00 |
| Average Range | $4500.00-$5500.00 |
| High-End | $6500.00 and higher |
Dishwashers
If you haven't gone dishwasher shopping in a decade or two, you will be pleasantly surprised at the progress manufacturers have made. They're quieter, sleeker, more energy-efficient and technologically advanced than their predecessors.
The control placement (top or front), handle configuration, and additional features are all major characteristics to consider when looking at new dishwashers.
We'll compare the cost, aesthetic, and features of Top Control and Front Control models.
Top Control
With no buttons across the face of the appliance, top control dishwashers bestow a sleek, elegant design aesthetic.
With no buttons or controls on the front of the door, some models have the option of a "time remaining" screen or even a small window to peer into the dishwasher.
They can come with traditional handles, or recessed pocket handles. Pocket handles consists of a "hidden" pull latch to open the door. This allows the dishwasher to seamlessly mesh within your kitchen cabinets without a bulky handle protruding from the front.
A popular modern dishwasher feature is the incorporation of a third rack. The addition of a third rack provides optimal space for accessories that may be difficult to fit in traditional dishwashers.
A thin, flat pull-out tray sits just above the second rack, perfect for spatulas, bread knives, or other larger utensils that may be too tall or bulky for the utensil baskets.
Front Control
A common misconception is that since the buttons are on display, front-control dishwashers can't be as clean and aesthetically pleasing as top-control models.
Stainless-steel front control options can offer a seamlessly integrated touch panel instead of plastic buttons, providing a sleek, unassuming look without the busy juxtaposition of plastic on stainless steel.
Dishwasher Cost
| | | | |
| --- | --- | --- | --- |
| Model | Low-end Range | Average Pricing Range | High-end Range |
| Top Control | $600.00-$800.00 | $1100.00-$1500.00 | $2000-$2500 or higher |
| Front Control | $400.00-$600.00 | $700.00-$900.00 | $1000-$1500 or higher |
Design With Deslaurier
Wondering how to seamlessly integrate your appliances into your dream kitchen? Book a free consultation today with a Deslaurier expert in our Ottawa showroom!