Tired of the clutter on your kitchen countertops?
Small appliances like blenders, toasters, and crockpots are hard to keep organized, especially when you have limited cabinet space.
At Deslaurier Custom Cabinets, we strive to help homeowners create the best version of their home kitchen. To that end, we've put together a list of five must-have kitchen design upgrades that will help you contain all your small appliances, with room to spare!
Let the countdown begin!
#1: Appliance Garage
Even the smallest appliances you own can be a pain to take in and out of lower cabinets all the time.
Enter the appliance garage!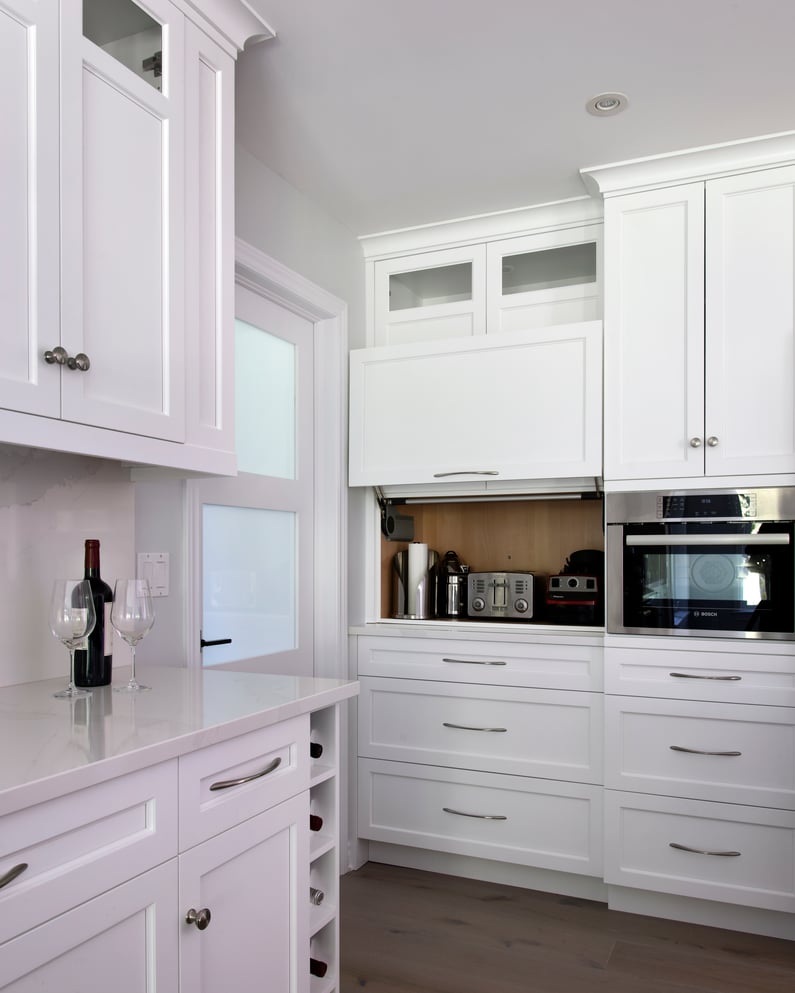 Appliance garages come in different sizes, so you can choose to hide away one, two, three, or more appliances at a time.
At Deslaurier, we offer three main styles of appliance garages:
Lift-up appliance garage (where the hinge mechanism causes the door to slide upwards)
Tambour appliance garage (where the door opens like a real garage door)
Flip-up appliance garage (where the door opens at a 90-degree angle)



Whichever garage style you choose, you'll gain a convenient space on your countertop to stow all of those daily-use items, like coffee grinders and kettles.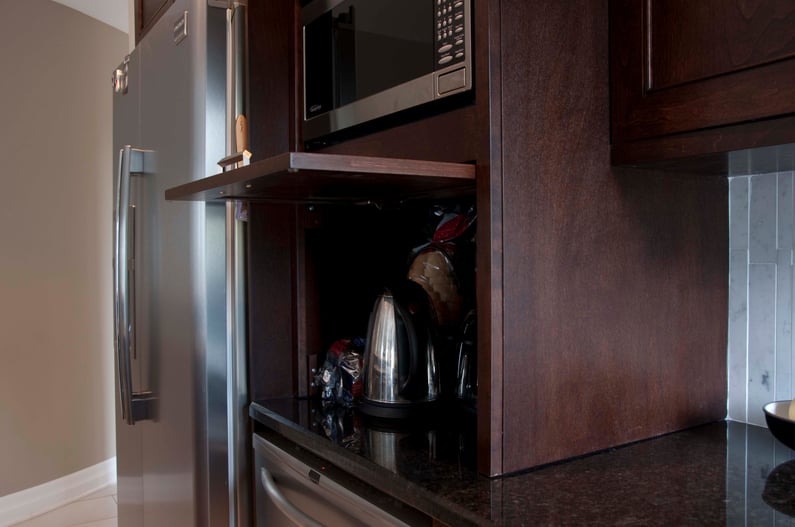 Perhaps the only downside to the appliance garage as a way to hide kitchen appliances is that it does take up precious counter space.
Depending on the size of your kitchen, losing any work area can be a significant sacrifice to make, which is why number 2 on our list is another popular favourite:
#2: Roll-Out Shelves
Pantries with roll-outs are a staple in the kitchen design world for their unmatched convenience. Fully extendable shelves cleverly divide your pantry space into more manageable sections.
While these shelves are often used for non-perishables, there's nothing stopping you from devoting a couple of them to your appliances! Standard-issue roll-outs usually hold a decent amount of weight that's sufficient for most small appliances.
If you know you have an appliance or two that's particularly heavy, double check the load capacity with your designer to avoid putting the inner mechanisms at risk.
Roll-outs are perfect for appliances because you can pull the items directly to you. No more reaching and groping inside a dark pantry for your handheld mixer!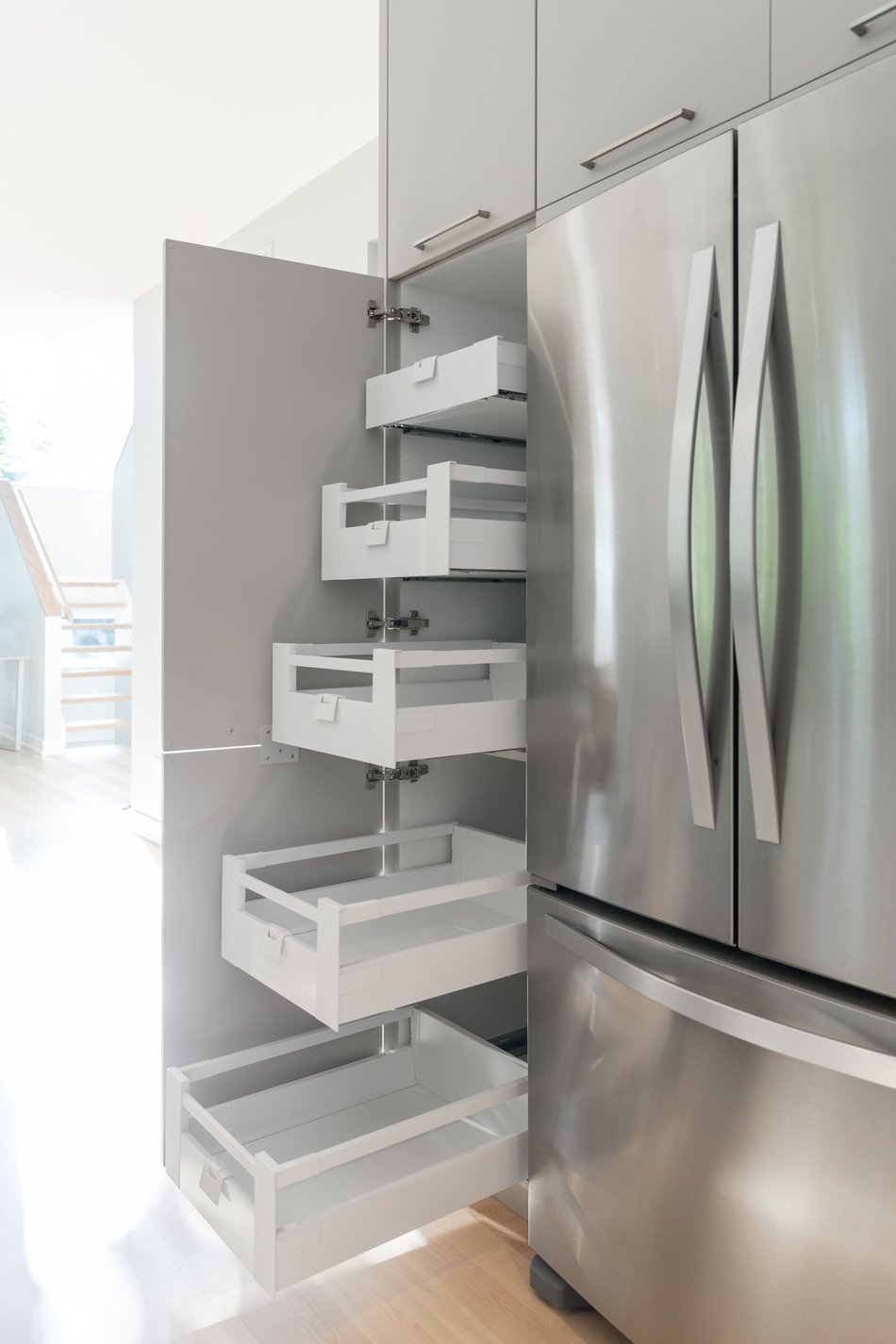 #3: Large Base Cabinets with Drawers
When it comes to your small kitchen appliances, you probably have more than you think. There's the bread-and-butter appliances, like toasters, kettles, and blenders, and then there's the gizmos and gadgets that you may only dust off once in a blue moon, like food processors, rice cookers, apple peelers, and maybe even a sous-vide machine. Appliances add up fast.
That's why large base cabinets with double configuration drawers fall in at slot number 3: you get double the storage and double the convenience.
Basically, anything that you can physically pull out from the cabinetry system itself is going to be an advantage for you. It's much easier to pull out a drawer and see clearly in front of you what is where than to get down on your hands and knees and look.
One small caveat to note with cabinets like these is that you can't plug in and operate an appliance in the drawer (or appliance garage) itself.
Many homeowners want to install electrical outlets at the back of a cabinet, but it's against electrical code to do so. Codes vary from place to place, but in most circumstances, it's considered a fire hazard to operate any appliance behind a cabinet door.
That's why the question when it comes to small appliances becomes: how do you store your appliance so that you can access it and bring it to the countertop easily?
Large base cabinets with drawers fits the bill.
#4: Corner Cabinet Accessories
If your kitchen layout includes a corner cabinet, you're probably familiar with how awkward it is to bend down and reach in behind that 90-degree angle. Blind corners are not conducive to appliance storage, which is why an accessory can be a game-changer.
Corner cabinet accessories are another must-have for homeowners looking to maximize space (and go easy on their knees).
There's a spectrum of products you can install to maximize your cabinet's space and make it easy to access at the same time.
The best-sellers at Deslaurier are:
Le Mans cabinet
Comfort Corner Cabinet
Lazy Susan cabinet
Accessories such as the Le Mans and Comfort Corner swivel to fit inside awkward angles and extend fully outwards so that you can lift your appliances up and out without any obstruction.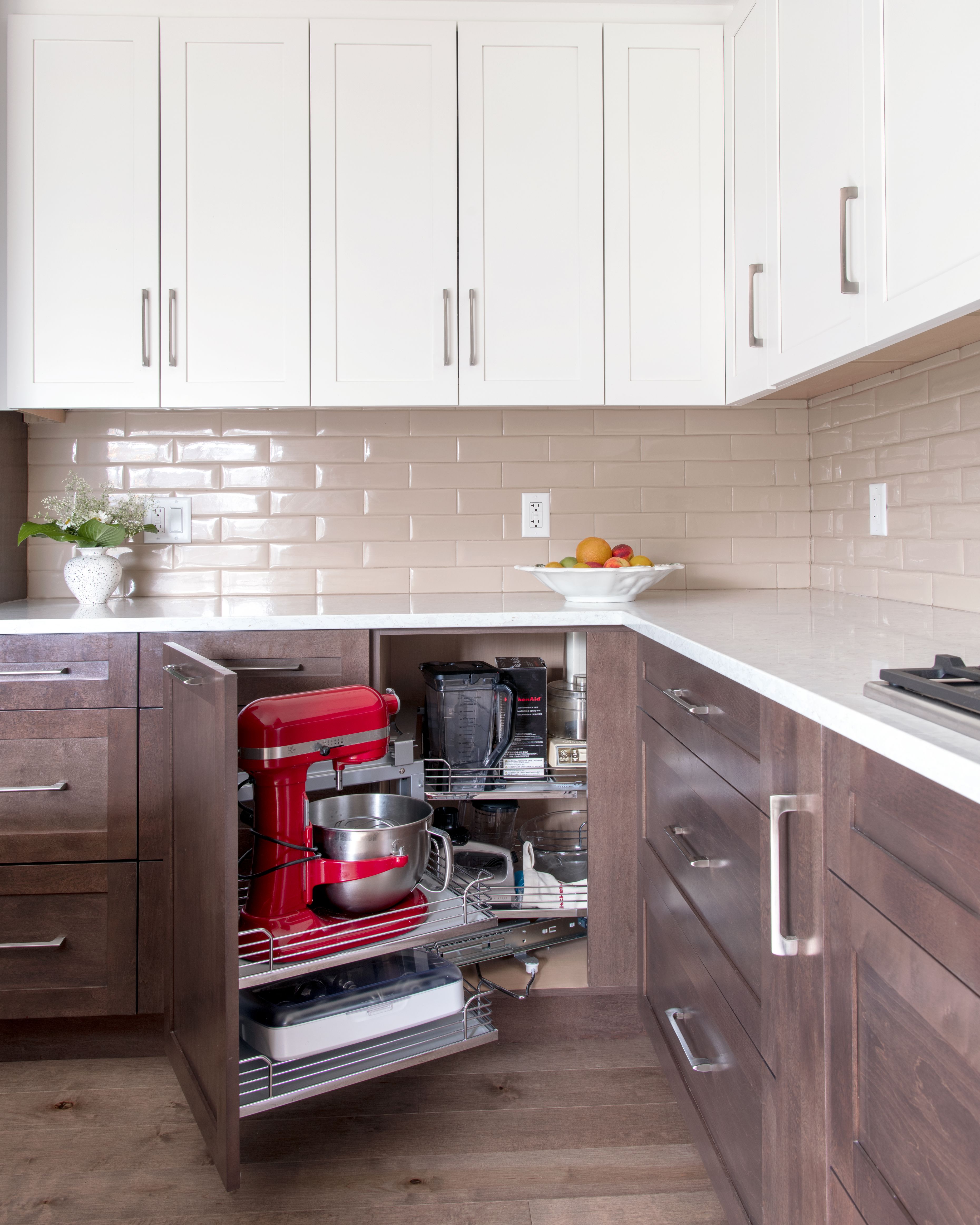 #5: Sink With Slab Cut-Out
Number five on our list is a fun one—we love the way a countertop cut-out can cover up and hide a kitchen sink from view.
Not only do they serve as countertop camouflage, but sometimes, if your countertop supplier can accommodate the request, the slab can also function as usable surface area when it's covering the sink.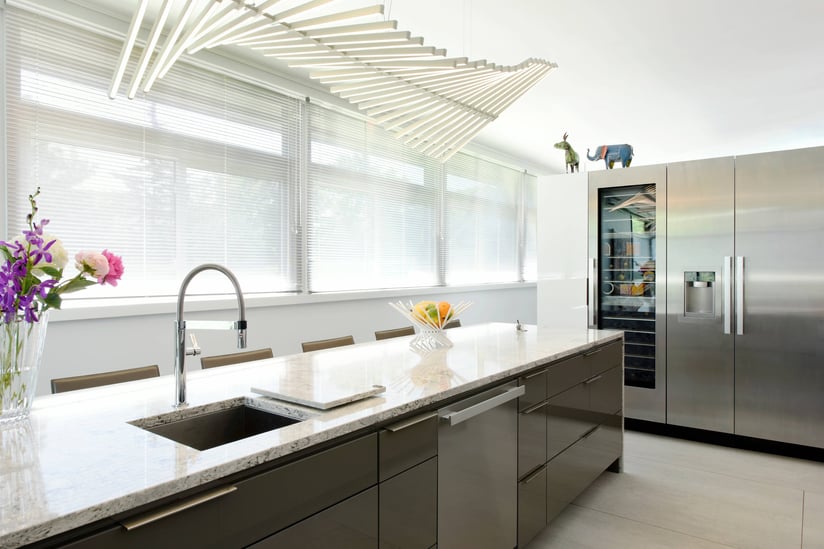 Slab cut-outs like the one above are a custom design feature. Typically, you would order the slab at the same time as your solid surface countertop. The fabricator would cut both pieces and create a small notch or groove in the slab for you to lift the piece on and off the sink.
Because of the custom nature of this product, if you're not building a new kitchen or replacing your countertop during your reno, it might be hard to do.
Also of note, slabs like these only work for undermount sinks. The slab needs a secure base to sit on, which is only possible when the sink is set underneath the countertop surface.
Honourable Mention: Mixer Shelf
Do you own a Kitchenaid mixer? If so, you probably know how heavy it is.
Mixers like these are one of the few appliances that are challenging to store in a cabinetry system because they weigh so much.
Thankfully, there's a special accessory called the mixer shelf that's specially designed with heavy-duty hinges. You set the mixer on the platform, and it never has to move again. The shelf lives in a full-height base cabinet. When you need it, you simply extend the shelf to counter height.
During the planning stage of your kitchen reno, you'll want to make sure you have an electrical outlet near this mixer shelf so that you have a plug-in spot ready to go.
Design With Deslaurier
Want to explore more creative ways that you can keep your small kitchen appliances out of sight?
Sit down with a professional kitchen designer in Ottawa obligation-free! Deslaurier's design team boasts over 60 years of experience—crafting dream kitchens is what we do best.
Fill out the form below to connect with us today!
Interested in becoming an authorized Deslaurier dealer? Drop us a line on our Become a Dealer page now!
Related Links: