The kitchen island is the hub of your kitchen activities. It's where you chop, it's where you chat, and it's where you toss the mail when you come home!
The question is, how do you build a kitchen island that's optimally functional and fashionable?
This article will tell you how.
With the design prowess and know-how of Interior Designer Holly Voorneveld, we're going to explore all things kitchen islands, including circulation space, size, height, counter depth, seating, and lighting.
Let's get started!
Circulation Space and Size of a Kitchen Island
First things first. Do you have enough space to add a kitchen island?
Before you design a super-sized island with all the trappings of an ultra-modern kitchen, stop to think about circulation space. Kitchen islands are only useful if you have enough room to walk around them, after all!
The minimum clearance space you'll need between your island cabinets and perimeter cabinets is 36-48".
That gives you enough room to accommodate opening and closing the fridge and loading and unloading the dishwasher. At the 48" mark, you'll generally have enough room for someone to pass by while an appliance door is open.
Measure the wall-to-counter or counter-to-counter length in your kitchen, then subtract a circulation area of 36-48", and that will be a great indicator for how large your island should be.
Another way to determine your kitchen island's size is to make your countertop selection. Often, countertop slab sizes max out at 10 ft.. If you want an island longer than 10 ft., you'll need to check with your designer if it comes in an 11 ft. jumbo slab or you'll need to order 2 slabs (and you'll be left with a seam between them).
Of course, there are design tricks you can use to mask seams. For example, a two-tiered kitchen island can help disguise that line, but it does require more thoughtful planning.

Height of a Kitchen Island
At Deslaurier, (and most other cabinet makers), a standard kitchen cabinet height is 36". If you include a seating area in your kitchen island, you'll find that 36" permits a decent clearance height when combined with most standard-sized stools.
Building a Breakfast Bar
Are you a fan of the high stool? Do you want to hide your kitchen work area mess from guests? You can raise your counters to 42", which is the standard for a bar height island. In this kitchen, you can see the island has been partially raised on one side, effectively creating a breakfast bar for eating and a standard island space for working:

Counter Depth of a Kitchen Island
Many homeowners desire kitchen islands for the extra seating and eating space that they can provide. A few stools and a stone surface can create the perfect communal area for quick breakfasts, homework sessions, and conversations over coffee.
But don't forget the design element hidden below the countertop: legroom!
Make sure you design your island with enough space underneath the counter for your knees. Generally speaking, a countertop overhang of 12-18" is a good place to start.
It's worth noting that 12" likely won't allow your bar stools to tuck in all the way. Since kitchen island seating areas are typically casual dining spaces—few people would sit down for a three-course meal at their island—most homeowners don't need the chairs to pull in completely.
If you really want to be able to tuck in your bar stool underneath the overhang, 18" is a better depth for you.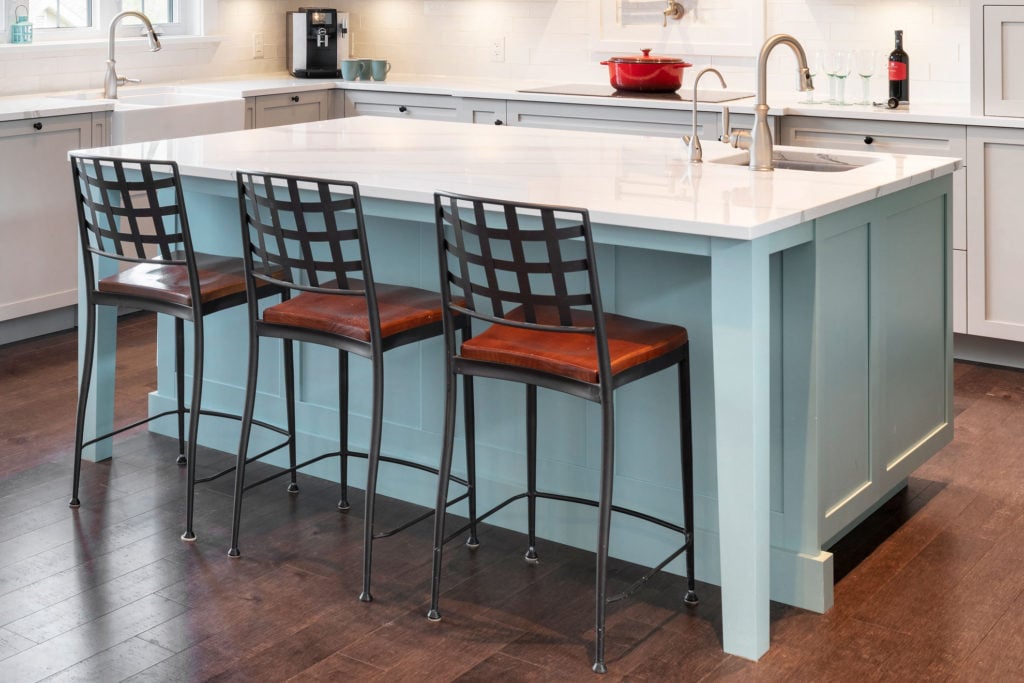 Worried about your kids kicking their feet and scuffing those precious cabinets? You may want to consider using a more durable cabinet material at the back of the island, like a textured melamine accent panel or a wood stain.
Accent back panels are a great way to prevent scuffing and add to your overall kitchen aesthetic. It's a choice driven by functionality that can also serve as a design detail. — Holly Voorneveld, Interior Designer
Think about maximizing storage space by using hidden cabinetry on the backside of the island. By removing the door handles, you can achieve a panelled look and still have room to stow your seldom-used appliances or pantry overflow.
Touch-latch hardware or edge-pull cabinet doors will maintain that flush appearance and still give you easy access to your belongings below.
Seating at a Kitchen Island
If you're designing a kitchen island with seating, each seat setting should have a width of at least 24". That way, elbows won't be bumping into other elbows!
You'll also want to consider the arrangement of each seating area.
Think about the view that each person will have—are they facing a window or a wall?
Does the seat placement facilitate or hinder conversation?
I like using L-shaped islands so that people can sit face-to-face and have a conversation or one person can be cooking and still chat easily with the group. — Holly Voorneveld, Interior Designer
Finally, make sure each seating area is far enough away from appliances like sinks and ranges. You don't want your eating area getting wet all the time and you don't want it too close to an open gas flame, either.
Lighting of a Kitchen Island
So, you finally have a decent-sized, well-placed, and thoughtfully dimensioned kitchen island—don't let it go to waste in the dark!
You're going to want to add strategic kitchen island lighting to illuminate all your island-centred tasks.
Pendant lights are a popular choice for islands. Hanging lights are best placed about 66" from the floor. That ends up being eye-level for someone of average height.
Pendant lights are popular, but they're not your only option. You can also use recessed pot lights to illuminate the room, like in this bright, spacious new-build: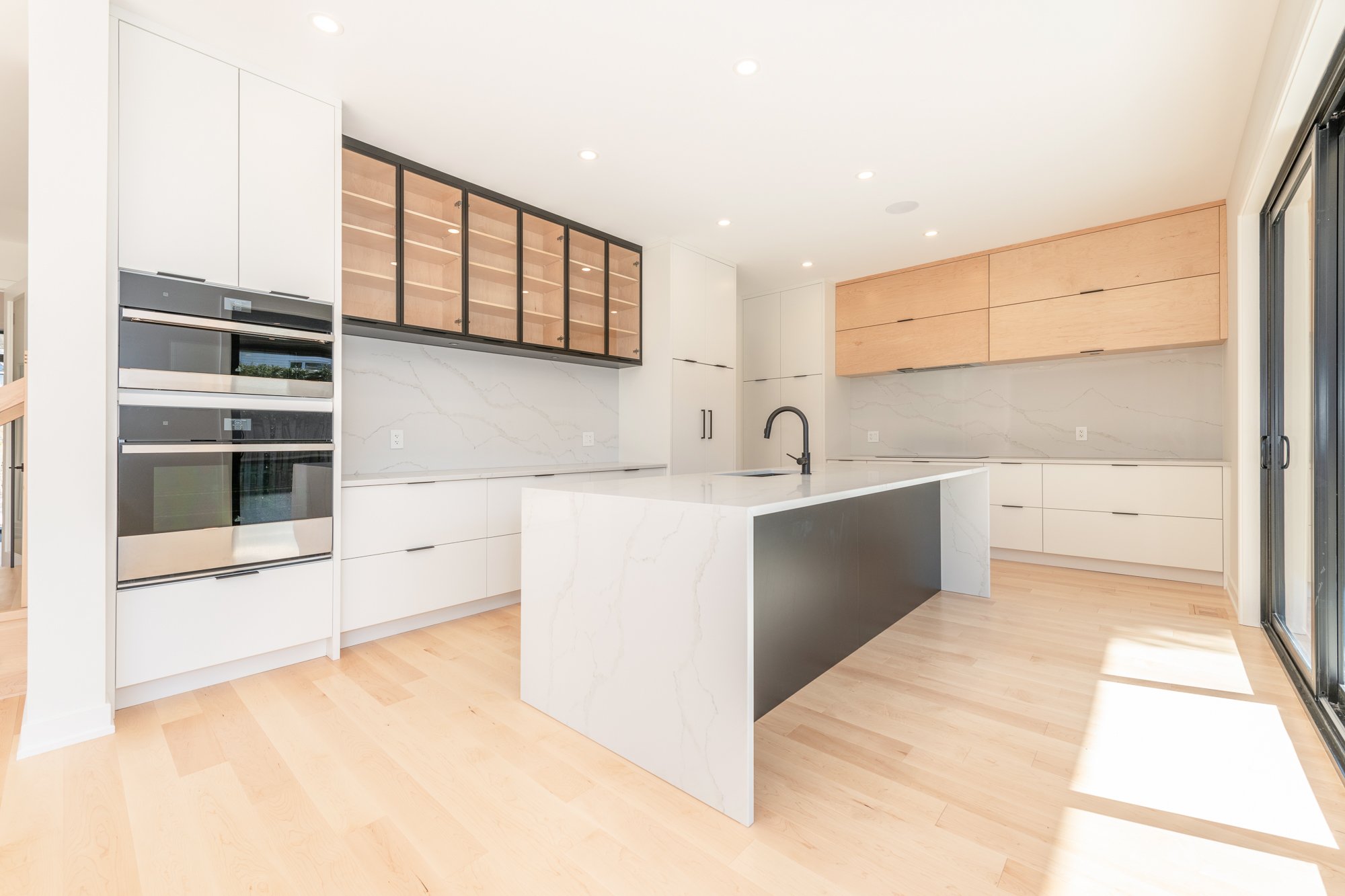 Pot lights tend to give a more modern, minimalistic flair to a space, whereas pendant lights have more personality, and are better suited for traditional or contemporary designs. Lighting adds character to a room and that's why it's so important.
Check out the modern-elegant fixtures hanging over the island in this transitional kitchen: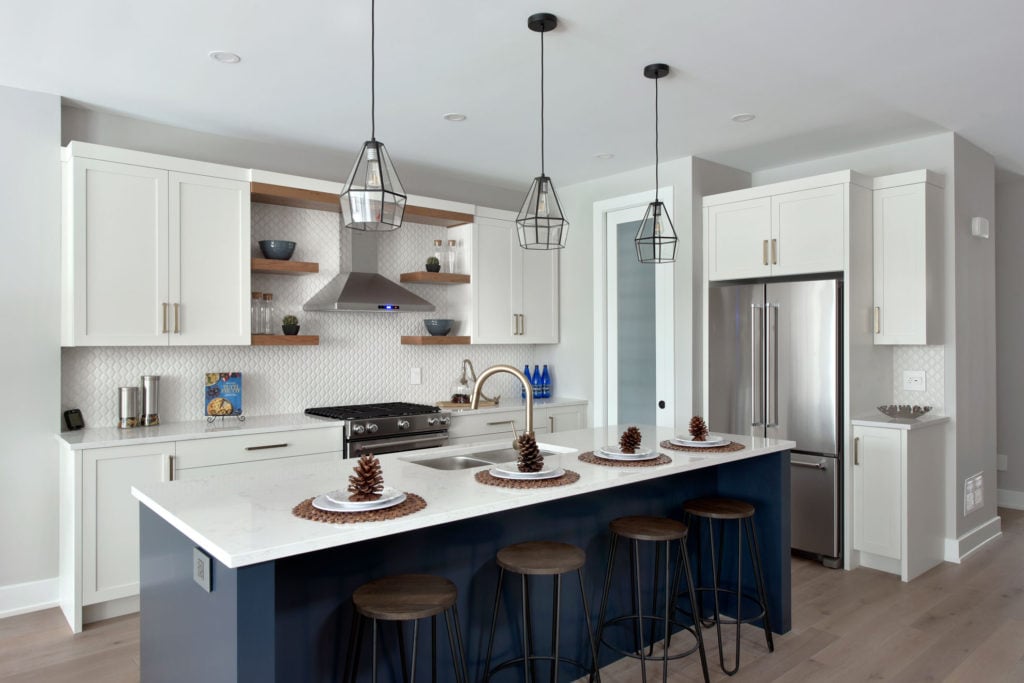 Other Design Elements of a Kitchen Island
Your island's size, clearance, height, counter depth, seating, and lighting are all fundamental to your kitchen's function.
Your design power doesn't stop there, however.
There are a few more design elements to consider, such as:
Countertops
Door styles and finishes
Appliances
Electrical outlets
Let's take a quick look at each one.
Countertops
Your countertop has serious sway in the direction of your kitchen's aesthetic. Take the time to consider all your options to decide the best countertop for your kitchen.
Dig beyond surface-level looks, too. For example, granite is a heavy stone. If you want a granite overhang, you'll need to install brackets or posts for extra support. These brackets will be visible, so it's important that you like how they look. On the other hand, quartz is a bracket-free option, and that's a big selling factor for some.
You can also choose to install a waterfall kitchen island, like in this statement-making kitchen design: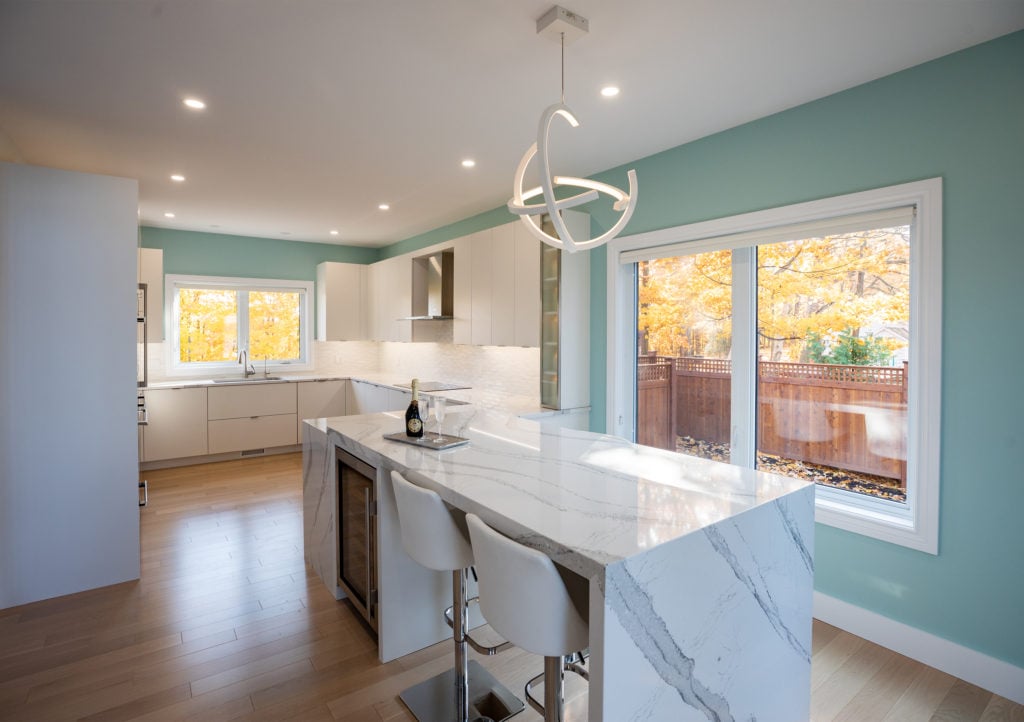 Door Styles and Finishes
Of course, any design article would be remiss not to mention cabinet door style and finish. Islands offer a ton of flexibility in that sense.
There's no rule that says your kitchen island cabinets have to match perfectly with your perimeter cabinets. Au contraire! Sometimes, a little bit of mismatch goes a long way to rounding off a design.
Look how this dark cherry island serves as a beautiful anchor in a sea of white cabinets and countertops: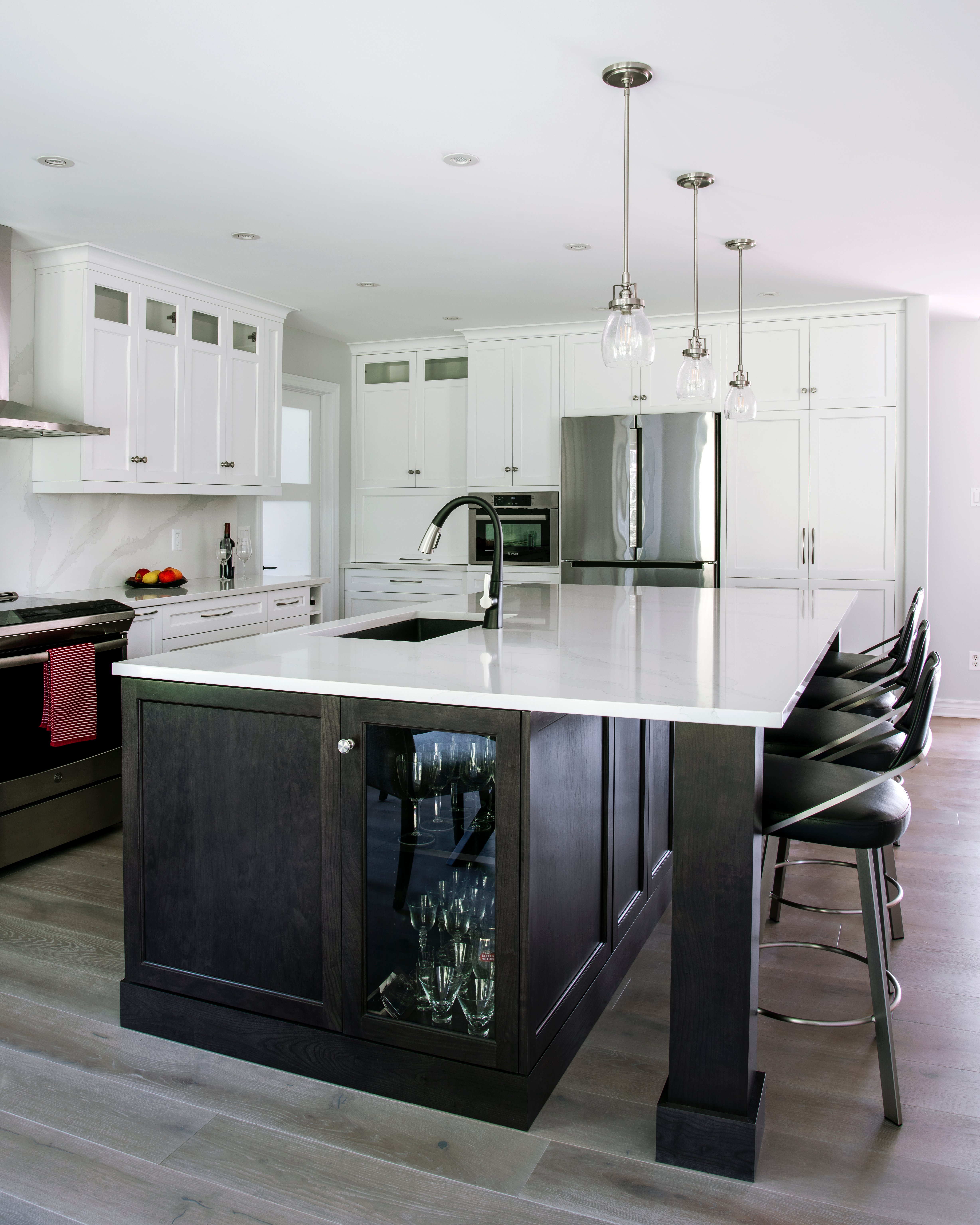 Want to see what the majority of homeowners like to do? Click to check out the 5 best-selling cabinet door styles and the 5 best-selling kitchen cabinet paints and stains at Deslaurier.
Appliances
Decide what appliances you want to include in your kitchen island. There's no right or wrong answer. It all hinges on how you want to use your island during your day-to-day.
For example, more and more homeowners are choosing to integrate microwaves into their island's base cabinets. It saves storage space up above and also hides the appliance from view.
Click to learn more about how to choose appliances for your kitchen.
Electrical Outlets
By code, you must include an electrical outlet into your custom kitchen island. You'll want to think carefully about where you put it, too.
If there's an open work area where you often bring out the blender or toaster, make sure the power source is nearby.
For a waterfall island, the outlet doesn't look very nice when installed on the sides, so you'll probably want to find a convenient place on the front of the island instead.
Your Source for Kitchen Island Designs
With all the considerations listed above, you now know how to build a kitchen island that ticks both the "optimally functional" and "optimally fashionable" box.
If you ever need a helping hand crafting your dream design—be it a traditional or modern kitchen island—contact Deslaurier Custom Cabinets. We offer free initial consultations with a kitchen designer in Ottawa.
Live outside of the city? Find a dealer near you to discover the Deslaurier advantage.
Related Links: