Estimated Read Time: 5 Minutes
Your countertop says a lot about your kitchen. The countertop is a pivotal design element that works in sync with your colour scheme, cabinets, and backsplash. It serves as a focal point and sets a clear mood for the space.
Homeowners love exploring countertop slabs and samples, and it's not hard to see why—they're stunning! It's fun to search through pictures and play with style combinations.
However, choosing a countertop isn't quite as straightforward as you might think. It's not an apples-to-apples comparison. The kitchen design market is filled with different counter materials, each one as unique as the next.
Your countertop is your kitchen workspace, and as such, you need to research beyond aesthetics into the nitty-gritty of countertop performance before making a decision.
Countertops are one of the Deslaurier design team's specialties. In this article, we've compiled our pro insight into the many countertop varieties available and their attributes.
Below, we'll discuss all the ins and outs of engineered quartz, marble, granite, and butcher block. We'll cover their respective style, maintenance needs, and cost in-depth so that your next countertop selection is a prizewinner.
Let's jump in!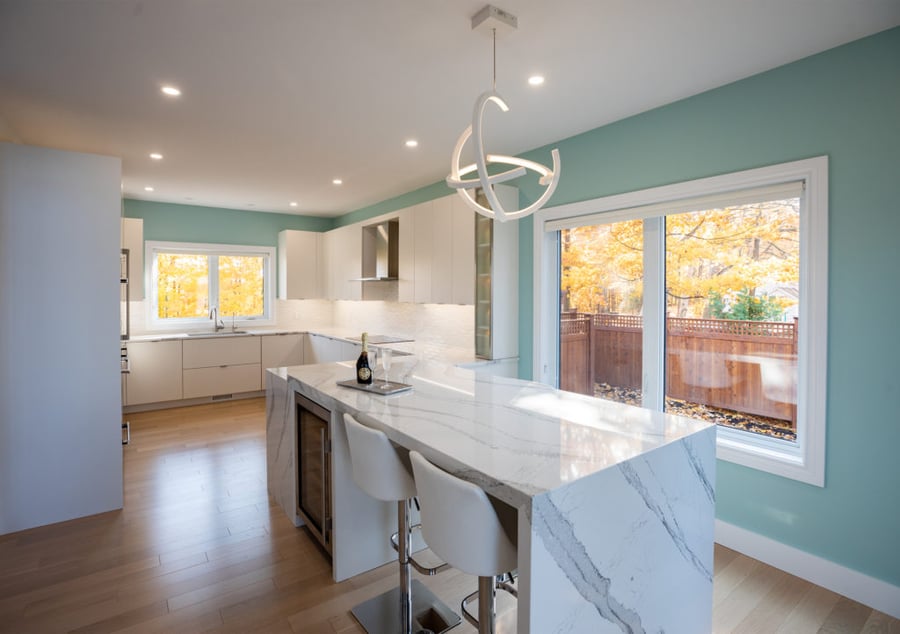 Engineered Quartz Kitchen Countertops
Quartz countertops are perhaps our best-selling option at Deslaurier. Why? Quartz is an all-around "athlete" of a countertop with exceptional marks in all three categories of style, maintenance, and cost. Let's take a look.
Style of Quartz Countertops
Prospective buyers often get confused when researching quartz countertops because they come across seemingly contradictory adjectives, like "natural" and "man-made." The truth is, both of these adjectives apply to engineered quartz.
Engineered quartz is approximately 93% natural quartz and 7% resin and other additives. In other words, it's real, authentic quartz used within a man-made manufacturing process.
Quartz's engineered fabrication process translates to endless style options. Since additives, like pigment, are combined with quartz aggregate in the factory, manufacturers can create a full spectrum of aesthetics. You'll find quartz in a diverse array of colours, patterns, and textures.
Caesarstone and Silestone are two premier brands in the field of quartz surface design. These forerunners get creative when forging quartz-resin mixes. Caesarstone is known for incorporating semi-precious stones into their counters while Silestone's reputation is built on a whopping selection of hundreds of colours.
Check out this stunner of a recently re-done kitchen featuring Caesarstone countertops: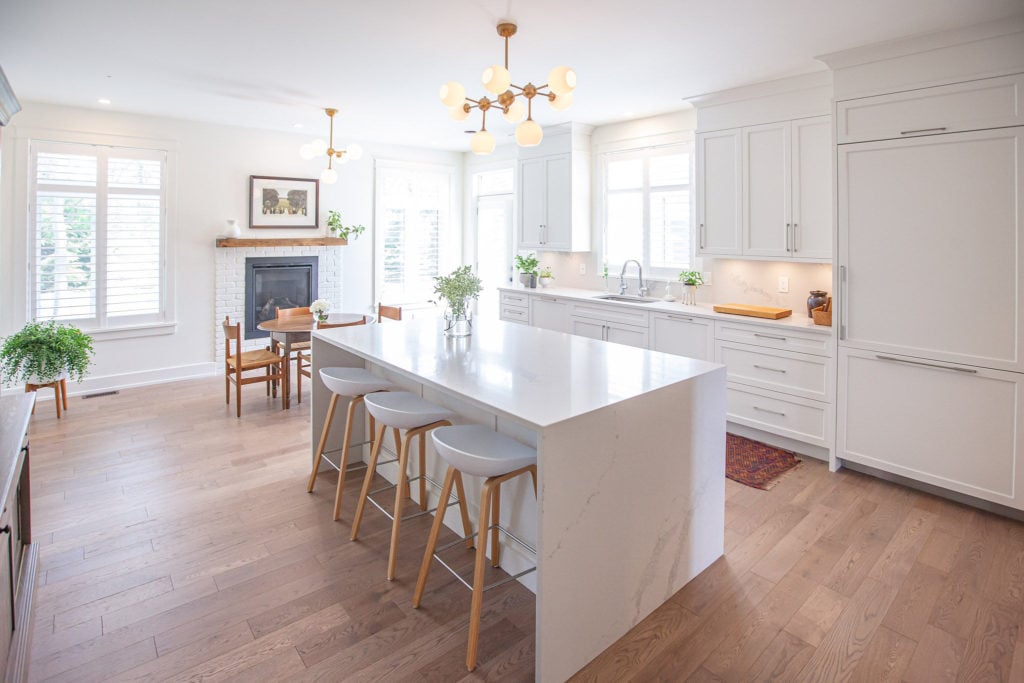 Quartz can be altered in production to create virtually any look, making it perhaps the most versatile countertop out there, style-wise.
Maintenance of Quartz Countertops
The clear advantage of quartz countertops over natural stone countertops is that quartz is non-porous. The resin incorporated directly into the manufacturing process functions as a strong sealant. That means you don't have to worry about routinely resealing your quartz surface. The non-porous, set-and-forget feature of engineered quartz is often a deciding factor for kitchen remodelers.
Conversely, the biggest maintenance-related drawback to quartz is that it's not heat-resistant. You can't put down a hot pan or pot directly onto its surface without running the risk of making permanent scorch marks.
For the best countertop maintenance tips, read our article on how to care for your kitchen countertop!
Cost of Quartz Countertops
Figure-wise, quartz won't put a dent in your wallet as some of the purely natural stone countertops will.
How much are quartz kitchen countertops? According to Ottawa supplier Urban Quarry, the average cost of a quartz countertop falls between $80-$180 per sq. ft., not including installation fees.
For more information, check out our article on the cost of quartz countertops!
Marble Kitchen Countertops
Marble and luxury are synonymous words in the world of kitchen design. Marble is an all-natural stone and every slab is unique.
Style of Marble Countertops
The style of marble countertops is in a league of its own. Colours and vein patterns exude elegance and instantly elevate the room they're placed in. Even better, marble develops a patina with time.
What's a patina, you ask? Patina is just a fancy word for the natural changing of the appearance of material over time. Think about the worn, smooth feel of a vintage leather jacket or the greenish twinge that develops on a well-used copper pot.
Patina is a love-hate subject in design circles. Some people embrace the age-brings-character effect, and others want their counters to stay looking as they did on installation day. Either opinion is fine, but if you fall in the latter category, marble may not be for you.
Marble countertops can either be polished or honed. True to how it sounds, polished marble is glossy and sheer. Honed marble has a matte look, but is generally more forgiving and will hide scratches better than polished marble.
The polish and panache of this marble countertop is undeniable: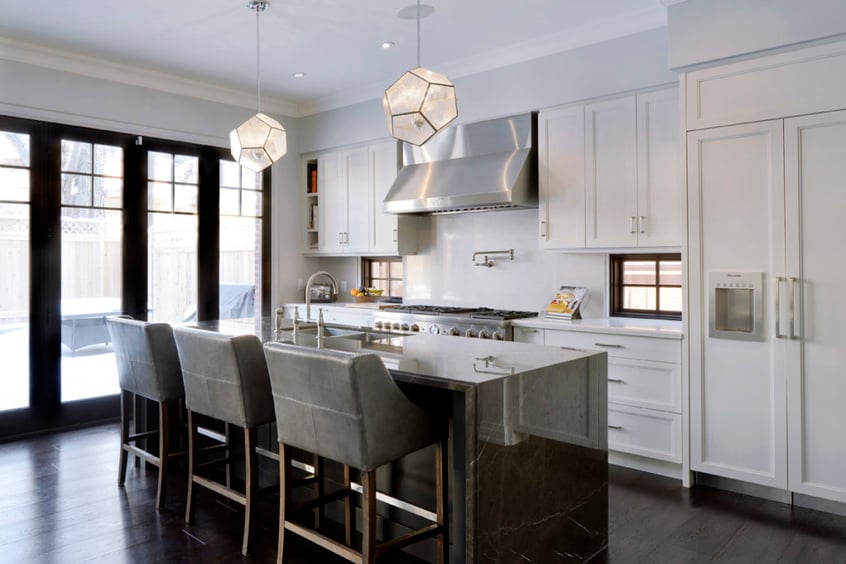 Maintenance of Marble Countertops
Marble's Achilles' heel lies in its high-strung maintenance requirements. If you want to reap the reward of a top-class marbled surface, you need to earn it: marble needs pampering.
Marble is an extremely soft stone, so you'll have to be very cautious to prevent scratches and marks. Plus, marble is susceptible to "etching" —a term for the damaging effect of acid on marble's finish. Commonplace baking ingredients, like lemon juice and vinegar, will wear down your stone surface with prolonged contact.
Another to-do item in marble's maintenance regimen is routine sealing (every 3 months is a good rule of thumb). Because marble is porous, regular sealing is needed to prevent moisture from seeping into the stone.
Even then, be prepared for stains. Marble stains easily. It just does.
Cost of Marble Countertops
Many homeowners hear the world marble and immediately think dollar signs, but that's not necessarily a fair reaction. Admittedly, rare marble, like Calacatta, is a pricey investment. What customers don't know is that there is a sizeable collection of affordable marble slabs, usually those that are ubiquitous and quarried in nearby countries.
Contrary to popular belief, you can buy marble on a budget. You just have to know where to go. On average, a marble countertop costs between $80-$250 per sq. ft., excluding installation fees.
Granite Kitchen Countertops
Granite, like marble, is another natural stone that's as unique as a snowflake and never the same from one kitchen to another.
Style of Granite Countertops
Granite offers show-stopping veining that really makes a statement in a room. It's a bold, dramatic surface that offers serious visual appeal.
A bonus aspect of granite veining is that it tends to veil seams. The eye-catching patterns conveniently camouflage those pesky lines where two slabs connect.
This striking, speckled granite countertop is the perfect addition to a traditional-themed kitchen: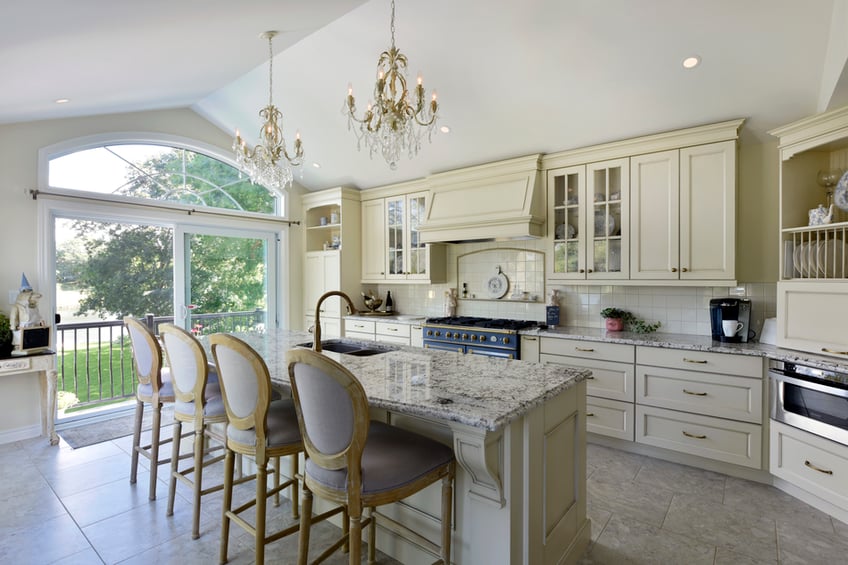 Maintenance of Granite Countertops
Homeowners tend to gravitate toward granite thanks to its superior heat-, scratch-, and stain-resistance. You can cut directly on the granite (in fact, granite is so tough that doing so might dull your knives). You can place a hot fry pan directly on the granite. Avid chefs will love the freedom to chop, cook, and bustle around their kitchen without restraint.
As a porous material, periodical sealing is necessary to keep granite's stain protection sky-high. However, as granite is less porous than marble, you can get away with sealing less frequently. Once a year should suffice in the average home.
You can apply sealant yourself, too—the process is not much more complicated than spray-wait-wipe. Overall, granite is regarded as a low-maintenance purchase.
Cost of Granite Countertops
Granite comes in a cut below marble and engineered quartz, generally costing between $75-$200 per sq. ft., installation not included. Of note, since granite is a heavy product, the installation process can be pricey.
Butcher Block Kitchen Countertops
Butcher block countertops are perhaps a lesser-known option in kitchen design, but you shouldn't let that deter you. Wood countertops bring a neutral, earthy vibe to home kitchens. They're particularly great for cottagey, rustic aesthetics.
Style of Butcher Block Countertops
Butcher block counters in cherry, maple, and even teal provide varied, rich colours; both light and dark. What's more, you can get even more artistic by selecting unusual grain patterns, like end grain, edge grain, or face grain.
Not to mention, wood goes with anything. Go ahead and experiment. Homeowners often mix and match wood and stone counters for a best-of-both-worlds result.
Take at a look at how the warm maple butcher block complements marble countertops in this kitchen: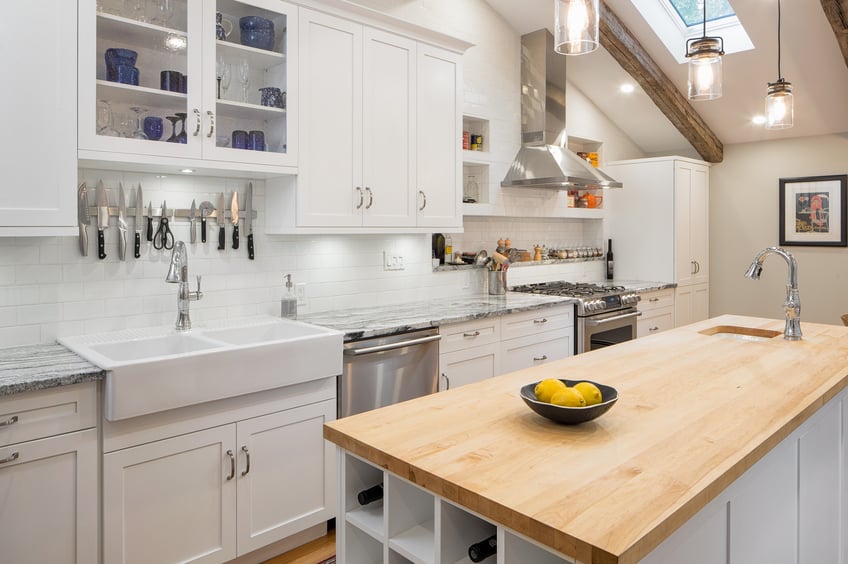 Maintenance of Butcher Block Countertops
Natural wood will swell in hot temperatures and rot in wet conditions. Butcher block owners will need to stay on top of mineral oil treatments to maintain the outer protection of their wood countertops.
Butcher block is also an extremely soft material and prone to cuts and scratches. While these countertops may seem like a convenient, built-in cutting board, don't use them as such unless you're ready for the weathered, scratched effect it causes.
You'll also want to be wary of applying direct heat. A hot pan will quickly scorch a burn mark into the wood.
The silver lining here is that butcher block damage is easily undone. A quick sanding motion with fine sandpaper is all it takes to erase flaws.
Cost of Butcher Block Countertops
The most inexpensive option on our list, butcher block prices will primarily depend on the wood species you choose. Roughly, you can expect the price range to come in around $35-$100 per sq. ft., not including installation.
A Kitchen Designer's Tip: Think Long-Term
Our hot design tip is to look beyond the beauty of the surface. Of course, aesthetics matter and you should love the look of your countertop. But your countertop's performance is so vital to the practicality of your kitchen that filtering your options with a long-term perspective is key.
Be honest with yourself: do you have the bandwidth to take on the added maintenance of marble? Will you remember not to put down hot pots and pans on a butcher block surface?
Take the time to answer these questions candidly before making your selection. Your kitchen and your wallet will thank you for it.
Deslaurier's Kitchen Design Team
Need a third-party point of view? Why not stop by Deslaurier's showroom in Ottawa or Renfrew to meet with our award-winning in-house design team and view the market's best countertops in person?
We bring 60+ years of experience to the table and partner with a vast network of premier countertop suppliers. The result? We consistently leave a long trail of customized, high-performance kitchens in our path.
Interested in becoming an authorized Deslaurier dealer? Visit our Become a Dealer page to learn more!
Book a no-obligation consultation with us to discover what we can do for you!
Related Links: