Are you looking to get new kitchen countertops? Have you been searching online but are still not sure what countertop is best suited for your kitchen?
You may have stumbled across a new countertop material called Dekton. But exactly what is Dekton? And is it right for your kitchen counters?
Lucky for you, you've come to the right place! At Deslaurier Custom Cabinets, we know all about the importance of countertop selection within the kitchen design process. That's why we do the dirty work so you have the information you need to make the perfect selections for your kitchen!
Let's take a look at everything Dekton kitchen countertops have to offer!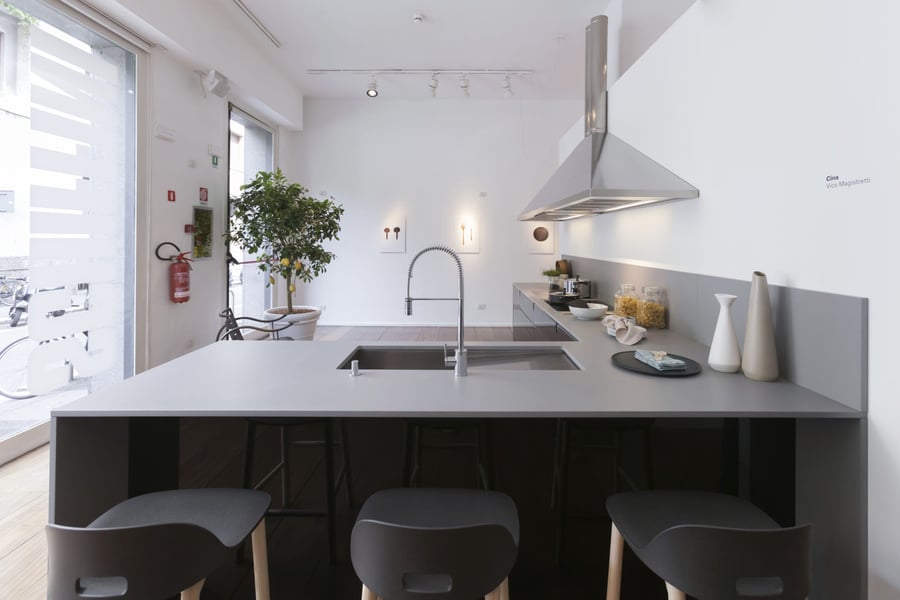 What is Dekton?
Dekton is a blend of raw materials used to produce porcelain, glass, and quartz work surfaces.
It utilizes a process referred to as "Sinterized Particle Technology," which accelerates the metamorphic changes which occur to natural stone.
Essentially, instead of spending thousands of years under high pressure and high temperatures like natural stone, this high-tech option creates a synthetic replica using raw materials that can be used to create an amazing countertop.
The actual sintering process uses compressors with forces as high as 5900 psi (pounds per square inch) and ovens that reach 2191ºF (1200ºC).
Sintering is different from melting in that it uses both heat and pressure to combine disparate materials into a unified whole. This creates an unusually dense, durable, and non-porous material that can be turned into an ultra-compact countertop surface.
Dekton Kitchen Countertops
Dekton is known for being a beautiful and low-maintenance material for work surfaces and kitchen countertops. Dekton kitchen countertops first became available in 2013, and since then have grown in popularity as an alternative kitchen surface.
Dekton was created by Consentino, a Spanish company that also manufactures surfaces like Silestone quartz countertops. In fact, Dekton was created to improve the performance of quartz countertops!
Dekton kitchen countertops come in porcelain, glass, and quartz, all of which are available in a variety of colours, design patterns, and finishes.
Dekton counters are available in 5 different thicknesses: 4, 8, 12, 20, and 30 millimeters. Their slab sizes are also generally much larger than conventional countertops, as the standard dimensions are 320 x 144 centimeters. These larger slabs aid in the visual continuity of patterns as well as reduce the number of joints that will occur.
Dekton Kitchen Countertop Styles
Thanks to Dekton's replication of porcelain, glass, and quartz, it can provide a wide variety of distinct designs and styles.
Dekton kitchen countertops can come in solid colour slabs, or intricate designs and patterning. Dekton offers over 40 different colours to choose from in grey, black, white, brown, and cream hues. Of the patterning available, popular styles include natural veining, natural grainy, metallic, industrial, natural irregular.
Take a look at a few patterned designs and solid colour selections offered by Consentino: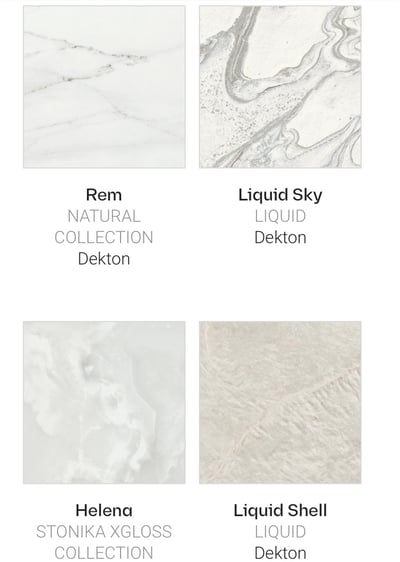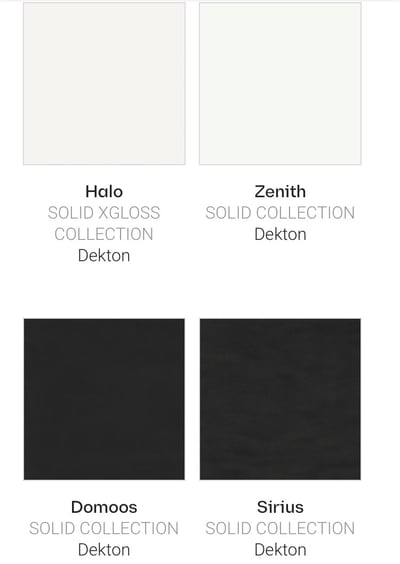 Abundant edge styles are available for your Dekton countertops as well. These include standard square or mitered profiles, decorative beveled edges, and full and half bullnose edges. Although these options are all available, Dekton manufacturers recommend beveled edges to reduce the risk of chipping.
As noted above, some edge styles may not work with patterned ultra-compact surfaces. Color extends through the entire slab but not the pattern or texture. Thus, the pattern may not be present with certain edge cuts. Luckily, mitered, squared, and eased edges look great for the patterned surfaces.
As with other countertop material options, you have several choices for the surface finish. Dekton calls these "textures." The finish textures include matte and glossy polished, but also some exciting finishes like oxide, slate, leathered, and bush hammered.
For more information on various finishing techniques, check out our Learning Centre page where we have an article on Polished vs. Honed vs. Leathered Countertops!
Are Dekton Countertops Really That Durable?
Dekton is widely known for being notoriously durable, but is it really that resilient when it comes to kitchen countertops? The answer is a resounding yes! Few if any surfaces have the overall durability that Dekton provides.
Like its quartz compatriot, Dekton is a non-porous surface. That means it's not vulnerable to water stains or damage like stone countertops such as marble or granite, and it doesn't require any sealing or re-sealing maintenance.
Dekton also has an incredibly high scratch resistance. You won't have to worry about kitchen utensils scratching your countertop. In fact, Dekton has such high scratch resistance that you can cut right on it and don't even need a cutting board!
Another impressive characteristic of Dekton countertops is their extremely high heat resistance. Dekton won't be vulnerable to any heat damage and can withstand high temperatures, including the heat of fire.
Thanks to this resiliency, the surface doesn't need hot plates or trays to protect it. You can take your dinner out of the oven and place it right on the countertop, worry-free!
Unlike other porous options, stains won't be an issue with Dekton. In fact, it's so easy to clean and maintain that its manufacturers recommend nothing more than soap and water to clean it.
The only real durability concern is impact damage. If something heavy is dropped from a high enough point, or with enough force, it can dent or crack the Dekton surface. Unfortunately, a cracked Dekton countertop cannot be fixed. The only option is to replace the entire slab.
While cracks can't be fixed, chips in your Dekton counter can! When colour pigments are added to the raw materials that go into creating Dekton, the colour goes all the way through. So, if your countertop does chip, the chip will be the same colour as the countertop surface, and the repair won't be too noticeable.
However, this only works with solid colour Dekton, not counters with patterned designs. Patterned designs are printed onto the tops of the Dekton countertops, this means that the pigment does not run through the full thickness of the slab. Unfortunately, in the rare event of a chip in a patterned design, it will be quite noticeable.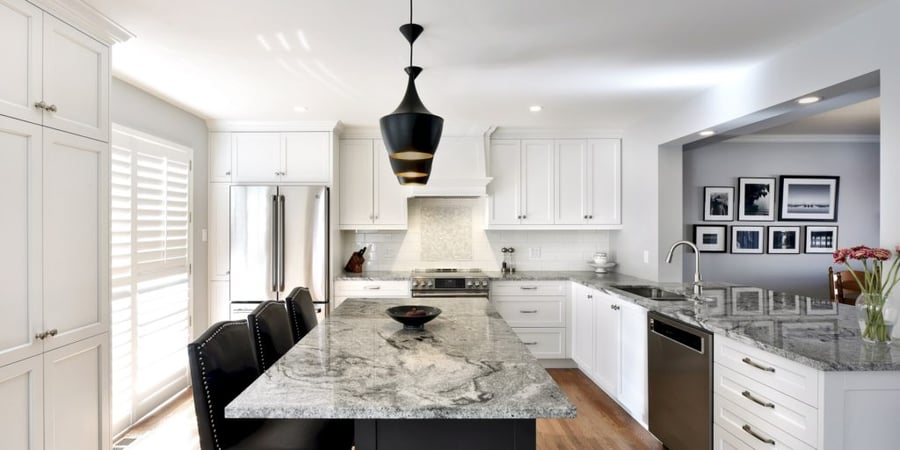 How Expensive Are Dekton Kitchen Countertops?
Since Dekton countertops are such a durable and high-quality material, the price tag tends to reflect that; it is not a budget-friendly countertop choice.
Dekton surfaces can range from $80-$150 per square foot. It's a much more expensive man-made alternative than, say, cost-effective laminate countertops. Generally speaking, the average cost for custom laminate countertops is from $24 to $36 per sq. ft.
In fact, the cost of Dekton will rival popular high-end kitchen countertop materials like granite, quartz, and marble. You can expect quartz to cost $80-180 per sq. ft. and granite to cost $75-200 per sq. ft. On average, a marble countertop costs between $80-$250 per sq. ft. The average cost of Dekton countertops will sit firmly in the middle of these options.
There are a few factors that will influence the cost of Dekton countertops.
First, one full slab without a seam will be more expensive than multiple pieces that result in joints. Since it's easier to manufacture smaller pieces, especially when dealing with corners, utilizing one full slab will increase the price of the total countertop.
Secondly, patterns and distinctive textures may cost more than solid colour Dekton countertops. This is because the design pattern is pressed onto the surface of the Dekton, rather than solid colours. Patterns and textures may also vary in intricacy and will increase the overall cost of labour.
Finally, the thickness of the countertop will naturally affect the price. Thinner slabs will be less expensive than thicker slabs, purely based on the amount of material that is required.
Dekton Kitchen Countertops: Accessibility
Since Dekton is still such a newcomer to the kitchen countertop industry, slabs are not as readily available as popular mainstays like granite or quartz.
This means that not all countertop suppliers will have a wide array of Dekton surfaces for you to choose from. Luckily, large home improvement stores like Home Depot carry a number of Dekton selections in stock.
If you're going for a specific design or colour, that may be an issue. If you're interested in Dekton for its high quality, durable characteristics, and don't mind being limited when it comes to design, then it shouldn't be an issue.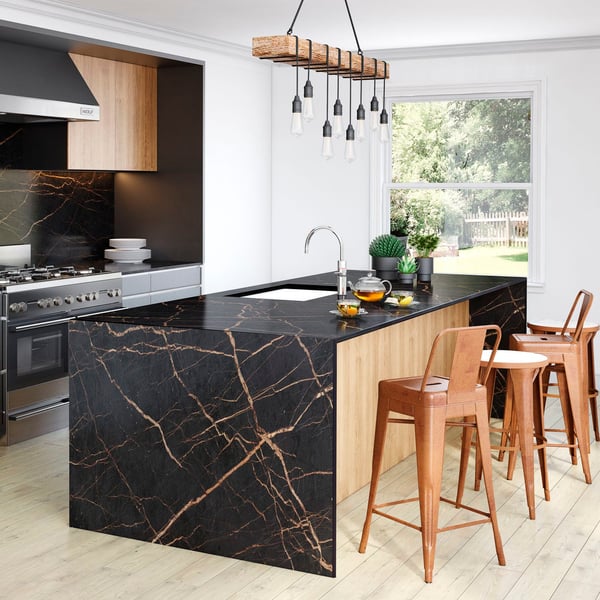 Discover Deslaurier Custom Cabinets
Think Dekton is a material worth considering for your kitchen counters? Why not book a free consultation in Deslaurier's Ottawa showroom to meet with our award-winning in-house design team and view the market's best countertops in person?
We bring 60+ years of experience to the table and partner with a vast network of premier countertop suppliers. The result? We consistently leave a long trail of customized, high-performance kitchens in our path.
Interested in becoming an authorized Deslaurier dealer? Visit our Become a Dealer page to learn more!