Selecting the right countertop for your kitchen is vital for both functionality and design. Some homeowners think only about the look of the surface, whereas others may consider the durability and maintenance of their future kitchen counters.

One thing is for sure, there are plenty of options to pick from. The tricky part is finding the right material for your kitchen.
That's where we come in! At Deslaurier Custom Cabinets, we know all about the importance of countertop selection within the design process. That's why we partner with only the best when it comes to our laminate and stone kitchen countertop suppliers.
Let us do the dirty work for you, as we compare laminate and stone countertops through an unbiased lens, so you know which material is right for you.

Let's get started!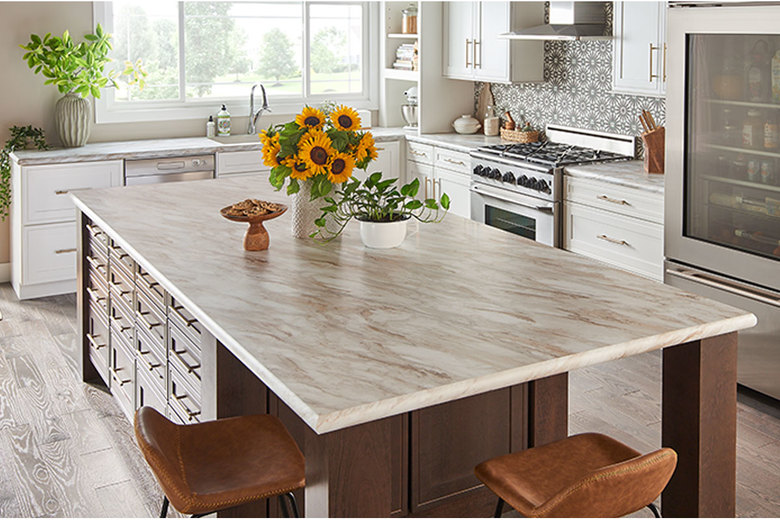 Laminate Kitchen Countertops
If you're familiar with laminate countertops then you have probably heard of Formica. Laminate was developed by Formica in 1930 and pioneered as an alternative building surface. Today, modern laminates are noted for their extreme versatility and cost-effective price point.
Standard laminate countertops are made of several sheets of kraft paper pressed with heat and bonded to a substrate. These sheets will include one with the visual aesthetic of the countertop, as well as protective sheets that will result in a plastic-feeling finish.
There are multiple different substrates that can be used for laminate countertops. The most common being particleboard, the same material used for cabinet boxes. Other popular options for laminate substrate cores are plywood, MDF, moisture resistant board (MR Board), and environmentally friendly options like NU Green.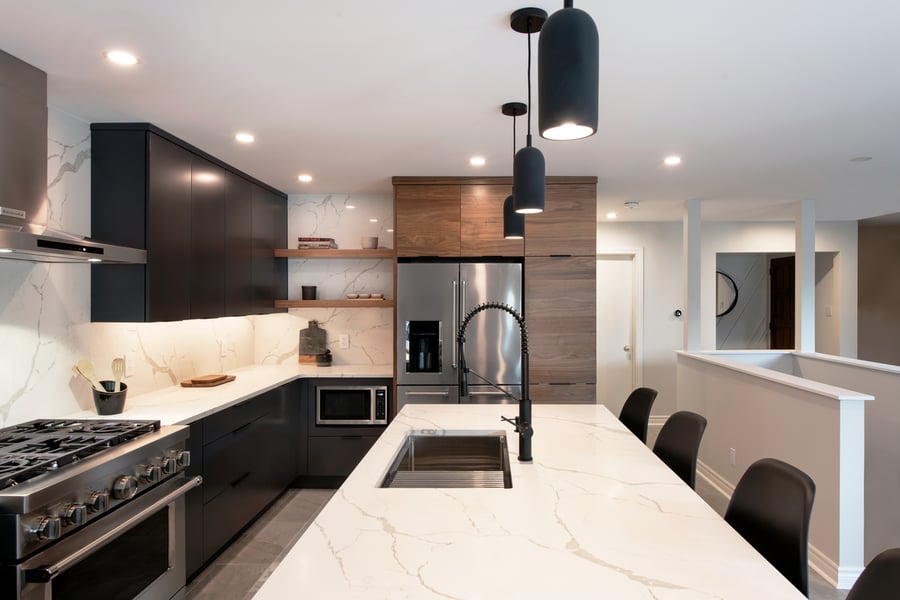 Stone Kitchen Countertops
For stone kitchen countertops we'll take a look at a few of the most popular options on the market in granite, quartz, and marble. We'll touch on what each stone brings to the table and how they compare to laminate as well as to one another.
Granite Kitchen Countertops
Granite is a well-known countertop contender. If you're not familiar with granite already, you've probably heard its name thrown around in conversations on popular home improvement TV shows.
Granite is a high-demand and high-quality product. What is it exactly? It's a rock! Granite is an all-natural stone that's made up of many different minerals like feldspar, mica, and—believe it or not—quartz.
Granite is mined in quarries all over the world. It gets extracted, cut, polished, and then sold in slabs to be installed in your very own home.
Quartz Kitchen Countertops
Quartz falls under its own category when it comes to countertops. Quartz itself is a mineral in the earth, but quartz countertops are not considered natural stone.
Technically, quartz is an engineered stone countertop, meaning that while 93% of the surface is pure quartz, the remaining 7% of the stone is manmade.
Essentially, what fabricators do is grind up the quartz mineral and glue it back together with polymers and binders. These man made components bind with the quartz to create an ultra-durable surface that doesn't need resealing.
During the manufacturing process, sometimes fabricators add tiny flecks of glass or metals to the quartz to create extra visual appeal. Plus, they also often combine pigments with the quartz to develop slabs of all colours, like green, red, and blue.
Check out our Learning Centre page for our in-depth article on Quartz vs. Granite Countertops.
Marble Kitchen Countertops
Marble countertops are known for their elegance, timeless sophistication, and conventionally high price tag.
Marble is actually limestone that has been transformed by intense pressure and heat. During the transformation, minerals begin to settle, creating the unique 'veins' that provide marble with its distinctive look.
Marble is an all-natural stone and every slab is unique, adding to the allure of their beautiful countertops.
Laminate vs. Stone Kitchen Countertops: The Look
Laminate is easily the most versatile of any countertop material in terms of the design styles available, with manufacturers offering hundreds of various colours and patterns.
Within this wide range of finishes, laminate can imitate the appearance of other materials such as natural stones or wood. Modern day laminates can convincingly replicate granite, quartz, slate, and even marble patterning.
If you're focused on the aesthetic of your countertop, laminate will have far more options to select from than stone.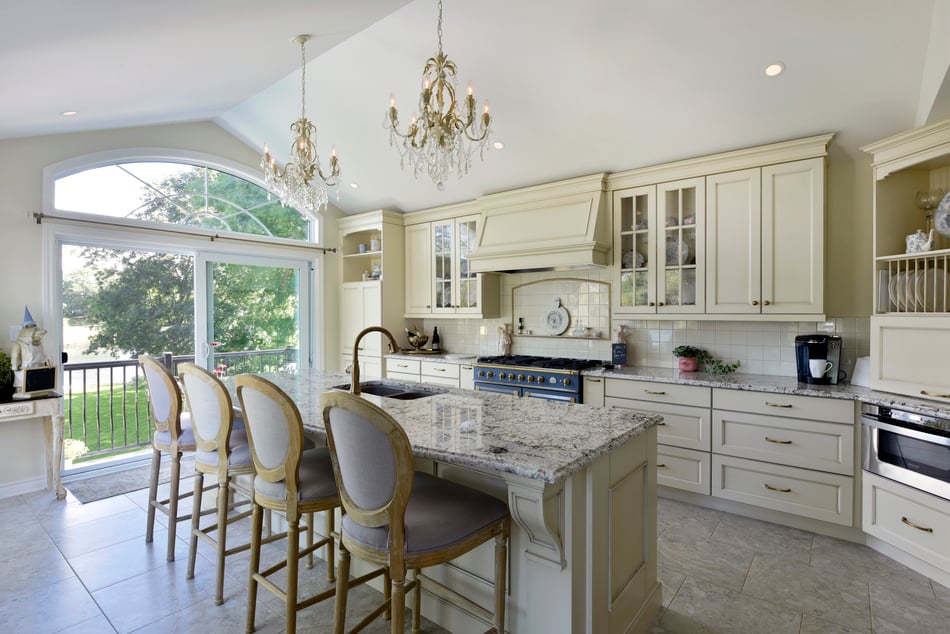 Granite
No additional manmade materials are thrown into the mix during the manufacturing process. That's why granite is slightly more limited colour-wise than quartz.
With granite, you can only buy whatever is found naturally underground. Every single slab is unique.
What granite does offer is distinctive veining that really makes a statement in a room. It's a bold, dramatic surface that offers serious visual appeal.
A bonus aspect of granite veining is that it tends to veil seams. The eye-catching patterns conveniently camouflage those pesky lines where two slabs connect.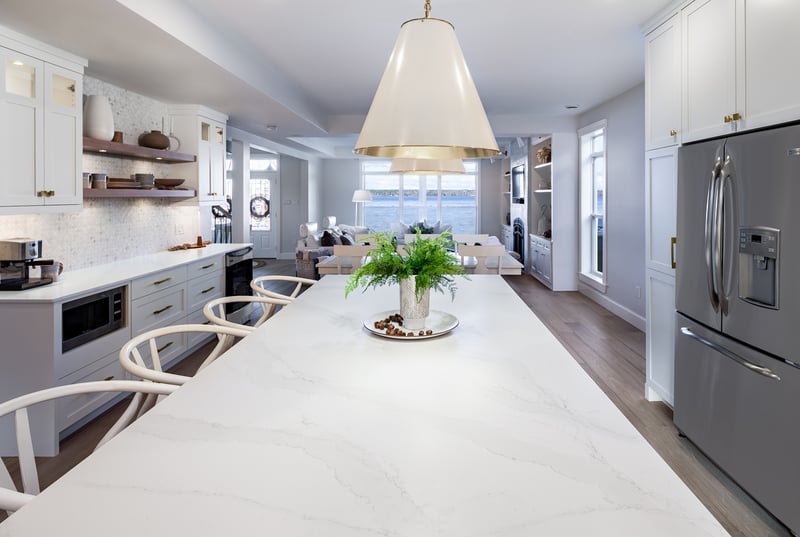 Quartz
Quartz's engineered fabrication process translates to endless style options. Since additives, like pigment, are combined with quartz aggregate in the factory, manufacturers can create a full spectrum of aesthetics. You'll find quartz in a diverse array of colours, patterns, and textures.
Quartz can be altered in production to create virtually any look, making it perhaps the most versatile countertop out there, style-wise.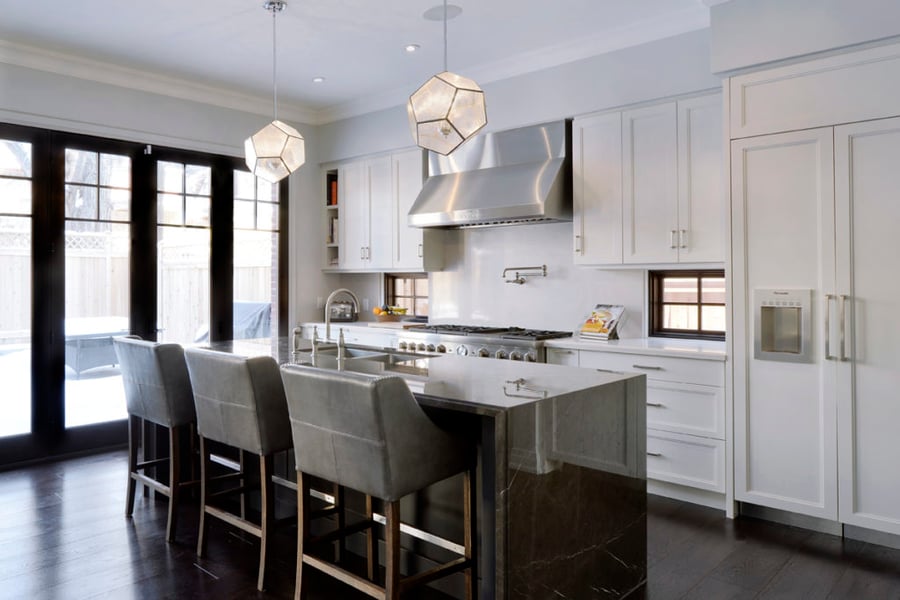 Marble
The style of marble countertops is in a league of its own. Colours and vein patterns exude elegance and instantly elevate the room they're placed in. Even better, marble develops a patina with time.
What's a patina, you ask? Patina is just a fancy word for the natural changing of the appearance of material over time. Think about the worn, smooth feel of a vintage leather jacket or the greenish tinge that develops on a well-used copper pot.
Patina is a love-hate subject in design circles. Some people embrace the age-brings-character effect, and others want their counters to stay looking as they did on installation day. Either opinion is fine, but if you fall in the latter category, marble may not be for you.
Marble countertops can either be polished or honed. True to how it sounds, polished marble is glossy and sheer. Honed marble has a matte look, but is generally more forgiving and will hide scratches better than polished marble.
Laminate vs. Stone Kitchen Countertops: Maintenance & Durability
While laminate countertops have come a long way in recent years, there are still durability concerns regarding the surface.
Unfortunately, laminate is one of the least heat-resistant countertop materials. Hot pans and grease splatters are common heat issues that can be detrimental to the surface.
Something you may not know about laminate is that the colour and design chosen for a laminate countertop can have an effect on its overall durability. The more pigment in the countertop the more susceptible it will be to cracking.
While laminate countertops are fairly durable against dents or gouges, they can scratch easily.
Smooth finished surfaces can be extremely susceptible to scratching, which is why you should always protect your laminate counters with cutting boards when preparing meals.
Although the laminate top itself is not vulnerable to liquid, the substrate underneath is. Liquid can enter through the mitre joints and spread within the substrate, causing damage to the countertop.
Laminate countertops can be subject to delamination over time, especially if water seeps through seams, and repairs are very difficult to make. Serious damage usually requires replacing the entire countertop.
Stone Kitchen Countertops:
The clear advantage of quartz countertops over granite and marble is that quartz is non-porous. That means you don't have to worry about routinely resealing your quartz surface, unlike granite or marble which are porous materials.
Conversely, the biggest maintenance-related drawback to quartz is that it's not heat-resistant. You can't put down a hot pan or pot directly onto its surface without running the risk of making permanent scorch marks.
Homeowners tend to gravitate toward granite thanks to its superior heat, scratch, and stain-resistance. You can cut directly on the granite (in fact, granite is so tough that doing so might dull your knives). You can place a hot fry pan directly on the granite. Avid chefs will love the freedom to chop, cook, and bustle around their kitchen without restraint.
As a porous material, periodical sealing is necessary to keep granite's stain protection sky-high. However, as granite is less porous than marble, you can get away with sealing less frequently. Once a year should suffice in the average home.
You can apply sealant yourself, too—the process is not much more complicated than spray-wait-wipe. Overall, granite is regarded as a low-maintenance purchase and extremely durable.
Marble, specifically, requires extensive maintenance.
Marble's Achilles' heel lies in its high-strung maintenance requirements. If you want to reap the reward of a top-class marbled surface, you need to earn it: marble needs pampering.
Marble is an extremely soft stone, so you'll have to be very cautious to prevent scratches and marks. Plus, marble is susceptible to "etching" —a term for the damaging effect of acid on marble's finish. Commonplace baking ingredients, like lemon juice and vinegar, will wear down your stone surface with prolonged contact.
Another to-do item in marble's maintenance regimen is routine sealing (every 3 months is a good rule of thumb). Because marble is porous, regular sealing is needed to prevent moisture from seeping into the stone.
For more on proper countertop maintenance, check out our article on how to care for kitchen counters!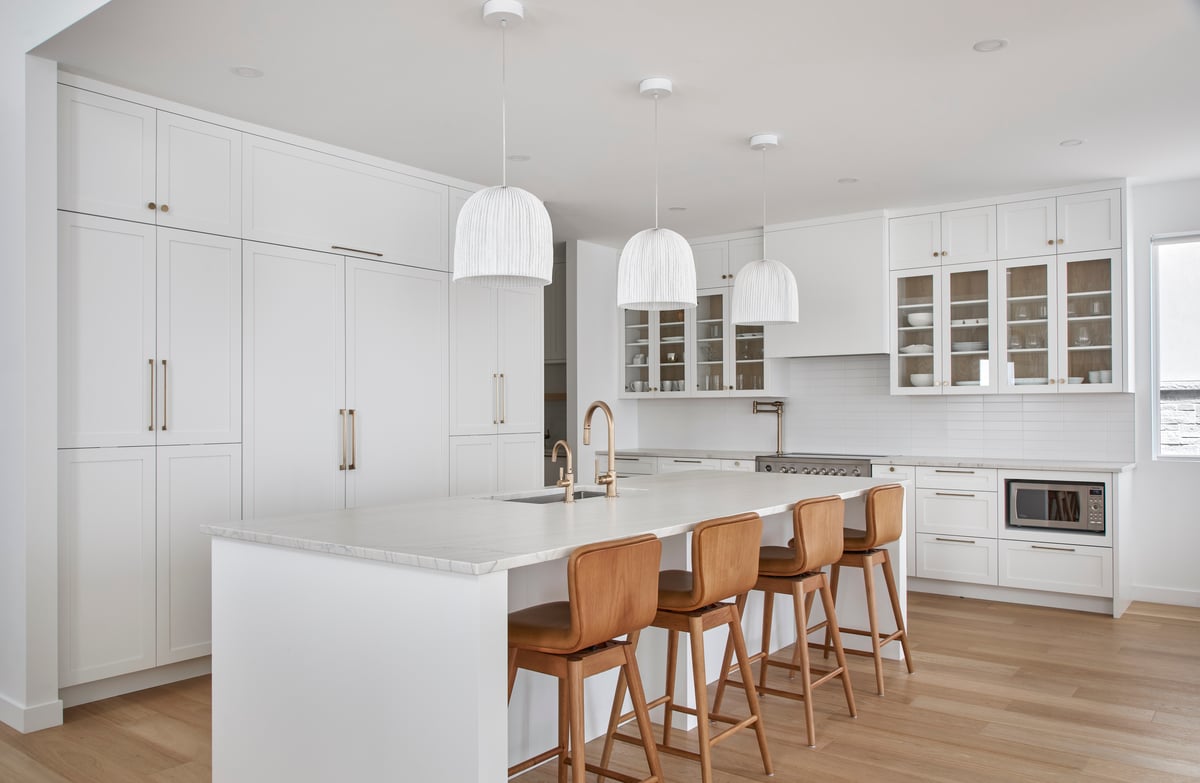 Laminate vs. Stone Kitchen Countertops: The Cost
When it comes to countertop pricing, laminate is head and shoulders the more cost-effective choice over stone. In fact, Laminate is by far the most affordable countertop material on the market.
The price of the laminate countertop depends on the pattern and colour that you choose and whether you are using a standard design or a custom-made countertop.
Premium colours cost more to make. This is also true for intricate patterns like a realistic quartz or authentic marble imitation.
Laminate grades and thickness vary, resulting in different price points. The higher quality or thicker the laminate is, the more expensive it will be.
Generally speaking, the average cost for custom laminate countertops is from $24 to $36 per sq. ft.
Home improvement stores sell prefabricated 4 foot and 8 foot long sections for $50-$200 per section.
Cost of Stone
Costs of granite and quartz countertops are hard to compare for a few notable reasons:
The price of granite is sometimes based on the rarity of the particular stone or patterning.
The price of quartz and granite is sometimes based on quarry location and shipping costs.
The price of quartz and granite is sometimes based on supply and demand.
Any or all of these factors can influence the sticker price of your dream countertop. Very generally speaking, a base quartz countertop will cost more than a base granite countertop, by about $5-10 a sq. ft.. Still though, you can find both materials at every price level.



You can expect quartz to cost $80-180 per sq. ft. and granite to cost $75-200 per sq. ft.
Many homeowners hear the world marble and immediately think of dollar signs, but that's not necessarily a fair reaction. Admittedly, rare marble, like Calacatta, is a pricey investment. What customers don't know is that there is a sizeable collection of affordable marble slabs, usually those that are ubiquitous and quarried in nearby countries.
Contrary to popular belief, you can buy marble on a budget. You just have to know where to go. On average, a marble countertop costs between $80-$250 per sq. ft.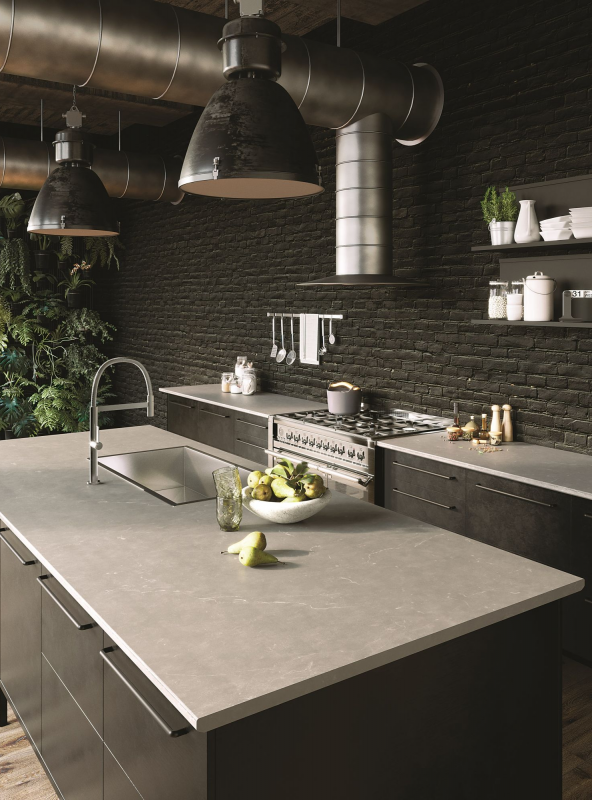 Laminate vs Stone Countertops: What's Right For You?
Choosing the right countertop is arduous task, but hopefully this article helped you understand what material is best for your kitchen.

If you're on a tight budget or want as many aesthetic options to choose from, laminate could be the one for you. If you want to a durable, natural countertop and don't mind spending up for it, then stone might be your best bet.
Need a third-party point of view? Why not book a free consultation in Deslaurier's Ottawa showroom to meet with our award-winning in-house design team and view the market's best countertops in person?
We bring 60+ years of experience to the table and partner with a vast network of premier countertop suppliers. The result? We consistently leave a long trail of customized, high-performance kitchens in our path.
Interested in becoming an authorized Deslaurier dealer? Visit our Become a Dealer page to learn more!