Estimated Read Time: 6 Minutes
Picking cabinetry is no small task. With so many door styles, colours, finishes, and materials to choose from, the process can be overwhelming.
The cabinet material you select can have a significant impact on the finish, hardware, appliances and countertop you choose for your kitchen.
Are you beginning a new build or looking into overhauling your current kitchen with a renovation? It's important to examine several different cabinet materials in order to ensure you end up with the kitchen of your dreams.
MDF is one of the most popular kitchen cabinet materials and one worth considering if you desire a stunning painted aesthetic within your kitchen.
Let's take an unbiased look at all that MDF kitchen cabinets have to offer.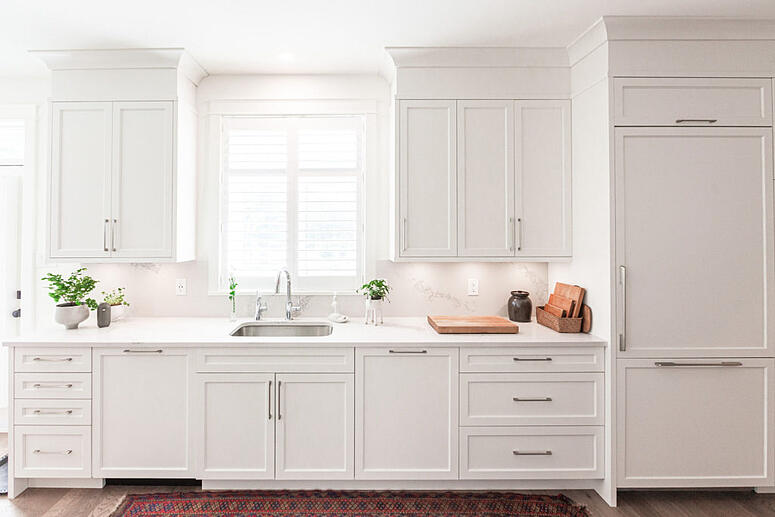 What Is MDF?
Medium density fiberboard (MDF) is a material manufactured by breaking down softwood and hardwood residuals into wood fibers. These wood fibers are compacted with wax and resin, formed into panels, and applied with high pressure and temperatures in order to create a durable, condensed board.
While MDF is the most popular option, there are also varying qualities of board, such as High Density Fiberboard (HDF) and Moisture Resistant MDF.
As you can tell by the name, HDF has increased density that provides it with stronger durability as well as increased water resistance than regular MDF
Moisture Resistant MDF is an alternative that is designed to withstand conditions of increased moisture and humidity. It is ideally used in kitchens or bathrooms.
MDF Cabinet Finishes
What makes MDF such a popular material for kitchen cabinets is that it is a good substrate to bond to. This makes it the preeminent material for a beautiful, long lasting painted finish, as well as other alternative finishes like thermofoil or oil-based polyurethanes.
Paint
MDF's smooth, uniform surface is perfect for a clean, painted finish. In fact, if you are interested in painted cabinetry, it is hard to find a better alternative than using MDF for your door fronts.
MDF does not expand or contract to temperature changes as drastically as natural wood does, meaning it is not as likely to cause visual cracks and joint separations once painted.
Below is a photo of a painted maple door showing hairline fractures: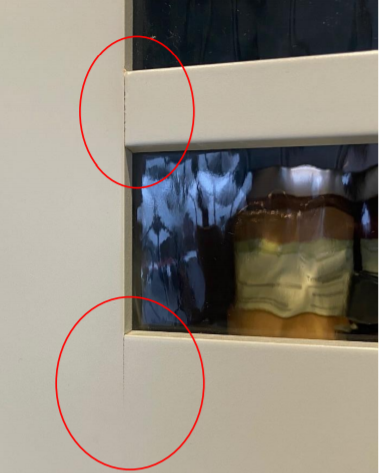 Since MDF is a manufactured product, it won't result in the same organic processes that natural woods do. This is why it is such a popular choice for painted cabinets.
If you are intent on painted kitchen cabinets, your jumping off point should start with MDF. For design inspiration, check out our Learning Centre page for the Top Kitchen Cabinet Colour Trends for 2022!
Thermofoil
Thermofoil (thermo) is a PVC vinyl material that is applied to MDF doors through heat and vacuum pressure, fusing the two together. The thermofoil process produces a seamless surface, typically in a solid colour, but sometimes also a faux wood grain pattern.
Thermofoil offers a wide variety of different colours in textured, matte, or high-gloss styles.
Popularly used for slab (flat) cabinet doors, matte and high-gloss thermofoil options provide a cheaper alternative to high-end painted finishes.
It's important to note that thermofoil will always have rounded edges due to the product's manufacturing process. There has to be a radius on the door in order for thermofoil to be properly bonded to the surface.
Here is a side-by-side comparison of a thermofoil door and a painted MDF door: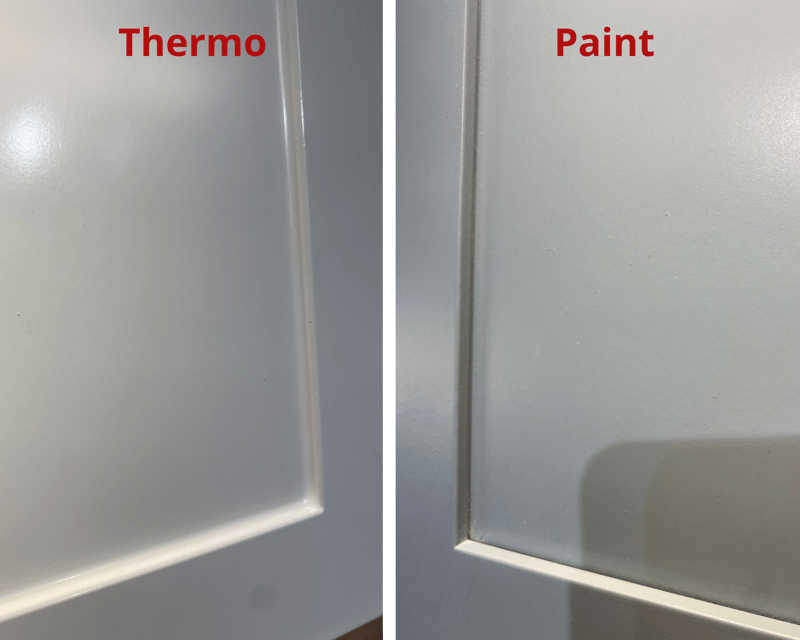 Note how the painted MDF cabinet has cleaner, sharper edges than the thermofoil. Depending on your aesthetic preferences, this could be an advantage or disadvantage for your kitchen design.
Want a deeper analysis? Take a look at our in-depth comparison of thermofoil vs painted cabinets.
Planning to renovate your kitchen? Our downloadable comprehensive guide will prepare you for every step of the kitchen renovation journey!
MDF Cabinet Options and Versatility
If you're looking for a custom kitchen design, MDF will not hold you back.
Painted MDF has a vast array of door styles to choose from in 5-piece doors, as well as a multitude of detailed profiles available in 1-piece doors.
Check out this article for a look at five of Deslaurier's most popular door styles.
MDF also provides some of the most extensive options of any material when it comes to mouldings and decorative trim. Painted MDF offers the ability to colour match your millwork on anything from crown moulding to custom range hoods. The customization offered is virtually endless.
A thermofoil finish, on the other hand, will be limited.
While thermo has a large selection of door styles to choose from, mouldings and decorative accessories are few and far between. Making it less ideal when it comes to a fully custom kitchen design process.
Considering a thermofoil finish? Check out our review of thermofoil cabinets.
MDF Cost
Specific pricing for MDF is convoluted because of the varying thickness, quality, and finish. Generally speaking, MDF will come anywhere from $20 to $80 per (commonly 4'x8' or 5'x12') sheet, varying by quality and manufacturer.
Typically, the thicker the fiberboard the more expensive MDF will be.
MDF can be significantly less expensive than HDF or moisture resistant MDF sheets. HDF and (MR)MDF come in at a higher price point due to the added treatment and durability involved in the products.
For decades, MDF was viewed as an inferior and cheaper alternative to natural wood cabinets. But the quality of MDF has improved to the point that it is comparable to natural wood materials like Birch or Maple.
The big cost of MDF comes from the painted finish that is most commonly applied.
Depending on the colour and quality of the selected paint, MDF cabinets can end up being 10-15% more expensive than a stained finish cabinet made from natural wood. This is why thermofoil is such a popular, cost-effective alternative for budget-conscious homeowners that want a similar look to paint.
You can save on finish costs and paint your MDF cabinets yourself
MDF Cabinet Durability
One downside to its smooth surface is that once the finish is applied to the cabinet, painted MDF can be vulnerable to dents and scratches.
That being said, no one intends to subject their kitchen doors to heavy abuse, so having MDF for cabinet doors instead of wood will not be a detriment.
The biggest concern for MDF is water damage. Water will always try to find its way into any surface, even at a molecular level, and once it is in it will spread.
It is vital to ensure you keep your MDF cabinets dry. If exposed to a pronounced amount of liquid or moisture, they could become soggy and begin to disintegrate.
At Deslaurier, our MDF comes with a 20 year warranty. But, if cabinets are properly maintained there is no reason they shouldn't last over 25 years. Ultimately, the only reason paint is going to fail is if someone damages it.
Maintenance
Proper maintenance is an important aspect of kitchen cabinets. After all, the kitchen is the most used room in the house; accidental damage or dirt and grime buildup are bound to happen.
It's important to know what that maintenance entails for your specific kitchen cabinets. Let's go over the repair and cleaning requirements that you may come across with MDF cabinets.
Repair
Although MDF is fairly durable, general wear and tear can cause scratching or dents to the surface that may need to be repaired. Since painted cabinets are susceptible to chips and scratches, you're bound to find yourself with a cabinet door that needs some slight repair.
While MDF can't be repaired in the same fashion as natural woods, there are some easy DIY repairs that can be made. Wood filler or resins can be applied to fill in any slight gouges or knicks that occur.
Light scratches can be fixed with a quick at-home touch-up. At Deslaurier, we know your cabinets will be put to good use which may result in some light damage. That's why we provide every client with a touch-up kit for their custom cabinets.
If multiple cabinet finishes have chipped or gone through some slight abuse over the years, as all painted cabinets do, repainting your cabinets is a do-able DIY project you can undertake yourself.
Check out Deslaurier's Learning Centre page for our article about how you can repaint or refinish your kitchen cabinets.
Cleaning
MDF doesn't require too much maintenance. All it needs is a quick wipe down for any dirt or slight stains and it will be fine.
When using any water or liquid, just ensure that you adequately dry the doors afterward. As you already know, water and moisture can spread like wildfire once it enters MDF, so drying your cabinets right away is crucial.
Check out our article on How to Clean Kitchen Cabinets for a detailed guide!
Are MDF Cabinets Right for You?
MDF really is ideal for any homeowner with any budget.
Options range from extremely high-end paint finishes to cost-effective stock thermofoil cabinets. You could even get unfinished doors and paint themselves to save on labour costs. The customer truly is anyone looking to purchase new kitchen cabinets.
It is important to emphasize that any damage to painted MDF could allow easy access for water to enter and spread throughout the fiberboard. With that in mind, if you have a family that tends to be harder on cabinetry (think young kids or active pets), then maybe save the painted MDF for your upper cabinets.
Discover Deslaurier
Deslaurier offers a wide selection of MDF cabinets in a vast array of colours and door styles. Our kitchen design experts will walk you through every step, in order to provide you with your dream kitchen.
Book a free consultation with one of our professional designers in Ottawa or Renfrew and discover the Deslaurier advantage today!

Interested in becoming an authorized Deslaurier dealer? Visit our Become a Dealer page to learn more! Live outside the area? Find a Dealer to connect with a Deslaurier dealer near you!