Stone countertops are one of the most attractive pieces of any kitchen design. You can go bold with elaborate veining patterns. You can match or contrast the colour of your cabinets. You can do a whole lot with a simple slab of stone.
But you already know that—you're just not sure which stone is best for you! This article is for the homeowner who can't decide between quartz and granite.
In this article, Design Consultant Myra Flipsen helps us compare the pros and cons of granite and quartz by evaluating each stone's stain, heat, and scratch resistance. We'll also assess each stone's seam visibility, suitability for outdoor use, and costs.

Granite Countertops
Granite is a well-known countertop contender. If you're not familiar with granite already, you've probably heard its name thrown around in conversations on popular home improvement TV shows.
Granite is a high-demand and high-quality product. What is it exactly? It's a rock! Granite is an all-natural stone that's made up of many different minerals like feldspar, mica, and—believe it or not—quartz.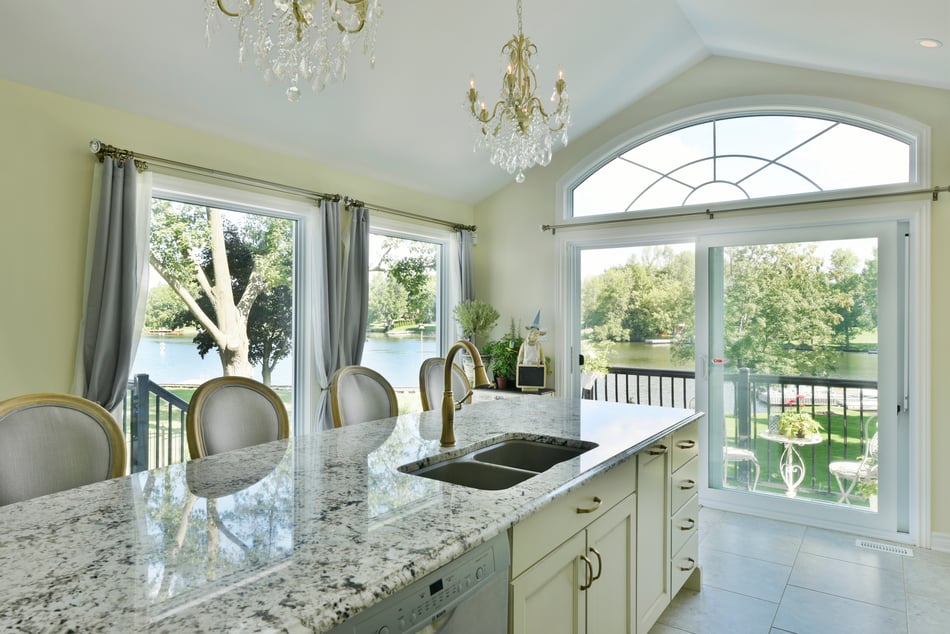 Granite is mined in quarries all over the world. It gets extracted, cut, polished, and then sold in slabs to be installed in your very own home.
No additional manmade materials are thrown into the mix during the manufacturing process. That's why granite is slightly more limited colour-wise than quartz. With granite, you can only buy whatever is found naturally underground. Every single slab is unique.
Let's look at a few of the key characteristics of granite.
Stain Resistance
Granite is a porous stone. What does that mean exactly? Well, as mentioned earlier, granite is a natural stone type made up of all different kinds of minerals. Those minerals are teeny, tiny grains compressed together into a solid mass.
The catch is, it's not an airtight fit. There are miniscule pores between those grains that will absorb liquid and oils if spilled.
That means if you spill a glass of wine or knock over a bottle of cooking oil, you need to wipe up the spillage as soon as possible.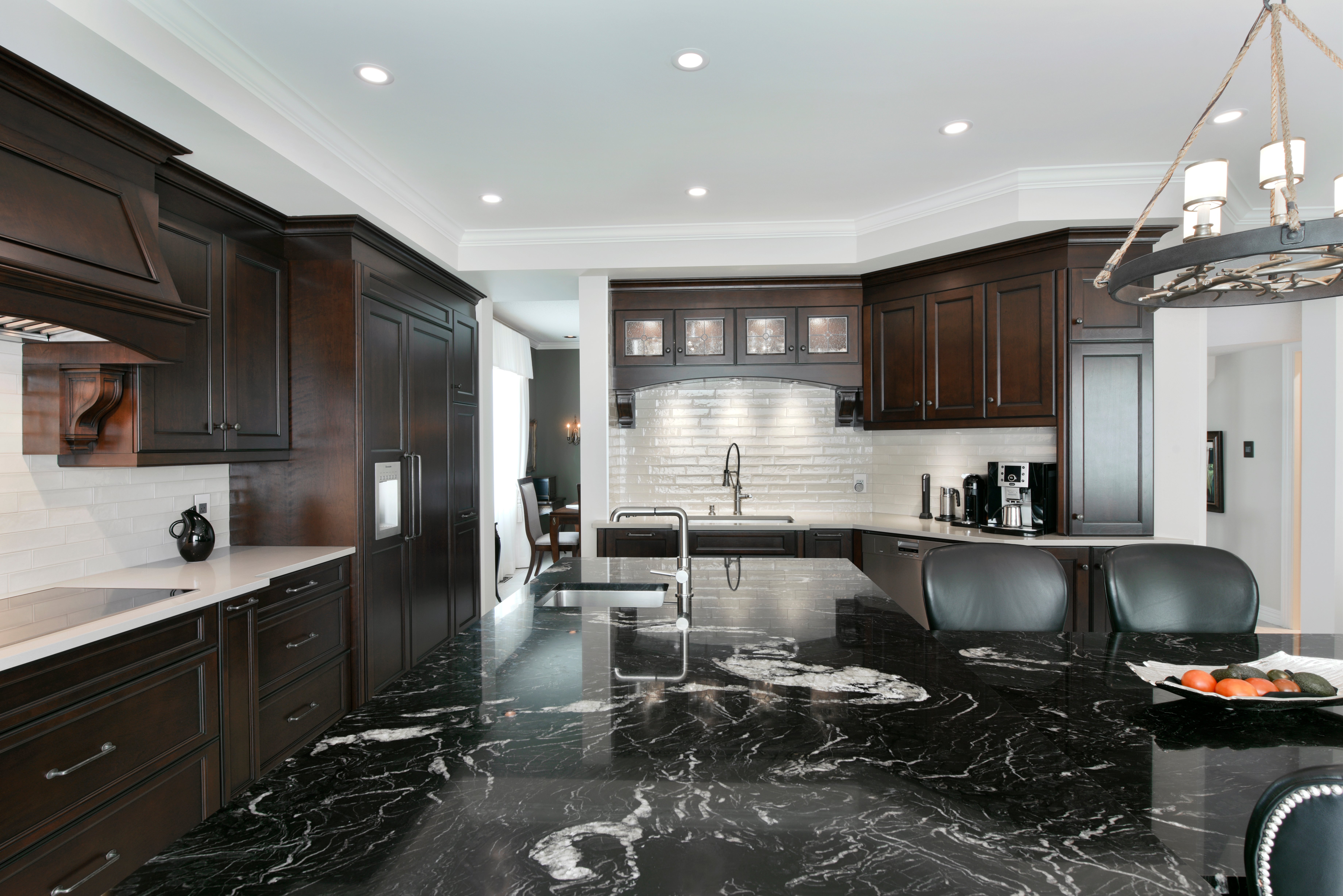 Not to worry, though. There are many over-the-counter sealants you can buy which, with a simple application, work to seal those tiny gaps in the stone surface. We recommend purchasing a high-quality sealant from a trustworthy source (ask your countertop supplier what they use or sell).
If you're considering a granite surface, do make a point to keep on top of your countertop maintenance. Many homeowners don't bother with sealing until it's too late. If you can commit to resealing your granite surface, you shouldn't have to worry too much about stains.
Heat Resistance
A huge attraction to granite is its innate capacity to take on the heat. Granite is extremely heat resistant, far more so than quartz. In fact, you can probably put your hot pots and pans directly from the cooktop onto the granite surface without making a mark.
Should you? No!
When asked if she recommends using protective heat pads on granite, Designer Myra Flipsen says:
Every. Single. Time.
No matter how heat resistant it may be, remember that granite is still not heatproof. You should always use heat pads to best care for your countertops.
That being said, if you're in a pinch with your hands full, you're much safer leaving a hot pot unattended on granite than any other countertop surface.
Scratch Resistance
Granite is a tough, raw material that fares very well against scratches. All the same user precautions apply here too, though: Deslaurier recommends using a cutting board to best care for your countertops.
The thing is, with granite, the reasoning may not be what you think. Granite is known to be so hard that it will dull your expensive knives before it scratches!
Outdoor Use
It's not usually a high-priority characteristic for kitchen renovators in Ottawa, but if you're thinking of building an outdoor kitchen set-up, you'll appreciate that granite stands up to outdoor elements, like sun exposure, quite well.
Again, using a reputable sealant is key, as a low-quality product may react negatively to harsh UV rays.
Seam Visibility
Like with any countertop, seams will be visible. Typically, countertop suppliers do their utmost to hide seams by matching slabs and installing them precisely.
That being said, a lot of the seam's visibility comes down to the pattern and colour of the granite. A seam might all but disappear in a black granite slab with a bold veining. On the other hand, a very busy granite pattern might be difficult to match up with a second slab (remember, every granite countertop is unique).
Granite Countertops
Advantages
Disadvantages

Superior heat resistance
Superior scratch resistance
Suitable for outdoors

Porous surface requires periodical re-sealing to stay stain resistant
Slabs may be difficult to match (revealing seams)

Quartz Countertops
Quartz is a mineral in the earth. It's a natural-occurring material, but quartz countertops are not all-natural—they're about 93% pure quartz. Technically, quartz is an engineered stone countertop, and that means that the remaining 7% of the stone is manmade.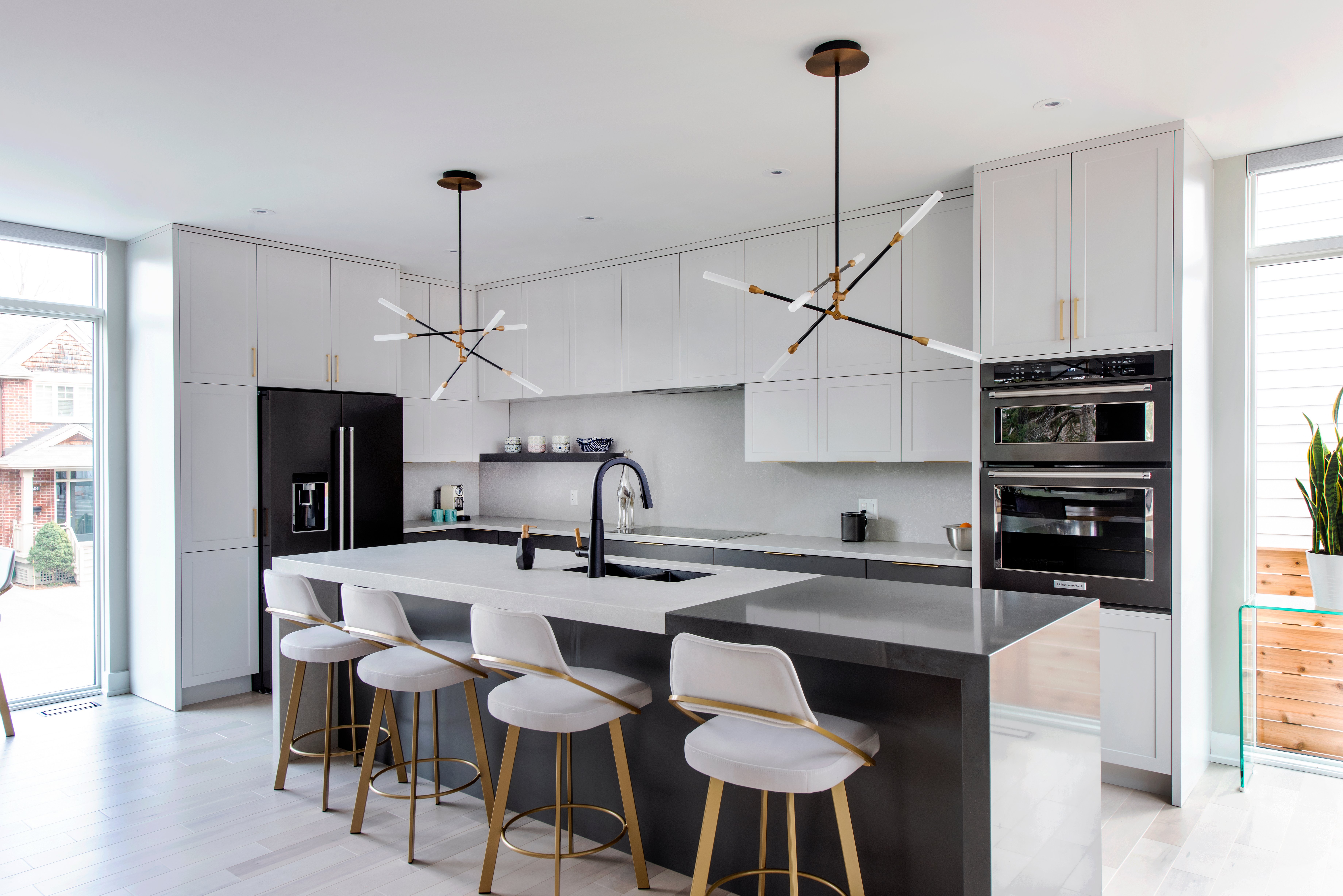 Basically, what fabricators do is grind up the quartz mineral and glue it back together with polymers and binders. These manmade components bind with the quartz to create an ultra-durable surface that doesn't need resealing.
During the manufacturing process, sometimes fabricators add tiny flecks of glass or metals to the quartz to create extra visual appeal. Plus, they also often combine pigments with the quartz to develop slabs of all colours, like green, red, and blue.
Using this method, fabricators are able to manipulate quartz to mimic the look of natural stones, like marble.
Stain Resistance
The main draw to quartz countertops is their superior stain resistance. Being manmade, the surface is non-porous. In other words, thanks to that 7% resin portion of the countertop, you don't have to worry about a red wine spill getting soaked up by the surface.
Another benefit to being non-porous is that it's harder for germs and bacteria to penetrate the countertop. Quartz is anti-microbial, making it that much easier to keep your kitchen sanitary.
Heat Resistance
On the other hand, the main drawback to quartz is its vulnerability to heat. That 7% resin component doesn't do well against sudden changes in temperature—a hot pot can melt the resin and cause cracking or discoloration. In some cases, thermal shock can literally split the quartz.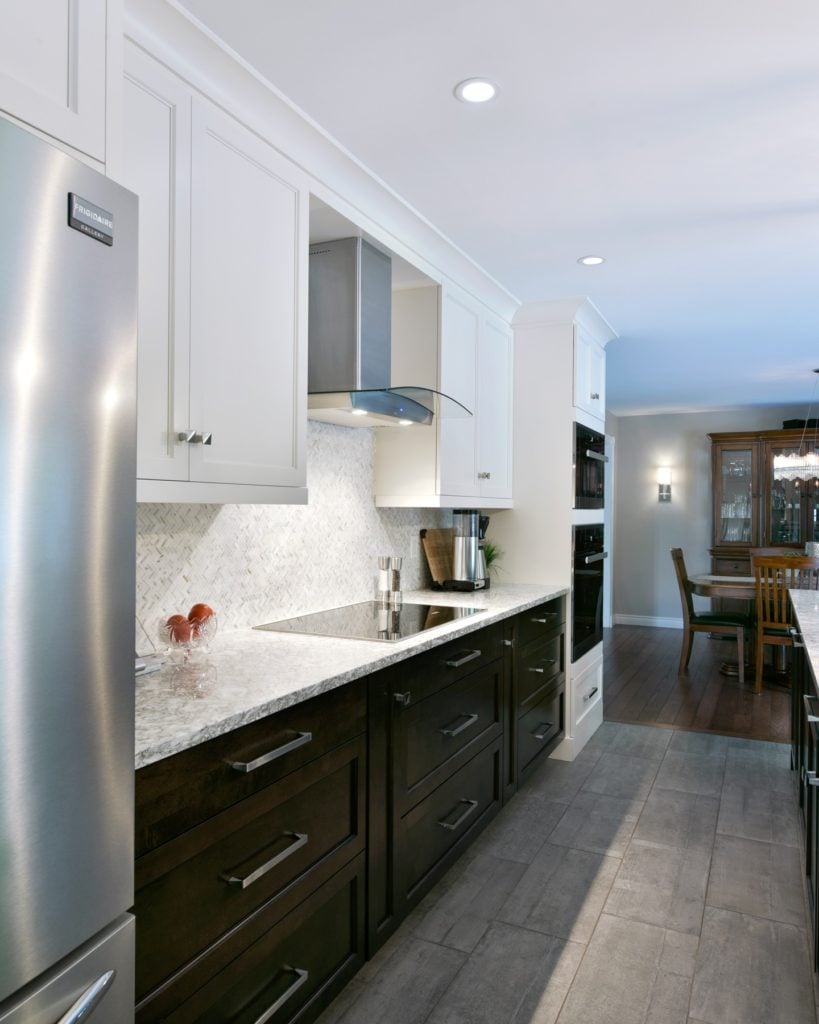 With granite, you can often get away with a fleeting moment of forgetfulness, but the same isn't true for quartz.
It's essential to use heat pads on quartz countertops to prevent thermal shock.
Scratch Resistance
Heat isn't the only enemy of the 7% resin formula. Knives and other sharp objects can also make scratches on quartz countertops. The manmade component just doesn't withstand impact as well as natural granite.
With quartz, you'll definitely want to use cutting boards to prevent cutting that pretty surface.
Outdoor Use
Extreme UV exposure will slowly break down the polymers inside engineered quartz countertops. Typically, the first sign of this slow breakdown is discoloration.
Indoors, quartz's vulnerability to sunlight doesn't usually pose an issue. Assuming you have a quality piece of quartz on your hands, you probably won't encounter UV ray-caused discoloration inside the home.
Not convinced? In over 20 years as a designer, Myra hasn't once seen a high-quality quartz countertop discolor from sunlight indoors.
However, quartz for outdoor kitchens is a definite no-go.
Seam Visibility
Like with granite, you'll be able to see and feel seams to varying degrees. The seam's visibility all depends on the patterning of the slab and the skill of the installer.
Quartz has a slight edge over granite in the seams department by the fact that it's an engineered product. It's easier to match one slab to another that way.
From a visibility standpoint, quartz products have more consistent patterning. Manufacturers have a fixed recipe, so the slabs tend to look more alike than with a natural granite. As for the physical quality of seams in granite vs. quartz—they're equal. —Design Consultant Myra Flipsen
Quartz Countertops
Advantages
Disadvantages

Superior stain resistance (does not require re-sealing)
Naturally anti-bacterial
The consistent manufacturing process can help hide seams

Not very heat resistant
Not very scratch resistant
Not suitable for outdoors

Cost of Quartz vs. Granite
The price of granite and quartz is all over the map. Quartz can be expensive or economical just as granite can be expensive or economical.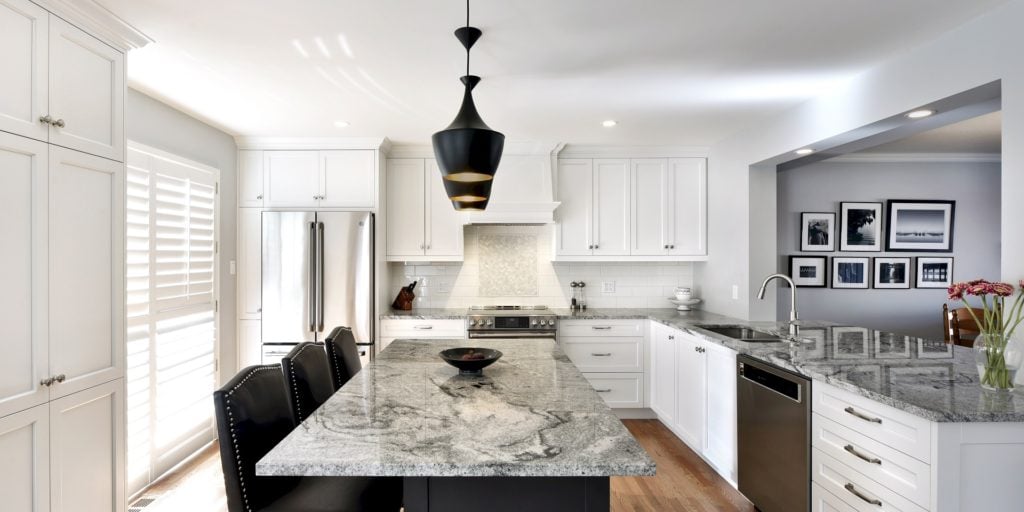 Costs of granite and quartz countertops are hard to compare for a few notable reasons:
The price of granite is sometimes based on the rarity of the particular stone or patterning.
The price of quartz and granite is sometimes based on quarry location and shipping costs.
The price of quartz and granite is sometimes based on supply and demand.
Any or all of these factors can influence the sticker price of your dream countertop. Very generally speaking, a base quartz countertop will cost more than a base granite countertop, by about $5-10 a sq. ft.. Still though, you can find both materials at every price level.
You can expect quartz to cost $80-180 per sq. ft. and granite to cost $75-200 per sq. ft.
Quartz vs. Granite
Which is Better?
When you look at them side-by-side, granite beats quartz on heat and scratch resistance and quartz beats granite on stain resistance.
Usually, heat, scratch, and stain resistance are the main criteria for the average homeowner. It's up to you to decide what you value most.
In summary, it's different strokes for different folks! There is no clear "best countertop". If you can't stand the thought of having to reseal your countertops, granite won't work for you. If you're always forgetting to use heat pads and cutting boards, quartz probably isn't the wisest choice.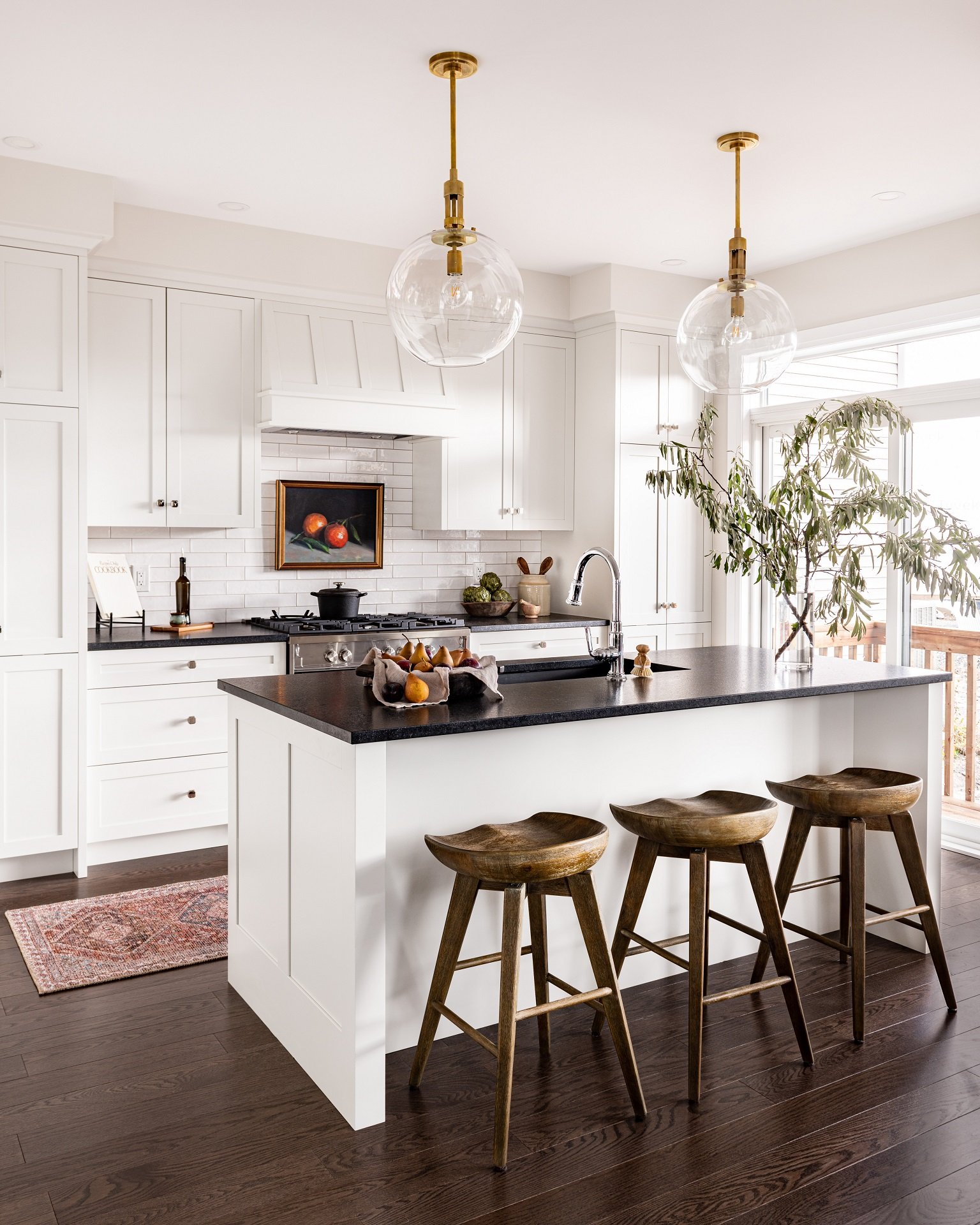 Discover Deslaurier
Need a third-party point of view? Reach out to our award-winning kitchen design team in Ottawa to schedule a no-obligation consultation.
We partner with world-renowned countertop suppliers to provide homeowners like you with first-rate kitchens of distinction.
Interested in becoming a dealer? Connect with us today!
Related Links: