13/07/2021 • Blog
Polished vs. Honed vs. Leathered Countertops
Countertop shopping is a fun part of the kitchen renovation process, but there's a lot to take in! Aside from material and colour, you also have to decide on a countertop finish.
We often get asked, "What's the difference between polished, honed, and leathered countertop finishes?".
At Deslaurier Custom Cabinets, we seek to answer all our customers' kitchen reno-related questions. That's why for this article, we've partnered with Urban Quarry, one of our premier countertop suppliers in Ottawa, to compare the fabrication processes, maintenance needs, and costs of different countertop finishes.
Join us as we look below the surface of polished, honed, and leathered kitchen surfaces!
A Note on Countertop Materials
In this article, we'll discuss countertop finishes on both natural and man-made solid surface countertops. It's important to note that natural stone countertops, like granite, marble, and quartzite, have different characteristics than engineered countertops, like quartz.
Leathered finishes, while widespread amongst natural stone countertops, are not quite as common in the quartz world. Not every quartz brand has released a leathered finish yet, as textured surfaces are still a relatively new industry trend.
You can learn more about the differences between various natural and man-made countertop materials in our article, "The Best Countertops for Your Kitchen".
Polished Countertops
Polished countertops are by and large the most popular countertop finish in the kitchen renovation industry. You're probably familiar with the glossy, mirror-like shine of a polished kitchen countertop.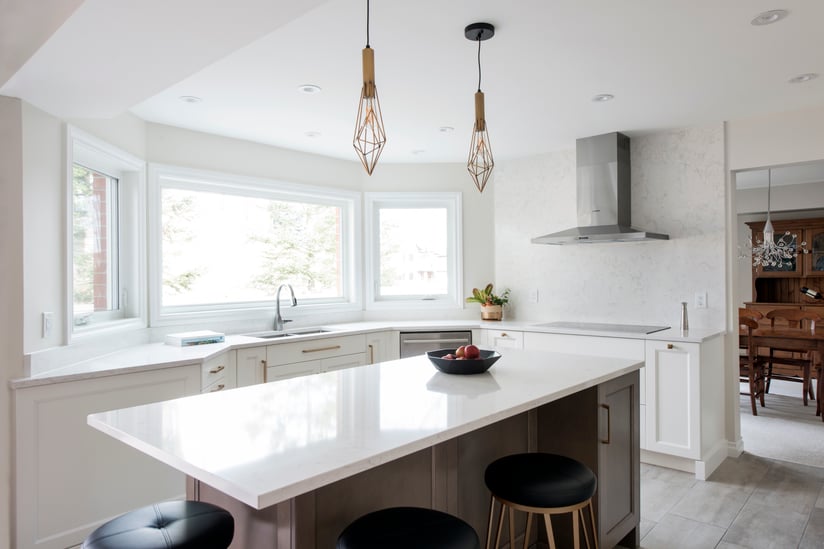 Fabricators achieve the polished finish by using diamond abrasives to bring the stone to a high sheen. Buffing the slab with very fine polishing pads brings out the stone's colour and shine. It also creates a smooth surface for all your kitchen work.
Think about it like a diamond in the rough. When first extracted from the ground, a diamond doesn't look much different from any other dull, grey rock. It's not until it's cut and polished that you find a dazzling, glinting diamond inside. Similarly, maybe you've had a wedding band that you haven't cleaned for years and years. The jeweler works their polishing magic, and bam—returns to you what looks like a brand new, shiny ring.
The same principle applies to polishing stone countertops. The level of abrasion makes the surface radiant and reflective.
Honed Countertops
Honed countertops are smooth like polished countertops, but the difference is that the finishing process is cut short before the surface gets too shiny. As a result, honed countertops have a matte or very low sheen appearance.
Here's a sample of Silestone's "Pearl Jasmine" in their "Suede" (honed) finish (left) and a polished finish (right). You can see the honed finish diffuses light while the polished surface reflects it: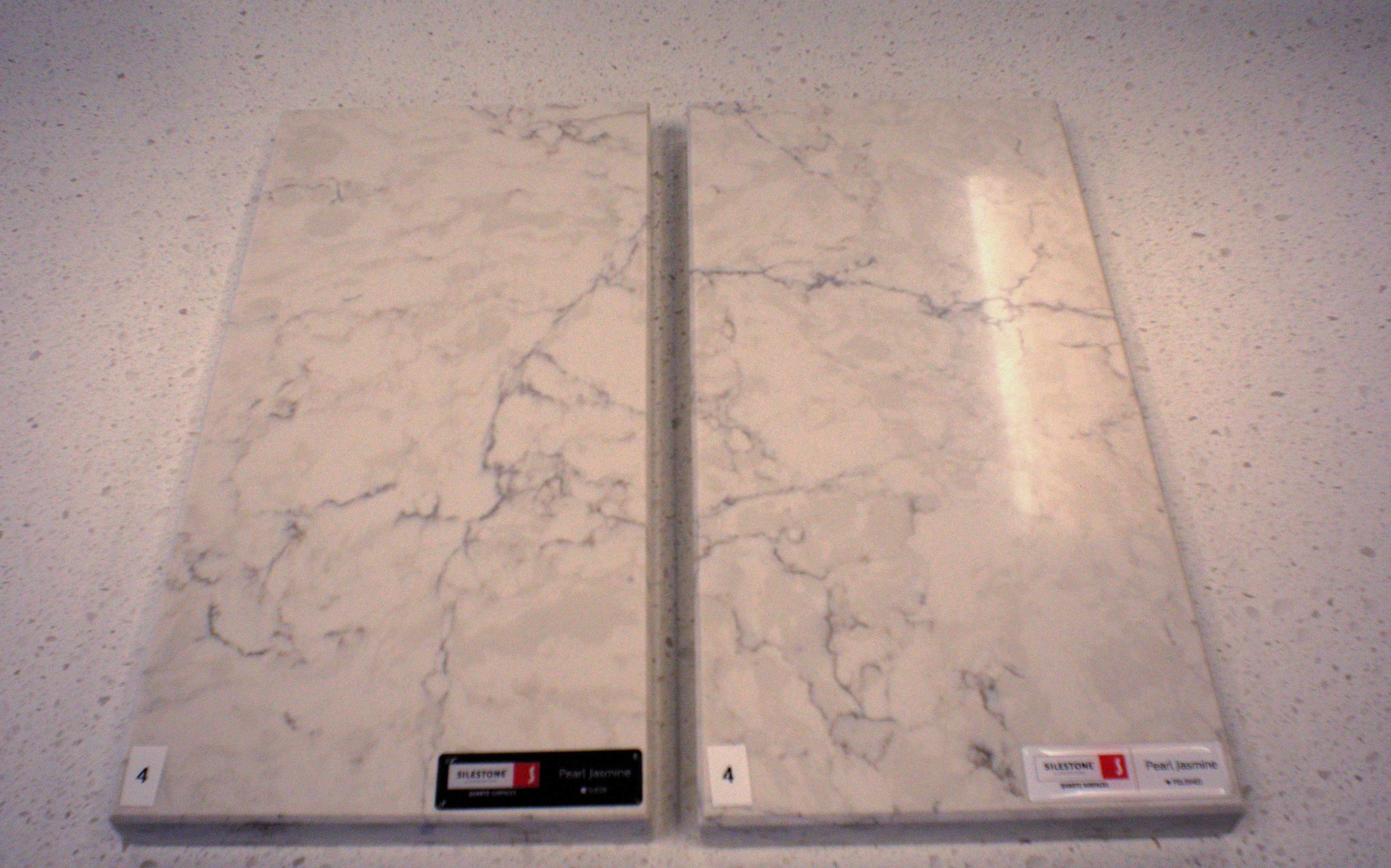 You might think that because there's less buffing needed, a honed countertop is faster to fabricate. In reality, honing a slab is an additional step that requires extra time and labour.
Finishing usually happens directly at the quarry, and since polished surfaces are generally considered standard, that's the finish that gets applied initially.
Oftentimes, local suppliers that import natural stone bring them in polished and then have to send them out again to get them honed. That's where you see a price increase—the polished slab needs to be unpolished before it gets delivered to you. —Serge Bellavance, VP of Sales & Marketing at Urban Quarry
Below is a Cambria quartz, named "Ella" with a matte finish: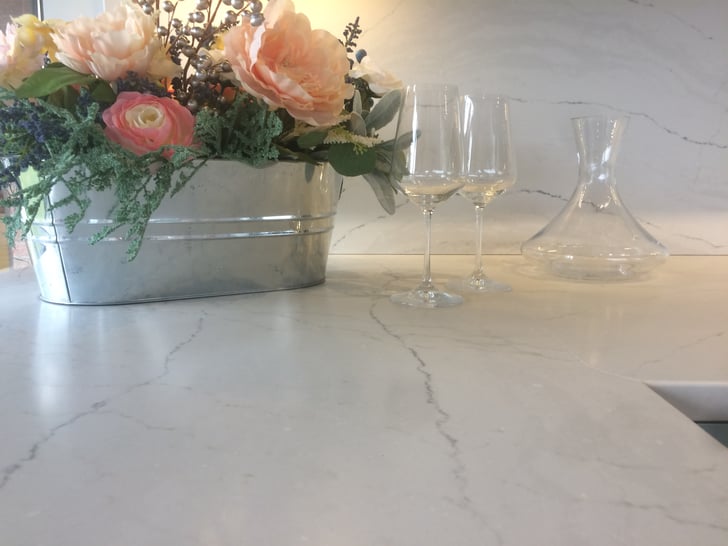 Leathered Countertops
Leathered countertops have a matte look the same way that honed countertops do. The distinguishing element of a leathered finish is that the stone is textured.
To create leathered countertops, fabricators start with a honed finish and then perform an additional brushing step to create texture. They use a diamond-tipped brush to develop subtle contours on the surface of the stone.
On natural stone countertops, the leathering process achieves a unique texture every time because every natural stone has a unique composition.
For example, in a typical granite, you'll find a variety of different minerals like feldspar, mica, and quartz. Some of those minerals are softer than others on the Mohs scale. Thus, when the diamond-bit brushes run over the top of the stone during the leathering process, unique peaks and valleys form throughout the whole surface.
If you look closely, you can see the rough surface of this leathered granite: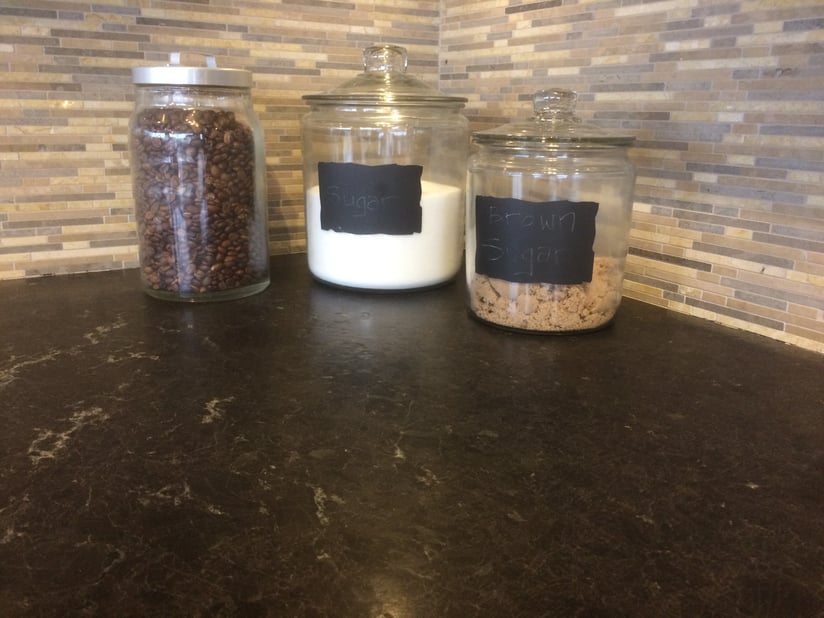 A Summary of Countertop Finishes
Polished Countertops
Shiny, smooth
Honed Countertops
Matte, smooth
Leathered Countertops
Matte, textured
Polished vs. Honed vs. Leathered Countertops
How Does Maintenance Compare?
Generally speaking, polished countertops provide the most protection from the everyday wear and tear that your kitchen sees.
For natural stone countertops, you'd typically need to seal a polished surface once approximately every 5 years (depending on the stone's colour). For honed finishes, on the other hand, you'd likely need to seal more frequently than that, either annually or every other year to maintain the surface.
Why?
The process of honing opens up micro-pores in the natural stone. The more porous the surface, the more likely it is that oils from hands or food get trapped. —Serge Bellavance, VP of Sales & Marketing at Urban Quarry
In short, the finishing process for honed surfaces leaves the stone more porous and vulnerable to stains.
It's important to note that engineered quartz countertops, whether polished, honed, or leathered, do not require regular sealing. Re-sealing is only necessary for natural stone.
As for leathered surfaces, the texture can also make your countertop harder to clean.
Performance-wise, a polished stone countertop and a leathered stone countertop are equivalent. However, those tiny crevasses and small crannies within the textured slab will inevitably collect crumbs and spills.
If I have a client whose priority is really easy maintenance, then I usually won't suggest a leathered finish. They take more elbow grease to clean. —Gina Childers, Account Manager at Urban Quarry
Wondering about fingerprints and smudges? It's the colour of the countertop that counts the most there. Darker countertop colours hide smudges better than light colours, and that applies to all finishes.
Availability and Cost of Countertop Finishes
Interestingly, the question of availability and price are interconnected when it comes to the three countertop finishes.
The availability of your desired finish ultimately depends on the supplier you purchase from. That's because every brand has its own patented finishes and unique colour groupings.
On Urban Quarry's website, you can explore many different product lines from a whole host of market-leading countertop brands. Cambria's matte line and HanStone's riverwashed collection, two of Urban Quarry's offerings, are prime examples of how brands operate differently.
Here are two of HanStone's riverwashed colours, "Terra" (left) and "Storm" (right) side by side: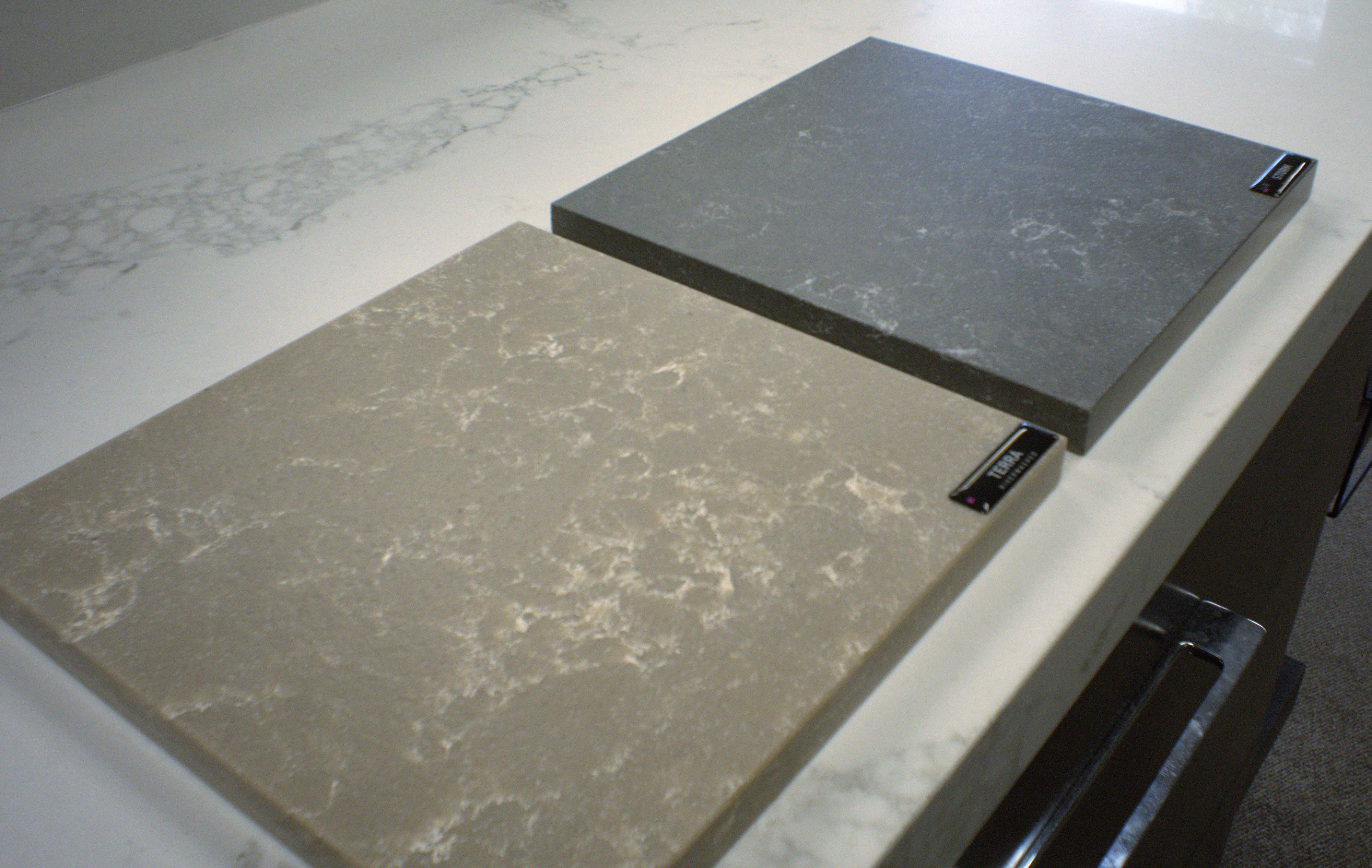 At HanStone, you can't choose to polish a countertop in their riverwashed collection because those colours only come with a leathered finish. That particular collection also has set pricing. That means that sometimes, the countertop finish doesn't affect the price of the product at all.
Other times, brands give buyers the option to choose from a selection of finishes. At Cambria, for instance, you can purchase any of their colours in a polished or honed finish. In a scenario like this, the product's price will increase based on your finish selection.
Honed and leathered finishes tend to cost more because of the extra steps involved in creating the aesthetic. You can expect to see a 10% price increase (on material only) to move from a polished to a honed or leathered finish.
Generally speaking, you should have no issue finding a polished, honed, or leathered finish in natural stones like granite and marble. On the other hand, as we mentioned earlier, leathered finish availability isn't quite as certain for quartz countertop brands.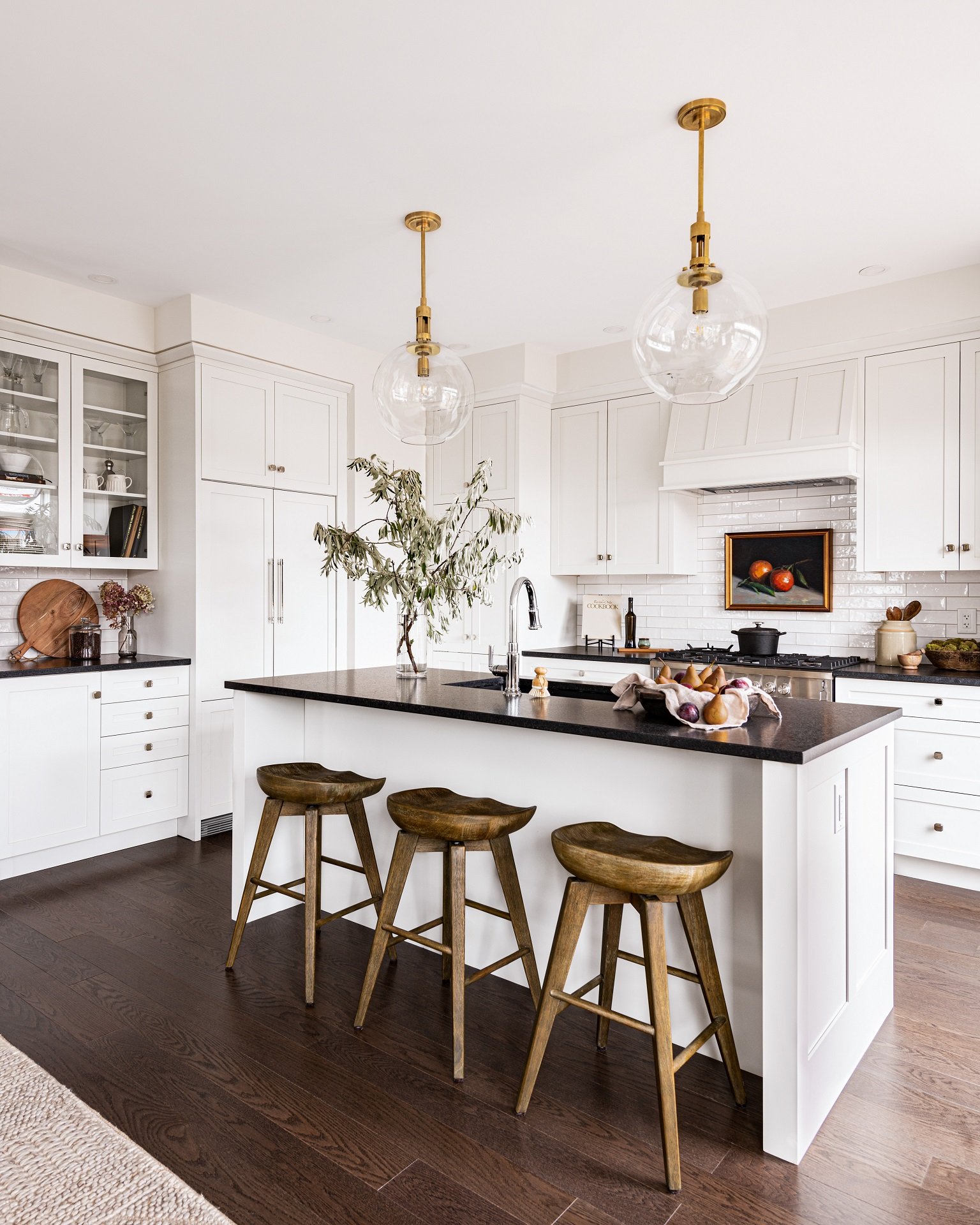 Which Countertop Finish is Right for Me?
Now that you're well informed on how finishes are made, maintained, and how much they may cost, you're probably wondering which countertop finish is right for you.
What kitchen style do you want to achieve?
Honed countertops are becoming increasingly popular amongst homeowners seeking to create a modern kitchen aesthetic. A clean, flat finish on a solid surface countertop tends to pair well with the flat-panel cabinet doors that are so prevalent in modern kitchen designs.
The pronounced texture of leathered finishes complement rustic kitchen styles well. Leathered surfaces are great candidates for traditional or farmhouse kitchen designs.
Ultimately, though, you can make any finish work in any room. That's the beauty of custom design—you're free to draw outside the lines and break the rules as you please! Some of the most stunning kitchens are born from homeowners not afraid to get creative. View our showcase to see some examples.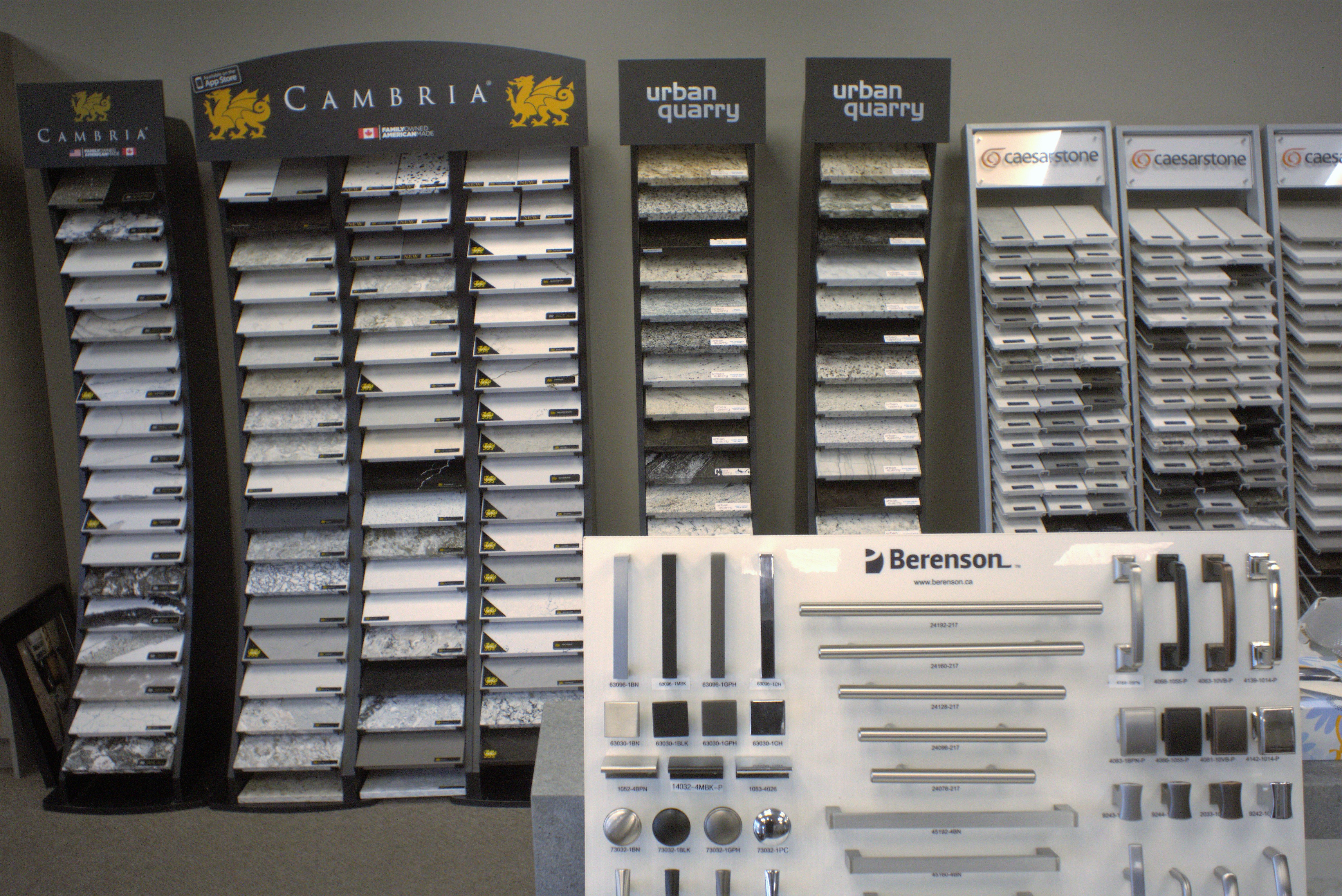 Design With Deslaurier
Found your preferred finish? Assemble your dream kitchen at Deslaurier Custom Cabinets. We're an established cabinet manufacturer in Ottawa that's been helping homeowners complete their dream kitchen renovation for over 40 years.
At our showroom in Ottawa and Renfrew, you can discover the extensive catalogue of Urban Quarry products.
Book a free design consultation with one of our award-winning kitchen designers by filling out the form below! Live outside the city? Find a Dealer to connect with an authorized Deslaurier dealer near you.
Related Links: