As the true heart of the home, a farmhouse kitchen is instantly soul-satisfying.
From the barnyard to the table, farmhouse kitchen design puts an elegant twist on classic country living, a style now sought after in the most civilized of cities.
Even the most sophisticated farmhouse kitchen brings you down to earth (and may even spark a craving for freshly baked apple pie).
Generally speaking, a farmhouse kitchen design is very approachable and unpretentious. Infused with personality, farmhouse kitchens feature warm elements such as wood, brick, and metal. Old-school prints, distressed furnishings, and vintage finishing touches contribute to a lived-in aesthetic.
Moreover, farmhouse kitchens tend to host open shelving concepts and large cooking spaces, catering well to family living. Floating shelves are a great way to display quirky items and personal belongings which in turn contribute to the inviting, intimate atmosphere of farmhouse design.
Ultimately, the comforting warmth of a farmhouse kitchen design is only comparable to the cherished memories that will be made within it.
If you aren't sold already, let's now dive into the specific design elements and details that make up the ideal farmhouse kitchen.


What is Farmhouse Kitchen Design?
The homegrown essence of a farmhouse kitchen design may be easy to grasp, but what exactly qualifies as a farmhouse kitchen?
To sum it up briefly, a farmhouse kitchen design draws on country living, natural elements, and rustic accents. It's a warm style that takes comfortable classics and elevates them in a new way.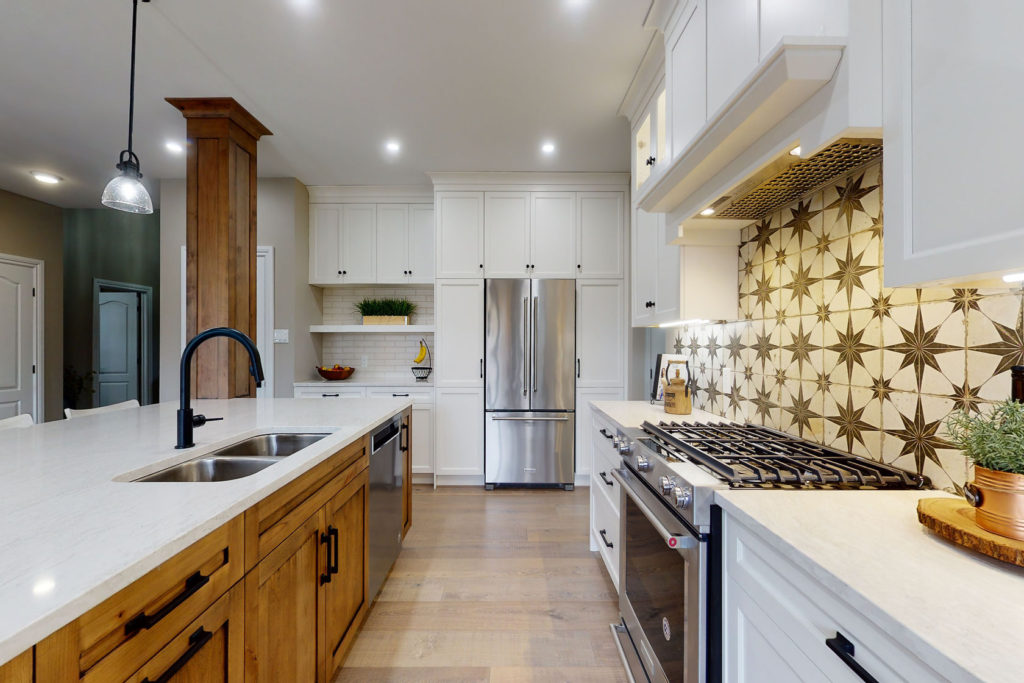 Both vintage and current kitchen components feel equally at home here.
The trick to achieving the farmhouse kitchen design is tying elements from the past and future; country and city, together seamlessly.
Further, a farmhouse kitchen design consists of equal parts form and function. While the form is homey and inviting, the function of a farmhouse kitchen should be low maintenance and sturdy. With this, a farmhouse kitchen design embodies an enduring style that begs to be lived in.
The Farmhouse Basics
An apron-front sink, floating shelves, exposed wood beams, and butcher block countertops are instant indicators of farmhouse kitchen design.
Farmhouse kitchens also typically incorporate a mix of time-tested materials such as distressed woods, wrought iron, wicker, metal, and soft fabrics.
Quality hardwood such as cherry, maple, and oak are common choices found in farmhouse kitchen designs. Any wood species with a knotty, natural, and barn-like appearance will ultimately reflect the down-to-earth appeal of a farmhouse kitchen.
At Deslaurier, we offer tons of stains that highlight the natural finish of different wood species, which is perfect for farmhouse enthusiasts. We even have a distressed cabinet style to ramp up the farmhouse factor even more.
Check out the built-in coffee nook on the right side of this kitchen design, where reclaimed wood introduces texture and warmth simultaneously: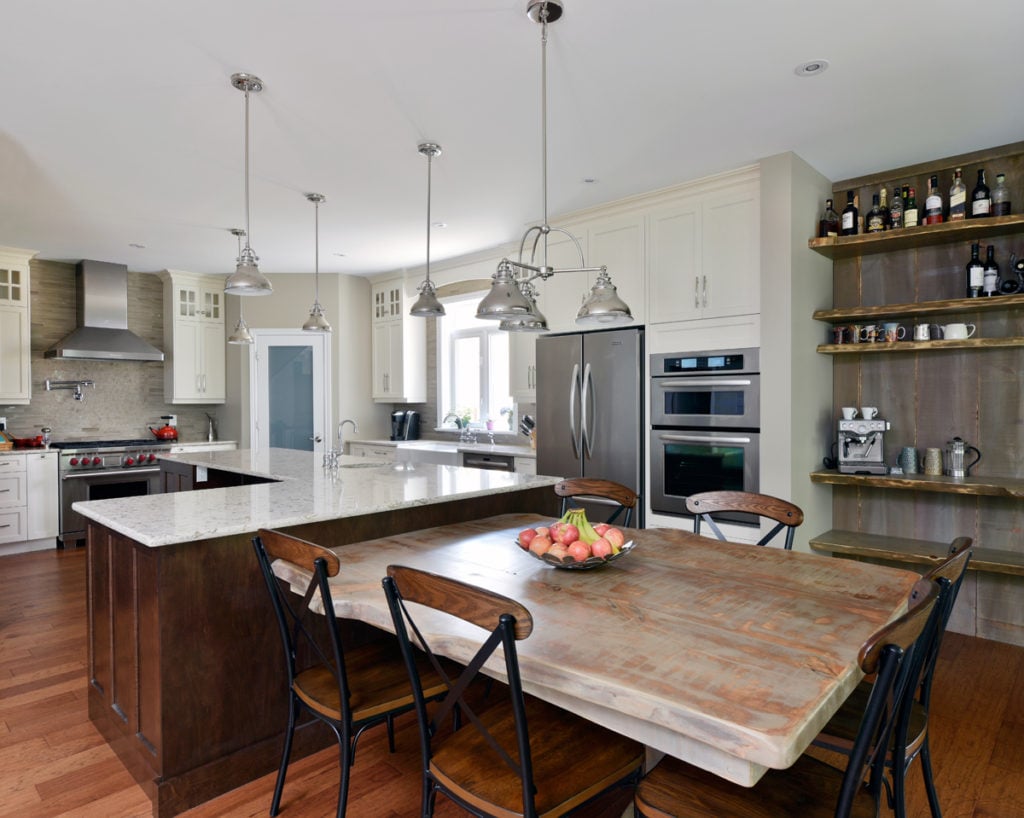 Breakdown of Farmhouse Kitchen Design Elements
Architecture & Layout
Generally speaking, a large space and open layout is what establishes the inviting and family-friendly vibe of a farmhouse kitchen.
Additionally, farmhouse kitchens tend to incorporate ample windows, large rugged beams, and consistent use of shiplap in their architecture. Shiplap is a term to describe wide wood paneling, commonly found in farmhouse interiors.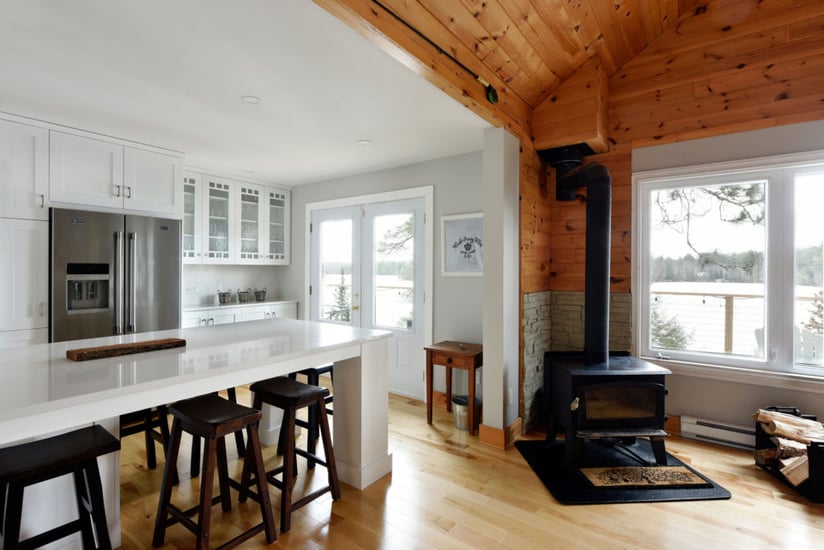 Colour Palette
A farmhouse kitchen displays a blend of comfortable neutrals and muted earth tones.
Neutrals such as white, beige, grey, and white, amplify the light while the earth tones, such as slate and sage, provide subtle contrast. White paint on MDF cabinet doors is particularly popular, as bright white provides nice contrast to natural materials.
While neutrals and earth tones make up the base of a farmhouse colour palette, it's also common to use textiles and plants as accent colours. If used sparingly, colours like green, navy, cornflower blue, and lavender contribute to an overall soft look.
Read our article on the 5 Best-Selling Kitchen Cabinet Paints & Stains at Deslaurier to learn more about our most popular products.
Materials & Textiles
As previously mentioned, an ideal farmhouse kitchen is the perfect balance of form and function. Much of this is achieved with the strategic and creative use of materials and textiles.
Farmhouse kitchen design often pairs light and rugged materials with sturdy materials featuring aged finishes.
Some light materials, such as birch, oak, and wicker, compliment the neutral palette of a farmhouse design. In addition, natural jute, burlap, or lightly coloured synthetic are a common choice of material for farmhouse kitchen rugs.
In contrast, wrought iron and deeper woods, such as walnut and cherry, add variety and depth to the kitchen.
Finally, breezy fabrics like linen and cotton lend softness to window drapery and seating upholstery.
Cabinetry & Shelving
The cabinetry and shelving in a farmhouse kitchen are imperative in achieving the iconic farmhouse kitchen look.
Open shelving or glass-front cabinets that showcase antique dishware, heirloom pieces, and other accents often identify farmhouse kitchen design.
Wall-mounted shelving and glass door cabinets are not only great for showcasing dishware and accessories, but they lend to the functionality of the kitchen making dishware easy to locate and grab.
Glass doors with architectural mullions like these can add homegrown personality to any kitchen design: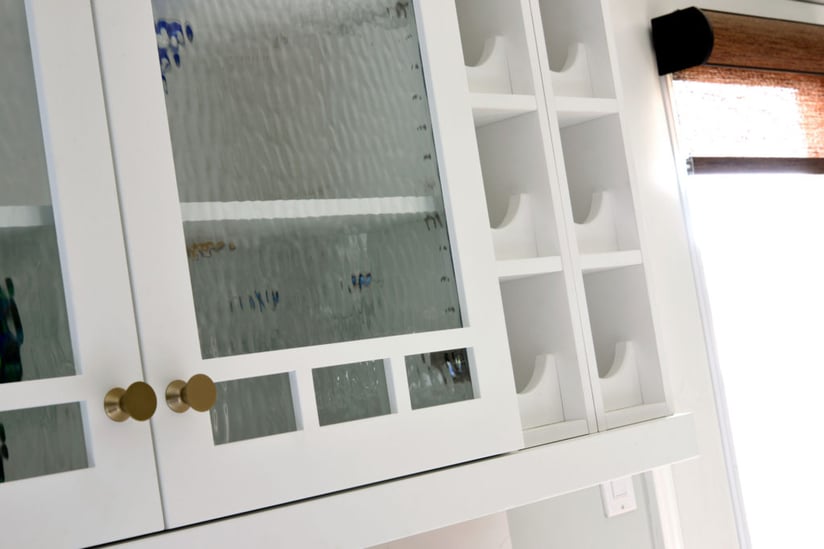 Free-standing or built-in cabinetry is also found in farmhouse kitchen design. An old-fashioned armoire or pantry can be a great accent piece while also adding extra storage space.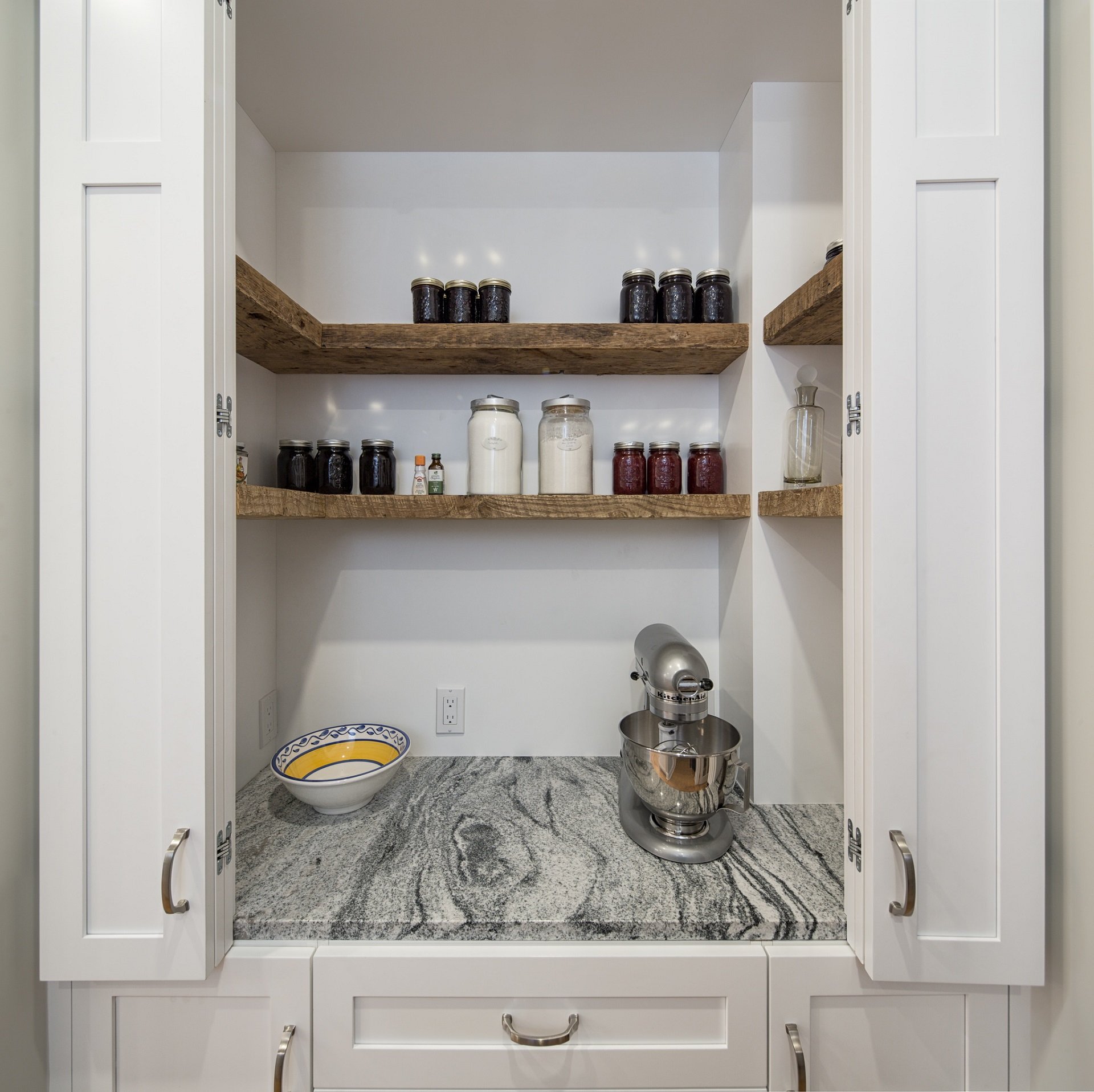 Countertops
Butcher block countertops are a perfect Farmhouse kitchen addition. The exposed wood grain surfaces just radiate farmhouse kitchen aesthetic.
Not only is butcher block stylish, it's also one of the most affordable countertop materials out there. Visit The Best Countertops for Your Kitchen to learn more.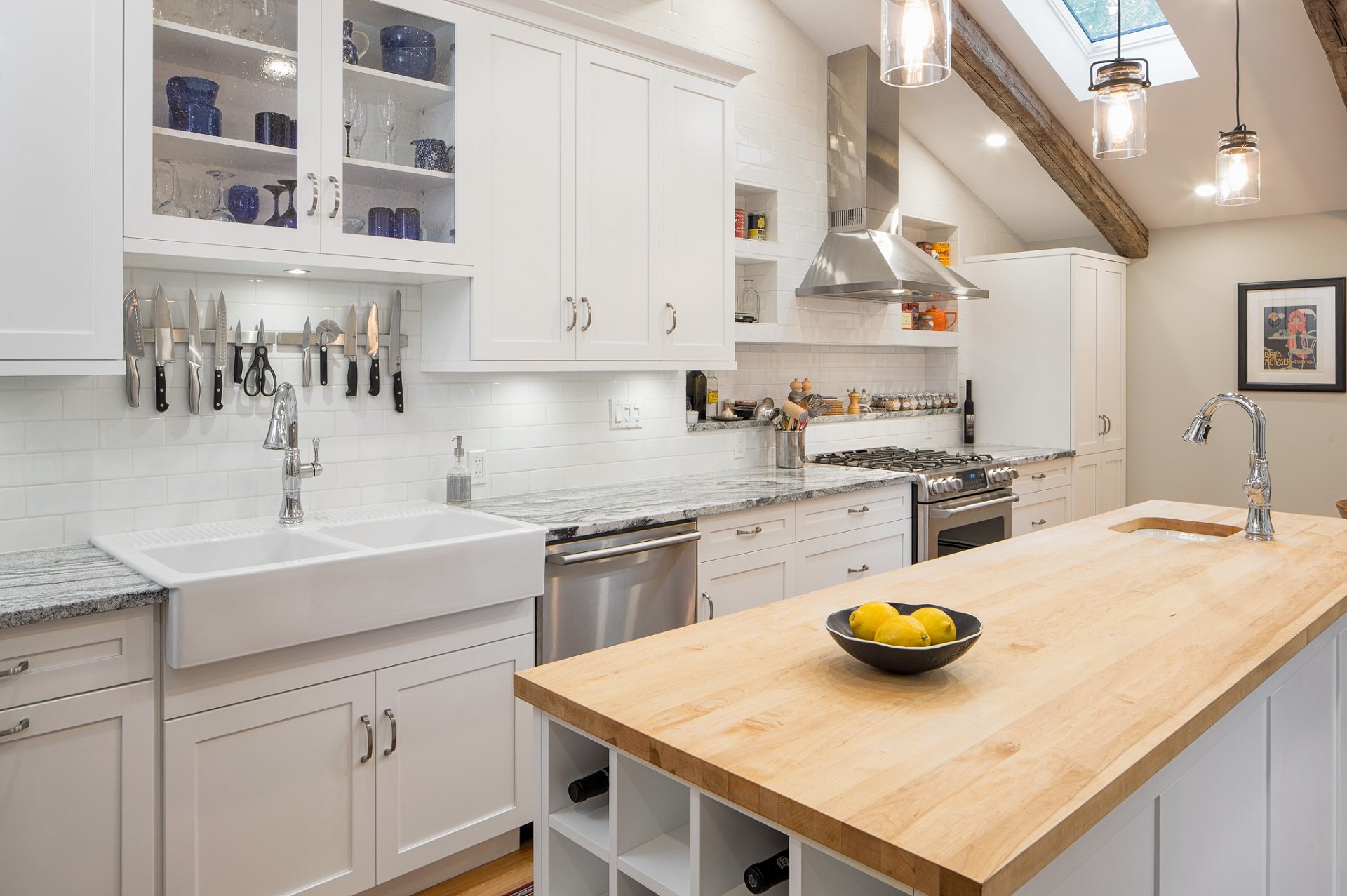 While whites and light wood countertops are typical of a farmhouse kitchen as seen in the photo above, dark or walnut-tone countertops are also an option and incorporate an element of contrast.
Appliances
No kitchen is complete without appliances, including a farmhouse kitchen.
First and foremost, a deep, apron-front sink is a popular choice for a farmhouse kitchen design. In fact, an apron sink may be considered the most iconic element of a farmhouse kitchen.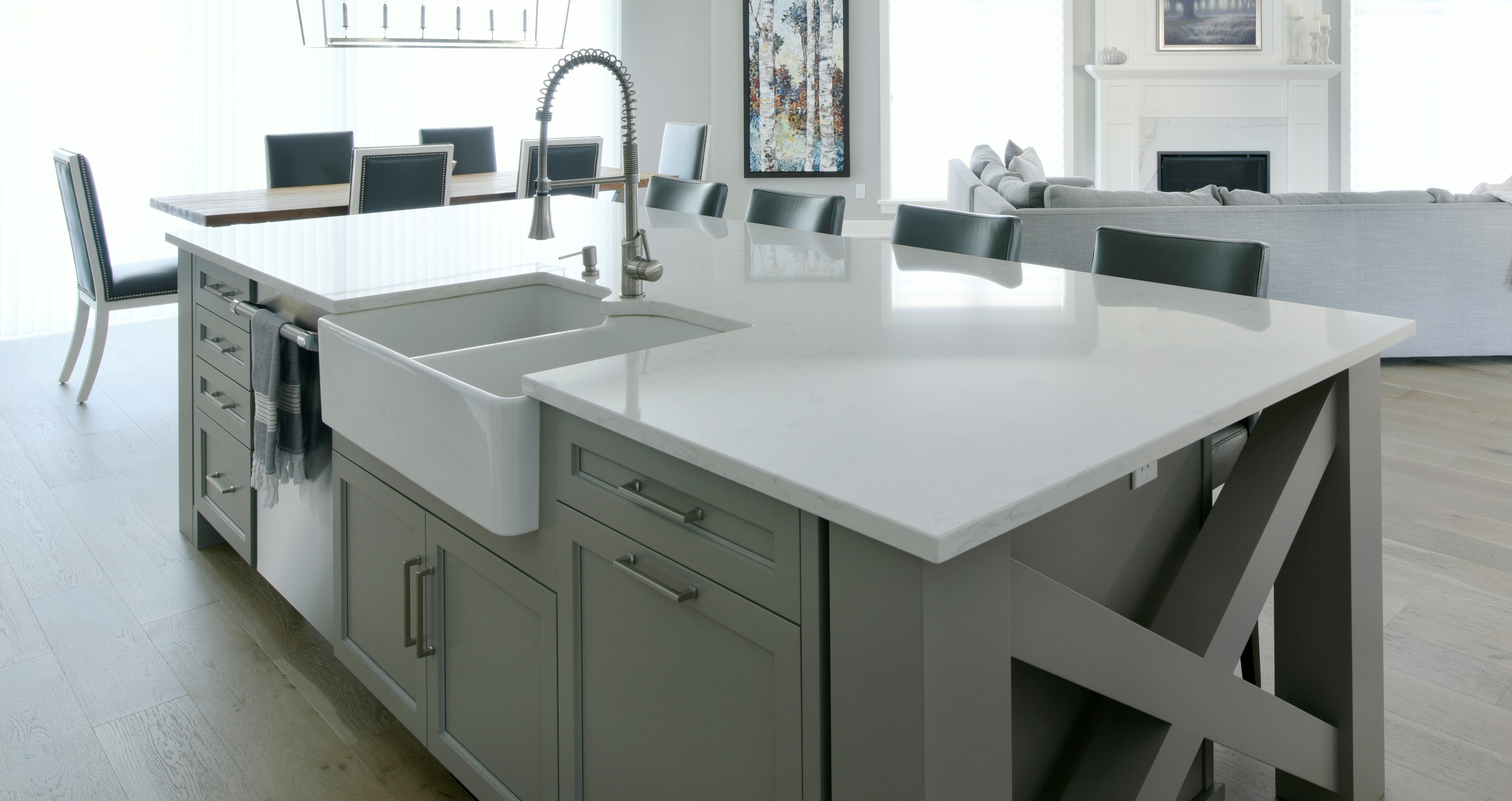 Not to mention, the big, bold X-shape island panel in this kitchen also screams farmhouse!
Amongst these more vintage pieces, the overall design can be elevated with the placement of modern stainless steel appliances. You may also consider incorporating burnished silver or metal touches on handle and drawer pulls to tie the old and new together.
Check out How to Choose Appliances for a Kitchen Renovation for more great tips!
Lighting
Although many farmhouse kitchen designs feature an open layout and large windows, you can't always rely on natural light.
Lighting, considered one of the 5 most worthwhile builder kitchen upgrades, is another way to achieve the farmhouse kitchen look. Much like the laid-back nature of a farmhouse kitchen, easy-going lighting appliances follow suit.
Overhead task lighting is typical in a farmhouse kitchen design. Hanging pendant lighting is another way to achieve quirky—yet warm—lighting in a farmhouse kitchen.
We love this farmhouse-esque chandelier that combines metal, rope, and subtle plant overgrowth: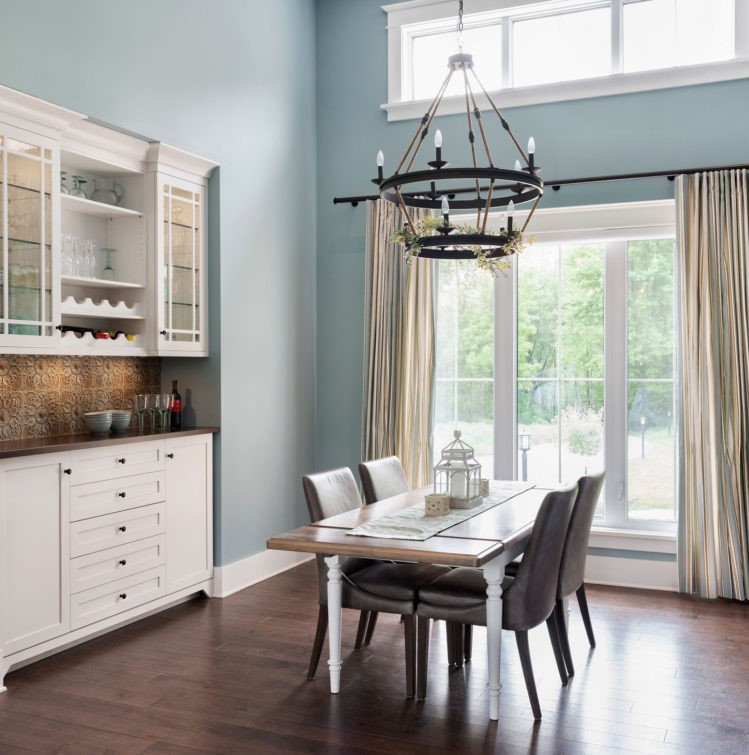 Flooring, Tile, & Backsplash


When it comes to flooring, most farmhouse kitchens feature classic wood flooring, mirroring the wooden elements found throughout the kitchen. Another approach would be old-fashioned black and white tile, although this is less common.
You can read more about kitchen flooring in our article, Top 5 Kitchen Floors for New-Builds and Remodels.
Furthermore, most farmhouse kitchen designs make use of a subway tile backsplash in a colour or shade that coordinates with the rest of the kitchen.
This kitchen design is transitional styled as a whole, but incorporates a lot of the classic farmhouse elements we know and love, like the apron-front sink, a lovely tiled backsplash, vintage lighting elements, and an integrated range hood: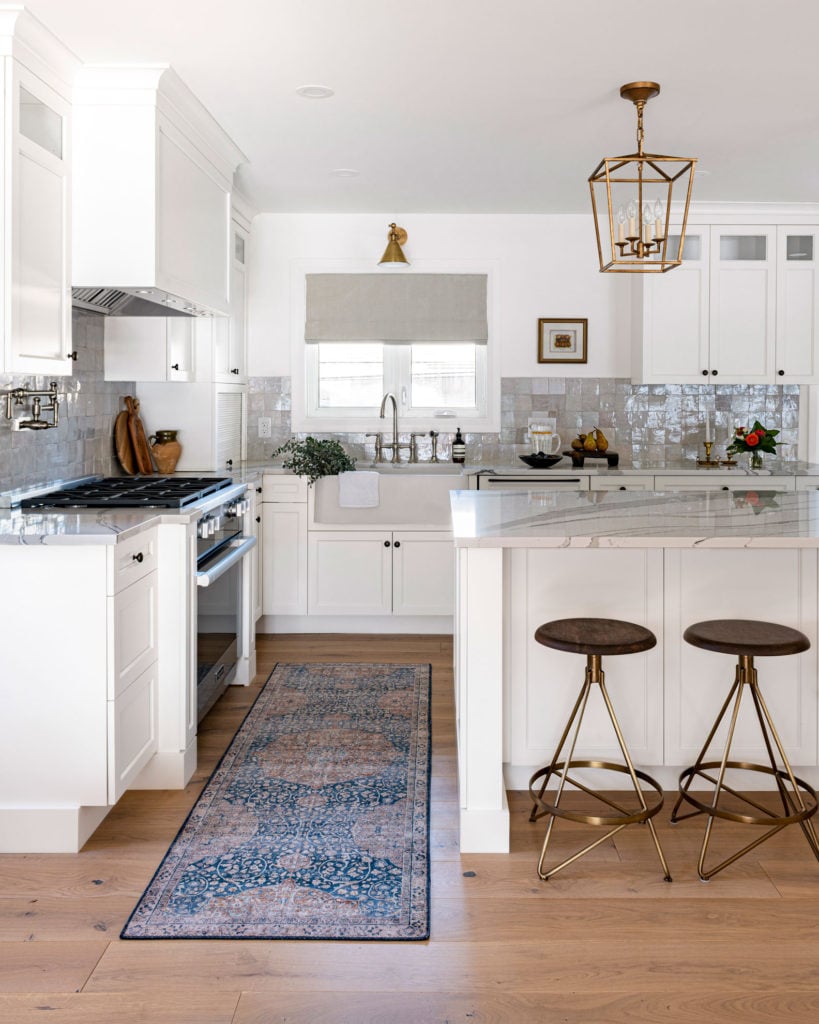 Accents & Decor
Finally, accents and decor are the finishing touches on a farmhouse kitchen ensuring that it looks perfectly unique.
Make use of old pottery, baskets, wooden crates, and pitchers. Either leave these pieces looking worn or give them a little makeover with a coat of fresh white paint.
An integrated range hood can also serve as a vintage element of a farmhouse kitchen.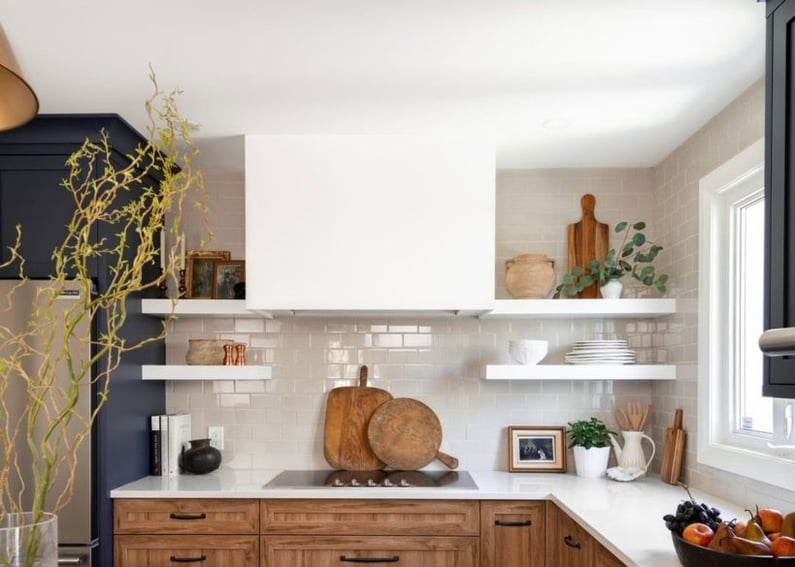 These items can be used as accent pieces, planters, or storage containers. Whether the item is useful or purely decorative, creative use of accents is imperative in achieving a complete farmhouse kitchen design.
Farmhouse Kitchen Design at Deslaurier
You now have a solid understanding of farmhouse kitchen design, but how do you make this vision a reality?
At Deslaurier Custom Cabinets, we specialize in crafting quality and function for a beautiful life. This includes kitchen renovations that embody farmhouse kitchen design.
For example, the gorgeous Starlit Country kitchen, designed by Vanessa Horwat, is what modern farmhouse dreams are made of. Traditional classic white cabinets paired with a natural alder wood island and finished with a black glaze provide a rustic finishing touch. A built-in wine rack, a bold backsplash, and open shelving make this space chic and playful.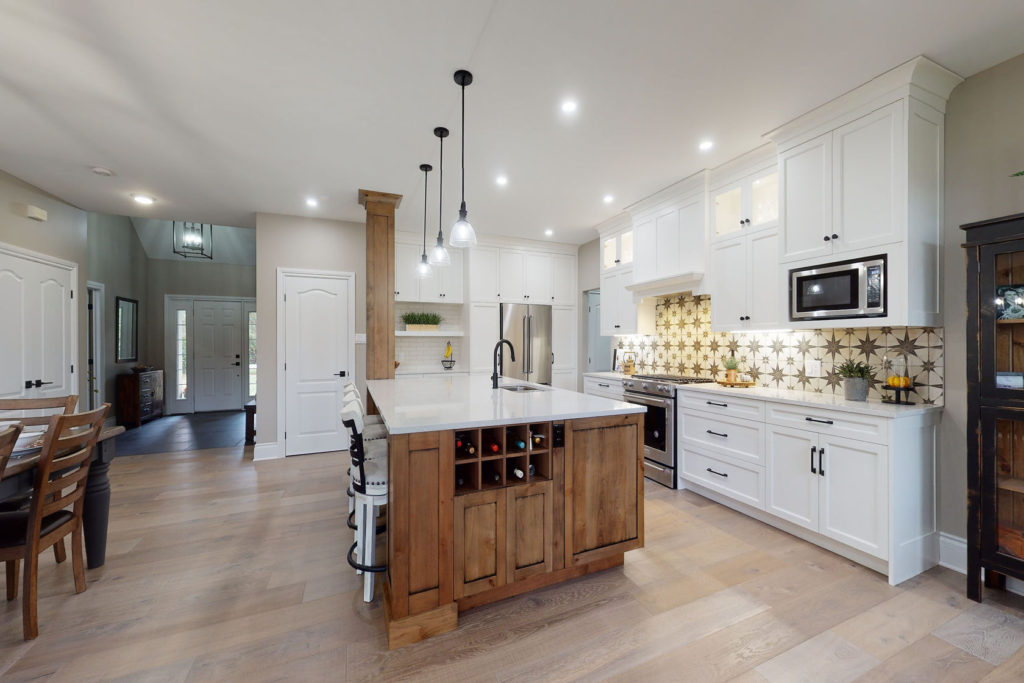 What's Next?
Feeling inspired? It may be time to officially make your house a home by incorporating a farmhouse kitchen design.
Our talented designers would be thrilled to help you design the perfect farmhouse kitchen to suit your lifestyle.
Visit us at our Ottawa showroom or request a consultation to get started working with our design team today!
Live outside the Ottawa region? No problem! Find a dealer near you to discover the Deslaurier advantage close to home.
Related Links: