13/04/2021 • Blog
How Long Does a Deslaurier Kitchen Take?
If you don't work in the industry and you've never renovated before, you might think a start-to-finish remodeling job happens as quickly as it does on popular home improvement shows on HGTV.
Spoiler alert: it doesn't!
Those TV programs cut out and fast-forward through the messy reality of renovation work. But remember, Rome wasn't built in a day! It may take several months, but your freshly functional kitchen workspace will be well worth the wait.
If you're partnering with Deslaurier Custom Cabinets, you can expect a typical kitchen renovation to take between 4-7 months. This timeline covers design, demolition, construction, manufacturing, installation, and servicing.
Let's zoom in and take a snapshot of each of the 10 steps to renovate a kitchen with Deslaurier.

Step 1:
Initial Kitchen Design Consultation
Kitchen design time frames are tricky to pin down. Why? Because the design phase happens at the customer's pace.
Many clients know precisely what they want and arrive at their first design consultation with vision board complete with sample materials and inspiration pictures. Others walk in a blank slate—they have no idea where to begin.
Some people fall in love with their designer's very first design concept. Others go back to the drawing board to tweak and fine-tune it multiple times.
The client's level of involvement, as well as the scope of the work to be done, directly impacts the design timeline.
What to Expect at
Deslaurier
To give you a ballpark idea of what to expect, when a prospective client fills out Deslaurier's contact form, our reception team responds within 24-72 hours.
From there, reception will connect you with a professional in-house designer who will set up a free design consultation with you at your convenience. This meeting might be held in-person at our showroom, over the phone, or virtually via video chat.
During your first meeting, your designer will facilitate a collaborative conversation with you that factors in your goals, lifestyle, and budget to develop a tangible vision for your new kitchen. You'll also have the chance to explore our product line and create a cabinetry wish list for door style, wood species, finish, and accessories.
After your consultation, your designer will likely ask you to send kitchen measurements (click to read how to measure your kitchen) and current pictures of the existing space. With these items, and your unique kitchen vision fresh in their mind, your designer will get to work preparing a preliminary design concept for your consideration.
Generally, the first concept for your custom kitchen design will take 1 – 2 weeks to complete, at which point your designer will reach out to schedule a second meeting where you can review and finalize the design together.
Step 2:
Hir
ing a Contractor
Step 1 and Step 2 are technically interchangeable, and they can also overlap. You can hire a contractor before, after, or during the time you're corresponding with your kitchen designer.
We recommend seeing a designer first because Deslaurier's initial consultations are 100% complimentary. You can discuss your future project with a professional with no obligation required on your part. More often than not, experienced designers can recommend or refer you to reputable contractors in the local area.
Expect hiring a GC to take at least a couple weeks. We suggest requesting quotes from multiple professionals to secure a fair price.
You can learn more about contractor hiring costs in the Learning Centre's how much does a kitchen renovation cost article.
Step 3: Final
izing Your Kitchen Design
The final design meeting is a detail-oriented appointment where you and your designer will talk through each element of the design concept in-depth. This time is all about you—ask questions, request revisions—it's your kitchen, after all! Your designer will implement your desired changes until it's just right.
When you're fully satisfied with the result, you'll sign off on the plans and your designer will move forward by producing a technical drawing of the design. A technical drawing includes all dimensions, labels, and product specifications within the room.
To finish the technical drawing, your designer will need to book an at-home appointment with you where they can professionally verify your kitchen's measurements.
Depending on the complexity of the design, creating the technical drawing can take 1-4 weeks.
When the finalized plans and drawings are ready, your designer will officially send the order to Deslaurier's manufacturing plant in Renfrew, ON.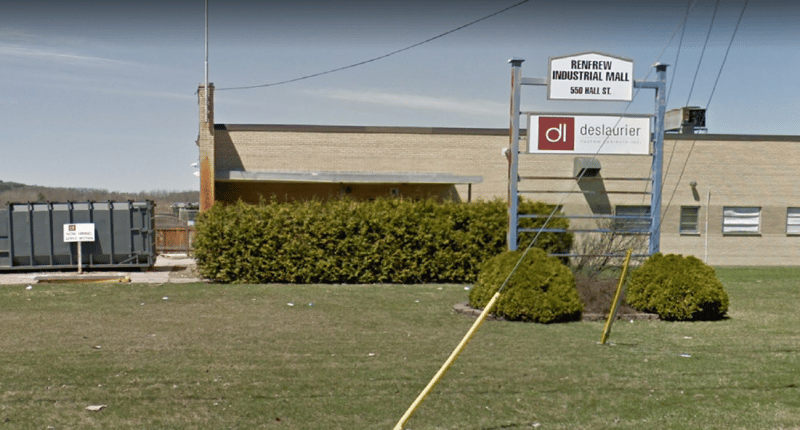 Tip: Review, review, review! Most kitchen delays are a result of inaccurate information being delivered to the plant. To ensure a smooth custom cabinetry production schedule, we encourage clients to bring up any and all questions/comments/concerns they have with their designer.
If you're not entirely happy with your kitchen plans, neither are we! Communication is absolutely key.
Step 4: Ordering Your Kitchen
Placing the kitchen order is the halfway point in a typical kitchen renovation project. All the budgeting, planning, and designing is complete. All the demolition, structural work, and installation is yet to be done.
Once the Deslaurier manufacturing facility in Renfrew has received your order, you can expect a lead time of roughly 8 weeks to cut, fabricate, and assemble your kitchen cabinetry. Of course, lead times fluctuate with market conditions—your lead time may be shorter or longer than 8 weeks.
The COVID-19 global pandemic has caused near-industry-wide disruptions and as a result, your lead time may increase to 12 or 14 weeks.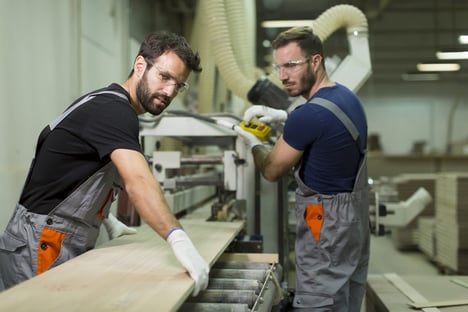 As a disclaimer, the length of the fabrication process also depends on the specifics of your order. For example, custom paint colours require more time than standard stains. Plus, wholly custom pieces, like decorative range hoods, are built by hand and can take extra time to craft.
The Deslaurier manufacturing process is very regimented. Accuracy is critical here—it's worth taking the time to get the order right in-shop rather than dealing with manufacturing errors post-delivery.
Step 5: Demolition and Structural
Work
Step 5 is where things get messy! Your contractor will tear-out old countertops, cabinetry, and floors. They'll also start any necessary layout changes, including load-bearing and non-load bearing demolition of the area.
Some examples of demolition and structural work are:
Removing flooring

R

emoving existing cabinets

Removing backsplash

Removing/adding walls

Removing/adding windows




Remember that structural changes will need city approval. Technically speaking, permit responsibility lies with the homeowner. However, most contractors will shoulder the task for you. That being said, there's no guarantee it will be quick.
Procuring a permit could be a same-day or a weeks' long affair. Sometimes, these paperwork items become the biggest delay to demolition.
Permits aside, how long demolition takes is in the hands of your contractor. Your GC is responsible for coordinating subcontractors' schedules and product deliveries. It takes an efficient, thought-out plan to ensure a smooth kitchen demo.
Depending on the scope of the undertaking and the permit procurement process, demo work can take anywhere from 1 week to 1 month to complete.
To learn more about reno permits, check out our article, "Do I Need a Permit for My Kitchen Remodel?".
Step 6: Installing Utilities
Now the old kitchen is gone, it's time to rough-in your new utility lines. Of course, not all kitchen renovations require utility work, but if you're upgrading appliances or making drastic layout changes, you'll likely need at least one of these items altered:
You or your GC will need to bring in qualified trades professionals for this work. Plan for utility modifications to take 2-3 weeks.
Step 7: Patching and Painting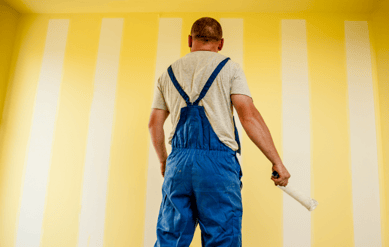 With no obstructions in your way, this is the perfect time to patch up drywall dings and paint your kitchen walls. You can leave painting for the end, but the whole process is so much simpler when you don't have to cut around cabinets, moulding, and other obstacles.
Haven't picked out your paint colour yet? Ask your designer for a sample chip of your cabinets and countertops. Having a physical sample in your hand goes a long way when selecting a shade of paint to match.
Painting your kitchen should only take 2-3 days to finish.
Step 8: Flooring Installation
Flooring should go down before your cabinets go up.
Not surprising, flooring time frames fluctuate just like everything else. For floors, installation time mainly varies with the type of flooring at hand, since each type requires different surface preparation. Read about the top 5 kitchen floors for new-builds and remodels to learn more.
Having a professional install your floors is usually the fastest course of action, taking anywhere from 1-3 days to complete.
If your floor isn't level, you may want to consider having your installer level your floors for you. Even floors make step #9 (cabinetry and countertop installation) much quicker.
Step 9: Cabinet
and Countertop
Installation
Almost there now! Once your site has new rough-ins, paint, and flooring, it's ready for cabinets.
Deslaurier has a team of licensed installers that will arrange an appointment time with you and your general contractor.
Typically, it takes us between 2-5 days to install custom cabinetry, after which point we'll professionally inspect our work.
If there are any installation issues, we'll come back as many times as necessary until you're fully satisfied. The typical service cycle to resolve these issues is 8-10 weeks. Remember, your custom cabinets are truly custom—there are no "stocked" items on hand. Each design requires unique parts, and post-installation service times reflect that.
After your kitchen cabinets are installed, your countertop supplier will come to your home to template your countertops.
What is a template appointment? It's when a supplier uses your newly installed base cabinets to map out the exact dimensions of your future countertop.
Those measurements will serve as a template to cut your countertops at the manufacturing plant. Roughly 1-2 weeks later, your new countertops will be set in place.
Step 10: Appliances
and Lighting
Finally, the bones of your kitchen are fully integrated. All that's left are the final touches! Installing appliances and light fixtures should take a couple days apiece.
That means one last week of minor adjustments and your kitchen is ready for use!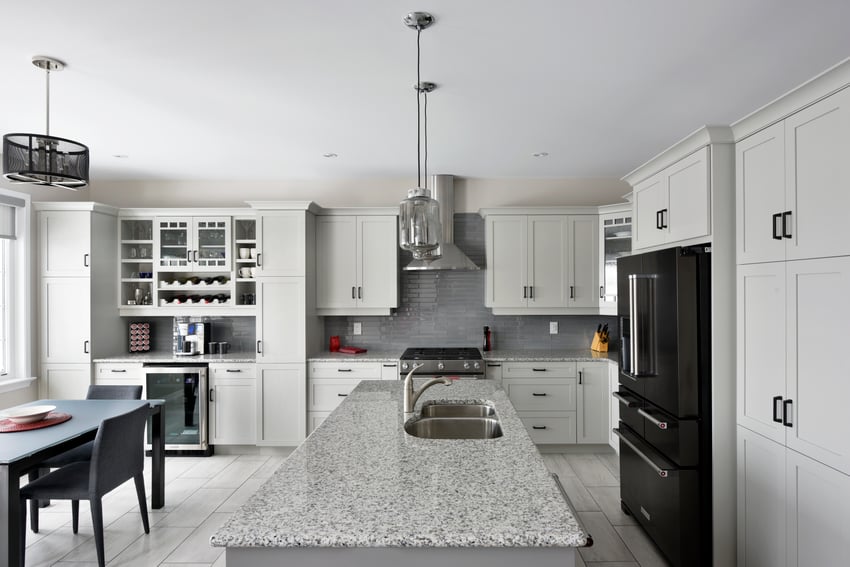 Setting a Realistic Kitchen Renovation Timeline
Planning Custom Kitchens in Ottawa
So, from step #1-10, how long does a kitchen renovation take? In total, plan for your custom kitchen to take 4-7 months.
Have patience: good things take time! Remember that your new kitchen may take months to build, but it will last for a lifetime.
Here's a summary chart you can use as a guideline:
How Long Does It Take to Renovate a Kitchen?

Initial Design

1-2 weeks

Hiring a GC

1-2 weeks

Finalizing the Design

1-4 weeks

Placing the Order and Fabrication

8 weeks

Demolition

1-4 weeks

Rough-In Utilities

2-3 weeks

Patching and Painting

2-3 days

Flooring Installation

1-3 days

Cabinet Installation

2-5 days

Countertop Installation

1-2 weeks

Appliances and Lighting

1 week

TOTAL RENOVATION TIME: 17-28 WEEKS
Planning a Kitchen Renovation?
Discover the
Deslaurier
Advantage
Organizing a kitchen renovation feels a lot like juggling—there are always multiple balls in the air at any given time.
It helps to have the right team behind you.
Deslaurier Custom Cabinets is a Canadian company and an industry leader for over 40 years. Cabinets are our specialty, and we manufacture our products in our very own production facility in Renfrew, ON, Canada.
Need some help with the kitchen reno juggling act? Book a free initial consultation with a professional designer in Ottawa or Renfrew to discover the Deslaurier advantage. Live outside the Ottawa area? No problem. With an extensive dealer network, you can find a dealer near you.
Interested in becoming a dealer? Connect with us by visiting our Become a Dealer page.