4/05/2021 • Blog
How to Start a Kitchen Renovation
"The kitchen is the heart of the home". This phrase rings true for many homeowners and families.


We spend much of our time in the kitchen as we prepare our meals, visit with family after a long day, and host guests for a dinner party.


With so much time spent in the kitchen, you may find yourself examining this space from time to time. Perhaps you find the placement of the appliances inconvenient? Maybe your cabinets are outdated? Are you longing for extra counter space?


A kitchen renovation may be exactly what you need to refresh your space and make it more functional.


But starting a kitchen renovation can be a daunting task. It isn't always as glamorous or simple as they make it out to be on HGTV.


The key to having a smooth and successful kitchen renovation is planning ahead and carefully thinking through each step. The more prepared you are, the better!


At Deslaurier Custom Cabinets, we've played an essential role in many quality crafted kitchen renovation projects. In turn, we often get asked the question, "how do you start a kitchen renovation?"


Whether you intend on replacing your cabinetry or not, this article will guide you in starting your kitchen renovation project in 7 simple steps.
Let's get cracking!

#1: Get in Touch with a Renovation Contractor
First and foremost, it's important to get in touch with a contractor. A contractor will be the person in charge of overseeing your kitchen renovation.


It's important to do this before you begin planning the details of your renovation because getting in touch with a contractor too late in the game can cause delays.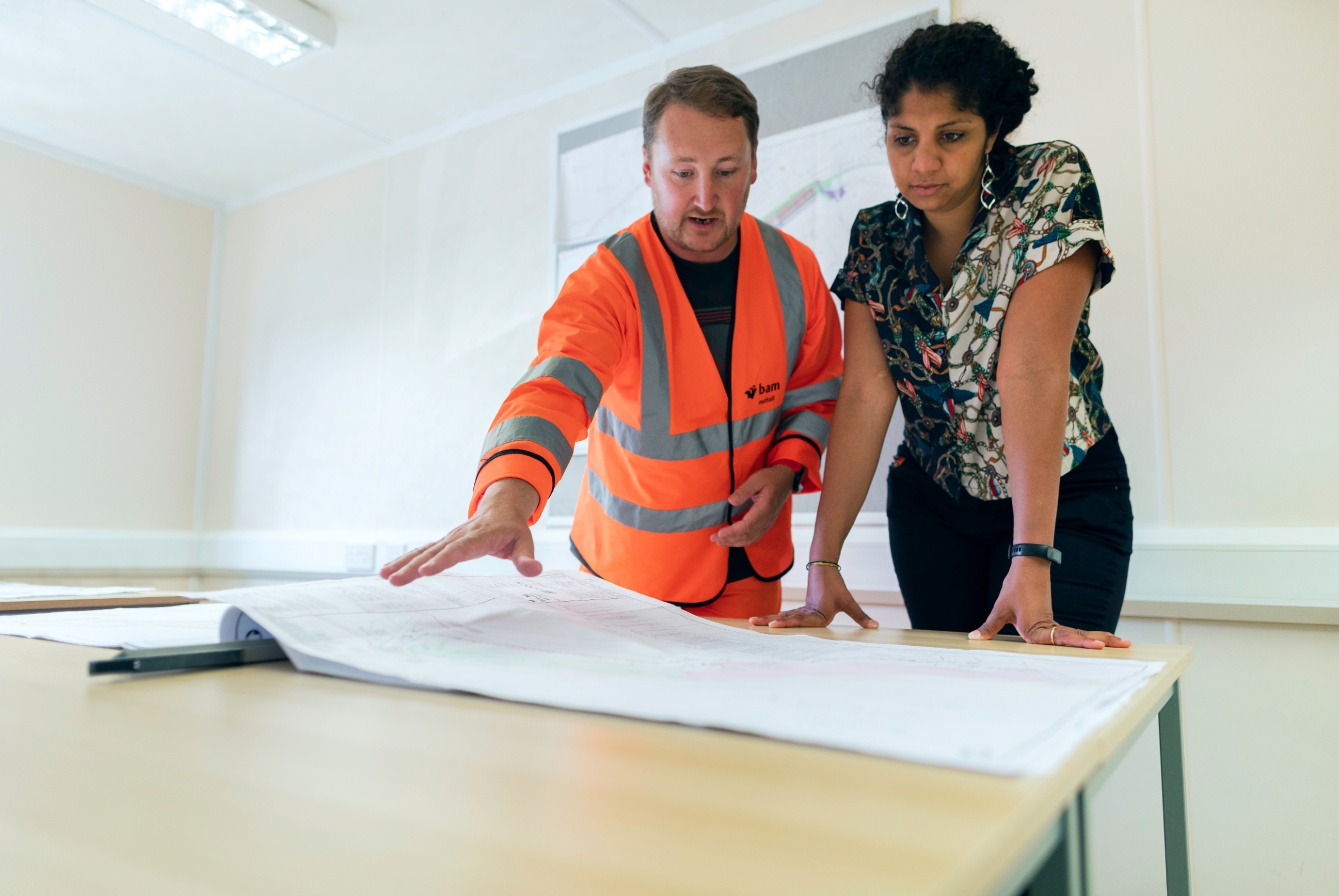 In meeting them, you'll need to discuss the scope of your project, when the renovations can begin, and how long they'll take to complete. Get as specific as possible. Don't be afraid to ask for dates and times.


Getting a clear timeline from your contractor is crucial because it will allow you to be proactive and plan ahead.


To get a better understanding of how long your renovation might take, check out the article "How Long Does a Deslaurier Kitchen Take?".

#2: Be Prepared with a Dimensioned Floor Plan

Next, you'll need to be prepared with a dimensioned floor plan.


This is a very important step in preparing for a kitchen renovation, but it isn't the easiest of tasks. In fact, executing a floor plan is very complex.


If your kitchen renovation project is relatively simple, you may be able to get the necessary kitchen measurements yourself. In this case, check out the article "How to Measure Your Kitchen" for helpful instructions and tips.


A more complex renovation, on the other hand, may require a dimensioned floor plan that is beyond the scope of an amateur. Consider enlisting a professional designer to help come up with a detailed floor plan for you.
#3: Apply for Renovation Permits

Now time for some potential paperwork. You'll want to conduct some research concerning permits.


Depending on a variety of factors, such as the nature of your renovation and where you live, you may or may not need a permit to remodel your kitchen. This is particularly true if there are structural changes involved, including if you're looking to extend your property in any way.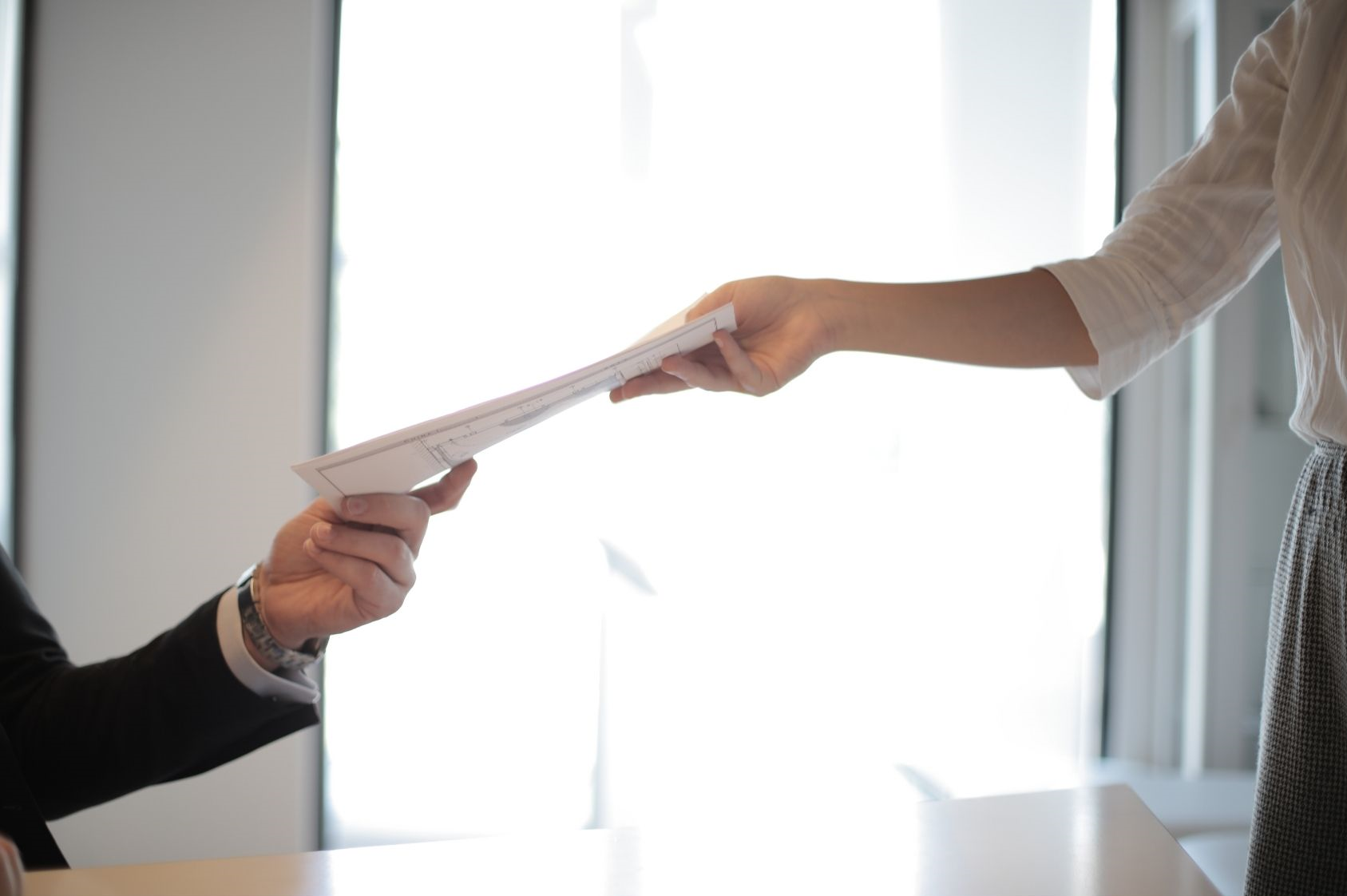 For some helpful information, take a look at the article "Do I Need a Permit for My Kitchen Remodel?".


If you find that you must have a permit, it's a good idea to do so early in the process to ensure that you have plenty of time. Applying for a permit typically requires a fair amount of paperwork with local authorities—putting it off could delay your renovation.
#4: Determine Your Renovation Budget

As you move forward, determining your budget is a crucial step because it will ultimately determine the scope of your project.


Your budget should be based on what you can afford to spend. With this number in mind, you'll get an idea of what's possible. Without a clear budget, it can be easy to overspend by a significant amount.


For more helpful budget planning information, take a look at the article "How Much Does a Kitchen Renovation Cost?".
#5: Determine the Scope of the Renovation Project


After nailing down a clear budget, you can determine the scope of the project. This step is when the fun really begins!

Consider Lifestyle

Your lifestyle is a very important factor in determining how you want to renovate your kitchen. More specifically, ask yourself who will be using the kitchen, and how, to determine its ideal layout, design, and appliances.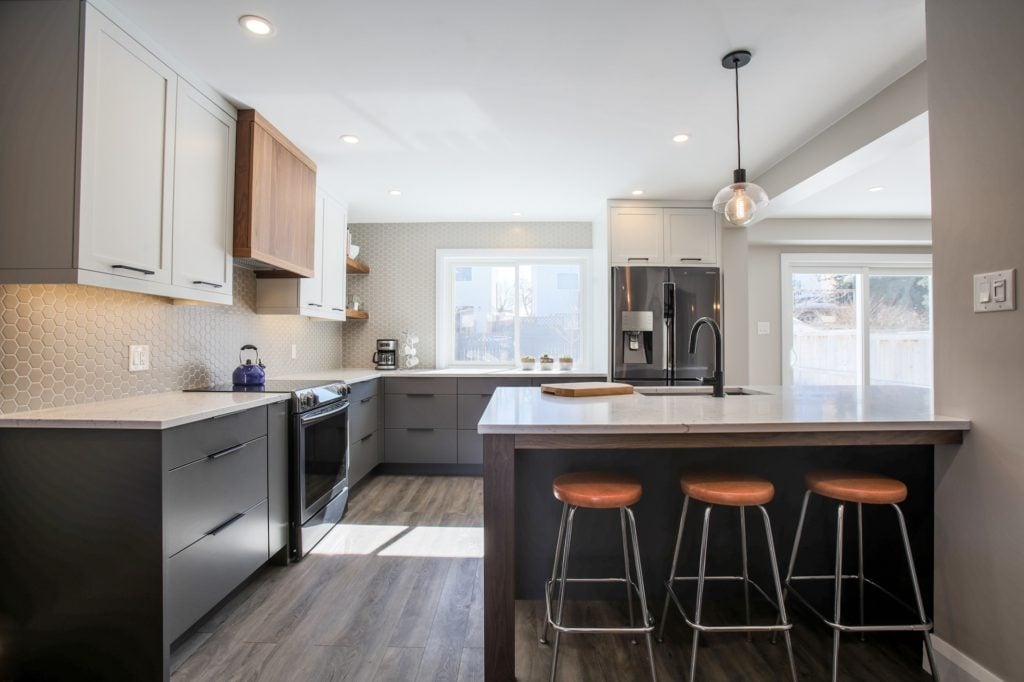 How will you be using the kitchen? Are you in your kitchen often? Do you cook often?


If you enjoy three meals a day in your kitchen and plan on cooking up a storm, you may find value in extra counter space and top-of-the-line appliances. If you typically enjoy the convenience of takeout, on the other hand, you may be able to get away with more limited space and basic appliances. As long as there is room for a snack drawer, that is!


Further, who will be using the kitchen? Do you have a big family? Do you have kids? Do you like to entertain?


If multiple people tend to congregate in your kitchen, a kitchen island and stools may be a great way to share the space. If you have young children, installing child-proof safety features might be important to you. If you have guests over often, you may want to install some stylish features in your kitchen to dazzle your friends and extended family!

Examine the Current Layout


Next, take a hard look at your kitchen and assess the current use of space. Ask yourself, what is working and what is not working?


Consider the flow of traffic. Are people constantly bumping into each other or running out of room in a particular area? There is nothing worse than trying to do the dishes while your husband is reaching over you for a pan and your children are crashing into you as they make a snack.


Are you happy with the size and placement of the island? Or do you not have an island and desire extra counter space?


Do you have ample cabinet storage? Do you have enough room to store your Instant Pot or Air Fryer?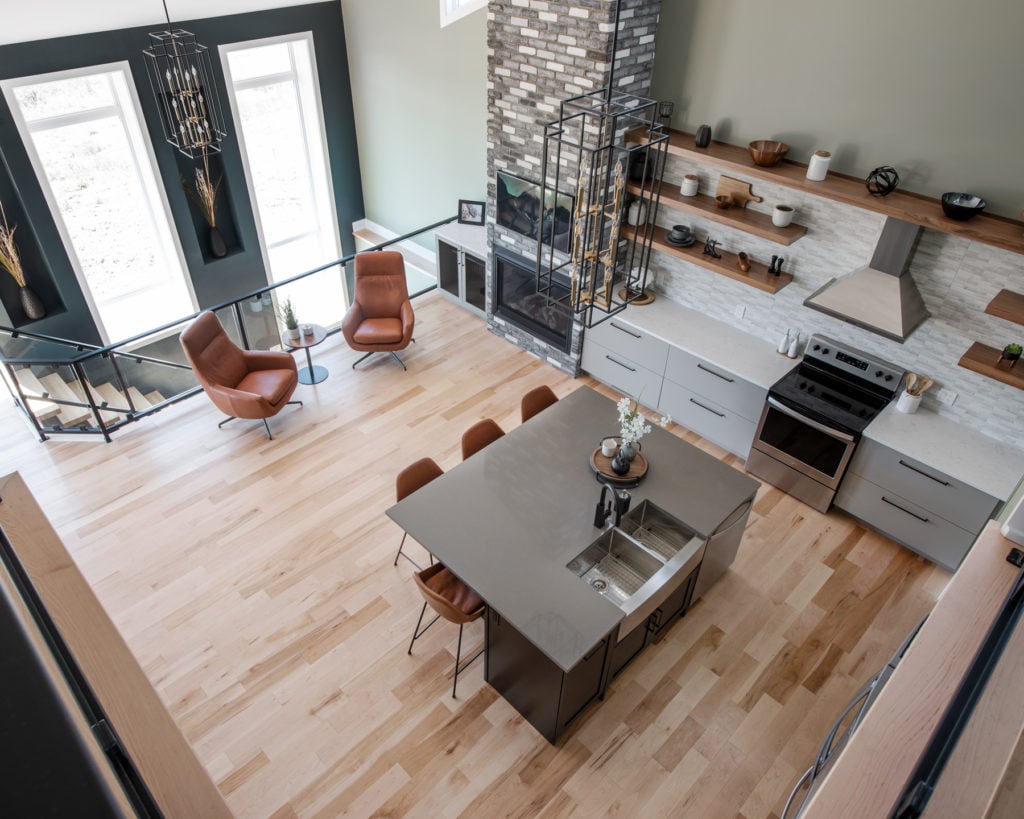 What about the appliances? Do you like their placement or is the fridge door always slamming into the island stools?


If you're happy with the current layout, your renovation will be fairly simple. You may just be looking to update some outdated cabinets or install a new backsplash.


But if your space and layout need some rearranging, the kitchen renovation will be more complex.

What Will You be Replacing or Remodeling?
You should now have a good idea of what you intend on replacing or remodeling.


Whether you plan to replace only a few items like cabinets and counters or tear everything out to start from scratch, you have many design options to consider.


Get inspired by some cabinetry remodeling projects done by Deslaurier Custom Cabinets.


You may find it helpful to browse "The Best Countertops for Your Kitchen".


When it comes to replacing your kitchen flooring, check out the "Top 5 Kitchen Floors for New-Builds and Remodels".

Leave Room for Your Appliances


It's easy for appliances to be an afterthought as you embark on kitchen renovations, but appliances are an essential piece of any kitchen.


Will you be replacing your appliances or keeping your current appliances?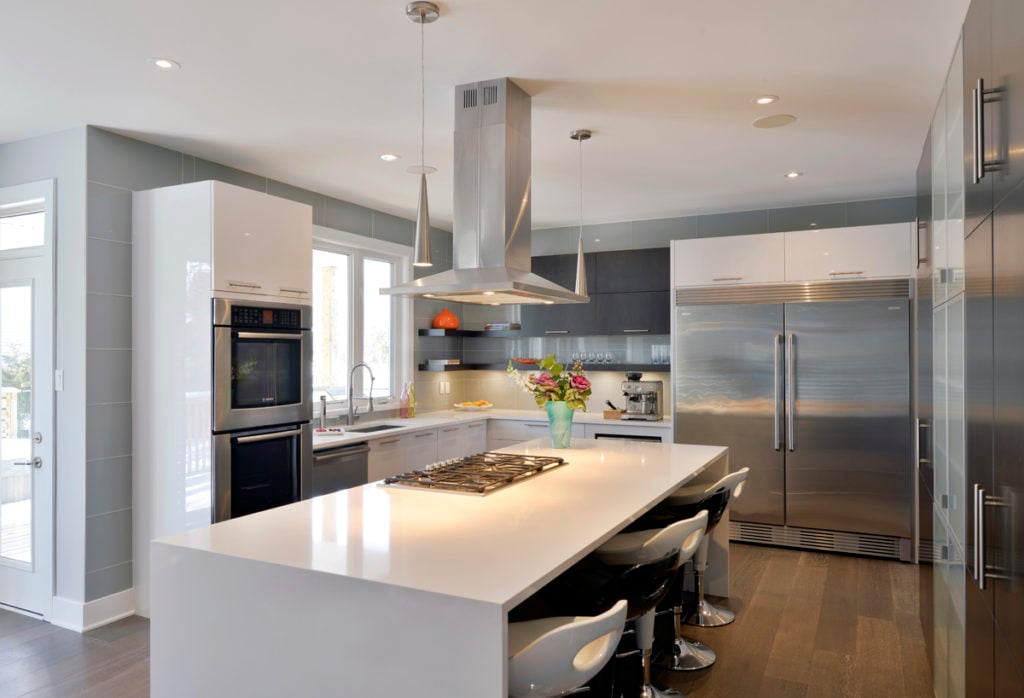 Regardless of whether you decide to replace your appliances or incorporate your current appliances into your new remodel, it is crucial to be aware of their size and placement.


Take measurements of your old or new appliances to ensure that they will fit seamlessly into your new dimensioned floor plan.
#6: Don't Forget About Kitchen Design Style


Lifestyle and functionality remain important, but why remodel your kitchen without sprucing it up a little bit? Perhaps design style is the sole purpose of your renovation after all!


The colours, materials, and embellishments you choose will play a large role in the overall look of your new kitchen. Never underestimate the power of accessories. Check out the "Best-Selling Kitchen Cabinetry Accessories".


What aesthetic do you envision for your new kitchen?


Consider drawing inspiration from Pinterest and home reno magazines. You may find some trends that spark your interest in the article "10 Kitchen and Bath Design Trends in 2021".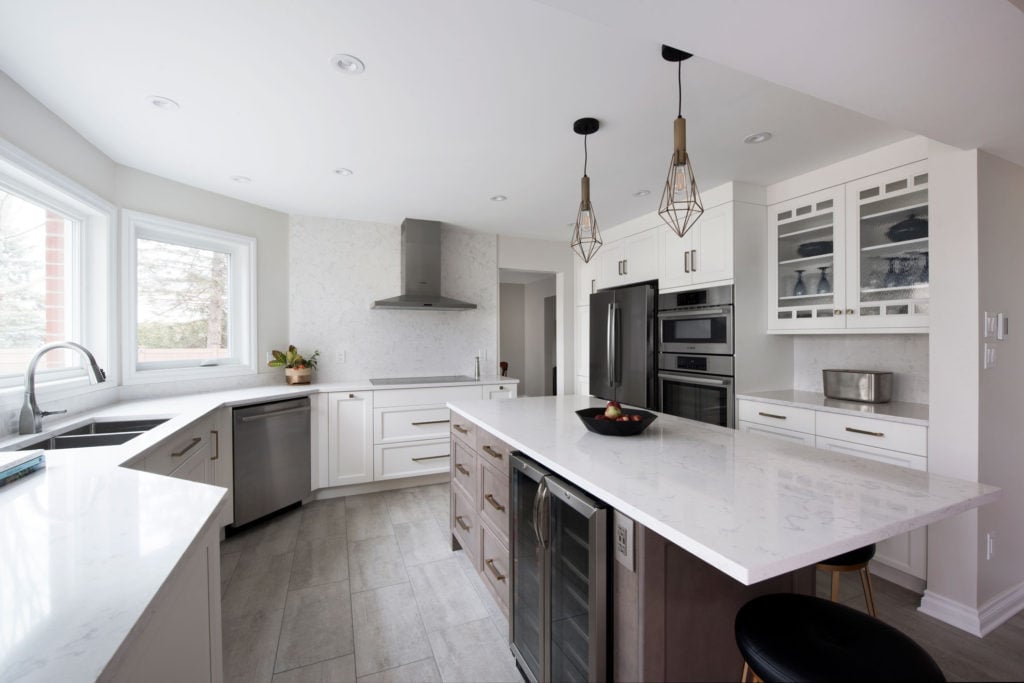 Although TV shows and magazines make it look easy, not everyone has an eye for home design. That's why you may consider enlisting a designer to help bring your exact vision to life.


Deslaurier Custom Cabinets has a talented design team who would be thrilled to help create the kitchen of your dreams.
#7: Be Ready for the Renovations to Begin


You're almost there, but before you pull out the tools and hard hats there are a couple of final steps to prepare for your renovations to begin.

Warn the Neighbours


Like any home renovation project, kitchen remodeling can create a lot of noise.


If you anticipate this being the case, the courteous thing to do is to warn your neighbours in advance. Excessive noise can irritate or upset those living around you, but providing fair warning can help alleviate that tension.


Another way to keep the peace in your neighbourhood is to have your contractor start work at a reasonable hour in the morning and finish up work before the evening. A good rule of thumb for renovation hours may be between 8 am to 5 pm.

Empty Your Kitchen


Depending on what's being renovated, it's likely that the majority, if not all, of your kitchen, will need to be emptied.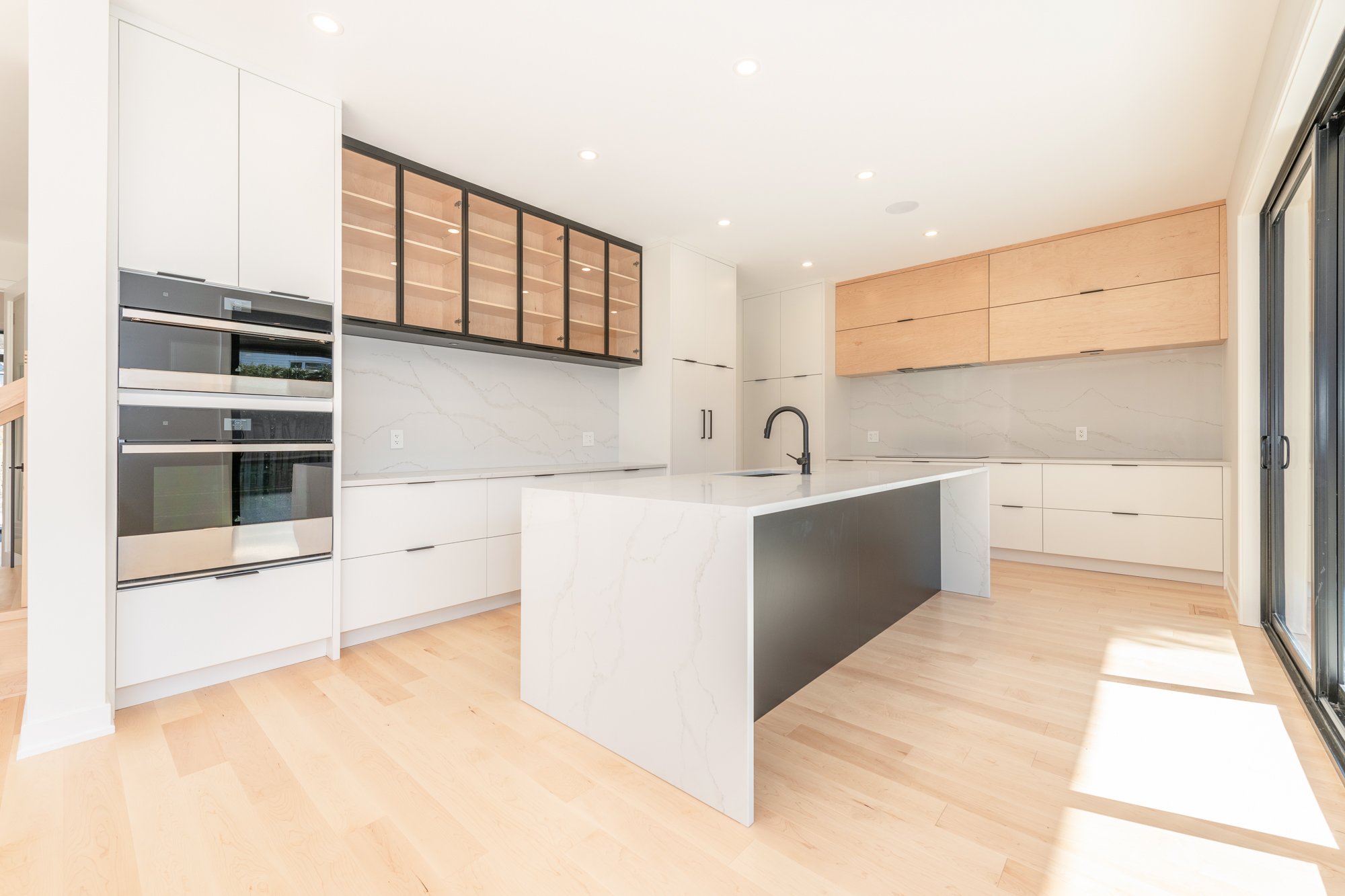 Remember to take all decorations off of the walls, clear the countertops, empty your cupboards, and empty your appliances.


It may be necessary for you to remove your appliances from the kitchen as well.

Plan Meals Ahead


Once renovations begin, you won't have access to your kitchen for a couple of days, or maybe even a couple of weeks.


Your instinct may be to rely on eating out or ordering takeout during this time, but that extra expense can add up quickly.


By this point, you've already invested a significant amount in your kitchen remodel; why blow the budget with takeout costs you didn't anticipate?


Instead, consider pre-preparing some meals to have on hand.


Further, set up a temporary kitchen and dining table somewhere else in your home. Considering that kitchen renovations can cause dust, chemicals, and smells to float around your home, it's a good idea to set up your temporary kitchen in the basement or another room far away from the disruption.


Keep Track of Renovation Progress with a Bulletin Board, Checklist, and Pictures


It's no secret that home renovations can be a stressful time for you and your family. It's important to stay positive through the progress and keep your eye on the prize—a stunning new kitchen!
A great way to ease your frustrations and remind yourself of the progress is to set up a bulletin board. On this board, track the remodeling process with the use of pictures and checklists. Every time you check a completed task off of the list, you'll feel one step closer to the big reveal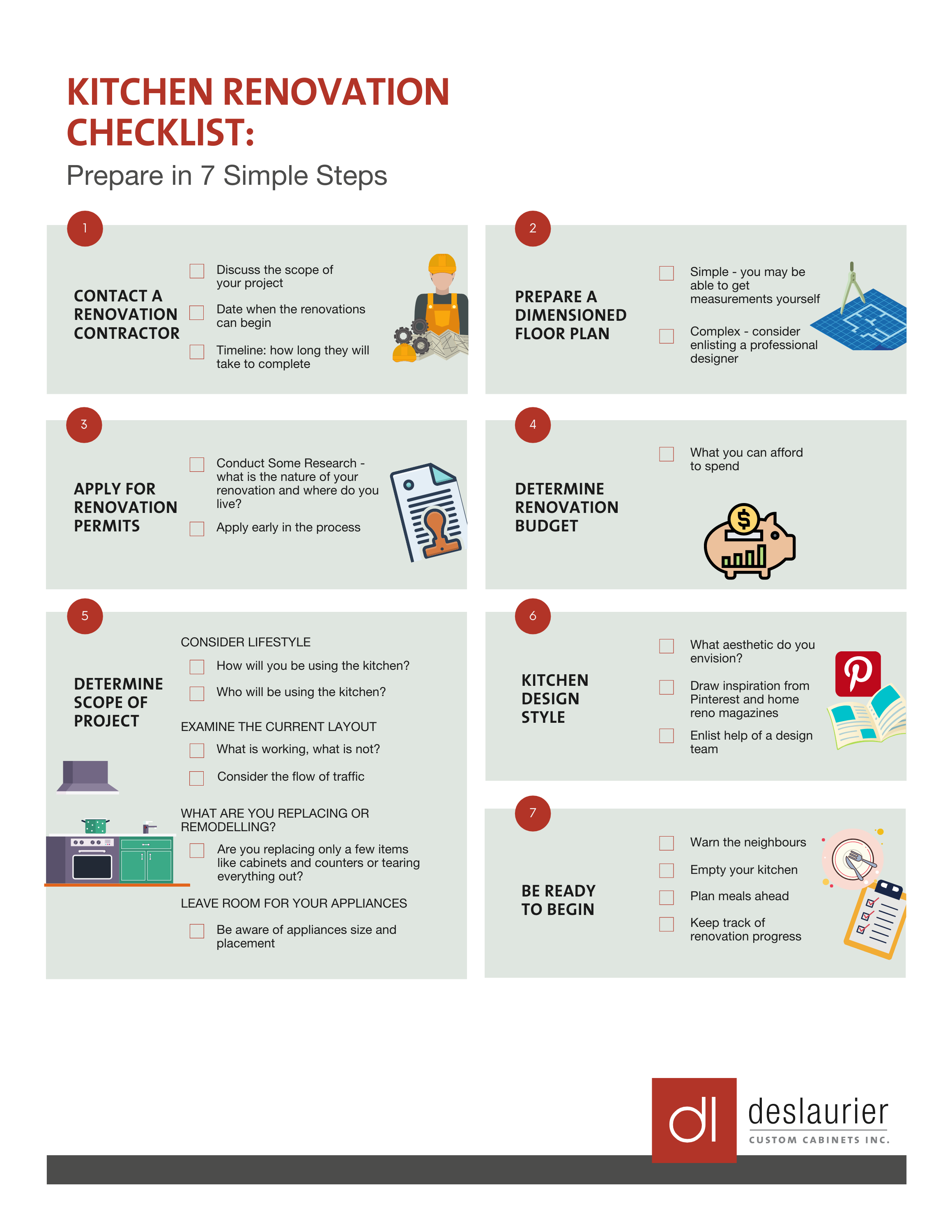 What's Next?


By following these 7 steps, you have a clear guide to starting your kitchen renovation! So, what's holding you back?


At Deslaurier, we specialize in creating custom cabinetry in harmony with today's varied lifestyles. With exceptional quality products and thoughtful design solutions tailored to your needs, we're confident that we can help design custom cabinetry that will reflect your unique lifestyle and personality.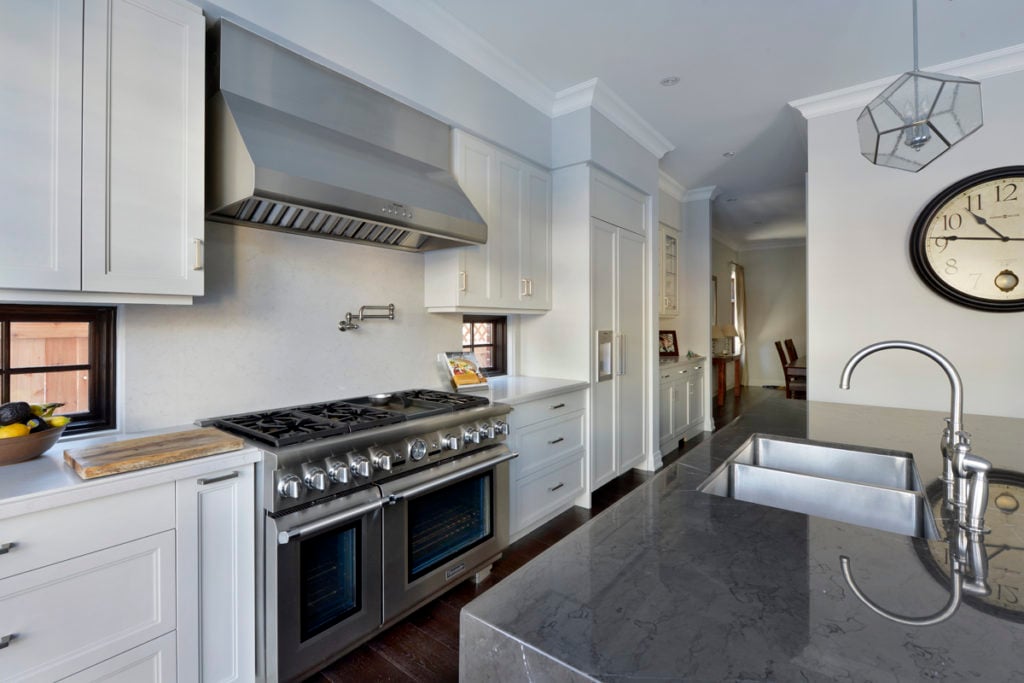 With a vast selection of door styles, stains, and finishes, Deslaurier's custom cabinets would not only coordinate seamlessly with your new kitchen remodel, but also enhance the final transformation .


Visit us at our local Ottawa or Renfrew location or request a consultation to get started working with our design team today.
Interested in becoming a Deslaurier dealer? Visit our Become a Dealer page to get started.
Related Links: