23/04/2021 • Blog
10 Ways to Save Money on a Kitchen Renovation
You're committed to upgrading your kitchen. What you're not committed to is spending a small fortune to do it.
Penny-pinchers and frugal shoppers, this article is for you. The Deslaurier team is giving away its top ten ways to save money on a kitchen remodel—for free!
Read on to learn how to reign in your kitchen design budget.
#1: Know
Your
Reno
Goals
, Know
Your
Reno
Budget
How much does a kitchen renovation cost? It depends on what you want to do.
Before you can trim your budget, you need to know what your goals are.
Is this your forever home? If so, it might be worth customizing your design. If you plan on selling your home in the near future, you'll need to allocate your money strategically to get the best return on investment.
Read our article "Should I Renovate My Home?" to learn more about getting the best return on investment on home renovations.
To avoid overspending, it's key to know your goals and set your budget. Once you have an idea of the sum you want to invest, then you can begin researching the suppliers that suit your budget.
A basic kitchen remodel might fall between 10-20K. A mid-range kitchen: 20-40K. A high-end kitchen: 40-80K.
For basic remodels or projects below the 10K benchmark, you'll want to set your sights on stock products, provided by box stores like IKEA or Home Depot. Stock products are significantly more affordable than custom items, as more work goes into designing and manufacturing one-of-a-kind products.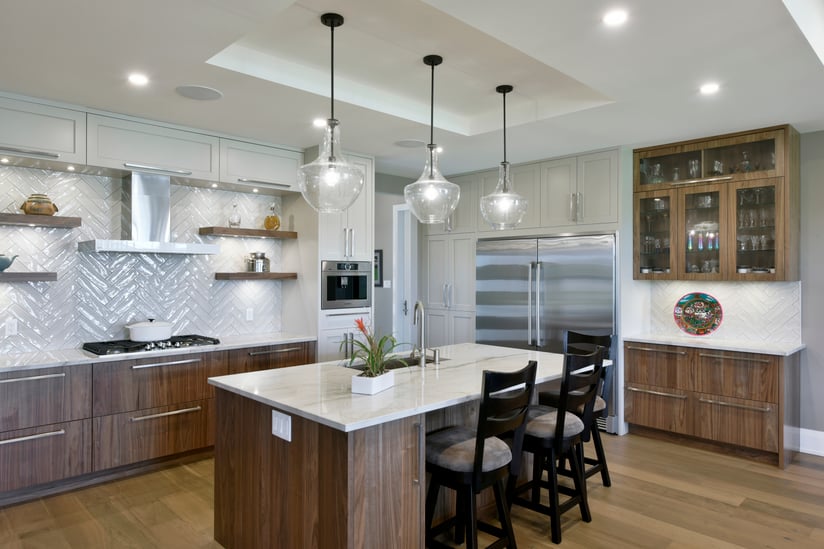 You can read our comparison of Deslaurier Cabinets vs. IKEA Cabinets to learn more about the difference between stock and custom cabinetry.
For mid-range and high-end remodelling projects, custom products are within your budget. Your selections will determine how big or small your final bill becomes.
Hot tip: Reserve 15-20% of your overall budget for unexpected expenses. If an unforeseen issue arises, you'll be glad you have that wiggle room ready. Be prepared to be unprepared!
By the way, don't forget to budget for the logistical stuff. For example, you can expect a building permit in Ontario to cost approximately $10.75 for every $1000 of construction value (that is, the total of material, labour, overhead, and professional fees). Read our informative article to answer the question, "Do I Need a Building Permit for my Kitchen Remodel?".
Become familiar with all associated renovation costs, and plan for them.
#2: P
ay Cash
for Your Kitchen Remodel
In any renovation, time is your friend. Take the time to plan. Take the time to save. Using a loan to pay for your home improvement can quickly snowball into thousands of dollars of interest incurred. If you can, pay cash for your remodel.
Perhaps the only exception to this advice is if you plan to sell immediately after renovating. If you're confident your return on investment will be enough to pay off your debt quickly, it may be practical to take out a loan.

#3:
DIY
the Renovations
The single most effective way to save money renovating is to do the work yourself.
Now, there are certainly some jobs for which you should hire a pro—electrical and plumbing work being the top two. Unless you're certified, it's always safer to hire a professional to perform specialized trades in your home.
Nevertheless, there are countless other odd jobs that aren't necessary to have someone else do for you.
Demolition work? Gear up with the right PPE and consider it a workout! Flooring installation? Modern click-together products snap together like puzzle pieces. Painting the walls? Grab a friend and make a day of it.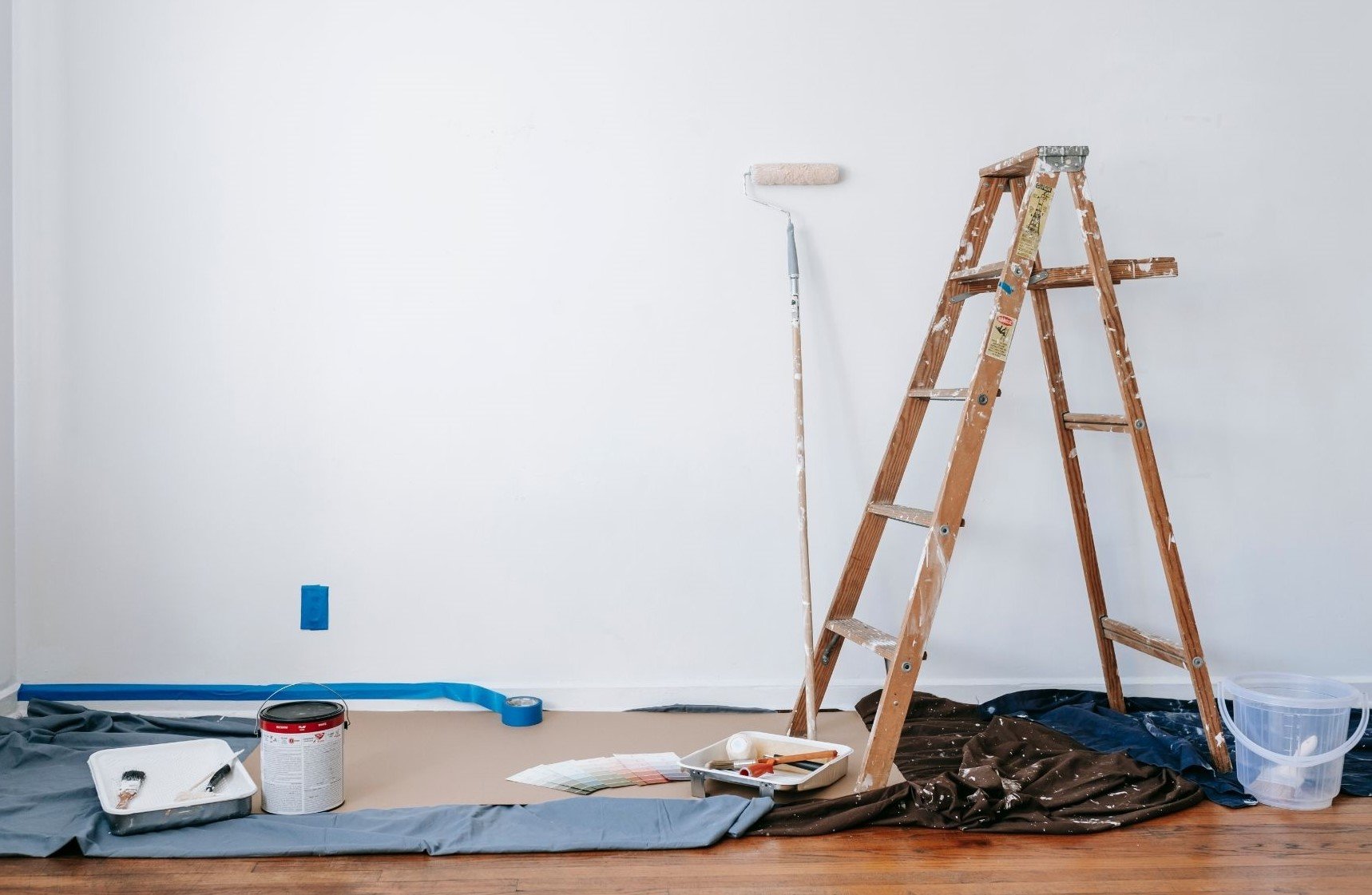 If you don't have the right tools, consider renting them. There are a handful of great online apps designed for DIYers and moments such as these.
These sorts of tasks are messy and time-consuming, but there's nothing particularly difficult about them. If you're committed to saving some green, eliminating extra hires in your home is a surefire way to do it.
Don't forget that your time is valuable, too. Take care that your DIY project doesn't sink too much of your time, otherwise you may not be saving money at all.
If you don't want to DIY major projects, at the very least you can eliminate small, menial jobs for your hired contractor. You'll likely be paying them by the hour, so any prep work that you can take off their hands is money in your pocket.
Before they arrive, do whatever you can to make sure everything is ready for them to begin work right away.
#4: Balance High- and Low-End
Kitchen Selections
This is the holy grail of smart kitchen renovating: balancing your selections to flaunt the best and hide the rest!
An affordable kitchen renovation doesn't mean you have to skimp on everything. It just means you have to skimp where it counts. If you're in love with a dramatic quartz countertop at $100 per square foot, go ahead: spend the dough to show off that countertop as a luxurious statement piece. You can offset that large cost with other budget-friendly choices.
For example, choose less expensive hardware and lighting. Opt for a standard stain rather than custom paint for your cabinets (read all about stained cabinets vs. painted cabinets here)
There's an art to this balancing act, but with enough shopping and planning, it can be done.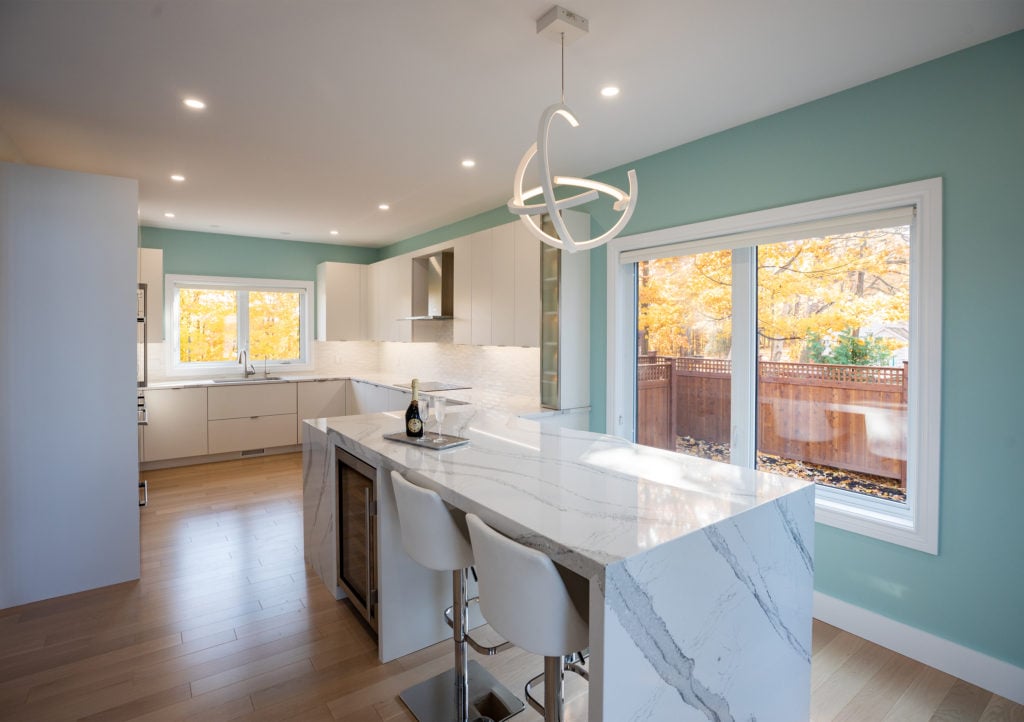 #5: Don't
Change
Your Kitchen's Layout
The more you rearrange your new kitchen, the more your costs will go up. Moving things like plumbing, electrical, windows, walls and entryways will have a significant impact on your final receipt.
For example, are you desperate to get read of that unsightly column to create an open floor plan? There's a chance that column is there for a reason—it might be load-bearing.
To get rid of it, you'll need to install load-bearing beams in the ceiling. That's extra cash spent that you won't even see in your freshly renovated kitchen.
Not only do you need to pay for the materials to support the move (plumbing, conduits, wiring, beams, new countertops, cabinets, etc.), but you usually will need to hire a professional to do the work.
Unless the functionality of your space is really suffering, it's not always worth the cost involved with making these drastic changes to your kitchen's floor plan.
#6: Get Multiple Contractor Bids
Research your contractors as much as you research your kitchen design ideas. Always get more than one quote when hiring a contractor. We recommend getting a minimum of three.
Contractors estimate jobs differently—don't be scared to ask them about it. Some GCs reap savings from longstanding partnerships with subcontractors, savings which in turn get passed onto you.
Beware: the lowest bid isn't always the best bid. Not all contractors are honest. Some may skip on securing permits or booking inspections to make their quote look appealing.
Shop around and ask around before you commit to a contractor.
By the way, it can be difficult to find a skilled labourer during the busy season in the renovation industry. Try to plan your renovation during the off-season as professionals will be more willing to take on smaller jobs and might even charge less. The off-season is usually after the holidays and before summer.
#7: Go Bargain Hunting
for Appliances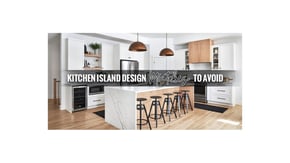 We'll say it again, time is your friend. If you're looking for high-end materials without an outrageous bill, shop for sales!
There are times of the year that are best for purchasing big-ticket items like appliances. Boxing Day and Black Friday, for instance, are ideal times for savvy renovators to purchase appliances and furniture for a new kitchen.
Retailers sometimes sell floor models for discounted prices, too.
As long as you don't mind that your purchase has already been unwrapped, shopping floor model deals is another way to save on a kitchen remodel.
#8: Sell
the Old Kitchen
One man's trash is another man's treasure! Just because you think your old light fixtures look outdated, doesn't mean the next person will. Even your old kitchen cabinets or island might be of interest to someone who needs a quick fix for their cottage or rental home. If the items you're getting rid of are still in good condition, why not sell them?
You'd be surprised at the number of people who toss their old kitchen materials out as junk. It only takes a few minutes to snap a picture and post an ad on an online marketplace like Kijiji or Facebook.
You can also collect the metal and copper from the items to sell at a scrapyard in exchange for cash.
If you're not getting any bites online, consider donating the materials to your local Habitat for Humanity Restore. Click to check out the Greater Ottawa's ReStore and read about what they accept.
#9: Choose Faux Flooring
Have your heart set on hardwood? Modern laminate look-alikes may get you re-thinking.
There are so many faux flooring materials out there today that replicate the look of more expensive materials.
Some of the faux products look so real you probably wouldn't be able to tell which is which if they were side by side.
Even if you think you have your mind made up about your future kitchen floors, go in with an open mind. Laminate, vinyl, and other low-cost options may surprise you.
You can read our breakdown of the top 5 kitchen floors for more guidance.
#10: Choose a Timeless Kitchen Design
Trends come and go, but classic finishes are timeless. Going classic over trendy might not translate to a huge cost savings upfront, but in the long run, your wallet will thank you.
You may love bright yellow cabinets for the first year, but what about after a decade? Replacing or refacing cabinets is a costly fix to make, so choose finishes that you know you will love for years to come.
Sticking with stained or neutral painted cabinets and a clean stone countertop and backsplash is a safe way to keep things modern and fresh over the long term. They'll also provide a backdrop for you to pull in other colours with décor accents. Coloured stools, trendy counter items like mixers and toasters, and fun light fixtures can all serve as that added pop of colour your kitchen needs.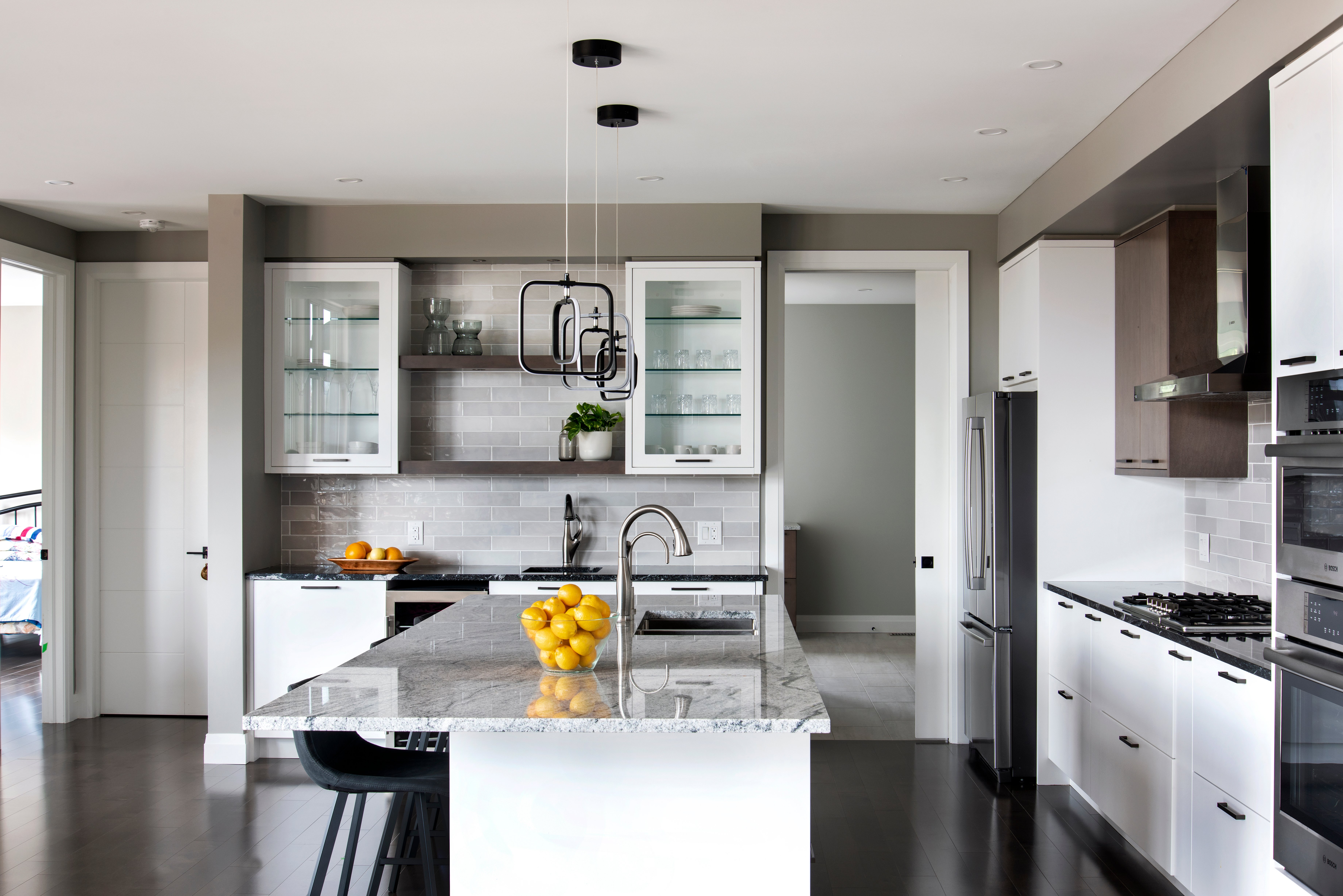 A timeless kitchen design is like a blank canvas that allows you to pull in trends as you want them, without breaking the bank.
The
Deslaurier
Advantage
There you have it: 10 ways to save on kitchen renovations.
Use these kitchen renovation ideas to cut back on costs where possible, but remember that at the end of the day, a kitchen remodel is one of the safest home improvement projects to recoup your costs.
If you want more advice on how to maximize your kitchen investment, why not book a consultation with a Deslaurier designer in Ottawa or Renfrew? Our consultations are completely free, and we've been helping homeowners like you save money for over 40 years.
Live outside the Ottawa area? No problem. We have an extensive dealer network—click to find a dealer near you. To become an authorized Deslaurier dealer, visit our Become a Dealer page.
Related links: