26/03/2021 • Blog
Deslaurier Cabinets vs. IKEA Cabinets
Deslaurier's design team often gets asked, "What's the difference between Deslaurier and IKEA cabinets?"
It's a great question!
The shortest answer is: IKEA offers stock cabinetry and Deslaurier offers custom cabinetry.
But what does that mean? And is stock or custom right for you?
This article will lay out a side-by-side comparison of Deslaurier custom cabinets and IKEA stock kitchen cabinets. Both are fine options—the "right" choice pivots around your priorities. This article will help you settle on the product category and design process best suited to your unique kitchen renovation project.
Let's get started!

IKEA
Stock Cabinets
In a Nutshell
IKEA is a Swedish furniture store that needs no introduction. IKEA is a go-to furnishings source for homeowners on a global scale, and stock cabinetry is merely one of the thousands of different products they sell.
At IKEA, there's a set number of stock sizes, colours, finishes, and features available for cabinets. Your selections are limited to these stock items. A limited selection doesn't mean a small selection, however. There are tons of colours and styles to play with at IKEA.
The IKEA kitchen design process is primarily self-directed. In store, you'll work at a computer station where you can browse through the available products and input your order. There are on-site IKEA kitchen planners who can help you along the way.
Once the design is set, you'll have an exact figure of how much the cabinetry costs.
The pieces you order will then be pulled from stock supplies and flat-packed. From there, you have the option to pick up the items yourself or pay to ship them. It's the homeowner's responsibility to handle assembly and installation.
In some areas, installation may be available for an additional fee. However, at the time of publication, the kitchen installation service is unavailable at IKEA stores within the province of Ontario.
Deslaurier
Custom Cabinets
In a Nutshell
Deslaurier is a Canadian business with a history spanning 40 years. Deslaurier's exclusive specialty is custom cabinetry, and the company works closely with retail clients and builders to craft tailor-made kitchens. Each customer is assigned a designer to work with them from start to finish.
Deslaurier kitchen cabinets are manufactured in Renfrew, Ontario, Canada. You, with assistance from your designer, will select the customized materials, sizes, finishes, and features of your future cabinets before they are hand-crafted to order in the DCC facility.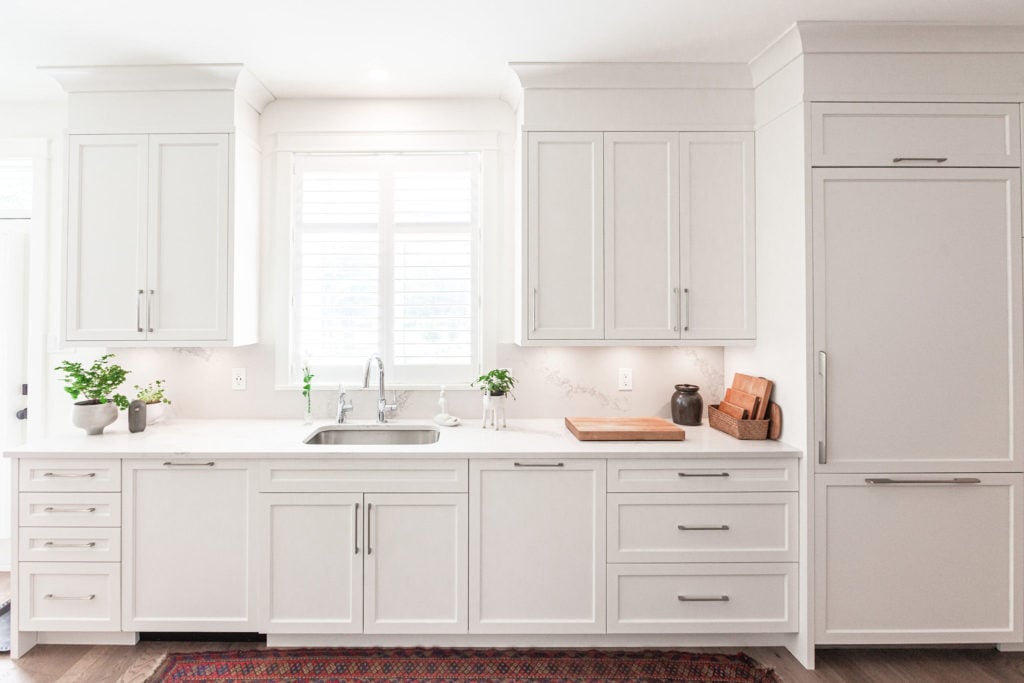 Since Deslaurier offers customizable selections, the material costs of each cabinetry system vary widely. The biggest cost contributors to a Deslaurier purchase are:
Drawer glide style

Aesthetic embellishments



The more add-ons and personalizations you make, the more your cabinets will cost.
Once manufactured, the Deslaurier team delivers and installs your cabinets.
Customizing Your Cabinets:
Deslaurier
vs. IKEA
IKEA refers to its kitchens as modular kitchens. That means the sizes of cabinet boxes are set and you can rearrange them however you like into unique combinations.
This is both an advantage and a disadvantage. Think about it like a Tetris game: there's a ton of different, interesting ways you can piece together modular units, but it's a brain-teaser to get everything to fit exactly right.
IKEA's standard cabinet heights are 30 and 36 inches—anything outside these dimensions aren't possible. Also, the standardized sizes are built to best accommodate IKEA's line of appliances and accessories. That makes the whole process easier if you're doing the rest of your kitchen shopping at IKEA, and harder if you're not.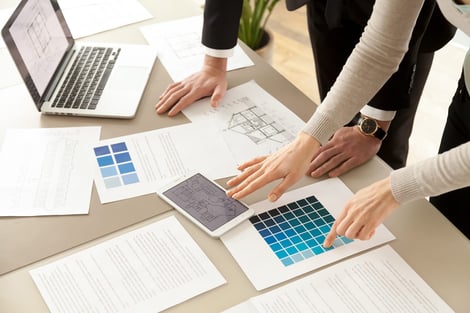 At Deslaurier, your cabinets are 100% customizable. The Deslaurier product catalogue is 700 pages long—with help from a professional Deslaurier designer, you can pinpoint a combination of species, door style, finish, and size that matches your kitchen space to a tee. Plus, if you have your heart set on a particular hue, Deslaurier offers an advanced paint colour-matching process.
Deslaurier cabinet sizes are fully customizable to even one sixteenth of an inch, so you can accommodate your kitchen's unique spatial requirements precisely.
Cost of Cabinetry:
Deslaurier
vs. IKEA
Undoubtedly, cost is the driving force for many homeowners' kitchen renovation selections.
Stock cabinetry will always be cheaper than custom cabinetry. You can expect IKEA cabinetry to come in around one-third to one-half of the price of Deslaurier cabinets.
For example, stock cabinets from IKEA for an L-shaped, 10x10 kitchen might cost between $6,000 - $8,000. At Deslaurier, custom cabinets for a kitchen of the same size might cost between $15,000 - $20,000. Of course, these are just example prices. When it comes to home renovation projects, no two kitchens are ever the same.
At IKEA, each item is priced separately. There's less variation in pricing because selections are standardized. It's harder to estimate costs at Deslaurier because rarely are two orders ever identical. Each cabinetry system is made to order.
Find out more about how much a kitchen renovation costs in our Learning Centre.
Quality of Cabinetry:
Deslaurier
vs. IKEA
What about quality? What are the underlying materials of IKEA and Deslaurier cabinets?
The inside of IKEA kitchen cabinets is composed of ¾-inch particleboard, melamine foil, and plastic edging. The interior of DCC cabinets is composed of ⅝-inch thermally fused laminate (TFL), Canadian, 100% recycled and recovered particle core panels, and PVC edging.
As for cabinet fronts, both Deslaurier and IKEA provide numerous material options. For example, IKEA kitchen cabinet doors are offered in:
Polyethylene terephthalate (PET)




DCC offers a wide variety of locally sourced materials for cabinet fronts engineered specifically to maximize the performance with their respective finish and application. Most fronts are ¾-inch thick. Options include:
Acrylic

Polyethylene terephthalate (PET)

Polyester
High pressure laminate (HPL)




DCC also utilizes the latest modern technology for environmentally responsible water-based paint and stain finishing.

In short, material options abound for both IKEA and Deslaurier cabinet fronts. Ultimately, the base material and finish selection for you depends on your aesthetic vision, lifestyle needs, and budget.
Another difference between Deslaurier and IKEA cabinets is that Deslaurier offers both integrated finished gables and add-on finished end panels, while IKEA only offers add-on finished end panels.
That simply means that you'll need to buy end panels to hide the exposed, unpainted or unstained surface on the sides of IKEA cabinets (the ones that aren't hidden by a wall or another cabinet).
At Deslaurier, you'll have the option of using end panels or having the cabinet manufactured with a finish built in, to work best with your design.
Furthermore, the backing on IKEA's cabinets is made from a thin ⅛-inch fibreboard. This backing cannot support the weight of the cabinet box when screwed directly to the wall. Instead, cabinets are screwed to a suspension rail which is secured to the wall to support the cabinets.
The backing of Deslaurier's cabinets is ⅝-inch thick (5X thicker than IKEA's backing). This backing creates the cabinet's strong structure and can safely support the weight of the cabinetry directly screwed to the wall.
Cabinetry Design Process:
Deslaurier
vs. IKEA
The design process at Deslaurier and IKEA is another noteworthy point of contrast.
At IKEA, you run the show: creating your kitchen plan is a hands-on project that requires a lot of effort on your part.
When planning an IKEA kitchen, you have both online and in-store options. Online, you can schedule a virtual appointment (up to 2 hours) with an IKEA kitchen planner to help you with their free online design software.
Alternatively, you can visit the store to use a computer workstation, and speak with a kitchen planner on the floor. In select locations, you can schedule a one-on-one in-store appointment for an additional fee.
In select regions, you can also set up an IKEA kitchen measurement service for an additional fee. You'll need to contact your local IKEA store to learn what kitchen planning services are available where you live.
At Deslaurier, a professional designer is dedicated to your project from beginning to end. That designer is charged with seeing your goals through to completion.
Although there's a professional assigned to you, the design process is still highly involved and requires your input and presence.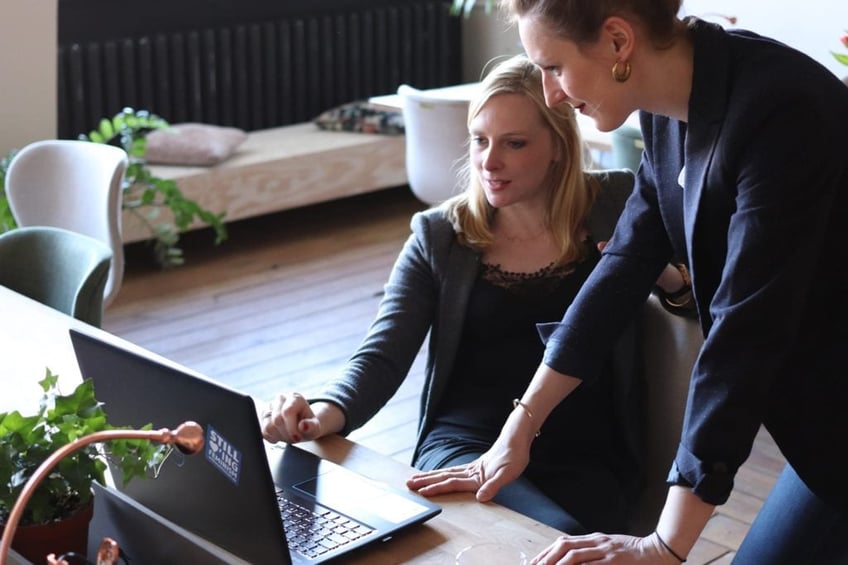 During your free initial consultation, your designer will take note of your budget, kitchen size, wish list, and issues with your current kitchen layout. Beyond the first appointment, multiple in-showroom and at-home meetings may be required to confirm various design elements and kitchen measurements.
When you're thrilled with your designer's proposal and give it your full stamp of approval, the order will be sent to Deslaurier's manufacturing facility. From there, the Deslaurier team will coordinate the delivery and installation process with you.
Cabinetry Product Warranty:
Deslaurier
vs. IKEA
Deslaurier and IKEA have similar warranties, with minor differences occurring in the extent of coverage.
IKEA offers a 25-year warranty on their SEKTION kitchen system only. IKEA kitchen faucets are covered under a 10-year warranty, and their appliances are covered by a 5-year warranty. The IKEA warranty does not cover normal wear and tear, cuts or scratches, or damage caused by impacts or accidents.
Their warranty excludes knobs and handles, countertops, sinks and wall shelves, certain drawers, wire baskets, and some of their cabinetry options.
If something breaks or is missing during installation, it's not covered. IKEA's warranty doesn't apply to products that have been stored, assembled, or installed incorrectly. It also doesn't cover "incidental or consequential damage."
Deslaurier offers a 20-year warranty on all cabinetry, excluding countertops, that they supply directly to the original buyer. DCC warrants that any defects in material or workmanship that occur with normal residential use and in accordance with wood specifications and cabinetry care and cleaning procedures will be repaired or replaced.
Some materials that Deslaurier uses, like Blum hinges and drawer slides, have a lifetime warranty. Components like these are subject to the respective manufacturer's warranty.
Click to read the DCC warranty in-depth.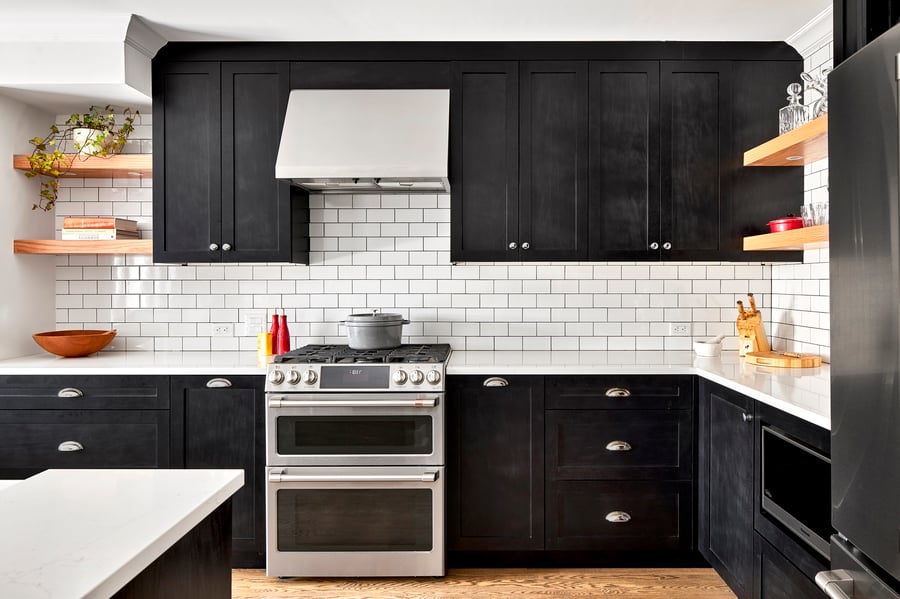 Cabinetry Installation:
Deslaurier
vs. IKEA
At IKEA, the stock pieces you order are packaged and shipped directly to your home. Or, if you forgo the shipping fee, you can load and drive home with your items yourself (assuming they're all in stock) same-day.
From there, you're in charge of following the assembly instructions and putting everything together. Alternatively, you can hire an independent contractor to tackle the project.
If anything breaks or is missing, it's up to you to contact customer service and order a new part out of pocket. Nothing that breaks during installation is covered under IKEA's warranty.
At Deslaurier, you'll set up an appointment time for the Deslaurier team to professionally install your newly delivered cabinets.
Anything that breaks or was not shipped will be immediately reported by a Deslaurier team member. These parts will be fixed or replaced at no cost to you.
Where is the Kitchen Cabinetry Made?
Deslaurier vs. IKEA
IKEA kitchen cabinets are sourced from European suppliers. IKEA hardware and accessories mostly come from Europe and China.
Since the bulk of IKEA products arrive from overseas, you may run into a lengthy wait time in the event that any of your selections happen to be out of stock.
Deslaurier cabinetry is manufactured in its facility in Renfrew, Ontario, Canada. Deslaurier's manufacturing process uses locally sourced materials in a very regimented process. You should expect your cabinet's production timeline to vary. At the time of publication, a standard lead time is 8 weeks—but keep in mind, lead times are always changing with market conditions.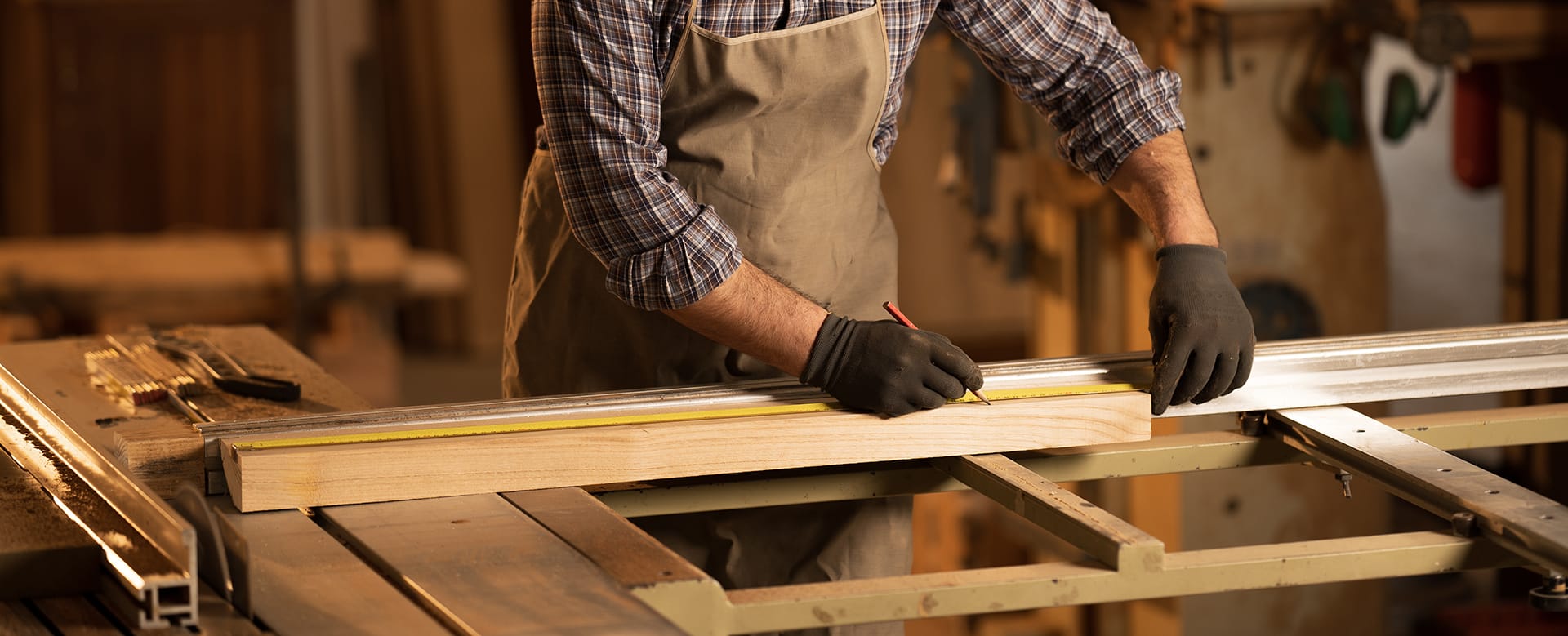 Deslaurier seeks out industry leaders to supply hardware and accessories for its cabinetry. Most of these manufacturers are either North American or European, and include names like Blum, Emtek, Richelieu, among others.
The True Value of Custom Cabinets vs. Stock Cabinets
No one would argue that the product-alone cost of stock cabinets is less expensive than their custom counterparts.
The catch is: the cost of the product itself isn't the true value.
The true value depends on your preferences. You must decide how to weigh the quality of the product and the length and labour of the design-to-install process.
For instance, if you're comfortable with using computer design software, planning your IKEA kitchen might be a walk in the park. Conversely, if technology confounds you, you might prefer to pay more for a designer to do it for you.
Similarly, if you don't want to spend too much time making aesthetic selections, you might love the set offerings at IKEA. However, if you're bent on matching your cabinet paint to the unique colour of your favourite sweater, Deslaurier's colour-match capabilities will come in handy.
As you can see, there's simply no cookie-cutter answer to the custom vs. stock cabinet question. You need to evaluate the two options by your own standards of value.
Schedule a Kitchen Design Consultation with
Deslaurier
At Deslaurier, our designers are our greatest asset, bringing over 60 years of combined experience to the table. We've earned Deslaurier the Better Business Bureau's Torch Award, which sets the standard for marketplace trust in the home improvement industry.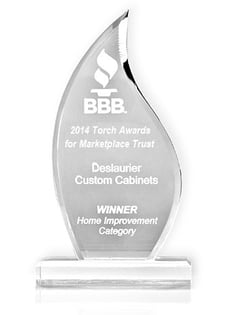 We provide our clients with custom cabinets and a customized experience. Here, the two go hand-in-hand.
As you endeavour to find the best-choice cabinetry for your kitchen make-over, why not schedule a no-obligation consultation in Ottawa or Renfrew? We have no qualms about showing prospective customers what we can do—no strings attached.
If you live outside the Ottawa area, find a dealer nearest you. Interested in becoming a dealer? Fill out our Become a Dealer form to connect with us.