22/02/2022 • Blog, Comparisons
Cherry vs. Walnut: A Comparison of Kitchen Cabinet Materials
Not sure if you should go with rich cherry wood or an alluring walnut for your kitchen cabinets?
Both are beautiful and high-end solid wood choices. So how do you decide which is better for your kitchen cabinets?
At Deslaurier, we're experts in all things kitchen cabinets. With this, we know how important it is for our clients to understand the detailed differences and similarities between cherry and walnut, two of the most luxurious cabinet materials, when making their choice.
This article will take you through all the characteristics of cherry and walnut as cabinet materials. We'll compare the two options side by side to help you determine which wood species is right for your kitchen cabinets.
Let's get to it!
Cherry vs. Walnut Cabinets: Appearance
Cherry and walnut are two of the most elegant and eminent wood species available for kitchen cabinets. They both offer unique characteristics when it comes to their colour and grain variations, distinguishing them as two recognizable high-end cabinet materials.
Take a look at the appearance of cherry wood (left) next to walnut (right):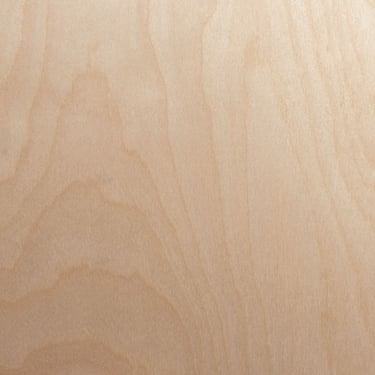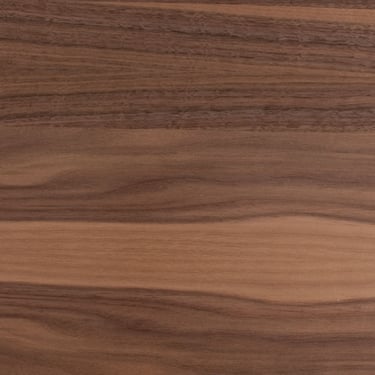 As you can see for yourself, walnut is a stunning natural wood noted for its significant colour and strong, typically straight grain variation. Walnut can range anywhere from a light brown to a deep, dark chocolate hue. Though its grain is very open and more coarse than cherry, walnut still has a beautiful, uniform surface.
Noted for its rich, dark, reddish-brown colour, cherry is one of the most luxurious woods you can find for your kitchen cabinets. It has a smooth, closed grain pattern. Prized for its aesthetic, cherry offers a more traditional look.
That's not to say cherry wood can't be utilized in modern kitchens. Take a look at this modern kitchen design incorporating a stained cherry wood: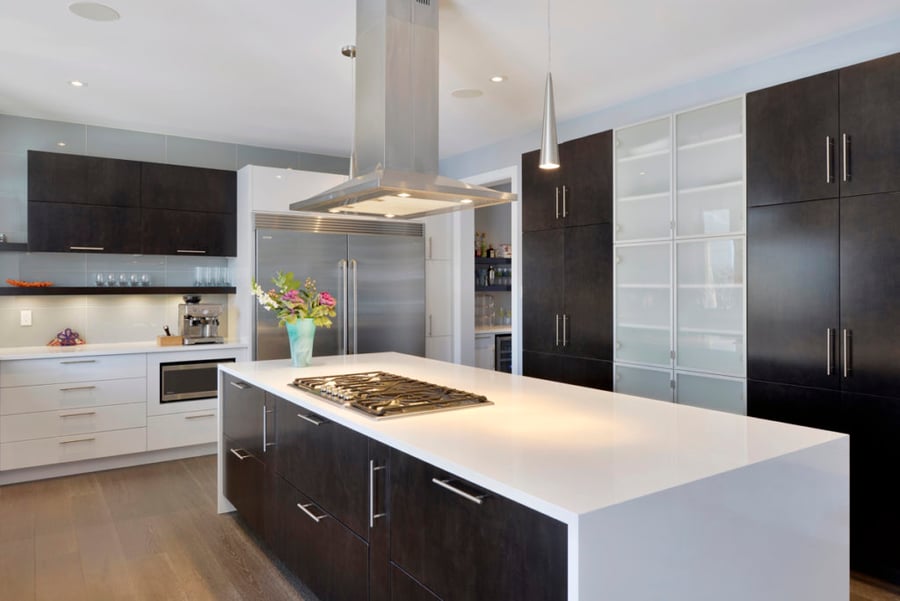 A key characteristic to note about cherry wood is its aging process. Starting almost as a light or golden pink, cherry gradually gains deep, alluring reddish-brown hues as it is exposed to oxidation and natural lighting over time.
Let's use cherry wood floors as an example. If you have cherry flooring in a room with good sunlight, you'll notice differing depths of colour within the room. If you move your furniture after a few years, the flooring where a rug or a large couch was will be much lighter than the rest of the room's flooring that has been exposed to consistent sunlight.
The same darkening process will happen to your kitchen cabinets. That's why it's important to ensure that your cabinets are positioned correctly. You'll want your cherry cabinets somewhere that allows them all to receive the same amount of sunlight. Otherwise, some cabinets will become darker than others.
To be clear, sunlight doesn't cause this aging process, it only advances it. Cherry wood will naturally grow darker with age.
The opposite aging process is true for walnut cabinets. With time, the dark brown colour of walnut naturally begins to lighten.
These unique aging processes are part of the distinct beauty associated with purchasing natural wood kitchen cabinetry.
Thinking about incorporating cherry or walnut cabinets into your kitchen? Kickstart your kitchen plans by booking a free consultation with a Deslaurier kitchen design expert!
Cherry vs. Walnut Cabinets: Strength
Though cherry and walnut are durable hardwoods in their own right, they do fall short of the strength and resilience of harder woods like maple or birch.
Let's use some numbers to explain the strength of these wood species. We'll use the Janka Hardness Scale, a scientific test used to determine the strength, or "hardness", of a solid wood species.
On the Janka scale, walnut receives a 1,010, while cherry gets a 950. Those are respectively strong woods. However, they aren't quite on the same level of strength as hardwoods like maple (1,450) or birch (1,260).
While walnut is slightly harder than cherry, the difference of strength is minor. In fact, if you're careful around your cabinets, any severe damage may be negligible to you as a user.
As previously mentioned, both are reliable woods but cherry is slightly softer and less durable than walnut. It is still a dependable wood for kitchen cabinets and will stand up well to the general everyday kitchen wear and tear.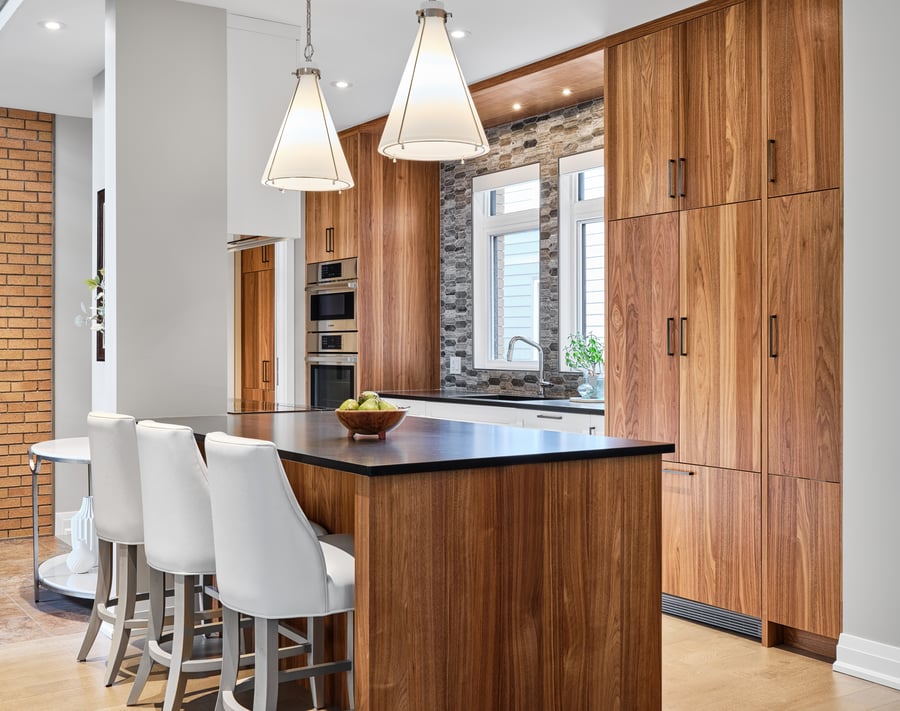 Cherry vs. Walnut Cabinets: Finishing Options
What might be surprising about woods like cherry and walnut is that you're actually less likely to apply a deep stain to them than you would with woods like maple or oak.
Rather, most people use a clear coat finish to enhance the rich, natural colours of both walnut and cherry wood.
Cherry's aging process, as we mentioned earlier, lends itself to a clear coat finish rather than a stain. Since the wood naturally gets darker with time, it doesn't require a deep, heavy stain like some other woods might.
Walnut on the other hand, portrays a very rich velvety sheen that accentuates its strong grain pattern when finished with a clear top coat.
This isn't to say neither of these woods should have stained finishes. Different levels of stain can enhance their natural qualities like any other wood. Generally speaking, however, people enjoy a mild stain that lets the beautiful, organic characteristics of cherry wood and walnut be on display.
This leads us to painted cabinets. You wouldn't want to paint cherry or walnut cabinets for two reasons.
For starters, you'd never select luxurious cherry wood or walnut cabinets for your kitchen, only for you to go ahead and paint over their gorgeous natural colouring and wood grains. The whole point of these remarkable natural woods is to have their unique aesthetic on display!
The second reason is that cherry and walnut simply aren't the best surfaces for paint application.
Alternatively, MDF (medium-density fibreboard) offers an unrivalled surface for a perfectly uniform painted finish. Even maple and birch, which are considered paint-grade woods, would be more practical solid wood materials for painted cabinets.
If you currently have older cherry or walnut kitchen cabinets that you want to update, however, that's a different story. Paint can be a great way to transform your current cabinets aesthetic. To save money, consider repainting or refinishing them yourself with this step-by-step guide from our Learning Centre!
Otherwise, leave the painted finish to less expensive, paint-grade cabinet materials like MDF, maple, or birch.
For an in-depth comparison of popular cabinet finishes, check out our article on Stained vs. Painted Kitchen Cabinets! Be sure to check out the Top Kitchen Cabinet Colour Trends for 2022!
Cherry vs. Walnut Cabinets: Cost
Cherry and walnut are often very expensive, especially when outfitting an entire custom kitchen with such high-tier woods. Both are near the top of the cabinet pricing scale, more expensive than options such as maple, oak, or birch.
However, the cost is always dependent on the grade of the wood, market conditions, and the manufacturer.
It should be noted that cherry and walnut are not as readily available as other woods like maple or oak. This lack of availability results in expensive price tags.
In fact, if you want to incorporate lush cherry or walnut cabinets into your kitchen design, you're more likely to use them as secondary pieces of a two-tone kitchen, rather than a full set of base and upper wall cabinets.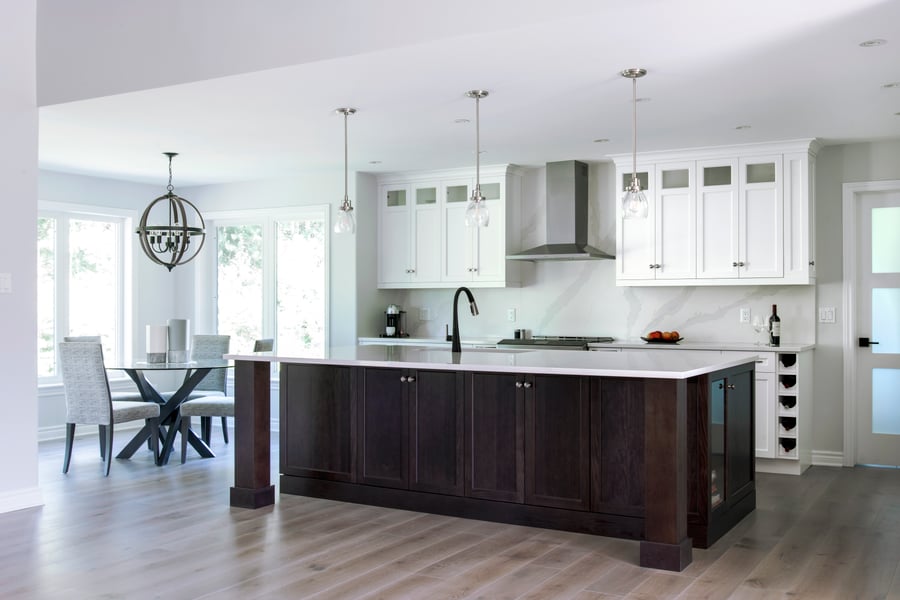 For instance, cherry and walnut are popularly utilized for kitchen island cabinets and paneling. Their gorgeous natural colouring and prominent wood grain help accentuate your kitchen island as the focal point of the room. Especially when juxtaposed with painted perimeter wall cabinets or a lightly coloured island countertop.
While the cost of each wood can be quite similar, walnut is generally more expensive than cherry wood. This could be from 5-15%, depending on manufacturer and market conditions.
Having the look of walnut or cherry cabinets in your home doesn't always have to break the bank! Alternative options like a wood veneer or textured melamine will provide you with a similar high-end aesthetic at a much cheaper price.
Cherry vs. Walnut Cabinets: What's Right For You?
When choosing between cherry wood and walnut, it ultimately comes down to your personal aesthetic preferences.
Since both options offer beautiful cabinets in their own unique style, it's up to you to decide which avenue suits your dream kitchen best.
Do you like the rich, luscious red hues and traditional style that come with cherry cabinets? Or maybe a strong, horizontal grain, dark brown walnut cabinet in a slab door is more your style.
Ultimately, it's always important to consider your budget, your design style, and your lifestyle to choose the best cabinet wood species for your dream kitchen.
Design With Deslaurier Custom Cabinets
Want to inspect the differences between cherry and walnut cabinets for yourself? Book a free consultation with a Deslaurier kitchen expert at our Ottawa showroom!
If you have your eye on custom cabinetry, Deslaurier Custom Cabinets has everything you need. With over 40 years of experience to our name, we provide our clients with a wholly customized design process with our talented team of designers.
Interested in becoming an authorized Deslaurier dealer? Visit our Become a Dealer page to learn more!