A traditional kitchen is formal and homey all at once. It's dignified and sophisticated. It's comfortable and inviting.
Traditional spaces are anything but cookie-cutter. Homeowners have the freedom to experiment with design elements that resonate with their unique tastes.
Want to know more about how to design a traditional kitchen? This article defines the style and investigates the individual components of a traditional design from top to bottom.
Let's get started!
Traditional Kitchens
A Timeless Appeal
What's considered "modern" today won't be the same a few years from now. Trends come and go, but the appeal of a traditional kitchen is timeless.
No matter what fashion fads don magazine covers or happen to be on everyone's home makeover wish list, traditional designs never become outdated or passé.
Traditional kitchens are on the opposite side of the design spectrum as modern kitchens. Where modern kitchens are streamlined and minimalistic, traditional kitchens are anything but. Rather, traditional designs are chock-full of embellishments, detail, and decorative finishes that ask to be admired.
The great thing about traditional design is that it's a general, broad term. A traditional room can pull styles from all places and time periods. As long as the item is ornate, unique, or vintage, it will probably fit in a traditional room.
Let's explore the specific parts of a traditional kitchen now.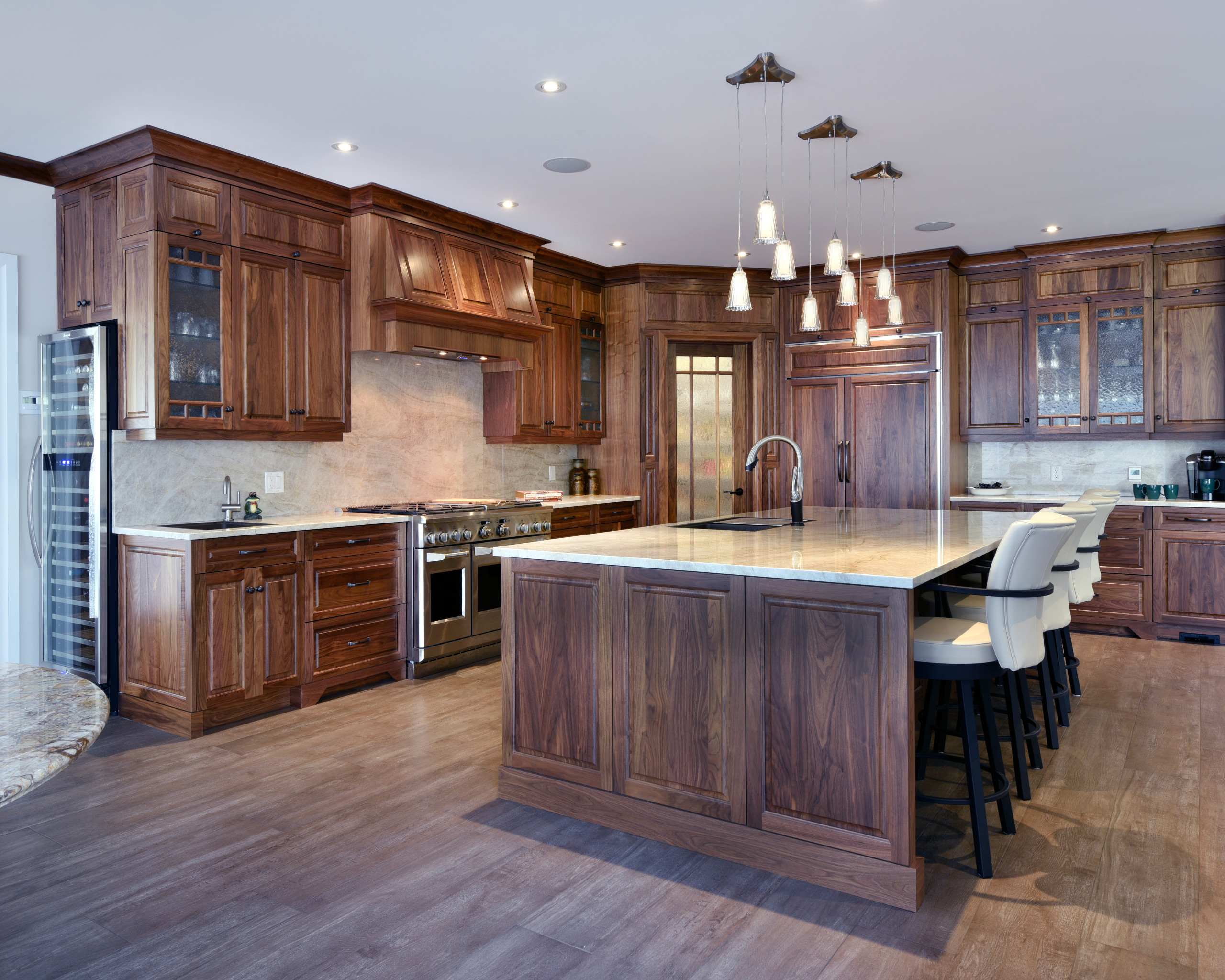 Neutral Kitchen Colours
As we mentioned, traditional kitchens have a lot of intricate detail and ornamentation. To make those finer additions stand out, most traditional kitchens have a basic, neutral colour scheme as a backdrop.
Cream, taupe, and dark brown paints and stains dominate the traditional colour spectrum.
The more natural the finish, the better. Synthetic finishes like lacquers, veneer, and laminate aren't common—they fit better in modern kitchens.
Plus, warm colour tones are ideal for creating the cozy mood and the laid-back elegance of a traditional kitchen.
If there is any use of a non-neutral colour in a traditional design, it's more than likely a pale, muted shade or a colour found in nature, like hunter green that's been glazed to appear more aged and antique.
Traditional Kitchen Cabinetry
Detail, detail, detail. Traditional kitchen cabinetry is full of it. Perhaps the most telltale indicator of a traditional kitchen is the style of cabinetry used.
Traditional Cabinet Door Styles
Recessed and raised panel doors tend to be first in line for traditional kitchen lovers. The added dimension emanates class.
Deslaurier's Crestfield, Inglefield, Crestwood, and Royalview door styles, pictured below, are four very popular styles that suit traditional kitchens well. The first two from the left-hand side are recessed panel doors and the last two are raised panel doors. You can see that the grooves and insets in each one gives character to the door.
Check out the Inglefield style in this kitchen display from Deslaurier's showroom in Ottawa: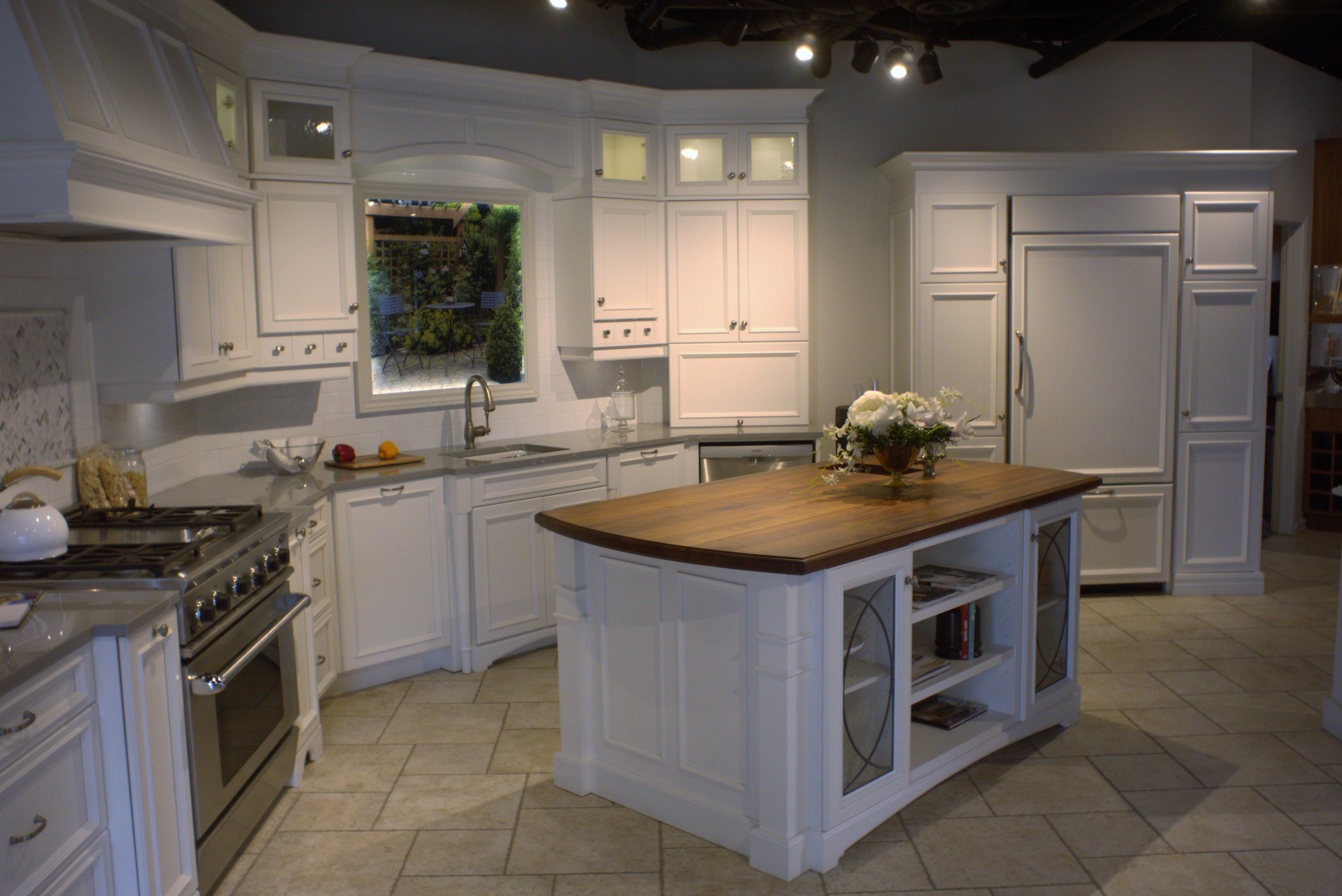 Follow the link to learn more about the 5 Best-Selling Cabinet Door Styles in Deslaurier's collection.
Other Custom Millwork Details
The detailed embellishments of traditional kitchens don't stop there. Things get even more ornate and fancy on the kitchen island.
Columns and corbels lend a regal touch to traditional islands while decorative valanced toe kicks give another signature look to traditional millwork.
Take a look at the traditional allure of the corbel on this kitchen island: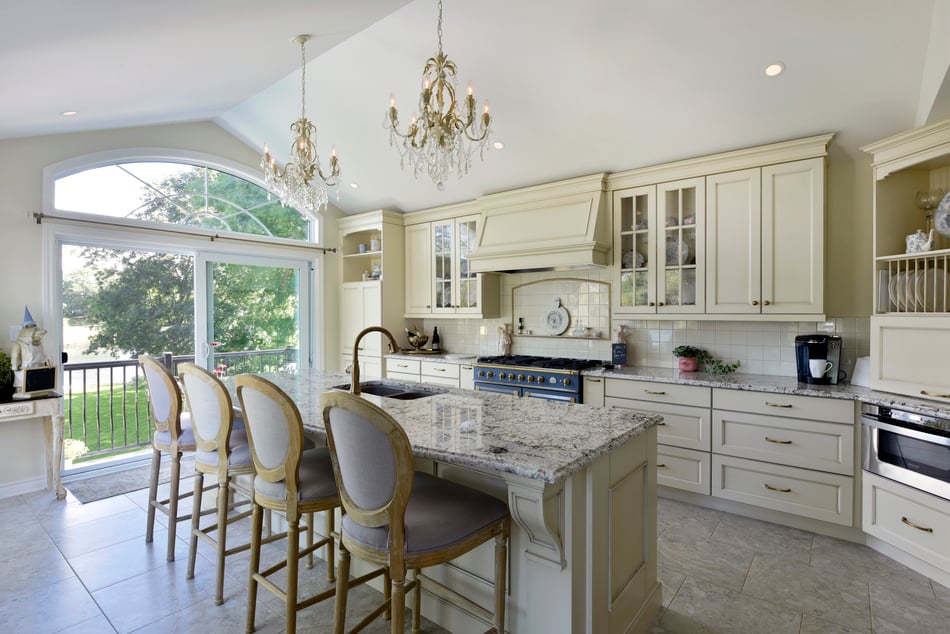 According to Junior Designer Holly Kerr,
In traditional designs, islands and other custom features look like pieces of furniture because of the handcrafted embellishments.
In this picture, you can see that the arch in the island's toe kick and the recessed columns in each corner dress up the overall style of the room.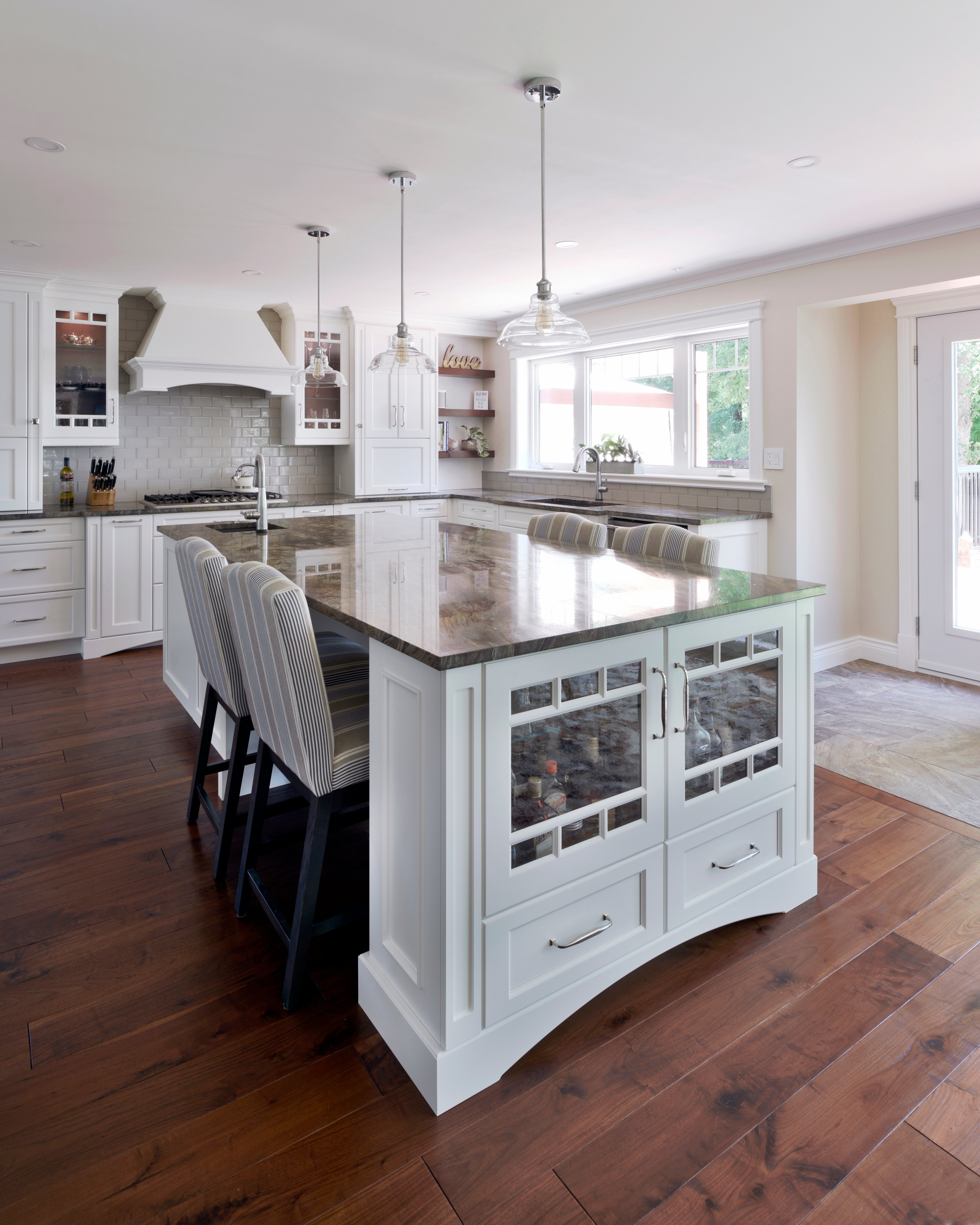 Decorative Range Hoods
Another quintessential design item in traditional kitchens is a large, decorative range hood.
A custom hood is a design feature that's not afraid to be a little flashy. It stands out, draws the eye, and impresses guests all in one sweeping glance.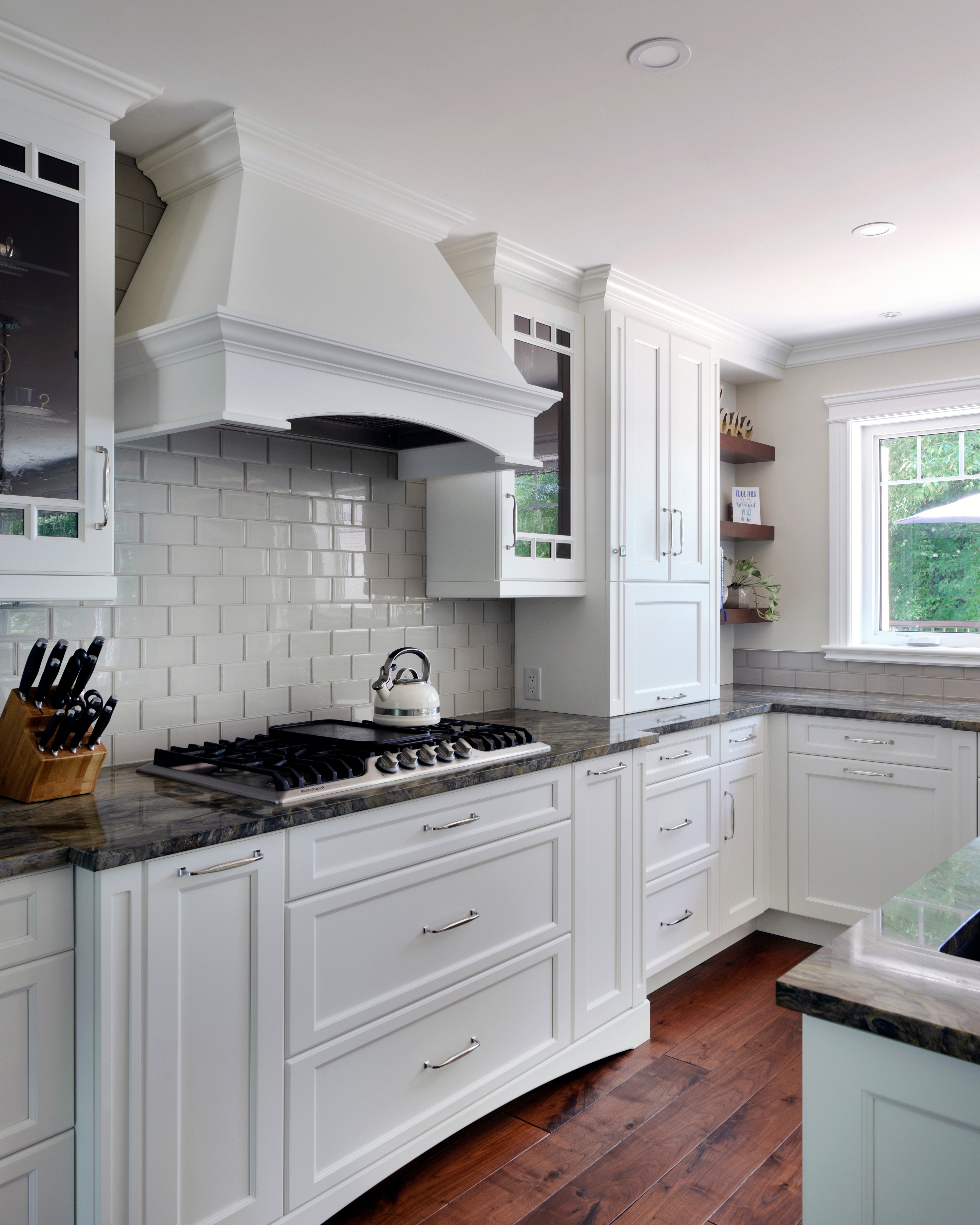 Glass-Front Cabinet Doors
Adding glass fronts to cabinets is another way to elevate your traditional kitchen with delicacy and charm.
Glass-front cabinets are versatile, so you want to be choosy with your inserts to make sure they'll work within your traditional design.
After all, glass-front cabinets are popular in transitional and farmhouse kitchens, too. Normally, simplistic, flat glass panes suit contemporary designs best.
If you want to add glass to a traditional kitchen, play with architectural mullions to add some flair or tweak the glass to make it frosted or textured. Again, the level of detail is key to traditional design.
Kitchen Countertops
Natural material countertops, like granite and butcher block, are the most common work surfaces in traditional kitchens.
When quartz is used, it's usually a natural-looking slab of quartz, such as one engineered to mimic a marble countertop.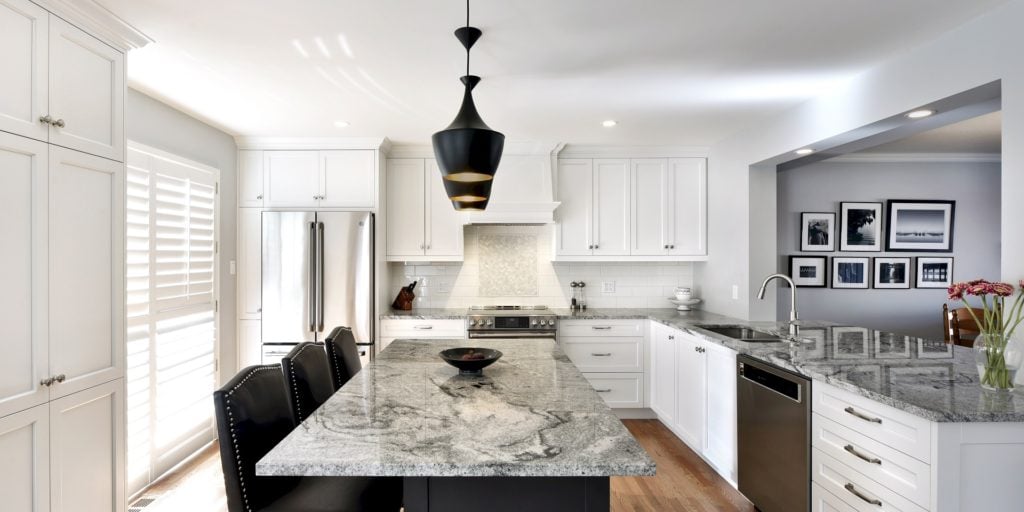 If you want to build a rustic-styled traditional space, you might like to pick a countertop that comes with a leathered finish. The textured surface makes the stone appear even more natural and weathered.
Follow the link to learn more about Polished vs. Honed vs. Leathered Countertops.
Kitchen Flooring
Hardwood, stone, or tile floors are customary choices for traditional kitchens as they fit in with the old-school and ever-classy status quo. Once again, natural materials win out over other synthetic options like vinyl tile and laminate.
Read the 5 Top Kitchen Floors for New-Builds and Remodels to learn more.
Kitchen Layout
While certainly not a hard-and-fast rule, traditional kitchens are often grand spaces with large windows.
If you're browsing traditional kitchen inspiration photos online, you'll probably notice that the rooms are often large enough to accommodate a kitchen island and two (if not more) walls of perimeter cabinets.
Why does square footage matter? Think of it like the lobby of an upscale five-star hotel. Luxurious, lavish additions such as crystal chandeliers and massive floral bouquets are easier to appreciate in a spacious area. If all of those showpieces were crammed into a broom-closet space, they would overcrowd the space.
Now, in no way does that mean you can't create a traditional design out of a galley kitchen or a 10 x 10 room! However, it does mean that you might want to be slightly more selective about how many decorative features you include.
Sometimes, less is more.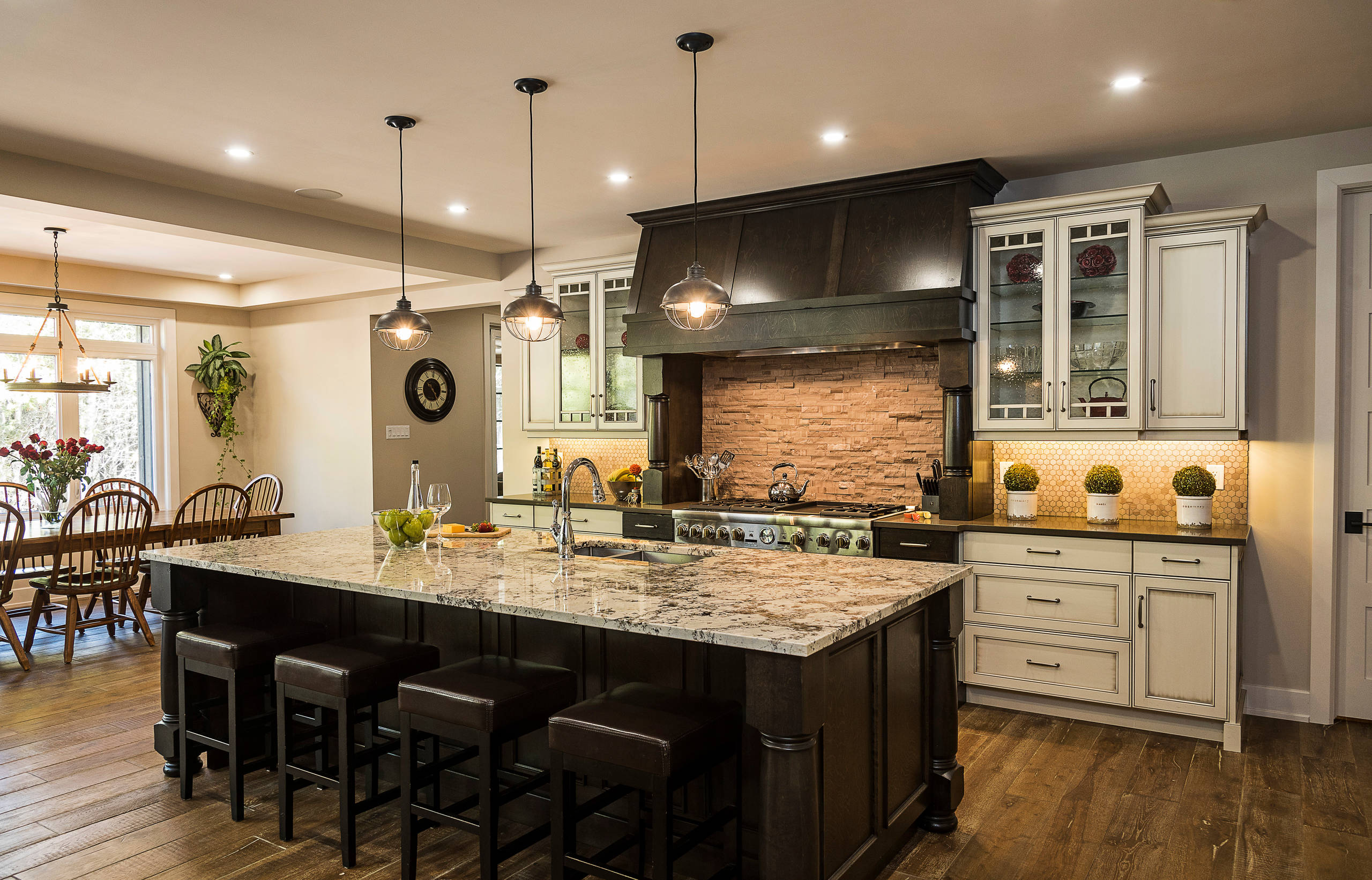 Kitchen Backsplashes
It's best to give your traditional kitchen a simple backsplash.
Your cabinetry is the "wow" factor and the main event in the room and the backsplash is just there to set the stage. Neutral tiles and subtle patterns in a backsplash are best to avoid overshadowing or competing with the cabinetry's detail.
If you must let out your inner love of mosaics, try to restrict the bold display to one area of the kitchen, such as behind the stove. Otherwise, you may find that the kitchen becomes too "busy" and the beauty of singular details gets lost in a crowd of them.
In this kitchen, a plain, grey backsplash with white grout covers the room, and a tasteful pattern is localized under the range. It's just enough detail to make a statement without detracting from what's happening elsewhere in the design: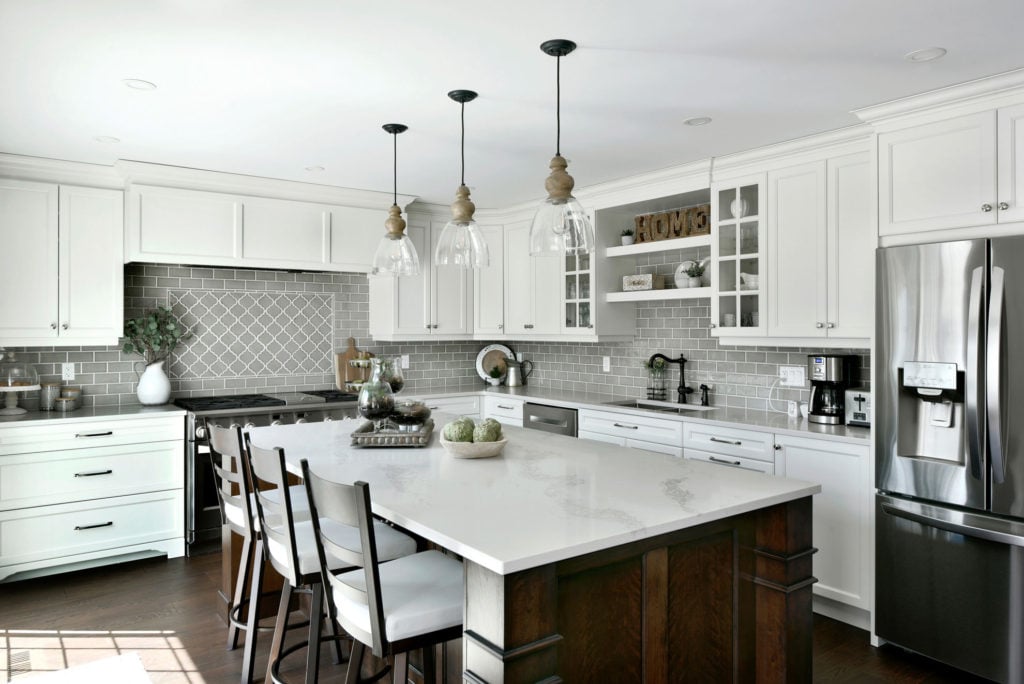 Kitchen Cabinet Hardware
Kitchen cabinet hardware is yet another opportunity to showcase your taste and preferences with detail.
The hardware featured in a traditional style kitchen is often quirky and vintage-like and finished in gold, oil-rubbed bronze or brushed nickel.
Check out these crystal-like round knobs in this traditional space:
Design a Traditional Kitchen With Deslaurier
Ready to assemble your favourite traditional kitchen products into a first-class, customized design? The Deslaurier Custom Cabinets team is here to help.
Book a free appointment at our showroom in Ottawa to get started! Live outside the Ottawa area? Find a dealer near you to discover the Deslaurier advantage close to home.
Related Links: