17/12/2021 • Blog
How Much Do Custom Cabinets Cost? Breaking It Down
Thinking of going with custom cabinets for your kitchen? You've come to the right place!
At Deslaurier, we are experts on all things custom cabinetry. Among this knowledge, we understand that custom cabinets are one of the largest expenses of a kitchen renovation. But where does the cost come from? How much can you expect to spend?
This article will break down custom cabinets and walk through exactly what factors influence the cost. Since custom cabinets are very design-oriented, we'll provide prace ranges, as the cost of one kitchen will vary depending on the needs and taste of each individual purchaser.
Let's get started!

What Are Custom Cabinets?
If you've been researching new kitchen cabinets you've probably come across several different classifications, such as stock, semi-stock, and custom.
As the name suggests, custom cabinetry is custom built to meet your personal specifications, whatever they may be. By collaborating with a professional designer, you can strategically tailor your kitchen design to match your lifestyle.
When you're shopping custom, you start with a blank canvas. Everything, including cabinet materials, size, construction, colour, and finish (including paints, stains, and custom colour matches) can be adjusted to suit your taste. Suddenly, oddly shaped corners and exceptionally tall ceilings are a breeze to work around.
For example, at Deslaurier, your cabinets are 100% customizable. The Deslaurier product catalogue is 700 pages long—with help from a professional Deslaurier designer, you can pinpoint a combination of species, door style, finish, and size that match your kitchen space to a tee. Plus, if you have your heart set on a particular hue, Deslaurier offers an advanced paint colour-matching process.
While custom cabinetry sounds ideal, it does come at a cost. Below is a breakdown of factors that impact the cost of custom cabinets.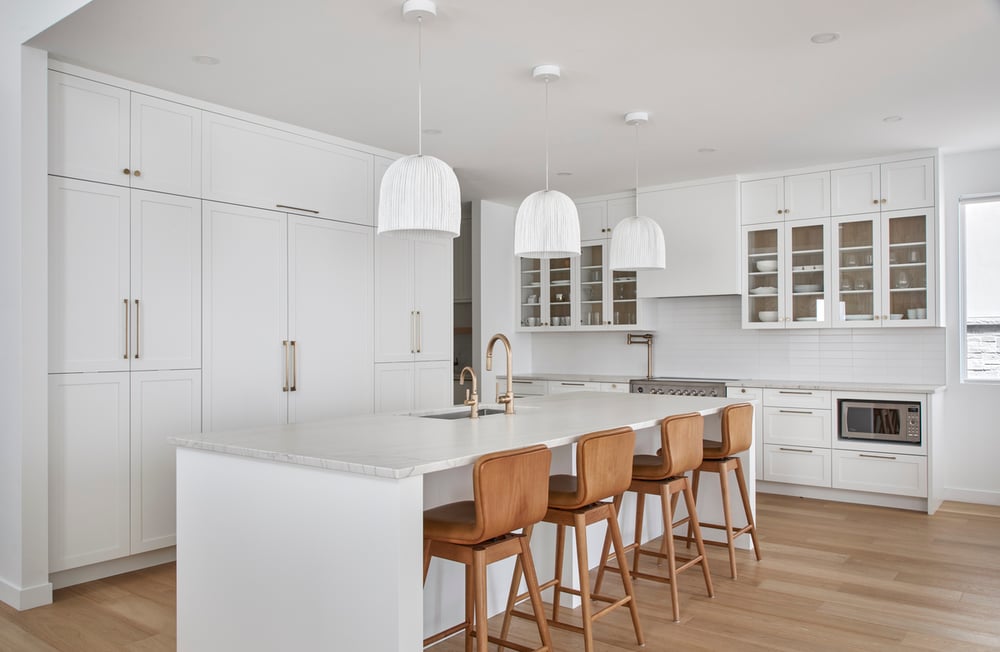 Cost of Cabinet Materials
One of the largest influences of overall cabinet cost stems from the choice of material used. Naturally, these different products will come in differing price points.
MDF and a variety of natural woods are the most popular cabinet options, but there are also some cost-effective alternatives that are great for a budget-conscious kitchen reno.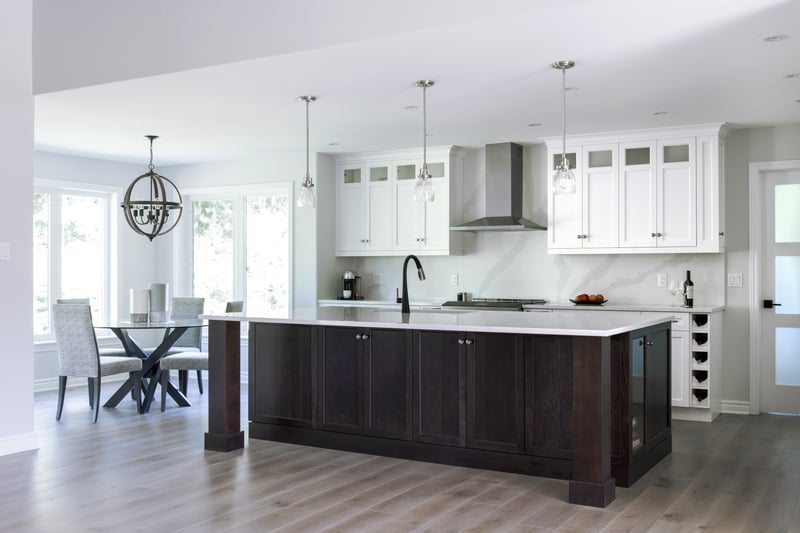 Natural Wood Cabinets
With so many different natural woods on the cabinet market, the species you select can substantially affect the cost of your cabinets. More specifically, the cost of a particular wood species has to do with the grade of the wood, availability through the supply chain, and the manufacturer
Readily available woods like Oak, Birch and Maple are easily sourced throughout North America, making them cost effective. In comparison, Walnut and Cherry are more rare and considered high-end, ultimately increasing the cost.
Let's compare Birch and Maple as an example of how the cost of natural woods can vary.Typically speaking, maple is usually more expensive than birch. Birchwood is usually a cabinet maker's entry-level product.
At Deslaurier, we source very high grades of wood, regardless of the species. In turn, our birch and maple cabinets are equivalent as far as purchase price.
MDF Cabinets
MDF is an extremely popular option for kitchen cabinets. Given that it is such a good substrate to bond to, MDF provides a number of quality finish options (more on that below) such as thermofoil, while it also sports the best surface for a quality and uniform painted aesthetic.
Specific pricing for MDF is complex depending on the varying thickness and quality of the materials. This is ultimately dependent on the manufacturing supplier. Typically, the thicker the fiberboard the more expensive MDF will be.
Generally speaking, MDF will come anywhere from $20 to $80 per (commonly 4'x8' or 5'x12') sheet, varying by quality and manufacturer.
For decades, MDF was viewed as an inferior and cheaper alternative to natural wood cabinets. But the quality of MDF has improved to the point that it is comparable to natural wood materials like Birch or Maple.
Laminate and Melamine Cabinets
With regards to alternative options, melamine and laminate cabinets are two popular budget-friendly choices. Both options are significantly cheaper than MDF or a natural wood choice. In fact, you can save thousands of dollars by opting for laminate or melamine cabinetry.
Melamine, for example, can imitate wood cabinets successfully for significantly less. So, if you love the look of wood cabinets but your kitchen design is on a tight budget, melamine is a smart, cost-effective alternative for that desired aesthetic.
Just remember, the reason melamine and laminate are cost-effective alternatives to MDF and natural wood is due to their inferior quality. At Deslaurier, our natural wood and painted MDF cabinets are high-quality products that come with a 20 year warranty. Melamine and laminate, on the other hand, are products designed to replicate painted or stained wood grain cabinets.
Cost of Cabinet Finishes
The desired finish you choose will have a significant impact on the overall cost of your custom cabinets. It may be surprising, but sometimes the finish can influence the cabinet's cost just as much as the material you choose.
Stain Finishes
The biggest aesthetic indicator of stained cabinetry is that the wood's natural grain pattern and texture remains visible.
Stains seep into the cabinet door surface and provide a translucent finish. As a result, the knots and grains of the wood species stay prominently on display.
Stains and glazes can vary in quality and in price, but relatively speaking, the species of wood will always influence cost to a greater degree than the stain.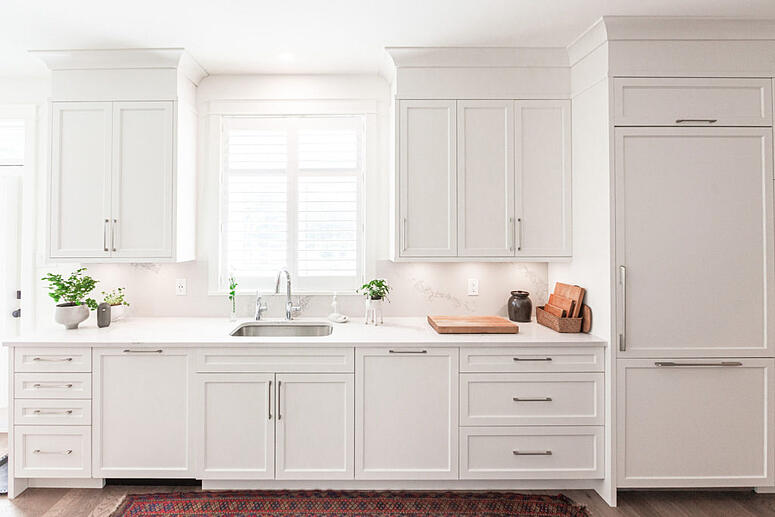 Paint
Solid paints adhere to the top of wood or MDF surfaces, creating an opaque, uniform finish. If you paint your cabinets, there's not much point in selecting a species for its grain pattern, as it won't show through the paint.
Typically, birch, maple and MDF are recommended for a pristine painted finish.
Painted cabinets typically cost more than stained cabinets. How much more? It depends on the colour, but you can expect painted cabinets to cost roughly 10-15% more than stained cabinets.
You can attribute the bump in price to the extra labour involved in painting cabinets.
There are only three steps involved in the staining process, namely, applying a stain, a sealer, and a top coat. Comparatively, painting a cabinet is an 8-step process, requiring multiple coats of primer, base paint, paint, and top coats.
Visit our Learning Centre page for an in-depth comparison of Stained vs. Painted Cabinets.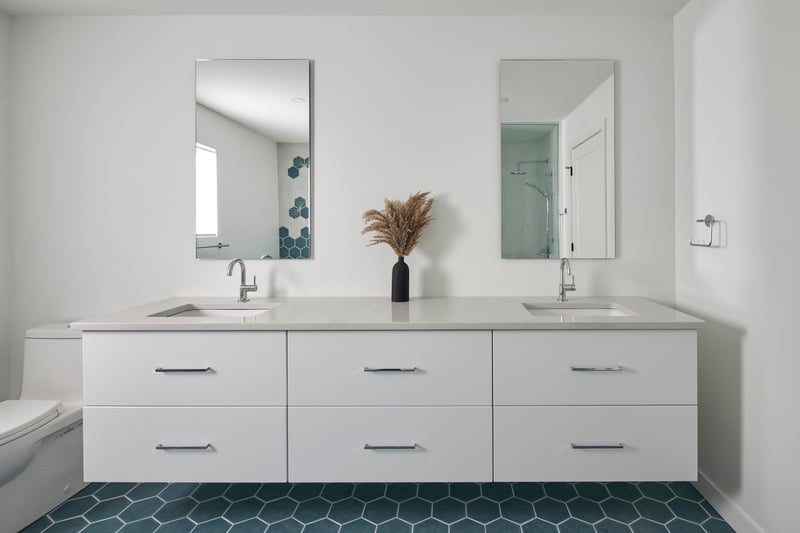 The
rmofoil (Thermo)
Thermofoil (thermo) is a PVC vinyl material that is applied to MDF doors through heat and vacuum pressure, fusing the two together.
The thermofoil process produces a seamless surface, typically in a solid colour, but sometimes also a faux wood grain pattern.
Thermofoil is the least expensive of the three main finishing options. In terms of finish styles, thermofoil pricing doesn't vary the same way that an Oak vs. Cherry would.
High gloss, matte, and textured thermofoil all come in at relatively the same price point, so you won't feel limited when choosing your preferred look.
To learn more about thermofoil, check out Thermofoil Kitchen Cabinets: A Review.
How Size & Shape of the Cabinet Design Impacts Cost
True to the name, custom cabinetry comes in all shapes and sizes. Although your design is fully custom, there are some standard custom cabinet sizes that you can choose from.
At Deslaurier, our standard catalogue of cabinet sizes ranges from 6" to 42" in width. Typically, regular cabinets will reach a size of 36", but larger sink basin cabinets are available in 39" and 42".
Anything over 42 inches would be outside of our standard catalogue and considered fully custom.
That being said, you can choose to get fully custom sized cabinets. Deslaurier cabinet sizes are fully customizable to as little as one sixteenth of an inch, so you can precisely accommodate your kitchen's unique spatial requirements.
The size, shape, and number of cabinets your kitchen requires, will be the biggest determining factor of the cost of your cabinet expenses.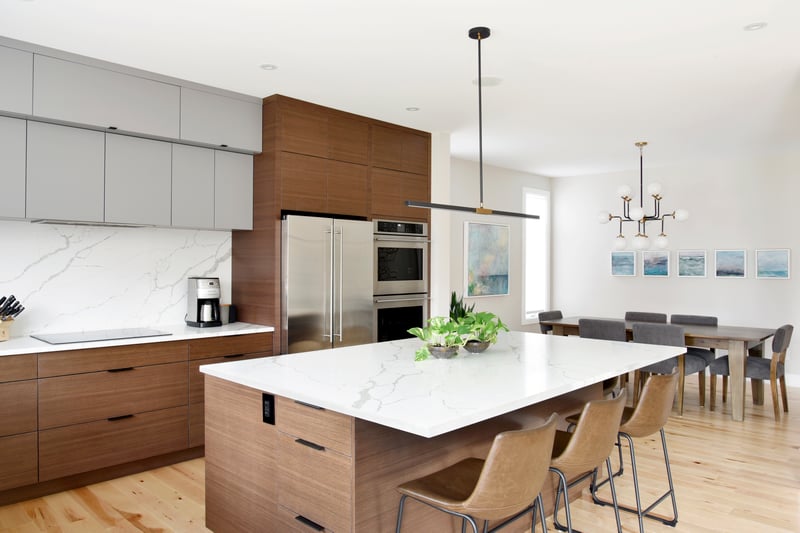 Base vs Upper Cabinets
Not all cabinets are the same. With custom sizing, cabinets will vary in height, width, and depth. This is also true when comparing upper cabinets and base cabinets.
Base and island cabinets traditionally will cost more than upper wall cabinets. How much so? That varies. Typically, base and island cabinets will be several hundred dollars more expensive.
This is because base cabinets are regularly deeper and require more material. They are also more commonly equipped with drawers, another cost-increasing factor. .
Interior drawer hardware will cost more than standard door hinges. Add on the cost of a soft-close mechanism and cabinets with drawers can become substantially more expensive than standard door cabinets.
For example, a standard base cabinet, like an Oak with a basic stain, would cost roughly $500. But, this price will increase depending on wood species and desired cabinet finish.
Finished Sides
Cabinet boxes are all made out of the same particleboard material, so the only time the cost will differ between two cabinets of the same size is if one has finished sides.
Finished sides are a beautiful look for any cabinets that aren't against a wall or covered by a panel. Upper cabinets with open space next to them (think above the stove, next to the hood fan), or base cabinets at the end of a kitchen island are both perfect for the congruent, seamless aesthetic of a finished side.
Depending on the quality of the finish and species, a finished side will add roughly $150 to $300 of additional cost per cabinet.
Cost of Cabinet Accessories
Once you have determined the material, finish, size, and shape of your custom cabinetry, the accessories you choose can also drive up the overall cost.
Spice Pullouts
Pullout spice and oil trays are a popular accessory in modern kitchens. Often placed next to a stove or oven, pullout spice racks provide convenient and easy-to-access storage in a narrow base cabinet.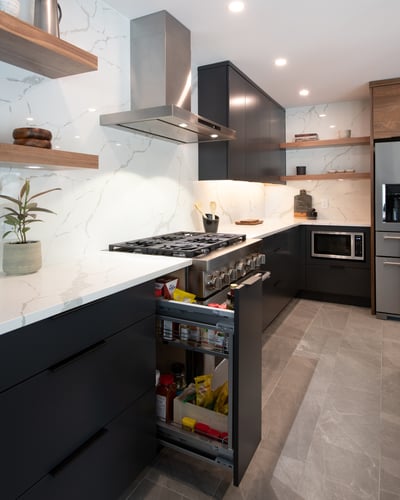 Although the cabinet is typically small, that's not indicative of the price. These pullout spice holders can cost an additional $500-$800. The main factor driving this expense is the metal hardware involved.
Accessories for Corner Cabinets
Corner cabinets are a great spot for nifty accessories because of their unique design and larger space. For example, corner units are a great place for a Le Mans Corner, Lazy Susan, or Magic Corner accessories.
Depending on the size of your corner cabinet, and the accessory you choose, the pricing will vary. Typically speaking, the practicality of these accessories is well worth the investment.
Pantry Systems
Custom pantry systems with pullout shelving have become an extremely popular design choice. Not only do they blend seamlessly with the rest of the cabinetry, they also provide convenient storage within the kitchen space.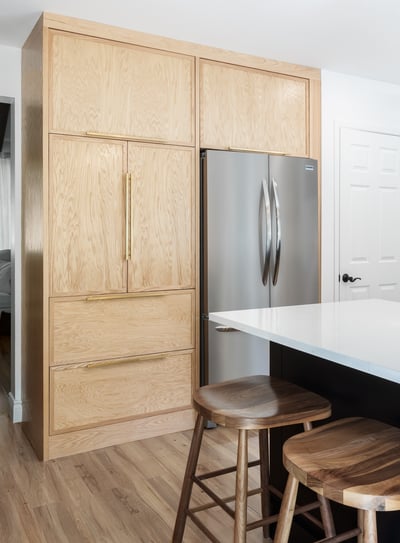 Custom pantry systems have a wide price range. The size and level of intricacy in the design directly influence the expected cost. With this, be prepared to spend somewhere in the thousands of dollars. These units are highly practical, but do not come cheap.
Tray Dividers
Vertical shelves are a great design idea for storing cutting boards and baking sheets. To incorporate these vertical shelves, the price will rise roughly by an extra hundred dollars per shelf.
Cost of Decorative Trim, Panels and Range Hoods
The cabinets themselves and accessories aren't the only substantial costs included when purchasing custom cabinets. Creative utilization of decorative mouldings, toe-kick, valances, panels, and range hoods are a great way to add aesthetic flair to your kitchen design, and increase the cost.
Trim, Moulding and Panels
Decorative crown moulding is the detailed trim that runs along the top of your entire cabinet system and connects your cabinets with the ceiling. Depending on how extensive your cabinetry is, this could result in a significant square footage of crown moulding, increasing the overall cost.
Panels are often used at the end of cabinets, or to encase large appliances like refrigerators. The price of panels depends on the height, depth and thickness of the panels used.
These decorative trim and panel additions can add up to $10,000 worth of expenses to your custom kitchen design, depending on the material.
MDF and natural woods offer a wide array of moulding options to complement their matching cabinets, while options like thermofoil are very limited when it comes to aesthetic accessories.
Custom Range Hoods
Custom range hoods can take your kitchen decor to another level. They provide a large customizable canvas for a creative, detailed design. They are also arguably the highest expense of any single item you will buy for your custom kitchen.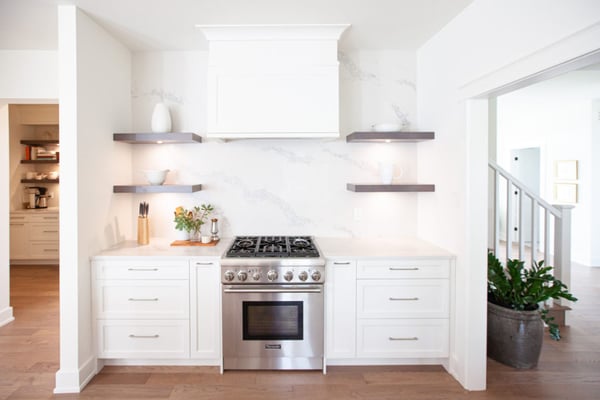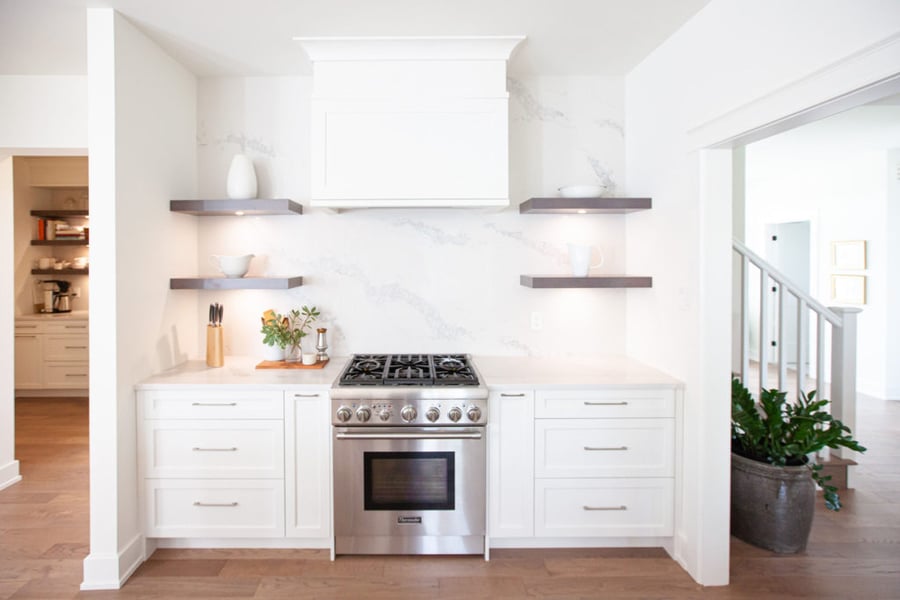 Low-end, basic range hoods will cost roughly $500.
The price really starts to climb depending on the size, what material is used, and how intricate the design is. A large cherry or walnut range hood with elaborate ornamentation can cost nearly $10,000.
Cost of Cabinet Hardware
Often an underappreciated aspect of the design process, selecting the perfect cabinet hardware can put the finishing touches on your kitchen's decor.
The cost of kitchen cabinet hardware is hard to pinpoint with such a range of options out there. There is something out there for every taste.
Hardware for a single unit can cost $5 while another high-end unit can be as high as $50.
If you have an above-average kitchen size with 30 cabinet doors and you make an ultra-luxe hardware selection, you can spend thousands of dollars on hardware alone.
Total Cost of Custom Kitchen Cabinets
With everything above accounted for, it's time to take a look at the total cost of a kitchen's custom cabinets.
Again, the design process will heavily influence the cost of one kitchen from the next. For example, a 200 sq. ft. cherry cabinet kitchen's price tag will drastically outweigh a 75 sq. ft. thermofoil kitchen.
This article is intended to help you understand where the cost comes from, not the exact price of every item.
With that being said, below is a general overview of price ranges for custom kitchen cabinets based on design size:
| | |
| --- | --- |
| Size (sq. ft.) | Total Average Cost |
| Small (<70) | $15,000 - $26,000 |
| Medium (100-150) | $21,000 - $52,000 |
| Large (>200) | $40,000 - $100,000 |
Custom Cabinetry at Deslauier
With that, you should have a better understanding of where the driving forces behind custom cabinet expenses come from. Remember, with so many moving parts and factors to consider, the design process has the strongest influence on total expenses. Lucky for you, that's where we come in!
If you have your eye on custom cabinetry, Deslaurier Custom Cabinets has everything you need. With over 40 years of experience to our name, we provide our clients with a wholly customized experience with our talented team of designers.
Book a free consultation today and meet with one of our Deslaurier design experts in our Ottawa showroom!
Related Links:
How Much Does a Custom Closet Cost?
Stock vs. Semi-Stock vs. Custom Cabinets