9/07/2021 • Blog
How Much Does a Custom Closet Cost?
Running out of space to hang your clothes? Struggling to close that jam-packed wardrobe door? Tired of the pile of shoes that covers the floor?
It might be time for a custom closet upgrade.
A custom closet design will maximize your space and make storing your wardrobe (and the many other miscellaneous belongings that live in your closet) a breeze.
You may know this already, but what you don't know is: "What's the cost of a custom closet?".
In this article, we're addressing that question head on. Design Consultant Joey Cooke helps us break down custom closet pricing one element at a time.
Let's get to it!
Average Cost of Custom Closets
Recently, in the article "A Guide to Bedroom Closet Renovations", Deslaurier explained the basics of setting a reno budget for all closet types, including projects with pre-assembled and stock cabinets.
In this article, we're exclusively evaluating custom cabinet costs.
As it happens, custom products never fall into cookie-cutter price ranges. At least, not easily. Custom projects are hard to quote without a professional design concept in hand because your custom closet will be a one-of-a-kind combination of your design selections fitted to your unique space.
That being said, at Deslaurier, the average standard custom closet costs somewhere in the ballpark of $3,000-$10,000.
Does that mean there aren't some luxury closets that come in at 15, 20, or 30K? Certainly not. There are always exceptions to the norm.
Usually though, it's the projects that venture outside of Deslaurier's standard closet product line that end up costing more than the average closet.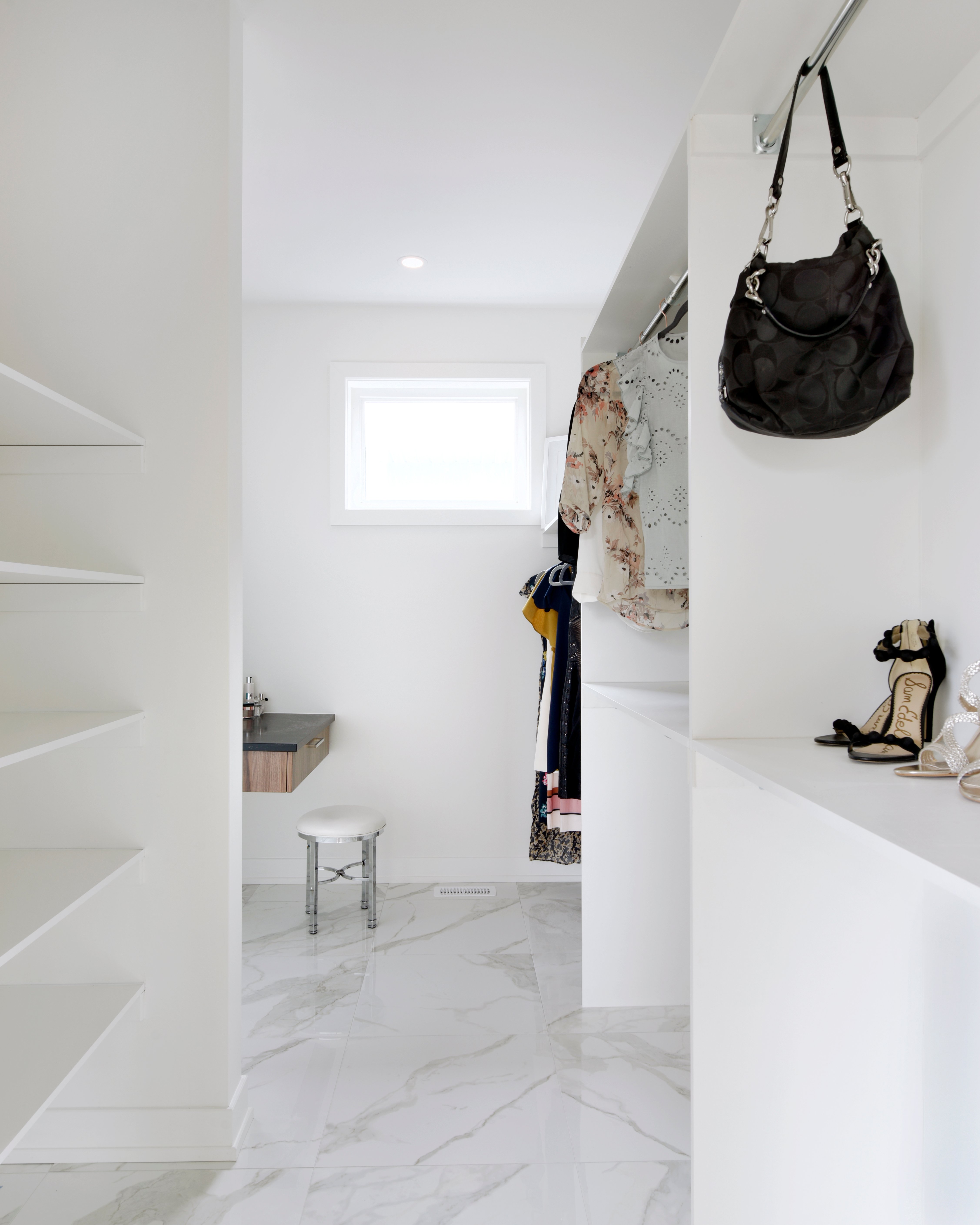 Deslaurier's Standard Closet Line
Deslaurier has a standard catalogue of closet cabinetry that includes boxes with different combinations of single-hang racks, double-hang racks, open shelving, drawers, angled shoe racks, and more. Each of these cabinet boxes has a number of standard heights and depths.
Your custom closet design is made by fitting together these cabinet boxes within your space.
Sometimes, you may want or need something other than the standard options listed in the catalogue. For instance, you may want taller cabinet heights because you have an extra tall ceiling in your home. Non-standard modifications like these cost more to manufacture, which is then reflected in the price you pay.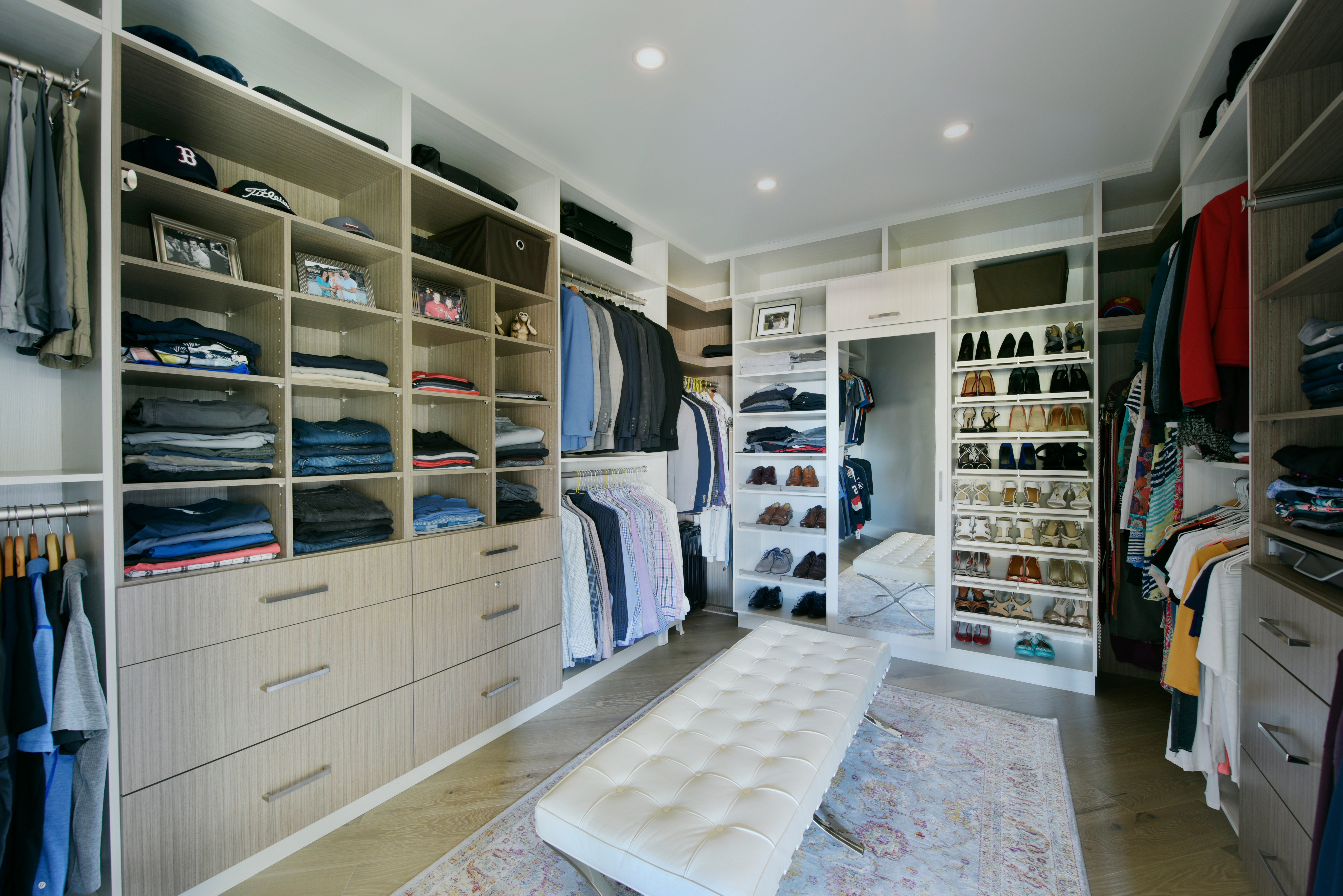 How Big is Your Custom Closet?
Naturally, how much you pay also depends on how much space you're dealing with.
It goes without saying that an 8 ft. wide reach-in closet is going to cost less than a 7 x 10 walk-in.
Your closet's size helps us narrow down costs even further.

It's by no means a clear-cut divider, but you can assume that for a smaller space like a standard reach-in closet, the average cost will start at $3000 and max out at approximately $6,500.
If you're renovating a standard walk-in, on the other hand, your starting price point will probably be in the middle of the pack around $6,500 and go up to roughly $10,000.
You can measure your closet with this free downloadable worksheet:
The Closet's Layout and Shape
Diving a little deeper, layout and shape matters, too. If your space has an awkward ceiling slope and irregular wall corners, you can expect to have to pay more to adjust your cabinet construction accordingly.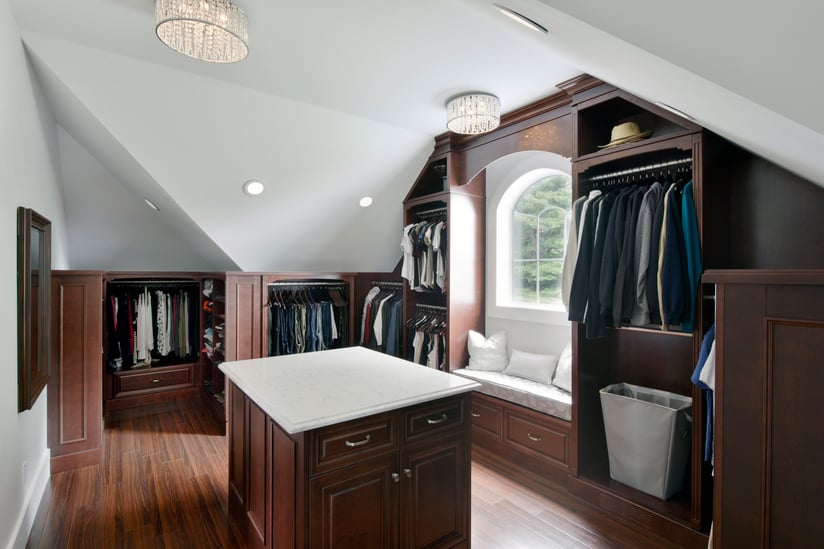 House Layout/Closet Installation
It's not only the layout of your closet that can affect the price of a custom closet.
Sometimes, the layout of your house poses a pricey problem.
On one occasion, designer Joey Cooke worked on a retail project in an older townhouse. The staircase was so narrow that it made carrying tall cabinet boxes up the stairs impossible.
The only solution was to deliver the cabinets flat-packed and assemble them on-site, which increased the expected labour costs significantly.
Custom Cabinets for Closets
Of course, dealing with a narrow staircase isn't a commonplace issue.
Most of the time, it's the quality of your cabinet design selections (ie. cabinet material, door style, finish, and accessories) that determines cost.
Let's look at some of the design elements of a custom closet in more detail.
Closets With Cabinet Doors
Doors are a pricey addition to custom closets.
Manufacturing doors for cabinet boxes equates to more material and additional installation work.
In the left-hand side closet, you can see all the clothes are contained within glass cabinet doors while the right-hand closet's cabinets are exposed: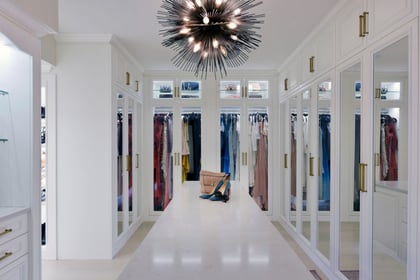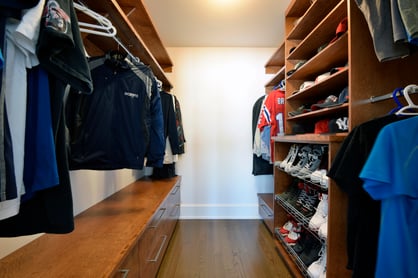 If you're on a budget, skipping on doors will make a big difference.
Cabinet Material and Door Style
Textured Melamine and Slab Door Styles
Perhaps the most cost-effective option for closet cabinets is textured melamine in a slab door style.
Textured melamine is a thin paper glued to particleboard that mimics both the look and feel of many wood varieties. Slab style doors have a smooth, uniform surface, and are generally more economical than door styles with more detail, like mitred or raised paneled doors.
At Deslaurier, the Uno door style is a competitively priced slab door style that's popular in melamine.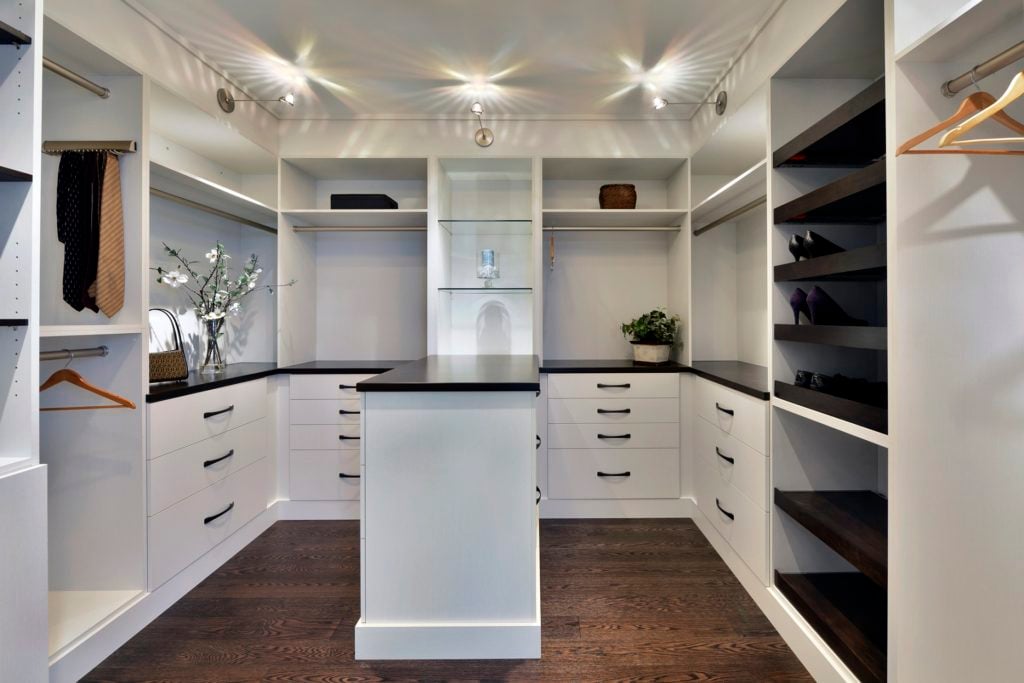 Wood or M
DF
In some cases, buyers want to match their closet cabinets with the other rooms in their home, be it their kitchen, mudroom, or bathroom.
When homeowners are choosing one cabinet material to use throughout the whole home, the selection often ends up being something of a higher calibre, like wood or MDF. These material choices can make closet costs climb.
Custom Closet Accessories
Lastly, don't overlook the bells and whistles within your custom closet cabinetry.
It's the gadgets inside your reach-in or walk-in that make using your closet every day enjoyable. Items like:
Pull-out wire baskets

Pull-out laundry hampers

Pull-out pants, tie, and shoe racks

Fold-down ironing boards
You can expect standard closet accessories to fall between $50 - $500. Small hardware pieces like coat hooks and belt racks are usually found on the lower end of that price range whereas larger items, like wire baskets and laundry hampers are the ones that can cost a few hundred dollars apiece.
Origin of Closet Accessories
Let's not forget to consider where your closet accessories come from.
Your cabinet manufacturer likely partners with a number of accessory suppliers. Through these suppliers, your designer will have access to accessories in many different styles, offering a rainbow of hook designs, pull-out options, finish colours, and more.
In some cases though, you might have found a very particular accessory online that your cabinet maker doesn't offer in their standard catalogue. If that happens, your designer will have to source that accessory elsewhere, which requires extra work and—you guessed it—costs more as well.
For this reason, among others, Joey Cooke always recommends that homeowners first do their research on what they need in a closet:
Knowing What You Need in a Closet
Too often, homeowners come to a designer with a floor plan, point to the small box with a graphic of a single clothes hanger, and ask, "Can you price this closet?"
As we've seen already, pricing a custom closet is not that simple.
Before you can accurately estimate costs, you need to know the basic inclusions of your closet.
If you start off by knowing an angled shoe rack, a closet island, and cabinet doors are 100% must-haves for you, right away your designer will have a better basis point from which they can set price expectations.
Look online for inspiration (Deslaurier's closet showcase is a good place to start) to get an idea of what you want from a closet.
Even better, if you bring in pictures, your designer will be able to highlight different accessories and tell you if they have them in their catalogue or not.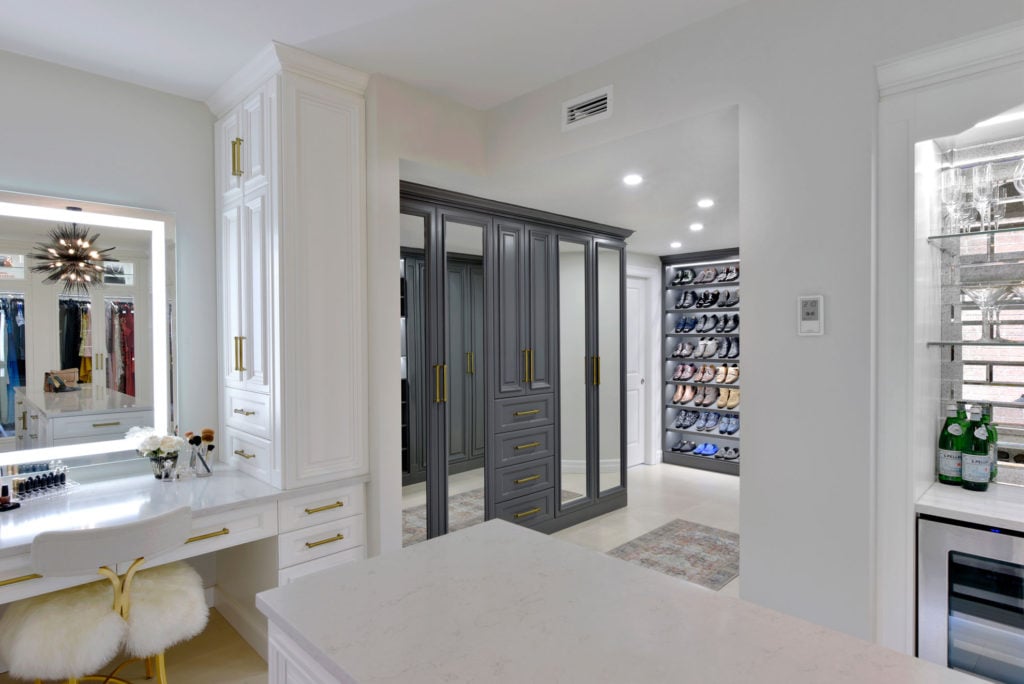 Design With Deslaurier
Closet design costs can be a challenge to work out on your own. That's why at Deslaurier, we offer prospective customers no-obligation design consultations.
Find out what it takes to make your dream closet a reality, no strings attached. Just fill out the consultation request form below to get started!
Interested in joining the Deslaurier team by becoming a dealer? Connect with us today!
Related Links: