3/08/2021 • Blog
A Comparison of Popular Kitchen Design Styles
Choosing a kitchen design style is much like choosing a scoop of ice cream at an ice cream parlour—good taste comes in many flavours!
Each kitchen design style, from traditional to modern to country cozy, has something unique to offer. At Deslaurier, we've been crafting kitchen designs to match kitchen users for over 40 years. To help out first-time kitchen renovators, we've put our design knowledge down on paper.
In this article, you'll find everything you need to know about popular kitchen design styles.
We'll highlight the top three kitchen design styles, namely, traditional, transitional, and modern, and provide a detailed comparison of the kitchen elements that set them apart. Plus, we'll describe a few up-and-coming kitchen design style trends that might just strike your fancy.
Find your style below!


Traditional Kitchen Design Style
Don't confuse traditional with old-fashioned or out-of-date. The traditional design style is one that homeowners never stop asking for, decade after decade. Traditional designs are filled with ornate, eye-grabbing millwork and detail. The result? Something eternally classic.
Traditional kitchens are elegant and sophisticated. Featuring natural elements, neutral colour palettes, classy light fixtures, and decorative millwork, a traditional kitchen gives off a warm and welcoming ambiance, perfect for family-centred lifestyles.

Cabinets & Hardware
Elaborate cabinetry is a hallmark of traditional kitchen design. These traditional kitchen cabinets are all about highlighting handcrafted embellishments.
Cabinets featured in traditionally styled kitchens are often made from authentic wood material and either painted or stained with warm, natural colours.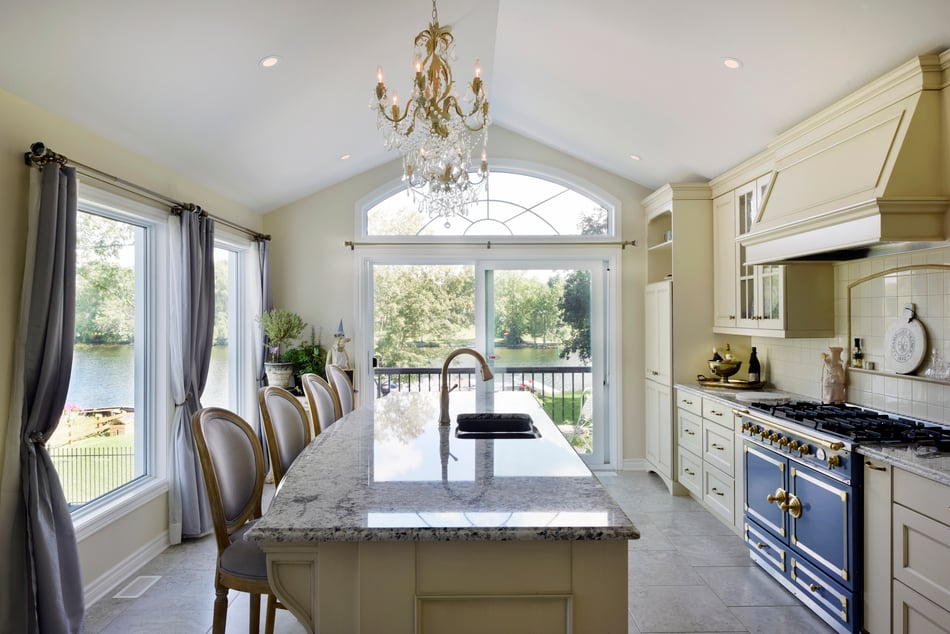 Raised- or recessed panel cabinet doors are the go-to style for traditional rooms, along with custom details like columns, corbels, and crown moulding. Furthermore, glass panel doors thrown into the mix add elegant charm.


When it comes to hardware, the vertical bar pulls, knobs, handles, and pull rings follow in line with the detailed trend. The hardware featured in a traditional style kitchen is often decorative and unique, finished in gold, oil-rubbed bronze, or brushed nickel.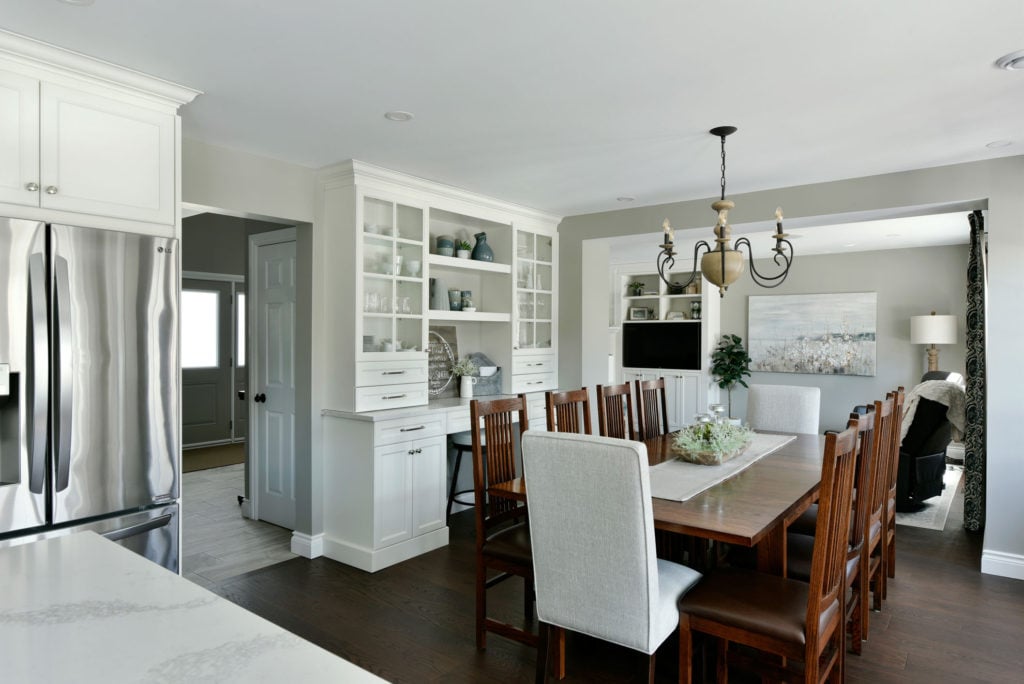 Countertops
When you think of traditional countertops, think of luxury.
Materials such as granite or quartz are a timeless option for a traditionally designed kitchen. Furthermore, the look of a traditional kitchen is often enhanced by countertop materials with lots of movement in the veining pattern.

Light Fixtures
Light fixtures in a traditional kitchen design should be ornate and decorative, giving off a vintage, yet sophisticated look and feel. An elegant and dazzling chandelier is a fantastic focal point in a traditional kitchen, tying the entire room together.

Colour Palette
A traditional kitchen design features a warm and neutral colour palette.
This often includes soft creams, natural tans, rich browns, and blacks. A pop of colour, such as hunter green or deep cherry, can be used to create some visual interest and dimension in the space.
Read Deslaurier's article "5 Best-Selling Kitchen Cabinet Paints & Stains" to learn more about kitchen colour schemes.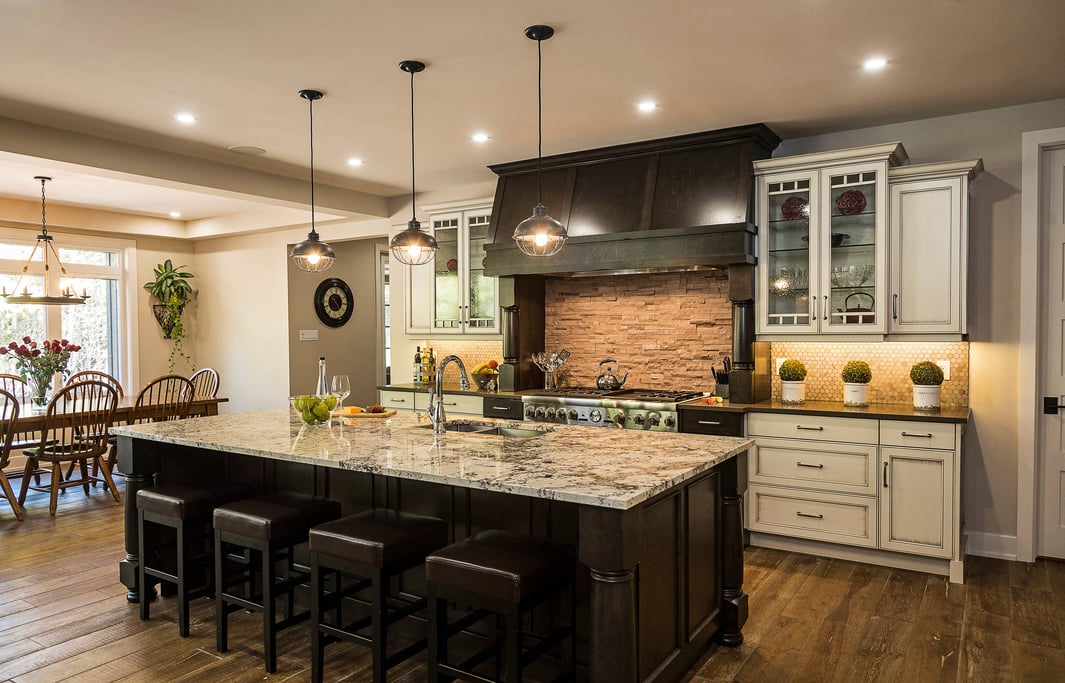 Accessories
Last but not least, a traditional kitchen design incorporates many unique accessories. The trick to designing a traditional-style kitchen is paying attention to the details to adorn the kitchen just right.
To see all these design elements come together, take a look at these traditional kitchen showcases.

Transitional Kitchen Design Style
Transitional kitchen style is best described as balanced. It blends the best of traditional and contemporary styles into one well-appointed hybrid. This style combines two extremes by seamlessly and skillfully pulling elements from both categories.
The transitional look takes the warm and welcoming nature of traditional kitchens and pairs it with the simplicity found in more modern designs. It's clean and laid-back.
When done correctly, mixing and matching traditional and modern elements is one of the best ways to create a fashion-forward transitional kitchen design.
With sleek lines and sharp features, many transitional kitchens also incorporate crown moulding, subway tiled backsplashes, and statement range hoods. You'll find natural materials such wood and stone blended with various textures and colours.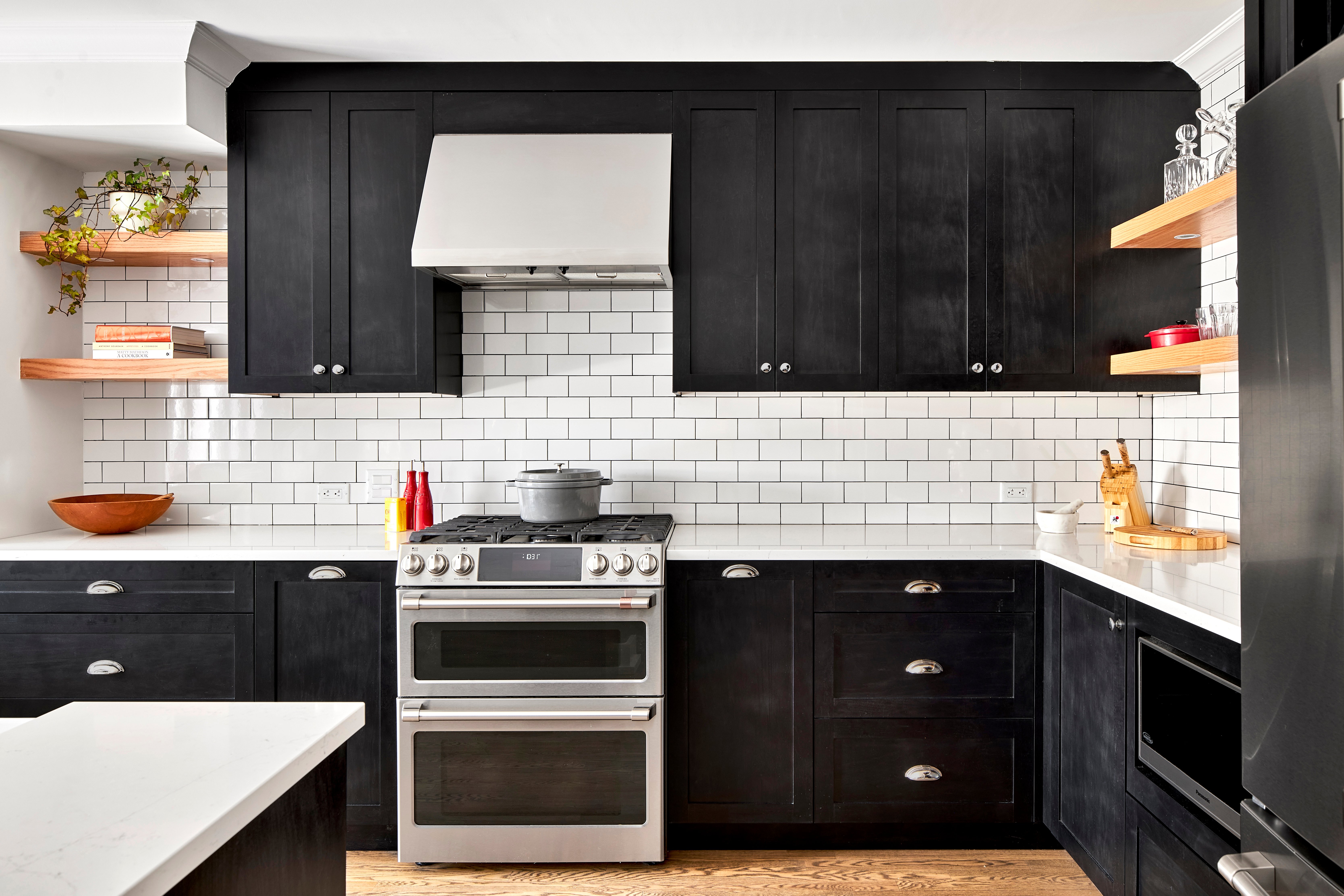 Cabinets & Hardware
Cabinets play a significant role in achieving the transitional design style.
Transitional cabinetry is typically streamlined and subdued. Transitional cabinets keep it simple. Classic shaker-style doors are great for that clean look. Usually, transitional cabinets have very little decorative detail.
Similar to the cabinetry, the hardware should be minimal and modest to complement the cabinetry design. Simple knobs and handles in matte black, gold, or silver finishes do just the trick to create that uncomplicated dash of panache.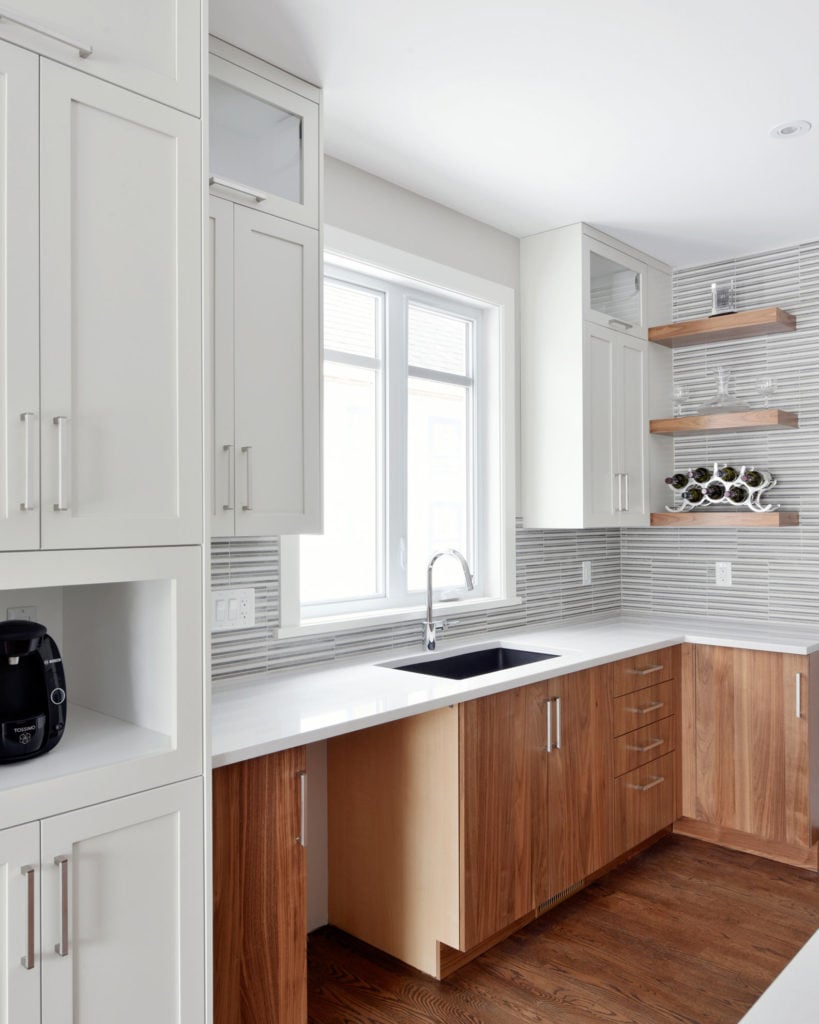 Countertops
In a transitional kitchen design, many countertop materials work well.
Quartz, granite, and butcher block are equally popular choices. To add even more options to your plate, a large breadth of countertop colours and patterns can work too. White, cream, soft grey, and even black, complement the clean simplicity of a transitional kitchen.
Discover the best kitchen countertops here.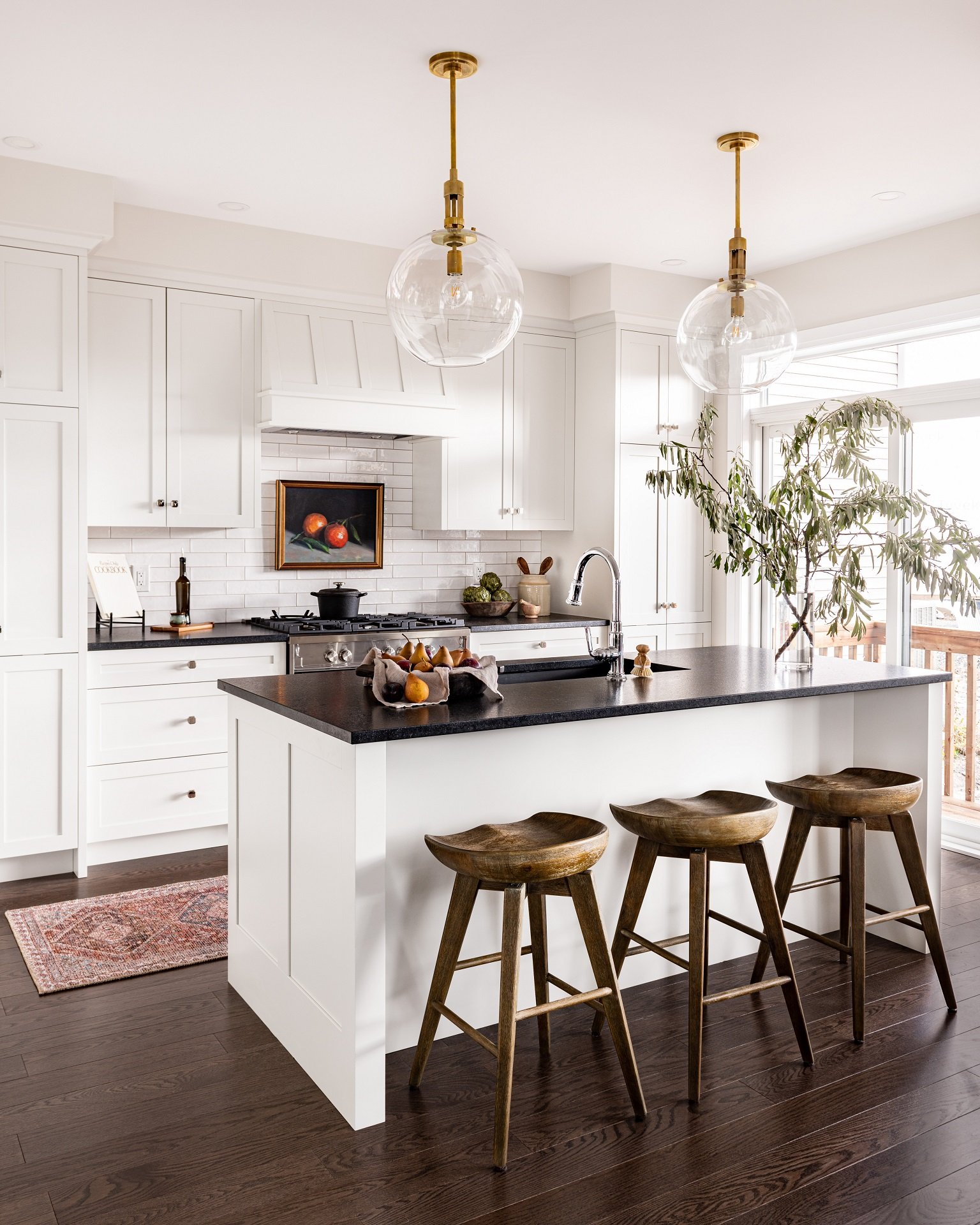 Light Fixtures
Pendant lighting is very common in transitional kitchens.
Playing on the classic chandelier, an industrial and oversized pendant light works well as a more modern focal point, without completely losing touch with tradition.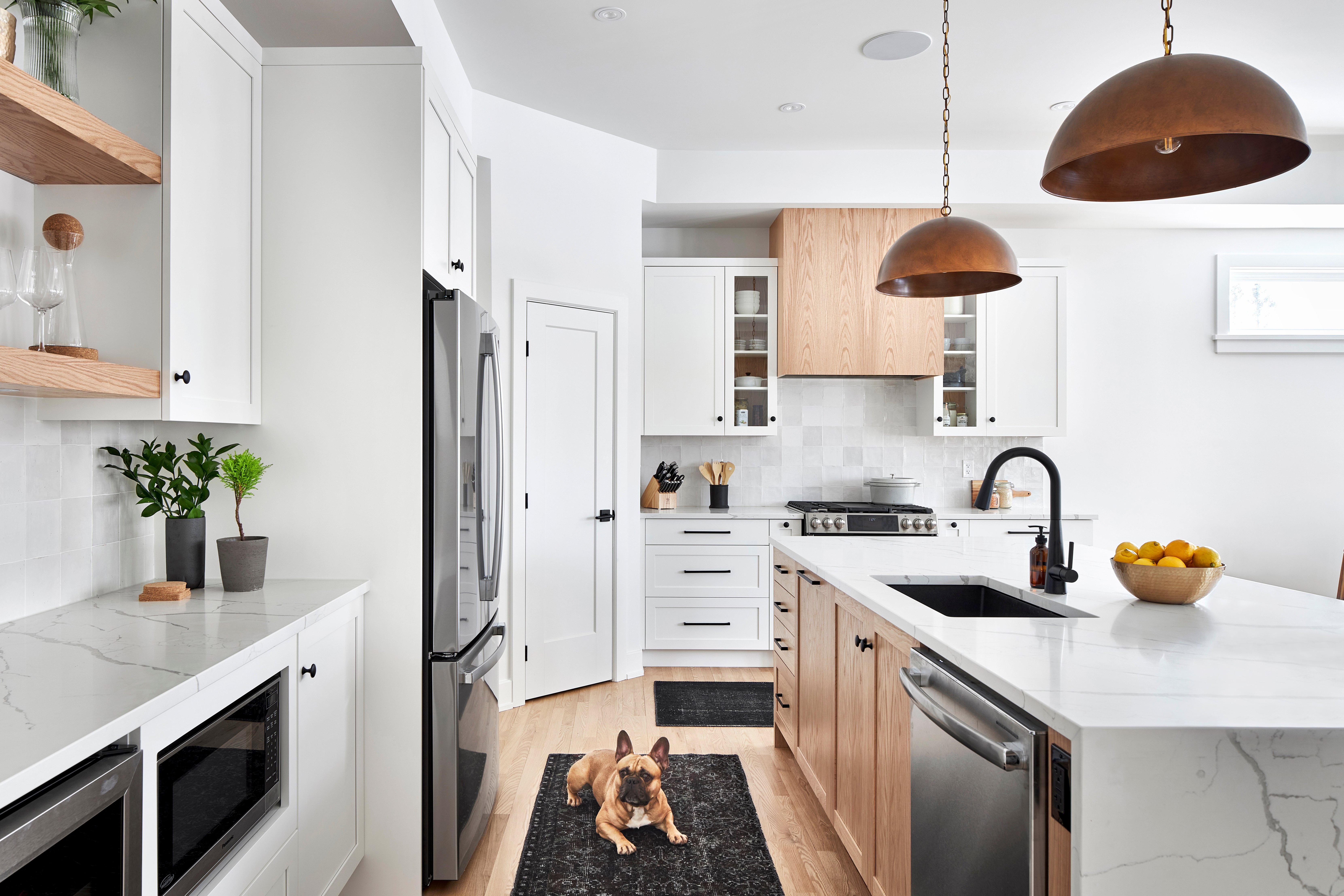 Colour Palette
Serene and neutral pastel colours help set the transitional mood. With this colour palette, you can achieve a light and airy feel in which the smooth features of the kitchen space easily blend in.
The key to achieving this colour palette is a healthy balance between light and dark, perfectly mixing soft greys, beiges, charcoals, light blues, and even pale oranges.
Accessories
The simple and modern backdrop of the transitional kitchen is the perfect canvas for some traditional accents. Minimally embellished custom accents, such as crown moulding, corbels, and wainscoting, enhance the overall design of the transitional kitchen.
You'll find many of these stylish characteristics in the transitional kitchen showcases designed by Deslaurier.

Modern Kitchen Design Style
Modern kitchen design is edgy, cool, and streamlined. Consisting of open spaces, minimalistic features, and a simple colour palette, a modern kitchen offers a clutter-free space to relax and entertain.
In a modern kitchen, you'll find horizontal lines, frameless cabinetry, plenty of negative space, and sleek, industrial materials.
The modern kitchen design style stands in direct contrast to the traditional kitchen design style. While traditional kitchens are elaborate and detailed, modern kitchens are clean, open, and linear. Simplicity is the key to achieving a modern kitchen design.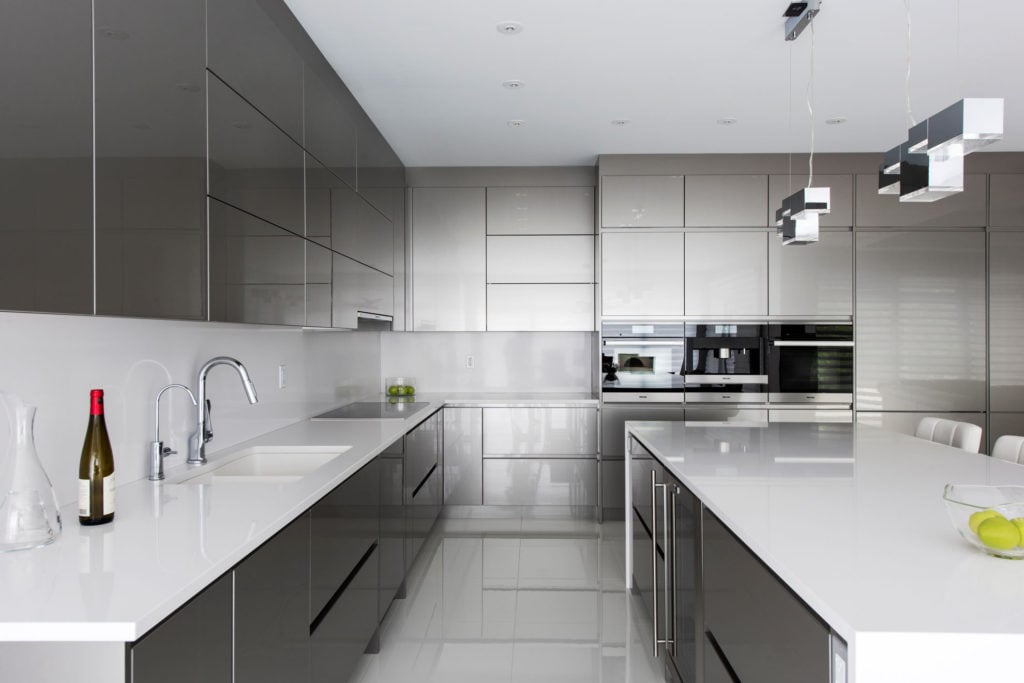 Cabinets & Hardware
The cabinets found in a modern kitchen have clean lines and no raised edges. This frameless design offers a sleek and simple appearance.
Manmade cabinet materials really lend a modern vibe to the design. In Deslaurier's modern product line, a few of the favourites are:
Thermofoil
Textured Melamine
EURO Textured Melamine
Acrylux
PET
Polyester
Metal and Glass Doors



The hardware attached to such cabinetry only magnifies the horizontal look as handles or pulls typically extend the full length of the door or drawer.

Countertops
Countertops in a modern kitchen design can either mimic the overall aesthetic of the rest of the kitchen or provide a contrasting accent statement. In both cases, modern countertops adhere to the clean line pattern and the rule of simplicity.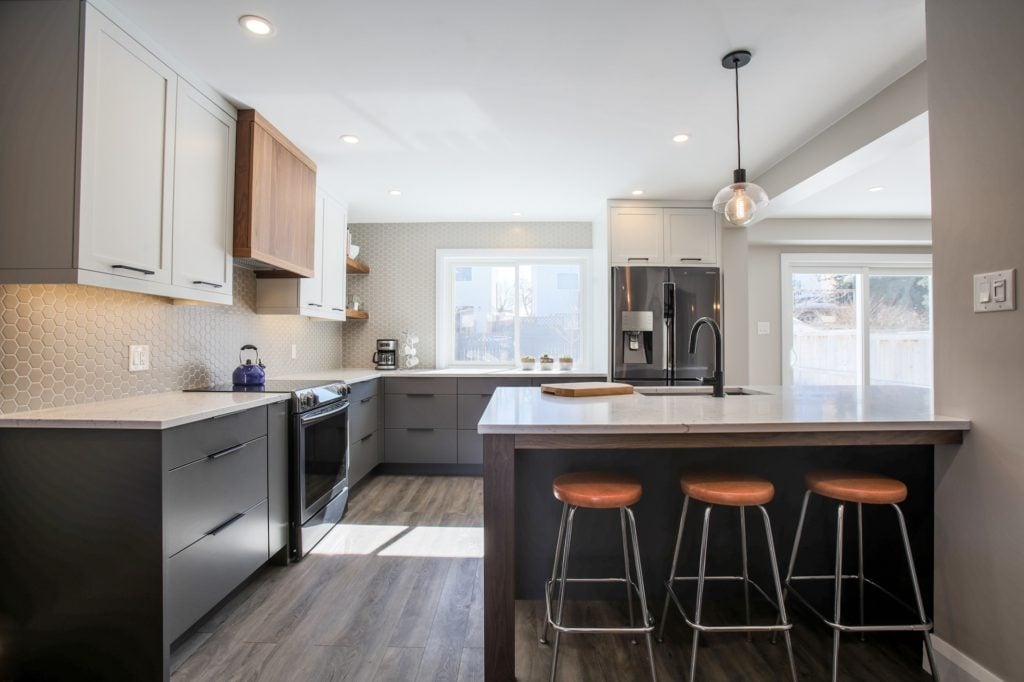 Light Fixtures
It's typical of modern kitchens to feature an open-concept floor plan. They also commonly have tall ceilings with abundant exposure to natural light.
The light fixtures in a modern kitchen tend to be quite minimalistic. You may find strategic and visually appealing use of task and accent lighting (read more about the different categories of kitchen lighting in our article "How to Plan Lighting for Your Kitchen").
Minimalistic doesn't always mean modest, however. Even simple pendant lights can look striking when used right: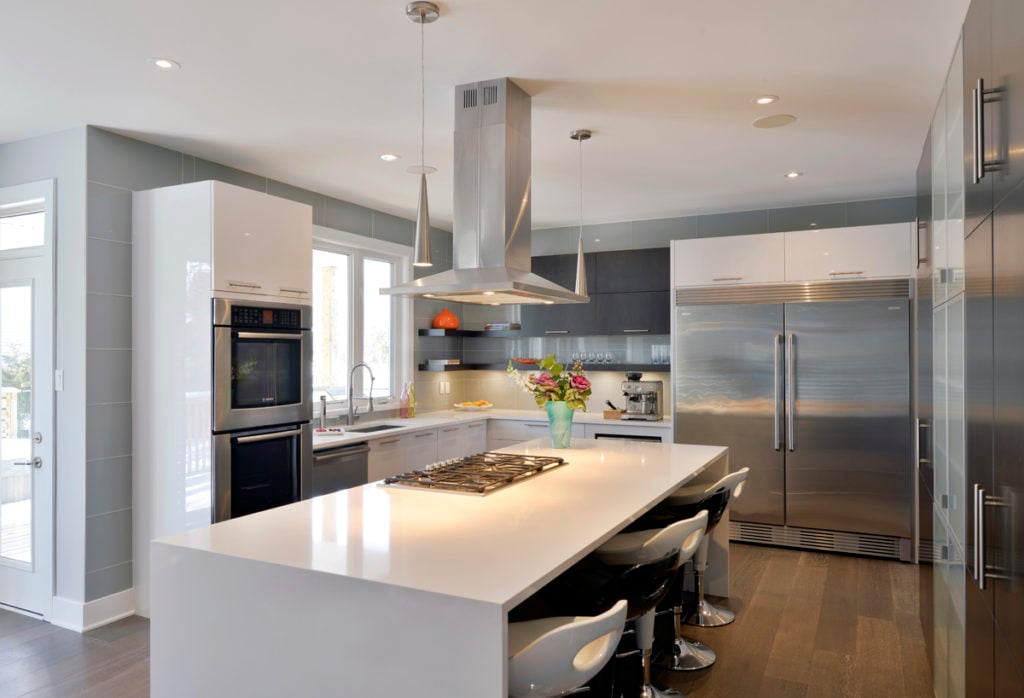 Colour Palette
In modern kitchen design, neutrals reign. Whites, greys, and blacks steal the show time and time again. This simple colour scheme is a significant contributor to the edgy, cool, and minimalistic aesthetic of a modern kitchen.
Accessories
To maintain the modern appeal, a modern kitchen design features discrete and tasteful accessories. Cabinet doors can be replaced with frosted glass, sleek laminate, or wood veneer.
Any objects left on the countertop, if any, should align and blend in with the elements of the rest of the kitchen. The barer the countertops, the better.
Other Trendy Kitchen Design Styles
While traditional, transitional, and modern are the most popular and consistently requested kitchen design styles in the field, they act as the foundation for new kitchen design trends to emerge!
Kitchen design trends, such as modern farmhouse, mid-century modern, and coastal, have taken the kitchen renovation world by storm, offering new and creative takes on how to design a kitchen. Each up-and-coming style offers a unique look and feel.
Modern Farmhouse Kitchen Design
A modern farmhouse kitchen is as warm and inviting as a freshly baked apple pie!
A modern farmhouse kitchen is approachable and unpretentious. Infused with personality, farmhouse kitchens feature warm elements such as wood, brick, and metal. Old-school prints, distressed furnishings, and vintage finishing touches contribute to a lived-in aesthetic.
An apron-front sink, open shelving cabinetry, exposed wood beams, butcher block countertops, and shiplap are high-impact indicators of farmhouse kitchen design.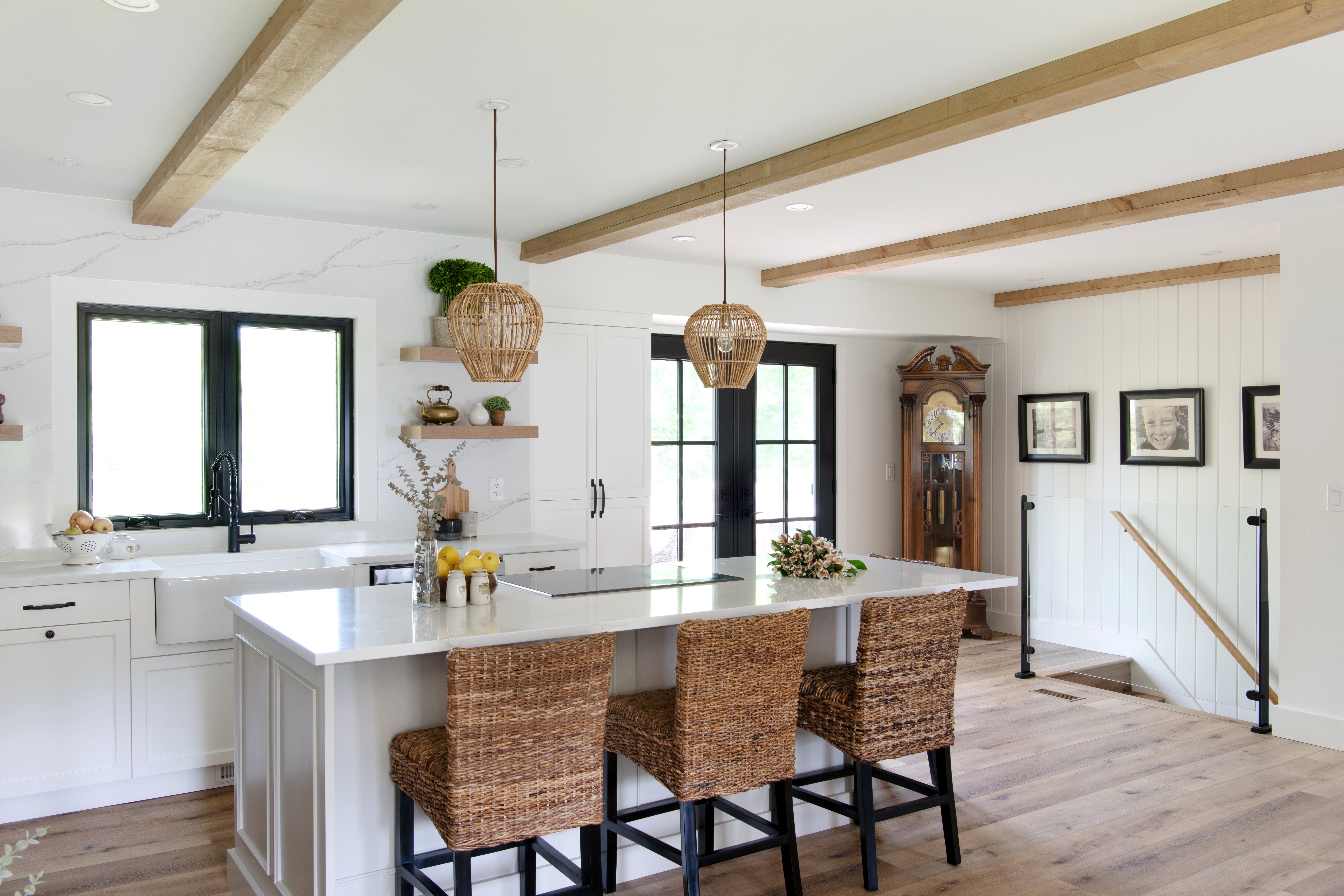 Mid-Century Modern Kitchen Design


A mid-century modern kitchen takes the best of modern and adds a dash of warmth.
Inspired by design from the mid 20th century, the mid-century modern kitchen style is sleek, functional, and well-crafted. You'll find clean lines, neutral colour palettes, and creative elements like stylish lighting or a patterned backsplash. Mid-century modern incorporates many inviting elements influenced by nature with the use of materials such as teak, glass, and cement.

Coastal Kitchen Design
Inspired by the beachside home, a coastal kitchen is bright, lively, and relaxing.
With hints of lazy lapping waves, the coastal kitchen design features a light colour scheme, earthy tiles, unfinished hardwood, subtle lighting, and beach-themed accessories. Coastal cabinetry resembles the look of a sailboat with light colours, a shiny finish, and rustic metal detailing.
Beachy embellishments are commonly scattered throughout coastal kitchen designs. You may find décor that's inspired by the look of seashells, the texture of sand, or the nautical feel of marine life.
We think the cool blue in this kitchen is the ocean calling: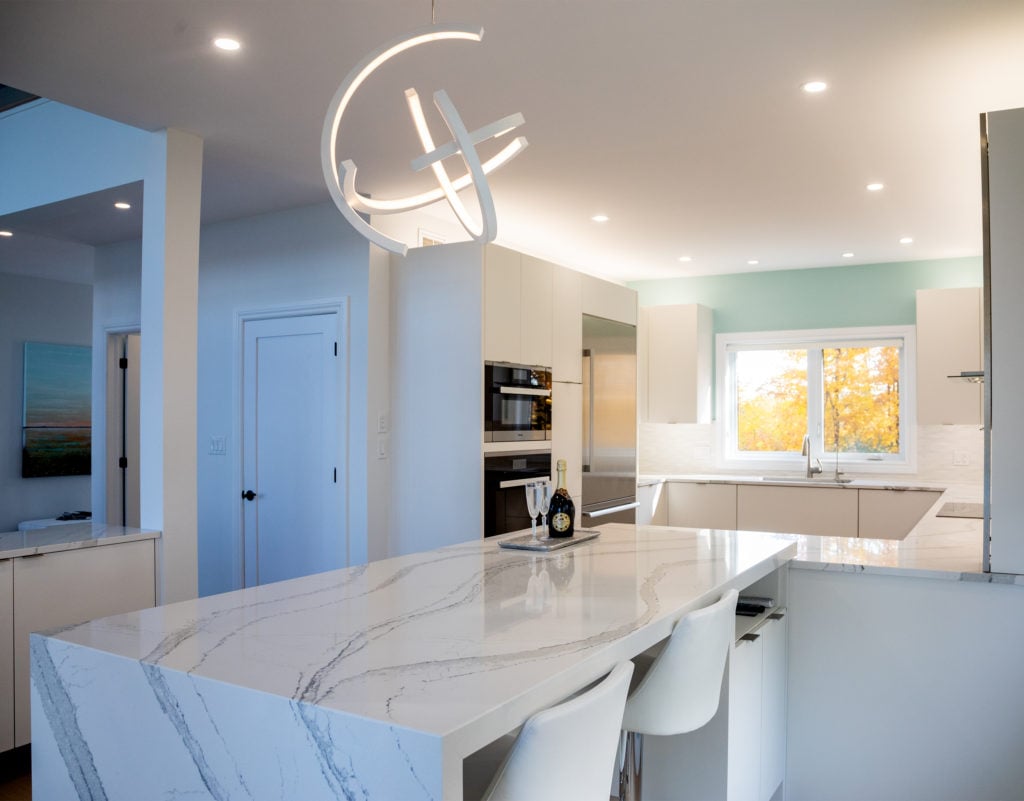 What's Next?
At Deslaurier Custom Cabinets, we're known for crafting quality, functional, and customized kitchen cabinetry meant to match your unique requirements and lifestyle.
Cabinetry plays an influential role in achieving any and every style. Our design team is passionate about crafting one-of-a-kind spaces that cater to individual homeowners.
Ready to find that true-to-you kitchen style?
Visit us at our local Ottawa kitchen design showroom or request a consultation to get started working with our design team today. Live outside the city? Find a dealer near you to discover the Deslaurier advantage close to home.


Related Links: