1/10/2021 • Blog
How to Use Glass Cabinets in a Kitchen Design
Adding an element of glass to a kitchen is a great way to shake up a design. Glass offers brightness, charm, and variety to a custom cabinetry system.
If you're looking for creative ways to use glass cabinetry in your kitchen, you've come to the right place. Deslaurier Design Consultant Joey Cooke shares her expertise on how to elevate interiors with a touch of glass (and a touch of class).
Let's get started!
What is a Glass Insert?
A glass insert, also referred to as a glass-front cabinet, is when the middle panel of a 5-piece cabinet door is made of glass instead of the same material as its surrounding frame.
If you're unfamiliar with the make-up of a 5-piece cabinet door, the "panel" is the flat piece of material in the middle, set inside a frame of two horizontal pieces, called "rails", and two vertical pieces, called "stiles".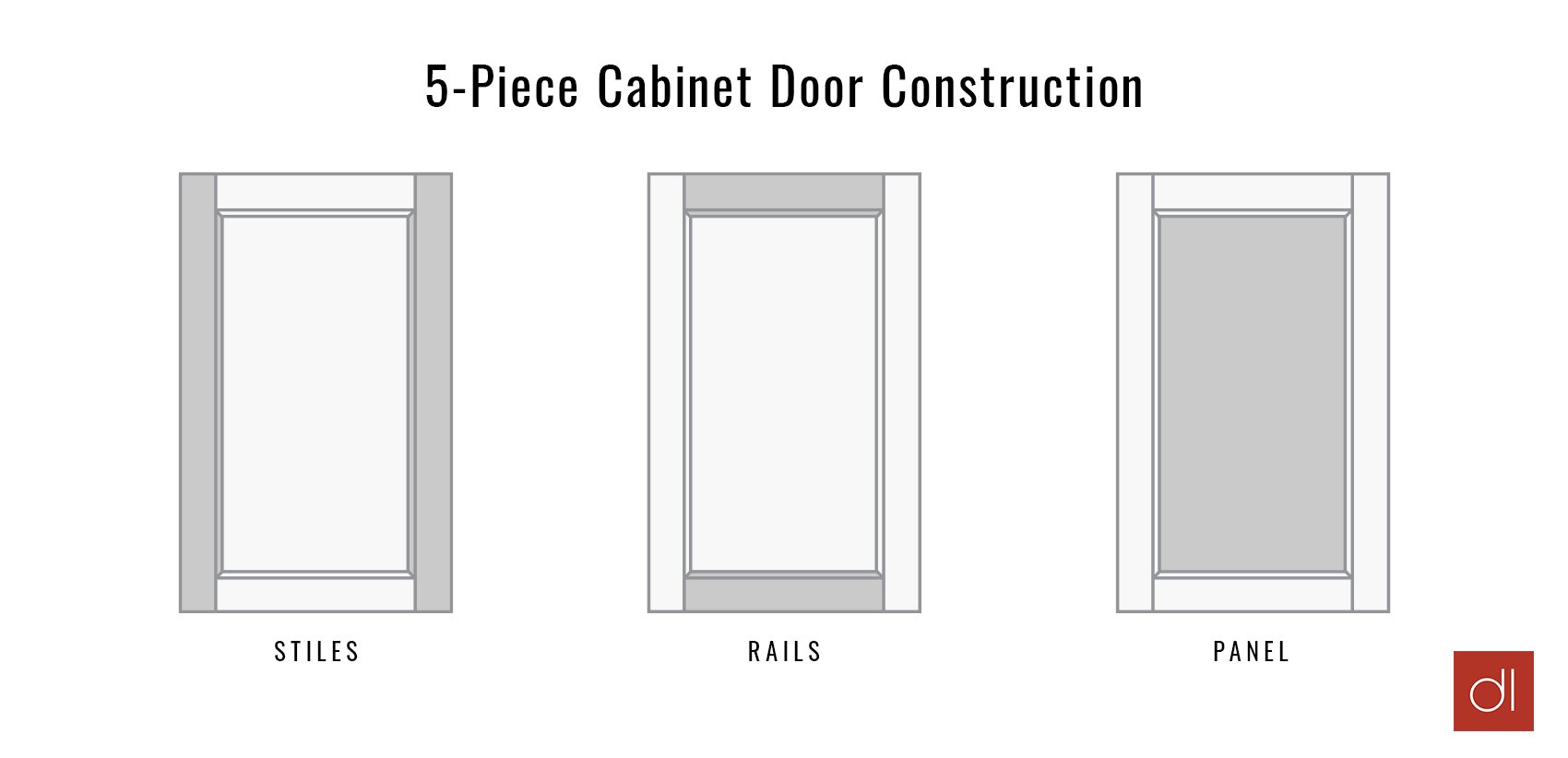 To create a glass-front door, a glass panel is custom-fit to the size of the cabinet door frame.
It's important to have a base understanding of cabinet door construction if you're using glass in your kitchen design because not all cabinet door styles accommodate glass inserts.
Some door styles, for example, a 1-piece slab door style, may not work with glass. Speak to your designer about which door styles are available with glass inserts.
Interested in learning more about the different door styles available? Check out Deslaurier's 5 best-selling door styles here.
What Kind of Glass Should I Use in My Kitchen?
This is a loaded question. There are SO many different kinds of glass you can incorporate into your kitchen design.
As one might expect, standard clear glass is a popular option. With fully transparent glass, you can showcase special glassware, décor, and other household items to accentuate your kitchen.
However, for some not-so-organized homeowners, clear glass inserts may seem like more of a chore than anything else!
For those individuals, an acid wash, mirror, or frosted glass insert may be a more appealing design choice. These glass types still offer the allure of glass material, but visually mask the items behind them—so you don't need to have everything inside your cabinets neatly arranged.
Below is visual of just a handful of the glass varieties offered at Deslaurier: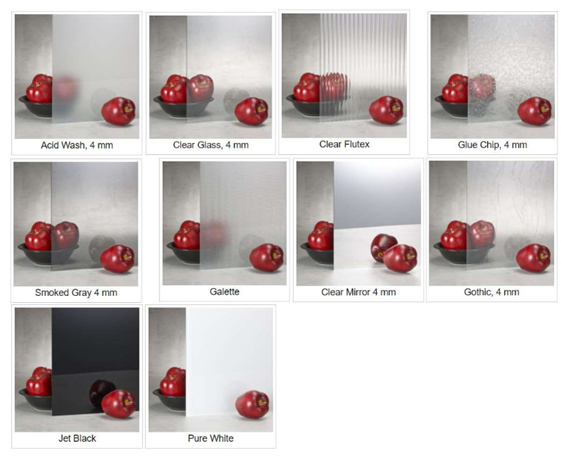 Don't forget: beyond glass type, you can customize your glass-front cabinets even further with mullions or even stained glass!
Where Should I Put Glass-Front Cabinets in my Kitchen?
There's no set rule for where glass-front cabinets need to go in a kitchen design. That's the fun part: you get to decide!
If you're searching for inspiration though, there are many design trends out there that you may want to follow.
Design Consultant Joey Cooke tells us that many clients use glass cabinets for specialty areas of the home, like dining bar areas or corner china cabinet displays.
For example, the glass cabinetry here really sets this wet bar apart from the rest of the kitchen: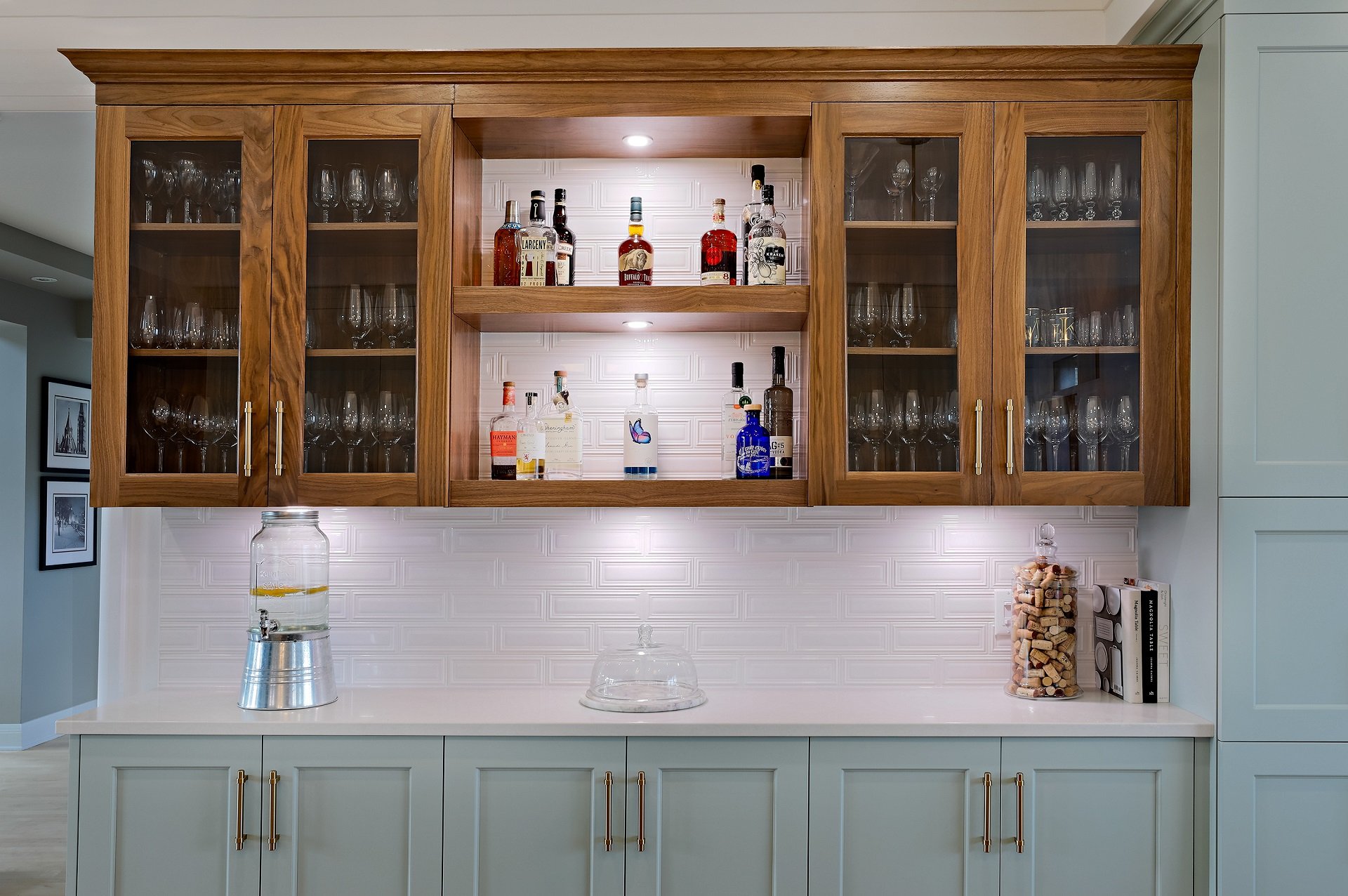 Another place in the kitchen that many people choose to put glass inserts is within stacked uppers. It's a nice accent feature, especially with interior cabinet lighting. —Design Consultant Joey Cooke
The term stacked uppers refers to a second layer of cabinets set on top of the main row of upper cabinets. Stacking cabinets is a fantastic way to close off the gap at the top of a wall and bring extra style to a room.
You can read more about stacked uppers in the article, "How to Extend Kitchen Cabinets to the Ceiling".
Here's a snapshot of four upper cabinets, all stacked with glass-front cabinets: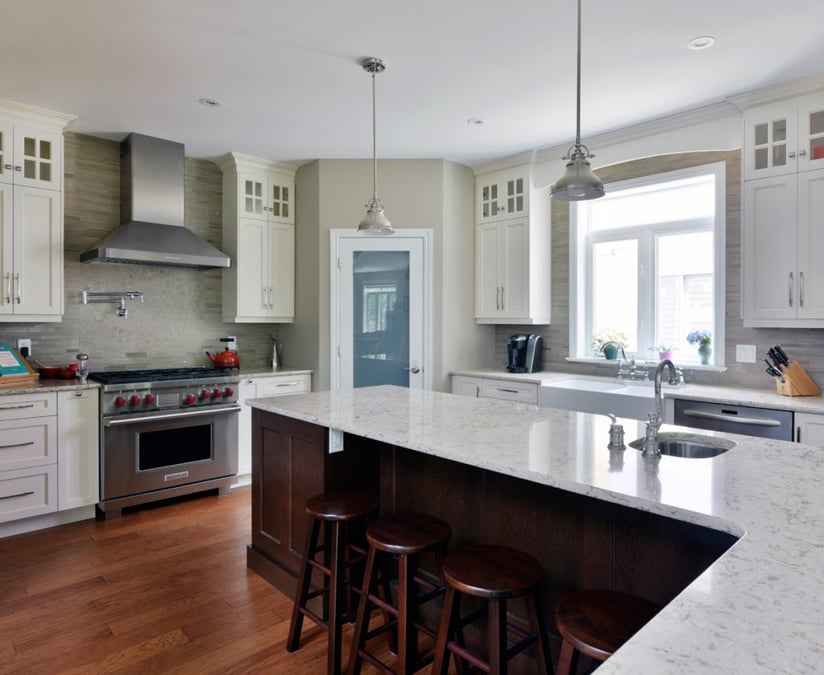 Another strategic place to put your cabinets is next to a window or a glass door. The glass surfaces will reflect the natural light that comes in, making your kitchen space look bigger and brighter as a result.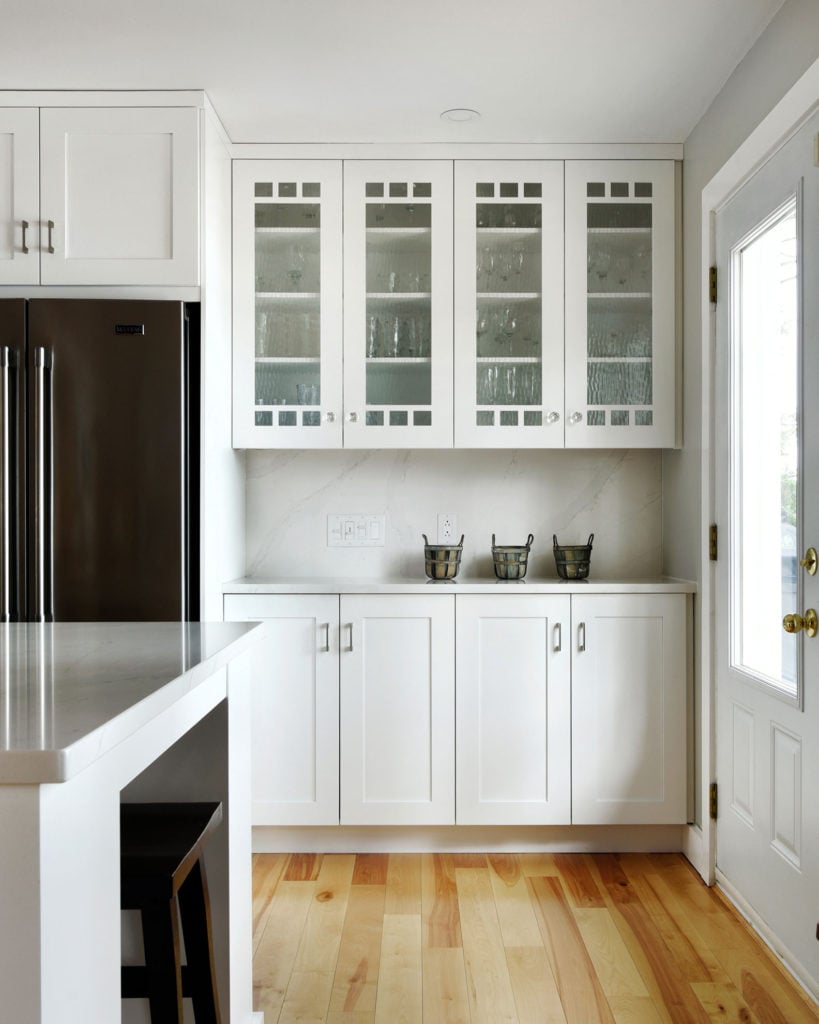 Finally, a popular design trend is to place one glass cabinet on either side of a major design focal point.
For example, this modern kitchen uses glass inserts inside stainless steel frames on both sides of the range, lending a sense of symmetry to the design as a whole: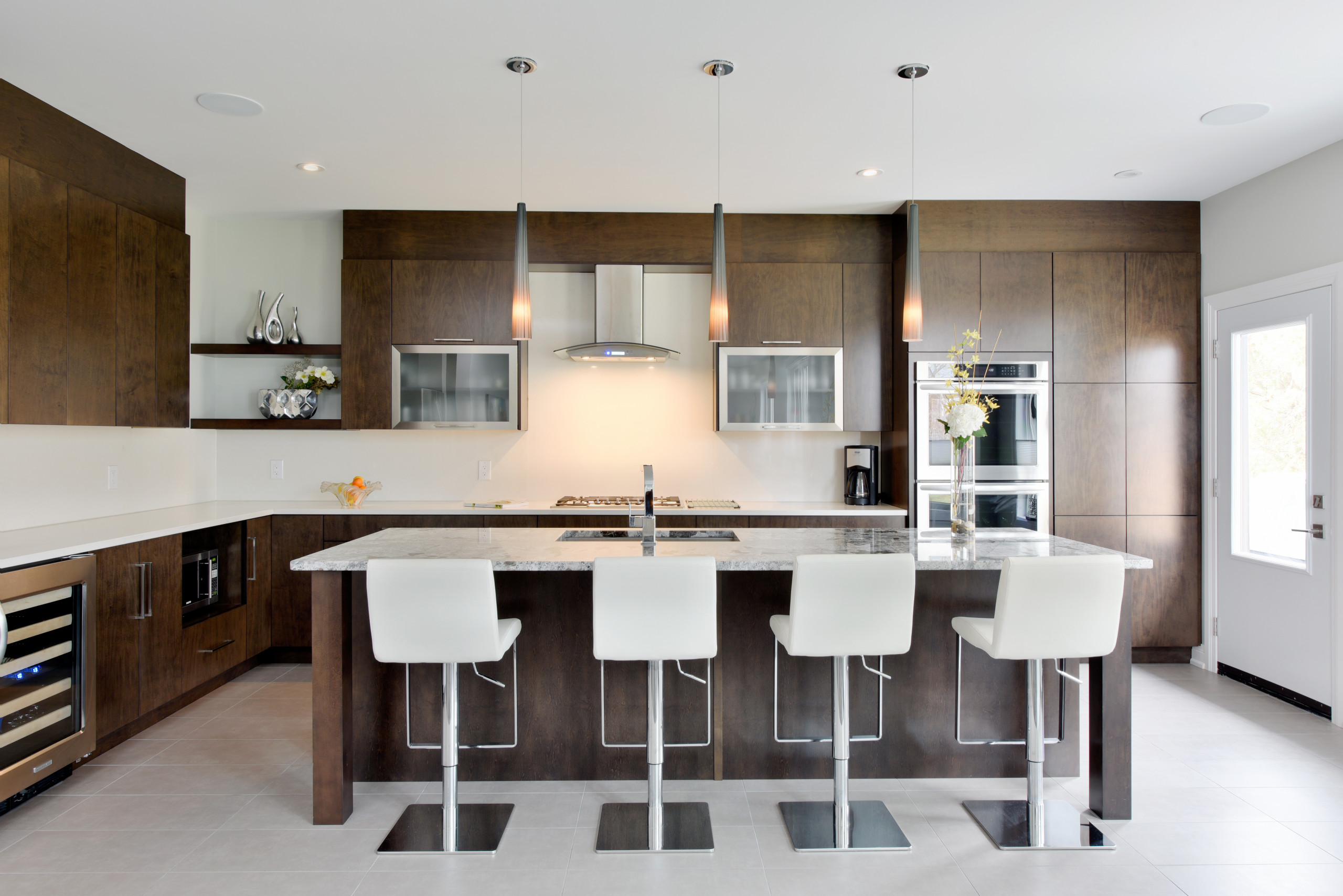 What Kitchen Design Style Works Best for Glass Cabinets?
Glass cabinets are a versatile design element, that, with the right details, can work in any popular kitchen design.
Glass cabinets with mullion details typically fit best in transitional and traditional kitchens. We love the charming, farmhouse-esque style of this rippled glass panel with white mullions: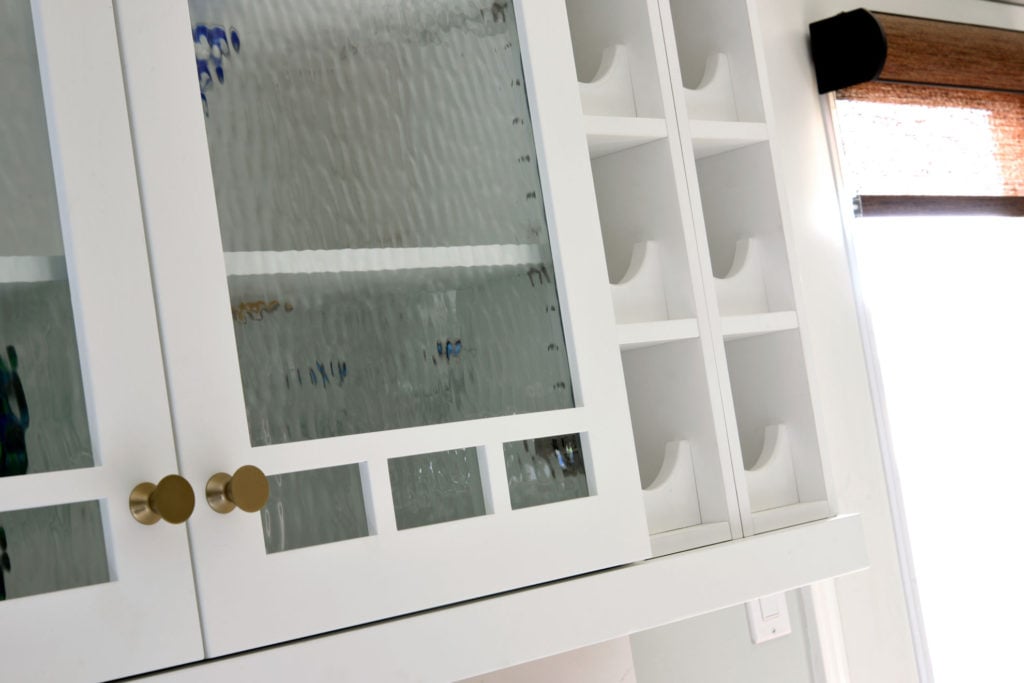 That being said, certain glass cabinets can vibe really well in ultra-modern spaces.
Check out the acid-etched glass in this modernist's dream kitchen: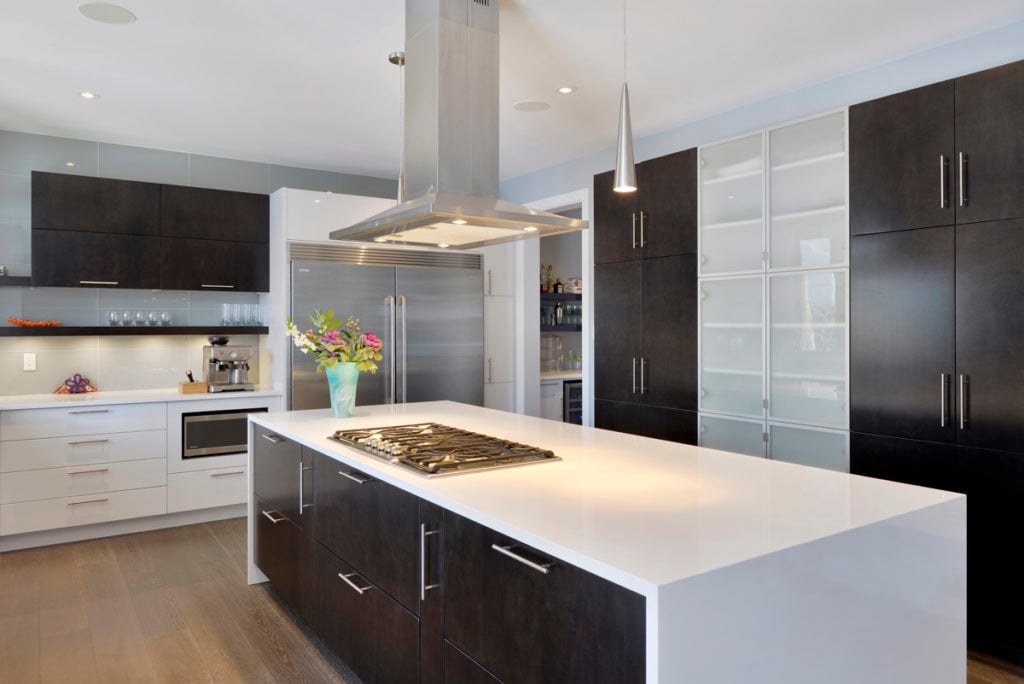 What Kind of Shelving Should I Use in Glass-Front Cabinets?
If you have interior cabinet lighting, the kind of shelving you use should be a key consideration.
Why?
If you use traditional wood shelves, or any other opaque material, the light won't travel past the topmost shelf. If you want your interior cabinet lights to illuminate the entire cabinet, glass shelving is a must.
Besides, we think the glass shelves look incredibly elegant: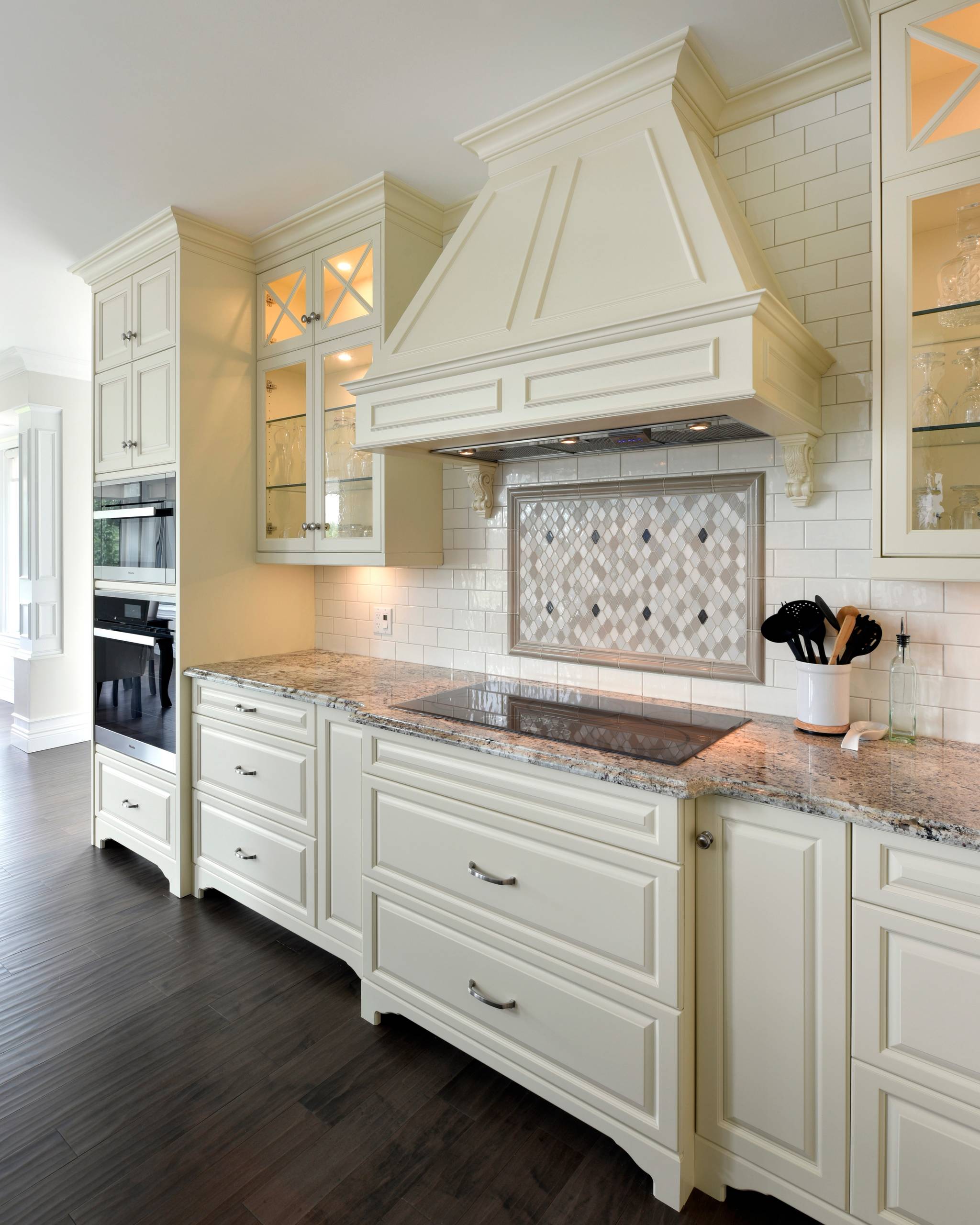 Click to learn more about planning lighting in a kitchen design here.
If you don't have any lighting in your cabinets, you can use wood shelves to create contrast between the cabinet interior and exterior. Traditionally, the interior of a glass cabinet has always matched the exterior, but there's more variability these days. —Design Consultant Joey Cooke
For example, take a look at this recent new-build project, where black metal rail doors with glass inserts are juxtaposed with natural maple shelving.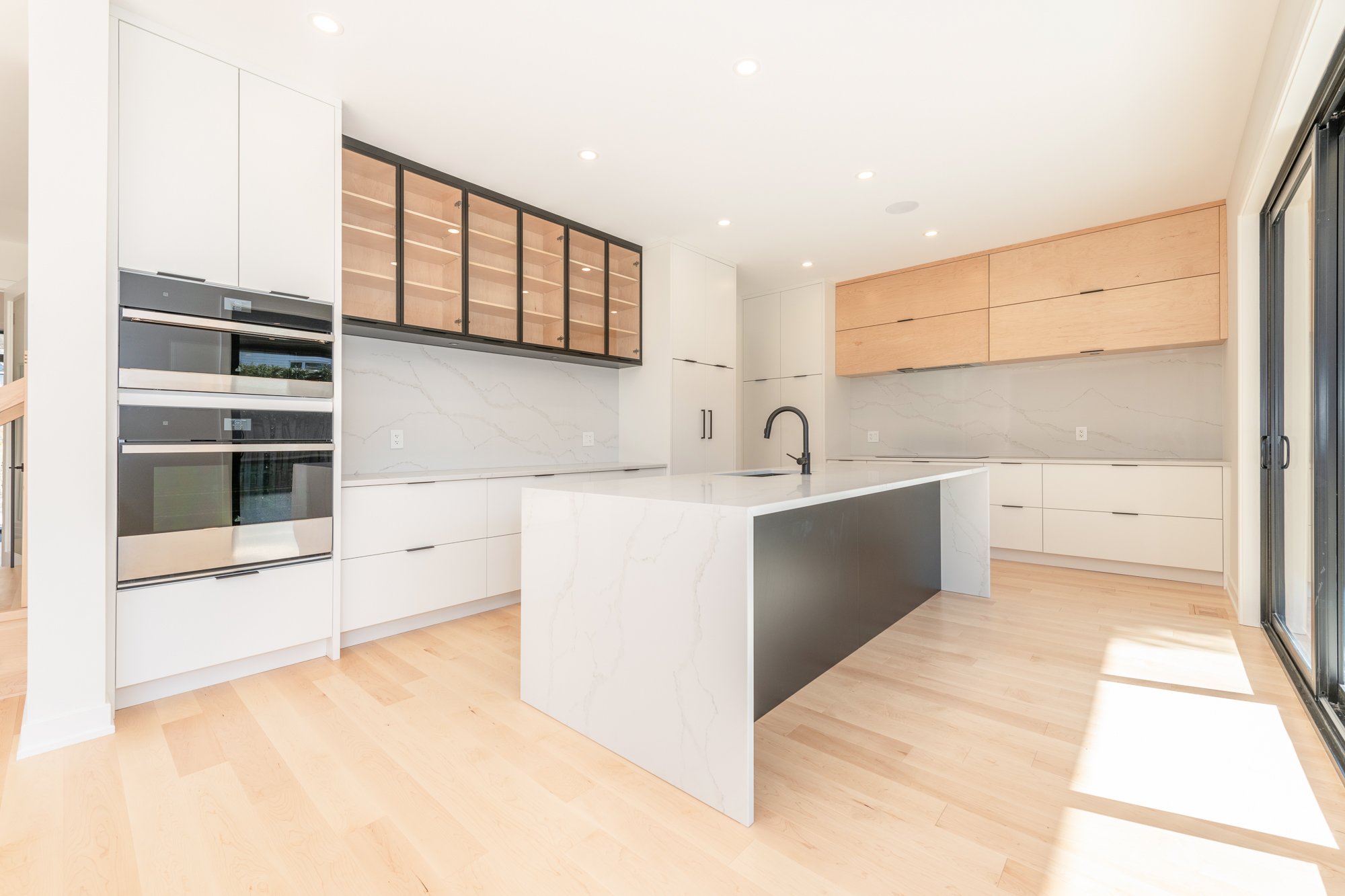 If contrast isn't your cup of tea, you can always go the traditional route and match your shelves to your cabinet frame, like in this fresh white kitchen design: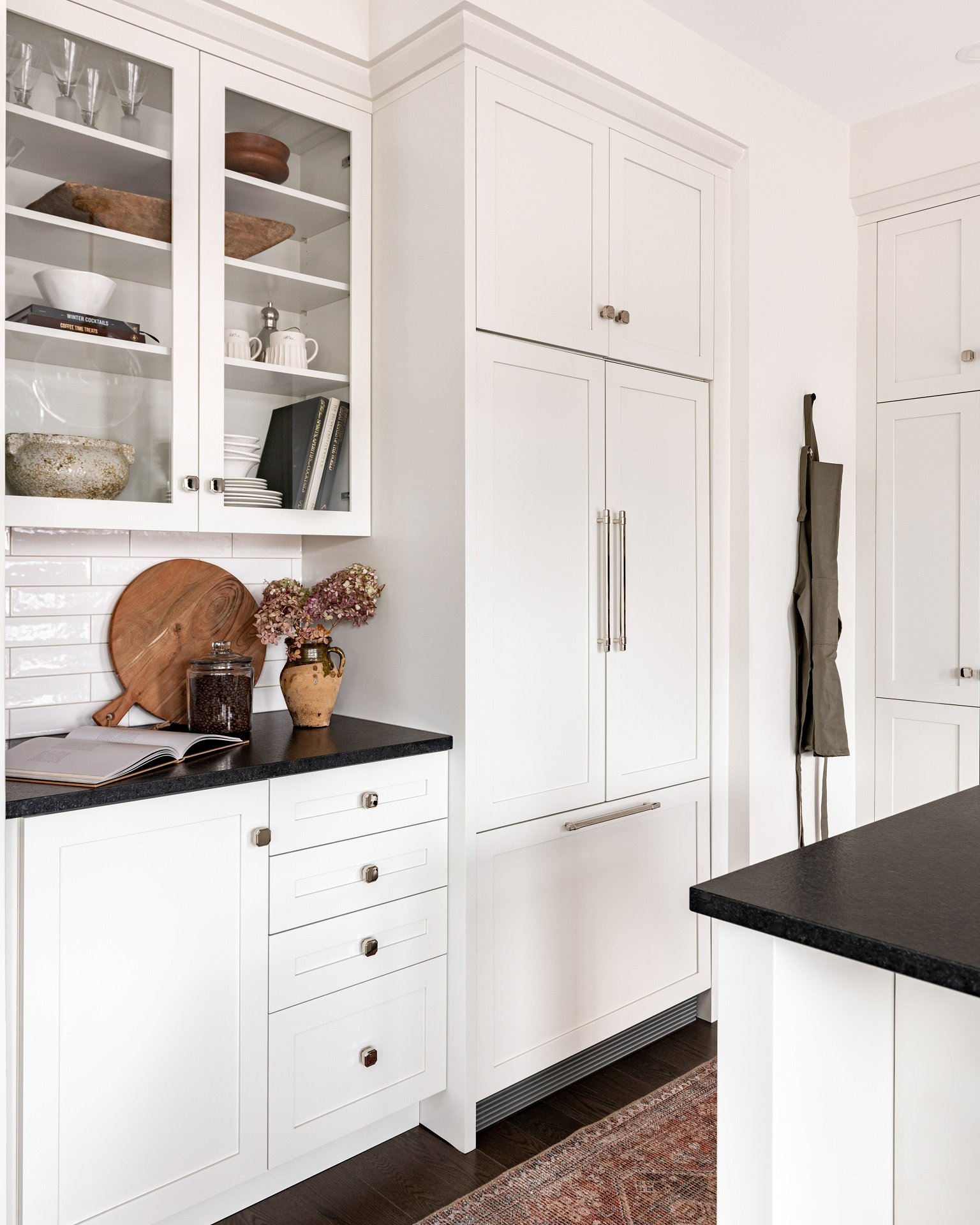 Glass Kitchen Cabinets
Other Design Considerations
Every design choice has a consequence, and it's always good to consider the some of the non-flashy items that come with using glass cabinets, namely, hinge visibility, glass durability, and glass maintenance.
These three points may or may not be an issue for you, but it's still important to be aware of them.
Hinge Visibility
First off, if you're using glass fronts, the interior hinges inside the cabinet will be visible.
Due to the nature of cabinet box construction with glass, hinges are next to impossible to hide.
For instance, if you look closely, you can see the interior hinges behind the frosted glass panels in this kitchen: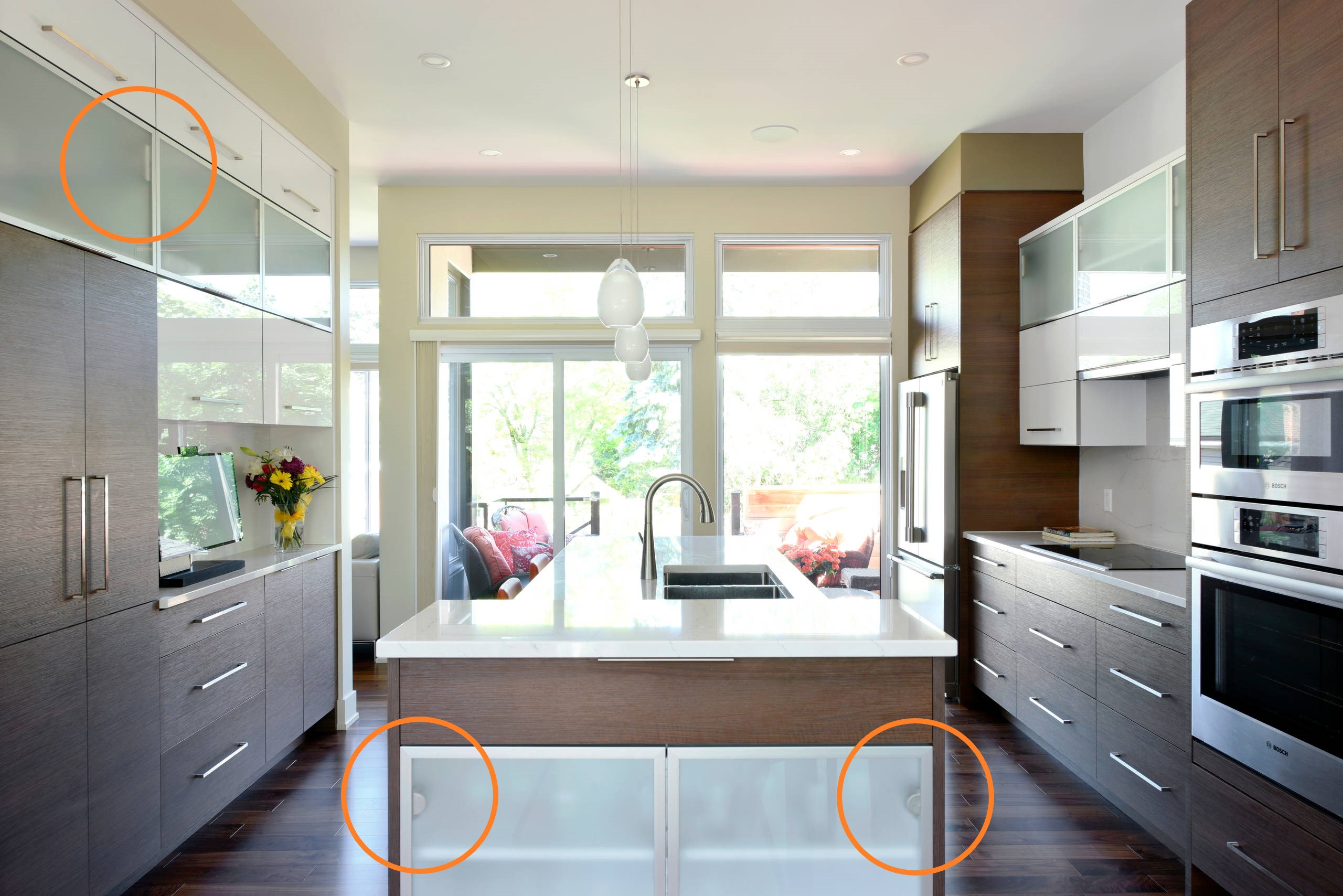 Seeing hinges may or may not matter to you: but it's good to know that they'll be there before you install your new kitchen!
Glass Durability
Glass cabinets cabinets aren't fragile per se; but they are breakable.
It's wise to consider the placement of your cabinets in terms of how likely they are to sustain damage.
If you're using glass cabinets on your uppers, potential impact is likely pretty low.
However, if you're planning on using glass cabinets on your kitchen island base cabinets, that risk might go up. Will there be young kids or rambunctious pets running around your island by the glass fronts?
If so, you might want to upgrade to a higher strength glass variety, like tempered glass.
Tempered glass is often used for larger sized panels as a precautionary measure against potential damage. Again, you'll want to speak to your designer about which glass types are the strongest.
Glass Maintenance
Like with any other glass surface in your home, be it a mirror or window pane, smudges and fingerprints are bound to happen.
It will require regular maintenance to keep those inserts clean and shiny, especially if you use glass inserts for high-contact cabinets, where you're constantly accessing them.
Or, if you're glass inserts are on stacked uppers, they might be out of reach and collect dust over time.
Using glass cabinets does come with maintenance requirements. Click for more info on how to clean your kitchen cabinets.
Design With Deslaurier
Deslaurier Custom Cabinets is your source for all things custom cabinetry in Jupiter, FL. Together, we craft quality and function for a beautiful life.
Our design team leverages 60+ years of experience—book a free consultation to get started on your dream reno today!
Interested in becoming an authorized Deslaurier dealer in Florida? Connect with us on our Become a Dealer page today!
Related Links: