31/08/2021 • Blog
How to Decorate a Kitchen Island
Do you want your kitchen island to be a focal point in your newly renovated kitchen?
Keep reading!
This article will show you how you can decorate your island—beyond vases and fruit bowls. With the help of seasoned Design Consultant Amanda Menkhorst, we'll explore the transformative power of cabinet mouldings. Plus, we'll look at how other kitchen island design elements, like hardware and countertops, can also work in your favour.
A little bit of trim and a little bit of ingenuity can do amazing things...let's get started!
How to Upgrade a Kitchen Island
Recently in the Learning Centre, we discussed how to design a kitchen island. We looked at the design impact of elements like circulation space, size, height, counter depth, seating, and lighting.
Now, we're shifting our focus from the functional aspects of a kitchen island to the aesthetic aspects. Specifically, we'll cover how to decorate and upgrade an island in the design phase of your reno.
Kitchen Island Mouldings
A little bit of trim goes a long way to setting a kitchen island apart.
Cabinet mouldings are a great way to give your island a signature, stand-out look. When you're designing your kitchen island, here are just a handful of moulding upgrades you'll want to consider adding:
Toe kicks
Cabinet legs and columns
Corbels
End panels


Let's briefly define each of these design options.
Toe Kicks
Bring some flourish to the floor with a toe kick.
Typically, a standard toe kick sits back about 3 inches from the bottom of the cabinets. This is called a recessed toe kick. The extra space is practical more than anything—it gives homeowners additional foot room (no one likes to bang their toes) when doing dishes, chopping onions, and all their other kitchen-related chores.
This kitchen island showcases a recessed toe kick all around the island base: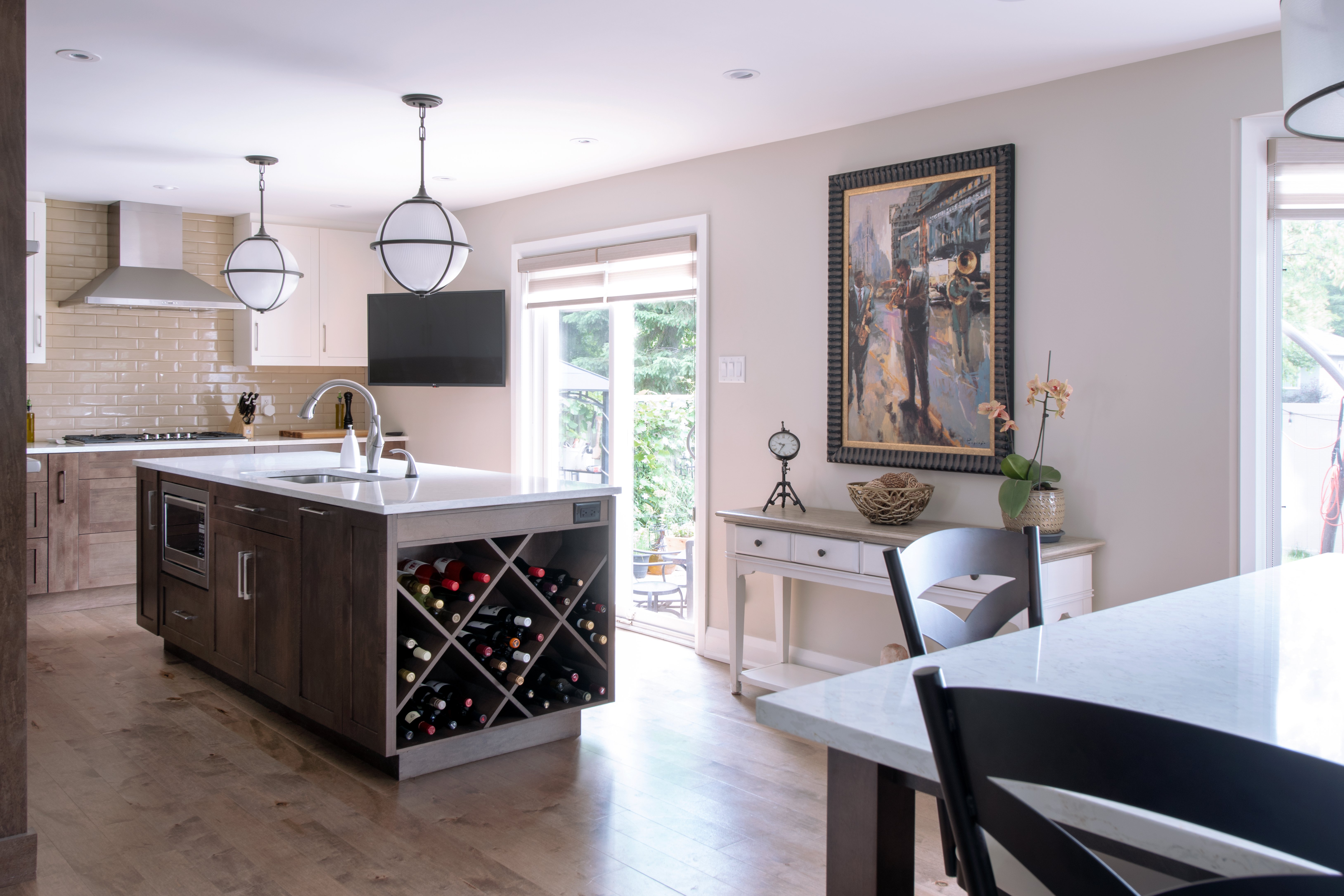 If you prefer a flush appearance between the toe kick and the cabinets, you can create that look with a furniture toe kick. A furniture toe kick extends to the same distance as the cabinets to create a flat exterior surface.
Often, I keep a recessed toe kick on the working sides of the island and then wrap a furniture toe kick along the end and back panels. I find it's a cost-effective way to make a big impact. —Design Consultant Amanda Menkhorst
If you want even more decoration and detail, go one step further with a decorative toe kick. Arched and chamfered kicks dress up the island with a freestanding look: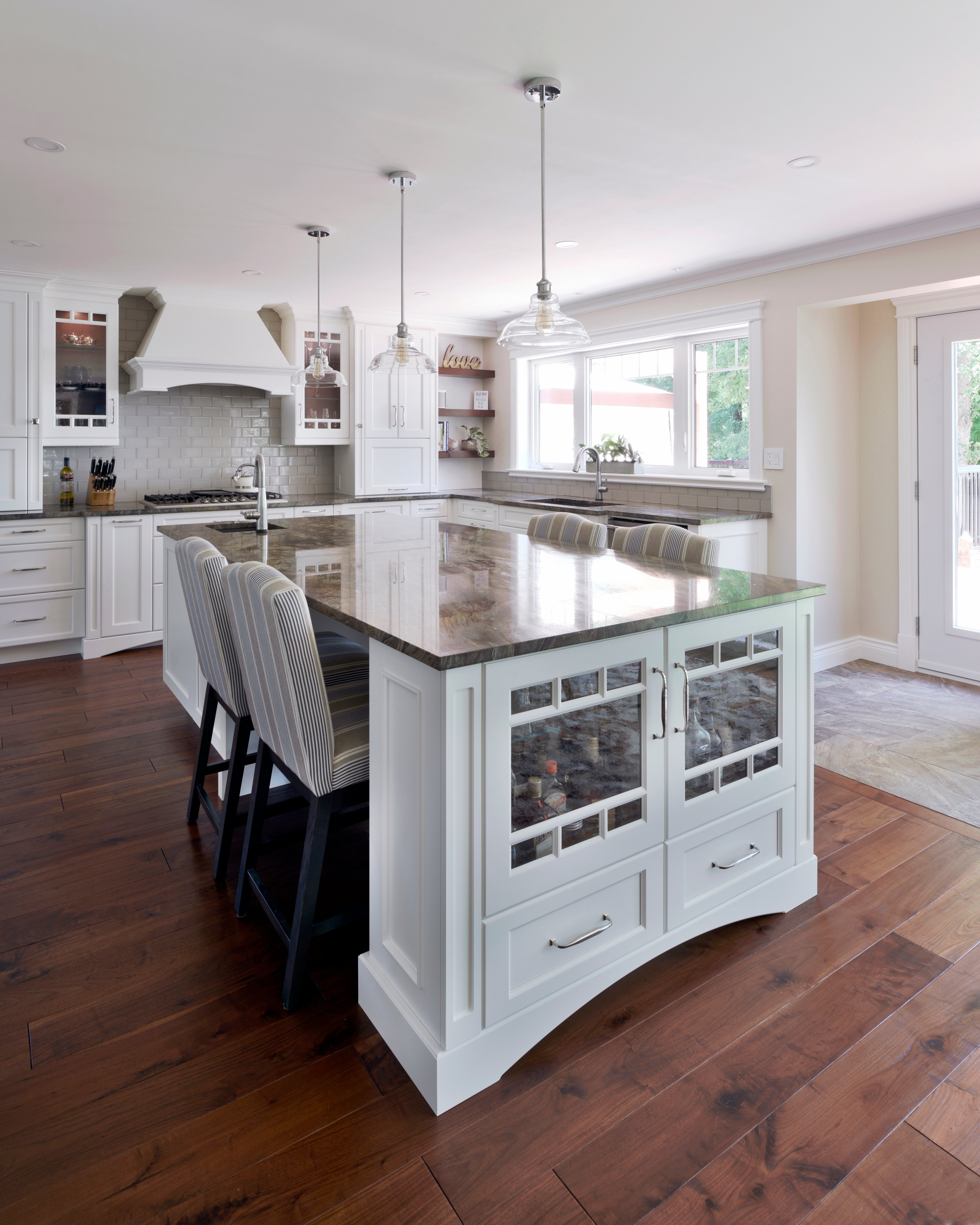 Cabinet Legs and Columns
Cabinet legs are exactly like they sound: four decorative blocks/posts that serve as a visual anchor for the four corners of your kitchen island.
It's a small touch, but sometimes, it's the finer details that make all the difference.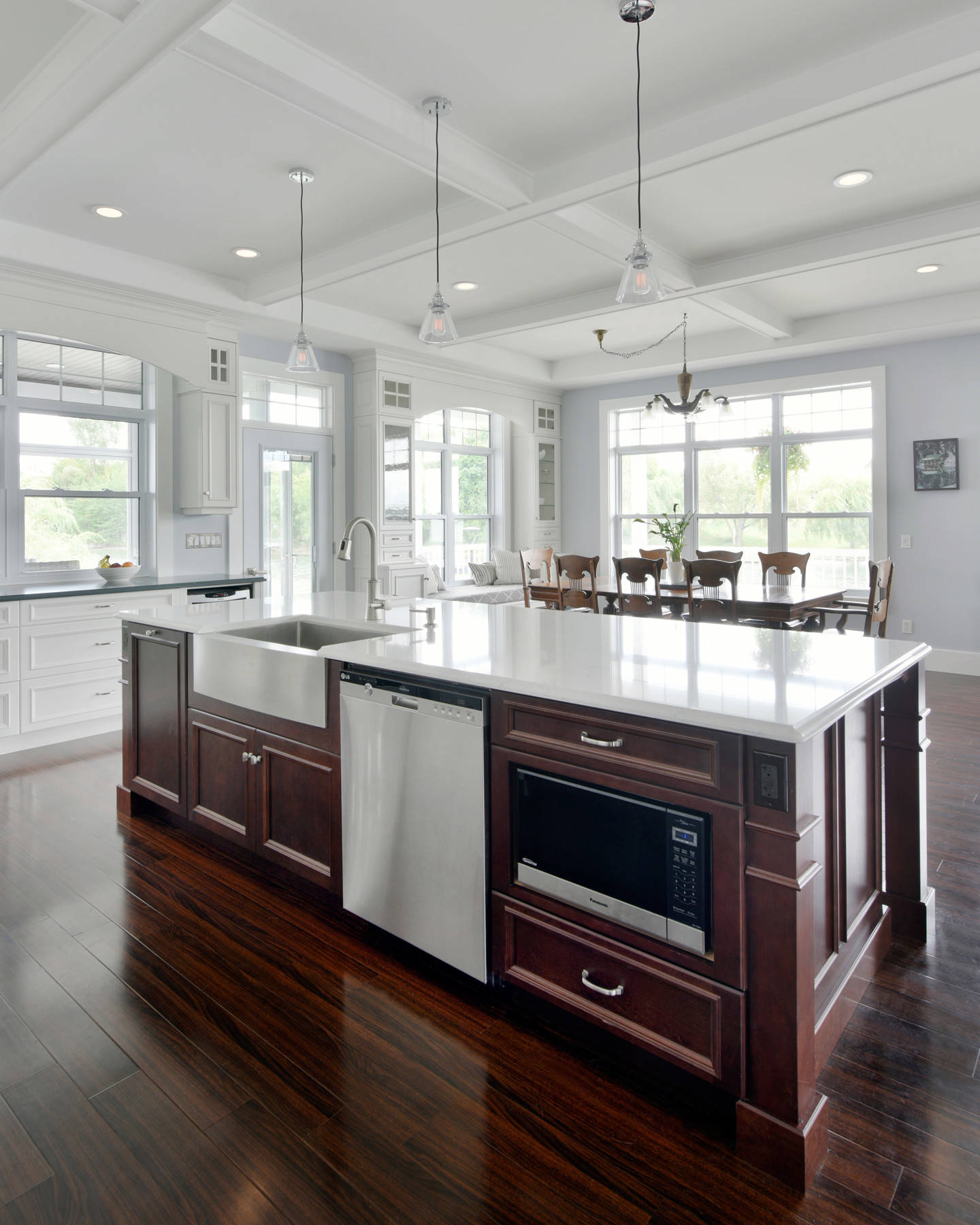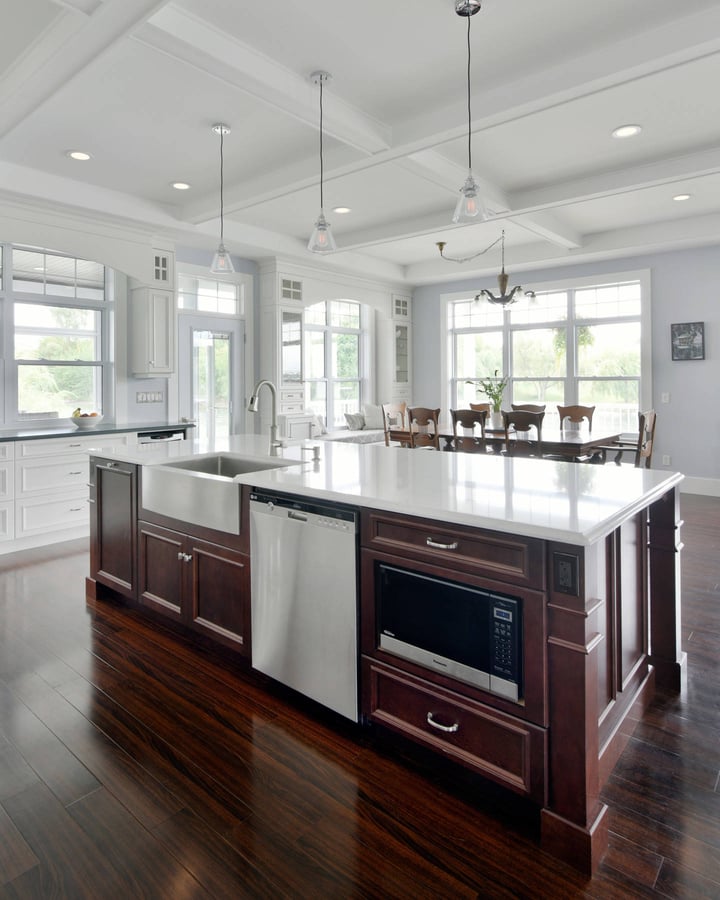 Columns are also not hard to explain. They're the millwork that support your island's countertop overhang, and they also happen to be on-trend right now.
Square columns in particular are an in-demand item for transitional and modern kitchen designs. Rounded columns are not quite as commonplace as their square counterparts, but are still a fantastic addition to any traditional kitchen design.
Here's a picture of a simple island with columns, which are essentially a 2-3"-thick "panels" that extend the full depth of the island countertop: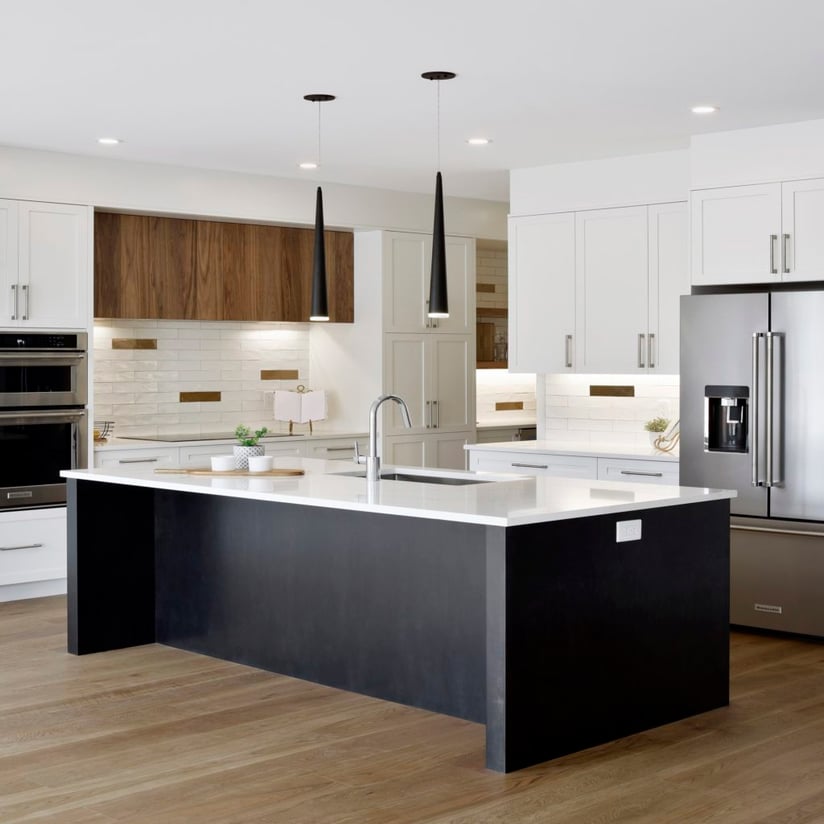 Corbels
A kitchen corbel is a structural bracket used to support the weight of a kitchen island and serve as a decorative accent at the same time.
Often, corbels are elaborate pieces that suit traditional kitchens best. For example, this corbel looks regal and refined: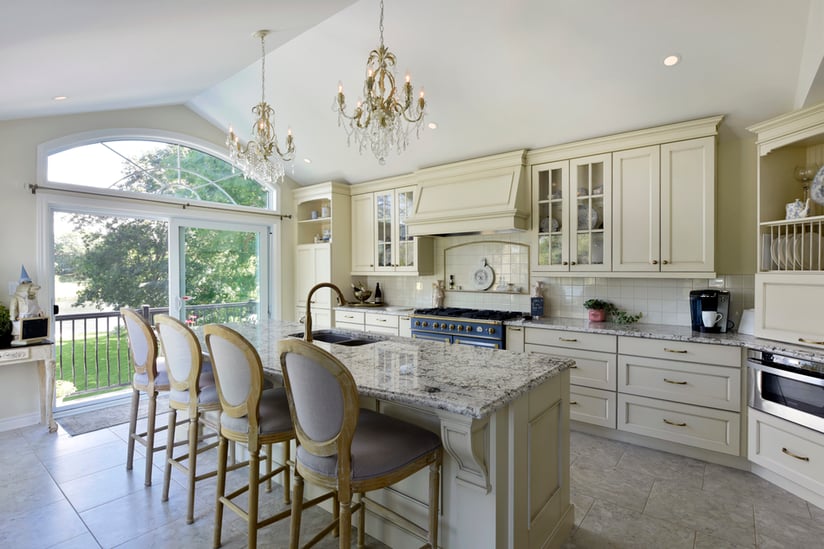 If traditional isn't your style, fear not. Despite what people may say, corbels are not only for the traditionally inclined. These modern, metallic corbels are simultaneously decorative and contemporary: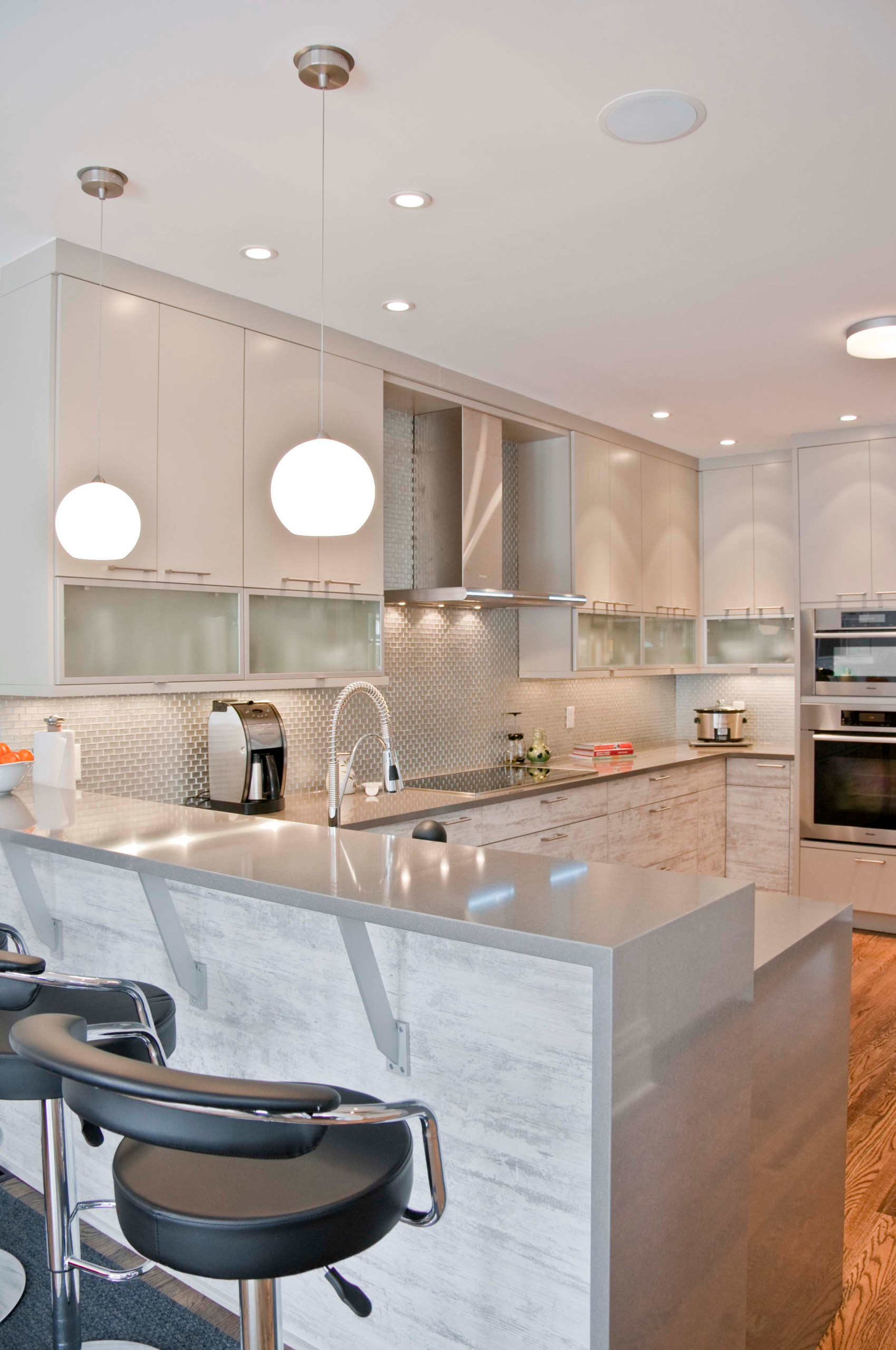 If you're having trouble deciding if corbels, cabinet legs, or columns will fit within your kitchen design, look at your cabinet door style for guidance. Your door style will inform how much or how little moulding detail will work on your island. Design Consultant Amanda Menkhorst tells us:
Everything starts with the door style and then you can layer the detail from there.
For instance, a simple shaker cabinet door won't pair very well with an extremely ornate rounded column. Ideally, the level of detail on the door will match the level of detail elsewhere.
If you want to learn more about door styles at Deslaurier, click to discover our 5 best-selling cabinet door styles.
End Panels
If your kitchen island has exposed ends, consider installing end panels to ramp up the level of detail on your island. Don't be afraid to get creative, either.
If you want to decorate the ends of your island, you have three main options.
Your first option out of the gate is using false doors. A false door is very simply a cabinet door that doesn't actually open. By installing a false door on either end of your island, it will look like there's another cabinet in those places, instead of blank space.
Your second option is using a décor panel. A décor panel adds detail to the panel itself while also allowing room to add a furniture toe kick along the bottom.
Your third and final option is to adorn the end panels of your island with custom millwork. The cross-pattern millwork on these end panels is both bold and beautiful:
The Back of the Kitchen Island
Any of these three end panel options (false doors, décor panels, custom millwork) can also be applied to the back panel of your kitchen island.
However, you might want to weigh the cost of decorating the back of the island against its visual effect.
If you're putting bar stools on the back of your island, those chairs might cover up the trim of a detailed back panel and hide the millwork decoration from view.
Usually, the end panels of an island are more visible than the back panel. Discuss with your designer whether or not decorating your island's back panel is a good fit for your design and budget.
Kitchen Island Open Shelving
Open shelving is a popular trend in kitchen design as of late. Many homeowners are choosing to swap out upper cabinets for shelving—but what about base cabinets?
Transform a few kitchen island cabinets into shelves and use the exposed space to showcase dishware and décor. Are you a wine connoisseur? You might consider integrating a wine rack directly into your island.
You can use shelves to store any number of items you like. It's simple. It's effective. It will update your island in a pinch!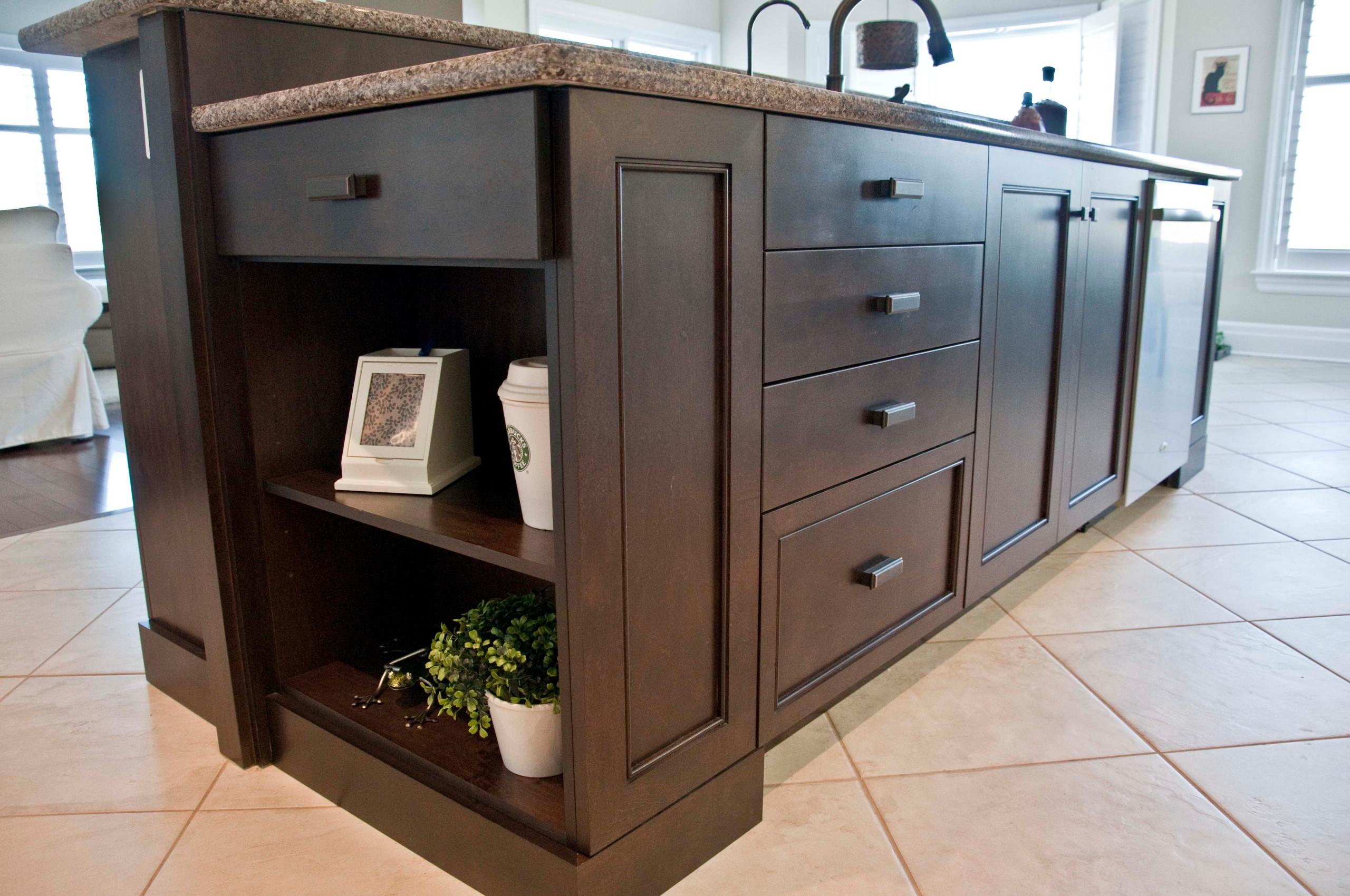 That being said, don't opt for open shelving if you're in it for the money-saving bonus. Contrary to popular belief, replacing a cabinet with an open shelf doesn't cost less. Sometimes, especially if you're adding a wine rack or other specialty shelves, it costs more.
By the time your designer takes off the door and finishes the interior of the cabinet, your total cost will likely be equivalent.
Other Kitchen Island Décor
Mouldings aside, there are plenty of other ways to accentuate your island. Hardware, finishes, and countertops are the big three:
Kitchen Island Hardware
Switching out your island's hardware is an easy way to gain some extra style points.
There are so many hardware types, finishes, and design tricks you can experiment with to create a unique and enticing kitchen island.
There are no rules: contrast your perimeter cabinet hardware or go hardware-less to build minimalistic appeal.
Read through our article "How to Choose Cabinet Hardware" for more great insight.
Kitchen Island Finish
Some of the most brilliant kitchen designs in the field come from homeowners who aren't afraid to play with colour.
A contrasting or bold colour choice for your island can bring out the best in your space. Similarly, a worn or distressed finish can elevate your kitchen island's appearance to the next level.
Click to read more about how to choose a colour for your cabinets.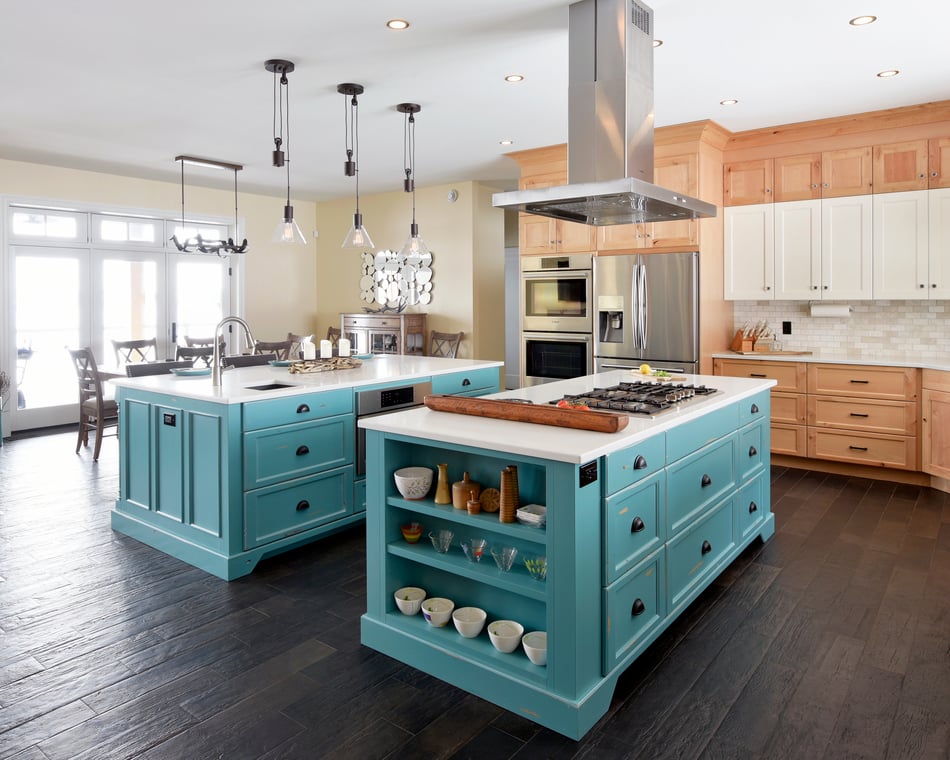 Kitchen Island Countertops
Last but not least, your countertop is a major contributor to your island's style.
First off, the countertop material you choose matters. Explore the best countertops for your kitchen and quartz vs. granite to learn more about natural and engineered countertop materials.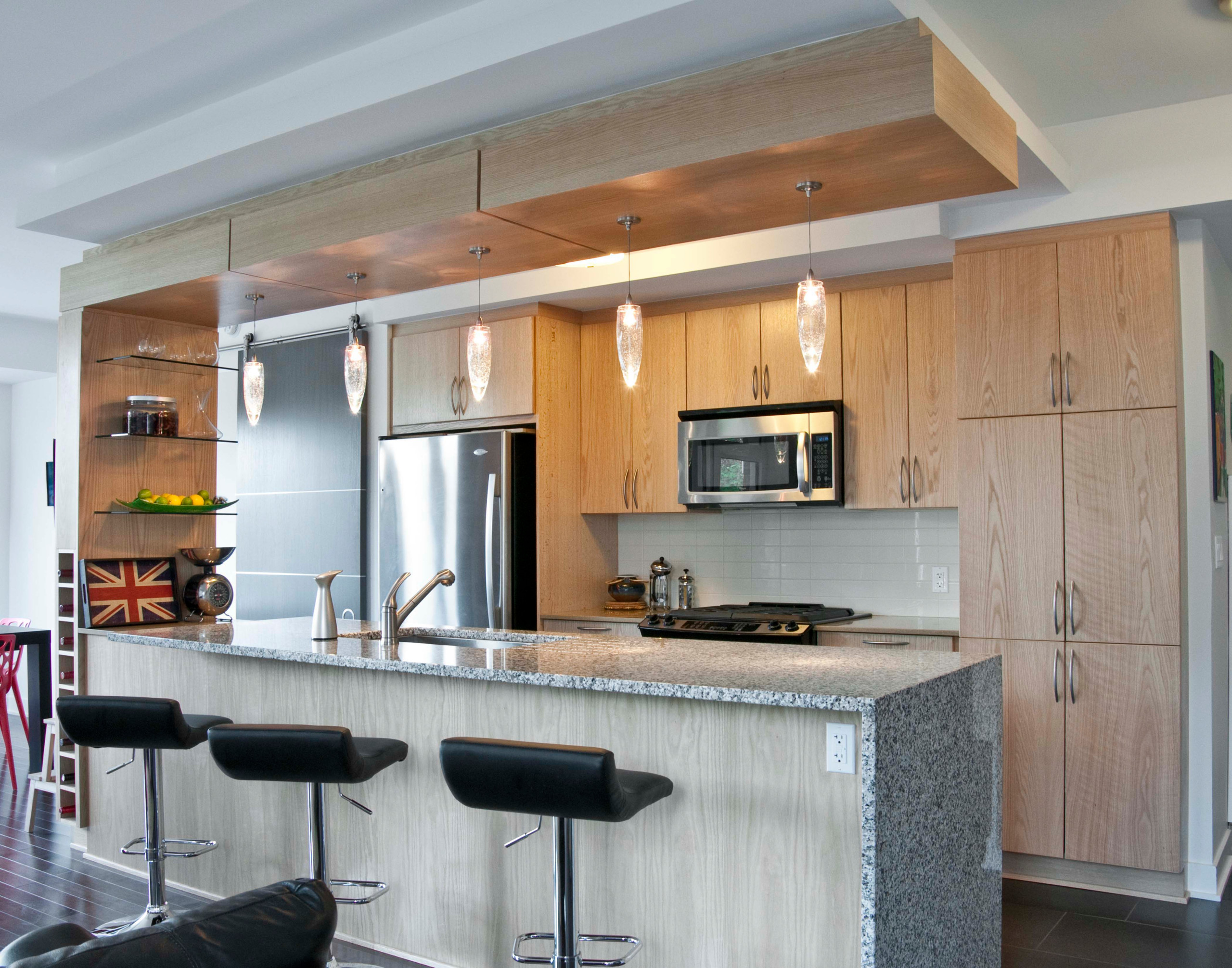 Next, your countertop finish can really boost the island's look. Polished, honed, and leathered finishes all have distinct appearances and characteristics that you'll want to research.
Lastly, if your budget allows, you might want to consider installing a waterfall countertop in your kitchen.
Waterfall countertops are delightfully dramatic and one of the best ways to decorate your island instantaneously!
Design With Deslaurier
Ready to put your kitchen island decoration ideas into practice? Book a no-obligation consultation with one of our professional kitchen designers in Jupiter, FL!
Deslaurier Custom Cabinets leverages 40+ years of industry know-how to make every client's dream kitchen a reality. We know cabinetry.
Fill out the form below to connect with us today!
Related Links: