20/08/2021 • Blog
Worn and Distressed Kitchen Cabinets
Do you love rustic, country-like, and natural accents in kitchens? If so, you'll want to keep reading—this article is all about Deslaurier's worn and distressed kitchen cabinet finishes.
Below, we'll discuss the three levels of worn and distressed cabinets available at Deslaurier Custom Cabinets, and whether or not they're right for your dream reno.
Let's get started!
Distressed Cabinet Finishes
Deslaurier Custom Cabinets has developed eight unique elements of what we call cabinet distressing. The intent of these elements is to replicate a naturally aged look in solid wood.
Think of the rustic, homey charm of a weathered barn door with deep knots and rich grooves within the grain—this is the aesthetically pleasing wear and tear we seek to achieve with our distressed products.
Using a combination of the eight individual distressing elements, Deslaurier offers three levels of cabinet distressing, Level 1 representing a mild, Level 2 a moderate, and Level 3 a major level of distressing.
Typically, glazes are also often added to distressed doors to amplify the distressed features.
Deslaurier's 8 Elements of Kitchen Cabinet Distressing
The eight elements of distressing include:
Sanded Corners
Dents and Marks
Chiseled Edges
Cracks
Worm Holes
Screw Pattern
Sanded Edges
Filed Edges
These eight characteristics work well in different combinations to create an antique aesthetic. We love the look of these distressed kitchen islands in a custom colour. If you look closely, you'll see all the places where the paint has thinned and "aged":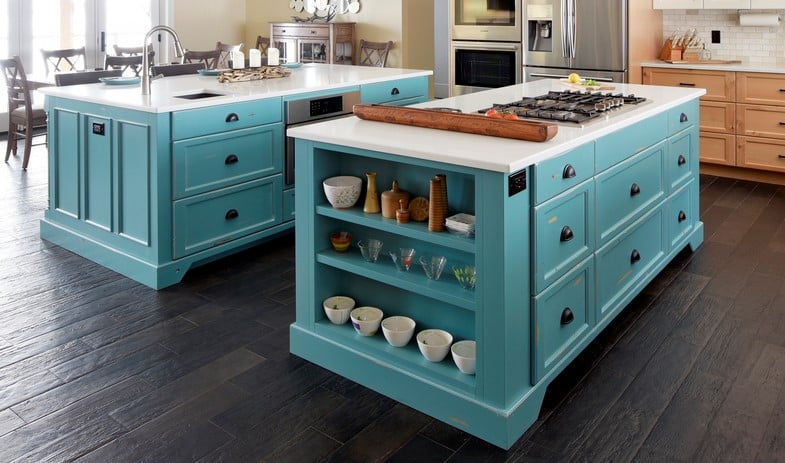 Let's look at each distressed element one by one.
Cabinet Distressing Element #1: Sanded Corners
The crisp lines of the cabinet profile (typically the external corners of a door and the corners of a raised panel on a door) are rounded over. The radius of sanded corners can range in size.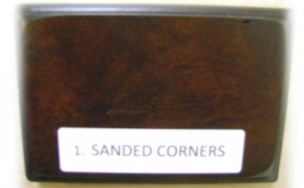 Cabinet Distressing Element #2: Dents and Marks
Dents are marks are created by hitting the surface of the cabinet with a specially designed chain. The dents are marks are completely randomized.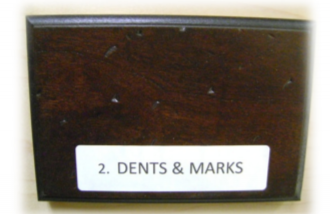 Cabinet Distressing Element #3: Chiseled Edges
The chiseled edge element provides an extremely worn look, which is why this element is only used in Level 3 distressed cabinets. During the manufacturing process, we remove small pieces of material from the profiled edges to create small divots along the perimeter that provide the look of long-term wear. We then lightly sand the edges for a relatively smooth surface.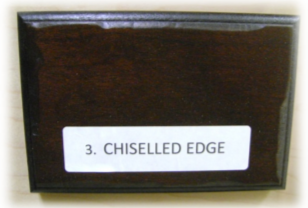 Cabinet Distressing Element #4: Cracks
This feature gives the look of a cracked rail or panel without compromising the structural integrity of the product. Typically, cracks are positioned near a joint in a door, and created to appear naturally irregular (ie. not perfectly straight).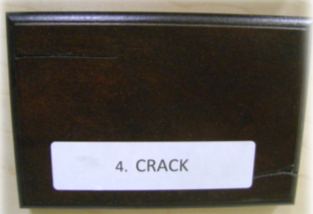 Cabinet Distressing Element #5: Tiny Holes
This feature is a grouping of very tiny holes on the surface of the cabinet, effectively re-creating the area of a tree where worms were present and had excavated through the bark. Hole diameters may vary slightly. The number of holes and space between them are random.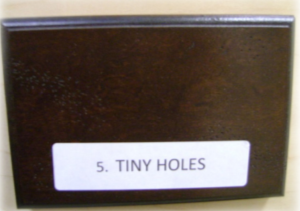 Cabinet Distressing Element #6: Screw Pattern
The screw pattern is a very unique one, created by placing a lag screw on the surface of the cabinet and striking it with a hammer. As a result, the location and angle of this feature can vary.
To avoid too much repetition, this element is used sparingly.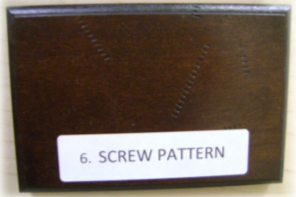 Cabinet Distressing Element #7: Sanded Edges
The seventh element, sanded edges, is very similar to the first element, sanded corners. For this feature, we simply continue sanding not just the corners, but all edges of the product. To create the appearance of long-term wear and randomness, we'll sand some sections of the profile more than others.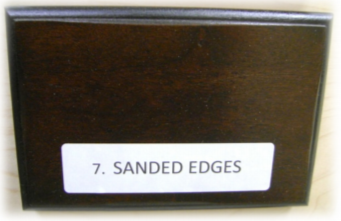 Cabinet Distressing Element #8: Filed Edges
To add even more visual impact to the cabinet door edges, Deslaurier creates random indents on the edge of the profile with a hand file. The indents are typically spaced roughly 1-2 inches apart and the number of them is random.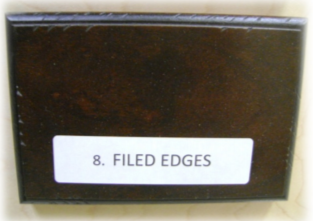 Deslaurier's 3 Levels of Cabinet Distressing

Level 1 (Mild)

Element 1 - Sanded Corners

Element 5 - Tiny Holes

Element 6 - Screw Pattern

Level 2 (Moderate)

Element 1 – Sanded Corners

Element 2 – Dents & Marks

Element 4 – Cracks

Element 5 – Tiny Holes

Element 6 – Screw Pattern

Element 7 – Sanded Edges

Element 8 – Filed Edges

Level 3 (Major)

Element 1 – Sanded Corners

Element 2 – Dents & Marks

Element 3 – Chiseled Edge

Element 4 – Cracks

Element 5 – Tiny Holes

Element 6 – Screw Pattern

Element 7 – Sanded Edges

Element 8 – Filed Edges
Worn Cabinet Finishes
Worn finishes are an additional feature that can add even more emphasis to distressed cabinets; they subtly reveal the natural wood underneath a stain or a stain underneath a paint, which makes cabinets appear beautifully aged.
Take a look at this worn kitchen island. The maple cabinets have a dark, black stain, which has been tastefully worn around the edges: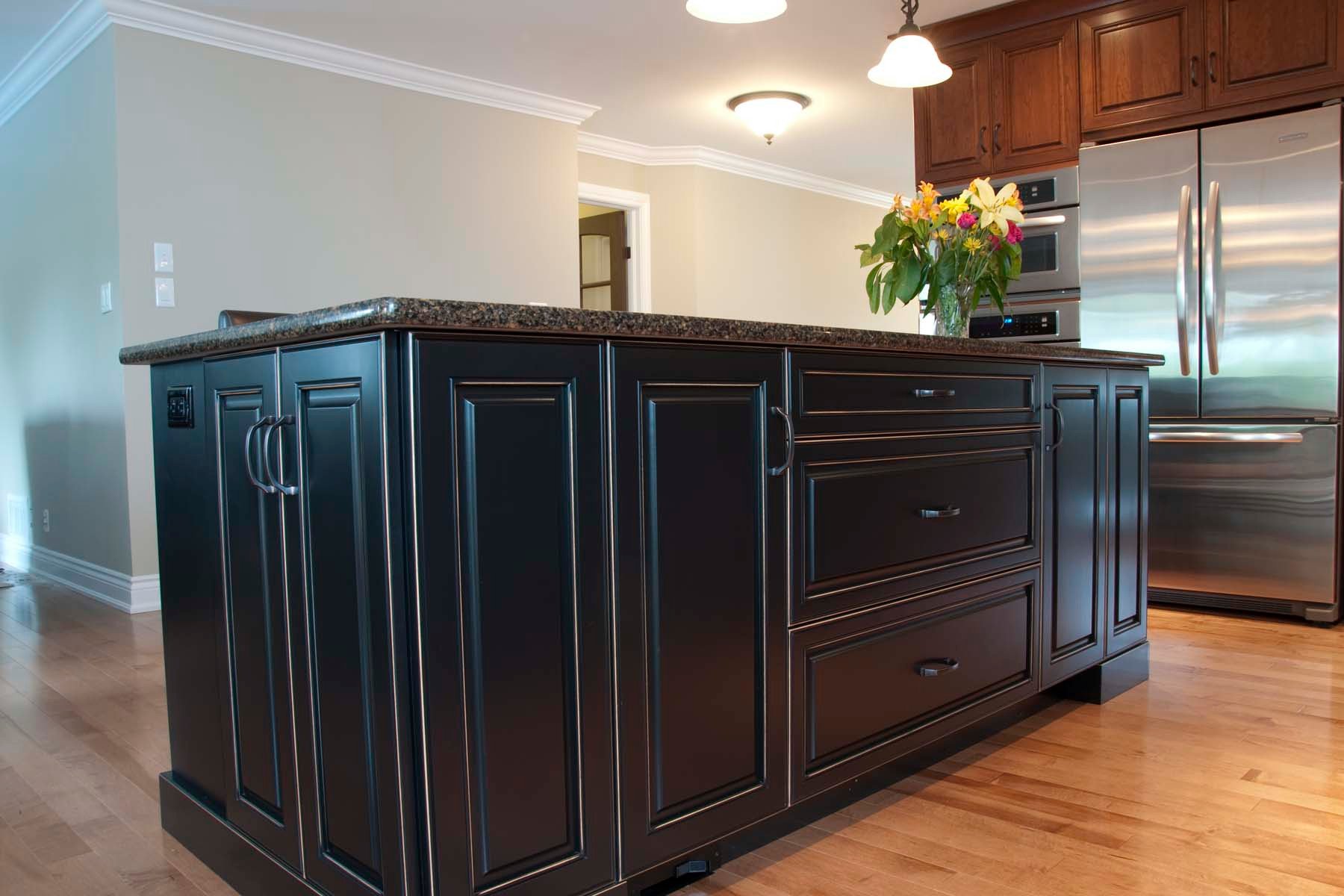 What is a Worn Cabinet Finish?
Essentially, a worn finish is created by sanding down the edges of a cabinet door to expose the core material underneath. The catch is that the process only works for solid wood. MDF, veneer, and any other manmade material cannot be worn. Crown and light valances, if they're solid wood, can be worn, too.
Best Cabinet Materials for Worn Finishes
Lots of wood cabinets pair beautifully with a worn finish. Every wood species has its own characteristics, so you should chat with your designer or cabinet supplier to figure out which one is right for you.
For example, maple and birch have naturally white wood tones and will look quite different to a worn cherry door. Plus, if you choose a combination of distressed and worn finishes, the distressed areas of the door will be highlighted (worn). For these reasons, before you commit to a worn finish for your kitchen, we always recommend ordering a sample door.
Best Cabinet Colours for Worn Finishes
You can choose a worn finish for both painted and stained cabinets.
For painted worn finishes, the cabinet doors are stained, sealed, then painted. That way, when the paint gets sanded, the stained surface underneath shows through. Occasionally, the wood underneath the stain is also exposed, revealing a trifecta of colour on a single door (natural wood, stain colour, and paint). Although, this usually only happens with the Level 3 "Heavy Worn" finish.
Below is a picture of a Level 2 painted "Random Worn" finish (top) and a Level 3 painted "Heavy Worn" finish (bottom):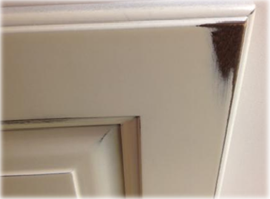 You'll want to choose your stain and paint colours carefully so that they blend well together.
The brighter your cabinet colour, the more contrast there will be between the finish and the core material. That might be a good or bad thing for your kitchen, depending on your personal preferences.
Once again, this is where a sample door comes in handy.
Deslaurier's 3 Levels of Worn Cabinet Finishes
Similar to the distressed finish, Deslaurier offers 3 levels of worn finish:
Level 1: mild amount of exposed core material
Level 2: moderate amount of exposed core material
Level 3: major amount of exposed core material
Let's look at these levels in more detail.
Level 1 Worn Cabinet Finish: Uniform Worn
The crisp lines of the door frame are all evenly sanded down in the Uniform Worn Finish, effectively giving cabinet doors a "picture frame" look.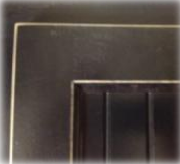 Level 2 Worn Cabinet Finish: Random Worn
For the Random Worn Finish, sharp edges and higher points on profiles get sanded in random locations for a spontaneous and naturally aged appearance. If there's a raised or recessed panel edge, that profile can also be sanded. However, only profiles—not flat surfaces—are sanded.

Level 3 Worn Cabinet Finish: Heavy Worn
The Heavy Worn finish offers the most aggressively worn look. Doors are heavily sanded around corners and some areas of flat surfaces.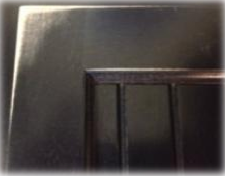 Should I Distress My Kitchen Cabinets?
Which Style is Right for Me?
Not sure if the distressed look is right for you? The first way to decipher which cabinet style is best is deciding what kitchen style you're trying to achieve.
Are you a fan of traditional, modern, or transitional kitchens?
If you want to build an ultra-modern space, distressed cabinets probably won't be the best fit.
However, if you lean towards transitional or traditional spaces, the worn and distressed look can definitely work to your advantage.
More and more homeowners are using wood and antique-looking accents to balance sleek and clean contemporary kitchens. Pulling in elements from different platforms and styles can really serve to build a well-rounded room.
Our worn and distressed cabinets also fit perfectly into farmhouse, country homestead kitchen designs where the aged look is admired and so-called "flaws" in wood products are appreciated for their character.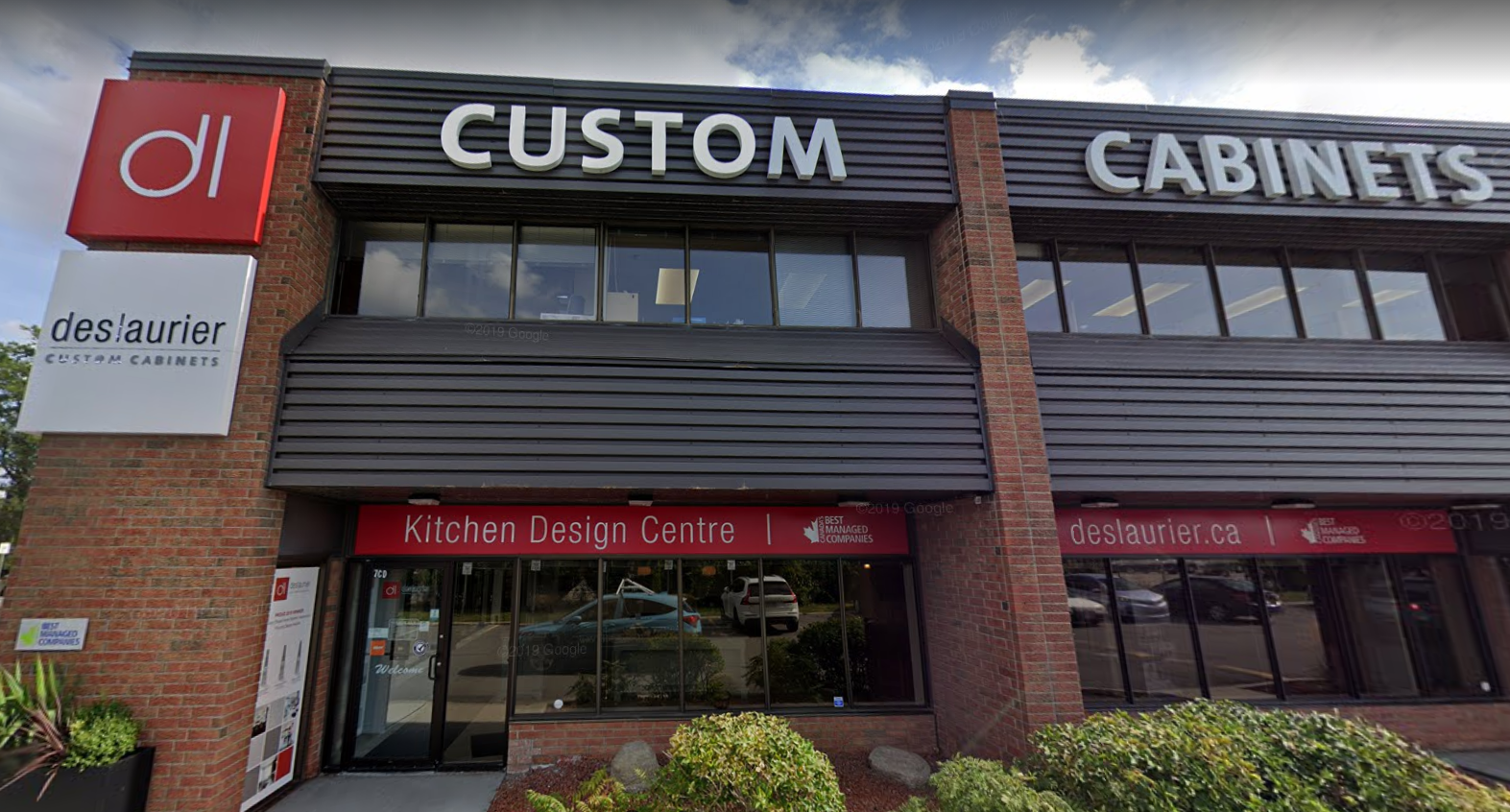 Design With Deslaurier
Deslaurier Custom Cabinets is always on the lookout for new, cutting-edge cabinet styles to add to our portfolio.
Our standard catalogue alone holds over 20,000 design combinations! If you want cabinets that are customized through and through, you've come to the right place. Book a free consultation with one of our kitchen designers in Jupiter, FL today!
Interested in becoming an authorized Deslaurier dealer in Florida? Connect with us on our Become a Dealer page!
Related Links: