18/06/2021 • Blog
What is Modern Kitchen Design?
The kitchen is one of the busiest, and sometimes most chaotic, rooms in the home.
Modern kitchen design acts as a calm backdrop to busy kitchen commotion. A modern kitchen design typically consists of open spaces, minimalist features, and simple colour palettes, offering a clutter-free space to relax and entertain.
The term "modern" encompasses everything that's sleek and streamlined. If that appeals to you—keep reading! In this article, we're going to explore all the defining characteristics of a modern kitchen design!



What is Modern Kitchen Design?
Modern kitchen design is loosely categorized as a kitchen design style in between transitional and contemporary. This is a very simple definition. In reality, it's much more complex than that!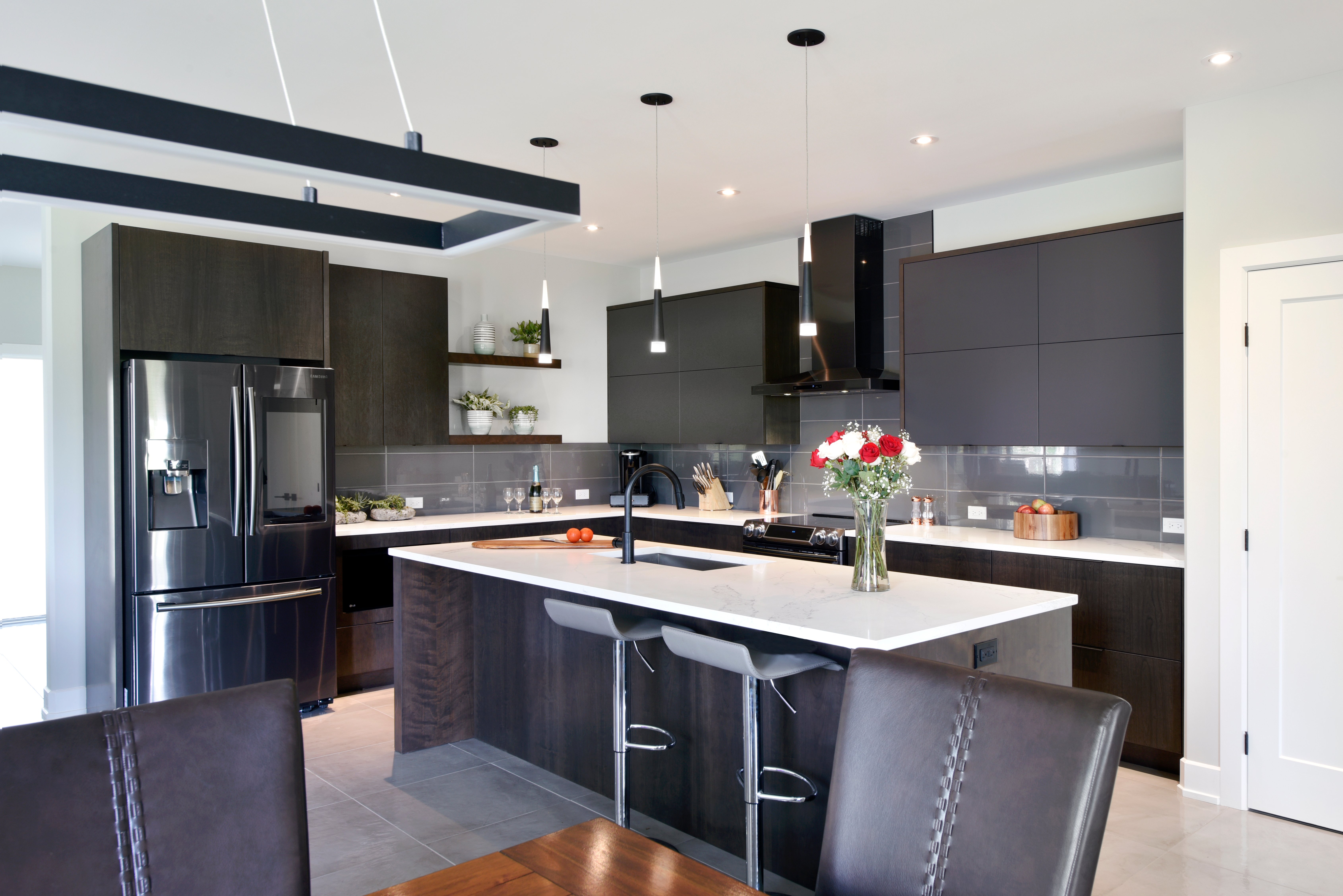 Believe it or not, modern design first originated in World War I. It was originally characterized by flat surfaces, geometric forms, and little to no ornamentation.
Now, modern kitchen design has become a part of a larger trend emphasizing clean lines, open spaces, and minimalistic design elements, featuring highly functional post-industrial materials.
Driven by simplicity, modern kitchen design maximizes functionality by utilizing space and organized cabinetry.
Modern vs. Contemporary Kitchen Design
While the terms "modern" and "contemporary" are often used interchangeably, there is a real distinction between modern kitchen style vs. contemporary kitchen style.
Modern design refers to an actual historical design movement (specifically the early to mid-20th century), and it follows a strict interpretation of elements.
Contemporary designs followed. The word contemporary literally means "current trends, in the now".
So, while both contemporary and modern kitchens feature sleek and minimalist layouts and share the characteristics of functionality, they differ in their fluidity.
In a nutshell, modern design style follows stricter guidelines whereas contemporary design style is more fluid and tolerates "rule-breaking". That means contemporary designs are more dynamic and they can change year after year to follow the newest trend.
For a more detailed comparison, take a look at a Comparison of Popular Kitchen Design Styles.
Characteristics of Modern Kitchen Design
Simply put, a modern kitchen design incorporates:
Horizontal Lines
Frameless of Full Overlay Cabinetry
Monochromatic Colour Palettes
Minimalistic Details and Ornamentation
Simple Hardware
Industrial Accent Pieces
When putting modern kitchen design into practice, it's easiest to break the kitchen design into components: space & lighting, layout, cabinet doors, hardware, tile work, accessories, and furniture.
Modern Kitchen Space & Lighting
A modern kitchen design maximizes space and lighting. By the way, lighting is also a worthwhile builder kitchen upgrade to consider as good lighting can make a subpar kitchen look superior.
Typically, modern kitchens are open-concept places with tall ceilings, long countertops, and cleverly designed storage solutions that mitigate any signs of clutter.
Further, modern kitchen design typically features reflective materials that look their best when exposed to natural lighting.
Check out the glossy surface of these modern Acrylux cabinet doors in Deslaurier's Modica style:


Modern Kitchen Layout
Modern kitchen designs have open floor plans stretching the entire length of the kitchen layout. They sometimes have distinct zone divisions which are subtly defined by changes in colour or materials.
This minimalistic approach to layout is what achieves a simple and elegant look.
This modern kitchen is effortlessly open, giving easy access to the dining room and a sitting area:


Modern Kitchen Cabinet Doors
Modern kitchen doors are typically flat panels achieving a horizontal line. Such simplicity is meant to increase the appearance of open space and enhance the uncluttered look of the room.
Check out a list of the The 5 Best Cabinet Materials for Modern Design.
Deslaurier's Urban Slab door style is a great example of a plain-yet-powerful modern aesthetic. See it below in this Deslaurier kitchen design:


Modern Kitchen Cabinet Hardware


Modern kitchen cabinets are often magnified by cabinet hardware that extends the majority or full length of the drawer and doors. Take a look at how these extra long drawer pulls give off modern vibes from left to right: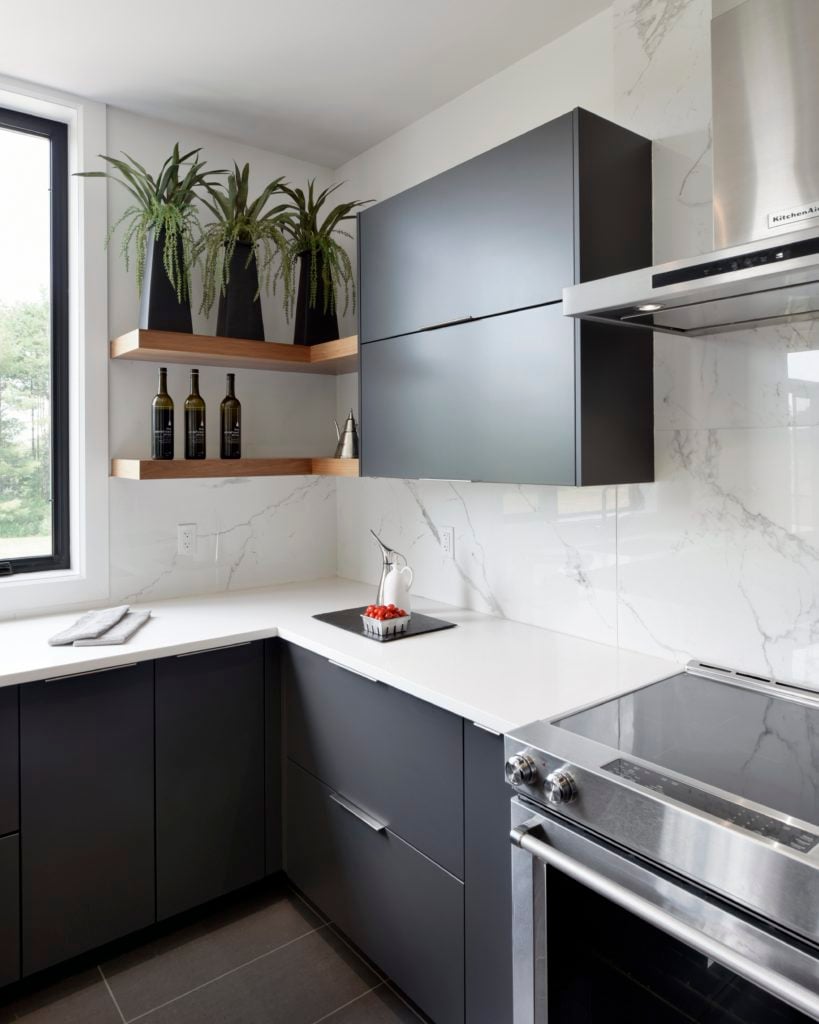 Modern Kitchen Flooring, Tile, & Countertops
Flooring, tile work, and countertops in a modern kitchen design tend to either coordinate with the broader aesthetic of the rest of the kitchen or provide a contrasting accent statement.
We love this eye-catching cobalt blue tile backsplash that brightens all the modern components of this kitchen design: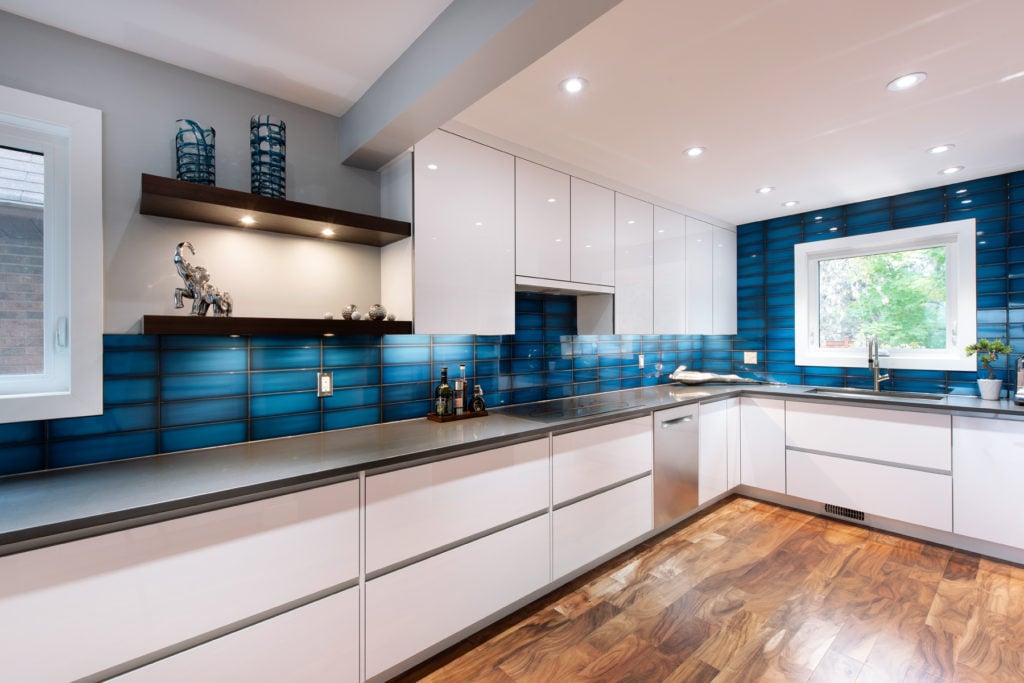 Slate and granite are a common material used for tile floors and backsplashes. Geometric patterns can also be incorporated into the tilework of a modern designed kitchen.
Take a look at The Best Countertops for Your Kitchen and the Top 5 Kitchen Floors for New-Builds and Remodels for more information on assembling a modern kitchen.

Modern Kitchen Accessories
Kitchen accessories and other design elements should build upon the modern kitchen design theme.
To create a modern appeal, cabinet doors can be replaced with frosted glass, sleek laminate, or wood veneer.
Mixers, blenders, coffee makers, and other cooking appliances should align and blend in with the stylistic elements of the rest of the kitchen. Further, cookware, utensils, and flatware, should also align with the sleek and minimalistic design.
Check out our Best-Selling Kitchen Cabinetry Accessories to discover the most modern and functional additions out there.
Modern Kitchen Furniture
Last, but not least, kitchen furniture greatly contributes to the overall look of modern design. Tables, stools, chairs, and benches are available in an array and angular designs that flow well with the clean lines featured in modern kitchens.
These metal and faux leather bar stools are the perfect accompaniment to this ultra-modern space: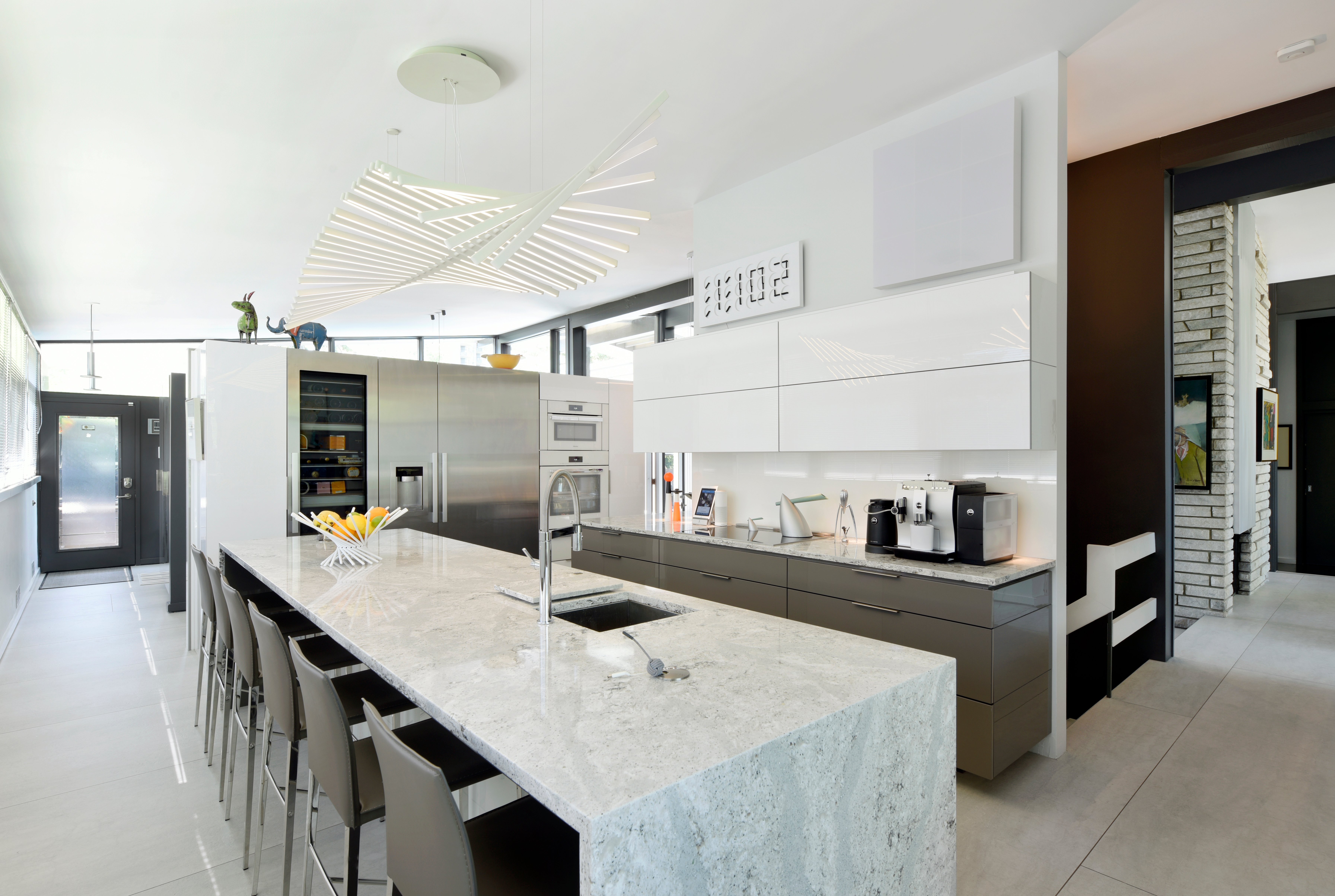 Natural and industrial materials, such as wood, plastic, and metal, enhance the look of modern style, and are often featured in bold colours that create some visual interest in an otherwise simple kitchen design.
Creating a Modern Kitchen Design at Deslaurier
You now have a very general idea of modern kitchen design, but how do you make this vision a reality?
At Deslaurier Custom Cabinets, we specialize in crafting quality and function for a beautiful life. This includes creating kitchens that embody modern kitchen design.
Below are some Deslaurier products and materials that our designers regularly utilize to build showstopping modern spaces:
EURO Textured Melamine
Acrylux
PET
Polyester
Metal and Glass Doors


You can see these modern elements on display in our showcase.
What's Next?
Feeling inspired? It may be time to go after that modern kitchen design that you've always dreamed of.
Our talented designers would be thrilled to help you design the perfect modern kitchen to suit your space and offer the ideal functionality for your lifestyle.
Beyond custom kitchens, our designers at Deslaurier are skilled in creating all kinds of custom cabinetry. With a specialization in kitchen cabinetry, we also offer custom cabinetry services for the bathroom, laundry room, closet, basement, mudroom, living room, and bedroom. There's not a room in the house that can't be customized with high-quality cabinetry and an expert eye for design.
Visit us at our Jupiter, FL location or request a consultation to get started working with our design team today.
Related Links: