If you're in the market for new kitchen cabinets, you probably know how overwhelming the selection process can be.
With so many materials like MDF or various natural woods; limitless amounts of different paints, stains and finishes; and the never-ending door style options to sift through, settling on a final choice is anything but easy.
Throughout this journey, you've probably come across thermofoil cabinets.
But what exactly is thermofoil? And is it right for you and your kitchen?
This article will provide an honest breakdown of the qualities and limitations of thermofoil kitchen cabinets.
Let's get started!

What Is Thermofoil?
Thermofoil (thermo) is a PVC vinyl material that is applied to MDF doors through heat and vacuum pressure, fusing the two together.
The thermofoil process produces a seamless surface, typically in a solid colour, but sometimes also a faux wood grain pattern.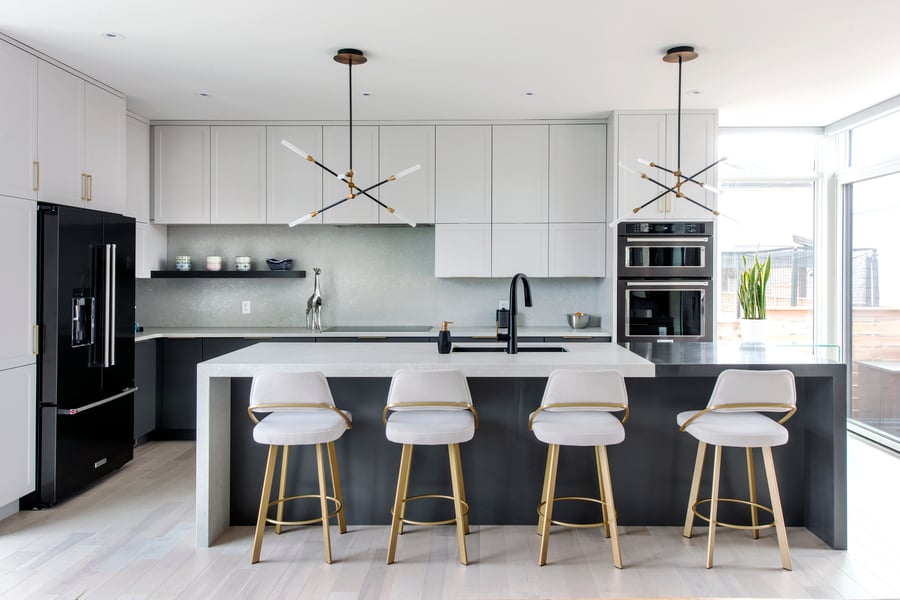 Thermofoil Cabinets
The MDF substrate is detailed using various router bits on a CNC machine to create the respective door styles, then wrapped on the front and sides with the plastic thermofoil finish.
Due to the nature of the manufacturing process of thermofoil, the backs of cabinet doors aren't finished.
That means only 5 of the 6 sides of your cabinet door (the front and four sides) will have thermofoil. Most manufacturers leave the backside with a simple white melamine finish.
Thermofoil Styles
Thermofoil offers a variety of colours or faux wood grain in textured, matte, high-gloss and even metallic styles.
The most common application of thermofoil is on solid colour slab door cabinets. White is an extremely popular choice, as matte and high-gloss options can replicate a painted aesthetic at a cheaper price point.
Thermofoil only comes in 1-piece doors, as opposed to 5-piece options available in natural wood or painted MDF. While slab (flat) doors are a popular choice, there are various detailed profiles that are available in thermofoil.
All edges of thermofoil doors will be rounded to an extent. This is because in order to apply thermofoil to a cabinet door, there needs to be a radius.
Because this radius is required, the edges and corners of the detail in thermofoil doors won't be as sharp as painted or stained options.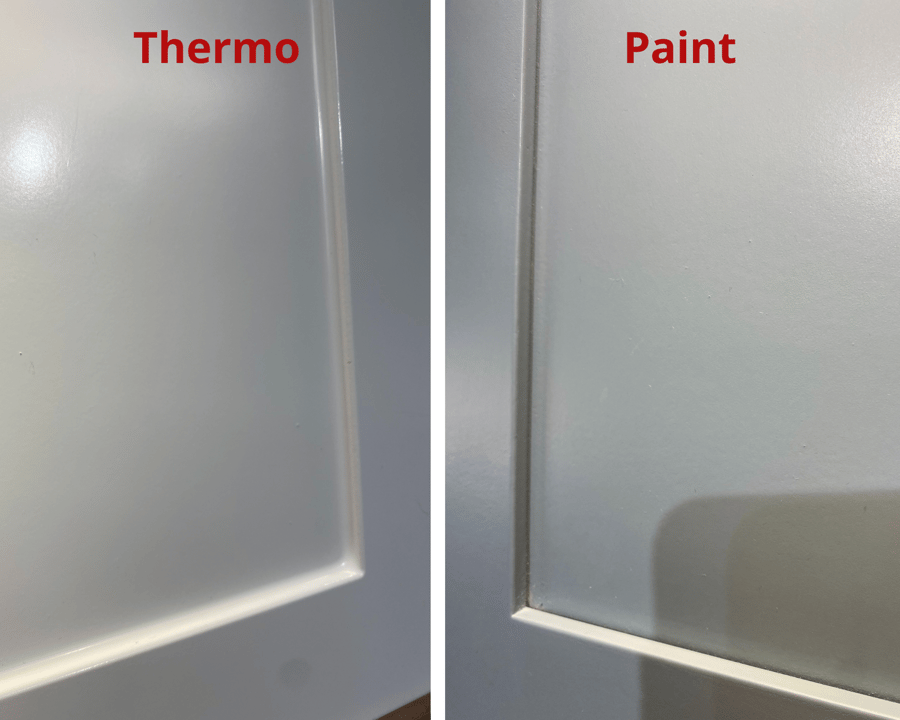 Notice how the edges of the thermofoil doors are slightly more rounded than the painted MDF? That sharper aesthetic can not be achieved on thermofoil doors, and should be recognized when choosing your preferred cabinet design.
Check out our article on Thermofoil vs. Painted Cabinets for an in-depth analysis of the two!
To create detailed door style profiles for thermofoil cabinets, a variety of different sized circular router bits are needed.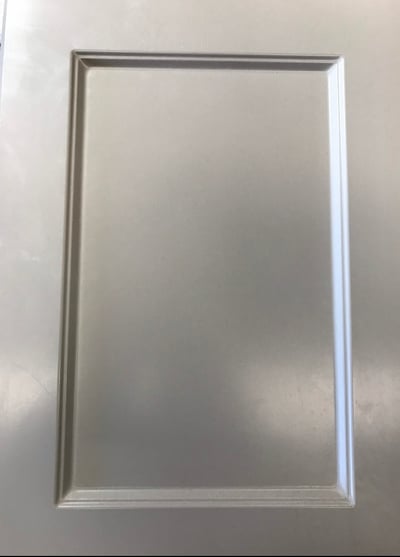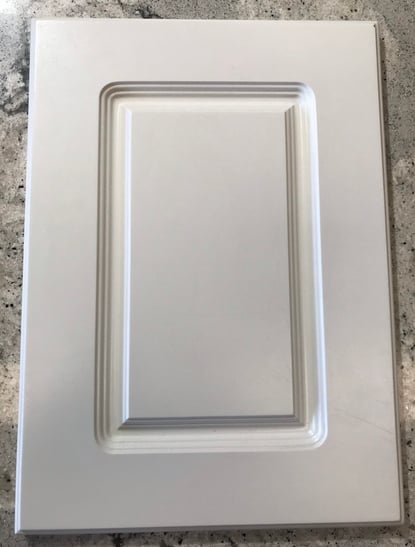 While the selection of door styles may not be as vast as other materials on the market, thermofoil still has plenty of different options available.
Cost
The cost of thermofoil is always going to be cheaper than painted cabinets. The manufacturing process is quicker and easier, as a machine handles the vacuum pressuring and heat shrinking work.
Comparatively, painting a cabinet is a multi-step process, requiring multiple coats of primer, base paint, paint, and top coats, and oftentimes a significant amount of by-hand sanding labour.
In terms of finish styles, thermofoil pricing doesn't vary the same way going from an Oak to a Cherry would. High gloss, matte, and textured thermofoil all come in at relatively the same price point, so you won't feel limited when choosing your preferred look.
Durability
Durability-wise, thermofoil stands up to daily use and general wear and tear better than a painted cabinet.
The finish holds up strongly against regular household damage such as water spills or light hand scratches due to its plastic coating. With thermofoil, you won't have to worry about door chipping that is commonplace for painted finishes.
The major concern with thermofoil is that it is extremely vulnerable to heat damage. High temperatures can cause the thermo to delaminate from the cabinet and essentially "unstick" from the surface
Thermofoil cabinets regularly exposed to steam, be it from a dishwasher, oven, toaster, kettle, or even coffee maker can melt, peel, or blister. This is often the biggest maintenance-related complaint from consumers and an issue you need to be prepared for before purchasing thermofoil cabinets.
Cabinetry next to high-heat appliances like ovens should be equipped with thermofoil heat shields for additional protection.
L
ongevity
If you're looking for a long-lasting solution for your kitchen cabinets, thermofoil leaves much to be desired compared to other materials.
If well maintained, your thermofoil cabinets should last you at least a decade. At Deslaurier, we provide a 10 year warranty for our thermofoil products. When compared to the 20 year warranty provided for painted MDF cabinets, thermofoil is not the most ideal long-term material.
Again, because thermofoil is vulnerable to heat and steam, two things that are commonplace within a kitchen, longevity is not a noted characteristic.
Along with peeling, the thermofoil finish can also begin to visibly age. Over the years some thermofoil cabinets have begun to fade with a dull yellowish hue, particularly on white or off-white colours.
Repair
The downside to thermofoil is the potential for peeling. If you notice a corner's finish slightly lifting, you can attempt to If the front begins peeling, or a cut exposes the surface underneath, it is nearly impossible to repair without replacing the door.
With painted cabinets, Really, the only surefire way to refinish thermofoil cabinets is replacement. You can learn more about refacing vs. replacing cabinetry here.
Cleaning
When it comes to cleaning kitchen cabinets, it doesn't get more convenient than thermofoil. Maintenance-wise, all thermo doors need is a quick wipedown.
When wrapped over a one-piece slab-style door with a flush surface, there are no creases or crevasses where dust and grime can build up.
Even custom thermofoil doors with a detailed profile provide quicker cleaning because there are no joints for dirt and grime to accumulate unlike traditional 5-piece MDF or natural wood doors.
Take your household cleaning to the next level with our guide on how to clean kitchen cabinets.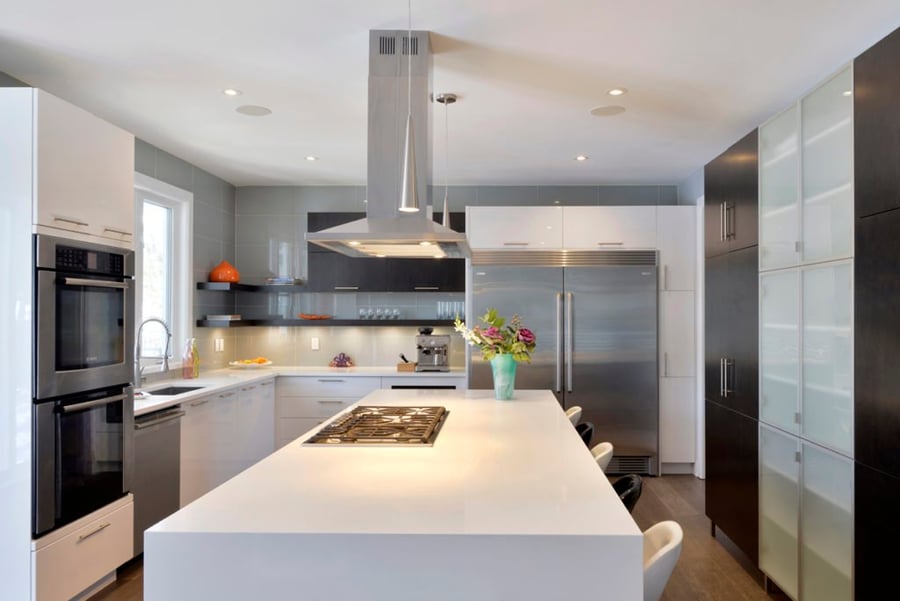 Limitations
Although Thermofoil offers a wide array of colour options, there are design limitations to be cognizant of.
Thermofoil may limit you in terms of adding other custom design elements to your kitchen. The availability of components like crown moulding, specific door styles, and custom millwork are all dependent on the supplying manufacturer.
Although thermofoil development has made improvements in these areas, there are still limitations compared to painted MDF and natural wood. Depending on your manufacturer, there may only be a few mouldings to choose from and even fewer options for valances or other decorative trim.
In this regard, if you're looking to fully customize your kitchen design, there are far greater options in natural wood or painted MDF than those offered in thermofoil, which could result in a less flexible design process.
Is Thermofoil Right For You?
It all depends on the design and how you approach it. But, in general, thermofoil is more of a budget-conscious material than a MDF with a painted finish.
Thermofoil is an inexpensive, highly accessible cabinet option. You can go into many large home improvement stores and find stock or semi-custom thermo cabinets available off the shelf for immediate installation.
With a guaranteed 10 year warranty, thermofoil is great for budget-friendly kitchen renovations or rental properties looking for a painted cabinet aesthetic. Long-term, there are more preferable alternatives than thermofoil. But if you want a short-term, quality product at a reasonable price, thermofoil could be the solution.

Think thermofoil is right for your kitchen? Deslaurier offers a wide selection of thermofoil cabinets in all different colours, door styles, and finishes. Our kitchen design experts will walk you through every step in order to provide you with your dream kitchen. Book a free consultation today in our Jupiter, Florida showroom!
Interested in joining the Deslaurier team by becoming a dealer? Connect with us today!