10/08/2021 • Blog
Stock vs. Custom vs. Semi-Custom Cabinetry: What's the Difference?
Whether you're starting a kitchen renovation from scratch or replacing your current cabinetry, shopping for new kitchen cabinets is a big task. Cabinets from big-box retail stores and custom cabinet makers all vary in appearance, cost, and quality.
How do you know if stock, custom, or semi-custom cabinets are right for your kitchen reno? This article will discuss the differences and show you how your choice of cabinets impacts the cost, labour, quality, and overall look of your kitchen cabinetry design.
Stock, custom, and semi-custom cabinetry are all great choices for a kitchen renovation depending on the project. They each offer a unique set of pros and cons, which this article will relate in simple, straightforward terms.
Let's go cabinet shopping!
What is Stock Cabinetry?
Stock cabinets are ready-made, pre-manufactured products with zero customization options. With stock cabinetry, what you see is what you're taking home.
Home Depot, Lowe's, and IKEA are all good reference points to understand how stock cabinets work. Custom cabinet makers may also offer stock cabinets—they might pre-manufacture their most popular products and have them ready to go for fast delivery. But more often than not, it's the franchises with the capacity to mass-produce that have stock catalogues.
Stock cabinets are offered in set sizes, and you have to select the right cabinets to fit your kitchen space. While these set sizes may vary from retailer to retailer, there are some industry-wide norms that you can expect to find.
In terms of width, stock cabinetry tends to begin at 9-inches wide and moves up in 3-inch increments. The largest size available is generally about 48-inches wide. As for height, stock cabinets are usually around 30-inches to 36-inches tall.
For homeowners with irregularly shaped kitchens, building a cabinetry system using only set sizes isn't always easy. It can feel like a game of Tetris trying to arrange stock cabinets into your space just right!
In addition to standard dimensions, stock cabinetry is built according to the manufacturer's quality standards.
Generally speaking, stock cabinets are a retailer's most basic, entry-level product. That means the materials and construction methods used are likely economical and low-tier quality. For instance, you'd be hard-pressed to find stock cabinets in cherry—it's an expensive wood species that's almost always an upgrade option in the custom and semi-custom world.
Rather, you can expect stock cabinetry to be built with affordable materials such as melamine and plywood with veneers, simple joinery, and basic hardware.
Stock cabinets aren't always low-quality products, but they certainly can be. If you're shopping stock, do your due diligence when researching the cabinet make-up. Saving money upfront isn't worth it if you'll have to pay excessively for repairs and replacement parts down the line.
The major advantage to choosing stock cabinets is the fast lead time. Many retailers have stock cabinets flat-packed and in stock so that you can drive them home or order them for delivery same day. If not available right away, you can still expect stock lead times to come in much shorter than custom lead times.
Cost & Installation of Stock Cabinetry
The average cost of stock kitchen cabinets is about $160 to $380 per linear foot. To accommodate an average-sized kitchen, most homeowners end up spending between $3,000 to $10,000 or more on a stock cabinetry design.
When it comes to cost, the popular retailer Home Depot is known to offer average-priced stock cabinetry options. According to their online estimator at the time this article was published, a small, L-shaped (10x10) kitchen with Thomasville cabinets using standard design selections (the Nouveau series Anson door style in oak with a Tumbleweed finish) is estimated at $5,280. Similarly, stock cabinets from IKEA in an L-shaped, 10x10 kitchen might cost between $6,000 - $8,000.
Of course, these are only estimate calculations. Prices are always dependent on the supplier at the time of the sale.
It's important to keep in mind that while stock cabinets come ready-made, they still require installation. Installation is not included with stock products. Unless you consider yourself a talented DIY homeowner, you'll probably want to hire an independent party to install your cabinets. Be sure to allocate part of your cabinet budget to pay for professional cabinet installation.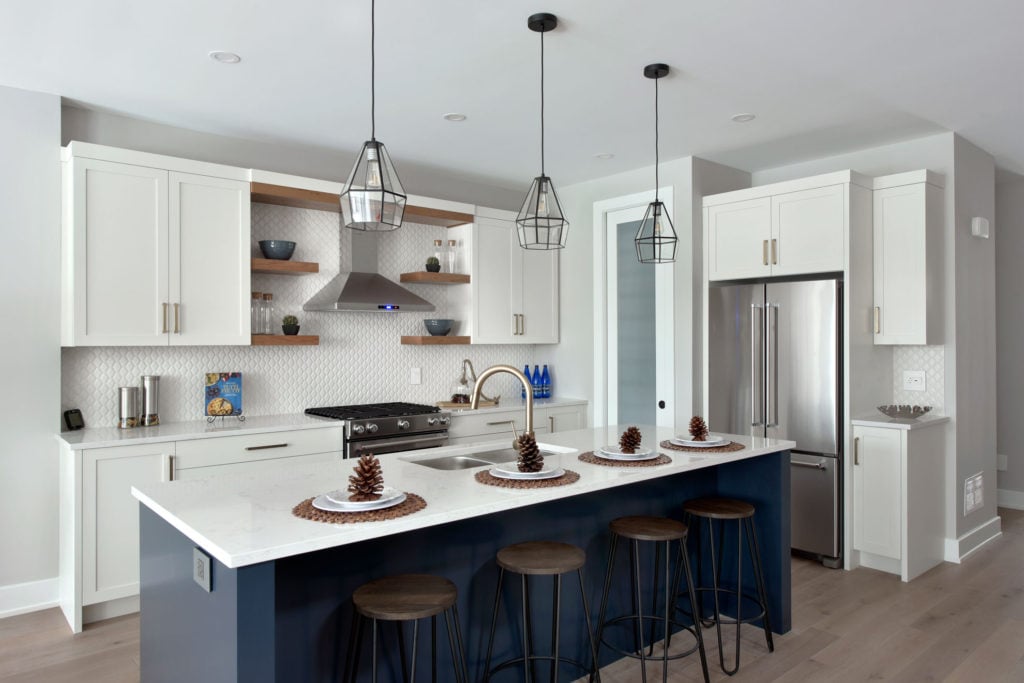 What is Custom Cabinetry?
As the name suggests, custom cabinetry is custom built to meet your personal specifications, whatever they may be. By collaborating with a professional designer, you can strategically tailor your kitchen design to match your lifestyle.
When you're shopping custom, you start with a blank canvas. Everything, including cabinet materials, size, construction, colour, and finish (including paints and stains and custom colour matches) can be adjusted to suit your taste. Suddenly, oddly shaped corners and exceptionally tall ceilings are a breeze to work around.
Because custom cabinets are designed and built to order on a case-by-case basis, they usually come with the longest lead times.
Some custom cabinetry is made with the same materials as stock cabinetry, but the difference is you're not limited to these materials. Custom cabinetry can be built with whatever material you desire, such as genuine wood options like maple, oak, cherry, alder, as well as sought-after engineered materials like thermofoil or acrylic.
Because you're in charge, the quality of your custom cabinets is ultimately up to you. You can choose to add a worn and distressed cabinet finish. You can opt to double-stack your cabinets or use bulkhead to extend them to the ceiling.
The possibilities are wide open. For example, at Deslaurier Custom Cabinets, the potential cabinet combinations easily surpass 20,000!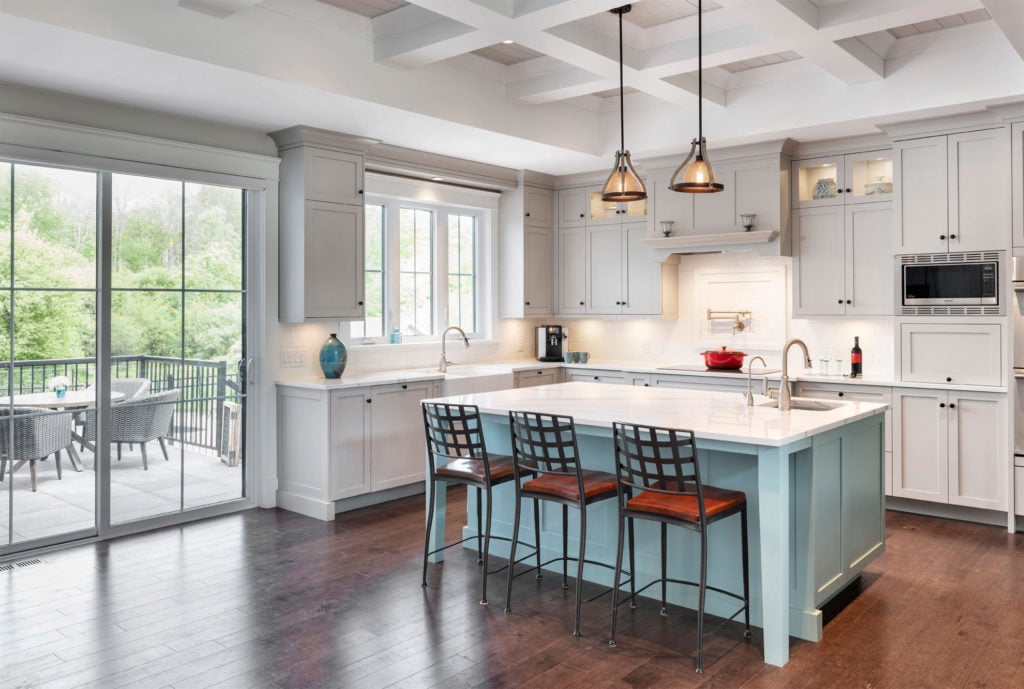 Cost & Installation of Custom Cabinetry
Of course, the freedom to personalize your cabinetry comes at a higher cost. Custom cabinets will almost always be more expensive than stock cabinetry.
Custom cabinet prices are challenging to estimate because it all boils down to your individual selections. For example, cabinets with melamine interiors will be cheaper than authentic wood—this simple selection can add or subtract hundreds, and even thousands, from your final bill.
Prices can fluctuate from $600 to $2500 per linear foot, depending on the materials, finishes, styles, and accessories you choose. As you can see, it's a wide range. In a way, that's a positive. How much you decide to spend (or not spend) is up to you.
When it comes to custom renovation projects, no two kitchens are ever alike.
The benefit to purchasing custom cabinetry is that manufacturers typically partner with professional installation teams. If you buy stock cabinets off the shelf, it's up to you to hire someone to install each unit whereas custom cabinet manufacturers usually offer a more inclusive service with designers and installers on hand.
Once again, the cost of installation depends on how the cabinet maker in question operates. At Deslaurier, we price installation fees into our quotes. That way, the customer doesn't have to worry about extra budgeting.
Always ask your prospective cabinet providers in advance about the installation process.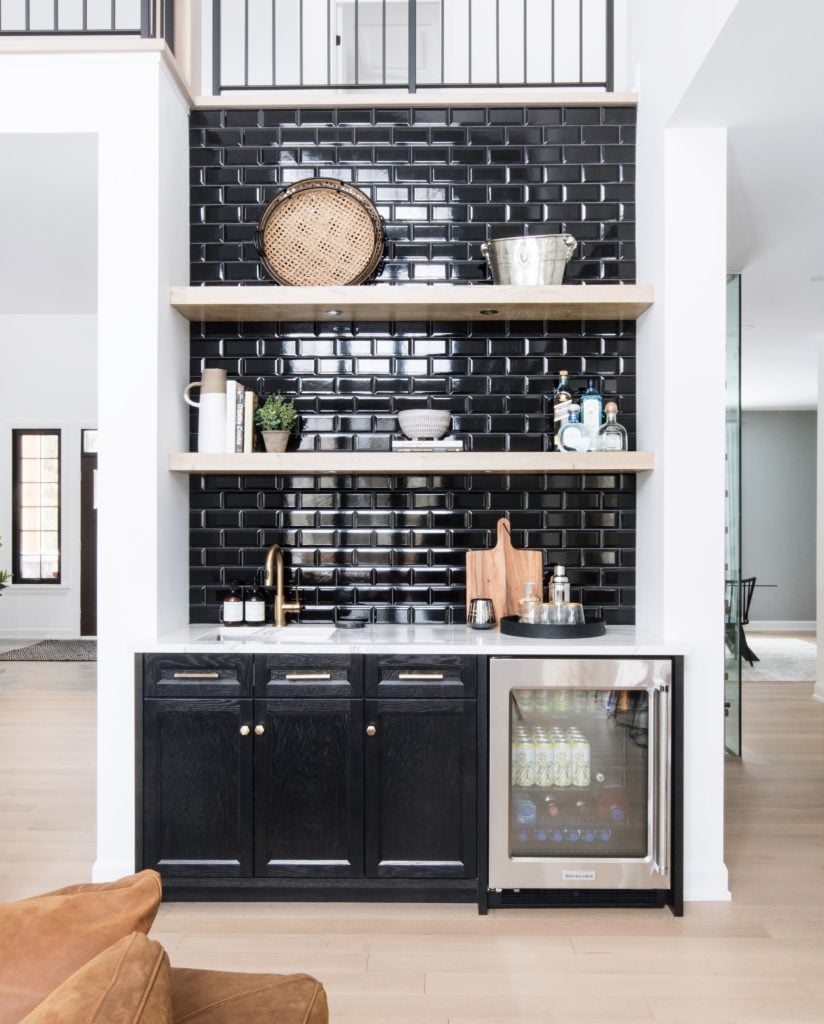 What is Semi-Custom Cabinetry?
Semi-custom cabinetry is an in-between product. It's a hybrid of both stock and custom cabinet services.
Semi-custom cabinetry has fewer design options than custom cabinets but more design options than stock cabinets. Similar to stock, semi-custom cabinets come in standard sizes but give designers the flexibility to resize and modify certain elements of the cabinet design.
The confusing part is figuring out precisely what design freedoms you have for your semi-custom cabinets, because it differs with every manufacturer.
For example, manufacturer A might be willing to modify cabinet depth and width by 1-inch increments, but not cabinet height. They might have 100 different door styles and double that many finishes to choose from. In that scenario, you have plenty of design freedom to craft a highly personalized kitchen. If it were spread out on a line chart, manufacturer A's semi-custom line would land very close to fully custom cabinets.
On the flip side of the coin, manufacturer B, just down the road from manufacturer A, might have an entirely different set of rules for semi-custom products. They might only be willing to alter cabinet depth by 3-inch increments. They might have 15 different door styles and a few dozen finishes available. With manufacturer B, you still have more design freedom than picking a stock cabinet off a shelf, but you also might find yourself restricted if you had a very particular style that you wanted to achieve. On a line graph, manufacturer B's semi-custom line would fall closer to the stock cabinet side.
When it comes to quality, semi-custom cabinets run the gamut—quality really lies with the manufacturing process. You've heard this before: the status quo is manufacturer-dependent.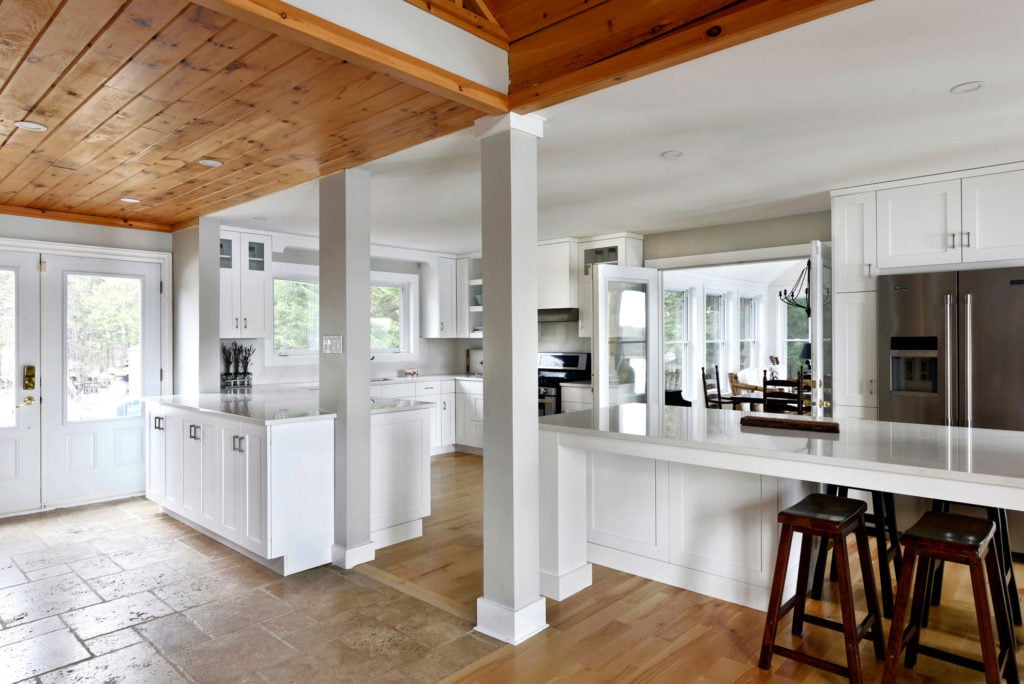 Cost & Installation of Semi-Custom Cabinetry
The cost of semi-custom cabinetry is typically offered at a mid-way point between stock and custom.
That being said, there comes a point where semi-custom costs can overtake custom costs. If you have a long wish list of modifications that you want to make to semi-custom products, it's worth getting a quote from a custom manufacturer at the same time. The two quotes may surprise you.
That's because semi-custom cabinets are intended for the homeowner with a specific need. For example, a semi-custom kitchen is perfect for someone who is content with the limited design options available and only needs deeper cabinet depths to fit their over-sized serving trays.
For these cases with only one or two relatively simple upgrades, semi-custom cabinets hold a lot of value.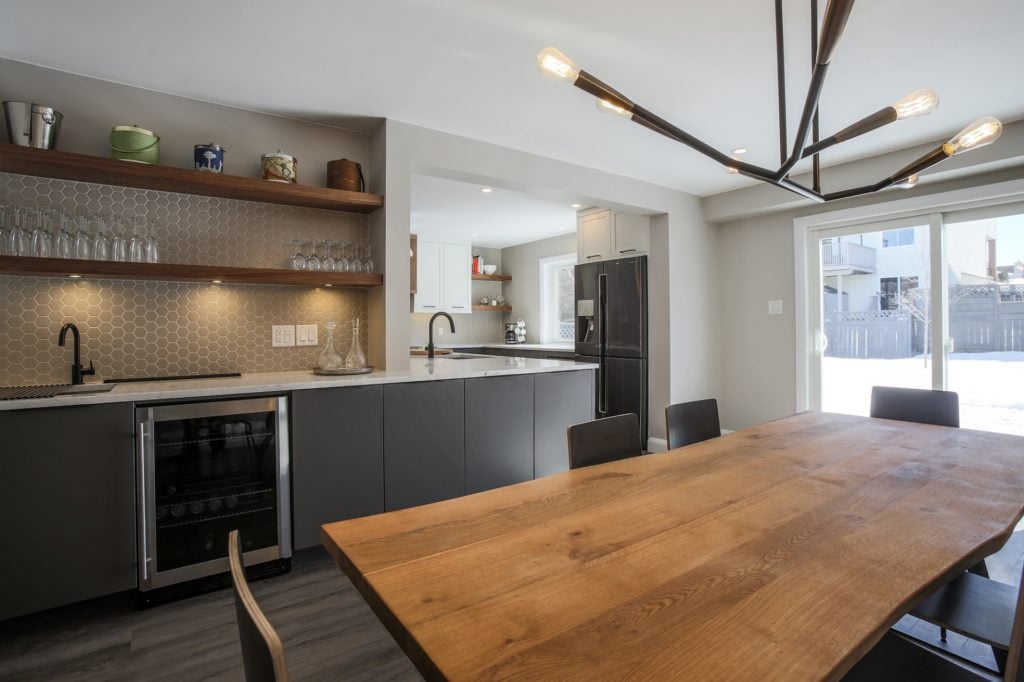 However, if you try to get too creative and colour outside the lines, semi-custom pricing can surpass even custom pricing. Sometimes, the cost to make significant modifications to semi-custom cabinets costs more than making the same number of modifications to custom cabinets.
Semi-custom cabinets are made-to-order, like custom cabinetry, so your lead time will probably either be equivalent to or slightly less than that of custom cabinets. Similarly, your manufacturer will probably have an installation option available to you, whether that be included in your initial quote or not.
Always ask!
Stock Cabinets

Custom Cabinets

Semi-Custom Cabinets

Pros

Ready for pick-up/shipment right away
Very economical
DIY-friendly

Unlimited design freedom
Generally high-quality construction
Personalized experience with designer
Installation included

Some design freedom
Personalized experience with designer
Installation included

Cons

No design freedom
Generally low-quality products
Installation not included

Higher budget required
Longest lead time

Pricing and quality varies with manufacturer
Long lead time
What's Next?
Choosing kitchen cabinetry is one of the most important decisions in any kitchen renovation project. As you weigh your options between stock, custom, and semi-custom cabinetry, take your time to decide which choice is ideally suited to you.
Stock cabinets offer more in terms of budget and immediate availability, while custom cabinets offer greater design flexibility, a designer and installer, and superior quality. Semi-custom is the bridge between the two. Time to get out that old pen and paper, and with the information provided in this article, write out a pros and cons list of your own.
If you land on custom cabinetry, we're here for you at Deslaurier Custom Cabinets. With over 40 years of experience to our name, we provide our clients with a wholly customized experience with our talented team of designers.
Visit us at our Jupiter, FL or request a consultation to get started on your dream reno today.
Related Links: