14/09/2021 • Blog
Thermofoil vs. Paint: Which is Better for Kitchen Cabinets?
If you're designing a kitchen from scratch or overhauling your existing design, you may be wondering what kitchen cabinet finish is best for your lifestyle and budget.
In this article, we're comparing two "heavy lifters" in the kitchen cabinet industry: thermofoil and paint.
With full transparency on the table, we'll dish out the real pros and cons of these two popular cabinet finishes.
Thermo vs. paint—let the comparison begin!
All About Thermofoil Cabinets
What are Thermofoil Cabinets?
Thermofoil, also sometimes simply called "thermo", is a PVC vinyl colour coating that gets heat shrunk over a cabinet door. Think about it like supernaturally strong shrink wrap—it really sticks! The result is a seamless surface, usually in a solid colour, but sometimes also a faux wood grain pattern.
In the past, thermo cabinets were almost exclusively used in modern kitchen designs, but today, they're more and more prevalent in transitional spaces, too.
Typically, you can get thermofoil cabinets with varying levels of shine, like:
Textured thermofoil

Matte thermofoil

High-gloss thermofoil
A solid colour matte or high-gloss thermofoil door looks very similar to a painted door. That's why it's a common alternative to painted cabinets in a kitchen design.
A few important things to note about thermofoil is that MDF is the underlying substrate. It's the most suitable material for the vinyl colour coating application. The MDF substrate is routered on a CNC machine with the respective door style then wrapped on the front and sides with the plastic finish.
With paint, MDF is a popular substrate, but not your only option —birch and maple are both common wood species chosen for painted finishes, for example.
Also, if you choose a thermo cabinet door with a profile, the edges will be rounded. In order to apply thermofoil to a cabinet door, there needs to be a radius. So, the edges and corners of the detail in your door won't be sharp. Depending on your aesthetic preferences, this may be an advantage or a disadvantage.
In the photo below, you may be able to see how thermofoil doors have rounder edges than painted doors: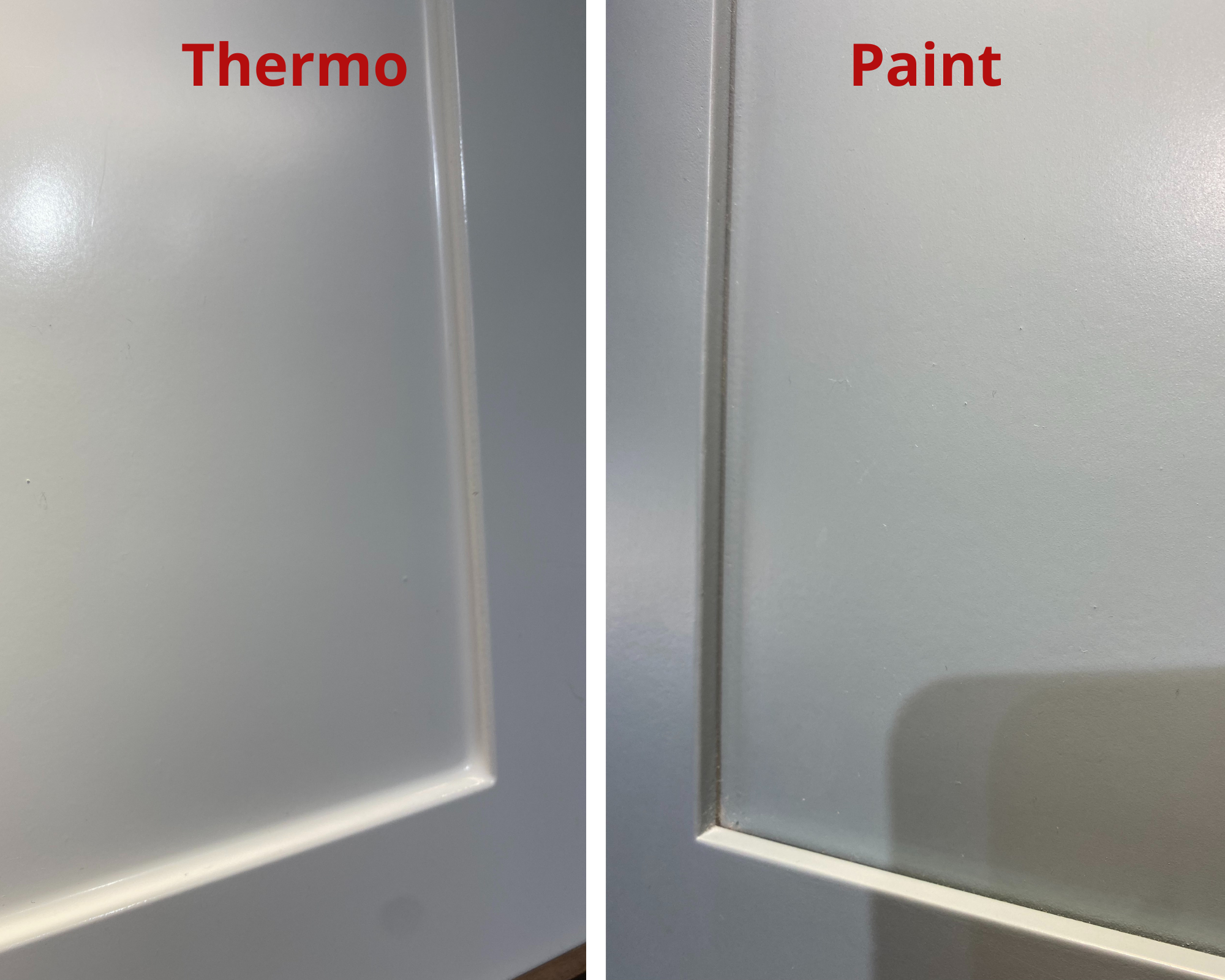 Lastly, due to the nature of the manufacturing process of thermofoil, the backs of cabinet doors aren't finished. That means only 5 of the 6 sides of your cabinet door (the front and four sides) will have thermofoil. Most manufacturers leave the backside with a simple white melamine finish.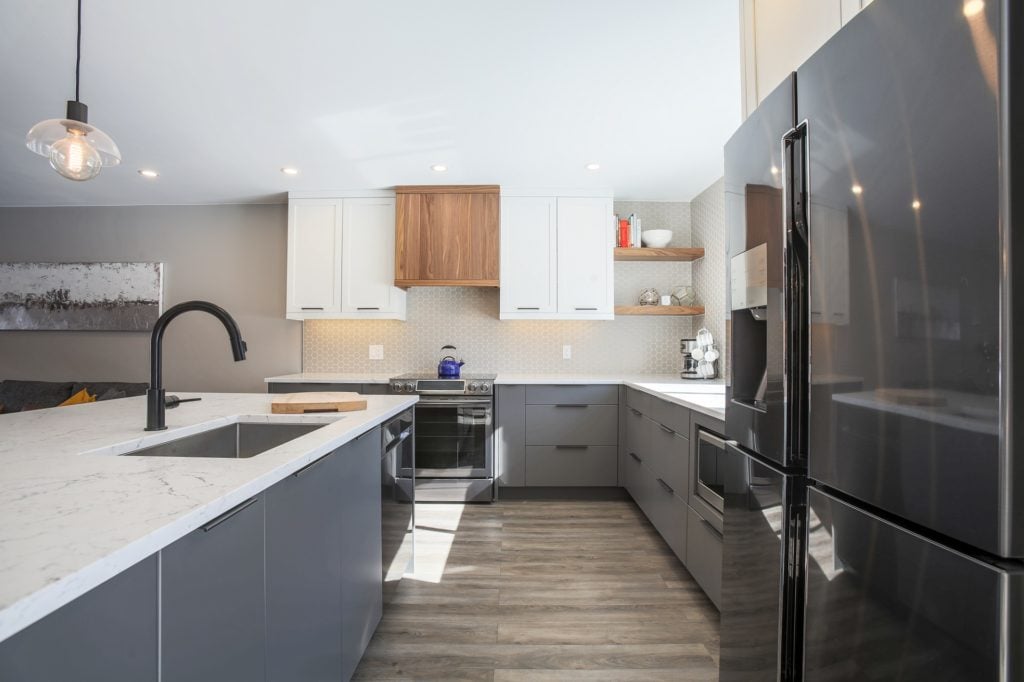 The Pros of Thermo Kitchen Cabinets
Thermofoil is a popular cabinet finish because of its durability against everyday wear and tear. All things being equal, thermo cabinets will likely hold up better than paint against regular household damage from water spillage or hand scratches.
Plus, when it's wrapped over a one-piece slab-style door with a flush surface, there are no creases or crevasses where dust and grime can build up. Maintenance-wise, thermo is a cake walk (a quick wipe is usually all it takes to clean). For this reason, it's a popular recommendation for homeowners looking to build an easy-to-clean kitchen design.
Another advantage to thermo is its attractive price point. Thermo is almost always less expensive than paint. The manufacturing process is quicker and easier. A machine handles the vacuum pressuring and heat shrinking work.
Comparatively, painting a cabinet is an 8-step process, requiring multiple coats of primer, base paint, paint, and top coats, and oftentimes a significant amount of by-hand sanding labour.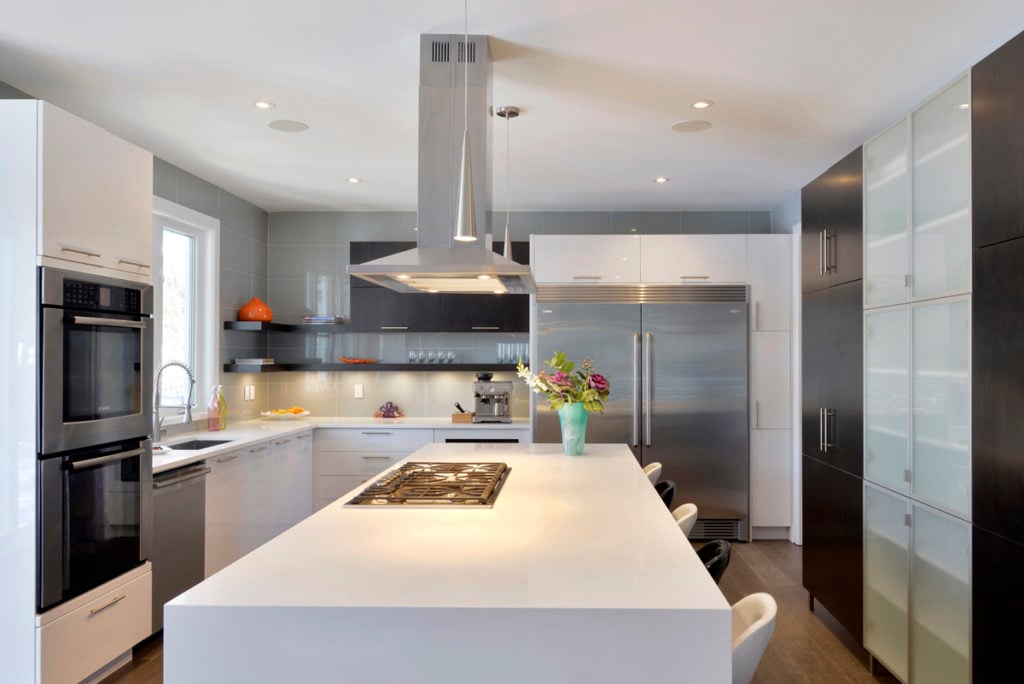 The Cons of Thermo Kitchen Cabinets
The #1 disadvantage to thermofoil is that it's very vulnerable to heat damage. Since it's a product that's "stuck" on by heat, excessive heat from your kitchen can also delaminate (in other words, "unstick") the thermofoil coating from the substrate.
Thermo cabinets regularly exposed to steam, be it from a dishwasher, oven, toaster, kettle, or even coffee maker can melt, peel, or blister. This is often the biggest maintenance-related complaint about thermofoil from consumers.
It's possible to purchase and install heat shields for thermo cabinets near a potential heat source. Heat shields are a good safeguard measure against heat damage, but they're not perfect.
Looking ahead to the longevity of your kitchen, thermo is a tough material to refinish.
Why?
Generally speaking, thermo is highly resistant to damage. However, if your thermofoil cabinets do get cut or scratched to the point where the material underneath is exposed, it's almost impossible to repair.
With paint, you have the option of touching up the bare spots with a paintbrush or having your cabinet manufacturer perform a factory refinish. Not so with thermo.
While you can attempt to repair localized thermofoil damage with glue and clamps, it's far from a foolproof or DIY-friendly solution. Plus, re-gluing thermo only really works if the thermofoil is still in one piece.
Really, the only surefire way to refinish thermofoil cabinets is replacement. You can learn more about refacing vs. replacing cabinetry here.
Lastly, choosing thermofoil may limit you in terms of adding other custom design elements to your kitchen. The availability of components like crown moulding, specific door styles, and custom millwork are dependent on the supplying manufacturer. Typically though, there are less options in thermofoil than in paint, which could result in a less flexible design process on your end.
All About Painted Cabinets
Painted cabinets don't hold as much mystery as thermofoil cabinets—most people know what painted cabinets are! However, they don't always know the real nitty-gritty details about how they hold up in an average kitchen.
You may also not be aware that in the cabinetry world, MDF and birch are generally recommended as the best paint-grade wood products. That's because MDF and birch have the smoothest, most uniform surface, which is ideal to keep the primer, bases, paints, and top coats looking smooth, too.
You can paint other wood species, but generally the knots and wood grain cause defects in the painted finish.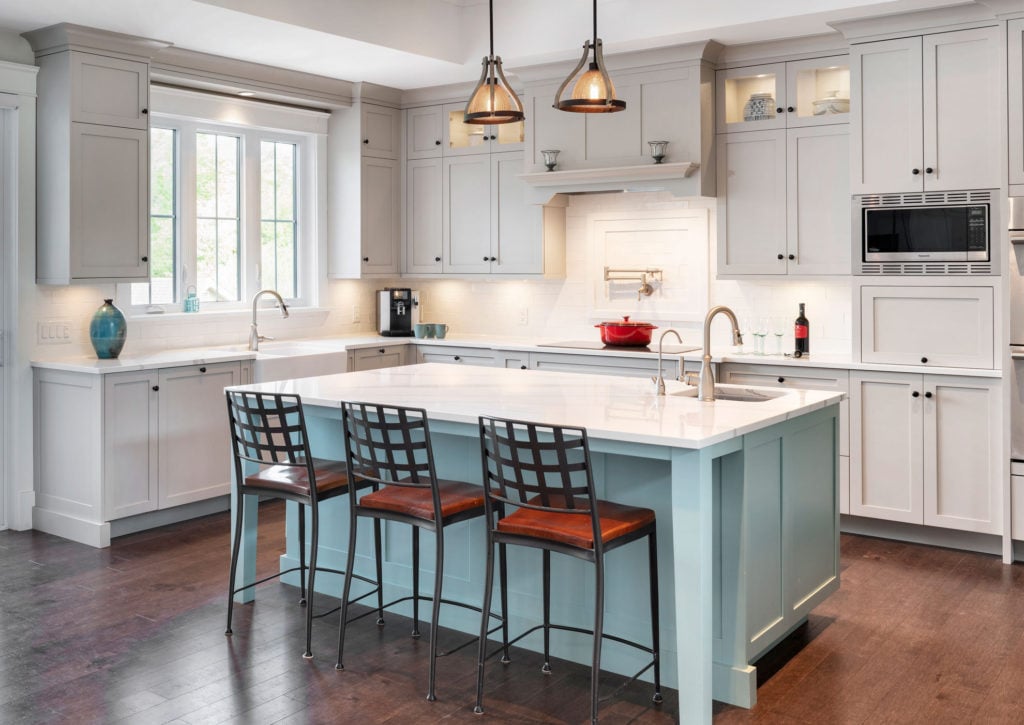 The Pros of Painted Kitchen Cabinets
One of the best things about painted kitchen cabinets is that you can get virtually any colour under the sun.
At Deslaurier, that's literally true. Deslaurier offers a custom colour match program, where you can recreate any colour your heart desires.
Still though, whether or not a manufacturer has a colour match program in-house, they'll probably offer more colour selections in paint than thermofoil. So, if you're chasing after a very specific hue, paint might be a better finish choice than thermo.
Beyond colour, painted cabinets offer more customizability in terms of other custom millwork, too. For example, at Deslaurier, you can have something like a custom range hood created to match your painted doors. Thermofoil doesn't have that same range of versatility.
Another benefit to choosing painted cabinets for your kitchen reno is that, compared to thermofoil, paint is relatively easy to touch up and refinish.
Many cabinet makers will give you a complimentary touch-up kit when they install your painted cabinets. Inside the touch-up kit, you'll have a small amount of the matching paint colour. That way, you can cover up any dings and dents that happen down the road.
Plus, if the paint damage gets really bad, you can always re-prime and re-paint painted cabinets.
There are so many ways, both professional and DIY, that you can breathe new life into painted cabinets. All in all, the long-term refinishing outlook is better with paint than with thermo.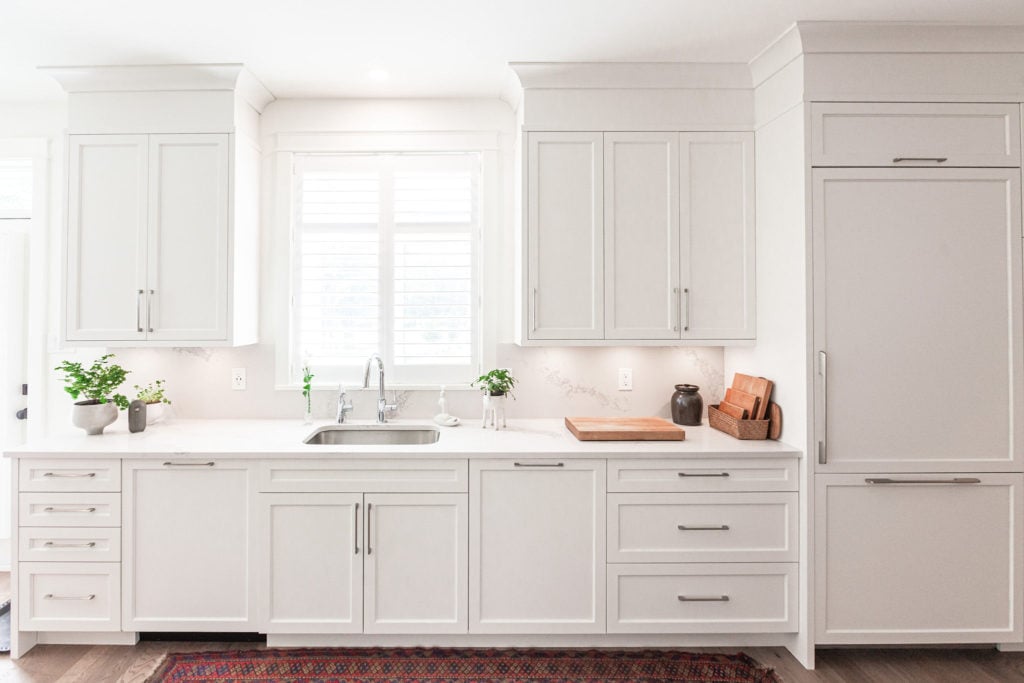 The Cons of Painted Kitchen Cabinets
Painting cabinets is a labour-intensive job. As we saw, it takes manual labour to prep cabinets and at least 8 steps to prime, and paint the finish. It makes sense then why paint is a high-end selection from most cabinet makers. Painted cabinets cost more to manufacture, and thus, more to purchase.
The other main drawback to painted cabinets is their durability. With proper care, you can keep your cabinets looking great for years and years. But keeping on top of proper cabinet care can be harder for some busy households with young children or pets than others.
Crashes and bangs happen in the kitchen! When they do, painted cabinets do show damage readily. A dent on a painted door can lift the coat of paint and expose the natural wood underneath.


Stress cracks in 5-piece door styles are another aspect of cabinet wear and tear to have on your radar.


First off, what is a stress crack?

In a 5-piece door design, one centre panel is built within a frame of two stiles and two rails. These individual pieces of wood (or MDF) naturally expand and contract with temperature and humidity changes. 

The movement of the pieces can cause the clear top coat finish to crack, particularly at the door joints. Below is a photo of a painted maple door showing stress cracks: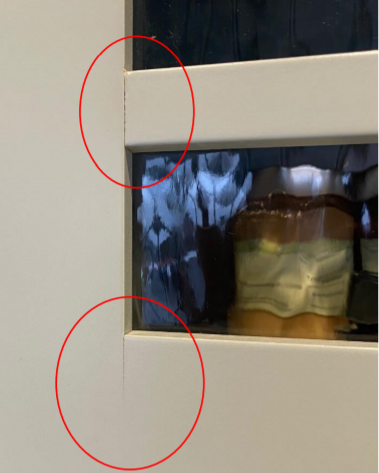 Thermofoil on 5-piece doors will also show a seam around the joints, but not from fracturing. If you choose thermo for a 5-piece door, all the pieces will be "wrapped" in thermo separately. When they're put together, you'll see a line at the joints.
That being said, thermofoil is more commonly paired with 1-piece doors, where there won't be any seams.
Thermo

Paint

Pros

Very resistant to regular household damage (water, scratches, scuffs)

Very easy to clean (particularly with a slab door)

A cost-effective product

Very customizable (unlimited colour selection, door styles, other custom-matched millwork possibilities)

Relatively easy to refinish

Cons

Very sensitive to heat

Difficult to refinish

The backs of thermo doors remain unfinished.

Design elements and components in thermo (colour selection, door styles, custom millwork) may be limited

*Possible con: profile edges will be rounded

More expensive than thermofoil

Vulnerable to stress cracks

Maintenance is more involved




Is Paint or Thermo Right for Me?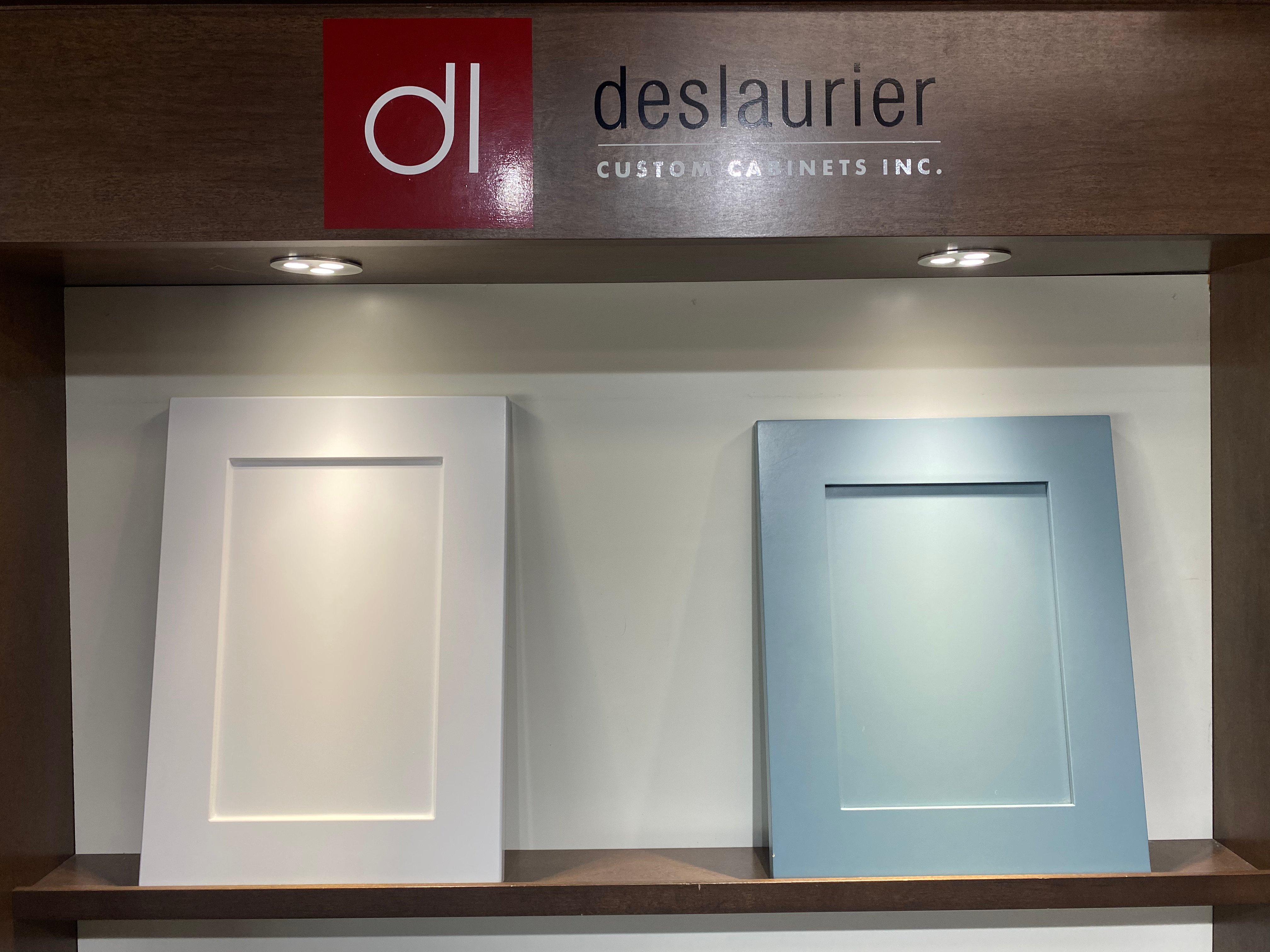 Can you tell the difference between the two cabinets in the picture above? In many ways, thermo and paint are very similar. (The thermofoil door is on the left, and the painted door is on the right).
Now that you have a solid understanding of the pluses and minuses of thermo and paint, the decision between the two is in your capable hands!
It's hard to say which finish is better for you unless you determine what's most valuable to you. When it comes to thermofoil vs. paint, the choice hinges on aesthetic preference and budget.
Thermofoil is a great option for kitchen renos with smaller budgets. However, for more money, you can expand the aesthetic flexibility of your kitchen design with paint.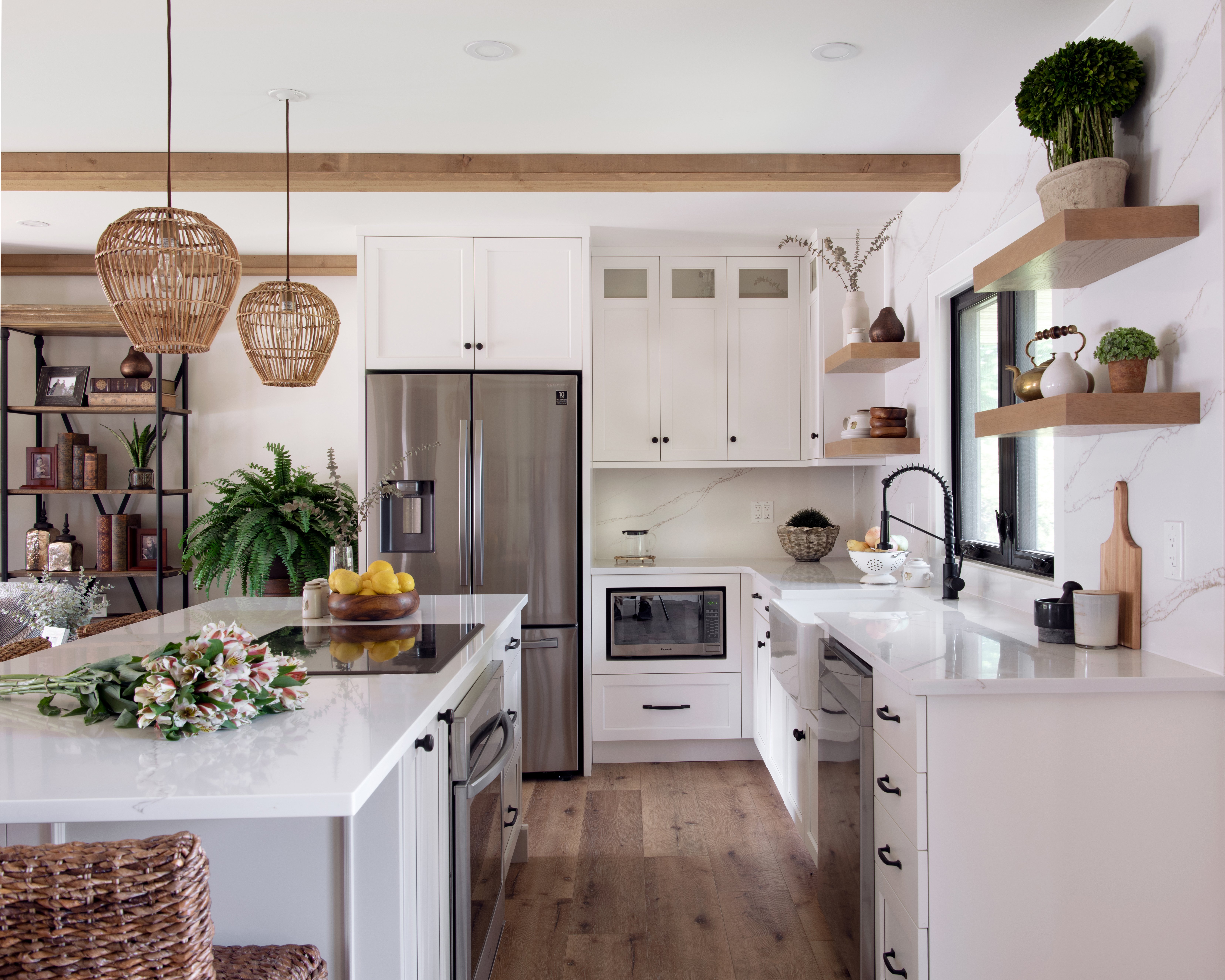 Remember, as you contemplate the complex world of cabinetry, Deslaurier is always just a phone call or an email away. Our professional design team leverages 60+ years of experience to help homeowners like you create their dream kitchen.
Schedule an appointment with one of our kitchen designers in Jupiter, FL today! Interested in becoming an authorized dealer in Florida? Connect with us on our Become a Dealer page!
Related Links: