27/07/2021 • Blog
How to Choose a Colour for Your Kitchen Cabinets
Are you struggling to choose a kitchen cabinet colour from a massive pile of swatches and samples?
Your struggle ends here.
In this article, Deslaurier Design Consultant Amelia Mathieson offers her professional advice on how to pick a colour for your cabinets. Together, we'll cover a host of colour-related considerations to give you a solid understanding of how cabinet colour works within a kitchen design.
Let's get colouring!
Understanding Colour Families
Part of the key to nailing a kitchen renovation or new-build colour scheme is selecting colours that complement each other.
To do that, it's helpful to understand colour families. There are two main categories of colour: warm colours and cool colours.
Warm Colours
Cool Colours



Red
Red-orange
Orange
Orange-yellow
Yellow
Yellow-green




Violet-red
Violet
Blue-violet
Blue
Blue-green
Green
Warm colours energize a room while cool colours tend to have a more relaxing effect.
Even neutral colours like whites and greys fall into a colour family. Some whites have warm, yellow undertones and some have cool, blue undertones.
No matter what paint or stain you choose for your cabinets, you should know where it falls on the warm-cool spectrum so that you'll have an idea of the mood it will create.
Mixing and Matching Warm and Cool Colours
Hypothetically, let's say you've fallen in love with a cool colour: a dark grey with subtle violet undertones.
Does that mean you have to make all your other kitchen reno selections in the same colour family? Cool countertops, cool floors, and cool backsplashes?
Of course not!
It's a widespread design misconception that warm colours only pair with other warm colours, and vice versa.
Sometimes, colour contrast is a good thing—but it depends how you do it.
To strike a well-appointed balance between warm and cool, Designer Amelia Mathieson likes to implement a form of repetition, a design principle that calls for an element of the design to be repeated throughout the space. In the same way an artist will use a 'rule of three' to draw your eye across a canvas, the same principle can be applied to design.
The rule of three is a concept commonly used by artists and photographers, but I find it also holds true in kitchen design. Take for example, a recent kitchen I completed. The client gravitated towards cool tones, but also had quite a bit of warm wood furniture. To add balance and repetition, I gave everything a cool grey base and threw in little pops of walnut, making sure to repeat that warm tone in three different areas to pull the eye around the room.
By using the rule of three, you can keep your kitchen predominantly cool or warm, all while off-setting any chance of monotony with little pockets of an "opposing" colour.
Can you find the three warm elements in this kitchen with a cool colour base?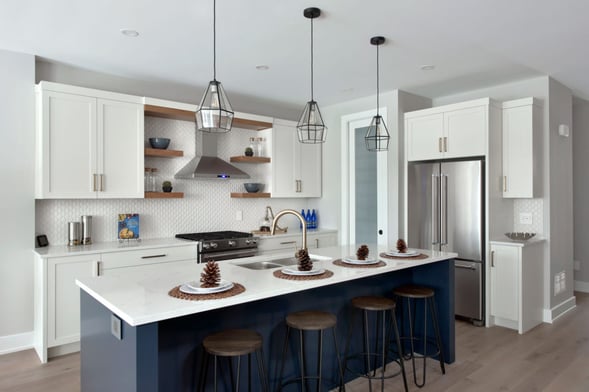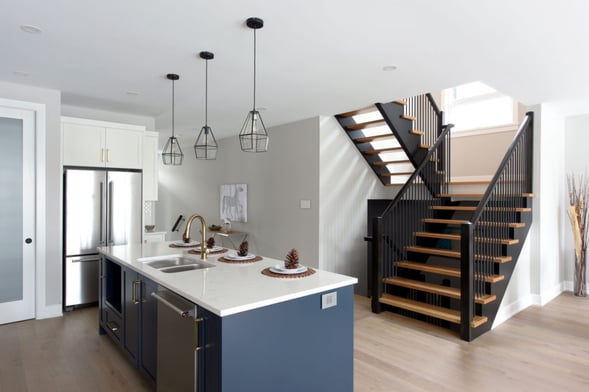 The floating shelves, stairs, and stools/table settings are all warm wooden elements that balance the cool blue and white colour scheme.
By the way, the kitchen is also a great example of a two-toned colour scheme!
Two-Toned Kitchens
Two-toned kitchens are a great example of how mixing and matching colour temperatures can work in your favour.
An ever-growing design trend is to paint perimeter cabinets with a cool neutral colour and use something warmer and darker for the base cabinets or the kitchen island (click to learn more about how to design a kitchen island).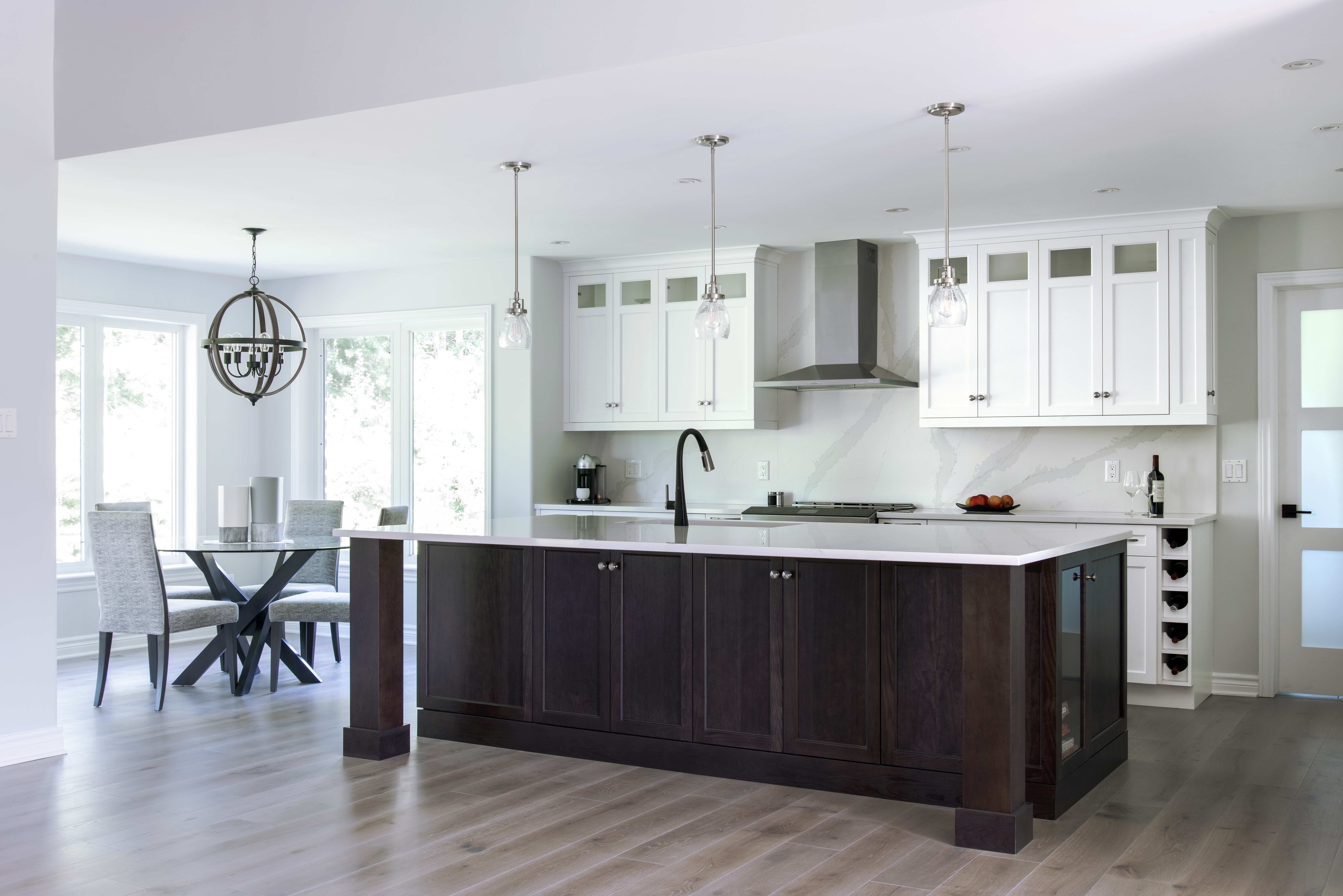 A well-balanced colour scheme helps you emphasize certain elements of your design without detracting from the overall warm or cool aesthetic you're trying to build.
Ultimately, colour families are a useful coordination guideline, but not the be-all, end-all of choosing a colour for your kitchen.
Using Your Kitchen's Lighting to Determine Colour Selections
Your kitchen's lighting will also influence your colour selections.
Colours look different depending on the type of light under which they're viewed.
Before you approve a colour sample, try to take it home to view in your kitchen first. Your cabinet sample might look different under a showroom's lighting than your own.
Lack of Natural Light
Is your kitchen well lit? Is there lots of natural sunlight?
Midnight black cabinets probably aren't an ideal colour choice if your kitchen is small and window-less.
If your kitchen lacks natural light, you might want to consider using a warm, bright colour to give the illusion of light inside the naturally dark space.
On the flip side of the coin, a very sunny kitchen pairs well with cool, muted colours, which will darken the colour palette and offer some balance to the interior.
Click to learn more about kitchen lighting.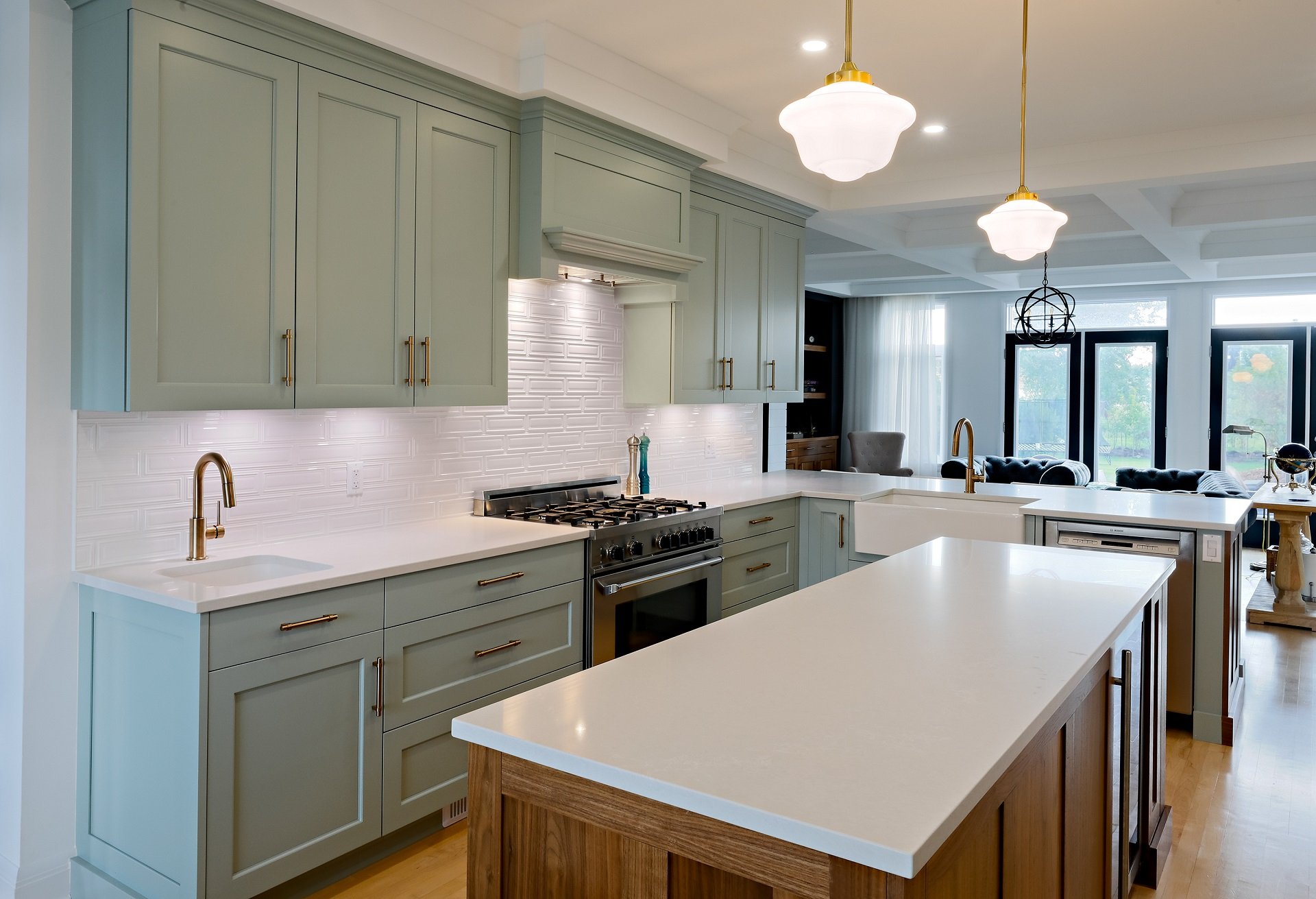 Colour Selections: Is There an Order I Should Follow?
There's no clear-cut order that you need to follow when it comes to putting together a kitchen reno colour scheme.
Every project is unique and your colour choices will come together naturally.
That being said, the first thing Amelia asks her clients is about their current house.
I try to get a sense of their home's existing design. What kind of furniture do they have? Do they own a lot of décor with warm tones? What is their existing colour palette? These kinds of questions help me understand the client's aesthetic preferences, and then I can make recommendations from there.
Using other design elements in your home as a launching pad can help you create an overall room-to-room colour cohesiveness. It will also probably tell you a lot about your likes and dislikes, if you didn't know them already!
However, generally speaking, cabinet colour is typically the first colour selection clients make in the kitchen renovation or new-build process.
Your cabinets are a major, if not the major component of your kitchen. It makes sense to choose that colour first, and then go on to select countertops, backsplashes, flooring, and wall paint.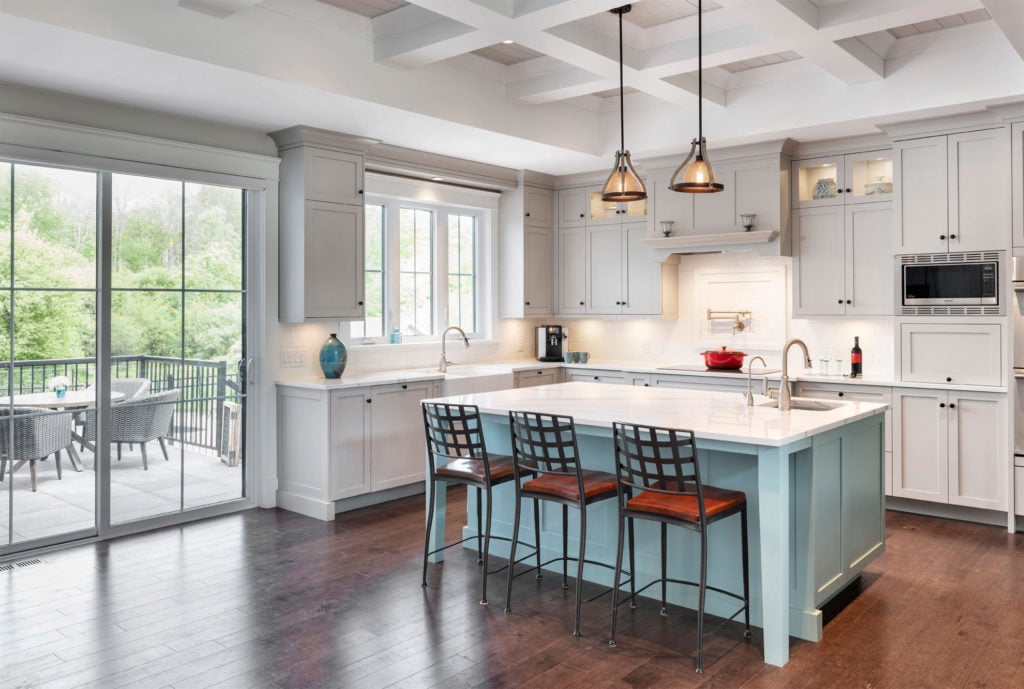 Visualizing the Space With Sample Cabinet Colours
Did you know that colours look different horizontally than they do vertically?
The exact same colour will appear lighter horizontally and darker vertically. To capture that picture-perfect hue, it helps to view your cabinet samples in the most realistic position possible.
To accurately visualize your space, assess your cabinet colour sample by propping it up vertically in the room. That way, the light will reflect off the sample as it would in real life.
Choosing a Cabinet Finish
Don't forget to consider what finish you'll apply to your cabinets, either.
The main colour doesn't tell the whole story.
Cabinet Sheen
After you've selected a paint or stain colour, you can choose to give your cabinets a matte or a high-gloss appearance—both looks are created by the cabinet's sheen. The level of sheen you decide to put on your cabinets may slightly alter the look of the underlying colour.
Typically, cabinets with a glossy, high-sheen finish appear brighter than their matte, low-sheen counterparts because the surface reflects (rather than diffuses) light.
The effect sheen has on colour will be subtle, but it's still something to have on your reno radar nonetheless.
Cabinet Glaze
While sheen is a mandatory finish, you also have the optional choice to add a glaze to your cabinets.
A glaze is a secondary coating that is applied to finished cabinets to accentuate the architectural details and natural characteristics of the wood product.
Glazes are usually offered in neutral colours like black, grey, brown, or cream.
The glaze creates a distinct rustic, aged aesthetic. What happens is that the glaze permeates all the natural creases, knots, and grooves in the wood species of the cabinets.
Check out the eye-catching shadowy detail that this black glaze lends to both painted (left) and stained (right) cabinets: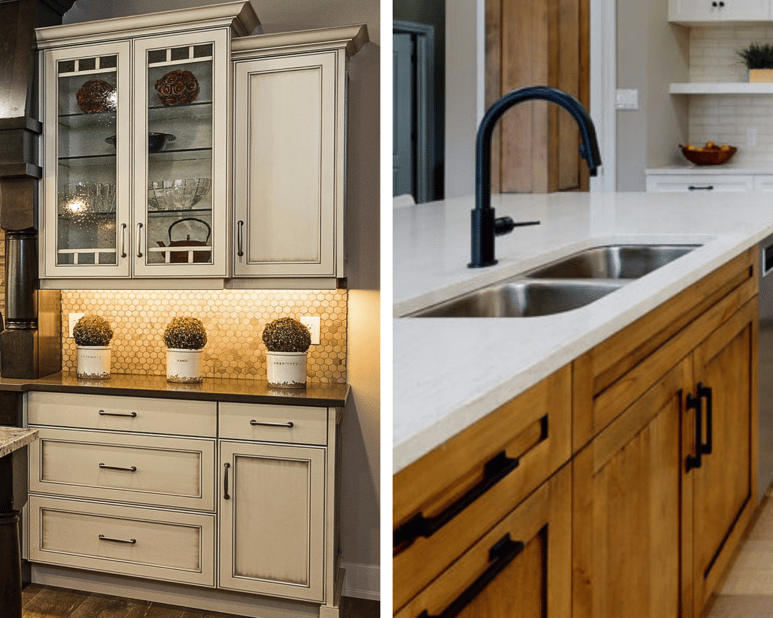 While choosing a glaze colour is not the same as choosing a cabinet colour, it's still a choice that has colour consequences. You can expect that a black glaze like the one above will darken the underlying cabinet colour slightly.
What Colour Should I Paint or Stain My Cabinets?
Now that you understand the inner workings of cabinet colour, are you ready to pull the trigger on your favourite shade?
Designer Amelia Mathieson gives us some final words of wisdom:
Don't be afraid of colour! If you really like a colour and know you're going to enjoy looking at it every day, don't be afraid of putting it on your cabinets. You're allowed get a little adventurous!
In Amelia's experience, customers that walk inside the showroom are quick to compliment a colourful display but say in the next breath that they wouldn't dare try it in their own home.
Your kitchen, your rules! Don't let conventional colour schemes stop you from building your dream kitchen.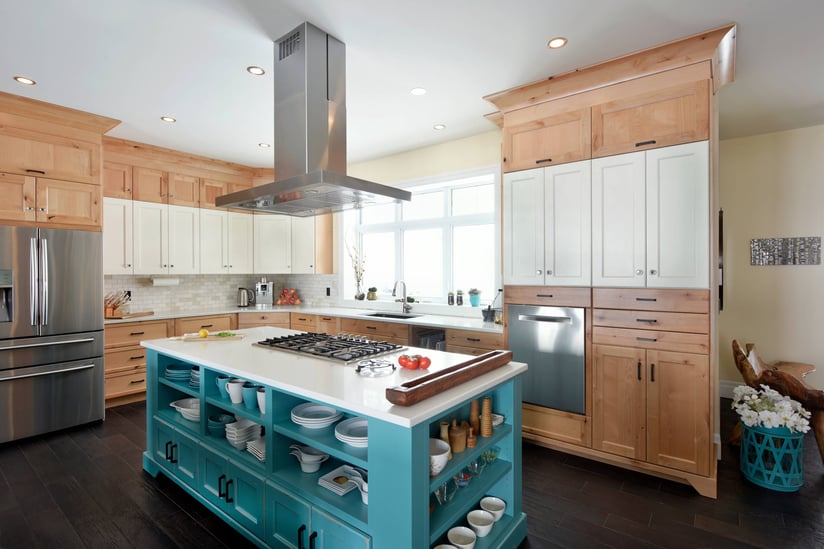 Kitchen Cabinet Colours: Is Resale a Factor?
Perhaps the only caveat to going colour crazy is when you know resale is on the table.
If you only plan on living in your home for 2-3 years before listing again, maybe installing lime green cabinets isn't the wisest choice for resale value.
On the other hand, if you're set on settling down for a decade or more, don't be shy to use the whole rainbow of colour to your heart's content.
You can learn more about the resale value of home renovations in our article "Should I Renovate My Home?".
Design With Deslaurier
Ready to dip your toes in kitchen cabinet colours?
Book a design appointment at our location in Jupiter, FL. Deslaurier Custom Cabinets has an award-winning design team who will guide you through your reno journey step by step and colour selection by colour selection.
Interested in becoming an authorized Deslaurier dealer in Florida? Visit our Become a Dealer page to connect with us!
Related Links: